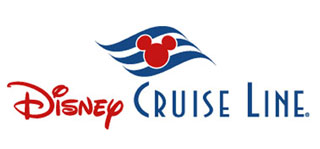 Disney Cruise Line and
Disney's Beach Resorts
Disney's Vero Beach Resort (Florida)
Disney's Hilton Head Resort (South Carolina)
AULANI (Hawaii)

Disney Cruise Line News - (5/20/14) A new video featuring many of the new Disney Cruise Line Itineraries was posted by Disney on Monday. Watch it below to learn the details about new cruises to Hawaii as well as a return to Southern California and much more.



(3/2614) The Disney Cruise Line has released some details about their Summer 2015 itineraries this week in the video clip below. New destinations include Norway, England, Denmark, Sweden, Finland, Russia and Iceland. They will also return to popular ports in Italy, France and Spain, as well as venture up to Alaska as well.

(2/28/14) There has been a lot of love for The Disney Cruise Line lately. The Disney Cruise Line received a whopping 29 awards from the Cruise Critic Cruisers' Choice Awards, including 13 "number one" awards. All four of the Disney ships were ranked in the listing of top ships in the world by Conde Nast Traveler, nabbing 4 of the top 5 slots for "Best Large Cruise Ships".
(11/13/13) According to Disney the early 2015 itineraries for the Disney Cruise Line have been released and all four of the ships will be setting sail from Florida ports for a time offering 3, 4 and 7 night cruises from Port Canaveral and 4 & 5 night packages departing from Miami, offering several ports of call along the way in the Bahamas and Caribbean like Jamaica, Puerto Rico and the Virgin Islands. You can start booking January – April 2015 dates starting Thursday, and apparently every cruise will also feature a stop at the Disney owned island of Castaway Cay.
(10/16/13) The Disney Magic has left the shipyard in Spain where it was given an extensive refurbishment along with a ton of new added features and themed spaces. The work is still underway while the Magic journeys to Miami to prepare for it's relaunch, but the Disney Parks Blog takes us inside to show off all the hard work taking place. A second video clip also added focuses on many of the new spaces for the kids like the Oceaneer Club with Andy's Room, Pixie Hollow, The Avengers room and more.


(8/7/13) Take a look at all the new fancy and fun kids themed areas that will be on the Disney Magic when it re-launches this October.
(5/6/13) Disney has released a fun new video featurette all about the new AquaDunk slide being added to the Disney Magic in October 2013.

(4/29/13) The official word from the Disney Cruise Line this week is that the Disney Magic will soon undergo a massive facelift and re-launch with several all-new features. Disney Magic will enter dry-dock for this refurbishment between September 7th, 2013 until October 10th, 2013 in Spain. The grand atrium lobby will become a three-level elegant art deco scene with all new colors with the existing Helmsman Mickey statue getting a refurbishment as well.
Disney's Oceaneer Club (kids 3-12) is getting all new themes inside like as Marvel's Avengers Academy, making this Marvel's first themed installation at sea. Kids will be transported to a high-tech command post used by The Avengers featuring a suit of Iron Man armor and Thor's Hammer. Next door is Andy's Room, a new multi-level play area stocked with Andy's favorite toys from Toy Story featuring a larger-than-life Mr. Potato Head, Hamm the piggy bank and a Slinky Dog slide. Next to this is Pixie Hollow, the enchanted land of Tinker Bells and her fairy friends in an enchanted forest setting. Kids can play in the costume closet or work on their Tinker skills while crafting arts sitting on mushroom and acorn stools. Finally, kids can also enjoy Mickey Mouse Club, another new children's area where they can play games and make art and crafts, along with a visit to Goof Gears, an oversized play area full of wacky, magnetic spinning gears. There is also a special place for tiny travelers aged 3-months to 3 years called It's A Small World Nursery.
On the upper decks those seeking something a little wilder will notice a stunning new feature atop the ship… the AquaDunk, a three story tall body slide attached to one of the stacks that starts you off by loading you inside an aquapod with a trap-door launch down the slide, into a clear translucent tube that will extend 20 feet over the side of the ship before circling back for your splashdown finale. Nearby is the new AquaLab, an interactive 1,800 sqft water playground along with the Twist n' Spout waterslide. Kids under three can play in the Nephews' Splash Zone area.
New dining experience will be coming online as well. The Animator's Palate will be updated with all new animation walls with larger HD screens and a new Drawn to Magic experience. A new restaurant featuring the energy of Rio de Janeiro will open called Carioca's, themed after Jose Carioca the parrot from Three Caballeros. Fun by day, elegant by night. Cabanas is another new dining experience featuring a variety of food and beverage stations during the day and a table-service experience at night, all with an Australian themed Finding Nemo inspired theme. (This replaces the former Topsider Buffet, which will also result in a larger space after the renovation). The Magic's popular adult restaurant, Palo, will also receive a makeover as well.
New evening entertainment is also on the way as the adult extertainment area After Hours opens up, replacing the former Beat Street area, with a new lineup of club venues for dancing, comedy and variety shows. Fathoms night club is a celebration of the seas with an atmosphere that will evolve as the night goes on. Keys is a more relaxed piano bar and lounge area and O'Gills is a Irish Pub and Sports Bar that will feature live televised events.
(2/13/13) The Disney Cruise Line has announced some new ports and itineraries are on the way for 2014. From May to August 2014 the Disney Magic will conduct 4, 5, 7, 9 and 12 night cruises in the Mediterranean, with new stops in the Greek Isles and Sicily. Speaking of Italy, in 2014 select cruises in the European area will use Venice as a homeport.
For a limited time the Disney Magic will also homeport in Puerto Rico for a series of 7 Night cruises to the Southern Caribbean with stops at Antigua, St. Lucia, Grenada, Barbados and St. Kitts. These voyages will depart on 9/20, 9/27, 10/4 and 10/11.
For those seeking the opposite climate the Disney Wonder will sail from Vancouver, Canada to Alaska for Summer 2014 with a series of 7-night cruises as well as a special 9-night cruise starting on May 24.
Disney's AULANI - New Enhancements - (1/13/14) Westcoaster heads to Aulani, Disney's exclusive private resort in Hawaii and reports back with one of the most stunningly beautiful photo blogs ever. Seriously… Aulani looks like a slice of heaven on Earth. Seriously... you have to see it to believe it.
(9/16/13) DisneyGeek is back with a new blog showing off the latest changes and updates being made to Disney's fabulous Aulani Resort in Hawaii, much of which will be ready to open in October. Make the jump and check it out.
(11/27/12) Want to see what Aulani is like? Take a little tour of Disney's Hawaiian fantasy getaway resort with the latest update at Westcoaster. If you ever get the chance to visit, I'm told that a stay at Aulani is a must do for any fan of themed entertainment, as Disney has really hit the ball out of the park with this project in almost every way.
(8/31/12) The Disney Parks Blog goes over some new changes and additions on the way to Aulani, including new water play areas.
(7/30/12) Disney has confirmed that an expansion is on the way to the Aulani Resort in Hawaii that will have new water features added to the Waikolohe Valley pool area, two new quick service food locations and the popular Starlit Hui show will move to the larger lawn location to accommodate more guests. Construction work will begin this September.
Future Cruise Line Expansion - (4/12/13) - According to a rumor posted to ChipandCo, the Disney Cruise Line might have been looking into the idea of expanding the fleet by adding two medium sized vessels, smaller than the Disney Fantasy & Dream but bigger than the Disney Magic / Wonder.
(5/13/12) Keep in mind that there is only talk at this point, but I've heard that the Disney Cruise Line may be checking into the feasibility of adding two more vessels to their fleet in the future. This does not mean they have approved anything… only that they are doing their homework about the possible costs and construction timetables involved IF they were to approve two new ships, as well as studying their internal numbers over the next 12 months (occupancy / profits, etc) as the company has time to digest their last expansion. If the rooms on the existing four-vessel fleet are still selling out and the cost is right, perhaps we'll see more ships added in about 3-5 years.