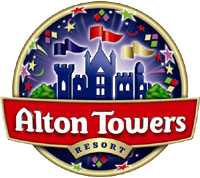 ALTON TOWERS
United Kingdom (Abbreviation: AT)
Merlin Entertainment Group
---- THE LATEST BUZZ ----
(1/28/2023) The Curse at Alton Manor Coming in 2023 (MORE...)
(1/7/2023) Alton Towers - The Return of the Haunted House and More (MORE...)
(1/1/2023) Will Nemesis Return With Black Track? (MORE...)
(12/22/22) An Alton Towers Haunted House Documentary Is Coming (MORE...)
(11/23/2022) Indoor Coaster Project Horizon Update (MORE...)
Park News - (12/22/2022) A trailer for an upcoming documentary about the creation of Alton Tower's original Haunted House attraction can be seen below. I'm not sure exactly when it will be released, but the trailer does promise it sometime in 2023.

2023 - The Curse at Alton Manor - (1/28/2023) Alton Towers has revealed the name for their latest attraction: The Curse at Alton Manor. The new haunted house / dark ride promises to take riders deeper into the dark past of Alton Manor. More details are expected to be released sometime next month, though it's been said a number of hints as to the story can be seen in the promotional image the park has released.




(1/7/2023) The latest video update from Coaster Chall goes over what we can likely expect from Alton Tower's efforts to transform Duel into what is now expected to be something more like the park's original 1992 Haunted House but modernized and with a completely new storyline.
Alton Towers has been making headlines as of late for a large number of projects taking place at the park right now. This includes the refurbishment of Duel into a new Haunted House for 2023, the recent closing of the park's iconic Nemesis roller coaster for a complete rebuild to open in 2024, and planning applications for a new £12.5 million indoor attraction project under the codename, "Project Horizon" likely to open in 2025.


(10/9/22) More fun signs have been posted around the walls of the closed "The Duel" attraction at Alton Towers. They feature a similar message saying that the property has been repossessed and "no unwanted visitors" along with a phone number to call. Of course in a fun wink-wink enhancement, many of the letters on the posts have been double-printed with red ink, to relay the messages "Possessed" and "Want To Play".
As the number is an international one, I haven't called it myself, but I'm curious if anyone has recorded it and posted it online yet somewhere.


(9/8/22) Duel is now closed at Alton Towers and a sign has appeared on the closed gate outside that now says, "Property Repossessed".


(9/5/22) Some interesting things are starting to happen at Alton Towers it seems. For starters, something is happening within the Duel dark ride. According to the Towers Times a photo frame containing an odd message has now appeared within the queue, "06-09=The Duel is over" at the top in a proper print font, and below that in hand-written scrawl it says , "This is my house".
The assumption is that Duel may close for some kind of change on September 6th that could bring an end to the current form of the attraction. Duel did not open as it currently runs, as the article reports that the attraction first opened simply as "The Haunted House" back in 1992. In 2003 the attraction was upgraded with some new scenes and the addition of the interactive laser guns and zombie theme that it currently has, and promoted as "Duel - The Haunted House Strikes Back!". What exactly Merlin has planned for Duel is anyone's guess right now, as they could upgrade and keep the attraction as an interactive concept. However, as the message clearly states that "The Duel is over", this could also signal a return of the attraction to being a pure dark ride experience, with the scares cranked up to 11.
If that wasn't enough, drop on tower to see what else may be taking place in the years to come during and after the proposed Nemesis rebuild.
2024 - Nemesis 2.0 - (1/1/2023) Pictures showing off a load of black painted B&M track sitting at the plant in Ohio have been posted to Facebook by TowersTimes. They believe the track could possibly be new track destined for the rebuild of Nemesis at Alton Towers, but this would also indicate a major color change for Nemesis, which was previously a more natural grey color with dirty/dark splotches all across it.
So far only three B&M coasters are being built for 2023 (Legoland Germany, SeaWorld Orlando and Chessington) and none of them have black track, so if this isn't for Nemesis, then it would be for another yet-to-be-announced 2024 coaster project. Otherwise a color shift wouldn't be completely out of the realm for the reborn Nemesis, as sister coaster Nemesis Inferno at Thorpe Park was build with black supports and dark red/crimson looking track.




(10/23/22) Alton Towers has now posted details for a last-ride event for Nemesis that will give you the chance to ride the park's most popular coaster with the ride's creator, John Wardley. Currently Nemesis is under the control of The Phalanx, a secret organization tasked with keeping the beast under control. As told through the story of the ride, the roller coaster is actually a complex device built to pin down the actual Nemesis beast. A final list of test specimens are to be selected to brave Nemesis on the final ride day on November 6th.
After this, Nemesis will close down an undergo 'an exciting revamp' before it can return to service in 2024. If you have what it takes to become one of the final riders, you can nominate yourself to take the last ride here where winners will apparently be chosen by The Phalanx at random.

(9/23/22) Alton Towers has confirmed that you have until November 6th to ride Nemesis before they shut it down to undergo extensive track replacement. They have also confirmed that this renovation project will keep Nemesis closed for the entire 2023 season, and not see the coaster reopen until 2024.

(1/25/22) Back when Universal Orlando chose to tear down and completely rebuild their Incredible Hulk coaster from B&M, it was somewhat of a unique event. At the time, no one had ever just kind of come out to say that they felt their coaster had reached the end of it's lifespan so quickly and needed to be replaced, after opening in 1999 and then shutting down the original coaster in September 2015 to replace it with a new copy of Hulk that opened in August of 2016.
While we've seen many coasters replace sections of track in the off-season over the years, a process especially well known to fans of The Big One at Blackpool Pleasure Beach, about the only other time I can recall a coaster being taken down and entirely rebuilt from the ground up would be when Disneyland did it to Space Mountain, closing the 1977 ride in 2003 and replacing it with a modern built version that opened in 2005.
Now you are probably wondering why I am bringing all this up on our Alton Towers news page. This is because Merlin and Alton Towers have submitted plans to do nearly the same thing to the park's extremely popular Nemesis coaster (also from B&M). Nemesis first opened in early 1994 and has now submitted plans to remove and replace the majority of Nemesis' track (they are keeping just the station and lift hill) along with the majority of the ride's support pieces.
The layout will be kept the same, but the track pieces will be filled with sand this time, which is now a common method of making the coaster run quietly, which is sure to please the neighbors.
Keep in mind that the application to perform this work was just submitted, so the park still needs final approval to go ahead with it. Assuming this is approved, and I don't see why it wouldn't, then if I had to guess we may need Nemesis close sometime later this year in order to get it rebuilt in time to reopen for the 2023 season if possible. Or at least we hope it will be ready to roll again in 2023. It took nearly a year to replace Hulk and given the way that Nemesis interacts with the ground and surrounding landscape, replacing it may end up being a bit more complex.

2025 - New Indoor Attraction / Project Horizon - (11/23/22) The latest word on the proposed new indoor coaster project for Alton Towers (referred to as Project Horizon) is that construction on the large building for the indoor ride is set to begin in Spring 2023 and the ride is expected to open in Spring 2025.

(11/6/2022) According to a post by TowersTimes, the new indoor Project Horizon planning application mentions that the new attraction inside would be some kind of indoor roller coaster. A family friendly indoor coaster would be a good fit for the park that has been without such an offering ever since they closed Black Hole in 2005.




(9/5/22) In other news it has come to light that Alton Towers will "hold a public exhibition event" on September 19th featuring proposals to add a new indoor attraction on the former site of Alton Mouse in the former Coaster Corner section of the park. According to the limited information in the leaflets, the proposal will be for a new attraction building on the site. As for the location, Towers Times mentions that guests have not had access to the former Coaster Corner area since 1992, following the removal of the 4 Man Bob and Alton Mouse from the area, and the relocation of Alton Beast to the Forbidden Valley area as "The New Beast". Noise from the outdoor rides in this area was always an issue with the locals, so the area has sat unused for many years, so building a new indoor attraction should be a viable solution to breathe new life into the site. A new video on the CoasterChall channel also discusses this new development in further details (see below).
In other news a post to Twitter shows off markings on the ground in the park said to be placed just outside of the Enterprise ride, hinting that it could be related to an SW9 project.
Keep in mind that the park is also planning on closing Nemesis for a complete rebuild that will likely see Nemesis closed for all of 2023 to reopen in 2024, so between Nemesis, Duel, and this new indoor ride project, and whatever SW9 turns out to be… there a lot of activity being planned for Alton Towers all at once.