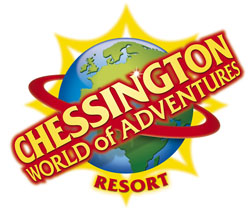 Chessington World of Adventures
United Kingdom (Abbreviation: CWOA)
Merlin Entertainments Group

Park News - (3/16/21) ThemeParks-UK reports that the new Croc Drop ride at Chessington World of Adventures will be ready to open to guests on April 12. Follow the link for more information.

2022 - Nothing is known at this point in time...

2023 - Amazon Land / Jumanji - (8/18/21) One of our readers had a brilliant observation while looking over Chessington's plans for Project Amazon. Looking at the strange layout of the pathways just outside the entrance to the new roller coaster queue, they realized that they had seen this same pattern before as part of the enchanted board game shown in the movie, Jumanji.
Based on this, it seems clear that the Project Amazon codename will likely be revealed to truely be a new land themed around the Jumanji movies.




(8/10/21) Chessington is working on a new expansion site called #ProjectAmazon for 2023, which appears to have a few flat rides and plans for a new coaster. It may just be the artwork style, but it was been noted that the coaster track in the planning artwork does look a bit like B&M track. The layout on the other hand does not look like anything we've seen from B&M before, appearing more to look like a family shuttle coaster style experience that will end with an upward spiral around the large structure which is described as 'details will represent an animal feature'. So the coaster will spiral up and around a giant themed mountain or statue like structure before rolling backwards along the course back to the station, with a steeper spike track positioned behind the station.
Chessington isn't known for the park's thrill rides, but rather it has been designed for family groups, especially those with smaller kids. While a B&M may seem a strange choice for the park, let me remind everyone that B&M has made two "Family Inverted Coasters" thus far, both in China. This clearly isn't an inverted coaster, based on the design, but it has many wondering if this could perhaps be a launched Wing Family Coaster style design.



(5/20/21) According to the tweet below, Chessington has proposed building a new themed "Amazon Land" that would feature a new roller coaster and two kiddie rides. They go on to speculation that the new coaster appears to possibly be a new launched B&M Wing Coaster style design, but with a shuttle-coaster style layout that would run forwards and then backwards, as well as featuring a launch.