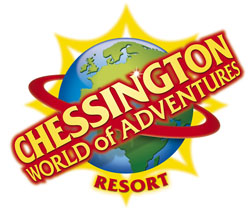 Chessington World of Adventures
United Kingdom (Abbreviation: CWOA)
Merlin Entertainments Group

Park News - (3/16/21) ThemeParks-UK reports that the new Croc Drop ride at Chessington World of Adventures will be ready to open to guests on April 12. Follow the link for more information.

2021 - Croc Drop - (4/10/21) Some new pictures of the Croc Drop tower ride opening at Chessington on April 12th can be found over at Themeparks-UK this week. The setup of the drop tower is interesting, as it looks like plexiglass dividers have been installed between each of the seats. So no holding hands with a loved one who is scared… you're on your own on this one.

(2/16/21) We first heard about a Crocodile themed drop tower ride coming to Chessington way back in September 2019. By current standards, the 82 foot tall drop tower would be more of a family ride that was supposed to be themed to Sobek, the Egyptian crocodile god to fit into the park's Forbidden Kingdom area.
A new update from ThemeParkPortal has finally revealed the name of the ride as Crop Drop with an revised opening date of 2021. The fun part is the base of the entire tower will be themed like a giant stone temple shaped like the open jaws of a crocodile.




(9/29/19) Chessington has announced that they will retire their Rameses Revenge (Top Spin) attraction at the end of this season. The plan is to replace it with an 82 foot tall drop tower ride that will appear to fall into the open mouth of a giant Crocodile shaped building structure at the bottom. According to documents referenced here, the new Crocodile themed ride will be themed after Sobek, the Egyptian crocodile god, so it will fit into the existing Egyptian theming of the Forbidden Kingdom section of the park. They also report that the park's Flying Jumbos ride will be relocated to the Land of the Dragons area to make more room for the drop tower ride.
???? - Amazon Land - (5/20/21) According to the tweet below, Chessington has proposed building a new themed "Amazon Land" that would feature a new roller coaster and two kiddie rides. They go on to speculation that the new coaster appears to possibly be a new launched B&M Wing Coaster style design, but with a shuttle-coaster style layout that would run forwards and then backwards, as well as featuring a launch.