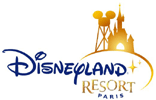 DISNEYLAND PARIS
Outside Paris, France
Abbreviation: DLP
Walt Disney Theme Parks
Ride Rehabs - These dates are not guaranteed to be 100% accurate as refurbishments are subject to change.
Small World - NOW CLOSED through TBD
Les Mysteres du Nautilus - NOW CLOSED through TBD
Les Voyages de Pinocchio - Jan. 30 through Mar. 17
Big Thunder Mountain - Mar. 6 through TBD
Dumbo - Mar. 6 through Mar. 17
Mad Hatter's Tea Cups - Mar. 27 through TBD
Park News - (3/13/2023) According to a new post from MouseSteps, the former Cafe Mickey outside Disneyland Paris has closed and is being transformed into a new eatery called Rosalie, described as a 500-seat French brasserie, which I believe is more of a brewery style restaurant experience. Follow the link to see some pictures of the construction on the new restaurant.
In another update, they have also added some pictures showing off the refurbishment of the Disneyland Hotel at Disneyland Paris, which is expected to be complete sometime in 2024 though the work has been going on since 2021.

(10/3/22) MouseSteps is back with a new international Disney park news update, with a look at the refurbishment construction taking place on the Disneyland Hotel in Paris! This is a long term project that has been going on since 2021 and is not expected to be complete until 2024, but as you can see in their update work crews are busy replacing the roof tiles throughout the building.

(9/6/22) Disneyland Paris will celebrate the Magic of Christmas from Nov. 12 through to Jan. 8, 2023. This year's event will include the Disney D-Light drone display lighting the sky every night, the return of the "Disney Dreams! Of Christmas" nighttime spectacular and the return of "Mickey's Dazzling Christmas Parade".

???? through 2024 - Major New Attractions - Planned - (1/31/19) Screamscape sources tell us that Disneyland Paris may have been allocated some new funds to create two major new attractions at the park between 2022 and 2024. While one of the rides is still unknown (maybe the Indiana Jones rumor below?), the other attraction said to be coming would be a clone of the "Mickey and Minnie's Runaway Railway" attraction opening later this year at Disney's Hollywood Studios in Florida. I can only imagine that Disney execs may be rather high on the new ride concept at this point as unconfirmed rumors of yet another clone of this same ride indicated it would also go to Disneyland in California.
There is lots of time between now and when these projects would get started through… enough time for the plans change entirely, but for now this seems to be the park's short-term 5-year plan of expansion.

(11/23/17) According to Forbes, Disney is now planning on adding some kind of "major new attraction" to Disneyland Paris in 2024 as part of a massive new investment into the property now that they have full control over the property. Other new additions and capital expenditure projects planned over the next decade include upgrades to several hotel properties as well as adding Marvel themed attractions to the Walt Disney Studios Paris theme park.

???? - Future 3rd Park Plans - (2/17/20) According to the local news an agreement was made between the local government and The Walt Disney company that will see a deadline to commit to building a third theme park for the Disneyland Paris Resort extended by an extra ten years. The new date now lists 2036 as the deadline in which to make the decision to build a third park in the Marne-la-Vallee location, however there is also a requirement now set in place that attendance at the theme park resort will also have to rise to 22 million guests a year as well by 2036.
With attendance currently around 15 million guests a year, it would seem that this may likely be a reason behind the massive plans announced to extend the Walt Disney Studios theme park by adding several new themed lands and attractions, such as the Avengers Campus, a Frozen land, and even a Star Wars themed land as well as a lagoon for a night show. Should Disney not be able to meet the attendance level by 2036, there are measures in place to vote on another timeline extension, otherwise it gives the government the rights to sell off the land being held for Disney to other projects.