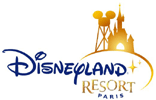 DISNEYLAND PARIS
Outside Paris, France
Abbreviation: DLP
Walt Disney Theme Parks
Ride Rehabs - These dates are not guaranteed to be 100% accurate as refurbishments are subject to change.
Orbitron - Now Closed through TBD
Other Long-Term Attraction Closures Include: Fronterland Playground, La Taniere du Dragon
Park News - (10/9/21) While Walt Disney World prepares for the launch of their Disney Genie+ and Individual Lightning Lane attraction access on Oct. 19th, they are keeping an eye on how Disney's other pay-per-attraction access programs are going at other parks, along with the pricing set at those locations. As such, it was noted on Twitter than Disneyland Paris is actually lowering the prices on that resort's "Disney Premier Access" attractions.
Top priced attractions like Star Wars Hyperspace Mountain have dropped from €15 to €12 per guest, and other attractions in the program can now be found priced as low as €5 per guest. Of course this could just be a planned "seasonal" pricing adjustment made to the program as peak summer crowds vanish, and those higher prices likely to return along with the bigger crowds.




(9/7/21) Starting in March 2022, the Disneyland Paris Resort will be holding a celebration for their 30th Anniversary. More details will be released in the near-future, but you can count on the park adding some special celebration events like parades and fireworks for sure.

(7/24/21) A fun Behind the Scenes video for the marking of the new "Coco" sequence added to Mickey's PhilharMagic can be seen below. The new addition is now playing at Disneyland Paris and Disneyland this week, and coming later this year to The Magic Kingdom at Walt Disney World.


(7/10/21) A big change was announced for the Disneyland Paris theme parks this past week that is sure to ruffle a few feathers, regarding the future of FastPass at the park. Just like the American parks, when they reopened from COVID, Disney opted to retire the old FastPass system entirely, and trust me, that was probably for the best.
I have no love for the FastPass system, as I can say that since the introduction of FastPass system the wait times for attractions has only increased. Attractions that seldom had a wait time of more than 10 minutes suddenly saw their wait times increase to an hour or more as the FastPass system took up the capacity. I've mentioned it many times over the years, but the driving force behind the wide-spread installation of FastPass was never about offering shorter wait times, but was rather driven by the fact that the sales increased dramatically at every gift shop and food location located near the FastPass enabled attractions as an unexpected side-effect. Apparently many guests would often opt to eat or shop nearby while they waited, rather than going elsewhere in the park and doing something else.

As for the announcement… Disneyland Paris has confirmed that they are planning to soon replace the former free FastPass system with a new upcharge system called Disney Premier Access. This is very similar to the system Disney put into place at Shanghai Disneyland shortly after that park opened, where guests can use a park app to pay for almost immediate access to individual park attractions as needed, and where available. So for example, if you feel the need to ride Tower of Terror but don't wait to wait for 90 minutes, if there is access on the park app, you can pay a single fee (€8-15 / $11 - 20) and you'll get sent a time to come and get immediate access to ride through the Disney Premier Access system.
According to the official website, the service is listed as "Coming soon!", so I don't know when it might go into effect. There will only be 8 attractions offered on the system during the initial launch:
Disneyland Paris (6) - Autopia, Big Thunder Mountain, Buzz Lightyear, Peter Pan, Hyperspace Mountain and Star Tours.
Walt Disney Studios (2) - Ratatouille and Twilight Zone: Tower of Terror
While the age of free FastPass is over, I'm actually not mad at this system right now. The high cost and fact that you have to buy it separately for each and every ride you want to use will ensure that the system does not get overloaded and make the regular lines (formerly: stand-by lines) move very quickly once again. While Disney kept the ratio numbers in use for FastPass attractions very close to the vest, over the years Screamscape was informed that Disney typically kept up to 80% of an attraction's capacity for use with FastPass, which is why the stand-by lines moved so painfully slow. I can't see the Disney Premier Access system taking up any more than 5% capacity in most cases, so guests will move very rapidly through the normal lines as originally intended.
It is also worth mentioning that before Covid-19 shut down Disneyland in early 2020, the park had been trying out their own extra-cost FastPass system under the name MaxPass, that was built to work alongside the park's free FastPass system. The MaxPass system charged guests a flat fee of $20 for the ability to make FastPass style reservations from a mobile device before the system was shut down. Disney was also rumored to be planning an extra cost FastPass replacement system for Walt Disney World as well before COVID. Currently FastPass has been entirely retired at the American parks, but rumors have been swirling of a new program being prepared for launch for quite some time, which could end up being a copy of the Disney Premier Access program from France.


(7/3/21) Disney has announced a new surprise addition is coming this month as an update to the Mickey's PhilharMagic attraction. An entirely new musical scene is being added to the fun 4D theater film allowing Donald to enter the world of Disney and Pixar's COCO for the first time.
"The musical number "Un Poco Loco" will anchor the new scene when it opens to guests at Disney California Adventure park and Disneyland Paris on July 17, before being added to Magic Kingdom Park later this year during the Walt Disney World Resort 50th anniversary celebration."
The world of COCO is such a wonderful visual treat to the eyes, and features fantastic music plus the wacky characters that would fit right in with all the crazy action that takes place during Donald's adventure in Mickey's PhilharMagic. From the sound of things they are only adding content to the attraction and it didn't sound like the addition would bring about the removal of any of the other existing scenes.
Honestly, I don't know why they haven't tried adding some updated scenes to Mickey's PhilharMagic before. Wouldn't it be fun to put Donald into other more modern Disney films like Tangled, Moana or even Frozen? Come on, you know you want to see Donald take on Marshmallow and the Snowgies or perhaps get caught up in a battle between a singing Maui and Tamotoa in potential future updates.

(5/24/21) Disneyland Paris has confirmed that the park will finally reopen to guests on June 17, 2021. Opening just a few days later on June 21, 2021 will be the remodeled, Disney's Hotel New York: The Art of Marvel. You can see a bit more about what has gone into the hotel's transformation in the video below.


(4/30/21) The Disneyland Hotel at the Disneyland Paris Resort will be undergoing a transformation to be the first Disney hotel to have a "royal" theme, where all hotel rooms and suites will be rethemed after popular Disney Princesses, Princes and Queens from films like Cinderella, Sleeping Beauty, Tangled, Frozen and more.

(4/14/21) Disneyland Paris is looking ahead to celebrating their 29th Anniversary when the park opens this year. They've even posted a little video to look ahead at what's to come with the anticipated reopening of Disneyland Paris. Unfortunately they don't have a date to reopen yet, but hopefully this will come soon.


(3/12/21) Disneyland Paris has confirmed that the theme park resort will not be ready to reopen to guests on April 2nd as they had hoped due to current COVID restrictions in France as well as travel restrictions in effect throughout Europe.


(1/19/21) While Disneyland Paris had originally been hoping to reopen their theme parks on February 13, 2021, the current state of the COVID pandemic in the area is not going to allow for it and the resort is being kept closed at this time. If the conditions allow for it, the next date that they are hoping to reopen will be April 2, 2021.


(10/27/20) Disneyland Paris has announced that they will build one of the largest solar canopy projects in Europe. According to this update the theme park resort's new solar farm project should generate enough clean energy to power 17% of the resort. This particular project will actually consist of a series of large solar panel structure to cover the cars in the parking lot. Construction had already begin back in July and is expected to be complete by 2023 across the a 42 acre site.

2022 through 2024 - Major New Attractions - Planned - (1/31/19) Screamscape sources tell us that Disneyland Paris may have been allocated some new funds to create two major new attractions at the park between 2022 and 2024. While one of the rides is still unknown (maybe the Indiana Jones rumor below?), the other attraction said to be coming would be a clone of the "Mickey and Minnie's Runaway Railway" attraction opening later this year at Disney's Hollywood Studios in Florida. I can only imagine that Disney execs may be rather high on the new ride concept at this point as unconfirmed rumors of yet another clone of this same ride indicated it would also go to Disneyland in California.
There is lots of time between now and when these projects would get started through… enough time for the plans change entirely, but for now this seems to be the park's short-term 5-year plan of expansion.

(6/1/18) It has been awhile since we've heard anything about the rumor of Dinosaur at Animal Kingdom being replaced by a next-gen version of the Indiana Jones Adventure ride, but our friends at Disney & More take a look into the latest rumors on this topic, including the rumor that AK and DLP may even share the development costs for this project, that would see a clone also built in Paris in the near-future near their own Indy themed coaster. Meanwhile the news may be more urgent for the Florida resort, as the current Indiana Jones stunt show is rumored to be closing down sometime after Star Wars: Galalxy's Edge opens, which would remove the only Indiana Jones themed area from all of Walt Disney World. So you could imagine that they would want to put him back somewhere else fairly quickly if that happens.
I don't know how accurate this might be, but one possible rumor even blends the two concepts into one attraction, having Indiana Jones encounter a lost world of living Dinosaurs. Hmmmm.... makes me wonder if this could be what the rumored 2024 attraction might be.

(11/23/17) According to Forbes, Disney is now planning on adding some kind of "major new attraction" to Disneyland Paris in 2024 as part of a massive new investment into the property now that they have full control over the property. Other new additions and capital expenditure projects planned over the next decade include upgrades to several hotel properties as well as adding Marvel themed attractions to the Walt Disney Studios Paris theme park.

2022 - 30th Anniversary Celebration / Castle Renovation - (12/19/20) A report from ThemeParkPortal shows off refurbishment plans now in place to work on Sleeping Beauty Castle at Disneyland Paris in time for the park's 30th Anniversary in 2022. This is more than just plans to repaint the castle, as sections of the castle structure will be removed and replaced, with work to start in January 2021 in order to finish by the following year.
For those visiting during the construction, a huge tarp will be placed around the upper parts of the castle structure, themed to make it look as if the castle were still sort-of there, complete with the addition of a few Disney characters for fun. So it should be an interesting time to visit the park and see all this take place over the next 12-18 months.


???? - Future 3rd Park Plans - (2/17/20) According to the local news an agreement was made between the local government and The Walt Disney company that will see a deadline to commit to building a third theme park for the Disneyland Paris Resort extended by an extra ten years. The new date now lists 2036 as the deadline in which to make the decision to build a third park in the Marne-la-Vallee location, however there is also a requirement now set in place that attendance at the theme park resort will also have to rise to 22 million guests a year as well by 2036.
With attendance currently around 15 million guests a year, it would seem that this may likely be a reason behind the massive plans announced to extend the Walt Disney Studios theme park by adding several new themed lands and attractions, such as the Avengers Campus, a Frozen land, and even a Star Wars themed land as well as a lagoon for a night show. Should Disney not be able to meet the attendance level by 2036, there are measures in place to vote on another timeline extension, otherwise it gives the government the rights to sell off the land being held for Disney to other projects.