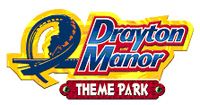 DRAYTON MANOR
United Kingdom
(Owned by Looping Group)
Park News - (5/29/22) While Drayton Manor had confirmed the removal of their Pandemonium ride after last Halloween, would you believe the park has now confirmed an upcoming retirement is on the way for one of the park's most visible thrill rides? According to Twitter the park confirmed to Attraction Source that they will be removing their Apocalypse drop tower ride by the end of this season.
While the park has just launched an all new logo and plans to start a "new era" for Drayton Manor, it does not bode well if that "new era" is starting off with the removal of two large thrill rides. Of course these were older rides that might have been a big problematic on the upkeep side of things however, and given the state of the world's supply chain, we have all seen a number of parks opt to retire older rides that had high cost / frequent repair issues.
It is also worth mentioning that the park did just open their new Vikings themed land which added two new thrill rides at least (Thor (Disk'o Coaster) and Loki (Nebulaz) as well as a new family ride and a rethemed family coasters, plus they have let it be known they have big plans for 2024 in the works. So stay tuned!




(5/15/22) Drayton Manor is in the process of rebranding itself it seems, and has just tweeted out an all new logo for the park. "The vibrant transformation of our identity reflects the start of our ambitious future."
The new direction, brand identity and future of the park is being planned out by the Looping Group who purchased the park in 2020. The new mission for the park is to expand their family-friendly offerings, with a focus to "capture a more diverse family thrill audience, with new rides, attractions and immersive experiences that cater to guests of all ages."


(10/29/21) Drayton Manor has confirmed that Pandemonium is closing for good and the last day for guests to ride will be thus Sunday on Halloween.
2022 - Viking Themed Land - (4/17/22) Loki was spotted testing at Drayton Manor in the IG post below. I've yet to try a Zamperla NebulaZ myself, but I can't help but just stop and watch them in action and think that they look like they will be incredibly fun to ride. Can't wait to try one out myself, as soon as I can get somewhere that has one.




(3/19/22) Drayon Manor has announced Vikings, a new themed land is coming to the park in time for Spring 2022. The land will feature four attractions: Thor (Zamperla Disk'O Coaster), Loki (Zamperla Nebulaz), Sleipnir (Metallbau Emmeln Pony Trekking) and Jormungandr (a rethemed version of the park's Buffalo Coaster). It will also include Walhalla, a new themed restaurant. The Viking experience wont end in the theme park, as 10 new Viking themed rooms have been added to the park's on-site hotel.

(1/1/22) Drayton Manor has posted a brief teaser video this morning along with the hashtag, #Invading2022. The font style almost seems to confirm that this will become some kind of viking themed area and attraction(s). This is a follow-up to another teaser graphic the park released a couple weeks ago that I missed that apparently just showed the letter "V" over a cracked bit of ground. In a video report from Coaster Chall, he speculated based on his sources that the new land would feature a a couple of Zamperla rides (a large Disk'O Coaster and Nebulaz) and the third may be a kiddie ride themed to riding a battle horse, not unlike the Legoland Castle Joust rides or the Black Bear Trail ride at Dollywood.
Unfortunately, nothing points towards the park getting a new roller coaster, which I know will disappoint many, as currently the park's newest coaster was Accelerator that opened way back in 2011. Add in that the park lost their most modern thrill coaster in 2018 when they opted to close G Force and it does look like the park may be backing away from the high thrill demographic. This doesn't mean that a big new coaster couldn't be planned as a phase 2 expansion down the line, so stay tuned! The park was purchased by the Looping Group in 2020, so I'm sure they're making plans for something.

2024 - New Attraction - Unknown - (3/25/22) A new article at Blooloop looks over the purchase of Drayton Manor by the Looping Group and digs a little deeper into what plans the new owners have for the theme park. This includes the opening of three new rides this year as part of the new Viking land, as well as the mentioning of "a very big project for 2024".