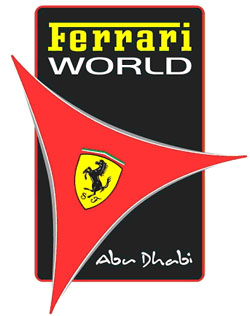 FERRARI WORLD
Abu Dhabi, UAE
Official Website
Park News - (7/23/22) Ferrari World has launched a unique new aerial drone show that will take place every weekend through to Sept. 4, 2022. The interesting thing is that Ferrari World is an indoor park, so this new drone show takes place in an indoor setting, putting guests more up close and personal with the drones than what you would normally see.

(1/30/21) Mission Ferrari Testing Caught On Video (MORE...)

(2/9/18) According to BlooLoop, an agreement with the Abu Dhabi government has been signed with SkyTran to build a unique overhead rail system that in the first phase would connect Ferrari World to the new Warner Bros World theme parks by 2020. This will be a direct connection between the two attractions where riders sit inside enclosed four-person pods. Future phases will connect to other nearby attractions, hotels and even the Abu Dhabi International Airport.

2022??- Mission Ferrari (SFX Coaster) - (1/30/21) While we know this isn't the first time Ferrari World has tested their long in development Mission Ferrari (SFX coaster) attraction, these tests are normally done whe nthe park is closed to guests. That changed this week as a guest caught the new attraction testing while the park was open and caught it on video. Perhaps 2021 will be the year the attraction is finally ready to open to guests.




(1/6/20) According to what I'm hearing, the "Mission Ferrari" SFX Coaster attraction at Ferrari World Abu Dhabi is expected to finally open sometime in 2020. As with all things, nothing is confirmed until the park itself has been able to announce and confirm the opening date for the attraction.

(8/29/18) Good news for the Ferrari World theme park, as it looks as if the long-in-development Mission Ferrari SFX coaster project is now being tested. Photos of the exposed section of track visible in the park now show wheel markings that would normally indicate some kind of early testing is taking place, though likely after hours and well out of sight of the park guests. Follow the link to see some of the latest photos of the ride and entrance area taken last week. Still no word from the park on an official opening date just yet.

(2/14/18) A couple of fun Tweets came out a few hours ago showing off the outside track portion of Mission Ferrari at Ferrari World, along with the message that they were told the new ride was expected to finally open in May. This was followed by a few more pictures taken after dark, where they could see into the indoor portion of the ride which was lit up and viewable through the mesh-covering.


(11/24/16) Due to a request from Ferrari World, I was asked to remove the three photos posted in the March 23rd update showing off the construction of the Mission Ferrari SFX coaster project interior, shot by a park guest from a public space when the door to the area was left open. Sorry.
(5/5/16) A new construction update from Ferrari World can be found at travellerczech.com, and while it starts off with a look at the park's new cute dark ride, Benno's Great Race, you've got to scroll down to check out the pictures of the park's new SFX coaster under construction that is now expected to open in 2017.
(3/23/16) A reader visiting Ferrari World this week noticed the work doors on Mission Ferrari, the park's new SFX Coaster attraction, were left wide briefly and took the opportunity to grab three quick pictures. The track inside has not been completed yet, though there is quite a bit of it all twisting around in there, including a vertical loop inversion. Combined with the exposed track inversion we've seen before, we know there are at least two inversions.

(11/27/15) A reader sent in a HUGE collection of coaster construction photos shot this week at Ferrari World showing off the progress being made on the three new coasters they are adding at the same time... the big Flying Aces outdoor one, the SFX coaster (mostly hidden inside a structure) and the odd new shuttle coaster project. Check them out.
(11/26/15) Some great new pictures of Ferrari World have been posted to Twitter lately, showing off the construction of their new coasters. For example, this photo shows off track for what is said to be their new SFX coaster in the foreground, meanwhile track for a new Intamin shuttle coaster is under construction in the background. You can get a better look at the shuttle coaster track being installed in this second photo as well.
(5/7/15) The description on RCDB for the park's SFX Coaster lists a number of LSM launch moments, 3D screens, a drop track, tilt track and possibly inversions during the new indoor/outdoor attraction from Dynamic Attractions.
(12/30/14) VHCoasters have posted some very interesting photos this week, showing off the track under construction for the new Dynamic Attractions SFX Coaster ride coming to Ferrari World. The track is really unlike anything I've ever seen before, featuring almost Intamin like flat track sections mounted to a Triangle shaped spine-box. They also have a peek at what appears to be a possible layout for this coaster, which will feature some interesting track switch elements and an inversion or two.
(11/20/14) Word from the IAAPA show floor is that Ferrari World is adding a Dynamic Attractions SFX Coaster for a future attraction, a similar ride concept to the one used by Universal Orlando for the Harry Potter and the Escape from Gringotts ride.