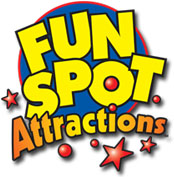 FUN SPOT AMERICA (Orlando, FL)
in Orlando and Kissimmee, FL
http://www.funspotattractions.com
Park News - (10/15/20) Oh Fun Spot America… what are we to do with you? Well… not just Fun Spot, but apparently also the guests the small park attracts in Orlando. According to a local news report guests at the park are still walking around and taking rides without the required face mask protection mandated by Orange County.
A COVID-19 Strike Team has visited the park three times in the past two months and found the park to be in violation of the safety mandates. On the Aug. 13th visit the park was found to be not enforcing the required COVID-19 safety requirements for guests and staff requiring face masks and had no physical distancing reminders at the entrance or attractions.
A return visit on Sept. 3 revealed improvements regarding social distancing and employee face masks being worn, but the guests were found to be removing masks while on rides. Unfortunately a third visit on Sept. 25th revealed the exact same problem as the second visit which is unfortunate.
For those wondering, apparently strike team violations are coming with warnings only, not fines at this time. So essentially Fun Spot has been getting at most a slap on the wrist and maybe a little bad press, but after three violations I have to think that perhaps it is about time that some sort of fines should start to happen.
Remember, Orlando is seen as the theme park capital of the world, and every park open, big or small, really needs to be setting an example of how things SHOULD BE DONE and keeping everyone safe, guests and staff alike. This kind of behavior is exactly why California and New York have been keeping their parks closed. California's Governor just announced he is sending a team to Orlando to see how Disney and other parks are handling COVID-19 procedures before they are willing to think about opening their parks.
If we want to make sure theme parks stay open and that no more jobs are lost across the themed entertainment industry, all parks and attractions need to do what needs to be done for safety, like it or not, and not throw caution to the wind. We want parks and attractions to open everywhere if they haven't, and stay open! So please Fun Spot, get on the ball and make things right for everyone's sake.

(9/21/20) Some great photos of White Lightning at Fun Spot showing off the modified new track added to the coaster have been posted to IG by Midway Mayhem this weekend. This includes some close up shots detailing how the transition from regular wooden coaster track to the new GCI all steel track segments take place.

FUN SPOT ORLANDO (Orlando, FL)
2021- Sky Hawk - (4/2/21) Fun Spot America will soon add a new ride called Sky Hawk to their Orlando (I-Drive) location. Sky Hawk is a new 90 foot spinning tower swing ride concept, this time from A.R.M. Rides. Sky Hawk will hold 24 riders at a time seated in 2-passenger swings… with a bit of a wicked twist. While some units will seat riders in traditional upright seating, other units have been designed to position the two riders side-by-side while lying down in the prone position. Look for Sky Hawk to open to riders sometime in May 2021.
(While this was announced on April 1st, I don't believe that this was intended to be an April Fools joke announcement, as the attraction is not only posted on the park's website, but also has a mention on ARM's website and was cross posted to AmusementToday as well.)
FUN SPOT KISSIMMEE (Kissimmee, FL)
2021- Nothing is known at this time...
FUN SPOT ATLANTA (Fayetteville, GA)
2021- Nothing is known at this time...