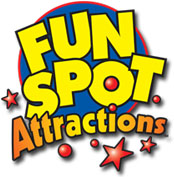 FUN SPOT AMERICA (Orlando, FL)
in Orlando and Kissimmee, FL
http://www.funspotattractions.com
Park News - (9/21/20) Some great photos of White Lightning at Fun Spot showing off the modified new track added to the coaster have been posted to IG by Midway Mayhem this weekend. This includes some close up shots detailing how the transition from regular wooden coaster track to the new GCI all steel track segments take place.

FUN SPOT ORLANDO (Orlando, FL)
2022 - Nothing is known at this time...
FUN SPOT KISSIMMEE (Kissimmee, FL)
2022- Nothing is known at this time...
FUN SPOT ATLANTA (Fayetteville, GA)
2022 - ArieForce One - (6/19/22) A new construction video shows off the latest progress on ArieForce One at Fun Spot Atlanta this week.




(6/12/22) Fun Spot Atlanta has posted some new aerial construction photos of ArieForce One this week.


(5/28/22) Some awesome new aerial photos of ArieForce One at Fun Spot Atlanta can be seen in the FB post below.


(5/19/22) Some awesome pictures of ArieForce One at Fun Spot Atlanta were sent in to Screamscape this week. Check them out!


(5/8/22) A new construction video from Fun Spot Atlanta for the new ArieForce One coaster can be found below.


(4/18/22) Metro Atlanta Coaster Club posted some fantastic pictures on Facebook of the new ArieForce One coaster having been topped off at Fun Spot Atlanta. You may have to join the page to see them however, but the now built lift-hill and first drop a stunning.

(4/4/22) A new construction update shows off the huge lift hill structure now in place for the ArieForce One coaster going up at Fun Spot Atlanta.


(3/13/22) A new construction video from Fun Spot Atlanta takes a look at the vertical progress now being made on the new ArieForce One coaster. No track up yet as they are focused on getting big sections of the support structure in place.


(2/20/22) The new Arieforce One coaster has now gone vertical as the first supports have now been spotted attached to one of the large support pads, with the structure for several others laying about nearby for assembly next. Check it out in the video report below.


(2/4/22) A new construction update from Fun Spot Atlanta showing off the early progress of the new Arieforce One coaster can be seem below.


(12/27/21) Fun Spot Atlanta has released the full POV video of their new ArieForce One coaster. While this is just animation which can be manipulated, the layout does show off an experience that seems to be quite a non-stop and aggressive experience that coaster lovers will enjoy. Check it out below to see what you think!


(11/17/21) FunSpot Atlanta and RMC revealed a new trailer for the ArieForce One, the new RMC coaster coming to the Atlanta area park in 2022. According to the stats release, the new coaster will be 3,400 feet long, 154 feet tall, and feature a 146 foot first drop taken at 83º and hit a top speed of 64mph with a total of 3 inversions. Check out the trailer below as well as a picture of the coaster's front car which was on display at IAAPA.



(7/6/21) According to the local news Fun Spot Atlanta has been granted a requested zoning change that will consolidate the 96.7 acre property with a new 20.7 acre property purchase, and put it all under a commercial highway zoning designation that allow the small amusement park to continue to grow. This is in exchange for a few conditions placed on the owners related to debris clean-up, new fencing around the property and to turn off the lights on the new coaster after 10pm.

(7/3/21) While they haven't revealed the full layout for their new RMC roller coaster (aka: Arie Force One), Fun Spot Atlanta did push out a couple of concept art images showing off a fun inversion element at one end of the layout which you can see below.


(6/29/21) In The Loop went up to visit Fun Spot Atlanta and get a look at what's going on with their new RMC coaster project. You can see the video of what they found below.


(6/25/21) The latest video from Fun Spot drops a few new hints about the RMC coaster coming to Atlanta. While a previous press release mentioned that they were seeking some kind of relationship with an Atlanta area sports team to as a tie in to the name of the new ride, this will not be happening at this time. Instead they confirm that the new coaster name will be "themed after my father", in reference to John Arie, Sr. who started the company.
Going back to the interesting new trademark application filed by Fun Spot I discovered a few days back, it does indeed appear that the new RMC coaster will likely be named "ARIE FORCE ONE". They don't confirm it yet in the video, but all the hints seem to lead to this, assuming Trademark application is accepted without opposition.
The rest of the video goes on to reveal that the colors for the coaster will be Red, White and Blue, with the coaster set to have a white support structure, with the rails on one side of the ride to be painted Red and the other half to be painted Blue, similar to how SFDK painted the Joker's railed so that one was purple and the other was green.
Meanwhile our friends at ParkFans.net have already uncovered plans for the new coaster ahead of the big reveal. If you have an account on their site (or want to sign up for one) you can find the images here along with the rest of the report and discussion about it. Otherwise, ParkFans was also kind enough to send some of the images over to me to use on Screamscape with their permission. This also includes a look at some new property and expansion sites they've set in place for future expansion of the Atlanta attraction.


(6/19/21) I'm not sure which Fun Spot park this is intended for, but the company filed Trademark forms to use the name "ARIE FORCE ONE" on June 11, 2021 for an unknown new "amusement park ride" project. That's no type-o… it is ARIE Force One, with Arie being the name of the family behind the Fun Spot parks. While we know they are working on a new roller coaster from RMC for the park in Atlanta, the name itself sounds like something more playful that might be best represented by a kiddie or family ride, but this is the only ride we know of on the way.
(6/19/21) While not much of a reveal, the second update for RMC's new coaster for the Altanta parks does show off the first section of track for the new coaster being fabricated at the plant in Idaho.


(6/17/21) A tweet from Fun Spot Atlanta seems to hint that they will be making the official announcement about their new RMC roller coaster project sometime on Thursday. Keep your eyes open.


(5/31/21) While nothing has been confirmed by Fun Spot or RMC at this point, Screamscape sources tell us that the new RMC coaster coming to Fun Spot Atlanta will be quite a surprise to most. If the rumors are true, we can expect a fairly large RMC Hybrid style coaster to appear on the site, which means that the first phase of site clearing and construction will likely have to begin very soon, if it hasn't already. So if you are local to the area, please do keep your eyes open for signs of the new coaster.

(5/25/21) According to a Facebook page from Fun Spot America, they have confirms plans to work with Rocky Mountain Construction on a new Roller Coaster coming to their Atlanta park in 2022. All of the options here are interesting, so will it be a Raptor style single rail coaster, a Hybrid coaster, a wooden coaster, or could this be the site of RMC's first "family hybrid coaster"?