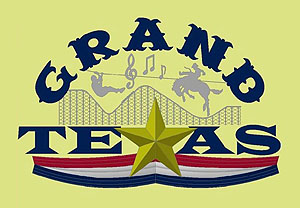 GRAND TEXAS THEME PARK
Big Rivers Waterpark, Fairgrounds & Gator Bayou and More!
New Caney, Texas
BIG RIVERS WATERPARK opened in 2019 / BIG RIVERS FAIRGROUNDS opened in 2022
PROPOSED NEW THEME PARK in ????
Park News - (5/1/22) While the planned March reopening of Big Rivers Waterpark and Adventures was delayed, the wait is now open, as the park has finally opened for the 2022 season as of yesterday. Unlike before, this also marks the first season that the park will open with a collection of amusement park rides in addition to the waterpark in a new area called Big Rivers Fairgrounds.
2023 - Nothing is known at this time...
2025 - Indoor FEC Attraction Project - In Design / Details Unknown
???? - Grand Texas Theme Park - (9/4/2023) According to the local news, Grand Texas still has plans to see their once promised theme park come to life. For years the attraction was focused on just opening their first phase, which was the Big Rivers Waterpark, which happened in 2019. In the years that followed the waterpark attraction has expanded to include the Wild Isle floating challenge course, the Eagle Challenge ropes course, some zip lines, rock climbing walls, maze, axe throwing, and the Big River Fairgrounds (a collection of 7 carnival style flat rides).
But what about the plans for the Grand Texas theme park? According to the park those plans are still on the table, but right now they are focused on opening a "Main Event-style indoor entertainment area" in 2025, and following that the plan is to once again focus on the idea of building the Grand Texas theme park at last. Currently the Big Rivers Waterpark site sits on 85 acres, of which 80% has been used thus far. However there are still 135 acres remaining dedicated to the building of the Grand Texas amusement park.

(7/28/19) In an article about the opening of the Big Rivers waterpark in the Houston area, they go over the issues that slowed the project from opening for several years, as well as peer into the project's future growth plans. Over the next year they are focused on finishing the build of the sportsplex complex, and from there will move on to build a 'storage facility' before proceeding on to the big dream of building the amusement park.

(5/28/15) According to this report Grand Texas has outlined a new construction timeline for their amusement resort project. Sections that were to open later this year have been delayed anywhere from a few months to a year due to "design limitations with a previous engineering firm and delays in utility hookups".
The group has since hired a new firm to rework their master plan which has changes some things up, including the moving of the waterpark from along I-69 to a more "interior position" that will actually speed up construction on that phase. A factory outlet mall has also been added to the overall project.
The new plans are still in the works, but Phase 1 is to include the 28-acre Big Rivers Water Park, with the largest wavepool in the Houston area. Look for the waterpark to now open in Spring 2016. Phase 2 of the waterpark will see it expanded over the following three years.
The first phase of the Grand Texas theme park will span 71 acres, feature a new wooden coaster from Rocky Mountain Coasters, a kiddie coaster, a family coaster and two more thrilling steel coasters. There will be 20 other theme park rides, including a stagecoach ride and a boat ride. The completion of the theme park however is dependant on the addition of a new electric substation nearby (expected to break ground in a few months) as the existing power grid would be unable to handle the addition of the theme park. The substation is expected to be completed by 2017, though an exact date on the theme park itself was not given though they were looking at possibly being finished by Late 2018 to Mid 2019.

(2/26/14) According to the local news the Grand Texas Theme Park will also Feature an area called Flint Ranch, home to horses, bison and longhorn cattle who can graze alongside one of the park's roller coasters. There will also be a farm house in the center which will offer pony rides, a hayloft themed playground and even give guests the opportunity to milk a live cow, and don't forget an official official Tractor Ride.

(1/20/14) Officials for the proposed new Grand Texas Theme Park have now confirmed that they will not be able to bring back the former Greezed Lightning coaster that once ran at Astroworld. Early designs for the new park had left a space open to acquire and rebuild the Texas classic coaster, but after doing the proper research they have determined that the final costs to rebuild it is too high. Instead they will buy an unknown new coaster for the site that will offer a "taller, faster but a similar ride," experience. The new ride will also somehow honor the classic coaster and memory of Astroworld in some way.

(12/9/13) The latest update from the Grand Texas project promises five roller coasters when the park opens, and no Disney style "price gouging". According to the latest updates the Big River Water Park at Grand Texas will open first in April 2015 and the Grand Texas park itself will either open by December 2015 ahead of the 2016 first full season.
(11/14/13) Three new renderings of the Grand Texas theme park project can be found here, showing off a number of the park's proposed thrill rides including a wooden coaster through a fake mountain, a splash battle ride, ferris wheel, wave swinger, disk'o and many more. So far three lands are shown: Pecos Territory, Main Street and the Grand Boardwalk.
The park's new official website is also live, containing a few more fun images in the Gallery section, including overhead layouts of the entire park, showing off one interesting future "expansion area" that is listed to include the return of Greezed Lightnin' to Texas. It is interesting to note that the former Greezed Lightnin' coaster from Astroworld was sold to Joyland but never set up, then traded to Cliff's Amuseement Park in New Mexico in exchange for a water play area, but Cliff's has also not set any plans in motion to set up the coaster. I wonder if Grand Texas is working on buying it and bringing it back to the Houston area for Grand Texas. That would be kind of cool I think. This would allow today's parents who may have taken their first looping coaster ride on Greezed Lightnin' at Astroworld back in the day to take their own children on the very same coaster.

(10/28/13) A new interview about the Grand Texas theme park reveals a few new details about the park and rides. The park itself will be divided into themed areas, each focused on a different period in Texas' history. There will also be three roller coasters one of which will be a 150 foot tall wooden coaster that will speed along at over 60mph and another will be a steel coaster that will feature "one of the highest inversions in the world." The park will also have a full-size steam train, a stagecoach, water rides, a mile long equestrian trail, petting zoos, pony rides, a working farm, zip lines, a ropes course, and over two dozen amusement rides. They hope to break ground later this fall.

(4/23/13) A great list of rides (with fun names) intended for the Grand Texas theme park has now been posted to the official website. Check it out.

(2/22/13) The people of Houston are desperate for a new giant theme park to replace the closed Astroworld, but this summer you will have to set your sights on the new Galveston Historic Pleasure Pier or make the drive over to SeaWorld San Antonio, Six Flags Fiesta Texas or Six Flags over Texas. So far the plans to build the old EarthQuest theme park proposal seem to be stalled.
That said, there is a new plan afoot for something called the Grand Texas Theme Park hoping to come to East Montgomery County which would include a 'theme park' and an 'entertainment district'. The newly proposed park would be themed to the history and culture of Texas and have a couple of roller coasters, carousel and other typical park rides. They also want to put a focus on live entertainment, which sounds a lot like the original vision for Fiesta Texas way back in the day, as well as add a museum element.
The group hopes to close a land purchase deal y the end of April 2013, finish up their plans and begin work on the site by October 2013, and open by March 12, 2015. While this all sounds like a good plan... the total capital cost involved to build the Big Rivers Water Park, the theme park, Pine Grove Amphitheater and a Gunslingers Paintball attraction is only $118 million, which is in my opinion... microscopic for a true theme park. For comparisons sake, back in 2001 dollars, the cost to build Jazzland (later renamed Six Flags New Orleans) was said to be about $120 million. By today's standards the portion of the $118 million budget allocated to build the Grand Texas Theme Park itself doesn't sound like it will go very far.
There is also around $90-95 million on deck for outside developments like a hotel, restaurants and plans for a baseball stadium. The group also has a plan to invest $33-42 million back into the park over the first seven years... but again... in today's world where a typical new B&M steel coaster will cost you $15-$20 million, they obviously are not intending to take on SeaWorld and Six Flags with their attractions, though they are planning on having their own hotel with between 200-400 rooms. In an almost un-Texas like fashion, they are clearly not trying to be the biggest, and are taking a slow and more cautious approach to this project, which is likely to be better for them in the long run. According to one spokesperson, Monty Galland said, "We want to make sure all of the elements are successful and there is enough traffic to support the business so we are planning very conservatively". The first year attendance figure estimates are modest enough, hoping for between 665,000 to 904,000 and they have tapped Chuck Hendrix (former GM of Six Flags Astroworld) to oversee the park's planning and operations.