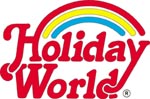 HOLIDAY WORLD & Splashin' Safari
Santa Claus, Indiana (Abbreviation: HW)
Park News - (11/20/22) Holiday World & Splashin' Safari waterpark have announced that they are going 100% cash free for the 2023 season. This has been the trend that has pretty much already gone through the bigger nationwide chains like Six Flags and Cedar Fair theme parks over the past two years, and now more independant parks are following along. Starting next season the only forms of payment accepted at the park for anything will be through Discover, MasterCard and Visa branded cards, along with HoliCash gift cards and a new loadable card called ReadyCARD.
The ReadyCARD is what you will get if you arrive with cash and you can use on-site kiosks to load it onto a ReadyCARD at the park for free. The good news is that the ReadyCARDS will feature a major credit card branding so that you can use them once you leave the park at any location where major credit cards are accepted as payment, so you aren't losing anything in the process.
For those who prefer mobile payment options and Apple Pay or Google Pay, Holiday World's card terminals will be able to accept those too.

(9/16/22) Holiday World is now offering free park admission to 4 and 5-year-olds for the 2023 season with their Pre-K Season Pass offer. Follow the link for the full details about how you can get yours.

(8/23/22) Holiday World has announced their new Compass Commons affordable housing option for employees that will open in May 2023. Team Members must be at least 18, live at least 50 miles away to quality, and ideal candidates are those in college looking for internship programs or "students traveling to the United States with the Bridge USA program." For those who are curious, the rate deducted from pay to stay here is listed at $105 a week.
2023 - Holiday in the Sky 2023 - (10/27/22) Apparently the big surprise at the end of the Holiday World drone sky show was the announcement that the 2023 version of the Holiday in the Sky drone show will increase the number of drones from 300 to 400, allow for an even more complex aerial display.

(10/16/22) What is coming to Holdiay World for 2023? The answer may surprise you…
LOL! No, this isn't click bait, but I couldn't resist. The actual answer will be revealed to theme park guests in attendance at the park on the night of Saturday, Oct. 22 (and 29th) and be written across the sky by an armada of 300 drones as part of the night's Holiday in the Sky show.