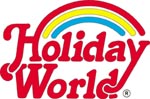 HOLIDAY WORLD & Splashin' Safari
Santa Claus, Indiana (Abbreviation: HW)
Park News - (12/10/21) According to this article, Holiday World will be attempting to limit crowds at the 2022 Holiwood Nights event. This will be done though some kind of lottery system that gives preference to those who have attended the event in previous years.

(9/24/21) Holiday World will host Happy Halloween Weekends events at the park from Sept. 25 through to Oct 31, 2021. This is a family friendly Halloween event that includes special themed shows and food, character meet & greets and more. Visit the official website for all the details.
One warning however, the park has announced that The Legend is closing early for the season on Oct 2 to begin work on an "intensive off-season maintenance project". So your last weekend to ride The Legend will be this weekend, Sept. 25-26, so if you have the time get your last rides in this weekend and enjoy the start of Happy Halloween Weekends. As for The Legends, the park has confirmed that they will be working with Gravity Group to work on the top two layers of track "in the second half of the helix, the spiral, and more."

(9/12/21) Our congratulations to Holiday World this week. As part of the Amusement Today's Golden Ticket Awards, they also released lists of the top attraction styles in the world. In the list of top water park attractions, Holiday World's Splashin' Safari waterpark claimed 3 of the top 4 spots for best waterpark attractions for Wildebeest (#1), Mammoth (#3) and the new Cheetah Chase (#4).
Holiday World says they were also the only park able to claim to have three wooden roller coasters in the Top 25 Wooden Coaster list with The Voyage (#2), The Raven (#17) and The Legend (#24).

(5/30/21) Holiday World fans, coaster fans and fans of Fozzy, take note! The band has released an all new music video filmed entirely while riding The Voyage at Holiday World. Good times ahead, so check it out below.

2022 - Nothing is known at this time...