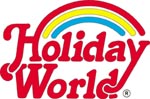 HOLIDAY WORLD & Splashin' Safari
Santa Claus, Indiana (Abbreviation: HW)
Park News - (2/4/22) According to the Holiday World podcast, the park's Hyena Falls waterpark attraction that opened in 2013 featuring four waterslides has now been removed. It is confirmed shortly after the 16:16 timestamp. The attraction itself was located in a spot away from the rest of the waterpark attractions and was it wasn't feasible to move it. The midway where it is located will continue to be used as a special event site for various events throughout the season.
You can enjoy a quick last look at Hyene Falls as it looked when it first opened in the video below.




(12/10/21) According to this article, Holiday World will be attempting to limit crowds at the 2022 Holiwood Nights event. This will be done though some kind of lottery system that gives preference to those who have attended the event in previous years.
2022 - Holidays in the Sky - (2/12/22) Holiday World has announced an interesting new addition this season called "Holidays in the Sky". The new nighttime show is described as a "Drone and Fireworks Spectacular" that will use 300 small coordinated drones to light up the night sky over the park from June 18 through July 31.