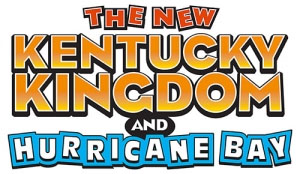 KENTUCKY KINGDOM
(Formerly known as Six Flags Kentucky Kingdom)
Louisville, Kentucky

Joined Herschend Family Entertainment in 2021
Park News - (5/15/22) With Herschend Family Entertainment now at the helm of Kentucky Kingdom, many have been wondering what kind of changes we can expect. So far, the transition has been very quiet, but this is according to the plan. According to a local news article about Kentucky Kingdom, Herschend's plan is to typically to run new parks they acquire as-is over the first year while making a number of more basic internal improvements as needed to improve the overall guest experience. Herschend is also familiar with the Kentucky marketplace as they have ran the Newport Aquarium since 2008.
With all that under their belt, Herschend is now in the process of creating a new long-term masterplan for the property that will probably begin to take shape next year. As for this year, more smaller improvements have been the goal, upgrading existing facilities, adding new restaurant options, and improving basic infrastructure. On the entertainment side, the park will offer a new "dog stunt show" this season and has announced an upcoming new family friendly event that promises to "light up the night" and extend the season to the end of October. While nothing specific was named, this sounds a lot like the Great Pumpkin Luminights event that Herschend hosts at Dollywood, Silver Dollar City and Wild Adventures from September through October.

(3/26/21) Kentucky Kingdom Almost Had an RMC Raptor Before COVID Ruined Things (MORE...)

2022 - Nothing is known at this time...

???? - RMC Raptor - Canceled - (3/26/21) In an interesting video reveal, a video clip taken during a Q&A session at Kentucky Kingdom's Winter Walkthrough 2021, they reveal that Kentucky Kingdom was ready to buy an RMC Raptor. Just as the park was to put down their first payment/deposit to RMC for the Raptor coaster in early 2020, COVID-19 reared its ulgy head and they had to back out of the project.
Oh… and the RMC project that needed a home? Apparently they say it went to Silverwood and is now under construction as Stunt Pilot.




(12/17/20) While there was some evidence that Kentucky Kingdom has their sights set on adding an RMC Raptor coaster, it appears those plans have either been delayed significantly, or cancelled outright. According to an update on the story from CoasterNation, the previous filings with the FAA to add the coaster to the park, required due to their location next to an airport, have been canceled. This could just be part of the process if Kentucky Kingdom feels they need to modify the plans, or change them enough that they would need to resubmit it as a new project all over again in the future when they are ready, or if they delay will be significant enough that they would need to wait to resubmit closer to the project start time.

(7/11/20) According to a guest who visited Kentucky Kingdom the other day, they saw no sign of any possible future 2021 project work, despite a few rumors going around about possible additions like an RMC Raptor coaster and the park dropping teasers about a "T4" project. The later of which may likely just be a joke, given the bad reputation T3 has, but one other thing to keep in mind is that in addition to many parks being forced to push back their 2020 projects until 2021, there are likely going to be a whole other batch of parks who will push back their plans for 2021 until 2022. Stay tuned!

(6/21/20) Is Kentucky Kingdom already setting their 2021 expansion plans in motion? According to CoasterKings, the park appears to have filed height waivers for a 108 foot tall roller coaster named 'Raptor', with construction to begin in September 2020. The request to locate the ride between Thunder Run and Storm Chaser is still listed as being under review but is thought to be an RMC Raptor style single-rail coaster project.