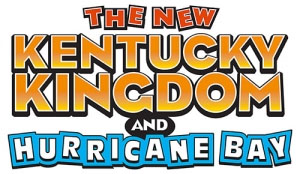 KENTUCKY KINGDOM
(Formerly known as Six Flags Kentucky Kingdom)
Louisville, Kentucky
Park News - (4/26/21) Kentucky Kingdom Adds Yogi Bear For the Summer (MORE...)

(3/26/21) Kentucky Kingdom Almost Had an RMC Raptor Before COVID Ruined Things (MORE...)

(2/24/21) I'm happy to report that what we had heard about the future of Kentucky Kingdom was confirmed on Tuesday afternoon when it was announced that Herschend Enterprises is now the new "majority partner" for the Kentucky Kingdom theme park. Herschend Enterprises is part of the greater Herschend Family Entertainment company that owns Dollywood, Silver Dollar City and a few other theme parks and attractions around the nation.
According to Ed Hart of Kentucky Kingdom, "For me personally, I certainly understand that all good things come to end. It's been the opportunity and joy of a lifetime to lead Kentucky Kingdom -- not once, but twice."
Herschend says everything is on track to open the theme park in 10 weeks while they determine how they want to grow and evolve the park to become bigger and better than ever. Much like we see at Dollywood and Silver Dollar City, Craig Ross confirmed that they will be looking into ways to expand the park's season and add special events that will attract families to visit the park together.
You can watch the press conference below, along with a new promotional video for the park from Herschend.
Oh… and for any Kentucky Kingdom fans who haven't had a chance to visit Dollywood or Silver Dollar City, I'll leave you with this note. The world famous "Cinnamon Bread" from those Herschend parks is apparently coming to Kentucky Kingdom as well… and you'll want to make sure you try it. You can thank me later.






(2/20/21) Screamscape sources have provided me with some new details regarding what is going on at Kentucky Kingdom. According to our sources Kentucky Kingdom's Ed Hart has been in talks with Herschend Family Entertainment for months now, and many members of Herschend's corporate team have been seen at the park since December, including Craig Ross, the former President of Dollywood who was promoted up into a new corporate spot to head up future growth opportunities for Herschend. In fact, we've heard that Craig Ross had an on-site office set up for him to work at Kentucky Kingdom back in early January.
From what I've been told the deal they have been working on since October 2020 would see Herschend come in to purchase a majority interest in Kentucky Kingdom, along with $7 million in capital funding into the park. Apparently the last few years have not been kind to Kentucky Kingdom on the financial side of things, and 2020 was just the icing on the cake that made a bad situation even worse.
In early January 2021 many senior members of the upper staff and management in the park were let go, along with the message that it was happening as part of the pending Herschend deal, though later on others who survived the culling claim to have been told the cuts came from Ed Hart's direction and not as a directive from Herschend. Currently the deal is pending a required payment to the State Fair Board to cover the land-lease still owed from the 2020 season. I've also been told that the park has many other accounts still owed to various park vendors from the 2020 season that they have arranged to push those payments out to July 2021 due to lack of funds last year.
Apparently the deal was to be finalized and the lease-payment made, but as I was told from our source, at the 11th hour Ed Hart was not yet willing to sign off on the deal for an unknown reason, which resulted in the social media posts teasing the big announcement being deleted.
This is what we know as of today, and after months of work on the deal, I don't think things would have fallen completely apart, so perhaps there are just some final tweaks and details that need to be worked out before it can be finalized and the announcement made. Otherwise, our source did not paint a bright picture for the future of the park if left to go it alone.

(2/18/21) Is something going on between Kentucky Kingdom and Herschend Family Entertainment? Over the past 24 hours some evidence has been revealed that certainly makes it seem like some kind of deal may be going on between the two.
Now before I begin this very long tale, I do feel I need to point out that Kentucky Kingdom has been known to "troll" their fans on social media. By Troll, I mean tease, practical joke, and generally just make up some fun harmless little tales, such as rumors of a "T4" coaster and so on. The park has a great social media presence with a very fun-loving feel about their content, as they interact with fans and the theme park and coaster enthusiast communities. That said… this doesn't feel like one of those jokes… and the fact that it was quickly deleted in less than 24 hours gives it the feel that someone may have leaked something a little earlier than they were supposed to.
So how did this all go down? Well, it started with a tweet… as many things often do these days… a tweet that has since been deleted. However, the internet is great at capturing things like this so they live on forever.
On Wednesday afternoon Kentucky Kingdom sent out an animated tweet that had a rather interesting map in the background with various locations circled and connected by lines, along with the text "??.??.??" and the hashtag #ANEWSTORY. In the upper left corner of the map is a brightly colored fall leaf, that is very similar in style to the leaf used in the Herschend Family Entertainment logo. In the lower right is a wooden log and this may be a stretch, but the log could possibly represent the log used in the Silver Dollar City park logo, and this is the park that was founded by the Herschend brothers that started off the company.

The points on the map are also quite telling, as in addition to a special dot over the location of Kentucky Kingdom, the remaining locations circled and connected on the map represent almost every Herschend Family Entertainment property. There are four smaller circles that seem to represent the company's smaller properties such as Stone Mountain and the Callaway Resort & Gardens in Georgia, the Newport Aquarium in Kentucky and Adventure Aquarium in Camden, NJ. Then there are three larger double-circles marked… One would clearly represent Silver Dollar City and related attractions in Branson, MO and the second would be Dollywood in Pigeon Forge, TN.
The third and final double-circle on the map is a more interesting part of this mystery, as it seems to indicate a property in the Oklahoma City area. The only attractions I know of in this area would be the Frontier City theme park and the former White Water Bay waterpark. These properties are owned by a real estate investment company named EPR Properties and they have a current deal with Six Flags to manage these parks for them, which resulted in White Water Bay being re-branded as Hurricane Harbor OKC.
Another thing I have to mention right away is something that is missing from the map. Wild Adventures in Georgia, a park owned by Herschend, has been left entirely off this map. It does make me wonder if there is a connection between these last two facts… as why would they leave exclude Wild Adventures and seem to include attractions in Oklahoma instead that they do not own.
Now, let us return this story back to where it started… Kentucky Kingdom.
According to a Screamscape reader, some weird rumors began popping up amongst insiders near the end of 2020. Quiet rumors and questions were being asked in hushed tones about the possibility of Kentucky Kingdom being sold once again. These rumors apparently started after Kentucky Kingdom's Ed Hart was seen walking around the park with another businessman who was thought to be Herschend's current CEO, Andrew Wexler.
From a business standpoint, Kentucky Kingdom could certainly benefit from the stability and perks that could come as being part of a chain of well known parks, associated in the same breath as properties like Dollywood and Silver Dollar City. From a financial standpoint however, after the bodyslam that was 2020 and COVID-19, I'm not sure if Herschend is in the right financial shape to buy a new theme park to add to the mix. Of course, what if this wasn't an outright purchase? What if this was more of a "merger" effort that would see Ed Hart and Kentucky Kingdom become partners and part of Herschend's chain of parks and attractions? Just something to think about until we know more.
But what about that Mystery Spot in Oklahoma? Why was Wild Adventures left out of the picture? I've got another wild and crazy idea to share that would solve both of those mysteries. Before I do, know this… this is not a rumor. This is not anything someone shared with me… this is an idea of my own creation and is a bit 'out there' and most likely will not be true. However…
What if Herschend and EPR are working on a property trade deal that would give Wild Adventures to EPR and the Oklahoma properties to Herschend? As small as Wild Adventures is as a park, it sits on a huge 166 acre piece of property that is mostly undeveloped. By comparison, Frontier City is a 55 acre park on a 109 acre piece of property, and the waterpark on the other side of town is said to be only about 25 acres. While this would be a 134 acre trade for 166 in EPR's favor, in terms of land-use this would be the trade of a small theme park and waterpark for a similar sized small theme park and waterpark.
In the end, I guess it could come down to if Herschend felt Frontier City would be a better fit for their chain, and if EPR feels that the undeveloped property around Wild Adventures could be a profitable opportunity for their own interests.
I know… there is so much to process here. So many different angles to see in this very tangled theory. But that's what makes it fun.
Again, this is all rumor and out-right THEORY only right now, all based on a single deleted riddle of a tweet from Kentucky Kingdom and about what it might mean. But I'm curious to know what everyone else might think as well, so chime in with your own ideas.
2021 - Yogi Bear The Wild Ride - (4/26/21) Kentucky Kingdom has announced that Yogi Bear The Wild Ride will be playing in the park's 5D Cinema all summer in 2021 as a surprise new attraction.


???? - RMC Raptor - Canceled - (3/26/21) In an interesting video reveal, a video clip taken during a Q&A session at Kentucky Kingdom's Winter Walkthrough 2021, they reveal that Kentucky Kingdom was ready to buy an RMC Raptor. Just as the park was to put down their first payment/deposit to RMC for the Raptor coaster in early 2020, COVID-19 reared its ulgy head and they had to back out of the project.
Oh… and the RMC project that needed a home? Apparently they say it went to Silverwood and is now under construction as Stunt Pilot.




(12/17/20) While there was some evidence that Kentucky Kingdom has their sights set on adding an RMC Raptor coaster, it appears those plans have either been delayed significantly, or cancelled outright. According to an update on the story from CoasterNation, the previous filings with the FAA to add the coaster to the park, required due to their location next to an airport, have been canceled. This could just be part of the process if Kentucky Kingdom feels they need to modify the plans, or change them enough that they would need to resubmit it as a new project all over again in the future when they are ready, or if they delay will be significant enough that they would need to wait to resubmit closer to the project start time.

(7/11/20) According to a guest who visited Kentucky Kingdom the other day, they saw no sign of any possible future 2021 project work, despite a few rumors going around about possible additions like an RMC Raptor coaster and the park dropping teasers about a "T4" project. The later of which may likely just be a joke, given the bad reputation T3 has, but one other thing to keep in mind is that in addition to many parks being forced to push back their 2020 projects until 2021, there are likely going to be a whole other batch of parks who will push back their plans for 2021 until 2022. Stay tuned!

(6/21/20) Is Kentucky Kingdom already setting their 2021 expansion plans in motion? According to CoasterKings, the park appears to have filed height waivers for a 108 foot tall roller coaster named 'Raptor', with construction to begin in September 2020. The request to locate the ride between Thunder Run and Storm Chaser is still listed as being under review but is thought to be an RMC Raptor style single-rail coaster project.