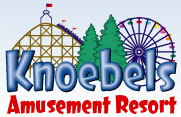 KNOEBELS Amusement Resort
Elysburg, Pennsylvania
Park News - (3/13/22) Knoebels confirmed on social media last week the removal of an attraction that has been at the park for nearly 40 years. The "Ball Crawl" in the kiddie area has officially been retired. While this will disappoint many smaller kids, it does make sense to see an attraction like this retired with today's pandemic sensitive world view.




(11/24/21) Knoebels will kick off the returning Joy Through the Grove, a Christmas light experience starting on Nov. 26th through to Jan. 2, 2022. This is a drive-through holiday light display that will feature some new displays this season, as well as all your returning favorites from last year. You can pre-purchase your ticket online, but this is not required, but gives you the option to buy a snack food package to enjoy as well.

(11/2/21) According to a Screamscape source Knoebels is said to have purchased the children's Turtle ride from Conneaut Lake Park and is in the process of shipping the ride along with about 40 park benches they also purchased.

2022 - Nothing is known at this time...
2023 - Bayern Kurve - Planned - (3/3/22) Knoebels has confirmed that they will debut a Bayern Kurve ride at the park in 2023. As we've previously mentioned, the park has bought the remains of two former such rides and has slowly been refurbishing them in order to create one fully functional ride to open at the park. If all goes as planned, look for the Bayern Kurve to be set up on the former site of the 1001 Nachts attraction.



(10/24/21) For those wondering, we've been sent a lot of info about the Bayern Kurve spotted at Knoebels and what's going on. As I speculated, this is a long-term restoration project that the park is performing, and they've actually bought TWO Bayern Kurve attractions with the intent to eventually restore and merge them into one functioning ride for the park.
As mentioned before, one of the ride units is indeed from Indiana's closed Fun Spot park and the other one came from Amusements of America, which used to travel under the name "Swiss-Bob". The rides have been at Knoebels since at least Fall of 2020 and are set up in various states in the lot so they can work on them.
Again, there is no timetable on this restoration project, so definitely don't expect to see these ready to roll for the 2022 season. But it will be fun to see this eventually added to Knoebels ride collection for future generations to enjoy.

(10/13/21) A reader sent in a picture of the Bayern Kurve sitting in the lot at Knoebels, back when they spotted it on a trailer in August. Based on this, we can say that this is not the one from Kennywood, and is also a portable model. According to another source, some believe this might be the Bayern Kurve that used to sit at Fun Spot in Indiana before that park closed. We've also heard reports that this same Bayern Kurve was spotted in the lot at Knoebels around this same time of year back in 2000 as well, but it never operated.
Perhaps Knoebels may have purchased the old ride with the intention to refurbish it themselves whenever they have spare time.

(10/11/21) Anyone been by Knoebels lately? A Screamscape reader reported in this weekend, claiming to have seen a Bayern Kurve ride sitting in plain view in the parking lot, with the train sitting on a trailer next to the track.
Bayern Kurve rides are pretty rare these days and the last time one was in the news was when Kennywood announced that they were going to retire their Bayern Kurve in late 2020 along with three other older attractions. It makes me wonder if Knoebels, known for maintaining an older selection of rides, decided to make a play for the old Kennywood ride. If anyone has spotted the ride at Knoebels this weekend, I'm curious if the colors match the old Kennywood ride.