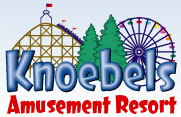 KNOEBELS Amusement Resort
Elysburg, Pennsylvania
Park News - (10/13/21) A reader sent in a picture of the Bayern Kurve sitting in the lot at Knoebels, back when they spotted it on a trailer in August. Based on this, we can say that this is not the one from Kennywood, and is also a portable model. According to another source, some believe this might be the Bayern Kurve that used to sit at Fun Spot in Indiana before that park closed. We've also heard reports that this same Bayern Kurve was spotted in the lot at Knoebels around this same time of year back in 2000 as well, but it never operated.
Perhaps Knoebels may have purchased the old ride with the intention to refurbish it themselves whenever they have spare time.

(10/11/21) Anyone been by Knoebels lately? A Screamscape reader reported in this weekend, claiming to have seen a Bayern Kurve ride sitting in plain view in the parking lot, with the train sitting on a trailer next to the track.
Bayern Kurve rides are pretty rare these days and the last time one was in the news was when Kennywood announced that they were going to retire their Bayern Kurve in late 2020 along with three other older attractions. It makes me wonder if Knoebels, known for maintaining an older selection of rides, decided to make a play for the old Kennywood ride. If anyone has spotted the ride at Knoebels this weekend, I'm curious if the colors match the old Kennywood ride.
2022 - Nothing is known at this time...