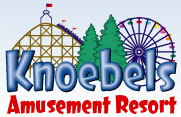 KNOEBELS Amusement Resort
Elysburg, Pennsylvania

Park News - (6/20/2023) A great trip report about how Knoebels Twister and Phoenix are running this season can be found at CoasterTalkNoBSZone this week. While Phoenix is apparently running well without any major alterations, Twister has undergone a bit of work it seems and is running much better for it. Follow the link for all the details.

2023 -

Bayern Kurve

- (7/22/2023) According to a park guest, there has been little to no further progress at Knoebels on opening the restored Bayern Kurve ride since early June. So obviously there are some items on the checklist that still need to be worked out, but hopefully they'll get it up and running before too long.

(6/10/2023) A reader dropped by Knoebels the other day and sent back a couple of pictures of the park's new Bayern Kurve as they prepare to get it ready to open to guests in the near future. (Photo Credit for 6/10/2023 additions: Jeff Y.)

(4/30/2023) Knoebels has posted a great look at their new Bayern Kurve ride. They confirm that it wont be ready for riders until this Summer, but when this restored 1963 ride opens it will become the 'fastest ride in the park!"
It's great to see one of these back in action, as there are so few left in the world today. On a personal note, I remember frequently riding the one that used to run at Six Flags Magic Mountain for years, opening in 1973 as The Swiss Twist, and later renamed Sierra Twist until it was removed in 2008. Trust me, the G-Forces on these are intense, even by today's standards.


(2/25/2023) Knoebels has confirmed that their crews are busy putting together the park's newly refurbished Bayern Kurve ride that will thrill guests this season. As we have previously reported, Knoebels purchased a pair of older retired Bayern Kurve rides previously and has been working to combine the best parts from the two to create a completely refurbished ride for guests to enjoy for years to come.
According to the article, the park's new Bayern Kurve is expected to be ready for guests during the park's opening weekend, slated for April 29th. Back when I was young, rides like these Schwarzkopf creations were fairly common and theme parks everywhere, offering a high speed (up to 70mph) and G-Force intensive experience on the highly-banked track. Over the years, they have slowly been retired, one-by-one, until there were only three left: One in France, one in Belgium and in North America only the Beserker at California's Great America remains, but that will change this Spring.


(3/3/22) Knoebels has confirmed that they will debut a Bayern Kurve ride at the park in 2023. As we've previously mentioned, the park has bought the remains of two former such rides and has slowly been refurbishing them in order to create one fully functional ride to open at the park. If all goes as planned, look for the Bayern Kurve to be set up on the former site of the 1001 Nachts attraction.

(10/24/21) For those wondering, we've been sent a lot of info about the Bayern Kurve spotted at Knoebels and what's going on. As I speculated, this is a long-term restoration project that the park is performing, and they've actually bought TWO Bayern Kurve attractions with the intent to eventually restore and merge them into one functioning ride for the park.
As mentioned before, one of the ride units is indeed from Indiana's closed Fun Spot park and the other one came from Amusements of America, which used to travel under the name "Swiss-Bob". The rides have been at Knoebels since at least Fall of 2020 and are set up in various states in the lot so they can work on them.
Again, there is no timetable on this restoration project, so definitely don't expect to see these ready to roll for the 2022 season. But it will be fun to see this eventually added to Knoebels ride collection for future generations to enjoy.

(10/13/21) A reader sent in a picture of the Bayern Kurve sitting in the lot at Knoebels, back when they spotted it on a trailer in August. Based on this, we can say that this is not the one from Kennywood, and is also a portable model. According to another source, some believe this might be the Bayern Kurve that used to sit at Fun Spot in Indiana before that park closed. We've also heard reports that this same Bayern Kurve was spotted in the lot at Knoebels around this same time of year back in 2000 as well, but it never operated.
Perhaps Knoebels may have purchased the old ride with the intention to refurbish it themselves whenever they have spare time.

(10/11/21) Anyone been by Knoebels lately? A Screamscape reader reported in this weekend, claiming to have seen a Bayern Kurve ride sitting in plain view in the parking lot, with the train sitting on a trailer next to the track.
Bayern Kurve rides are pretty rare these days and the last time one was in the news was when Kennywood announced that they were going to retire their Bayern Kurve in late 2020 along with three other older attractions. It makes me wonder if Knoebels, known for maintaining an older selection of rides, decided to make a play for the old Kennywood ride. If anyone has spotted the ride at Knoebels this weekend, I'm curious if the colors match the old Kennywood ride.
Late 2032/2024 - Rock-O-Plane - (9/17/2023) According to a post from Knoebels, the Rock-O-Plane structure is now in place and the first cabins installed. Even better, the park says that they expect that guests to their Hallo-Fun days will be able to enjoy this classic ride. Hallo-Fun is set to take place on select dates in October.




(9/2/2023) Knoebels has confirmed that they have taken down the park's Power Surge ride and will soon begin building a new ride! As rumored, Knoebels will welcome a classic Rock-O-Plant ride to the park, obtained from the former Joyland park.
I'm not entirely sure of the fate of the park's Power Surge ride at this time. Does anyone know if the park has confirmed that it is gone for good, or do they intent to put it back up in a new location?


(2/26/2023) Knoebels has always been a park known for having a staff able to maintain older rides well past the time that most big chain parks would have abandoned them. As we've seen lately with the project to restore the Bayern Kurve coming this season, it seems Knoebels may have set their sights on their next restoration project.
Knoebels posted a picture of their Facebook page yesterday showing off a team-meeting for park managers. However, it seems they have dropped a clue, because if you look at the projection screen in the background you can clearly see a picture of a Rock-O-Plane ride, which is not currently part of the ride's lineup at the park. They do have a Roll-O-Plane called Satellite, which was created by the same manufacturer (Eyerly Aircraft Company) as the Rock-O-Plane.