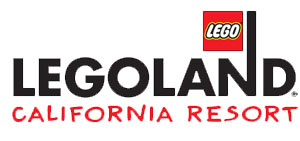 LEGOLAND California Resort
San Diego, California
Merlin Entertainment / Blackstone
Park News - (5/17/22) Legoland California May Be Planning For The Pig

(4/30/22) Interesting things are going on at Legoland California. According to posts sent my way the park has already removed the AquaZone Wave Racers attraction, leaving the empty pool area, and has now put up a construction wall around the site. Meanwhile up on Castle Hill the the former Knight's Tournament attraction (a bunch of robocoaster arms with VR headgear) that has been closed since late 2019, is also expected to have that site cleared to make way for something new. While the AquaZone site is probably only big enough to fit in another small stand alone ride, the former Knights Tournament site is big enough to fit in something quite large if need be.
Looking to other Legoland parks for inspiration, the brand new park in New York opened last year with an all new dark ride featuring trackless vehicles called the Lego Factory Adventure Ride. Since the site in California overlooks Miniland, it could also serve as a possible home to a west-coast version of this new ride concept. This is just speculation on my part for the moment, so we'll have to wait and see what happens to know more, but Legoland will often test out a major new ride concept at one park and then begin to clone it at their other parks if it is a hit with guests, such as we saw them do with the Ninjago dark ride a few years ago.

(3/19/22) Legoland California has sent in some pictures of their new Miniland SoFi Stadium and the project is simply massive! The gigantic LEGO project is 30 feet long, 15 feet wide, over 4 feet tall, and put together with over half a million LEGO bricks over a period of 6,000 labor hours. You'll find about 3,000 LEGO Mini figures assembled within to fill the audience seats.




(3/7/22) Something new is coming to Miniland at Legoland California, as more than 30 massive dinosaur figures have been set loose and on the rampage through the Miniland New York display. Science took things a little too far in Miniland and now guests can help the Lego Mad Scientist find and catalog all the creatures let loose on the city. The Dinosaur addition will only be on display through to the end of this Summer, then they vanish for good.

(2/6/22) LEGOLAND California has confirmed they are building a replica of SoFi Stadium (home to the LA Chargers and LA Rams, and host of this year's Superbowl) to be added to Miniland U.S.A. this spring. The massive project will take over 6,000 hours for a team of 25 Master Model Builders to complete, using half a million LEGO bricks. Once finished the Miniland SoFi Stadium will be the largest LEGO stadium in the world.



2022 - Lego Ferrari Build and Race - (4/9/22) Legoland California and Ferrari have announced that the new Lego Ferrari Build and Race interactive additions to the park will be ready to open to guests on May 12, 2022.

(11/10/21) Legoland California will open a new Ferrari themed attraction in Spring 2022. It will be called the "Lego Ferrari Build and Race" and let guests build and test their own LEGO Ferrari style cars, racing them down one of three pinewood derby style race tracks. Afterwards all the test and adjust is done, guests can have their car creations digitally scanned into the computer to compete in virtual online races.
2023 - Haunted House Monster Party - Rumor - (5/7/22) While some rumored clearing of old attractions is taking place at Legoland California, according to ParkFans on Twitter, the park's next major new 2023 attraction will be added on the complete opposite side of the park in LEGO City. Plans they've discovered show that the park's Driving School attraction will be reduced in size to make room for what appears to be a Vekoma Madhouse attraction.
Legoland Windsor opened this very same attraction concept back in 2019 called "Haunted House Monster Party" which would work here with the creation of a creepy Haunted Mansion building on the outskirts of LEGO City. The Vekoma Madhouse concept isn't one that has been installed very often in North America, so it should be seen as a unique new offering by the guests here, as well as one that is very family friendly as the motion is mild, but serves to aid the optical illusion created that the room you are seated in is spinning upside-down.

???? - Peppa Pig Theme Park - Rumor - (5/17/22) I'm not sure where they might fit it, but Screamscape sources tell us that Merlin may be making initial plans to build another Peppa Pig Theme Park experience, but this time at the Legoland California resort property.