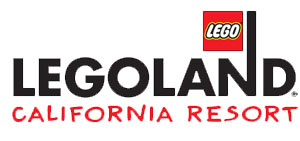 LEGOLAND California Resort
San Diego, California
Merlin Entertainment / Blackstone
Park News - (6/13/21) LEGOLAND California has sent out a list of upcoming events at the park, now that they've opened the new LEGO Movie World land.
Starting June 24, LEGO Mythica - Journey To Mythica, a new 4D Theater movie and AR experience will be added to the park. You'll find the new 4D attraction in the park's LEGO Showplace Theater.
The return of the Red, White and Boom! Independence Day event at LEGOLAND will return on July 4th with family picnic games, building events and an evening fireworks show.
A LEGO Ninjago Days 10th Anniversary event will take place August 13 to September 10, 2021 that will include Ninjago characters, the a 4D movie (Ninjago Masters of the 4th Dimension), and of course, all the fun you remember on the Lego Ninjago ride.
LEGO VIDIYO MUSIC FEST will take place September 17-19th featuring DJ L.L.A.M.A.
Also look for the return of LEGO Brick-Or-Treat Party on Saturday Nights in October, the Holidays at LEGOLAND event from November 20, 2021 through January 2, 2022 and a special New Year's Eve early kick-off party at the park on December 31st featuring an early NYE countdown at 6pm.

(3/21/21) Legoland California has announced that the park will reopen starting on April 1st with a series of special "Park Preview Days", where only select attractions will be running as they attempt to get the park back to being fully staffed and up to speed. Regular operations are set to begin starting on April 15th, which will also include the opening of the separate gate attractions: SeaLife Aquarium and the Lego Chima Water Park.
Reservations are required to be made in advance, and currently only California Residents will be allowed to visit under the state's current health restrictions. Visit the official website for all the details.

(2/20/21) Legoland California is joining in on the special event bandwagon and will host a special extra-ticket limited time event to take place on select dates from March 5 through May 2 called "Build 'N Play Days". Like the other special park events in California, no rides will be open during the event itself, which will instead focus on LEGO building events, characters with live entertainment, a scavenger hunt as well as special food offerings. Kids will also be able to play on the themed playgrounds in the Ninjago, Duplo and Castle Hill areas of the park.
Space is limited of course, but tickets are available for purchase now on the park's website, with discounts for passholders. If you want to make it an overnight trip, you can also stay at the Legoland Hotel and add in access to the LEGO CHIMA Watepark which is being held as an exclusive up-charge perk for Hotel guests.

(12/19/20) Legoland California has decided to call 2020 a wrap early, and has posted a fun video celebrating the early start of 2021 from the closed theme park's MiniLand New York, complete with mask wearing guests in the streets and a brick-drop.




(11/18/20) The Legoland California Resort had to close their SeaLife Aquarium attraction once again this week, as the county moved up to the top COVID-19 tier, indicating widespread infection in the county.
2021 - The LEGO Movie World - (5/30/21) Legoland California opened their new LEGO MOVIE WORLD land this week, featuring a number of new attractions for the park. This includes the park's first Flying Theater attraction, Emmet's Flying Adventure: Masters of Flight, as well as a pair of family tower rides themed as Unikitty's Disco Drop. The rest of the land is rounded out by some themed buildings, restaurants, character meet and greet areas and Benny's Spaceship which is a semi-themed playground climbing structure with a slide.




(4/28/21) Legoland California has confirmed that their new LEGO Movie World land will be ready to open to guests on May 27, 2021.



(2/25/20) The LEGO MOVIE World will open at LEGOLAND California on March 27, 2020.

(8/30/19) It's official... The LEGO Movie World is coming in 2020. The land will feature Masters of Flight, a new flying theater attraction, taking guests on a flight over the world's shown in The LEGO Movie adventures. It will also feature Unikitty's Disco Drop tower ride, Benny's Play Ship, a reimagined carousel and a character meet and greet area inside Emmet's Super Suite.

(8/7/19) Screamscape sources tell us that we should expect to see the arrival of "The LEGO Movie World" themed area in 2020. Like the new land built in Florida in 2019, it will contain a Unikitty drop-tower attraction as well as Flying Theater attraction called The LEGO Movie Masters of Flight. I'm told it will takeover and expand upon the current Heartlake City / Lego Friends area and possibly some of the new DUPLO Playtown area. It will also include rethemed versions of the Heartlake City Stables and the Mia's Riding Camp carousel ride.