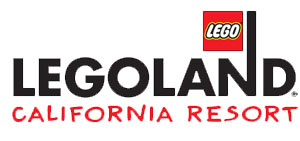 LEGOLAND California Resort
San Diego, California
Merlin Entertainment / Blackstone
Park News - (9/5/21) Legoland California has announced that the park's Brick-or-Treat Halloween celebration will be returning to the park every Saturday in October (2,9,16,23,30). Guests are invited to dress up in their halloween costumes, dance at the Midnight Minder Jam, enjoy tasty holiday themed treats, take pictures with the various LEGO themed monster characters and more. There will also be a new "Pop Badge Challenge" where guests can search the park for video clues to track down and find a missing party guest and uncover an exclusive 2021 Brick-or-Treat pop badge. The park will also offer the first ever LEGOLAND Scare Zone this year in the Adventure Club.

(6/13/21) LEGOLAND California has sent out a list of upcoming events at the park, now that they've opened the new LEGO Movie World land.
Starting June 24, LEGO Mythica - Journey To Mythica, a new 4D Theater movie and AR experience will be added to the park. You'll find the new 4D attraction in the park's LEGO Showplace Theater.
The return of the Red, White and Boom! Independence Day event at LEGOLAND will return on July 4th with family picnic games, building events and an evening fireworks show.
A LEGO Ninjago Days 10th Anniversary event will take place August 13 to September 10, 2021 that will include Ninjago characters, the a 4D movie (Ninjago Masters of the 4th Dimension), and of course, all the fun you remember on the Lego Ninjago ride.
LEGO VIDIYO MUSIC FEST will take place September 17-19th featuring DJ L.L.A.M.A.
Also look for the return of LEGO Brick-Or-Treat Party on Saturday Nights in October, the Holidays at LEGOLAND event from November 20, 2021 through January 2, 2022 and a special New Year's Eve early kick-off party at the park on December 31st featuring an early NYE countdown at 6pm.
2022 - Lego Ferrari Build and Race - (11/10/21) Legoland California will open a new Ferrari themed attraction in Spring 2022. It will be called the "Lego Ferrari Build and Race" and let guests build and test their own LEGO Ferrari style cars, racing them down one of three pinewood derby style race tracks. Afterwards all the test and adjust is done, guests can have their car creations digitally scanned into the computer to compete in virtual online races.