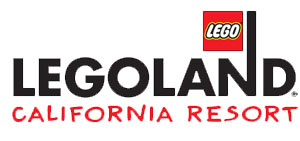 LEGOLAND California Resort
San Diego, California
Merlin Entertainment / Blackstone
Park News -
2024 -

Dino Valley & Lego World Parade

- (11/18/2023) In an interesting development, it seems that the two closed attractions at Legoland California really are't going anywhere after all. The park has announced that "Dino Valley" is coming for 2024, which will take the space occupied by the former attractions and turn it all into one big Dinosaur themed land, with the Fairy Tale Brook water ride becoming the Explorer River Quest and the former Safari Trek jeep ride becoming the Duplo Little Dino Trail. These two newly re-themed attractions will join with the existing Coastersaurus roller coaster to create the new themed land. Look for the space to also include a dino themed LEGO build and play area, along with new themed characters.
Also coming in 2024 will be a new LEGO themed parade in the park that will feature floats themed to LEGO firetrucks, pirate ships, as well as use the LEGO Ninjago, City and Friends brand characters. Apparently this will be North America's first-ever Lego World parade.

(10/6/2023) Legoland California has announced that a second day-one classic attraction will also close down for good at the end of the month. While the Safari Trek had just closed at the end of September, now the nearby Fairy Tale Brook boat ride will close down at the end of October 2023. The two attractions combined essentially make up the entire south-west corner of the theme park, which will now be open to a potentially rather large expansion project that would fit in between the park entrance Lego Movie World.



(9/22/2023) Legoland California has announced that at the end of month they will be closing down one of the park's original attractions: the Lego Safari Trek ride. Here guests would climb aboard small jeeps that travel around a guided track past numerous recreations of animals build from LEGO bricks.
Legoland says that the attraction will be removed to make way for a new future attraction project.


2025 - 3 Attractions - (10/10/2023) According to a new post at ThemeParkInsider, the City of Carlsbad has been sent a planning application by Legoland California. The project title is "Project 2025", so now we know that this will have a longer time-frame than anticipated, and will include three attractions:
An attraction inside a 32,200 sqft building that stands 43 feet tall , a 33 foot tall = Dark Ride most likely.
An outdoor ride that will take up a 4,120 sqft site and stand 33 feet tall = Likely a medium to large sized outdoor family ride.
A new outdoor play area featuring a 30-foot tall structure.
Screamscape's quick take in this… I'd be looking to the new Legoland New York for some inspiration here, and when it comes to Dark Rides, Legoland California has almost every Lego branded dark ride created, with one exception, the new LEGO Factory Adventure dark ride, which features trackless vehicles. At the New York park, this dark ride exists in a land called Bricktopia, which is also home to a few outdoor attractions, like a tea-cup style flat ride and a train ride. A 4,120 sqft site really isn't large enough for anything more than the smallest of coasters, but 33 feet tall is just too high for a train ride obviously. Something that has a little bit of height and may need a little space to move-about, kind of like a Zamperla Disk'O (or one of the many variants) may fit the bill here, but that's just a bit of speculation.
One other line of thought may be the previous rumor from 2022 that claimed the park was planning to add what looked like a copyof the Haunted House Monster Party ride (Vekoma Madhouse) concept that was added to another Legoland theme park. (See the entry below for details on those delayed plans).

???? - Haunted House Monster Party - Delayed - (5/7/22) While some rumored clearing of old attractions is taking place at Legoland California, according to ParkFans on Twitter, the park's next major new 2023 attraction will be added on the complete opposite side of the park in LEGO City. Plans they've discovered show that the park's Driving School attraction will be reduced in size to make room for what appears to be a Vekoma Madhouse attraction.
Legoland Windsor opened this very same attraction concept back in 2019 called "Haunted House Monster Party" which would work here with the creation of a creepy Haunted Mansion building on the outskirts of LEGO City. The Vekoma Madhouse concept isn't one that has been installed very often in North America, so it should be seen as a unique new offering by the guests here, as well as one that is very family friendly as the motion is mild, but serves to aid the optical illusion created that the room you are seated in is spinning upside-down.

???? - Peppa Pig Theme Park - Rumor - (5/17/22) I'm not sure where they might fit it, but Screamscape sources tell us that Merlin may be making initial plans to build another Peppa Pig Theme Park experience, but this time at the Legoland California resort property.