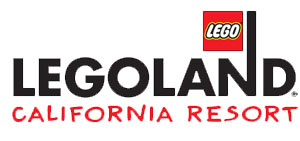 LEGOLAND California Resort
San Diego, California
Merlin Entertainment / Blackstone
Park News - (1/7/2023) LEGO Ninjago Weekends are returning to Legoland California from Jan. 21, 2023 through to Feb. 20, 2023, just in time to open that new LEGO Ninjago Training Camp area. The new play area features slides, obstacles and Master Wu's sailing ship. Legoland tells us that the new area is "ADA inclusive and offers guests wheelchair access to elevated platforms, plus sound and interactive elements to support sensory play at appropriate heights."
Special additions for the weekends include shows like the School of Spinjitzu, Ceremony of the Elements and Taiko Drummers. You can also take part in Tranquility Kid's Yoga, the Golden Ninja Scavenger Hunt and meet & greet sessions with your favorite Ninjago characters.

(12/20/2022) The LEGO Ninjago Training Camp (essentially a lightly themed playground) slated to open in 2022 at LEGOLAND California looks like it is just about ready to open, based on new photos posted to Twitter on Monday.




(11/6/22) The Holiday season will kick off at Legoland California on Nov. 19th, featuring holiday decor around the park, including a 30ft tall decorated LEGO Christmas Tree, new entertainment and festive holiday food and beverage options. This will lead up to the return of the park's Kids; New Years Eve Party that ends with an early version of the traditional midnight celebration at 7pm, so you can get the kiddies home and safely in bed early. Visit the official website for all the latest information!

(9/15/22) Guests to Legoland California are getting an early Halloween treat as the LEGO Monsters characters have arrived. In addition to the long time favorites like LEGO Mummy and Vampire they've also added LEGO "Monster Rocker" and "Zombie Cheerleader" to the mix. They've arrived just in time for the park's annual Brick-or-Treat event, that will also bring a new attraction to the park'd 4D theater, "The Great Monster Chase". Also new this season is a modified version of the park's popular Dragon coaster, which has been transformed into the "Disco Dragon Coaster", featuring a new "groovy soundtrack and festive decorations."
Look for Brick-or-Treat to take place every weekend from Sept. 17 through to Oct. 30th, 2022.


(4/30/22) Interesting things are going on at Legoland California. According to posts sent my way the park has already removed the AquaZone Wave Racers attraction, leaving the empty pool area, and has now put up a construction wall around the site. Meanwhile up on Castle Hill the the former Knight's Tournament attraction (a bunch of robocoaster arms with VR headgear) that has been closed since late 2019, is also expected to have that site cleared to make way for something new. While the AquaZone site is probably only big enough to fit in another small stand alone ride, the former Knights Tournament site is big enough to fit in something quite large if need be.
Looking to other Legoland parks for inspiration, the brand new park in New York opened last year with an all new dark ride featuring trackless vehicles called the Lego Factory Adventure Ride. Since the site in California overlooks Miniland, it could also serve as a possible home to a west-coast version of this new ride concept. This is just speculation on my part for the moment, so we'll have to wait and see what happens to know more, but Legoland will often test out a major new ride concept at one park and then begin to clone it at their other parks if it is a hit with guests, such as we saw them do with the Ninjago dark ride a few years ago.

2023 - Haunted House Monster Party - Rumor - (5/7/22) While some rumored clearing of old attractions is taking place at Legoland California, according to ParkFans on Twitter, the park's next major new 2023 attraction will be added on the complete opposite side of the park in LEGO City. Plans they've discovered show that the park's Driving School attraction will be reduced in size to make room for what appears to be a Vekoma Madhouse attraction.
Legoland Windsor opened this very same attraction concept back in 2019 called "Haunted House Monster Party" which would work here with the creation of a creepy Haunted Mansion building on the outskirts of LEGO City. The Vekoma Madhouse concept isn't one that has been installed very often in North America, so it should be seen as a unique new offering by the guests here, as well as one that is very family friendly as the motion is mild, but serves to aid the optical illusion created that the room you are seated in is spinning upside-down.


???? - Peppa Pig Theme Park - Rumor - (5/17/22) I'm not sure where they might fit it, but Screamscape sources tell us that Merlin may be making initial plans to build another Peppa Pig Theme Park experience, but this time at the Legoland California resort property.