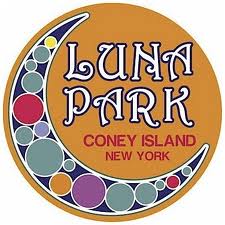 LUNA PARK
Coney Island, New York
(Also includes Scream Zone and Coney Island Cyclone)
Central Amusement International
Park News - (10/3/21) Coaster and Flume Pieces Still Awaiting Assembly

(9/6/21) An interesting video documentary has been posted by The New Yorker focused on the Zamperla family and their efforts to keep Luna Park in Coney Island alive during the pandemic. It's about 15 minutes long and can be seen below. It's called "The Prince of Luna Park" and focuses on Alessandro Zamperla, but takes a look into this famous family of the amusement business in a way not seen before, which is fantastic.




(8/4/21) Luna Park has quietly put a new admission system into place that is coming with a some sticker shock. According to the local news, potential guests used to visiting the Coney Island area amusement park on a pay-per-ride basis are now arriving to discover that Luna Park is now charing a one-price admission fee that depending on the day can be as high as $75.00 per person. By comparison, they point out that a ticket into Six Flags Great Adventure is $60.00. If you just want to go in with kids and not ride, you'll still have to pay $20 for a "spectators only" wristband on the weekends, and $10 during weekdays.
Normally I would say that this would bring Luna Park in line with the practic of visiting any other major theme park in the country, as the vast majority use a Pay-One-Price admission ticket, allowing guests unlimited rides once inside. Normally I would say that… but Luna Park put another weird kink in their pricing plan, as your admission is only good for four hours and not the entire day.
According to Luna Park the new system is a safety measure to reduce crowding.
There is one bright side to this however for coaster enthusiasts, you can still buy separate tickets to ride the Cyclone and Thunderbolt for $10 separately and avoid the normal admission ticket price, and rides on the Carousel are $3.
2022 - Four New Attractions - (4/23/22) Construction on Luna Park's new family coaster and flume ride continue to move forward towards a Summer 2022 opening, and the park has now officially named the two new rides after members of the Zamperla family. The new family coaster will be called Tony's Express and the log flume will be named Leti's Treasure, named after the grandparents of the CEO of Luna Park's operator and CEO, Alessandra Zamperla.

(2/11/22) A new construction video from Zamperla shows off the construction of their new Junior Coaster 400 at Luna Park, which will soon be joined by the park's new flume ride as well.


(10/11/21) According to a local news report, Luna Park says they have broken ground on their 2022 expansion plans. These include several previously announced attractions that were delayed due to COVID. This includes Sky Chase, a rope course, along with a Super Flume and J2SK Coaster that will be interwoven with each other.
Struction has already begun, as it appears a series of footers for the new rides have already been poured on the site that sits between the Thunderbolt coaster and the baseball stadium. In addition to the new rides, they also plan on making three upgraded pedestrian areas that will feature kiosks and carnival booths.
Nothing at all was mentioned about the planned Big WaveZ ride that was shown testing in Italy earlier this month (see below), so we can only assume that the arrival of this particular attraction may be delayed until 2023.

(10/3/21) While we had some great footage to share yesterday of the new Big Wavez attraction coming to Luna Park, we have to wonder just what ever happened to the plans to add four new attractions to Luna Park for the 2020 season? Obviously the park did not open in 2020 and the assumption was that they would likely be delayed until 2021 instead, but that did not happen either.
The original plan was to add a zip line coaster, a ropes course, a log flume ride and a new family coaster that would fly over and around the log flume. While we haven't seen any signs of construction for any of these, a reader visiting the area sent in a picture showing off green roller coaster track on an empty lot next to the Thunderbolt coaster. Taking to the skies, Google Maps aerial views show coaster pieces are on site in the green space between Thunderboat and the baseball stadium (where this photo was taken) as well as in a fenced off area where W 15th St ends at the boardwalk where they also appear to be conveyor lift sections for the flume ride as well. I also came across a photo posted to Reddit in late June 2020 of this same area shows off the pieces on site in good detail. So with all the equipment on site, perhaps we'll see the flume and coaster added in 2022 as well.

(3/2/20) According to the local news Luna Park has finally named their new ropes course attraction as "Sky Chaser", a name that was picked as part of a naming contest the park held with the local YMCA children.
The ropes course will be added in addition to the Super Flume and family Coaster rides, and they've even posted concept art of the new Big WaveZ attraction which features the name "Neptune" on the front of an interesting looking tower ride with water fountains below it on their new for 2020 park page, just click here and scroll down.

(11/23/19) Luna Park has announced that they will be celebrating the park's 10th birthday during the 2020 season. In addition to the three previously announced attractions (Ropes Course Adventure Zone, the Super Flume and the Junior Coaster) coming they will also add Big WaveZ, described as an interactive water ride that will transport guests into Neptune's lair where they will interact with the Roman God and have some influence on the ride's movement. Also new in 2020 will be a public space to be called Stillwall Avenue, located between Surf Ave and the Boardwalk, it will feature green spaces, shaded seating, art, photo-ops and be a place you can come and relax and enjoy the sights and sounds of Coney Island and Luna Park.
You can see some new concept art for some of the new additions posted over at Attractions Magazine.

(9/2/19) Luna Park announced details about what they have planned for the 2020 season. There will be three new attractions added next season: a ropes course, a new log flume ride and a new family coaster ride that will soar over and around the log ride. None of the attractions have been named yet, as they are holding contests to name them all.

(8/24/18) Luna Park will expand over the next two years with the addition of a new log flume ride, a zip lines coaster, a ropes course, along with new food options and an arcade as part of a 150,000 sqft expansion. The new attraction area will be built on a current vacant site between Surf Ave. and the boardwalk, between West 15th and West 16th streets. Look for the "adventure park" attractions to open in 2019 followed by the Log Flume in 2020.
2022/2023?? - Big WaveZ - (10/2/21) Ready to see one of the latest creations from Zamperla being tested in Italy? In the clip below check out the BigWavez in action. I believe this first edition is decorated as "Neptunalia" and ready to be shipped off to Luna Park for next season, but boy is this going to attract an audience. Just watch the video to see for yourself.




(3/28/21) Our friends at CoasterRadio have posted a cool video interview with Zamperla CEO Antonio Zamperla and Prototypeing Engineer Tim Jacobi where they talk about Zamperla's new Big WaveZ" attraction will will be coming to Luna Park in 2022. Even more fun, Mike and EB from Coaster Radio have provided voices that will be used in the attraction experience, and help determine the final outcome of which ride experience the guests will experience. Check it out below with just the segment about Big WaveZ coming to Luna Park first, and then the entire full interview in the video below that.
Now I know that previously the Big WaveZ was originally announced as part of the park's 2020 lineup to celebrate the park's 10th birthday, but after being kept closed for 2020, we thought these plans would all bump back to 2021. Obviously this is not the case, as they confirmed Big WaveZ for 2022, so I'm not sure of the fate for the rest of the 2020/2021 lineup at this time and if any will open in 2021, if they all will be delayed to 2022, or if some were cancelled entirely. Anyone know more?