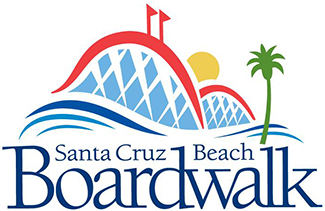 SANTA CRUZ BEACH BOARDWALK
Santa Cruz, California (Abbreviation: SCBB)
Santa Cruz Seaside Company
Park News - (8/18/2023) Santa Cruz Beach Boardwalk has confirmed in the posting that they are removing the Cliff Hanger ride after 20 years. According to the post, Cliff Hanger is "headed to a new home" so it looks like the ride may have been sold to a new owner. Meanwhile you have until Sept. 4th (Labor Day) to get your last rides in on Cliff Hanger before it is closed for good.




(8/3/2023) According to the local news, this Thursday night, the Santa Cruz Planning Commission will meet to consider a proposal to build a replacement Ferris Wheel at the park, which is expected to take the place of the current Rock and Roll ride across from the Giant Dipper. The park's former Ferris Wheel ran from 1959 until it was removed in 2017. The new wheel proposed to return to the boardwalk would stand 70 feet tall, which they say is about 30 feet taller than the current zoning allows, but then again, this is at an existing amusement park that has several attractions already over the height limit. With that in mind, hopefully SCBB wont have any issues in obtaining a new special permit to allow for the wheel.

(10/20/22) It was almost a year ago that the Bell family surprised everyone with an announcement that they intended to bring back Bell's Amusement Park on a 100+ acre property in Broken Arrow, just south-east of Tulsa, Oklahoma. Not long after this announcement it was revealed that the actual purchaser of the property was the Santa Cruz Seaside Company, the same company who owns the Santa Cruz Beach Boardwalk amusement park.
While the Bell family has been very quiet since the announcement was made, the last thing announced by the Santa Cruz Seaside Company following the completion of the land purchase was that they were going to be conducting a complete analysis of the area to determine the best use for the property, which could be for a mixed-use development, commercial development, or to bring back the Bell's Amusement Park. At the time they had not made a final decision and were not ready to submit any final development plans for that particular property, and nothing seems to have changed over the past 6 months.
With that in mind, it is worth looking into more detail about the current operations of the Santa Cruz Seaside Company, because they are involved with more than just the Santa Cruz Beach Boardwalk amusement park. According to details on the company's linked-in profile, in addition to the SCBB amusement park, they also own the Boardwalk's Cocoanut Grove special event space, the Boardwalk Bowl and Coasters Bar & Grill across the street, as well owning a couple of local resort hotels: namely the Sea & Sand Inn and Carousel Beach Inn located on opposite sides of the amusement park. It was also announced last month that the company is involved in a joint venture with "Ensemble Investments" to build a new 155-room luxury hotel in Santa Cruz called "La Bahia Hotel and Spa", intended to open in Fall 2024.
While this is all clearly in the wheelhouse for the company's efforts in Santa Cruz, it does give us a potential clearer view of how the company may intend to develop the property in Oklahoma going forward. However things just got a little more complicated, as it seems the Santa Cruz Seaside Company is branching out into more diverse retail development plans. A reader sent in a link showing that the group just purchased the 90-acre Canyon Trails Towne Center retail property in Goodyear, Arizona, just west of Phoenix, for $41 million. The Canyon Trails retail property had the misfortune of opening in 2008, in the middle of the recession, ended up having three major anchor tenants (Home Depot, Sports Authority and Kohl's) bail out on them. Currently the site is known for being home to a Super Target, Ross, PetSmart and Pottery Barn Outlet as well as an assortment of smaller stores, and through an updated redevelopment plan the empty plot where Home Depot was supposed to go will now be turned into a 284-unit residential development. The future of the newly mixed-use (retail and residential) property is looking bright as they say they are in negotiations with major brands to fill in the remaining holes in the property with a "specialty grocer, large format retails, restaurants and a hotel".
Curiously, it does seem like the Santa Cruz Seaside Company is expanding their vision into becoming a much more diverse company, moving from what was once primarily a tourism focused business into more mainstream mixed-use retail development projects, broadening the field of just what else they may have in mind for Broken Arrow going forward.
2023 - Attraction Improvements - (7/30/2023) Fresh from a visit to the Santa Cruz Beach Boardwalk, a reader sent in a report of some items they noticed at the park. While we can't say what or when this happened, they felt as if the park's Undertow spinning coaster had been given some love lately, as the spinning action felt as if it had been adjusted to be more wild and free spinning.
The big change they noticed however is it seems as if Sally had been brought in to update the park's Ghost Blasters dark ride. They reported a new and improved sound from the blasters themselves, which also appear to have been calibrated for better aiming. The various targets are now all color coded to indicate higher point values. All said and done, it sounds like Ghost Blasters has been given a nice overhaul.
Poking around YouTube, I did find a POV video posted in late June that appears to show off many of the reported improvements.

2024 - Giant Dipper 100th Birthday - (7/15/2023) As a reminder that the Giant Dipper at Santa Cruz Beach Boardwalk will be turning 100 next season, I'm told that the park has repainted the ride, top to bottom, ahead of this monumental occasion. While we know what their plan is going forward, we have heard that they do plan to celebrate the 100th birthday of the Giant Dipper in a big way next year. Stay tuned!
???? - Expand Undertow Deck - Rumor - Fitting in with the 2017 plans to replace the 2-story Frightwalk / Arcade / Laser Maze building with new single story buildings are rumors about expanding the second story attraction deck that currently is home to the Undertow coaster to eventually cover these new single story buildings and allow for the construction of more new attractions space on the second level. The timeline for this project is unknown at this time.