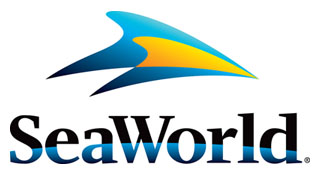 SeaWorld Orlando
Discovery Cove and Aquatica
SeaWorld Parks & Entertainment
---- THE LATEST NEWS ----
(9/28/22) SeaWorld Orlando Delays New Coaster Announcement (MORE...)
(9/25/22) High Surf Construction Update (MORE...)
(9/22/22) SeaWorld Orlando To Announce New Coaster Details Next Week (MORE...)
(9/16/22) Howl-O-Scream Video Fun
Park News - (5/5/22) Just a little something to watch for the next time you visit a theme park, especially SeaWorld Orlando. According to a picture on Twitter from a park guests on April 30th, it shows that a small line of text has been added to the bottom of one of the park's restaurant menu boards that says, "A 5% surcharge will be added to all guests checks to cover increased operating costs."
So in other words, the prices all listed above on the menu are actually 5% more expensive than posted. I'm not really sure why SeaWorld Orlando felt they needed to go this route rather than just increase the actual posted prices by 5%. Perhaps by adding this on as a operating surcharge, this allows the park to keep the entire 5%, whereas adding it on to the price of each item would then make the entire sum taxable, leaving the park with less than the 5% increase they desired. I'm no accountant, just taking a wild guess. Either way, this is definitely a new tactic worth keeping an eye on while everyone struggles with increased costs and supply-chain issues.

Howl-O-Scream 2022 - (9/16/22) Our friends over at Orlando Experience have posted a fun video review showing off what you can expect from Howl-O-Scream Orlando this season. They show off the insides of a couple of haunts as well as the action in several of the scare zones, plus a look at the park merchandise, including the light up fog emitting skull we talked about before.




(9/11/22) Screamscape had the opportunity to visit Howl-O-Scream Orlando at SeaWorld Orlando this year and I sent my long-time friend Keith on down to check it out for us this year and send back his impressions of this 2nd ever Howl-O-Scream event in Orlando.
—
I had the opportunity to visit Howl-O-Scream at SeaWorld in Orlando last night, and WOW, what an event! It's hard to believe that this event is only in its second year. There is so much to see and do, I ended up closing the place. The event has expanded its footprint in the park this year and now extends all the way around the lagoon. There are five terrific haunted houses, seven elaborate scare zones, three fun shows, select rides, and tons of themed bars and food carts with specialty foods and drinks just for the event. It's hard to see and do everything in one night.
One fun part of the evening was being able to experience the Skull Fog Lanyard. It is interactive with the scare zones, it emits fog, and has tons of different lighting effects that keep surprised you all night long. When not in the scare zones you can change the mode and still activate its different features. The themed bars are elaborately done and have dancers, living statues, special effects, specialty drinks, blinky cups, blood bags, and more! One has a flying acrobatic performer high above, and there was even a drag cabaret themed bar hosted by the wickedly entertaining Serpentina Moray. When you visit the event you can't pass up the specialty bar areas. They are an attraction all on their own.
The park was the perfect setting for a Halloween event as it is lushly landscaped and allows for highly themed scare zones with plenty of places for scareactors to blend in with the landscaping and jump out when you're least expecting it. The lagoon was beautiful and eerie at night with the dim lighting cast across the water with fog all around creating the creepiest atmosphere you could hope for. One thing that impressed me was the variety of scareactors in the zones and in the houses. They were all original and were not the same 'character' jumping out at you over and over and over. This is what makes Howl-O-Scream events stand out from the others.
You can not visit SeaWorld Orlando without riding the world-class coasters, and they are even more fun at night! Manta, Mako, Ice Breaker, and Infinity Falls are open during the event and give you some thrilling relief in between the scares. It's no secret that there are other major Halloween offerings in the area, but SeaWorld has put together an incredible, not-to-be-missed event that is so much fun, you can't wait to go back and experience it again and again.
—
Now I did catch a few questions online about the new Skull Fog Lanyard that I can answer. The park is selling these for $35 + tax, and as Keith pointed out you can activate the modes manually, or leave it in an RFID mode where various effects are activated by passing through the scare zones.
There are no chemicals involved to create the fog. The fog effect is created by atomizing water inside the skull to create a light misty / fog effect, along with the flashing lights, which all run off a set of AAA-Batteries. So while they used their skull all night long with running out of fog or battery power, it is great to know that you can take it home, refill it with water via a screw top lid in the top of the skill, and replace the batteries as needed to enjoy it for many more nights to come.

(8/13/22) SeaWorld Orlando has revealed several returning features coming at this year's Howl-O-Scream event along with a couple new attractions.
The event list now includes four haunts, including the new Blood Beckoning, and three returning (and improved) haunts: "Beneath the Ice", "Captain's Revenge: Drowned in Darkness", and "Dead Vines".
There will be six scare zones this year, including two new ones: "Sea of Fear" and "Cargo Carnage". The list of returning scare zones includes: "Deadly Ambush", "Witchcraft Bayou", "Cut Throat Cove" and "Frozen Terror - Alive in the Ice"
The popular "Monster Stomp" show from last year will return again this year along with "Siren's Song" and "Lurking in the Depths".
There will also be three themed bars which I believe are returning from last year: Longshoremen Tavern, Tormented and Poison Grotto.


(7/20/22) A couple more additions have been confirmed by SeaWorld Orlando for this year's Howl-O-Scream event. In addition to the attractions already announced, the park has also confirmed the addition of an all new show called "Lurking in the Depths" and an all new scare zone called "Sea of Fear".

(7/14/22) SeaWorld Orlando has confirmed that the popular Beneath the Ice haunt will return once again to this year's Howl-O-Scream event in Orlando. Nearby guests will also get to experience the "Frozen Terror - Alive in the Ice" scare zone. Also confirmed for this year's event is another haunt called "Captain's Revenge - Drowned in Darkness" and a nearby scare zone called Cut Throat Cove. More haunts and scare zones will be announced as we get closer to the event.
Howl-O-Scream Orlando will take place on select nights from Sept. 9th through Oct. 31st, 2022. In addition to the haunts and scare zones the park has also confirmed two themed bars: Tormented (near the "Arctic hellscape") and Longshoreman Tavern.
2023 - Surf Coaster / High Surf - (9/28/22) A quick note… due to the approaching Hurricane Ian, SeaWorld Orlando opted to cancel their new ride announcement that was to be held on Tuesday and will instead reschedule it for a future date. Stay tuned!

(9/25/22) An awesome new set of construction photos from SeaWorld Orlando's "High Surf" coaster have been posted to Facebook by Midway Mayhem. The park has also posted their own #HighSurfAdvisory warning on Instagram ahead of the 9/27/22 announcement date.





(9/22/22) Just like in San Diego, SeaWorld Orlando will also announce their new attraction for the 2023 season on Sept. 27th. Stay tuned!

(8/9/22) Orlando Theme Park News is back with a new update from SeaWorld Orlando featuring over 100 pictures. In addition to some general looks around the park, they give us a close up look at the current state of Journey To Atlantis where it looks like the building could use some attention along with the state of other attractions in the park like Kraken, Antarctica and more. About half way down the second page they have pictures of the new High Surf coaster construction site as well, as seen from both the ground and down a little further and on the next page they show what it looks like as seen from the SkyTower.

(8/6/22) New aerial construction photos of SeaWorld Orlando's High Surf coaster project can be seen below, tweeted by Bioteconstruct.


(7/10/22) A great aerial photo showing off the progress on the High Surf coaster project at SeaWorldOrlando can be seen below. Lots of visible foundation work is going up next to the parking lot which I believe is for the brake-run and maintenance shed. The station building itself should be located just ahead of that, where it will turn to the right and then launch down past the entrance plaza into a big high-banked U-turn element.
As you can see in the second picture, there are a ton of track and support pieces set up in a staging area next to Discovery Cove waiting to be installed.



(6/22/22) A huge collection of images from SeaWorld Orlando's 2023 coaster project (aka: High Surf) has been posted to Facebook by Midway Mayhem.
Check it out below!


(6/16/22) While we still don't know much more about SeaWorld Orlando's new 2023 coaster project, apparently the Chairman of PGAV accidently leaked the name of the coaster in a post to LinkedIn, saying that the park's 7th coaster will be, "called High Surf!". This post was later edited to remove the name dropped, but one of our sources managed to get a screen capture before that happened.
So while the name obviously isn't official until the park releases it, this does give us something to call it now other than Project Penguin. It is also worth mentioning that performing a quick search of the Trademark database revealed no hits for the name "High Surf" as of yet, so perhaps the final name has still to be determined. And you know, this is SeaWorld, where even after a ride is given a name, sometimes they decide to change it before it opens. (If you don't remember, Emperor, that B&M Dive Machine that opened in California was first announced as "Mako".

(6/4/22) SeaWorld Orlando has revealed the first teaser for the long rumored "Surf Coaster" concept, slated to open in 2023. Blue track and white support pieces are already on site next to the park, so we know it is an B&M, and while the teaser video doesn't a lot we can tell a few things.
The video seems to confirm that the coaster will indeed be launched, which is somewhat of a rarity when it comes to B&M roller coasters. The trains will be themed to look like a giant longboard, with riders positioned two-across instead of with B&M's more standard 4-across seating. The video chooses to only show the animated riders from the waist up for the most part, so we can see that the restraint system used here appears to be similar to the modern style they've been using on their new Inverted and Wing coasters that uses a soft but thick vest across the chest, while keeping the hard bars and grips away from the riders head, allowing for better visuals and a lack of headbanging.
What SeaWorld really seems to be trying to mask however is still visible if you pause the video at the right moments, where it clearly shows a in a few frames that the riders are standing up while riding the coaster. So in addition to being launched, the long rumored Surf Coaster does indeed appear to be B&M's attempt to create an updated version of the old Stand-Up Coaster style.


(4/24/22) Our friends at Orlando Experience have posted a new video from SeaWorld Orlando this week that also includes a look at land prep for an expansion of the Aquatica parking lot that will allow the waterpark itself to expand to the south. Meanwhile we get a look at the latest track deliveries for the SeaWorld Orlando 2023 coaster project, ongoing land clearing along the shoreline for the new coaster.


(4/17/22) Project Penguin / aka: SeaWorld Orlando's next Coaster, which is also supposed to be the world's first B&M "Surf Coaster" (whatever the heck that is…) is now real, as the first truck-loads of light blue'ish track for the coaster have arrived this week. The site for the new coaster that will be placed between Bayside Stadium and the main entrance to the park has been closed off and in the process of being cleared by construction equipment for several weeks now.
Given the color of this new track, the repainting of Kraken's track to its current green color does make a bit more sense now as the park is also home to Manta (dark blue track and light blue supports) and Mako (purple track and blue supports). Given that Kraken's former yellowish supports were repainted a darker blue hue, I'm guessing this new coaster might feature a light colored support structure. We'll know once the first supports arrive.



(3/20/22) New aerial photos of SeaWorld Orlando show that the pathway between SeaFire and Bayside Stadium has been removed as part of the ongoing clearing of the site for the park's next big project.


(2/19/22) With Ice Breaker now open at SeaWorld Orlando, the latest reports from the park now show that new construction fences are going up along the pathway that leads from the front of the park over towards Bayside Stadium, the site of the park's next proposed roller coaster (aka: Project Penguin).


(12/7/21) BGWFans has posted a rather fascinating update regarding the rumored Project Penguin coaster project for SeaWorld Orlando. As you may recall Project Penguin was rumored to be the first B&M "Surf Coaster" project… and again, I'll stress that no one has confirmed exactly just what kind of coaster a "Surf Coaster" might be.
The project was in the works prior to the COVID outbreak to take over the space of land at SeaWorld Orlando between the SeaFire restaurant area and Bayside Stadium. While we don't know the status of Project Penguin, as it was put on hold like so many other things when COVID happened, but they did uncover what seems to be the layout for the original version of it and have created an extensive breakdown of just what it might be. Or at least, what it might have been… even if Project Penguin returns, the scope of the layout and design could have changed between then and now. So follow the link and enjoy!

(1/31/21) A new update from TheCoasterKings digs in a little deeper on those "Project Penguin" plans for SeaWorld Orlando. The early data gathered pre-COVID was that this was to be a new B&M coaster project that could quite possibly have been B&M's new "Surf Coaster" project. While we never confirmed exactly what the "Surf Coaster" project was, one of our own early rumors suggested that the concept may have been a new style of Wing coaster with rotating seats not unlike S&S's 4th Dimension coasters. There were also rumors that it may also use a possible launch system as well.
In their new update a batch of new royal blue B&M coaster track was spotted at the Clermont Steel Fabricators plant in Ohio. While no one knows exactly what coaster this track is actually for, they believe that the track may be slightly narrower than your typical B&M coaster track so it could be for this new concept. Just something to keep an eye out for.

(6/29/20) An interesting new construction lien has now been filed against SeaWorld Orlando this week. According to a great post from Behind the Thrills the new lien is actually from B&M (Bolliger & Mabillard) who says SeaWorld owes them $1.43 million for engineering design and fabrication of a "custom Launch Coaster". This matches up with some early permits filed by the park for a "SWO Penguin" project. This also connects to rumors of a new B&M coaster design in the works called a "Surf Coaster".

2023/2024 - Aquatica Expansion Project - Rumor - (3/11/22) Big news for Aquatica Orlando is that the park is said to be expanding for or during the 2023 season. To allow for the park to grow, it sounds like a new exit road will be put in place to allow the park to expand across the existing exit road and onto the undeveloped property. Several years ago I did see plans for exactly such an expansion that would have involved adding a pair of unique style slides, that if memory serves, featured some kind of wall element that would then reverse the direction of the slides and drop the rafts from both slides off onto a slow moving river to send them into a cave and past some underwater animal displays.
While we don't know exactly what the plan for the expansion is, I'm not sure if they will revisit this concept or not. One rumor being floated around claims that some kind of water coaster may actually be planned for the expansion this time instead.

2024/2025 - Revised Antarctica Attraction - Rumor - (5/7/22) According to a new rumor, SeaWorld Orlando may finally be making early plans to create some kind of replacement attraction for the closed Antarctica: Empire of the Penguin trackless dark ride.
We really have no details other than that, other than that this should be an entirely new attraction. From what we've been told, the former trackless dark ride vehicles are dead and gone.

???? - Sesame Street Dark Ride - Rumor - (4/15/19) I heard an interesting rumor the other day regarding future Sesame Street plans for SeaWorld Orlando now that the new kiddie land is open. According to the rumor the park has drawn up concepts for a couple of different Sesame Street themed dark rides that could be added onto the area, possibly taking over part of the Wild Arctic ride building space (which again, is rumored to be leaving later this year). Given the initial popularity of the Sesame Street themed dark ride that just opened at PortAventura in Spain earlier this month, this concept may gain some traction as a possible future park addition.

???? - Flying Theater - Rumor - (4/26/19) OrlandoWeekly is hearing that the long-term plan to replace Wild Arctic at SeaWorld Orlando may be replace the attraction's aging simulator fleet with a new modern Flying Theater style attraction at some point down the line. With the San Diego park also looking to replace their attraction sooner than later, I do have to wonder if the California park might get the Flying Theater first.