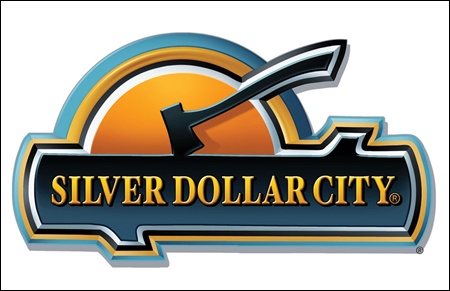 SILVER DOLLAR CITY
& WHITEWATER BRANSON
Branson, MO
Herschend Family Entertainment Corp.
Park News - (2/18/2023) (2/18/2023) Silver Dollar City is losing a second icon this year. In addition to this being the last year for the park's classic Fire in the Hole ride, it has been announced that SDC's Lisa Rau, the park's long-term Director of Publicity & PR will be leaving the park next month to take on a new post with the city of Branson itself as the new Communications Director to help promote all of Branson. In a way it is difficult to imagine Silver Dollar City without Rau, as according to her Linkedin profile she has been at the park for 34 years. So in terms our readers will understand, she was there even before Screamscape even launched in 1998, so it is easy to see she's had an amazing life of a career at Silver Dollar City.
While I don't believe I've had the pleasure of meeting Rau in person, I do remember getting a phone call from her one day to discuss an interesting Screamscape related topic many years ago, as well as the occasional email about the latest goings-on at the park. We wish Lisa well and since she is staying local, I've got a feeling she'll still drop by the park from time to time to visit her SDC "family".

(2/15/2023) Silver Dollar City To Say Farewell To Fire in the Hole

(2/13/2023) Keep an eye on Silver Dollar City's social media today, as they are set to make a "Historic Announcement" at 11am. At this time, we can only assume this may involve the retirement of the park's old Fire in the Hole attraction, and the rumored building of a modern replacement.




(11/7/22) I forgot to post this previously, but we sent a link to a post on Twitter reporting that last weekend Thunderation at Silver Dollar City had a tree fall on it while the park was closed, resulting in the ride beign closed all weekend. The latest word from guests this weekend however is that Thunderation was back up and running once again, so apparently the tree didn't cause too much damage.

(10/29/22) In a statement posted online, Silver Dollar City has confirmed that "sections of th e Frisco Silver Dollar Line Steam Team derailed from the track." The onsite paramedic teams were able to provide emergency care until the first responders arrived on site. "Six guests and one employee have been transported by ambulance to nearby medical facilities." Future updates will be released as the information becomes available and currently the park is focused on providing support and care for the guests and team members affected.
Based on what we saw in the one video, all but the engine and last passenger car on the train either tipped half-way or all the way over on their side, so it's amazing that the number of injuries reported so far has been so low. While I have not been to Silver Dollar City myself, something I hope to correct in the near future, I have been to their sister park, Dollywood, many times. Assuming the operations are similar, I would expect that the railroad at SDC is taken care of by a very knowledgeable and dedicated crew who will determine what happened and set things right as soon as possible.

(10/27/22) We don't know all the details, but emergency response crews were requested to come to Silver Dollar City on Wednesday evening. The early rumor is that the Frisco Silver Dollar Line railroad train may have suffered some kind of de-rail.
Footage found in a Twitter post shows that several of the railroad cars have tipped over. Check it out below. No word on if there were any injuries, but we can only hope that everyone is ok.



(10/26/22) A couple of interesting new items about Silver Dollar City have come up this week. For starters the park posted some artwork showing off new renderings of the Fried Fancies and Heartland Home Furnishings buildings coming to the park as part of a $30 million investment into the park this season and beyond.
Meanwhile the local news has reported that Silver Dollar City has just purchased the failed Indian Ridge housing development, which has been the subject of more than a few videos of the past couple years showing massive mansions built and then left to rot unsold on the property. Silver Dollar City bought almost 800 acres of property next to this in early 2021, which has long been rumored to be used to build a new mega-resort for the theme park in the same vein as the DreamMore Resort at Dollywood, and now SDC has bought up the remaining 26 acres that they did not buy previously.



(10/14/22) Silver Dollar City has announced the return of the park's "An Old Time Christmas" event from November 5 through to December 30, 2022. This season marks the debut of a new production show Coming Home For Christmas, along with over 6.5 million lights, an elaborate 8-story animated Christmas tree, a light parade, holiday foods and more. Silver Dollar City shines brilliantly with so much entertainment that the park is the five-time reigning champion for Best Theme Park Holiday Event in America.*
"Throughout the streets of The City carolers sing and stroll, while the centerpiece of Joy On Town Square, an 8-story Christmas tree, and surrounding lights glow spectacularly. Even brighter is Christmas in Midtown with its remarkable display of light tunnels, wreath portals, flying angels and special effects 9-stories tall. For thrill seekers, rides soar under the Ozark Mountain starlight with all the Christmas lights visible below. Plus, craftsman in the Christmas spirit demonstrate glass-blowing wood carving and pottery, creating one-of-a-kind heirlooms."
"The City's stages offer more than 30 shows each day and night. Including the longtime favorite production, A Dickens' Christmas Carol. The all new show, Coming Home for Christmas, features a live band and a cast of 14 singers and dancers presenting holiday music, stories and family traditions. Other productions include The Living Nativity and the Saloon Frontier Fa-La-La Follies. Rudolph's Holly Jolly ™ Christmas Light Parade winds through The City each evening with lighted floats, characters, dancers and performers. Guests aboard the Frisco Sing-Along Steam Train enjoy a Christmas story and sing-along to their favorite holiday tunes all while getting a unique view of The City's 6.5 million lights."

(7/24/22) Sad news from Silver Dollar City this week as the local news reports that an employee has passed away after suffering from "head injuries allegedly sustained during maintenance and testing of a rollercoaster". The incident took place sometime on Wednesday and they passed on Thursday. No further news has been posted but we wish everyone there well in this time of grief.
2024 - Fire in the Hole 2 -(2/15/2023) Silver Dollar City's big announcement was interesting… it wasn't the announcement of what is new, but rather the retirement of what is leaving. Of course Screamscape readers have known this was coming for quite some time, and now Silver Dollar City has confirmed that the 2023 season will be the "Grand Finale" for their Fire in The Hole indoor roller coaster which has been running since 1972.
What they don't say is exactly what day Fire in the Hole will close for good, but I'd imagine you would have at least through the Summer season, maybe longer, to get your last rides in on this classic ride before it is gone forever.
Well, almost forever…
As I've said, Screamscape readers have had a good idea of what is going on for quite some time. What is believed to be a modern replacement for Fire in the Hole has been under construction behind Fireman's Landing for quite some time now. As we get closer to the actual closing day for Fire in the Hole, I imagine we'll start to get hints about the upcoming announcement for this new generation version and what kind of surprises we can expect.
At that point we'll know just how far the park was willing to go with the redesign and answer all the "burning" questions, such as: will this be a true clone of the original, or will this version be built with a new name? How about new scenery? Will it keep the old classic look or be upgraded to feature more modern animatronics and effects? How about some real fire this time? How would riders feel about adding screens and/or projection mapped scenes or effects? Plus the name… I can only imagine it will be something similar to Fire in the Hole, but slightly different to help promote it in 2024 as the park's next big thing.
Stay tuned for more details I guess. In the meantime, I guess I need to get myself out to Silver Dollar City if I can this year, as I know I've never had the chance to ride the original classic Fire in the Hole myself, only its Tennessee cousin, Blazing Fury at Dollywood.





(12/26/2022) MidWestInfoGuide has posted some new pictures from Silver Dollar City this week showing off several loads of RMC style track that have arrived on site for the park's new 2024 attraction project. To be located inside the massive new structure built up at the backside of Fireman's Landing is expected to be a modern style replacement for the park's Fire in the Hole dark ride coaster experience.
RMC's involvement isn't a surprise however, as I believe RMC has been involved with providing new track pieces during off-season refurbishments to the existing Fire in the Hole and sister-ride, Blazing Fury at Dollywood, for the past several years.

(10/20/22) As everyone has been waiting for Silver Dollar City to announce something to do with the long rumored Fire In the Hole 2 project, you'll probably have to wait another year for that. While the structure for the new ride is built, I'm told that it is essentially empty inside still, so we should be looking to see the park open the new ride in 2024 rather than 2023. They will have to install at the track and ride systems, then add the huge assortment of scenic elements, then finish all the lighting and show programming of course, so there is still quite a bit to do between now and 2024.

(5/28/22) MidWestInfoGuide is back, fresh from a trip to Silver Dollar City where they got some great pictures of the massive new attraction building going up at the park for 2023 behind Fireman's Landing. The huge framework for the new structure is in place, and there is a picture showing off the inside of the structure with a red semi-trailer parked inside of it, giving you a fantastic sense of scale for how big the building is. They also noted what looks like a "splash pool" area in the back of the structure, and how the floor of the main building is lower than level of the entry building, which means guests may go down into the lower level once inside the queue.
Once again, this does all fit in nicely with Screamscape's long reported rumor that the park may be building a brand new modern replacement for their classic Fire in the Hole attraction and so far the clues seen here seem to follow along with that concept as well. As per the earlier rumor, the state of the original attraction structure was said to have reached the point that a complete replacement was the better solution rather than a long term closure to remove and rebuild on the original site. Plus moving the Fire Station themed attraction to Fireman Landing only makes sense, and the removal of the old attraction will eventually allow for something new to be added near Mystic River Falls.
Other updates from their trip to the park include a look at the Bluegrass BBQ Festival as well as the special food now being offered for it.

(12/13/21) It's hard to see much in detail, but you can see a quick drive-by clip in the tweet below showing off the current construction taking place at the backside of Silver Dollar City, rumored to be for a new version of Fire in the Hole.


(10/3/21) So what's going on at Silver Dollar City for the 2022 season? Way back in February Screamscape reported that a large clearing was being made in an area behind Mystic River Falls and Fireman's Landing, not far from the road that goes around behind the park. Back then we were told that excavators were on site and they seemed to be digging a good sized hole back there for something on this site, which formerly was a backstage parking lot. Jump ahead to the present and in the tweet below you can see that the entire area is now walled off from view, and a recent Google Maps aerial image shows the former parking lot entirely cleared out to make a very large new site for something special. The large building at the end of the cleared site would be Heritage Hall performance theater, so access to the site site will likely be through the Fireman's Landing area, via crossing the train tracks.
This brings me to the really interesting rumor about what may be going in here, and how it could be linked to another attraction that sits on the other side of Mystic River Falls from here. Yep, I'm talking about Fire in the Hole. While covering the various theme park news over the years, we've heard a lot about various upgrades and refurbishment projects that have been performed on Fire in the Hole's sister coaster at Dollywood, which goes by the name Blazing Fury. The two rides were nearly identical, but I've always wondered why we never heard much about off-season work being done to Fire in the Hole. It turns out there is said to be a fairly good reason for this… because the structure that Fire in the Hole (the older of the pair, opening in 1972) sits in, is really not in the best of shape.
Now don't get me wrong… the attraction is not dangerous in any way. The ride is safe, the building isn't in jeopardy of collapsing or anything remotely close to that. But much like how Dollywood has been taking steps over the years to preserve Blazing Fury for future generations to enjoy, I'm told that the years just haven't been as kind of Fire in the Hole. After 49 years of riders taking on the journey, it sounds like the best way to preserve the Fire in the Hole experience for the future may be to actually tear it down and rebuild it from scratch.
Nothing is confirmed of course, and this may be one of the wildest rumors of all time, but Screamscape is being told that Silver Dollar City has been looking to do just that several years now. Of course this comes along with a lot of "What If…?" questions… such as, if they are going to spend the money to do this, should they make it a faithful copy of the original? As the ride system will obviously have to be upgraded to something modern, so will other aspects like lighting, audio and other theatrical systems. Then what about the scenery? How much to keep, how much to upgrade, along with the various figures within, so they keep them old fashioned looking or upgrade them to look like modern figures and animatronics? What about the experience itself? Do you keep it the same, or perhaps add in some new tricks or entirely new scenes?
So many options to choose from and so many questions to figure out.
If this is true, one other factor comes into play, which is that 2022 will actually be the 50th Anniversary of Fire in the Hole. Do they celebrate it with the new ride, or give the old version one more season as a fitting send off for the 50th? Or what if the park could even offer the old and new version for the 50th Anniversary as a fun way to celebrate the passing of the torch.
Again… this is all just rumor. For all we know the park could be building nothing more than a warehouse back there, but stay tuned! I think we may start to get hints about what is going on before too much longer. In the meantime, be sure to get your rides in on Fire in the Hole while you still can, just in case.


(2/7/21) According to a few messages sent my way, I'm told that there is some kind of large new land clearing taking place at Silver Dollar City. Given the timeline this clearly isn't something in the works for the 2021 season, but it could be our first hint at what the park may have planned for 2022. I'm told that a large clearing has been made somewhere behind the new Mystic River Falls and Fireman's Landing areas that can be seen from the road as you pass the park back there. According to one post there is an area where they appear to be digging down deep for something, which would seem to indicate that this could be for some kind of new attraction.
If anyone knows more or has the chance to pass by and snap a few photos, I'd love to see them for a future update.
???? - New Resort Hotel - Rumor - (2/4/22) You may recall two months ago I reported hearing that Silver Dollar City was purchasing a large plot of land a bit to the west of the theme park? As we reported at the time, this large land purchase was to clear the way for Silver Dollar City to follow in the footsteps of Dollywood and begin to build and operate their own Resorts.
Today that rumor about a large land purchase was confirmed as the local news reports that Silver Dollar City had just acquired an 800-acre plot of land near a failed "Indian Ridge" resort community project. The "Indian Ridge" project has become famous not only for the plan's failure, but because of a street where a number of large homes were built and abandoned and left to rot, giving this block a creepy apocalypse looking feel.
Silver Dollar City has confirmed the land purchase, but also confirmed that the section of the property that contains the abandoned mansions is not part of the parcel that they purchased. The news article also confirms that Silver Dollar City LLC also owns 'multiple parcels of property" between the theme park and this latest land purchase, which makes me wonder if they will have the ability to directly connect the theme park to this new property if given the chance. While the future intent of the property was not open for discussion, we have only to watch how the company has set a huge future masterplan of growth for future resort projects in Tennessee to get an idea of how they will transform the Silver Dollar City theme park into a true resort experience.

(12/4/21) Screamscape sources have sent in a rather interesting update regarding the future of Silver Dollar City. Much like how we've been seeing plans for increased growth at sister park, Dollywood in Tennessee, the rumor is that SDC is preparing to build their very own resort complex.
While I don't know the exact site, I'm told that SDC's parent company, Herschend, has purchased a large plot of land to the west of the theme park for this very reason. Currently the theme park only has a campground property to offer overnight accommodations with, but if the trend here works the same way as it did in Dollywood, adding an official resort to the theme park could be a huge success and possibly just the first of many such resorts to come in the future. While the terrain around the park definitely isn't flat, this is also familiar terrain that Herschend is used to in their various developments and resort projects around the mountainous terrain that surrounds the Dollywood theme park.
More on this rumor as it develops!