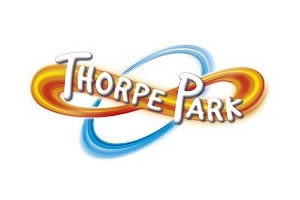 THORPE PARK
United Kingdom
Merlin Entertainments Group

Park News - (10/9/21) Screamscape was invited to send out a team to attend the media preview night of the park's 20th Anniversary Fright Nights event. We sent out Paul Young, our new local rep, to attend the event for Screamscape and report back on what he found. If he returned that is...
Check it out below!
---
Thorpe Park is celebrating the 20th Anniversary of Fright Nights, it's Halloween and scare offering, so myself and Marcus Gaines headed over to check it out.

First things first, we were invited to the press night and gifted entry to the park and scare mazes which are usually an upcharge (3 mazes for £27 or 1 for £10). The scare zones, experiences and entertainment are included in your theme park entry.

Before we get into the review it's important for me to note that with scare attractions and events, experiences are incredibly subjective. If being around these events, it's creators and actors has taught me anything it's that everyone finds different things scary, entertaining or fun. On top of that you have the variability of runs and batches that can make or break your experience of an attraction.

So let's get into it.

As we enter the park and cross the bridge to the "island like no other", we're greeted by the crows, a very creepy set of scarecrows come to life, stalking guests and setting the tone.

Once inside we headed to the events newest addition, Trailers.

Trailers is set in a retro 80's cinema where guests are essentially pulled into scenes of the various films playing in this multi-plex of horrors. For the avid fans of FrightNights there are endless easter eggs and references to the mazes of past years, to the un-initiated it's just great fun! Each room, or screen, is a different story, a different style but represent a cinematic cliché so feel familiar. Trailers is an instant and obvious hit, there will be something in there to please or scare everyone and with an effects laden finale, you will come out smiling, laughing or screaming.

Second up was Creek Freak Massacre, which is preceded by the Creek Freak Unchained scare zone. Naming this as a separate attraction is generous as it's really just some theming for the area with roaming actors there to entertain. Certainly not a scare zone in my book but we had enjoyable interactions with the questionable inhabitants of the saw mill, the Buckwheat family.

Creak Freak Massacre is well known as an intense maze and it lived up to the hype for us. Aggressive, loud and exciting, the maze had a clear story, great soundtrack and backed it all up with plenty of jump scares, prolonged scares and set pieces. The strobe section was a highlight for me and very disorientating. With a few more actors in that section it would have been something very frightening.

The third and final maze of the evening was Platform 15. This maze is in it's final year at the event and is more of an outdoor trail. It's beautifully created with some lovely physical set pieces and great atmosphere but our run was sadly hampered by poor actor blocking and timing. A slightly disappointing affair that was mirrored by those we spoke to on the night, but it was a different style of attraction to the others with its own merits.

Heading over to the B&M wing coaster The Swarm, we entered The Swarm Invasion scare zone. Again I wouldn't call this a scare zone, more of an interactive entertainment area based around the excellent back story of the Swarm. What I really appreciate here was the added layer of characters, forming 3 distinct groups with their own identities and stories. No scares, but a nice addition to the area.

Other entertainment included Birthday Bash, a stage show with music, dancing and street theatre that all handily centred around a 20th birthday party. There was also the returning favourite of LoveBites; Amity High Vs Lycanthorpe. This is a fantastic area of roaming actors wo are all so brilliantly in character. Although we didn't stay long enough to enjoy their show, we were very much accosted, bothered by and made to feel uncomfortable by all the cast. In a good way of course!

A highlight of the evening was The Crows of Mawkin Meadow, a simple yet beautiful walkthrough of classic Halloween style. The brilliant actors managed to scare no end of people as we walked through, giving it an almost scare maze vibe. The crows are such excellent characters and their masks, I imagine, would be scary to most people. The area was decorated beautifully providing many insta selfie locations I'm sure.

Unfortunately, the fire and light show, Legacy, was not available for us to enjoy but I do love these kind of shows and I'm sure it would have been great.

The event probably lacked some atmosphere overall due to the small number of people being spread out across the park but was still a joy to attend with most of the major roller coasters and rides available too.

For me personally, the event doesn't match up to some of the larger scare events such as Tulleys Shocktoberfest or Xtreme Scream Park as it just doesn't have the maze count to compete. However, Trailers, Creek Freak and the Crows make this a compelling evening, all on top of a day at Thorpe Park with some of the best rides in the country. Attraction of the night goes to Trailers for me, a really great addition to the UK scare event scene and I can see it adapting and progressing for a few years.


I'd like to say thank you to Thorpe Park for inviting us, we had a great time and cannot wait to see what the team cook up next year.

Review & Photography: Paul Young
Footage shot by: Marcus Gaines

(3/16/21) ThemeParks-UK reports that Black Mirror Labyrinth at Thorpe Park will open to guests starting on May 21, 2021, unless the government guidelines change between now and then. Follow the link for more information.
2021 - Black Mirror Labyrinth - (5/31/21) A review of the new Black Mirror Labyrinth attraction at Thorpe Park can be found over at Themeparks-UK.

(2/21/21) While Thorpe Park will be ready to open their new Black Mirror Labyrinth experience in Spring 2021 (with the park currently hoping to open to guests on March 27), there is a rumor going around that the Black Mirror concept could be short lived. Black Mirror was built to replace the park's The Walking Dead: Living Nightmare walk-thru attraction that was open for three years and was expected to open in 2020 but was delayed due to COVID.
As this may be an example of one temporary attraction replacing another, the latest rumor suggests there may have been talks of a future re-theme that could be tied into the video game, "Among Us". Since Black Mirror has yet to open to guests, I guess it could come down to how long of a deal Thorpe Park signed to use that IP and if the popularity of the game would remain high enough to outlive the Black Mirror contract. So consider this a rumor for now of course.

(6/8/20) Sad news for Thorpe Park, as the park has chosen to delay the opening of their planned Black Mirror Labyrinth attraction that was to open this year. Black Mirror Labyrinth is now officially delayed until Spring 2021.

(2/26/20) Thorpe Park has announced that they are adding the world's first "Black Mirror" themed attraction to be called Black Mirror Labyrinth. The new "digital maze" attraction will open in March 2020 where you can get lost in a hypnotic maze full of sensory-defying environments. The attraction will be included with general admission to the park and will replace the former walk-through "The Walking Dead" attraction.