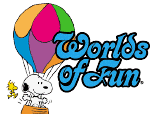 WORLDS OF FUN
& Oceans of Fun
Kansas City, MO
Cedar Fair L.P.
Park News - (9/10/22) Despite some previous marketing seen earlier this year related to the sales of 2022 season passes, it seems Worlds of Fun will NOT be offering the "all-new Tricks and Treats Fall Fest" event after all. The park's current promotions page now only lists the return of The Great Pumpkin Fest on weekends from Sept. 17 through Oct 30, 2022.

(8/12/22) Another Zambezi Zinger Coaster Update

(8/11/22) Zambezi Zinger II - Coming to Worlds of Fun in 2023

(7/20/22) Following the accidental death of a 7-year old at Oceans of Fun the park has now increased the height restriction to enter Coconut Cove as well as requiring anyone under 60 inches tall to wear a life jacket while in the pool.

(7/14/22) Sad news this week from Oceans of Fun. I didn't hear about this previously, but apparently a young girl was found unresponsive in a pool at the Ocean of Fun waterpark attached to the Worlds of Fun theme park on July 5th. The girl was seen in distress by the Coconut Cove pool and pulled from the water. Emergency crews were called in to help who transported her to a local hospital for care, but it was reported on Tuesday night that she had passed away. The age or name of the girl has not been reported at this time.

(6/19/22) According to a rather odd local news story, a man was arrested earlier this week while trying to buy a gun from an "informant" with the Sheriff's department. He has now been charged with "first degree terroristic threat" after threatening to "blow up" the Worlds of Fun theme park, as well as calling a hotel near the park and threatening to kill hotel staff as well as children at the amusement park.
At one point in time this may have just seemed like a crazy threat, but in today's world I'm glad that the threats were taken seriously and the man was caught before anything happened.




(6/18/22) A quick word of warning to anyone visiting Worlds of Fun this summer. According to a posting from the park, current upgrades taking place to Mamba's operating system have limited operations to just one train. "To reduce waiting in the heat, we are implementing Timed Entry and Season Pass ERT at MAMBA on weekends."



2022 - Refurbishments - (1/15/22) Worlds of Fun has posted a new Blog update where they details some new changes taking place in the park. This includes details on the major restoration of the park's Le TaxiTour antique car attraction for the 2022 season, the refurbishment of the Bamboozler ride (Super Round-Up), plus a little more on the refurbishment of the top cap of the Detonator towers. According to the blog the cap is being refinished and repainted, and when they put the cap back on, the inside of the cap will also be decorated with the signatures of those who work at the park.
(12/13/21) Worlds of Fun has been very quiet as of late. Not much chatter, not much on the rumor front, and really not much on the news front, as it has been years since the park added a major new attraction. The park's Twitter has been giving us a look at some rehab work taking place over the winter however, so they are alive and working. For example they removed the top cap from the two Detonator towers to announce that a new top was coming, but they haven't shown it going up yet. Another post shows off the park's Bamboozler ride in pieces as part of that ride's winter refurbishment.
But I can't help but feel that the park is well past due for something special… sooner than later.





(8/13/21) So far the only item confirmed as coming to Worlds of Fun in 2022 will be the Grand Carnivale celebration during the regular season.
2023 - Zambezi Zinger II - (8/14/22) I'm hearing that there may be a little bit more Titan Track on the new Zambezi Zinger (II?) than we first thought. Much like how the animation shows it going back to Titan Track on the big hill and curve around the spiral lift, we may see small sections of Titan Track added in to some of the coaster's other tight curves, as needed, to help prevent wear and tear on those high stress points. We really won't know more though until construction starts and we see what goes wear.

(8/12/22) I've got a quick but very important update about the new Zambezi Zinger coaster coming to Worlds of Fun next year. Well, a couple of things… starting with the name of the ride. While I previously called it Zambezi Zinger II, based on the logo shown having the two claw marks, thus far the park has referred to it only as "Zambezi Zinger". Personally, I'd rather this be Zambezi Zinger II, as it just sort of clears things up a bit. Plus everyone loves a good sequel.
The second item to correct is that the coaster will actually not be built entirely with Titan Track. The park's website makes it sound that way, but according to the official blog post from Skyline Attractions who created the Titan Track for GCI, the new Zambezi Zinger will be "a one-of-a-kind hybrid roller coaster attraction with a combined 2,428 feet [740 m] of classic wooden roller coaster track and Titan Track."
If you look carefully at some of the concept art posted, you can actually see some of the transitions between Titan Track and normal wooden coaster track. You can also clearly make out which sections of the ride at Titan Track and which aren't in animated POV video. This shows a transition from normal track to Titan Track shortly after the train leaves the station. Titan Track is used for the entirety of the spiral lift hill and the first drop, transitioning back to regular track at the bottom. It switches back to Titan Track going up and down the curve around the spiral lift hill and then seems to return to regular track for the remainder of the ride.
It's an interesting choice to not use the new Titan Track for the majority of the layout, though the nature of Titan Track does allow it to be added in the years to come to help smooth out any rough spots.

(8/11/22) The Zambezi Zinger returns to Worlds of Fun in 2023 in an all new form. As rumored, the Zambezi Zinger II will be a wooden roller coaster, featuring combination steel and wood structure from GCI. Like the original Zambezi Zinger, this new version will start off with a unique spiral lift hill. This will be a full hybrid roller coaster system, featuring the first full use of GCI's new Titan Track system. It will also feature GCI's new Infinity Flyer roller coaster trains as well, with a total track length of 2,428 feet, a height of 74 feet, and a top speed of 45mph.



(7/23/22) An updated permit for the Worlds of Fun "Project 50" can be found online at this link. It still just lists the project as a "Wood Coaster", if you go to the "Contacts" tab the Engineer on the project is listed as Daniel Peak. In March Skyline Attractions posted an article confirming the "onboarding of a new partner, Dan Peak" from Clark Reder Engineering.
Working with Peak while at Clark Reder Engineering to bringing him in directly to Skyline Attractions, he has worked on a number of major projects for Skyline and GCI. "Starting with the foundation system for Mystic Timbers at Kings Island in Mason, Ohio, Dan's work has expanded to include the record-breaking Texas Stingray at SeaWorld San Antonio, the first-of-its-kind Roaring Timbers at Hon Thom Nature Park in Vietnam, and the upcoming SkyBlazer at COTALAND in Texas. Dan is also heavily involved in multiple yet-to-be-announced attractions with Skyline Attractions including additional roller coasters."
With this in mind, I think it's safe to say that the new wood coaster coming to Worlds of Fun will be another GCI / Skyline collaboration.

(7/17/22) The rumor mill is going a bit crazy at Worlds of Fun these days, so take everything with a grain of salt right now. A reader reached out to Screamscape to try and explain things a bit better, including all those codenames that have been dropping. According to this source the plans for "Project 2.0" have been bumped back from 2023, so don't expect to see it until at least 2024, possibly later, but they tell us the plan at the time was for "Project 2.0" to actually be some kind of updated Orient Express coaster.
The new "Dollhouse" wooden coaster project was brought in out of left field to serve as the new attraction for 2023. And in this case, "left field" may actually be Dorney Park, so this proposed new wooden coaster could very well be the wooden shuttle coaster concept that was once in the works for Dorney before they pulled their request to present it to the town council in Pennsylvania. Again… we don't know much about this project, but a new kink in the rumor claims that if this is the wooden shuttle, it may also include an inversion of some kind. While the concept of having an inversion is no longer a "world's first" thing, depending on the layout and the placement of the inversion, this may be the first inversion on a wooden or hybrid coaster to be experienced backwards.
In the meantime, keep an eye out for the former Chamber of Horrors haunt maze structure (that was formerly the Doll Factory haunt) to be leveled in the near future to make way for this new project.

(7/16/22) A couple of interesting factoids have leaked about Worlds of Fun new Project 50 on Twitter this week. A tweet went out claiming that the new mystery ride was now being referred to internally as "Project Dollhouse". While this sounded odd at first, another Tweet pointed out (with a cool photo) that the old Zambezi Zinger queue was turned into a "Doll Factory" themed maze for Halloween Haunt several times.
Now while we are talking Zambezi Zinger, you may also recall that the rumor we posted claimed that whatever this new coaster would be, they were also apparently calling it "Project 2.0" at one point, because it was supposed to provide a modern take on one of the park's lost but beloved coasters, such as Zambezi Zinger or Orient Express.
At this point, I think we can say that World of Fun may definitely be trying to bring back some Zambezi Zinger vibes, but instead of with a steel coaster (and I know many of you wanted an RMC Raptor here) this will be a wooden coaster, if those leaked plans hold true. So how can a wooden coaster try to recreate the Zambezi Zinger? While I don't know the whole story, rumors claim this may be a mostly low-to-the-ground terrain coaster experience that will start things off with perhaps the Zambezi Zingers most iconic structure… the spiral lift hill.
As far as i know, this would actually be a first for a modern wooden roller coaster, and someone please correct me if I am wrong. Spiral lift hills are quite rare these days and to my knowledge, they were previously restricted to steel coasters from select European manufacturers. Like the Zambezi Zinger, several other older-style coasters from Anton Schwarzkopf's early days (most of the Jet Star series) featured them, along with some iconic custom designs at major parks, most of which have been lost to time like the Big Bend (Six Flags over Texas) and the two Whizzer coasters built for the two "Great America" parks for Marriott. (Note: The Whizzer at Six Flags Great America is still alive and well however!) Mack Rides has used the concept for their indoor lifts on Europa Park's EuroSat and Euro Mir coasters, and Zamperla even borrowed the concept for their line of Volare single-car flying coasters.
The method of powering these spiral lifts has differed from manufacturer to manufacturer, so I am curious to see how someone like GCI will try to engineer it. We don't know for sure that it will be GCI, as it could be Martin & Vleminckx, Gravity Group, or even RMC, but for several years now Worlds of Fun has been working extensively with GCI on both Prowler (GCI built) and a multi-year refurbishment and reprofiling project on Timber Wolf. So with that in mind, GCI would have been the first company Worlds of Fun would turn to for consulting on a new wooden coaster project.


(7/7/22) I really don't know much about Project 50 at this point, but according to this tweet the updated plans filed seem to indicate that it will be a "Wood Coaster". Now keep in mind that while they don't mention the manufacturer in any way, so technically this could be a regular wooden coaster from the likes of GCI or Gravity Group for example, or it could be something more hybrid-like from RMC.
And well... technically, GCI now has Titan Track too. So it would be interesting if this ends up being GCI's big breakout moment for Titan Track.


(6/16/22) One of our readers has come across a new work permit linked to World of Fun, with a project name of "WOF Project 50 Grading Plan". The scope of the work is simply listed as "Construct gradingb per plans reviewed for code compliance", so really not much to go on there. The key piece of interest in the name, listing this as "Project 50", and of course 2023 will be the season for World of Fun to hold a 50th Anniversary Celebration.

(5/29/22) Over the past month, a small bit of possible activity has been spotted at Worlds of Fun that could be an indicator of the park's rumored 2023 project. As mentions before, the rumor was the 2023 project (codename: "Project 2.0") may be to add a modern style replacement for one of the park's beloved removed coasters from the past like Zambezi Zinger or Orient Express. Of course the coaster fans would love nothing more than to see RMC make a new Raptor style coaster here, where the narrow single rail and single-row seating configuration would indeed give off some Zambezi Zinger style vibes.
As someone not familiar with the park itself however, I'll include a couple of tweets below that show off some early clearing, and survey markings found around the former Dinosaurs Alive location at the park over the past month.



2024/2025 - Project 2.0 / New Orient Express - Rumor - (7/17/22) The rumor mill is going a bit crazy at Worlds of Fun these days, so take everything with a grain of salt right now. A reader reached out to Screamscape to try and explain things a bit better, including all those codenames that have been dropping. According to this source the plans for "Project 2.0" have been bumped back from 2023, so don't expect to see it until at least 2024, possibly later, but they tell us the plan at the time was for "Project 2.0" to actually be some kind of updated Orient Express coaster.

(3/3/22) While it doesn't appear that much is happening at Worlds of Fun for this season, we have been slowly hearing some quiet rumors suggesting that the park will be adding something of interest in 2023. The latest news from a new source backs up another rumor I had heard a few months ago, that the park's next coaster project would be coming in 2023, and would be some kind of modern replacement for an old beloved coaster, thought to be either the Zambezi Zinger or Orient Express. According to our source, internally the project has been given the codename, "Project 2.0'.
This is also expected to be a major selling point for the park's 50th Anniversary celebration taking place in 2023, where the park will be heavily marketed as the hometown park to the people of Kansas City. They say the plan is to also get the Hunt Family involved in some fashion, who were the original creators of the Worlds of Fun park.