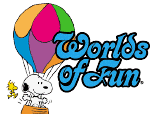 WORLDS OF FUN
& Oceans of Fun
Kansas City, MO
Cedar Fair L.P.
Park News - (8/7/21) Worlds of Fun said they would be making an announcement on Friday afternoon, and the big surprise was that ELI, the park's original fully functioning steam engine locomotive, had returned and was back in action at the park. Eli was sent out to undergo a complete restoration back in 2019 which took longer than expected, but while Eli was gone Levi, another classic steam engine, had been in use at the park.
A short video was produced to celebrate the return of Eli to the rails at Worlds of Fun.




(6/26/21) More bad news from Worlds of Fun came out yesterday evening that described further cut-backs to the park's already shrunken operational schedule. According to an official tweet from the park the Tuesday and Wednesday closures for Worlds of Fun have now been extended through to the week of July 24th. From there, the park only has 3 more weeks left in their schedule when they could be open on Tuesday and Wednesdays (July 27-28, Aug 3-4 and Aug 10-11) and from there the park goes to a weekend only schedule instead of staying open daily through Labor Day as many parks try to do. With that in mind, I wouldn't be surprised if they are forced to give and continue the Tues/Weds closures for those last three weeks, so be careful if you are scheduling a trip from out of town.
Furthermore, Oceans of Fun which was previously open 7-days a week will now be closed on every Tuesday and Wednesday for the remainder of the 2021 Season.


(6/17/21) Worlds of Fun disappointed guests this week with the sudden announcement that the park was forced to close on June 15-16, June 22-23, and June 29-30 due to a shortage of workers. As we saw previously when this was done at Cedar Point and other parks, the outcry from guests who had planned vacations to the area with hotels, flights and rental cars that are now impacted by these last second closures.
One item worth mentioning however, that while Worlds of Fun will be closed on those dates, the Oceans of Fun waterpark is still listed as being open.



(6/13/21) In another sad state of the world update, another theme park fight broke out this week. This latest one took place at Worlds of Fun, and even more disappointing, it involved two 12-year-old girl cousins who were attacked by a gang of other girls between the ages of 13-17. A portion of the fight was caught on video and posted by the local news, and it is just disheartening to see the young girls punched and kicked into the dirt of a park planter while most bystanders stand-by to watch or shoot video rather than intervene.

(5/5/21) Worlds of Fun and Oceans of Fun will be reopening very soon, and have released new details about the COVID safety rules to visit this year. Worlds of Fun will reopen first on May 22 and the Oceans of Fun waterpark will follow a week later on May 29. While you do not need reservations to visit Worlds of Fun, you will still need them to visit the Oceans of Fun waterpark.
Gone this season will be the required temperature checks, as well any ride capacity limitations. While the rides wont limit capacity, the park will still have capacity limits and social distancing. Face masks on the other hand will no longer be required to be worn when outdoors, unless social distancing is not possible. Masks will be required when going into any indoor location.

(3/13/21) Worlds of Fun will open to guests on May 22 and the Worlds of Fun waterpark with the new Riptide Raceway slide will open on May 29. The park will also host the Grand Carnivale celebration event from July 24 through Aug. 8, and they have also confirmed that Halloween Haunt will take place this year from Sept. 17 through Oct. 31st.

(1/30/21) Worlds of Fun has now set May 22 as the park's opening date for the 2021 season. They will also finally open the new Riptide Raceway waterslide this year after the opening was delayed from 2020.

2021 - Riptide Raceway - (11/15/19) Worlds of Fun has announced that they have made a change to the previously announced Riptide Raceway slide that will see the length of each slide increased by 10 feet, which will give it the record for being the longest Mat Racer slide in the world.




(8/20/19) I missed this one the other day but Worlds of Fun will add Riptide Raceway is 2020 to the waterpark, marketing it as the largest mat racer slide in the Midwest.


(8/10/19) Screamscape sources tell us that the new slide coming to Oceans of Fun in 2020 to replace the soon-to-be-leaving Diamonhead slides will be some kind of new four-lane Matt Racer slide.
In other news, I'm told that Dinosaurs Alive was also confirmed to be closing for good before the end of the season.
2022 - Nothing New - (8/13/21) So far the only item confirmed as coming to Worlds of Fun in 2022 will be the Grand Carnivale celebration during the regular season.