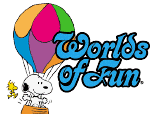 WORLDS OF FUN
& Oceans of Fun
Kansas City, MO
Cedar Fair L.P.
Park News - (11/15/21) A construction wall has been seen at Worlds of Fun that is said to be blocking off the park's Chickies and Pete's restaurant. Meanwhile a permit has also been discovered for this same site to the "inspection of chickens and petes building for partial demolition." Since it is only a partial demo, I would imagine that the site may actually be getting some improvements and possibly an expansion before reopening for the 2022 season. This falls in line with Cedar Fair's claim that they will be focusing on park improvements and new restaurants over the 2022 season instead of new rides.
2022 - Refurbishments - (1/15/22) Worlds of Fun has posted a new Blog update where they details some new changes taking place in the park. This includes details on the major restoration of the park's Le TaxiTour antique car attraction for the 2022 season, the refurbishment of the Bamboozler ride (Super Round-Up), plus a little more on the refurbishment of the top cap of the Detonator towers. According to the blog the cap is being refinished and repainted, and when they put the cap back on, the inside of the cap will also be decorated with the signatures of those who work at the park.
(12/13/21) Worlds of Fun has been very quiet as of late. Not much chatter, not much on the rumor front, and really not much on the news front, as it has been years since the park added a major new attraction. The park's Twitter has been giving us a look at some rehab work taking place over the winter however, so they are alive and working. For example they removed the top cap from the two Detonator towers to announce that a new top was coming, but they haven't shown it going up yet. Another post shows off the park's Bamboozler ride in pieces as part of that ride's winter refurbishment.
But I can't help but feel that the park is well past due for something special… sooner than later.





(8/13/21) So far the only item confirmed as coming to Worlds of Fun in 2022 will be the Grand Carnivale celebration during the regular season.
2023 - New Attraction / Coaster - Early Rumor - (1/15/22) While we don't know much yet, we are starting to hear some early whispers than Worlds of Fun may be preparing to install their next major ride for the 2023 season. Even better, there is a good chance that the new attraction will be a new roller coaster, something the park hasn't added since Prowler opened way back in 2009! So stay tuned!