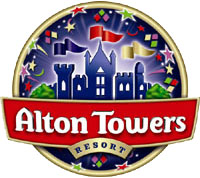 ALTON TOWERS
United Kingdom (Abbreviation: AT)
Merlin Entertainment Group
Park News - (7/6/19) Good news for Alton Towers fans, as I'm told that the Wicker Man coaster did reopen within the past week at some point. A couple of readers who visited the park during the closure did comment that they saw maintenance workers performing some track work on Wicker Man during much of the day, followed by a few test runs later in the day, so perhaps they were working to rebuild a trouble-spot on the coaster.

(6/27/19) Anyone know what is going on at Alton Towers? Reports have come out confirming that the park has closed their Wicker Man coaster 'until further notice'. A spokesperson for the park stated that Wicked Man was "undergoing maintenance" of some kind.

(3/18/19) I'm told that Alton Towers has officially removed the VR system from their Galactica coaster for the 2019 season. The excuse is that it was being removed to improve guests requests and satisfaction ratings, but I'm also not surprised either, because the same style system was also removed from Kraken at SeaWorld Orlando a little over a year after it was first installed for similar reasons.
For the time being Galactica, formerly known as Air, will keep the Galactica name and themeing for the season, though what happens beyond 2019 is anyone's guess right now.
Alton Towers has also confirmed that their new on-site horror attraction, "The Alton Towers Dungeon" will open on March 23, 2019. There will be an additional charge to experience this attraction.
2019 - Alton Towers Dungeon - (3/24/19) ScareTour has posted a quick review and some photos from the opening of the new Alton Towers Dungeon attraction.

(3/19/19) I've got a bit more information about the new Dungeon attraction opening soon at Alton Towers. I'm told that the cost of visiting the attraction will be between £5-7 or about £38 for unlimited trips through The Dungeon for the day. As with the other Dungeon attraction, it will feature extensive use of real live actors.
According to an official description of the experience, "You'll be screaming with laughter whilst being sentenced by the Bishop of Stafford, before being condemned to a traitors boat ride down the Black River. In these dark chambers, try to survive the plague, and endure humiliation as well as pain at the hand of the Torturer. If you escape… stop at the local tavern, known to be one of Dick Turpin's hideouts, he may even shoot by! Then visit the Witch of Burslem's cottage... to come face to face with her ghost!".
Elsewhere in the park I'm told they will add a pair of mini drop towers to CBeebies Land that will be themed as Peter Rabbit's Hippity Hop. There will also be a Teletubbies Big Band Live show added sometime in April.

(10/12/18) Alton Towers and Merlin have announced that a brand new "Alton Towers Dungeon" attraction will be opening at the theme park in 2019. The exact location in the park isn't known, though there has been some speculation that it could go into the building that was formerly home to the Charlie and the Chocolate Factory attraction that has been closed since 2015.