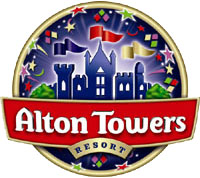 ALTON TOWERS
United Kingdom (Abbreviation: AT)
Merlin Entertainment Group
Park News - (11/8/20) The show Top Gear took three mini sports cars to Alton Towers this year for a little driving challenge, as drivers raced at high speeds around the world famous theme park. Armed with nothing more than the same park map that guests get, the racers have to find their own path through the theme park to get from the main entrance to an exit next to Nemesis on the far side of the park, all while dealing with randomly placed blockades through the maze of park pathways. Oh… I forgot to mention that the drivers also have to pass through several themed lands before they are allowed to exit, which makes this race even more challenging.
Check out the video below.




(8/13/20) Theme Park Tourist has confirmed that Alton Towers and Thorpe Park will be hosting their Oktoberfest, Scarefest and Fright Nights events for 2020. Make the jump for all the details.

(6/6/20) While I don't think anything is set in stone yet, the current "guidance" from the government given to Merlin's parks in the UK has set them in motion to reopen their parks to guests on July 4, 2020. Things are always subject to change, but this seems to be the direction they've been planning on for a few weeks when guests with reservations before that date were asked to reschedule.
All guests will be required to pre-book their tickets to visit the park in order to limit the capacity of the park each day. Information about how you can pre-book your visit will be coming to the park's websites in the near future, so keep an eye open. All guests and staff will undergo a temperature screening before being admitted into the property and face masks are encouraged, but not required.
So look for Thorpe Park, Chessington World of Adventures and Alton Towers to reopen on July 4th until they say otherwise.

(5/28/20) While Alton Towers has not announced a date to reopen just yet, they have made a whole statement about what kind of changes and safety policies will be in effect at the park once they do reopen. Theme Park Tourist has done a great job going over all the details for us all which you can read there.
The bottom line however is Reduced Capacity, Reservations Required to visit, and Temperature Screenings. Mask wearing is currently only thought to be required while indoors, so outside mask wearing will likely be optional. No word on if they will require masks on rides or not.

(5/20/20) While Alton Towers has not yet set any kind of date to reopen the theme park, they did send out a notice to guests with pre-booked park tickets between June 1st and July 3rd that they need to move them to a new date. So on the surface, it appears as if Alton Towers may not be planning on trying to reopen until at least July 4th. According to an update posted to ThemeParkTourist, similar messages have also gone out for Merlin's other major UK parks: Thorpe Park, Chessington and Legoland Windsor for tickets booked before July 3rd.

(3/29/20) For those in the UK missing their visits to Alton Towers, or just B&M coaster fans interested in learning more about the creation of one of their more legendary rides, an old 1993 fictional documentary-style story about the legend of the Nemesis creature has been posted to YouTube. Check it out below!


(3/23/20) Alton Towers is now closed until further notice.


(3/4/20) The local news reports that Alton Towers closed their indoor waterpark on Tuesday afternoon after nearly 40 guests began to claim about irritated eyes and throats. All were medically assessed and found to require "no further treatment". An investigation is looking into possible causes for the problem and is expected to remain closed on Wednesday to continue the work before it can reopen again.

(12/31/19) According to this local news article, a group of nudists are set to take over Alton Towere's Splash Landing waterpark for a private weekend event set for November 20-22, 2020. Apparently this will be the 14th year for this annual event organized by the British Naturism Events group.

(9/20/19) Alton Towers has announced the details about what is coming to Scarefest this year. The new additions include a trip into The Attic… or to be more specific, "The Attic: Terror of the Towers". Here you will be haunted by the restless spirit of the Governess. Also new is Darkest Depths, which will take guests onto the ghost ship, 'The Mutiny' where you avoid the song of the Sirens, deal with Ghost Pirates and beware the Kraken. Returning haunts include Sub-Species - The End Games, Altonville Mine Tours and Project 42. Scarefest takes place on select nights between October 5th and Nov. 3, 2019. \
2021 - Delayed - The World of David Walliams / Gangsta Granny: The Ride - (5/30/20) Alton Towers has unfortunately confirmed that their new planned 2020 ride, Gangsta Granny, will now be delayed until the 2021 season, along with the other attractions in The World of David Walliams inspired area.




(3/17/20) A few images of Alton Towers new Gangsta Granny ride were posted here as the park plans on opening it to guests this Saturday, March 21. They also give us a look inside one of four new Gangsta Granny themed hotel rooms now available at the Alton Towers Hotel, as well as Raj's Shop.

(1/10/20) A great little promo video showing off the creative proess behind the new Gangsta Granny dark ride coming to Alton Towers was posted to YouTube this week, where riders will go along on a jewel heist with Granny. While I'm not familiar with the book, the concept behind this just cracks me up, as it seems like something that would be right at home within the Despicable Me / Minions universe, even though it is entirely separate.


(1/8/20) A new dark ride is coming to Alton Towers for the 2020 season, which itself is a lot to be excited about. It will be called Gangsta Granny: The Ride, and themed around the children's novel by David Walliams. As you might imagine, this will likely be the anchor attaction for the new "The World of David Walliams" world that is replacing the former Cloud Cuckoo Land in the park. No other information about other themed attractions in the land have been mentioned yet, but I'm guessing they may slowly release the information over the next several weeks as the park prepares to open the new land.


(10/18/19) Alton Towers has announced that their old Cloud Cuckoo Land area will now be a new themed project centering around the literary works of comedian and children's author, David Walliams. While I have to admit to being totally unfamiliar with who David Walliams is, he apparently has been appearing as one of the judges on Britain's Got Talent and has published a number of wacky sounding children's books that are said to be very popular in the UK.