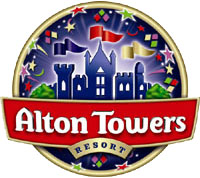 ALTON TOWERS
United Kingdom (Abbreviation: AT)
Merlin Entertainment Group
Park News - (7/19/18) According to a report at ThemeParks-UK, Alton Towers will add a new live-action scare maze this fall at Scarefest. For now they are just calling it Project 42, with a future announcement expected that will reveal the true theme. Project 42 will join returning favorites: Altonville Mine Tours: Uncover the Legend of the Skin Snatchers, Sub Species: The End Games and The Welcoming: Be Chosen. Don't forget to ride Wicker Man in the dark as well.

2018 - Wicker Man - (3/30/18) A new in-depth article about the creation of the new Wicker Man coaster has been posted to BlooLoop this week, along with a look at the behind the scenes development process that brought the concept of the Wicker Man theme to life.

(3/2/18) Some fun new aerial footage of Wicker Man at Alton Towers shows off the new wooden coaster in detail, including trains making test runs around the course at night, with the fire effects turned on. Check it out below.




(2/18/18) Want to see something really pretty? Check out the four promotional images Alton Towers has sent out of Wickerman at dusk with the smoke and fire-effects turned on. There is just something almost unreal about it... very creepy and so atmospheric and wonderful looking. Bravo!
(1/12/18) Alton Towers has confirmed that SW8 will be called "Wicker Man" and have added new details to their website about the new 2018 coaster. They are saying that this will be the "world's first rollercoaster experience fusing fire and wood!", as the train will pass through the giant Wicker Man figure who ignite into flames as the trains burst through the figure on three different occasions.
Honestly, I can wait to see how this looks when it opens, and it should be quite spectacular looking after dark as well. Now if only they had some kind of animated preview of this thing…
(1/5/18) New aerial drone footage shot over Alton Towers was poste to YouTube this past week, showing off the construction of the still unnamed SW8 wooden coaster project. Based on some early trademark filings, the coaster's name is still expected to be Wicker Man at this point, but until the official announcement is made, anything can happen.

(11/10/17) Alton Towers gave one of the local news stations a preview tour of the SW8 wooden coaster structure. While the ride has yet to be named, I believe the final big reveal announcement will be made in the very near future. You can also sign up for clues and announcement news through the ride's official teaser website.

(8/26/17) According to a post at ThemeParks-UK, they believe a trademark application (name and logo) that could possibly be for Alton Tower's SW8 wooden coaster project was submitted for the name "Wicker Man". The article mentions that the coaster may use a silent magnetic LSM based lift hill concept to help keep the noise levels down. To be clear, this is a magnetic lift and not a magnetic launch hill, like the one used on as seen on Dollywood's Lightning Rod. This would be more like the magnetic lift used on the California Screamin' coaster at Disney California Adventure.
(8/25/17) A new video going more into detail about those hidden messages and teasers in the Alton Towers SW8 video has now been posted and embedded below.

(8/24/17) Alton Towers has released a new teaser video all about SW8... along with a history of the park's Secret Weapon program. Check it out below and keep a sharp eye out there seems to be some hidden clues and messages built into the video.

(8/11/17) The latest pictures of SW8 under construction at Alton Towers can be found here.
(7/10/17) Construction on Alton Towers' SW8 coaster project for 2018 is moving right along and some of the latest pictures from the site can be found here, showing off the wooden coaster's lift hill now rising up into the sky. Flags have already been placed at the top as well, which seems to indicate that the lift hill may have already reached maximum height.
(6/10/17) Alton Tower's SW8 coaster project is now well under construction. Some great new pictures of the site were posted to Twitter this week.

(3/21/17) Alton Towers has posted a new teaser banner officially confirming SW8 is on the way to the park in 2018. While I have not looked to confirm this myself, our source also tells us that a trademark application for the name "The Wicker Man" was filed not long ago. Seems a bit odd of a name... even one for a rumored wooden coaster, so I'm not entirely sure that really will be the final name. A lot of time to figure it out between now and 2018.
(6/3/16) Alton Towers has submitted plans a number of plans for SW8 to the government. You can see the layout if you follow this link and click on the link labeled "Proposed Block Plan" and "Proposed Site Plan". The second one is little closer-up and you can see a section of the track (the first drop I assume) will be enclosed in a "Sound Tunnel" which should keep the neighbors happy as well as provide a little more excitement by dropping in darkness. You can also see the shape of some of the themed station building if you click on Section Plan AA BB Proposed and Section Plan CC DD Proposed.
(4/28/16) Layout plans were sent into Screamscape that show off what seems to be the new SW8 coaster layout. The station building appears to feature a U shape to it, with what looks like a brake-run / transfer track on top, then taking a U-turn back to the load/unload station area. Leaving the station it passes through a red structure labeled "Preshow?" before hitting the lift hill. There is some speculation that instead of a regular lift hill the coaster may try to feature an inclined launch hill instead, much like Lightning Rod at Dollywood.
From the top, it appears as if it will turn around again before taking the first drop which will pass through the lift hill structure before entering a series of twists and turns that does give the ride a very classic GCI style look to it before hitting the brakes and returning to the station.
(3/31/16) The teasers have begun for Alton Towers to develop their next "Secret Weapon" attraction... SW8 for either 2017 or 2018. SW8 teaser banners are already up inside the park as you can see here.
(7/15/15) According to a trusted source, a wood coaster was in the works for 2017... but not from Intamin. The problem is, our source also confirmed that whatever Alton Tower had in the works for 2017 has likely been put on hold at this point... and may never come to be as they deal with the fallout from The Smiler accident. We'll just have to wait and see.
(5/2/15) According to the latest rumor sent my way about Alton Tower's SW8 project, our source backs up that it will be an wooden coaster, but also claims that it may be a "launched" coaster as well, though they insist that RMC is not involved in this project as well. Very interesting…
(4/29/15) Is Alton Towers preparing to build a new wooden coaster? According to ThemeParks-UK, the park has submitted documents to the planning authority for a new attraction that would feature "timber truss construction set within a wooden backdrop and foreground". The plans also mention that the ride would have a maximum height of 14.5m above existing ground levels, and one of more of the high points in the ride would be enclosed within a "sound tunnel" to keep the noise levels down. Looks like SW8 is planned to open in 2017 if all goes well.
(3/31/15) The latest buzz says Alton Tower's next big coaster is expected to open around either 2016 or 2017. Many still believe it will go into the Forbidden Valley area, possibly behind Air on the site of a current parking lot.
(10/9/14) According to a Screamscape reader, Ripsaw at Alton Towers will be taken down and moved across the park to reopen in the X-Sector in 2015 on the former Submission spot. The fast food building next to Ripsaw is said to have already been gutted and is ready for demolition as well. This would open up this entire side of the Forbidden Valley (from Air down along the valley edge) for future new developments.

Future Plans - (7/14/15) According to one rumor sent in, which I caution you to only take as a rumor at this point, and nothing factual, Alton Tower's future plans may have included a two-ride project from Intamin, starting with a new wooden coaster that could open as early as 2017 and to be followed by a new flume ride on the site of Mutiny Bay.
At this point however, plans or no plans, given the state of things following The Smiler accident, I'd say any and all plans could be on hold at this point, or even cancelled, while they put their entire operations under review.