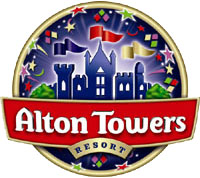 ALTON TOWERS
United Kingdom (Abbreviation: AT)
Merlin Entertainment Group
Park News - (9/2/14) The line up of haunts for Alton Towers ScareFest can now be found over at Themeparks-UK, including this year's new Scary Tales Scare Zone.
(2/27/14) Alton Towers has listed the park's 2014 Early Ride Time lineup. You can read up on all the details at ThemeParkInvestigator.
(2/10/14) Alton Towers has confirmed that they will retire Submission before the park opens for the 2014 season, after just 13 years. Based on the photo posted here, I believe this is a Chance Inverter. The park says they are retiring the attraction as some guests have described it as "an instrument of torture". I can't say I'm too surprised, as most of the Chance Inverters that were installed into parks here in the US have long since been retired as well.
(11/12/13) The BBC reports that The Smiler has opened to the public once again following the ride's latest teething problem.
(11/4/13) The Smiler at Alton Towers has been shut down once again and according to the BBC the problem this time is that the coaster had been chewing up the smaller "plastic" guide wheels and having debris fall back and strike riders sitting in the front row.
(10/28/13) A fun video showing off Alton Tower's Scarefest event this year has been posted to YouTube and embedded below.



(8/9/13) Alton Towers will celebrate the Halloween season from October 19th through to November 3rd. Visit ThemeParks-UK to find out more about what will be offered this season.
(10/19/12) TowersStreet reports that Alton Towers has plans to build themed lodges as part of an expansion to their resort hotel offerings, slated to open in time for the 2014 season.

2014 - CBeebies Land - (6/17/14) ThemeParkInvestigator has posted a new trip report from Alton Towers all about the park's new kids area, CBeebies Land.
(4/29/14) A behind the scenes video of the new CBeebies Land openeing at Alton Towers this season can be found here.
(1/14/14) ThemeParks-UK gives us the full rundown about what you can expect to see in the new Cbeebies Land opening later this year at Alton Towers.
(10/17/13) Before I get any more e-mails from our UK readers, I'll set the record straight. CBeebies Land is themed to Cbeebies… the official children's channel from the BBC. So it isn't just one show or set of characters, but a whole batch of pre-school aged children's programming, similar in nature to what we might find in the USA on PBS Kids, though several of the shows on Cbeebies (Koala Brothers, Mike the Knight, Octonauts, Small Potates, etc…) have been imported to the USA on different channels.
I'm told that CBeebies Land will actually replace the park's Old MacDonald's Farmyard land and many of the attractions will remain and be re-themed to fit the new CBeebies Land.
(10/16/13) Alton Towers has announced that they will build the first ever "CBeebies Land" that will open in May 2014. According to the press release the land will feature an assortment of themed rides and live entertainment for the kiddies, where they can interact with the TV characters.
That said… I hasn't even the faintest slightest tiny little inkling about who or what a "CBeebies" is or does other than look like a fragment of a Dorrito chip with eyes (based purely on the logo). Must be another odd UK thing like Morph Suits and Onesies.
(9/10/13) Theme Park Tourist reports that Alton Towers will rethemed their Old MacDonald's Famyard in 2014. The area is rumored to be getting some kind brand partner or IP to go along with the rethemeing, but so far there are no new rides planned for the site. The existing rides will be rethemed to match whatever new theme is placed on the site.
2015 - Enchanted Village Resort - (8/29/14) Alton Towers will open a new resort in 2015 featuring 120 fairytale cottages and five luxury tree houses. It will be called The Enchanted Village and be located in a woodland area next to the Alton Towers Hotel. A sneak preview cottage has been set up in the park as a preview of what is coming.
(5/7/14) Alton Towers is now planning to open Enchanted Village, a new resort option for guests, in 2015. The unique looking new resort features a number of fairytale looking lodge buildings and luxury treehouses than can accommodate up to 8 guests. Make the jump over to ThemeParkInvertigator.com to see the concept artwork.
Future Plans - (3/17/14) According to this article, Alton Towers is planning on adding 10 luxury tree houses and 61 unique holiday lodges as part of a new resort expansion for the park. Each treehouse will sleep up to 8 and will come with an outdoor hot tub. Look for this expansion to be added to undeveloped land next to the existing hotel, which is also near Rita, Air and Nemesis.
(11/14/12) Screamscape sources tell us that Alton Towers is eyeballing three possible sites for new roller coasters between now and 2019. Two of the sites are said to be in the Forbidden Valley area while the third is near Cloud Cuckoo Land. One proposal is looking into building a coaster to cross between Forbidden Valley and the Dark Forest.
ThemeParkTourist goes over these and other possible future plans as gleemed from Alton Tower's long-term development plans filed with the local government. Other desires include items to turn the park into a year-round destination, increase overnight stays, new attractions to appeal to a wide range of demographics, and more.
They also say that Sonic Spinball is expected to be removed in this time period, along with Ripsaw, The Blade and The Flume.
(7/15/09) I've been told that Merlin has drawn up a long term master plan for Alton Towers to show off to the local residents how they would like to develop the park over the next 10 years. Along the way they would like to see the park's attendance which had peeked out around 2.5 million last year move up to the 2.9 – 3.0 million guest range on a regular basis.
The best way to do that is though new capital projects, with the general idea being to build 10 new medium to large sized attraction (or replacement attractions) over the next decade, starting with the new coaster opening in 2010. Another hotel is also being considered along with the idea of turning the "southern" car park into a kind of Citywalk style entertainment / retail zone that would link the park up with the hotels. The current overflow lot would then be transformed into a new permanent facility.
A map has also been seen that had some areas of the park highlighted as possible locations for future roller coasters. In addition to the current SW6 / 2010 site, it also listed a site in the back where the old Beast and Mouse were in the late 80s as well a a site using some of the current southern carpark. The map also listed Spinball Wizzer as an attraction could be moved or sold to another park in the future. You can read more about this over at Alton Towers Almanac.