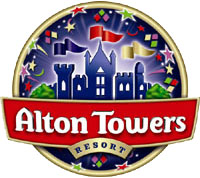 ALTON TOWERS
United Kingdom (Abbreviation: AT)
Merlin Entertainment Group
Park News - (5/27/15) Alton Towers launched a new Ie Age themed 4D Experience film at the park on May 24th called "No Time For Nuts". This new film replaces the original Ice Age 4D film that opened within the attraction back in 2002.
(4/23/15) According to the latest planning applications, Alton Towers wants to build a new themed restaurant. According to the rumors this may be a "Food Loop" style restaurant where the food you order will travel from the kitchen to your table via a miniature roller coaster track.
(3/31/15) A couple of notes from Alton Towers today... starting with a reversal of the decision to close The Blade. Apparently the ride opened on March 21st and the park says it will stay open until further notice.
In other news the park experienced a small fire near the Nemesis coaster. An on site report from the fire event was posted to Airgates. Apparently the fire broke out inside the kitchen of the Fish & Chips restaurant. It was put out quickly, but guests were evacuated from that section of the park as a safety precaution.
(3/13/15) I'm told that Alton Towers has released their 2015 park map, which shows that the Blade ride (swing ship) in Forbidden Valley is now missing. This goes along with rumors that the next major ride at the park will go into Forbidden Valley somewhere between Nemesis and Air.
2015 - Enchanted Village Resort & Tree Top Quest - (1/9/15) ThemeParks-UK reports that Alton Towers is actually going to open Enchanted Forest Tree Top Quest in 2015, a fantasy themed ropes course attraction themed to the woodland of the new Enchanted Village. There will be opens here for both Adult and Kid sized challenges as well as ziplines, one which will go through an enclosed tunnel.
(8/29/14) Alton Towers will open a new resort in 2015 featuring 120 fairytale cottages and five luxury tree houses. It will be called The Enchanted Village and be located in a woodland area next to the Alton Towers Hotel. A sneak preview cottage has been set up in the park as a preview of what is coming.
(5/7/14) Alton Towers is now planning to open Enchanted Village, a new resort option for guests, in 2015. The unique looking new resort features a number of fairytale looking lodge buildings and luxury treehouses than can accommodate up to 8 guests. Make the jump over to ThemeParkInvertigator.com to see the concept artwork.
(3/17/14) According to this article, Alton Towers is planning on adding 10 luxury tree houses and 61 unique holiday lodges as part of a new resort expansion for the park. Each treehouse will sleep up to 8 and will come with an outdoor hot tub. Look for this expansion to be added to undeveloped land next to the existing hotel, which is also near Rita, Air and Nemesis.
2015 - Octonauts Rollercoaster Adventure - (2/13/15) ThemeParks-UK has confirmed that the new coaster under construction in CBeebies Land for 2015 will be themed as the Octonauts Rollercoaster Adventure.
(1/8/15) The latest rumors posted to Towers Street claim that some construction in the park where the former kiddie coaster, Beastie, was located. According to the pictures they posted, it looks like some new concrete foundations have been poured and considering the site is also next to last year's CBeebies Land, it could be used as an expansion to the new kiddie area. Plus adding a new kiddie coaster would help improve the park's lineup as Beastie was never replaced when it was removed.
Screamscape's own sources did report back in October 2014 that an expansion of CBeebies Land was being planned for either 2015 or 2016, as it was a big hit with the park's smaller guests.
2017 - SW8 Coaster / Future Expansions - Rumor - (5/2/15) According to the latest rumor sent my way about Alton Tower's SW8 project, our source backs up that it will be an wooden coaster, but also claims that it may be a "launched" coaster as well, though they insist that RMC is not involved in this project as well. Very interesting…
(4/29/15) Is Alton Towers preparing to build a new wooden coaster? According to ThemeParks-UK, the park has submitted documents to the planning authority for a new attraction that would feature "timber truss construction set within a wooden backdrop and foreground". The plans also mention that the ride would have a maximum height of 14.5m above existing ground levels, and one of more of the high points in the ride would be enclosed within a "sound tunnel" to keep the noise levels down. Looks like SW8 is planned to open in 2017 if all goes well.
(3/31/15) The latest buzz says Alton Tower's next big coaster is expected to open around either 2016 or 2017. Many still believe it will go into the Forbidden Valley area, possibly behind Air on the site of a current parking lot.
(10/9/14) According to a Screamscape reader, Ripsaw at Alton Towers will be taken down and moved across the park to reopen in the X-Sector in 2015 on the former Submission spot. The fast food building next to Ripsaw is said to have already been gutted and is ready for demolition as well. This would open up this entire side of the Forbidden Valley (from Air down along the valley edge) for future new developments.
Future Plans - (11/14/12) Screamscape sources tell us that Alton Towers is eyeballing three possible sites for new roller coasters between now and 2019. Two of the sites are said to be in the Forbidden Valley area while the third is near Cloud Cuckoo Land. One proposal is looking into building a coaster to cross between Forbidden Valley and the Dark Forest.
ThemeParkTourist goes over these and other possible future plans as gleemed from Alton Tower's long-term development plans filed with the local government. Other desires include items to turn the park into a year-round destination, increase overnight stays, new attractions to appeal to a wide range of demographics, and more.
They also say that Sonic Spinball is expected to be removed in this time period, along with Ripsaw, The Blade and The Flume.