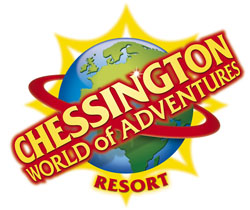 Chessington World of Adventures
United Kingdom (Abbreviation: CWOA)
Merlin Entertainments Group

Park News - (7/23/16) Chessington's more famous classic themed dark / flume attractions, Professor Burp's Bubbleworks, will be closing down in September (after 26 years) to make way for something new. You can see a POV video of the attraction itself below and you'll notice that one unique feature for this ride is the fact that riders are seated in round boats that can freely spin throughout the ride experience.



(4/26/16) ThemeParks-UK has posted an update about the new Long Term Plan posted for the future development of Chessington: World of Adventures. The plan includes the possible development of a new family coaster, safari themed attractions, up to 45 safari themed lodges and more. Follow the link to read their rundown of what the future may hold.
2017 - New Attraction - (10/24/16) According to ThemeParks-UK, the children's book character known as The Gruffalo, has now made an appearance inside Chessington World of Adventures in statue form on the Wild Wood lawn area. The sudden and unexplained appearance of the character has been taken as a sign that perhaps The Gruffalo will be the theme of the new ride taking the place of the closed Bubbleworks dark ride.
(7/23/16) It was mentioned that the park is closing the Bubbleworks dark ride in order to build a new attraction in 2017. It isn't known if it will be a brand new attraction from scratch or if they are looking to simply remodel the Bubbleworks ride into something new. Stay tuned...