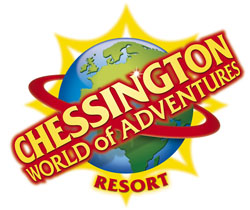 Chessington World of Adventures
United Kingdom (Abbreviation: CWOA)
Merlin Entertainments Group
Park News - (6/19/2015) I'm told that Dragon's Fury has reopened at Chessington WOA after being closed following The Smiler accident.
(6/6/15) According to a press release from Merlin Entertainment, they are "enhancing our safety standards by issuing an additional set of safety protocols and proceedures" to the chain of parks "multi-car rollercoasters" effective immediately. While they put these new procedures into effect, several of the chains coasters will be closed: The Smiler at Alton Towers and Saw: The Ride at Thorpe Park remain closed until further notice while they take the corrective steps to ensure that another accident like the one at Alton Towers on The Smiler can never take place again. Nothing was wrong with Saw: The Ride, it was just a similar style ride from the same manufacture.
Two more coaster will be closed for the time being from Chessington World of Adventures: Dragon's Fury and Rattlesnake.
(9/18/14) You can catch up on all the details for Chessington's Howl'o'ween taking place at the park from Oct. 24 to Nov. 2 over at Themeparks-UK.
(8/13/14) Themeparks-UK takes a look around the newly opened Azteca Hotel at Chessington this week, featuring 3 themed floors with 69 family-friendly rooms, plus a unique interactive-restaurant.
2015 - Penguins of Madagascar Live! Operation Cheezy Dibbles - (12/1/14) Chessington will replace their Madagascar Live! show in 2015 wth a new "Penguins of Madagascar Live! Operation Cheezy Dibbles" show instead. According to ThemeParks-UK the park's old Jungle Bouncers ride will also be rethemed to have a Penguins of Madagascar theme as well as some enhancements to the park's live Peguin animal exhibit.
(9/2/14) ThemeParks-UK reports that Chessington will replace the park's Madagascar Live! show with something new for the 2015 season.