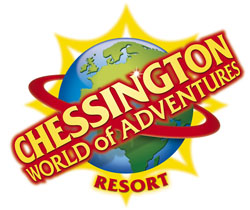 Chessington World of Adventures
United Kingdom (Abbreviation: CWOA)
Merlin Entertainments Group

Park News - (10/26/18) Take a look at the Halloween fun and attractions set up at Chessington for "Howl'o'ween 2018" in the latest update from ThemeParks-UK.

2018 - Land of the Tiger / Mystic East Area Update - (4/30/18) ThemeParks-UK takes a look at the new Tiger Rock attraction at Chessington this week, a new flume ride experience set within the Land of the Tiger.
(2/21/18) Chessington has announced that the new Land of the Tiger area and Tiger Rock flume ride will be ready to open on May 5th. You can read a bit more about what to expect as well as see some concept art posted to ThemePark-UK this week.
(9/12/17) According to this article, Chessington is submitting plans to refurbish the park's Mystic East area. The plans will see many current features removed (including a nearby Ferris wheel) and the construction of three new tiger enclosures that will be built around the park's existing Dragon Falls ride. The ride itself will be rethemed slightly as well, with the landscape of the final drop designed to look like a giant tiger head, with the boats dropping out of the tiger's mouth. I'd expect to see the ride get a new name as well once this is done, as the article also suggests something along the lines of 'Tiger Falls'.
2019 - Room on the Broom – A Magical Adventure - (3/2/19) I'm told that the new Room on the Broom attraction at Chessington will open on Sunday, March 10th, following an annual pass preview event taking place the day before.

(10/18/18) Chessington has announced that a new family attraction themed around the Julia Donaldson's children's book, "Room on the Broom" will open for the 2019 season called "Room on the Broom – A Magical Adventure".
I'm told that this will replace the Hocus Pocus Hall attraction. Follow this link to see some concept art of the new attraction, and while no hard details about it were given, based on the artwork, I'm getting the impression this might be some kind of walk-through fun-house style attraction, which is apparently what Hocus Pocus Hall was anyway. Given the name however, I do wonder if they could add some kind of ride based attraction as the finale, but that's just wishful thinking on my part and not part of any rumor.