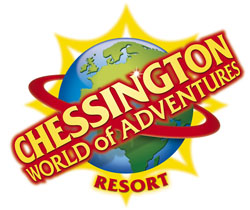 Chessington World of Adventures
United Kingdom (Abbreviation: CWOA)
Merlin Entertainments Group

Park News - (4/26/16) ThemeParks-UK has posted an update about the new Long Term Plan posted for the future development of Chessington: World of Adventures. The plan includes the possible development of a new family coaster, safari themed attractions, up to 45 safari themed lodges and more. Follow the link to read their rundown of what the future may hold.
2016 - Internal Improvements - (5/25/16)

Chessington World of Adventures has reopened their Tomb Blaster ride after a complete refurbishment and replacement of the ride's interactive system by Lagotronics Projects. The new system includes all new shooters, targets and score displays loaded into all 5 of the ride's trains, each of which has six cars, and each car able to hold 5 riders, each with their own shooter and score display. Inside the dark ride they installed as many as 560 new targets for the riders to shoot at.