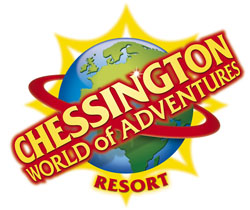 Chessington World of Adventures
United Kingdom (Abbreviation: CWOA)
Merlin Entertainments Group

Park News - (9/17/12) Details about this year's Chessington Halloween Hocus Pocus event have been posted to ThemeParksUK this week. This includes details about a new walk-through being added to The Vampire coaster called Vampire: Haunting of the Hallows.
(8/6/12) I'm happy to report that the child who fell off the bridge at Chessington has been making an incredible recovery. While there is still a ways to go and plenty of physical therapy in her future, her condition has improved greatly as she celebrated her 5th birthday this week.
2013 - Zufari – Ride into Africa - (4/24/13) ThemeParkTourist has posted a nice review with some pictures of the new Zufari attraction at Chessington. There is one critical problem with the attraction… the height restriction. Zufari is the kind of attraction little kinds would love… but unfortunately for some odd reason it has a height limit of 1.1 meters (42 inches) that prevents all small kids from enjoying it.
By contrast, Disney's safari ride at the Animal Kingdom park in Walt Disney World has no height limit. A similar style experience set to open at Six Flags Great Adventure this summer has set a height limit of 54 inches to ride without an adult. Those under 54 inches must ride with a responsible guardian, opening the attraction up to children of all ages once again. Another similar concept, Rhino Rally at Busch Gardens Tampa, has a 39 inch height limit, but the terrain traveled by the car is slightly more aggressive and riders sit in individual seats with seat belts. It is my understanding that Zufari also has individual seats with belts, but lacks the aggressive speed and terrain of Rhino Rally, so why the height limit? The seats seem to be low profile with lap-bar only belts, so it makes me wonder if they couldn't have just gone with the same bench style seating Disney uses on their safari trucks. Then again… this is the UK and laws and restrictions are sure to be different than what I've seen used in the US that may make it impossible to open this attraction up to everyone.
(3/18/13) ThemeParks-UK attended the opening of the new Zufari attraction at Chessington World of Adventures this week. Check out their report.
(3/4/13) ThemeUK has ventured back to Chessington this past week to check in on the progress with Zufari. Apparently there will be preview days for the attractions on March 16-17.
(2/21/13) ThemeUK heads back into Chessington to check out the latest construction on Zufari this week.
(2/19/13) ThemeParks-UK has posted the TV commercial for Chessington's new Zufari attraction.
(2/4/13) ThemeUK has a new report from Chessington this week, showing off construction progress on Zufari
(1/14/13) ThemeUK has posted a new construction update from Chessington this week shows off a lot of changes to the Zufari site, plus the reported arrival of Giraffes to the park.
(1/4/13) A much better look at the progress on Zufari has been posted to ThemeUK this week
(1/3/12) A construction update from Chessington posted to ThemeUK shows off the latest progress being made to Zufari.
(11/5/12) ThemeUK takes a look around Chessington this week to see what the latest developments are on the Zafari construction site. Basic infrastructure and buildings are going up, as well as steel framework shapes for what will likely become fake rockwork.
(9/28/12) ThemeUK has posted a new construction update from Chessington's new Zufari project.
(9/7/12) ThemeUK has posted a construction update from Chessington showing off the latest progress on Zufari.
(7/31/12) Chessington has confirmed their plans to add Zufari – Ride into Africa for 2013. You can catch up on the fine details over at AirGates where the concept art seems to be inspired by Disney's Kilamanjaro Safari ride at Animal Kingdom.
Safari Trail - In Development - (7/9/12) I'm told that the clearing for the 2013 Safari attraction is well underway.
(2/3/12) Chessington is planning on adding something called Safari Trail next to Wanyama Village. This proposed animal exhibit will take guests on a jeep tour that will feature Giraffes, Rhinos and Flamingos according to the update posted to Go-Merlin. The attraction will end with some kind of special "cave finale and water experience". All things considered, it sounds quite a bit like a scaled back Rhino Rally style attraction, minus the runaway ride down the river at the end. Look for this to open in 2013 and follow the link to see the proposed plans.