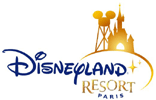 DISNEYLAND PARIS
Outside Paris, France
Abbreviation: DLP
Walt Disney Theme Parks
Disneyland Paris: Ride Rehabs - The following information is not guaranteed to be 100% accurate.
Disneyland Railroad Frontierland Depot - NOW CLOSED through TBD
Phantom Manor - NOW CLOSED through Late 2018
Star Wars: Path of the Jedi - NOW CLOSED through Sept 30
Le Carrousel - Sept. 3 through Sept. 14
Indiana Jones - Sept. 3 through Nov. 9
Peter Pan - Sept. 24 through Oct. 5
Autopia - Nov. 5 through TBD
Orbitron - Nov. 5 through Nov. 9
Blanche-Neige et les Sept. Nains - Nov. 12 through TBD
Park News - (7/17/18) According to a report at WDWNT, Disneyland Paris will test out a new paid FastPass option starting July 24th through the end of September. The graphic leaks say it will be called AccessOne and for the cost of €15 guests can purchase a ticket that will take them to the front of the line for once for one attraction.
The AccessOne passes can be used on Big Thunder Mt, Buzz Lightyear, Star Tours, Hyperspace Mountain, Indiana Jones, Peter Pan's Flight, Ratatouille, Rock 'n Roller Coaster or Twilight Zone.
So what do you think? It is worth paying that much just to cut to the front of the line on one ride?

(6/4/18) Wow! Big news came from Disneyland Paris today as WDI's Tom Fitzgerald announced at an Imagineering panel that as part of the renovation to the park's Phantom Manor, they will be bringing back some of the original narration for the ride recorded by Hollywood horror legend Vincent Price when it reopens this fall. Many MANY years ago I purchased a Haunted Mansion anniversary CD sold at Disneyland, and I'm not sure if they still sell it or not, but it contained the Vincent Price edition of the Phantom Manor as a bonus track. It is as fantastic as you think it would be, I love the idea of it being returned to the attraction in some fashion.
In addition, there will be some extras and enhancements added to the attraction, including one that will apparently solve the mystery of exactly WHO the mysterious Phantom is. Also worth mentioning is that guests can look for a "MagicPass" system to arrive in Paris for limited testing starting this summer ahead of a full roll out in 2019. The MagicPass system will be a card based version the Walt Disney World FastPass+ / MagicBand system, but Paris has no plans to roll out MagicBands themselves and will stick with the card based system only, much like the Disneyland Resort in California.
Speaking of new technology additions, you can also expect to have both Paris theme parks covered by free WiFi network access by mid-2019.



(5/19/18) Disney confirmed that the Phantom Manor is expected to reopen after the massive restoration project is complete this October, just in time for the Halloween season.
(3/9/18) According to Forbes, part of that $2.4 billion giant investment announced for the Disneyland Paris resort will include an overhaul of the resort's Disney Village dining / retail complex. While the exact nature of the renonations have yet to be locked in, the article does cover some speculation about some likely candidates.
(2/22/18) UPDATE - Turns out the giant lake show rumor was part of the new expansion plans for the Walt Disney Studios Paris park next door. Follow the link to read more.
(2/9/18) Disneyland Paris was hit by several days worth of snow this past week, and now you can check out an awesome collection of pictures showing off the park and most of the attractions just covered top to bottom in the white stuff like never before.
(1/22/18) A fun video posted by Disneyland Paris shows off the closing of Phantom Manor in order to perform a long and extensive refurbishment, as well as adding in some surprise new effects and upgrades. For now the Thunder Mesa Town Sheriff has locked the gates up tight in order to investigate a number of "strange disappearances"
Phantom Manor will reopen in Fall 2018.

(1/3/18) Disney and More has posted a video showing off the special New Year's Eve parade that performed at Disneyland Paris, said to be the longest parade to ever perform at the park.
(1/1/18) Disneyland Paris will put on something new for the park's 25th anniversay. According to a promotion from the park they will host The Festival of Pirates and Princesses at Disneyland Paris from March 31 to May 31, 2018. The event will feature a new interactive show where guests can choose to be a Pirate, Princess or even both, and your choices will determine the outcome of the story. There will also be a new Pirate and Princess parade where the two factions will start off at opposite ends of the parade route only to meet in the middle for "a mammoth spectacle of guests interaction."
October 2018 - Mickey's PhilharMagic - (5/19/18) During a special conference to promote the Disneyland Paris resort called InsideEars, Disney officials confirmed some new attractions and developments were on the way. Up first was the confirmation that Mickey's PhilharMagic, a popular 4D theater attraction from the Orlando park, would open in Disneyland Paris this October inside the Discoveryland Theater. The theater is already closed and construction is under way.
The fun 4D adventure film follows Donald Duck around in panic mode to recover Mickey's Sorcerer's Hat after a failed attempt at one-upmanship goes wrong, sending him on a wild adventure through the Disney animated universe, set to your favorite Disney songs.
2019 - The Lion King - (6/4/18) I'm told that the Chaparral Theater is being demolished to allow for construction of an entirely new theater structure to house the already announced The Lion King show coming in 2019.
(4/6/18) Disneyland Paris has announced that The Lion King show will be coming to Disneyland Paris in 2019, going into The Chaparral Theater in Frontierland which is currently undergoing renovations for it. This isn't a copy of the show you may have seen at Walt Disney World, but rather will be a brand new musical production.
2020 - Mark Twain Riverboat Refurbishment - (5/19/18) Disney officials confirmed that the park's famous Mark Twain riverboat will go under a massive renovation and restoration starting in 2019 and then reopen to guests in 2020.

???? - Disney's Hotel New York – The Art of Marvel - (7/20/17) Disney has announced that they will be changing Disney's Hotel New York into Disney's Hotel New York - The Art of Marvel. This is a "reImagination" of the current hotel property into what they describe as being a "Marvel-themed wonderland".
"We're going to create a hotel at Disneyland Paris that would make Tony Stark proud," Bob said. "I'm thrilled to announce that Disney's Hotel New York – The Art of Marvel will transport our guests to the action-packed, inspiring world of Super Heroes including Iron Man, The Avengers, and Spider Man among others!"
2024 - New Major Attraction - Planned - (6/1/18) It has been awhile since we've heard anything about the rumor of Dinosaur at Animal Kingdom being replaced by a next-gen version of the Indiana Jones Adventure ride, but our friends at Disney & More take a look into the latest rumors on this topic, including the rumor that AK and DLP may even share the development costs for this project, that would see a clone also built in Paris in the near-future near their own Indy themed coaster. Meanwhile the news may be more urgent for the Florida resort, as the current Indiana Jones stunt show is rumored to be closing down sometime after Star Wars: Galalxy's Edge opens, which would remove the only Indiana Jones themed area from all of Walt Disney World. So you could imagine that they would want to put him back somewhere else fairly quickly if that happens.
I don't know how accurate this might be, but one possible rumor even blends the two concepts into one attraction, having Indiana Jones encounter a lost world of living Dinosaurs. Hmmmm.... makes me wonder if this could be what the rumored 2024 attraction might be.
(11/23/17) According to Forbes, Disney is now planning on adding some kind of "major new attraction" to Disneyland Paris in 2024 as part of a massive new investment into the property now that they have full control over the property. Other new additions and capital expenditure projects planned over the next decade include upgrades to several hotel properties as well as adding Marvel themed attractions to the Walt Disney Studios Paris theme park.