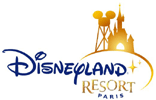 DISNEYLAND PARIS
Outside Paris, France
Abbreviation: DLP
Walt Disney Theme Parks
Disneyland Paris: Ride Rehabs - The following information is not guaranteed to be 100% accurate.
Hyperspace Mountain - NOW CLOSED through Dec. 8
Blanche-Neige et les Sept. Nains - Dec. 11 through Dec 22
Phantom Manor - Jan. 8, 2018 through TBD (At least Late 2018 or beyond) (Planned)
Dumbo - Jan. 8, 2018 through Mar 2018 (Planned)
Casey Jr - Jan. 8, 2018 through Mar 2018 (Planned)
Le Pays des Contes de Fees - Jan. 8, 2018 through TBD
Disneyland Railroad (Frontierland Depot) - Jan. 8 through TBD
Autopia - Jan. 8 through Feb. 9
Mad Hatter - Apr 2018 through June 2018 (Planned)
Park News - (12/13/17) According to a report at Blog Mickey a piece of a castle turret at Disneyland Paris fell off due to high winds, and has caused the closure of the castle for a time afterwards to survey the damage. Before reopening the area they also sent crews up to remove some other golden topper pieces added for the anniversary as a precaution.
(10/20/17) Disney has announced that the new scenes being added to Star Tours featuring the planet Crait (from Episode 8) will launch at the Disneyland and Walt Disney World attractions on Nov. 17th, on the Disneyland Paris version starting on Nov. 22nd and on the Tokyo version starting Dec. 15th.
While we're talking about Disneyland Paris, apparently Season of the Force will return to Paris from Jan. 13, 2018 through March 25. In addition to the new Star Tours destination, guests can also enjoy Star Wars Hyperspace Mountain next door as well as character meet & greets with members of the "Dark Side of the Force". You also wont want to miss Disney Illuminations, a new night show with Star Wars themeing.
(10/6/17) A fun photo update showing off the Halloween decorations at Disneyland Paris can be found at Disney & More this week.
(9/9/17) The nearby Villages Nature Paris project is now open, click here to see more.
(8/14/17) Creative Disney fans can achieve greatness... sometimes in the desire to create loving tributes to their favorite attractions, sometimes in efforts to recreate the sights and sounds of an extinct attraction... and then those who obsess over Neverland attractions... new attraction concepts created by Walt Disney Imagineering, drawn up, planned, concept artwork and models often created, only to never get built. These legendary attraction proposals haunt a segment of the Disney fan community like the legends of the City of Atlantis, The Fountain of Youth, The Loch Ness Monster or Bigfoot.
One such Disney legend that has remained stuck in Blue Sky realm of Neverland would be Geyser Mountain, an alternate theme to the Tower of Terror style attraction that was once proposed to fit into Frontierland at Disneyland Paris and Disneyland proper in California, long before the corporate engine just gave in a built the second-generation Twilight Zone clones in second gates next to their respective park's instead.
The idea of Geyser Mountain has always fascinated me, but I've always had a hard time visualizing just exactly how it would have looked if it were really built, despite seeing the occasional reports filled with old concept sketches. Disney & More has posted a great new story featuring animated artwork created lovingly in the Planet Coaster software by an obsessed Disney fan who actually created a pretty damn look look at just what Geyser Mountain could have looked like if built in Frontierland at Disneyland Paris. They did a great job on this, showing off what it would look like in the daytime, and how it could have looked after dark with show lighting on the building and surrounding area features, so it's worth your time to give it a look I think, just to finally get a good idea of what Geyser Mountain could have really been like if built.



(7/20/17) Disney has announced that they will be changing Disney's Hotel New York into Disney's Hotel New York - The Art of Marvel. This is a "reImagination" of the current hotel property into what they describe as being a "Marvel-themed wonderland".
"We're going to create a hotel at Disneyland Paris that would make Tony Stark proud," Bob said. "I'm thrilled to announce that Disney's Hotel New York – The Art of Marvel will transport our guests to the action-packed, inspiring world of Super Heroes including Iron Man, The Avengers, and Spider Man among others!"
(6/14/17) In what should be a great move for the future of the Disneyland Paris resort, The Walt Disney Company has apparently taken full control of the Paris resort after their stock buyout plan has seen their shares rise to just over 97% ownership.
(5/10/17) Disneyland Paris opened Hyperspace Mountain the other day and the videos showing off the newly enhanced Star Wars themed experience are pouring in like the one posted below. The good news is that, even when the Star Wars fun is over, I'm hearing that the ride experience on the brand new trains is incredible, making this a fantastic coaster you won't want to miss. (Jump ahead to the 1:55 mark to get right to the fun coaster action.


(2/13/17) Very interesting news has come out in the past few days regarding the future of the Disneyland Paris resort. Over the years the former EuroDisney Resort has struggled financially for a number of reasons, starting with an overabundance of on-site resorts when it first launched and was struggling to fill all the rooms. Later when things seemed stable, they pushed ahead a little too quickly to build a small second gate park and immediately the financial problems began again, along with guest satisfaction problems regarding the second park.
While this second scenario sounds familiar, echoing a lot of what took place at the Disneyland Resort when the California Adventure park was also quickly slammed into place on a small budget, the ability for the corporate Disney office to drop a billion in improvements and fixes just wasn't in the cards for Walt Disney Studios Paris because of the unique ownership arrangement for the European park. Disney only owed a percentage of the French resort, with the rest held by various investors, which has caused some serious complications over the years in regards to how capital funds are approved and put into place, along with the matter of the constant debt the resort was in regarding to paying off their various credit loans, as well as paying off investors, and Disney itself for the use of their IP.
Over the past several years we have seen Disney steadily gaining more control over the Paris resort through means of buying and paying off some of the loans in exchanged for a greater ownership percentage of the park, and now it was announced that the Walt Disney Company is now purchasing an additional 9% ownership of Euro Disney SCA through a buyout of shares from mega-investor, Saudi Price Alwaleed Bin Talal. The end result has given The Walt Disney Company an 85.7% ownership of Euro Disney SCA, who has followed this up with an open purchase offer to buy up all the rest of the outstanding shares for $2.13 a share, which is said to be 67% high than what the shares were worth when the market closed that day.
Essentially, unless something unforeseen takes place, it looks like the whole of the Disneyland Paris resort will soon fall under sole ownership of The Walt Disney Company, which can only be a good thing going forward for all parties involved and finally bring an end to the past cash-flow problems of the European resort property.

Spring 2017 - Hyperspace Mountain - Now Open - (2/1/17) A couple of photos of a new train car for Hyperspace Mountain / Space Mountain at Disneyland Paris can be found here. I'm happy to report that these appear to be Vekoma's newer train design that offer a soft vest style restraint, allowing riders to experience the coaster with much better viewing angles and virtually no head-banging since the bulky over the shoulder style restraints are no longer there.
Fantastic news to be sure for those who can't wait to experience the new Hyperspace Mountain in the near future! (Update: I'm now told that a photo of that same Vekoma lead car sitting on site at the park has been making the rounds for the past year or two, so this may not be the new train after-all.)
(9/16/16) Disneyland Paris has confirmed that Space Mountain will become Hyperspace Mountain, with added Star Wars themeing, sometime in March 2017. This is only a temporary overlay, though if they treat it like they did with the first one at Disneyland, it could stay up for a year or longer if it proves popular.

Spring 2017 - Star Tours 2 - Now Open - (5/7/16) Concept artwork and plans for the new look of the Star Wars attraction building (complete with an X-Wing fighter parked on the roof) can be found in a new update posted to Disney & More this week.
(1/28/15) Disney & More has set a timeline for the update of Star Tours to Star Tours 2 which would see the ride close in early 2016 and remain closed until early 2017. The project may also mark the timeline needed to add a first phase of other new Star Wars themed projects to the land, one of which could be a Star Wars themed restaurant concept. Meanwhile the new Jedi Academy show opening later in 2015 is expected to keep the Star Wars theme alive in the park during the upgrade of the attraction.
(11/24/14) Going beyond just an upgrade of the attraction, I'm told that the Star Tours 2 experience would take over Star Tours, the Star Traders gift shop and the Captain EO building to allow for a bigger gift shop experience and some kind of new post-ride experience, that could include a star wars character meet & greet area.
(9/16/14) Forbes reports that Disneyland Paris may be making plans to open a new Star Wars themed investment into the park in time to celebrate the park's 25th anniversary in 2017. They talk about updating Star Tours to the new version of the attraction, as the Paris park is the only Disney park to still have the old original Star Tours ride still running, but will they also add something more along the way?

Summer 2017 – Pirates of the Caribbean Upgrade - (7/14/17) Our friends at Disney and More have posted a bunch of detailed photos showing off the upgraded Pirates of the Caribbean at Disneyland Paris. In addition to the addition of characters from the Pirates films, this also contains our first look at a reworked Bride Auction scene along with other upgraded effects throughout the attraction. You can also see a new 4K video shot by DLP Welcome embedded below. Watch through towards the end to see the brand new Captain Barbossa figure that transforms before your eyes from his human self into his cursed skeletal form as seen in the first film.

(7/1/17) Disney has confirmed details of the updates Pirates of the Caribbean attraction reopening on July 24th. As expected, a whole plethora of new animatronic characters from the film series will be added into the attraction like Captain Barbossa who will be part of a new scene unique to the Paris ride, along with the "ghost visages" of Davy Jones and Blackbeard that will probably be the same as the existing rides. Plus you can expect to see lots of Captain Jack Sparrow of course. In addition many of the scenes have been enhanced with more advanced Animatronic figures in some cases as well as improved costumes, lighting and special effects.
As I already mentioned in an article about upcoming changes being made to the two US versions of the ride, the famous Auction scene is being changed so that the "Redhead" will now be joining the ranks of the Pirate crew, complete with a large rifle in hand, as the crew overseens a line of villagers handing over their valuables.
One final change for the Paris version of the attraction… the Blue Lagoon Restaurant will reopen under a new name, and now be called Captain Jack's. According to the new story, Captain Jack Sparrow won the restaurant in a wager with the previous owner and has rethemed it and reopened it as a haven for Pirates of all ages to come in, sit, relax and enjoy a beverage and a hot meal.

(5/30/17) Johnny Depp dropped by Disneyland Paris this week to get a sneak peek at some of the new scenes being added to the Pirates of the Caribbean attraction that will feature his character, Captain Jack Sparrow, along with the addition of other characters from the Pirates film series. You can see a couple of pictures of Depp standing next to his animatronic stand-in on the ride over at Disney & More and then look for the updated attraction to officially reopen on July 24th.
(11/24/14) The long rumored upgrade of the Pirates of the Caribbean ride to feature some characters from the film series, like Capt. Jack Sparrow, is still said to be in the works. With the 5th film in the series (Dead Men Tell No Tales) slated for release in 2017, this project seems even more likely to be timed out to match up with that film's release. However the Pirates makeover may extend beyond the ride itself and see additional Pirates themeing added to Adventureland itself, possibly brining the Legend of the Seven Seas interactive game elements added to Walt Disney World not long ago to the Paris park.

2017/2018 - MyMagic+ - Rumor - (11/24/14) I'm told that there is a loose plan to try and bring the MyMagic system to life at the Disneyland Paris Resort sometime around 2017 or so. This would see the whole rollout of MagicBands for ticket-free admission, FastPass+, wireless payment systems and more installed throughout both theme parks and the resort hotels.
2024 - New Major Attraction - Planned - (11/23/17) According to Forbes, Disney is now planning on adding some kind of "major new attraction" to Disneyland Paris in 2024 as part of a massive new investment into the property now that they have full control over the property. Other new additions and capital expenditure projects planned over the next decade include upgrades to several hotel properties as well as adding Marvel themed attractions to the Walt Disney Studios Paris theme park.
Nearby Disneyland Paris Resort Projects
2017 - Villages Nature Paris - Now Open - (9/9/17) You may have seen me mention an odd looking project here in the past called Villages Nature Paris, a ecological theme park about the wonders of nature that was said to be built close to the Disneyland Paris Resort. According to the latest report at Disney & More, Villages Nature Paris has been built and is now open and they have posted a rather extensive report full of photos and videos about the unique new attraction. It features a large number of walking paths through nature inspired areas with unique landscaping and building construction as well as a mellow waterpark experience called Aqualagon that takes advantage of the hot water springs that area part of the area. From the look of things, this would be an eco-tourist's dream come true, with transportation options around the resort ranging from bicycles to electric trams, along with options to pony or pedal boat rides, tour the animals in the farm area or you can even take cooking classes. This is really like nothing I've seen before, so go check it out.
(5/23/15) The current timeline for this project now has the first phase opening in 2016. You can see more at the official website.
(12/8/10) Disney and More has posted a few more pieces of art and explanation about what we should expect to see at the upcoming unveiling of the Village Nature project near Disneyland Paris.
(12/2/10) DizFanatic has posted some new concept artwork for the Les Villages Nature project, and I don't believe I've seen anywhere else.
(11/29/10) According to NewsParcs, Euro Disney has announced a new project called Villages Nature, a mixed use resort themed to the harmony between man and nature. The entire resort is to be built around a huge geothermal lagoon, which will have a new waterpark placed next to it that is expected to be the biggest in Europe. The first phase of this project could open as early as 2015, located 6 km South of Disneyland Paris.
(9/16/10) In a most interesting follow up to the reports about a 3rd park being planned for Disneyland Paris, this article claims that one of the ideas for the 3rd park is to base it entirely around the concept of the Marvel Superhero universe.
(9/15/10) Disneyland Paris just announced their intention to build a THIRD theme park on the resort property as well as other projects as part of a deal extension with the French government good through to 2030. This will see an unknown 3rd park added, a new leisure village called "Village Nature of Val d'Europe", a water park and the sale of 10,000 housing units on site. No timeline was given for the 3rd park, but it is thought to be at least 10 years until it opens, which is good because they have to finish "fixing" and filling out the Studios first I think.
2015 to 2020 - Convention Center Resort - Planning - (9/23/13) The latest report from Disney & More indicates that a new hotel with a convention center, as well as a new bus station will be built new the Disney Village and Vinci parking lot is planned to open sometime between 2015 - 2020.