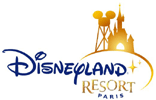 DISNEYLAND PARIS
Outside Paris, France
Abbreviation: DLP
Walt Disney Theme Parks
Disneyland Paris: Ride Rehabs - The following information is not guaranteed to be 100% accurate.
Le Carrousel de Lancelot - NOW CLOSED through Nov. 22
Disneyland Railroad - NOW CLOSED through TBD
Autopia - NOW CLOSED through Dec. 13
Indiana Jones - NOW CLOSED through Nov. 29
Les Mysteres du Nautilus - Nov. 25 through Nov. 28
Les Voyages de Pinocchio - Dec 2 through Dec. 13
Star Wars Hyperspace Mountain - Dec. 2 through Dec. 5
Buzz Lightyear Laser Blast - Jan. 6, 2020 through July 31, 2020
Thunder Mesa Riverboat Landing - Jan. 6, 2020 through Feb 7
Park News - (11/7/19) Disneyland Paris has posted a new fun Christmas season commercial this week that is worth a chuckle. Check it out below.




(10/24/19) Disney has announced that starting on December 20th, 2019 new destinations will be added to Star Tours - The Adventures Continue inspired by the latest film in the series, Star Wars: The Rise of Skywalker. The new addition will be added on the same day to the attraction at Disneyland, Walt Disney World, Tokyo Disneyland and Disneyland Paris where your Starspeeder will arrive over the ocean moon of Kef Bir, as seen in the trailers for the film.


(10/14/19) According to this tweet, Buzz Lightyear Laser Blast at Disneyland Paris will be closed for a 7-month refurbishment in 2020, from January 6 through to July 31st.


(9/11/19) In 2020, from January 11 through to May 3rd, Disneyland Paris will add the Frozen Celebration to the park, bringing a day full of Frozen themed festivities and live entertainment to the park.

(7/28/19) According to a post over at Disney and More, The Lion King and Jungle Festival performances added to Disneyland Paris this Summer will be back for Summer 2020. They've also posted a half-hour long video all about the making of these new productions. The videos are in French, but offer English subtitles.

(7/20/19) A heads up to fans of Disneyland Paris, or global fans of the Disney theme parks in general. "Disneyland Paris: From Sketch to Reality", one of the greatest books ever published about the creation of Paris park is now almost completely out of print. According to Alain Littaye, one of the book's authors, the last remaining five copies of the English edition of the book are now on sale through July 31st for 100 Euros. The French edition is already sold out and according to Littaye, there are no plans to reprint either version.
I've got a copy of this myself in my collection and trust me when I say that this book is loaded with gorgeous photos Disneyland Paris as well as a ton of concept art showcasing the development and construction of many of the park's classic attractions. And it is a beast of the book in size, over 300 pages long and with a serious weight to it from the heavy paper stock used to showcase the photos. I keep mine on a shelf tucked between two other massive titles, "Disney Imagineering" and "Building a Dream: The Art of Disney Architecture". Don't miss out before it is gone forever.

(5/6/19) The Phantom Manor has returned at last and you can see a full video of the new experience below, along with a ton of pictures showing off all the changes over at Disney & More this week.


(4/14/19) According to a new update from Disney & More, it was revealed that the Mark Twain riverboat will now be closed for the next two years to undergo a complete rebuild.

(4/13/19) A video of the Disneyland Paris InsideEars event was posted and while it looks like the majority of the video is in French, the section where WDI came out to talk about Phantom Manor is in English (with Tom Fitzgerald) an can be seen below. For starters they confirm that the English portion of the ride audio will be performed by the late Vincent Price who recorded unused audio tracks for the attraction before he passed away.
The attraction will finally reopen on May 3rd, 2019 and will feature many upgrades and changes, including four all new stretching portraits that will help reflect and tell the story of the unfortunate suitors of the Bride, along with new elements to tell the story of the Phantom, revealing that he is actually the Father of the Bride. A variety of changes have been made, including a complete redo of the final scene town scene, and much more.


(3/31/19) Would you believe that someone TP'ed the entrance to Disneyland Paris? According to an article that WDWNT, employees from an outsourced cleaning company hired by the Disneyland Paris Resort that normally works overnights instead set up a protest area by Main Street Station and made a huge mess. Based on the look of things, it may be time for Disney to part ways with this company and hire their own staff to handle these duties.

(2/5/19) Forbes reports that the Disneyland Paris resort is installing something called MagicPass, an RFID based wireless system to allow guests to open the hotel room doors or pay for items with the use of the new MagicPass cards, which will be tied to the customer's credit card. Currently the MagicPass system is being installed at all of the Disneyland Paris Hotels, but I imagine the theme parks will soon follow as it will not only hold a guests payment method and room key, but also can store their park tickets and even FastPass tickets all on the same card.

2019 - The Lion King - (7/5/19) Disney & More has posted a new update from Disneyland Paris showing off the new Festival of the Lion King and Jungle Book shows that are new to the park this year.

(6/4/18) I'm told that the Chaparral Theater is being demolished to allow for construction of an entirely new theater structure to house the already announced The Lion King show coming in 2019.
(4/6/18) Disneyland Paris has announced that The Lion King show will be coming to Disneyland Paris in 2019, going into The Chaparral Theater in Frontierland which is currently undergoing renovations for it. This isn't a copy of the show you may have seen at Walt Disney World, but rather will be a brand new musical production.

2020 - Mark Twain Riverboat Refurbishment - (5/19/18) Disney officials confirmed that the park's famous Mark Twain riverboat will go under a massive renovation and restoration starting in 2019 and then reopen to guests in 2020.
2020 - Disney's Hotel New York – The Art of Marvel - (11/6/19) Disneyland Paris is now taking bookings for the new "Disney's Hotel New York - The Art of MARVEL" with a special launch offer you can find here.




(1/8/19) Disneyland Paris released the new logo for Disney's Hotel New York - The Art of Marvel this week, and if you make the jump over to Disney and More they take you on a look around the hotel as it stands this week, and how it will be changed and updated for the reopening in 2020.

(7/20/17) Disney has announced that they will be changing Disney's Hotel New York into Disney's Hotel New York - The Art of Marvel. This is a "reImagination" of the current hotel property into what they describe as being a "Marvel-themed wonderland".
"We're going to create a hotel at Disneyland Paris that would make Tony Stark proud," Bob said. "I'm thrilled to announce that Disney's Hotel New York – The Art of Marvel will transport our guests to the action-packed, inspiring world of Super Heroes including Iron Man, The Avengers, and Spider Man among others!"

2022 through 2024 - Major New Attractions - Planned - (1/31/19) Screamscape sources tell us that Disneyland Paris may have been allocated some new funds to create two major new attractions at the park between 2022 and 2024. While one of the rides is still unknown (maybe the Indiana Jones rumor below?), the other attraction said to be coming would be a clone of the "Mickey and Minnie's Runaway Railway" attraction opening later this year at Disney's Hollywood Studios in Florida. I can only imagine that Disney execs may be rather high on the new ride concept at this point as unconfirmed rumors of yet another clone of this same ride indicated it would also go to Disneyland in California.
There is lots of time between now and when these projects would get started through… enough time for the plans change entirely, but for now this seems to be the park's short-term 5-year plan of expansion.

(6/1/18) It has been awhile since we've heard anything about the rumor of Dinosaur at Animal Kingdom being replaced by a next-gen version of the Indiana Jones Adventure ride, but our friends at Disney & More take a look into the latest rumors on this topic, including the rumor that AK and DLP may even share the development costs for this project, that would see a clone also built in Paris in the near-future near their own Indy themed coaster. Meanwhile the news may be more urgent for the Florida resort, as the current Indiana Jones stunt show is rumored to be closing down sometime after Star Wars: Galalxy's Edge opens, which would remove the only Indiana Jones themed area from all of Walt Disney World. So you could imagine that they would want to put him back somewhere else fairly quickly if that happens.
I don't know how accurate this might be, but one possible rumor even blends the two concepts into one attraction, having Indiana Jones encounter a lost world of living Dinosaurs. Hmmmm.... makes me wonder if this could be what the rumored 2024 attraction might be.

(11/23/17) According to Forbes, Disney is now planning on adding some kind of "major new attraction" to Disneyland Paris in 2024 as part of a massive new investment into the property now that they have full control over the property. Other new additions and capital expenditure projects planned over the next decade include upgrades to several hotel properties as well as adding Marvel themed attractions to the Walt Disney Studios Paris theme park.