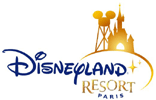 DISNEYLAND PARIS
Outside Paris, France
Abbreviation: DLP
Walt Disney Theme Parks

---- THE LATEST BUZZ ----
(7/2/14) Star Tours 2 may be back on track for 2016 (MORE...)
(6/12/14) Indiana Jones Reopens (MORE...)
(5/26/14) Refurbishment Photo Update (MORE...)
(5/14/14) A look at the new Indiana Jones Loop (MORE...)

Disneyland Paris: Ride Rehabs - The following information is not guaranteed to be 100% accurate.
Space Mountain - NOW CLOSED through July 4, 2014
Pirates of the Caribbean - Sept. 1 through Sept. 12, 2014
Thunder Mesa Riverboat - September 2014
Le Carrousel de Lancelot - Sept. 15 through Sept. 26, 2014
It's A Small World - Sept. 29 through Sept. 30, 2014

General Resort News - (5/26/14) The latest Disney & More update features the latest rehab and construction projects going on inside Disneyland Paris at the moment as they spruce everything up for the start of the busy summer season.
(4/23/14) Disney & More looks into some future reports about what changes may be in store for the Disneyland Paris parks in the coming years. Expected updates include a six month closure of Space Mountain in early 2015 to add brand new trains as well as effects and show elements. By 2016 they believe that Star Tours will finally be updated to Star Tours 3D: The Adventure Continues. Following that, Big Thunder Mountain is expected to undergo a massive renovation that could add a slightly longer train (for increased capacity), new effects and possibly an interactive queue experience similar to what was done in Orlando.
A major financial plan is also expected to be put into place to fix the problems with the Walt Disney Studios park, expand it and add new attractions, and to update existing attractions with new Marvel character themeing. (ie: Rock 'n Roller Coaster could get a new Spiderman theme). A copy of the popular Toy Story Mania ride could also drop into Toy Story Playland. There are many other predictions, but as you know, the further out you go, the less certain things become, but following the link to read the entire report.
(4/9/14) Disney & More kicks off Spring at the Disneyland Paris Resort with a series of Swing into Spring photos, along with several videos and more photos in Part 2.
(12/2/13) What is in the water served to Cast Members at Disneyland Paris? According to this article a park employee poured a container of gasoline over his head and tried to set himself on fire before a co-worked jumped him. It seems a summons to have a meeting with his bosses was the trigger to cause the attempted suicidal event. This isn't the first time we've heard stories about suicidal workers at the Disneyland Paris resort and it honestly baffles me to no end, as working conditions there simply can't be any worse than those experience by Cast Members working at the other Disney parks around the world. So why all the suicide attempts in France?
(11/8/13) Disney & More reports some bad news from the Disneyland Paris Resort this week. According to the 2013 fiscal year results (Oct 1, 2012 to Sept. 30, 2013) the Paris parks have seen a decline of 1 million guests compared to the prior year. However, thanks to longer stays and increased guest spending, the financial results are not as bad as you might expect. A newly refurbished Disney's Newport Bay Club hotel and the opening of the highly anticipated Ratatouille ride at the Walt Disney Studios park is expected to help the resort see guest attendance surge once again in 2014.
(11/7/13) A fun Halloween report, with a video, from Disneyland Paris has been posted to Disney & More this week. Check it out.
(11/4/13) New details about the accident on Pirates of the Caribbean at Disneyland Paris can be found here. They still aren't sure how the boy fell out of the boat however, but while the investigation takes place, the Pirates attraction will remain closed.
(11/1/13) According to a report from Disney & More, a 5 year old child fell out of a boat on Pirates of the Caribbean at Disneyland Paris, and was then struck by the boat behind them. He was taken in for medical treatment, but is said to no longer be in critical condition. Follow the link to read more.
(10/24/13) Disney & More reports that a new Christmas themed version of the Disney Dreams show will begin at Disneyland Paris starting November 10th.
(10/22/13) For those who like to compare Disney staple attractions from one Magic Kingdom to another, a fun video has been created showing off dueling split-screen POVs of Big Thunder Mountain Orlando VS Paris. It is interesting how the timing and pacing of each ride is so similar. Check it out below.



(10/14/13) Want to see Disneyland Paris in a new light? Check out this interesting photo gallery of images showing off the park as seen through a Near-Infrared photography lens setup, which filters out the visible spectrum we normally see. In other news, you can find a great photo report from Disney and More showing off this year's Halloween decorations.
(10/8/13) A huge article about the future of Disneyland Paris has been posted to Disney & More this week, as part of a "What's New, What's Next" event with DLP's Joe Schott. For starters we can expect to see major park refurbishments begin at the end of the park's 20th Anniversary celebration which will include the previously mentioned Indy rehab, Town Square and Main Street Station rehabs, Pirates, Small World, Space Mountain and more. They will be working hard all over both parks over the next 3-5 years to really bring back the quality to the park and refurbish all they can before it is time to focus on adding in new experiences.
(9/11/13) Disney & More has posted a great two part article about the future of the Disneyland Paris Resort, starting off with a look at why, for now… the DLP Resort area may not see a brand new major attraction until after 2020. Part 2 then looks a bit into the possible future where we might see something new for the park's 25th Anniversary in 2017 after all.
(8/16/13) Disney at Work takes at look into the issue of decline at Disneyland Paris this week and talks about the various problem issues of note plaguing the Disneyland Paris Resort.
(8/9/13) The local Disney Paris fans are concerned with the state of the Disneyland Paris and Walt Disney Studios theme parks and have written an open letter and petition for change to Disney CEO, Bob Iger that is worth a read. Check it out here.
(7/29/13) What does the future hold for Disneyland Paris? According to this article, after the Ratatouille attraction opens at the Studios in 2014, there are no more approved projects for either park and that for the immediate future, The Walt Disney Company has stopped all future investment projects.
What does this mean for the future of the Disneyland Paris Resort? This is certainly not the end of course, and with The Walt Disney Company now handling the debt issues it sounds to me that we may see a lot of focus on changing the way things work behind the scenes at the resort over the next couple of years in order to set the DLP Resort on a new course towards paying off their debts and achieving the profitability levels that all the other Disney parks have before they move on to build new projects.
After all, it's hard to understand how Disneyland Paris can be the #5 most attended theme park in the entire world, with 11.2 million guests in 2012, and still be suffering from money problems. To be fair, the fact that the Walt Disney Studios Paris park next door is #20 with only 4.8 million guests by comparison has got to be one big part of the problem. Between the two parks however, 16 million guests a year and still a heavy debt problem... clearly there has to be other issues taking place backstage that need to be addressed.

2014 - Indiana Jones Temple of Peril Rehab - (6/12/14) Disney & More takes a look at the refurbished Indiana Jones and the Temple of Peril attraction, now reopen at Disneyland Paris.
(5/14/14) A great close up view of the new inversion track installed on the Indiana Jones Temple du Peril ride at Disneyland Paris can be found at the park's English Twitter account.
(5/10/14) The latest pictures of the Indiana Jones ride rehab can be found at Disney & More this week as part of their park-wide photo update.
(3/31/14) A new 'Spring' photo update for Disneyland Paris has been posted to Disney & More this week, along with a check up on the latest progress to the new theme work being added to the Indiana Jones coaster.
(3/6/14) A few new construction pictures of the Indiana Jones rehab taking place have been posted to Disney & More this week. Scroll down a little more and you'll come across new Ratatouille pictures as well, showing off the new attraction area opening in a few months, so enjoy!
(2/26/14) A construction update showing off the progress being made to the Indiana Jones attraction at Disneyland Paris has been posted to ThemeParkInvestigator this week. The temple structure is still covered with scaffolding as Imagineering attempts to renovate and improve the exterior appearance of the attraction as well as replace some of the coaster's track.
(1/28/14) Construction pictures from Disneyland Paris showing off all the scaffolding added to the Indiana Jones coaster have been added to Disney & More this week, exposing all the coaster track and supports.
(1/10/14) As previously reported, Disneyland Paris has confirmed the closure of the Indiana Jones and the Temple of Peril coaster for an extended rehab that will last through to May 28th, 2014.
(9/30/13) Shocking news came from Disney & More this weekend… and this is not an April Fool's joke. According to the report a Disneyland Paris Director revealed to fans that they would soon demolish the Indiana Jones Temple of Peril coaster/attraction and then rebuild it, using real stone for the temples.
Given that the timetable to do this is only about 5 months sometime in 2014, I would guess that they would plan on leaving as much of the coaster structure itself standing as possible, though it was mentioned that they would also rebuild the loop.

2014/2015 - Big Thunder Mountain Rehab - Planned - (9/30/13) Disneyland Paris' Joe Schott mentioned that after the rehab to the Indiana Jones coaster is finished, they are planning a rehab for Big Thunder Mountain as well… one that would increase ride capacity. The last time I heard about a plan to increase ride capacity on Big Thunder Mountain however, the plan was to remove the faux locomotive car from the front of the train and replace it with an extra passenger car. It would be kind of sad to see the locomotives removed, but this seems to be where Disney's design end has been thinking as of late, as the new Big Grizzly Mountain coaster in Hong Kong was built without a locomotive lead car.
2016 - Star Tours 2 - Rumor - (7/2/14) According to Disney & More, a plan to finally upgrade Star Tours to the new Star Tours 2 version of the attraction in Paris is essentially set to open in 2016 if all goes well. Don't look for any mini-land to go along with it however... any plans for something like that will likely have to wait until a later date.
(2/19/13) According to the latest update at Disney & More the President of the EuroDisney resort confirmed in a meeting with DLP Stockholders that there is a new Star Wars / Star Tours project in development right now, but they are still in the early design phases. This means that this is not just an upgrade to Star Tours 2, but essentially confirms those long rumored plans to bring a mini Star Wars land to the park. I'd expect to see this open by 2015, so they can launch it along with the new Star Wars Episode 7 film coming out that same year.
Disney & More says the envisioned plan right now will have two phases. Phase 1 will see Star Tours 2 added along with the Jedi Academy show inside the old Captain EO theater and a likely Cantina bar and restaurant taking over Pizza Planet. What will take place in Phase 2 is anyone's guess, but it will likely be located to the left of Star Tours.
(4/26/12) Disney and More reports that an entire Star Wars themed mini-land may be in development for Disneyland Paris as early as 2015. According to the report, the plan is not only to upgrade Star Tours to the current Star Tours 2 attraction, but will incorporate the existing Captain EO theater, Star Traders gift shop and Pizza Planet restaurant together into a new Star Wars themed mini-land. The thought is that a much larger gift shop, complete with character Meet & Greet areas will be added, and that an indoor version of the Jedi Academy show may take over the Captain EO theater. Even better may be an interesting plan proposed to transform Pizza Planet into a new restaurant experience themed after the famous Mos Eisley Cantina on Tattooine. Sounds like a fantastic idea to me, and one that could possibly find some traction within the rumored Tomorrowland refurbishments planned for Disneyland and Tokyo Disneyland as well.
(4/18/12) The subject of Star Tours came up in an interview with the CEO of Disneyland Paris, who mentioned that in 2013, DLP would be the only Disney park still running the original version of Star Tours. Technically, Disneyland Paris is ALREADY the only Disney park will running the old version of Star Tours as Tokyo has already closed their ride to begin conversion for the Star Tours 2 to open in early 2013. That said... with the mentioning of the 2013 date, I can only assume that they're not planning on opening Star Tours 2 in Paris until at least 2014.
(7/27/11) With the launch of Star Tours 2 in the US complete and determined to be a huge success, the question remains… when will Star Tours 2 begin boarding in Disneyland Paris? 2012? 2013? I would hope for the sooner date myself, but until we have an official closing date for the ride, everything is still up in the air. Anyone know more?
(8/16/10) While Disney has yet to confirm that Star Tours 2 is on the way, Disney and More will show you why it and more are pretty much locked in and the only thing left to do is "announce" them.
(6/8/10) According to the latest news posted to Disney and More, Star Tours 2 is pretty much a sure thing, though no one has confirmed it yet. Look for it to come most likely in 2012 or even 2013 as part of the Disneyland Paris 20th Anniversary celebration.
Other Disneyland Paris Resort Projects
2015 - Les Villages Nature / Third Theme Park - (12/8/10) Disney and More has posted a few more pieces of art and explanation about what we should expect to see at the upcoming unveiling of the Village Nature project at Disneyland Paris.
(12/2/10) DizFanatic has posted some new concept artwork for the Les Villages Nature project, and I don't believe I've seen anywhere else.
(11/29/10) According to NewsParcs, Euro Disney has announced a new project called Villages Nature, a mixed use resort themed to the harmony between man and nature. The entire resort is to be built around a huge geothermal lagoon, which will have a new waterpark placed next to it that is expected to be the biggest in Europe. The first phase of this project could open as early as 2015, located 6 km South of Disneyland Paris.
(9/16/10) In a most interesting follow up to the reports about a 3rd park being planned for Disneyland Paris, this article claims that one of the ideas for the 3rd park is to base it entirely around the concept of the Marvel Superhero universe.
(9/15/10) Disneyland Paris just announced their intention to build a THIRD theme park on the resort property as well as other projects as part of a deal extension with the French government good through to 2030. This will see an unknown 3rd park added, a new leisure village called "Village Nature of Val d'Europe", a water park and the sale of 10,000 housing units on site. No timeline was given for the 3rd park, but it is thought to be at least 10 years until it opens, which is good because they have to finish "fixing" and filling out the Studios first I think.
2015 to 2020 - Convention Center Resort - Planning - (9/23/13) The latest report from Disney & More indicates that a new hotel with a convention center, as well as a new bus station will be built new the Disney Village and Vinci parking lot is planned to open sometime between 2015 - 2020.