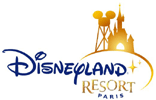 DISNEYLAND PARIS
Outside Paris, France
Abbreviation: DLP
Walt Disney Theme Parks

Disneyland Paris: Ride Rehabs - The following information is not guaranteed to be 100% accurate.
Phantom Manor - NOW CLOSED through TBD (At least Late 2018 or beyond)
Disneyland Railroad Frontierland Depot - NOW CLOSED through TBD
Mad Hatter's Tea Cups - NOW CLOSED through June 2018
Les Voyages de Pinocchio - NOW CLOSED through Mar. 30
Alice's Curious Labyrinth - NOW CLOSED through Mar. 30, Apr. 4 through Apr. 6
Star Wars: Path of the Jedi - Apr. 3 through TBD
Buzz Lightyear: Laser Blast - May 14 through May 25
Star Wars Hyperspace Mountain - June 4 through June 15
Pirates of the Caribbean - June 18 through June 22

Park News - (3/9/18) According to Forbes, part of that $2.4 billion giant investment announced for the Disneyland Paris resort will include an overhaul of the resort's Disney Village dining / retail complex. While the exact nature of the renonations have yet to be locked in, the article does cover some speculation about some likely candidates.
(2/22/18) UPDATE - Turns out the giant lake show rumor was part of the new expansion plans for the Walt Disney Studios Paris park next door. Follow the link to read more.
(2/9/18) Disneyland Paris was hit by several days worth of snow this past week, and now you can check out an awesome collection of pictures showing off the park and most of the attractions just covered top to bottom in the white stuff like never before.
(1/22/18) A fun video posted by Disneyland Paris shows off the closing of Phantom Manor in order to perform a long and extensive refurbishment, as well as adding in some surprise new effects and upgrades. For now the Thunder Mesa Town Sheriff has locked the gates up tight in order to investigate a number of "strange disappearances"
Phantom Manor will reopen in Fall 2018.



(1/3/18) Disney and More has posted a video showing off the special New Year's Eve parade that performed at Disneyland Paris, said to be the longest parade to ever perform at the park.
(1/1/18) Disneyland Paris will put on something new for the park's 25th anniversay. According to a promotion from the park they will host The Festival of Pirates and Princesses at Disneyland Paris from March 31 to May 31, 2018. The event will feature a new interactive show where guests can choose to be a Pirate, Princess or even both, and your choices will determine the outcome of the story. There will also be a new Pirate and Princess parade where the two factions will start off at opposite ends of the parade route only to meet in the middle for "a mammoth spectacle of guests interaction."
2019 - The Lion King - (4/6/18) Disneyland Paris has announced that The Lion King show will be coming to Disneyland Paris in 2019, going into The Chaparral Theater in Frontierland which is currently undergoing renovations for it. This isn't a copy of the show you may have seen at Walt Disney World, but rather will be a brand new musical production.

???? - Disney's Hotel New York – The Art of Marvel - (7/20/17) Disney has announced that they will be changing Disney's Hotel New York into Disney's Hotel New York - The Art of Marvel. This is a "reImagination" of the current hotel property into what they describe as being a "Marvel-themed wonderland".
"We're going to create a hotel at Disneyland Paris that would make Tony Stark proud," Bob said. "I'm thrilled to announce that Disney's Hotel New York – The Art of Marvel will transport our guests to the action-packed, inspiring world of Super Heroes including Iron Man, The Avengers, and Spider Man among others!"

2024 - New Major Attraction - Planned - (11/23/17) According to Forbes, Disney is now planning on adding some kind of "major new attraction" to Disneyland Paris in 2024 as part of a massive new investment into the property now that they have full control over the property. Other new additions and capital expenditure projects planned over the next decade include upgrades to several hotel properties as well as adding Marvel themed attractions to the Walt Disney Studios Paris theme park.