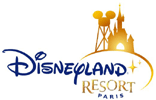 DISNEYLAND PARIS
Outside Paris, France
Abbreviation: DLP
Walt Disney Theme Parks
Disneyland Paris: Ride Rehabs - The following information is not guaranteed to be 100% accurate.
Space Mountain: NOW CLOSED through Mid to Late 2015
Phantom Manor - NOW CLOSED through Apr. 2
Thunder Mesa Riverboat - NOW CLOSED through Apr 10
Dumbo - NOW CLOSED through Apr. 24
Les Mysteres du Nautilus - NOW CLOSED through April
Captain EO - April 13 through to at least late June
Le Carrousel de Lancelot - Apr 27 through ????
General Resort News - (3/9/15) A quick look at some early construction taking place in and around Frontierland at Disneyland Paris has been posted to ThemeParkInvestigator.
(3/2/15) ThemeParkInvestigator has posted a photo update from Disneyland Paris where they check in on the current refurbishment taking place in Tomorrowland on Space Mountain, Videopolis and the Nautilus. Meanwhile the park is also setting up the decorations for the Swing Into Spring 2015 event, as seen here.
(1/28/15) I'm sad to report that Alain from Disney and More has decided to retire... or at least for now. Theme Park Bloggers are an obsessed lot and I know the lure to come back and share more cool stories will probably bring Alain out of hiding again one day. With that in mind, all the incredible updates he has posted over the years and the rest of the website will remain online however as a great resource of Disney park's information.
In the meantime however, Alain leaves us with a great final article all about the future of Disneyland Paris. For starters he mentions a few major attraction refurbishment projects, including the already in progress Space Mountain refurb which he says will likely remained closed until late July 2015. Small World is also listed to close for 5 months from July 2015 to mid December 2015.
Other notable long term closures include:
The Family Robinson treehouse and Adventure Isle - August 2015 to April 2016
Disneyland Railroad - August 2015 to February 2016, with Main Street Station closed until August 2016.
Big Thunder Mountain - November 2015 to December 2016
Peter Pan - Jan 2016 to May 2016
Star Tours - March 2016 to March 2017
Space Mountain (again!) - Jan. 2017 to Feb. 2017
Pirates of the Caribbean - Jan. 2017 to June 2017
Please note all the dates can and may shift around as the timelines get closer. As for the rest... read up on Disney & More and I'll add some details as individual projects below in Screamscape's own Disneyland Paris project timeline.
Oh...and one more worthy note... he claims that the MyMagic+ MagicBand system may be coming to the Disneyland Paris resort much more quickly that you would have thought. Though it may start as something for the on-site resort hotel guests at first before it rolls out as a fully functional system inside the parks later on.
(1/12/15) A very impressive computer animated video has been posted this week by Gregory Noacco, re-creating the entire original Discovery Mountain ride experience from the queue to a POV of the ride itself, complete with the original safety spiel and on-board soundtrack. This was created to celebrate the 20th Anniversary of Disneyland Paris' version of Space Mountain and called Discovery Mountain: Origins.
Details about this as well as a 3D version of the video can be found at Disney & More this week (along with a fun Star Tours Origins video), but you can watch the regular 2D version of the video below.



(1/2/15) Disney & More has a very special article today as part of a final tribute to WDI Imagineer Pat Burke who passed away just before Christmas. Fan of both Disneyland and Disneyland Paris will want to take particular note about this one, as it is all about one of the park's most popular new e-ticket attraction proposals that never made it off the page.
We're talking about Geyser Mountain, both the mountain themed version proposed for Disneyland that would have served as an extension of the Big Thunder Mountain theme, as well as a slightly different steel structure themed version proposed for Disneyland Paris.
(12/22/14) Click here to read about a rumored Phantom Manor Upgrade plan.
(12/17/14) For all the Christmas and Disney photography fans out there, Disney & More has posted a large batch of Christmas holiday pictures from Disneyland Paris this week to enjoy and get you in the holiday spirit.
(12/13/14) Disney & More has posted a good report on the future strategy of the Disneyland Paris resort from the DLP Shareholders meeting. Items mentioned include plans to accelerate the on-site resort renovations and while they have their eye on launching the concept of MagicBands in Paris in the future, they have other more immediate projects that need their attention now to bring the quality of the DLP experience up to standards over the next three years. Meanwhile many questions were asked about the future of the parks, new attractions and shows… all of which was promised to be addressed in a series of announcements to come very soon.
(11/24/14) Tons of new rumors added below about possible future attractions coming to the park. Scroll down and enjoy!
(11/11/14) Disney & More has posted some great photos and a video of the new Disney Dreams of Christmas night show at Disneyland Paris this week, featuring projection mapping on the castle, music, fireworks, lighting effects, water fountains and more.
(10/28/14) The Molly Brown is back in action at Disneyland Paris and Disney and More has the latest photos of the renovated ship and a look around the Rivers of the Far West.
(10/21/14) Disney & More posted a very large article about the future of the Disneyland Paris Resort late last week that is worth reading. In general the plan is to restore Disneyland Paris to the quality the guest expect, a lengthy Big Thunder rehab, possible refurb of Phantom Manor, Pirates, Space Mountain and many more iconic attractions over the next couple of years.
Star Tours 2 also seems to be on the way again of course, but any plans to upgrade and work on the Studios next door will likely have to wait until 2017, as Disneyland Paris will be the primary focus until then. Then they can look into plans to add Toy Story Mania and more to the smaller second park along with ideas like a Marvel land, maybe Avatar and more.
(10/8/14) A great Halloween update from Disneyland Paris has been posted to Disney & More this week, including several fun videos.
In other news, a funny video shot at Disneyland Paris was sent to me today showing off an interesting feature of the Disneyland Paris Shooting Gallery. Apparently if you have a high powered DSLR style camera flash and shoot it at the shooting gallery, it will trigger all the animated effects of all the targets in the gallery at the same time.
I assume this is because many of these units offer an Infrared flash unit, and shooting galleries typically are triggered by infrared guns, much like laser tag guns, and the broad spectrum IR flash is enough to trigger a response from the system.
Watch below!

(10/7/14) Interesting news about the Disneyland Paris Resort this week, as Euro Disney SAS announced another debt restructuring and capital investment plan. It's a 1 billion Euro "recapitalization" of the company, but will be voted upon by the shareholders in 2015. I'm not an accountant, so I'm not going to go over the numbers and how it will all work, but hopefully this will put the resort on solid ground once and for all.
How did things get so bad in Paris? Disney & More explains it all well, and how the problem goes all the way back to Day 1 when Eisner decided that the brand new Paris park would open with about 6,000 hotel rooms… and the debt just flowed from there.

2015 - Space Mountain Rehab - In Progress - (1/30/15) Space Mountain may be closed, but the stretch of construction walls have stretched all over Discoveryland. You can see a great photo update of what is going on posted to DLPWelcome, just scroll down past the Walt Disney Studios Photos.
(1/28/15) The big Space Mountain refurbishment is under way and accord to the final report on Disney & More we can expect to see the "Mission 2" name dropped, and new effects projectors installed throughout the ride to improve the experience. New special effects are expected to be added, the exterior of the ride will be refurbished and possibly see some new colors replace others, and The Canon special effects sequences will be rebuilt and made fully functional once again.
Further effects, story and other improvements to the ride system itself (new trains) are expected to be done as part of a future 6-month refurbishment project currently earmarked for 2018.
(11/24/14) An extensive rehab to Space Mountain is rumored to be planned to begin as early as January that could see the iconic attraction closed for about 6 months, reopening in Summer 2015 as as a special 20th Anniversary Edition of the attraction that may see many of the initial themed elements returned to the ride, including the original soundtrack.

2015 – Frozen Show – Rumor – (11/24/14) I'm told that we will see a Frozen themed stage show come to the Chaparral stage area sometime in 2015.

2015 – Jedi Academy – Semi-Confirmed – (12/29/14) Disney & More has reported in again with some new details about an all new Jedi Academy show that is said to start in Summer 2015 at Disneyland Paris on the Videopolis stage. From the description, this wont just be a copy of the show from Orlando, but a more theatrical show with a better set, new special effects and an exciting finale.
(11/24/14) Videopolis may be planned for an extensive 5-6 month rehab sometime in 2015 that could see it reopen as a new Jedi Academy show.

2015/2016 - Big Thunder Mountain Restoration - Planned (1/28/15) Disney & More reports that Big Thunder Mountain will go down for a complete overhaul that appears likely to begin around November 2015 and wont see it open again until Late 2016. Much like the long rehabs to the Disneyland and Disney World versions of Big Thunder, I'd expect to see some track replacement and in the case of DLP, new trains have long been rumored that may be a car longer to increase ride capacity. I'd also expect to see an enhanced version of the ride's queue added as well as new special effects to the lift hills and some tunnels.
(11/24/14) Look for Big Thunder to close for 6 to 9 months for a complete restoration and likely some track replacement. The exact timeline is not known yet.
(9/30/13) Disneyland Paris' Joe Schott mentioned that after the rehab to the Indiana Jones coaster is finished, they are planning a rehab for Big Thunder Mountain as well… one that would increase ride capacity. The last time I heard about a plan to increase ride capacity on Big Thunder Mountain however, the plan was to remove the faux locomotive car from the front of the train and replace it with an extra passenger car. It would be kind of sad to see the locomotives removed, but this seems to be where Disney's design end has been thinking as of late, as the new Big Grizzly Mountain coaster in Hong Kong was built without a locomotive lead car.

2016/2017 – Pirates of the Caribbean Upgrade - Rumor - (11/24/14) The long rumored upgrade of the Pirates of the Caribbean ride to feature some characters from the film series, like Capt. Jack Sparrow, is still said to be in the works. With the 5th film in the series (Dead Men Tell No Tales) slated for release in 2017, this project seems even more likely to be timed out to match up with that film's release. However the Pirates makeover may extend beyond the ride itself and see additional Pirates themeing added to Adventureland itself, possibly brining the Legend of the Seven Seas interactive game elements added to Walt Disney World not long ago to the Paris park.

Aprox 2017 - Star Tours 2 - Rumor - (1/28/15) Disney & More has set a timeline for the update of Star Tours to Star Tours 2 which would see the ride close in early 2016 and remain closed until early 2017. The project may also mark the timeline needed to add a first phase of other new Star Wars themed projects to the land, one of which could be a Star Wars themed restaurant concept. Meanwhile the new Jedi Academy show opening later in 2015 is expected to keep the Star Wars theme alive in the park during the upgrade of the attraction.
(11/24/14) Going beyond just an upgrade of the attraction, I'm told that the Star Tours 2 experience would take over Star Tours, the Star Traders gift shop and the Captain EO building to allow for a bigger gift shop experience and some kind of new post-ride experience, that could include a star wars character meet & greet area.
(9/16/14) Forbes reports that Disneyland Paris may be making plans to open a new Star Wars themed investment into the park in time to celebrate the park's 25th anniversary in 2017. They talk about updating Star Tours to the new version of the attraction, as the Paris park is the only Disney park to still have the old original Star Tours ride still running, but will they also add something more along the way?
(7/2/14) According to Disney & More, a plan to finally upgrade Star Tours to the new Star Tours 2 version of the attraction in Paris is essentially set to open in 2016 if all goes well. Don't look for any mini-land to go along with it however... any plans for something like that will likely have to wait until a later date.
(2/19/13) According to the latest update at Disney & More the President of the EuroDisney resort confirmed in a meeting with DLP Stockholders that there is a new Star Wars / Star Tours project in development right now, but they are still in the early design phases. This means that this is not just an upgrade to Star Tours 2, but essentially confirms those long rumored plans to bring a mini Star Wars land to the park. I'd expect to see this open by 2015, so they can launch it along with the new Star Wars Episode 7 film coming out that same year.
Disney & More says the envisioned plan right now will have two phases. Phase 1 will see Star Tours 2 added along with the Jedi Academy show inside the old Captain EO theater and a likely Cantina bar and restaurant taking over Pizza Planet. What will take place in Phase 2 is anyone's guess, but it will likely be located to the left of Star Tours.
(4/26/12) Disney and More reports that an entire Star Wars themed mini-land may be in development for Disneyland Paris as early as 2015. According to the report, the plan is not only to upgrade Star Tours to the current Star Tours 2 attraction, but will incorporate the existing Captain EO theater, Star Traders gift shop and Pizza Planet restaurant together into a new Star Wars themed mini-land. The thought is that a much larger gift shop, complete with character Meet & Greet areas will be added, and that an indoor version of the Jedi Academy show may take over the Captain EO theater. Even better may be an interesting plan proposed to transform Pizza Planet into a new restaurant experience themed after the famous Mos Eisley Cantina on Tattooine. Sounds like a fantastic idea to me, and one that could possibly find some traction within the rumored Tomorrowland refurbishments planned for Disneyland and Tokyo Disneyland as well.
(4/18/12) The subject of Star Tours came up in an interview with the CEO of Disneyland Paris, who mentioned that in 2013, DLP would be the only Disney park still running the original version of Star Tours. Technically, Disneyland Paris is ALREADY the only Disney park will running the old version of Star Tours as Tokyo has already closed their ride to begin conversion for the Star Tours 2 to open in early 2013. That said... with the mentioning of the 2013 date, I can only assume that they're not planning on opening Star Tours 2 in Paris until at least 2014.
(7/27/11) With the launch of Star Tours 2 in the US complete and determined to be a huge success, the question remains… when will Star Tours 2 begin boarding in Disneyland Paris? 2012? 2013? I would hope for the sooner date myself, but until we have an official closing date for the ride, everything is still up in the air. Anyone know more?
(8/16/10) While Disney has yet to confirm that Star Tours 2 is on the way, Disney and More will show you why it and more are pretty much locked in and the only thing left to do is "announce" them.
(6/8/10) According to the latest news posted to Disney and More, Star Tours 2 is pretty much a sure thing, though no one has confirmed it yet. Look for it to come most likely in 2012 or even 2013 as part of the Disneyland Paris 20th Anniversary celebration.

Aprox. 2017 - MyMagic+ - Rumor - (11/24/14) I'm told that there is a loose plan to try and bring the MyMagic system to life at the Disneyland Paris Resort sometime around 2017 or so. This would see the whole rollout of MagicBands for ticket-free admission, FastPass+, wireless payment systems and more installed throughout both theme parks and the resort hotels.

???? - Phantom Manor Upgrade - Rumor - (1/5/15) For those wondering what the Phantom Manor with Vincent Price would sound like, there is a great YouTube video of attraction footage edited to the audio track of the attraction music with Vincent Price's voice work you can watch below.



(12/22/14) Disney & More has a great report this week about how Imagineering is working on some plans to upgrade the Phantom Manor at Disneyland Paris sometime in the not too distant future, possibly as part of a greater revamping of the entire Thunder Mesa storyline in Frontierland, to better communicate the connecting histories of the two attractions with the Ravenswood family.
Perhaps most exciting of all is the news that WDI has been going over the old original audio recordings and mixes done for the Phantom Manor to enhance and restore them, including the original planned voice of the Ghost Host done by none other than Vincent Price. As the story goes, the Vincent Price version was dropped at the last second in an effort to great a better bi-lingual English/French version of the ride.
If you are lucky enough to have obtained a copy of Disneyland's Haunted Mansion 30th Anniversary CD there was one track on it featuring a mix of Disneyland Paris' audio with the Vincent Price pre-ride dialog included. It is said the only remaining bit of Vincent Price audio within the current attraction is the use of his famous sinister laugh at one point, but it would be wonderful to have his role expanded and restored.

???? - Peter Pan's Flight Upgrade - Rumor - (11/24/14) I'm told that the same rumored refurbishment planned for the Disneyland version of the attraction may also be planned for the Paris version as well in the future. This is more of a long term plan, as the ride's track itself is said to be in need of replacement in the next few years anyway, so they could opt to do it all at the same time during a single prolonged refurbishment project.

Other Disneyland Paris Resort Projects

2015 - Les Villages Nature / Third Theme Park - (12/8/10) Disney and More has posted a few more pieces of art and explanation about what we should expect to see at the upcoming unveiling of the Village Nature project at Disneyland Paris.
(12/2/10) DizFanatic has posted some new concept artwork for the Les Villages Nature project, and I don't believe I've seen anywhere else.
(11/29/10) According to NewsParcs, Euro Disney has announced a new project called Villages Nature, a mixed use resort themed to the harmony between man and nature. The entire resort is to be built around a huge geothermal lagoon, which will have a new waterpark placed next to it that is expected to be the biggest in Europe. The first phase of this project could open as early as 2015, located 6 km South of Disneyland Paris.
(9/16/10) In a most interesting follow up to the reports about a 3rd park being planned for Disneyland Paris, this article claims that one of the ideas for the 3rd park is to base it entirely around the concept of the Marvel Superhero universe.
(9/15/10) Disneyland Paris just announced their intention to build a THIRD theme park on the resort property as well as other projects as part of a deal extension with the French government good through to 2030. This will see an unknown 3rd park added, a new leisure village called "Village Nature of Val d'Europe", a water park and the sale of 10,000 housing units on site. No timeline was given for the 3rd park, but it is thought to be at least 10 years until it opens, which is good because they have to finish "fixing" and filling out the Studios first I think.

2015 to 2020 - Convention Center Resort - Planning - (9/23/13) The latest report from Disney & More indicates that a new hotel with a convention center, as well as a new bus station will be built new the Disney Village and Vinci parking lot is planned to open sometime between 2015 - 2020.