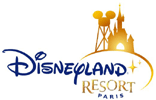 DISNEYLAND PARIS
Outside Paris, France
Abbreviation: DLP
Walt Disney Theme Parks
---- THE LATEST BUZZ ----
(9/16/14) Star Tours 2 and Maybe More for 2017 (MORE...)
(8/6/14) Pirates Last Row Closed Update (MORE...)
(7/2/14) Star Tours 2 may be back on track for 2016 (MORE...)
(6/12/14) Indiana Jones Reopens (MORE...)
Disneyland Paris: Ride Rehabs - The following information is not guaranteed to be 100% accurate.
Pirates of the Caribbean - NOW CLOSED through Sept. 17, 2014
Captain EO - NOW CLOSED though Oct. 1, 2014
Thunder Mesa Riverboat - NOW CLOSED through Oct. 10, 2014
Le Carrousel de Lancelot - NOW CLOSED through Sept. 26, 2014
Buzz Lightyear Laser Blast - Sept. 22 through Sept. 23, 2014
It's A Small World - Sept. 29 through Oct. 17, 2014
Captain EO - Oct. 6-8, 13-15
Casey Jr - Oct 6 through Oct 17, 2014
Le Pays des Contes de Fées - Oct. 6 through Oct 17, 2014
Buzz Lightyear Laser Blast - Nov. 3 through Nov. 14, 2014
Captain EO - Nov. 3-5, 10-12, 17-19, 24-26
Mad Hatter's Tea Cups - Nov. 3 through Nov. 21, 2014
Phantom Manor - Nov. 3 through Nov. 21, 2014
Captain EO - Dec. 1-3, 8-10, 15-17
Big Thunder Mountain - Dec. 1 through Dec. 12, 2014
Blanche-Neige et Sept. Nains - Dec. 8 through Dec. 19, 2014
General Resort News - (8/25/14) Disney and More tells us that from October 1st to November 2nd, Maleficent will take over Disneyland Paris to celebrate Halloween and invites everyone to join her "Halloween Gang" to do the same. Click here for the details.
(8/6/14) It seems that the last row in Disney's Pirates of the Caribbean rides across the globe are all not being used currently. I've been sent reports from Disneyland, WDW's Magic Kingdom and even Disneyland Paris who all report that the last row of seats are roped off from use. According to one reader, the local news in Orlando mentioned this in the past week or so and implied that another person had come forward to claim some kind of hand/finger injury on the Florida ride that had taken place before the latest report where the man lost the tips of his fingers. It seems they both were sitting in the six row, so for now they are all closed while the incidents are being investigated.
Note: No word on if the last row on the Tokyo Disneyland ride is open or closed.
(5/26/14) The latest Disney & More update features the latest rehab and construction projects going on inside Disneyland Paris at the moment as they spruce everything up for the start of the busy summer season.
(4/23/14) Disney & More looks into some future reports about what changes may be in store for the Disneyland Paris parks in the coming years. Expected updates include a six month closure of Space Mountain in early 2015 to add brand new trains as well as effects and show elements. By 2016 they believe that Star Tours will finally be updated to Star Tours 3D: The Adventure Continues. Following that, Big Thunder Mountain is expected to undergo a massive renovation that could add a slightly longer train (for increased capacity), new effects and possibly an interactive queue experience similar to what was done in Orlando.
A major financial plan is also expected to be put into place to fix the problems with the Walt Disney Studios park, expand it and add new attractions, and to update existing attractions with new Marvel character themeing. (ie: Rock 'n Roller Coaster could get a new Spiderman theme). A copy of the popular Toy Story Mania ride could also drop into Toy Story Playland. There are many other predictions, but as you know, the further out you go, the less certain things become, but following the link to read the entire report.
2014/2015 - Big Thunder Mountain Rehab - Planned - (9/30/13) Disneyland Paris' Joe Schott mentioned that after the rehab to the Indiana Jones coaster is finished, they are planning a rehab for Big Thunder Mountain as well… one that would increase ride capacity. The last time I heard about a plan to increase ride capacity on Big Thunder Mountain however, the plan was to remove the faux locomotive car from the front of the train and replace it with an extra passenger car. It would be kind of sad to see the locomotives removed, but this seems to be where Disney's design end has been thinking as of late, as the new Big Grizzly Mountain coaster in Hong Kong was built without a locomotive lead car.
2016 - Star Tours 2 - Rumor - (9/16/14) Forbes reports that Disneyland Paris may be making plans to open a new Star Wars themed investment into the park in time to celebrate the park's 25th anniversary in 2017. They talk about updating Star Tours to the new version of the attraction, as the Paris park is the only Disney park to still have the old original Star Tours ride still running, but will they also add something more along the way?
(7/2/14) According to Disney & More, a plan to finally upgrade Star Tours to the new Star Tours 2 version of the attraction in Paris is essentially set to open in 2016 if all goes well. Don't look for any mini-land to go along with it however... any plans for something like that will likely have to wait until a later date.
(2/19/13) According to the latest update at Disney & More the President of the EuroDisney resort confirmed in a meeting with DLP Stockholders that there is a new Star Wars / Star Tours project in development right now, but they are still in the early design phases. This means that this is not just an upgrade to Star Tours 2, but essentially confirms those long rumored plans to bring a mini Star Wars land to the park. I'd expect to see this open by 2015, so they can launch it along with the new Star Wars Episode 7 film coming out that same year.
Disney & More says the envisioned plan right now will have two phases. Phase 1 will see Star Tours 2 added along with the Jedi Academy show inside the old Captain EO theater and a likely Cantina bar and restaurant taking over Pizza Planet. What will take place in Phase 2 is anyone's guess, but it will likely be located to the left of Star Tours.
(4/26/12) Disney and More reports that an entire Star Wars themed mini-land may be in development for Disneyland Paris as early as 2015. According to the report, the plan is not only to upgrade Star Tours to the current Star Tours 2 attraction, but will incorporate the existing Captain EO theater, Star Traders gift shop and Pizza Planet restaurant together into a new Star Wars themed mini-land. The thought is that a much larger gift shop, complete with character Meet & Greet areas will be added, and that an indoor version of the Jedi Academy show may take over the Captain EO theater. Even better may be an interesting plan proposed to transform Pizza Planet into a new restaurant experience themed after the famous Mos Eisley Cantina on Tattooine. Sounds like a fantastic idea to me, and one that could possibly find some traction within the rumored Tomorrowland refurbishments planned for Disneyland and Tokyo Disneyland as well.
(4/18/12) The subject of Star Tours came up in an interview with the CEO of Disneyland Paris, who mentioned that in 2013, DLP would be the only Disney park still running the original version of Star Tours. Technically, Disneyland Paris is ALREADY the only Disney park will running the old version of Star Tours as Tokyo has already closed their ride to begin conversion for the Star Tours 2 to open in early 2013. That said... with the mentioning of the 2013 date, I can only assume that they're not planning on opening Star Tours 2 in Paris until at least 2014.
(7/27/11) With the launch of Star Tours 2 in the US complete and determined to be a huge success, the question remains… when will Star Tours 2 begin boarding in Disneyland Paris? 2012? 2013? I would hope for the sooner date myself, but until we have an official closing date for the ride, everything is still up in the air. Anyone know more?
(8/16/10) While Disney has yet to confirm that Star Tours 2 is on the way, Disney and More will show you why it and more are pretty much locked in and the only thing left to do is "announce" them.
(6/8/10) According to the latest news posted to Disney and More, Star Tours 2 is pretty much a sure thing, though no one has confirmed it yet. Look for it to come most likely in 2012 or even 2013 as part of the Disneyland Paris 20th Anniversary celebration.
Other Disneyland Paris Resort Projects
2015 - Les Villages Nature / Third Theme Park - (12/8/10) Disney and More has posted a few more pieces of art and explanation about what we should expect to see at the upcoming unveiling of the Village Nature project at Disneyland Paris.
(12/2/10) DizFanatic has posted some new concept artwork for the Les Villages Nature project, and I don't believe I've seen anywhere else.
(11/29/10) According to NewsParcs, Euro Disney has announced a new project called Villages Nature, a mixed use resort themed to the harmony between man and nature. The entire resort is to be built around a huge geothermal lagoon, which will have a new waterpark placed next to it that is expected to be the biggest in Europe. The first phase of this project could open as early as 2015, located 6 km South of Disneyland Paris.
(9/16/10) In a most interesting follow up to the reports about a 3rd park being planned for Disneyland Paris, this article claims that one of the ideas for the 3rd park is to base it entirely around the concept of the Marvel Superhero universe.
(9/15/10) Disneyland Paris just announced their intention to build a THIRD theme park on the resort property as well as other projects as part of a deal extension with the French government good through to 2030. This will see an unknown 3rd park added, a new leisure village called "Village Nature of Val d'Europe", a water park and the sale of 10,000 housing units on site. No timeline was given for the 3rd park, but it is thought to be at least 10 years until it opens, which is good because they have to finish "fixing" and filling out the Studios first I think.
2015 to 2020 - Convention Center Resort - Planning - (9/23/13) The latest report from Disney & More indicates that a new hotel with a convention center, as well as a new bus station will be built new the Disney Village and Vinci parking lot is planned to open sometime between 2015 - 2020.