DORNEY PARK
& Wildwater Kingdom
Allentown, PA (Abbreviation: DP)
Cedar Fair L.P.
Park News - (8/11/14) Dorney Park announced their lineup for Halloween Haunt VII with a special event the other day. According to a report from Coaster-Net, six mazes from last year will return: Mansion House Hotel, Blood Shed, CornStalker, Grave Walkers, The Asylum and Desolation. Three scare zones will also return: Cut Throat Island, Age of Darkness and Head Hunters.
New this year will be Chamber of Horrors (a new indoor haunt), CarnEvil (scarezome) along with a new outdoor entertainment act called Skeleton Crew. There will also be a Fright Lane exclusive maze called Blackout. The Skeleton Key program that launched at Knott's Scary Farm last year will also come to Dorney, by allowing those who purchase it access into an exclusive extra room in select haunts.
(8/6/14) A guest sent in a new picture (see below) from Dorney taken on Monday, showing off the Stinger train hanging out of the station a little bit, with a big yellow strap attached to the front. I'm guessing they are using it to pull the train around, while they test whatever repair work was done in the station.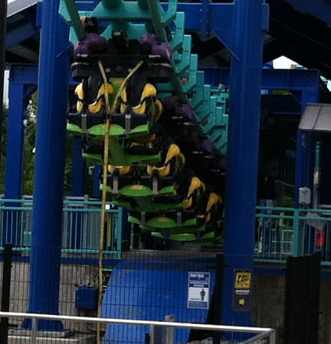 (7/22/14) The latest update from Dorney Park guests confirms that the Stinger's train has returned to the station. Still no word on when it may reopen, but I can only imagine that they will start testing it again soon.
(7/11/14) A guest to Dorney Park yesterday tells us that the Stinger train was seen fully assembled in the station once again. It did not appear ready to even make test runs just yet, as I'm told there was a section of lift-hill track missing.
(7/10/14) According to reports from Dorney Park over the past few days, a few sections of either the train, or just wheel assemblies (see below), have been put back on the track in Stinger's station. Still no word on when it might reopen.
(6/24/14) While the train has not been returned to the tracks yet, workers were spotted in the station at Stinger up on ladders working on repairing the ride. No word yet on when we might see it reopen.
(5/22/14) According to Screamscape source there may have been some significant damage done to Stinger as a result of the incident earlier this month. I won't go into details about the extent of the damage, as I really can't verify any of it, but from the sound of things there is a chance Stinger could be down for most, if not all of this season.
On the good news side of things, I'm told that Snake Pit may open to the public on Friday, May 30th.
(5/16/14) While not a major issue at the time, Dorney Park's Stinger (Vekoma Inverted Boomerang) coaster made the headlines last week when the train jolted to a stop while going up the lift on May 2nd. According to a park guest who visited over last weekend, Stinger is still closed and the train has been removed from the rails. Anyone know more about when we can expect it to reopen? Oh, and you can probably ignore the hyped up bit in the article about any possible injury, as two guests requested to be transported to a nearby Hospital to get checked out "as a precaution".
In other news, Dorney Park's GM, Michael Fehnel, Tweeted out a fantastic picture of Wildwater Kingdom's new Snake Pit slide complex. Looks very impressive, check it out!
(2/13/14) Dorney Park Passholders will enjoy this new perk… according to the official website if you buy a Gold of Platinum Season Pass to the park, you will also get unlimited access into Dinosaurs Alive this season.
(9/10/13) Pictures showing off the progress made on the land clearing project at Dorney Park can be found on Facebook at the Coaster Talk No B.S. Zone page.
(8/5/13) I'm told that Dorney Park has begun land clearing on property that they purchased a few years ago, which will likely be used for overflow parking based on the location. You can see a few pictures on Facebook.
(6/17/13) Dorney Park is current being sued by the family of a foreign employee who died last year. According to the local news the employee in question was a Chinese citizen working at the park for the 2012 season, who was struck and killed by a car while she was talking "across an on-ramp to Interstate 78". The lawsuit from the family claims that Dorney Park did not provide "adequate transportation" between the park and where the foreign staff were housed.
Since I am unaware of the terms of the labor agreement for the park's foreign work-force, I really can't comment on if this may be a legit claim or not. While not necessarily a fair comparison, I believe Walt Disney World does provide transportation shuttles for both their College Program as well as Foreign Cast Members taking them not only to work, but running shuttles to local store locations as well so they can shop for food and various personal items.
(5/22/13) It's been awhile, but Dorney Park has come to another epic disagreement with the South Whitehall Township over plans for the theme park. Dorney Park wants to hold a nightly fireworks show from June 29th to Aug. 5th while the local politicos have ruled against them, saying the noise would be too much. Dorney Park has filed an appeal but there is no telling if or when a new ruling may be made, or perhaps meet half-way and allow the park to at least have fireworks on Friday, Saturday and Sunday nights.
2014 - Snake Pit / Waterpark Expansion - (6/11/14) A review of Dorney Park's new Snake Pit addition to their waterpark has been posted by AllAmericanThrills.
(2/7/14) Coaster Of The Day takes a look at the construction of the new Snake Pit slides at Dorney Park this week.
(12/2/13) Dorney Park's new Snake Pit waterslide tower addition for 2014 has received the nod of approval from the local planning commission this week needed to get the final approval process running in time to open it by Memorial Day Weekend. No further complications are expected.
(8/29/13) Dorney Park has confirmed that they will add Snake Pit to the Wildwater Kingdom waterpark for 2014. This large new slide complex will add six new slides to the waterpark. At the peak will be the three Python Plummet slides, that start off loading you into a drop pod chamber before you get sent down a 450 foot long slide to the bottom. The complex will also offer three tube slides… the Constrictor (enclosed with extremely tight banked turns) and the two Boa Blasters.
(8/27/13) Dorney Park official will announce plans for a major new addition to the waterpark in 2014 at the park this Wednesday at 9:15am. Stay tuned!
(7/12/13) The rumored major focus of Dorney Park's 2014 plans include an overhaul to the waterpark that will bring a large water fortress to the park, the removal of some older slides (speed slides?) as well as adding in a new slide tower of some kind as a replacement. As for the rest of the park, I'm told that we can expect to see some kind of classic flat ride added in 2014 as well, but nothing else. If I had to guess, I'd say we can expect to see a few Flying Scooters ride added to the park, as I don't think Dorney has one currently and Cedar Fair added one to Knott's Berry Farm as well as Michigan's Adventure this season.
2015 - Roller Coaster - Rumor - (7/15/13) The latest word from the Screamscape rumor mill is that Dorney Park could be finally planning on adding a large new coaster to the park for the 2015 season. Where will it go? I'm told we may likely see Dinosaurs Alive removed and sent to another park to make room for it.