DORNEY PARK
& Wildwater Kingdom
Allentown, PA (Abbreviation: DP)
Cedar Fair L.P.
Park News - (10/13/14) Dorney Park tried to pay homage of the founding family of the park by using the Plarr family name as part of one of this year's new haunt attractions for Halloween, calling it Madame Plarr's Chambers of Horrors. Unfortunately some of the surviving members of the Plarr family found out about it and raised a little hell of their own about it, causing the park to remove the name very quickly. Fortunatly, not all of the Plarr family were upset about it, as a letter posted to the local paper from Debbie Plarr Weinstein said that she was proud that the family name was remembered and their grandmother was honored, and hoped that Dorney Park would try to use the name again elsewhere in the park instead.
On a similar note, Carowinds payed an homage of their own to the Taft company who helped develop Carowinds and sister parks Kings Island and Kings Dominion before they were all sold to Paramount Parks, by naming the building fašade for their new 7th Ward haunt as the "Taft Memorial" building.
(8/11/14) Dorney Park announced their lineup for Halloween Haunt VII with a special event the other day. According to a report from Coaster-Net, six mazes from last year will return: Mansion House Hotel, Blood Shed, CornStalker, Grave Walkers, The Asylum and Desolation. Three scare zones will also return: Cut Throat Island, Age of Darkness and Head Hunters.
New this year will be Chamber of Horrors (a new indoor haunt), CarnEvil (scarezome) along with a new outdoor entertainment act called Skeleton Crew. There will also be a Fright Lane exclusive maze called Blackout. The Skeleton Key program that launched at Knott's Scary Farm last year will also come to Dorney, by allowing those who purchase it access into an exclusive extra room in select haunts.
(8/6/14) A guest sent in a new picture (see below) from Dorney taken on Monday, showing off the Stinger train hanging out of the station a little bit, with a big yellow strap attached to the front. I'm guessing they are using it to pull the train around, while they test whatever repair work was done in the station.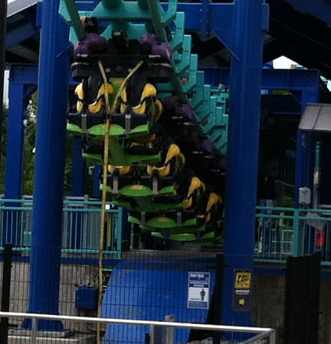 (7/22/14) The latest update from Dorney Park guests confirms that the Stinger's train has returned to the station. Still no word on when it may reopen, but I can only imagine that they will start testing it again soon.
(7/11/14) A guest to Dorney Park yesterday tells us that the Stinger train was seen fully assembled in the station once again. It did not appear ready to even make test runs just yet, as I'm told there was a section of lift-hill track missing.
(7/10/14) According to reports from Dorney Park over the past few days, a few sections of either the train, or just wheel assemblies (see below), have been put back on the track in Stinger's station. Still no word on when it might reopen.
(6/24/14) While the train has not been returned to the tracks yet, workers were spotted in the station at Stinger up on ladders working on repairing the ride. No word yet on when we might see it reopen.
(5/22/14) According to Screamscape source there may have been some significant damage done to Stinger as a result of the incident earlier this month. I won't go into details about the extent of the damage, as I really can't verify any of it, but from the sound of things there is a chance Stinger could be down for most, if not all of this season.
On the good news side of things, I'm told that Snake Pit may open to the public on Friday, May 30th.
2015 - Nothing is known at this point in time...