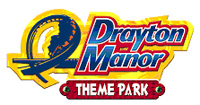 DRAYTON MANOR
United Kingdom
Park News - (3/25/15) Drayton Manor will be offering free entry into the park on April 1st to anyone who happens to have April 1st as their birthday. Valid ID will be required to confirm this.
(3/11/15) Here's a little something I never knew... Mother's Day in the UK is on a totally different day than it is here in the USA. (Sorry UK readers... honestly... I had no idea...) Anyway, if you want to show your "Mum" a good time, Drayton Manor is offering some Mother's Day specials for this Sunday, March 15th. Special offers include a special two-course meal deal at the Parklands Restaurant inside the Drayton Manor Hotel between 1pm and 4pm. (Season Passholders get 20% off!). If you don't have a pass, you can pre-book tickets into the park for just £10. Click here to visit the official site to read the details about the Mother's Day special at the Drayton Manor Hotel.
(4/14/14) Congratulations to Drayton Manor for their success in grabbing both of the Guinness World records they were attempting: for having 3152 people dressed in onesies, who also achieved the longest scream maintained at 80 decibels for 8 minutes and 45 seconds.
(4/9/14) Drayton Manor will attempt to break two Guinness World Records this Saturday, one to regain their previous record for having the largest gathering of people in "onesies" and the second will be to create "the longest scream". If you've got a onesies to wear to the park that day, you can get in for just £5 if you arrive bright and early and in time for the record attempt at 10:15am. To get the onesie title back, they need at least 1,184 people.
2015 - Thomas Land Expansion - Confirmed - (4/9/15) Congrats to Drayton Manor for opening their Thomas Land expansion this week.
(2/23/15)

Drayton Manor has confirmed that three new rides will be added to Thomas Land as part of their 2015 £2.5 million capital expansion. The new rides will include: Flynn's Fire Rescue, Captain's Sea Adventure and Toby's Tram Express, plus they will add a two-story Sodor Airport themed building to go along with the existing Jeremy Jet's Flying Academy which will be moved to the new location. The airport terminal building will feature a new cafe and the upstairs will include a balcony for better views of Thomas Land as well as five private party rooms for rent for special events. Look for the new expansion to open by Easter.
(1/21/15) I'm told that one of the new rides opening at Drayton Manor this year in the Thomas Land expansion will be a Toby themed Zamperla Barnyard ride.
(10/29/14) A reader returned from a visit to Drayton Manor and tells us that "a lot of progress has been made on the thomas land expansion , it is quite large and should nearly double the size of the area , they appeared to have laid foundations for at least 3 more rides , the most noticable work has been the construction of a fairly large two storey building at the very back of the new site which has a glass structure on the roof which looks kind of like an air traffic control tower". Smaller building structures are also going up which could be for carnival game booths.
(10/3/14) A Screamscape reader confirmed that work crews were preparing the lot behind Thomas Land for the 2015 expansion and even has a posted up on a wall confirming it would be ready by Easter 2015. While we still don't have any hard details, the rumors suggest that a ride or two removed from the Robinson's Land (which was replaced by Thomas Land), might make a return.
(10/1/14) I don't know any details, but ThemeParks-UK is reporting that Thomas Land at Drayton Manor will be expanded for the 2015 season. Anyone know more?

???? - Hotel Hamilton - Planning - (7/5/13) According to this article, Drayton Manor is planning a new 85 room hotel to be called the Hotel Hamilton, named after their founder, George Herbert Hamilton Bryan. Construction may start as early as 2015 and will have a Spanish style architecture.