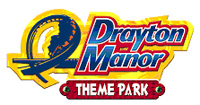 DRAYTON MANOR
United Kingdom
Park News - (1/12/16) Congratulations to Drayton Manor who is celebrating the close of a record breaking 2015 season in terms of attendance, which saw the park's numbers rise by 10% over 2014. Unfortunately, it seems they were not willing to give out the actual attendance figure itself.
2016 - Tamarin Trail - Confirmed - (1/12/16) A new animal exhibit showcasing eight different kinds of tamarins and marmosets, complete with a lush garden path and atmosphere.
???? - Hotel Hamilton - Planning - (7/5/13) According to this article, Drayton Manor is planning a new 85 room hotel to be called the Hotel Hamilton, named after their founder, George Herbert Hamilton Bryan. Construction may start as early as 2015 and will have a Spanish style architecture.