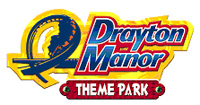 DRAYTON MANOR
United Kingdom
Park News - (7/6/15) Drayton Manor has welcomed in a pair of endangered Sumatran Tigers into the Zoo section of the park, named Dua and Dora. It is thought that there could be less than 400 of these animals left in the world today.


(6/15/15) Drayton Manor has put forth a new Rainy Day Guarantee.
"For the remainder of June, the park, near Tamworth, Staffordshire, is allowing visitors to return for free on another date in June or September, if it rains continuously for two or more hours on the day of their visit."
"*To qualify you must have purchased advanced tickets directly from Drayton Manor Theme Park. The rainy day return tickets will only be considered if it rains heavily and continuously for a period of over two hours between 10am and 5pm (Ride closing time). Rainfall after 5pmwill not be considered. In order to claim the return visit guests will need to call the call centre on 08442 472 1960, giving their original reservation details so that a new reservation may be given for their return visit. Guests are asked to check the website prior to calling to ensure that their visit date has been deemed a rainy day. Visitors will then be able to return later in June or September for free. Please check the website for specified dates."

2015 - Thomas Land Expansion - Confirmed - (4/9/15) Congrats to Drayton Manor for opening their Thomas Land expansion this week.
(2/23/15)

Drayton Manor has confirmed that three new rides will be added to Thomas Land as part of their 2015 £2.5 million capital expansion. The new rides will include: Flynn's Fire Rescue, Captain's Sea Adventure and Toby's Tram Express, plus they will add a two-story Sodor Airport themed building to go along with the existing Jeremy Jet's Flying Academy which will be moved to the new location. The airport terminal building will feature a new cafe and the upstairs will include a balcony for better views of Thomas Land as well as five private party rooms for rent for special events. Look for the new expansion to open by Easter.
(1/21/15) I'm told that one of the new rides opening at Drayton Manor this year in the Thomas Land expansion will be a Toby themed Zamperla Barnyard ride.
(10/29/14) A reader returned from a visit to Drayton Manor and tells us that "a lot of progress has been made on the thomas land expansion , it is quite large and should nearly double the size of the area , they appeared to have laid foundations for at least 3 more rides , the most noticable work has been the construction of a fairly large two storey building at the very back of the new site which has a glass structure on the roof which looks kind of like an air traffic control tower". Smaller building structures are also going up which could be for carnival game booths.
(10/3/14) A Screamscape reader confirmed that work crews were preparing the lot behind Thomas Land for the 2015 expansion and even has a posted up on a wall confirming it would be ready by Easter 2015. While we still don't have any hard details, the rumors suggest that a ride or two removed from the Robinson's Land (which was replaced by Thomas Land), might make a return.
(10/1/14) I don't know any details, but ThemeParks-UK is reporting that Thomas Land at Drayton Manor will be expanded for the 2015 season. Anyone know more?

???? - Hotel Hamilton - Planning - (7/5/13) According to this article, Drayton Manor is planning a new 85 room hotel to be called the Hotel Hamilton, named after their founder, George Herbert Hamilton Bryan. Construction may start as early as 2015 and will have a Spanish style architecture.