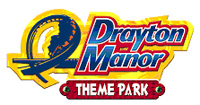 DRAYTON MANOR
United Kingdom
Park News - (4/14/14) Congratulations to Drayton Manor for their success in grabbing both of the Guinness World records they were attempting: for having 3152 people dressed in onesies, who also achieved the longest scream maintained at 80 decibels for 8 minutes and 45 seconds.
(4/9/14) Drayton Manor will attempt to break two Guinness World Records this Saturday, one to regain their previous record for having the largest gathering of people in "onesies" and the second will be to create "the longest scream". If you've got a onesies to wear to the park that day, you can get in for just £5 if you arrive bright and early and in time for the record attempt at 10:15am. To get the onesie title back, they need at least 1,184 people.
2015 - Thomas Land Expansion - Rumor - (10/1/14) I don't know any details, but ThemeParks-UK is reporting that Thomas Land at Drayton Manor will be expanded for the 2015 season. Anyone know more?
???? - Hotel Hamilton - Planning - (7/5/13) According to this article, Drayton Manor is planning a new 85 room hotel to be called the Hotel Hamilton, named after their founder, George Herbert Hamilton Bryan. Construction may start as early as 2015 and will have a Spanish style architecture.