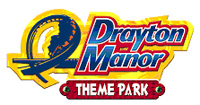 DRAYTON MANOR
United Kingdom
Park News - (10/14/18) UPDATE - While the ride is still listed on the park's website, the closed G-Force coaster at Drayton Manor is now said to be closed for the foreseeable future. The unique compact looping coaster from Maurer just opened back in 2005. There have been some rumors on social media claiming it may be closed for good, but this has not yet been fully determined as the future fate of the ride is said to still be determined. For now just expect it to remain closed through at least the 2019 season. (UPDATE - We still expect this ride to remain closed and be confirmed as to be removed sometime in 2019.)

(1/12/18) I'm told that Drayton Manor has closed and removed the park's old Cable Cars (aerial tram) ride. From what I'm told the ride may have closed sometime in 2017, but as of right now, it looks like the cable and old supports may have also been removed from the park.
2018 - Ice Age: No Time For Nuts - (3/26/18) I'm told that Drayton Manor will open their new 4D theater film, "Ice Age: No Time For Nuts" on March 28, 2018. You can read a few more details about the new film over at ThemeParks-UK.
???? - Hotel Hamilton - Planning - (7/5/13) According to this article, Drayton Manor is planning a new 85 room hotel to be called the Hotel Hamilton, named after their founder, George Herbert Hamilton Bryan. Construction may start as early as 2015 and will have a Spanish style architecture.