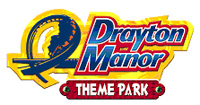 DRAYTON MANOR
United Kingdom
Park News - (1/12/16) Congratulations to Drayton Manor who is celebrating the close of a record breaking 2015 season in terms of attendance, which saw the park's numbers rise by 10% over 2014. Unfortunately, it seems they were not willing to give out the actual attendance figure itself.
2016 - Tamarin Trail & revised The Haunting - (4/26/16) Drayton Manor has unveiled a new and improved version of The Haunting dark ride experience, twenty years after the ride first opened at the park. "The Haunting is based on the legend of an old vicarage located on the Drayton Manor estate where the sudden passing of the vicar led to a series of strange circumstances and unexplainable events."
"In the previous iteration of The Haunting, visitors were invited into the spooky vicarage in order to locate people who had gone missing. The new story takes places 20 years later, where after two decades of neglect and abandonment, a company known as Research into Paranormal Activity (RIPA) was called in to resolve the mystery once and for all."


(3/2/16) Drayton Manor will open the brand new Tamarin Trail this year, which will take guests "through beautiful planted gardens, allowing children and adults alike to come face to face with a troop of mischievous monkeys. During the trail adventure, guests will be able to get up close and personal with the cute and inquisitive Tamarins and Marmosets, including the White Lipped Tamarin, Red Handed Tamarin, Emperor Tamarin, Cotton Top Tamarin and the Common Marmoset, housed across eight different enclosures. This exciting new attraction is set to open during Easter and will land just in time for the school holidays."
(1/12/16) A new animal exhibit showcasing eight different kinds of tamarins and marmosets, complete with a lush garden path and atmosphere.

???? - Hotel Hamilton - Planning - (7/5/13) According to this article, Drayton Manor is planning a new 85 room hotel to be called the Hotel Hamilton, named after their founder, George Herbert Hamilton Bryan. Construction may start as early as 2015 and will have a Spanish style architecture.