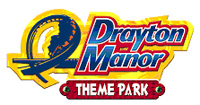 DRAYTON MANOR
United Kingdom
Park News - (8/5/20) Drayton Manor has confirmed that just as the theme park fell into Administration it was purchased by Looping Group. Looping Group runs a collection of 15 theme parks and attractions across the European landscape in 7 countries. In addition to Drayton Manor they also own Pleasurewood Hills, Fort Fun, Bagatelle, Hellendoorn and more.
According to a statement from Drayton Manor, Looping Group will "will retain all staff and has ambitious plans to ensure the park's long-term sustainability. All bookings with the Park & Hotel will remain in place."

(2/20/20) The latest update on Drayton Manor comes from the BBC who reports that the theme park will now be closed for about two weeks in recovery from damage caused by flood waters. Water is still being pumped out of the site so that damage can be assessed. For now the park will be closed until at least Feb. 29th.

(2/17/20) Drayton Manor has reported that the park will be closed for several days as they work to recover from flooding issues caused by a recent storm. So far the park has indicated that they will at least be closed through Feb. 19th and will post updates on social media as they determine more.




(10/14/18) UPDATE - While the ride is still listed on the park's website, the closed G-Force coaster at Drayton Manor is now said to be closed for the foreseeable future. The unique compact looping coaster from Maurer just opened back in 2005. There have been some rumors on social media claiming it may be closed for good, but this has not yet been fully determined as the future fate of the ride is said to still be determined. For now just expect it to remain closed through at least the 2019 season. (UPDATE - We still expect this ride to remain closed and be confirmed as to be removed sometime in 2019.)

2020 - Nothing is known at this time...