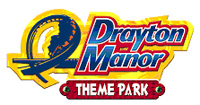 DRAYTON MANOR
United Kingdom
Park News - (4/14/14) Congratulations to Drayton Manor for their success in grabbing both of the Guinness World records they were attempting: for having 3152 people dressed in onesies, who also achieved the longest scream maintained at 80 decibels for 8 minutes and 45 seconds.
(4/9/14) Drayton Manor will attempt to break two Guinness World Records this Saturday, one to regain their previous record for having the largest gathering of people in "onesies" and the second will be to create "the longest scream". If you've got a onesies to wear to the park that day, you can get in for just £5 if you arrive bright and early and in time for the record attempt at 10:15am. To get the onesie title back, they need at least 1,184 people.
2014 - Air Race - (8/23/14) Drayton Manor tells us that their new Air Race ride has not only proven very popular… but also "sickeningly good". So much so " that passengers are now being supplied with sick bags in case of emergencies during flight" as well as having a installing a water hose to keep at the ready in case of an accidental protein spill in mid-flight.
So has anyone had to take advantage of this new benefit yet?
(7/7/14) ThemeParks-UK shows off the opening of the new Air Race ride at Drayton Manor that took place this past weekend.
(6/11/14) According to this report Drayton Manor will open their new Air Race ride on July 5th, along with an in park appearance by a UK band, "The Vamps".
(1/21/14) Drayton Manor has confirmed to Screamscape that they are indeed adding a new Air Race ride for 2014 as Screamscape posted just yesterday.
"Air Race, will take riders on a stomach-churning aerial adventure, turning their world upside down at a height of up to eight metres. Accommodating up to 24 riders at one time in six, four-seater aeroplanes, 'pilots' will experience accelerations of almost 4G as they board the acrobatic aeroplane flight.
Riders will take their seat preparing for take-off, gliding from side to side at increasing heights whilst circling around the control tower. Before long, a series of gravity defying barrel rolls in both directions will have you soaring and diving throughout the air. With banks, loops, dives and weightlessness to test even the most experienced thrill seekers, it promises to be the flight of your life."
(1/20/14) According to Screamscape sources the new ride coming to Drayton Manor for 2014 will be a Zamperla Air Race.
(1/14/14) So what is the new thrill ride coming to Drayton Manor in 2014? According to ThemeParks-UK it will be located in the Action Park area near Maelstrom, Shockwave and G-Force, but so far no one seems to know what exactly it will be. Anyone care to share?
???? - Hotel Hamilton - Planning - (7/5/13) According to this article, Drayton Manor is planning a new 85 room hotel to be called the Hotel Hamilton, named after their founder, George Herbert Hamilton Bryan. Construction may start as early as 2015 and will have a Spanish style architecture.