DUBAI Developments & Attractions
Dubai, U.A.E.
New Theme Parks, Attractions and Resorts - (9/18/14) Dubai Parks & Resorts LLC, a Meraas Holding company, has confirmed some milestones have been met for the Phase 1 construction of the new theme park resort property. 1,500 workers are currently working on the project, with that number expected to increase to 6,000 by 2015. Currently nearly 30% of the infrastructure is complete, and the power substation is 35% complete. (See the new pictures below)


(9/8/14) Screamscape was sent a couple of great images showing off the Phase 1 development of the Dubai Parks & Resorts project which will feature three theme parks, a themed family hotel as well as a retail and dining district. Construction on the site started back in February 2014 and is slated to open to the public in 2016.
This was all part of the big unveiling from Dubai-based development company, Meraas Holding. "Launched under the directive of His Highness Sheikh Mohammed Bin Rashid Al Maktoum, Vice-President and Prime Minister of the UAE and Ruler of Dubai, Dubai Parks & Resorts has been designed as a mega leisure and entertainment destination to serve the regions that are within an eight hour flying distance from Dubai."
The Phase 1 theme parks will be LEGOLAND Dubai, Motiongate Dubai and Bollywood Parks Dubai, along with the Lapita family themed hotel and Riverpark which will serve as an entrance place and location for the on-site retail and dining area.
LEGOLAND Dubai will be the first LEGOLAND park in the middle-east, and 7th Legoland branded park in the world. Bollywood Parks Dubai will serve as the world's first theme park dedicated solely to the Indian film industry and Motiongate Dubai is described as featuring four themed zones to transport guests on "a journey of discover, brining to life some of the most recognizable Hollywood characters from the big screen. The park will use the latest-in-technology attractions and new-generation rides to offer a distinctly unique, high-value entertainment experience."
On a related note, ThemeparX has a nice collection of aerial images showing off the Dubai Parks & Resort project site as well taken earlier this year where you can see Phase 1 ground-work already in the works.
(8/21/14) Remember Universal Studios Dubailand? They got as far as building an office building area and initial land clearing before getting shut down. The latest update from ThemeparX shows new pictures of the old office space area for the park as it is being demolished.
(8/6/14) This article is reporting that Legoland Dubai is on track to open in 2016. Merlin will manage the park under a contract for Meraas Holding who is the developer. Meraas is also involved with Six Flags to open a park by 2017 in Jebel Ali.
(8/5/14) A look at the current construction that has started for the newest theme park concepts in Dubai can be found at ThemeparX.
(7/7/14) Disney & More has some new details and concept artwork for a wild and crazy proposal for Dubai called the Dubai Mall of the World that appears to want to build it's own cityscape within a giant environmental controlled dome. If you read the article, you will see that their projection and hopes for tourism to visit the giant domed in cityscape are 180 million a year, which is more than the entire United States and France can pull in combined and just not feasible. I wouldn't count on seeing this one get built… but it is fun to look at.
What to see another proposal that will probably never get off the ground? Be sure to check out the latest concept art for something called Disneyland Dubai which would feature many traditional Disney style lands, but also seems to include a Cars Land as well as a Star Wars themed version of Tomorrowland, complete with Tie Fighter and X-Wing themed ships in place of the Astro Orbiter along with a full scape Millennium Falcon.
(7/2/14) An underwater themed environment park for Scuba divers to enjoy is being planned for the shadow waters off Dubai's "World Islands". It will be called the Pearl of Dubai and feature large set pieces installed at the bottom of the ocean on a 5-acre site, designed to look like a lost sunken ancient city.
(4/22/14) The design plan for the $1.6 billion Bluewaters Island project set to be built off the coast of Dubai's Jumeirah Beach Residences is being changed. Under the old plan, it was to be split into three zones, one that would primarly feature residential sites, an second earmarked for only resort hotel development and the third would contain a mix of retail and leisure based sites along with the Dubai Eye, set to become the world's tallest observation wheel standing 210 meters tall (689 feet).
However, according to this article, the entire Master Plan has been redesigned to make it "more inviting for the guest". No further details were made available to the public just yet, but this could be an interesting development to keep an eye on.
(4/14/14) A new deal has been signed to bring a Six Flags theme park to Dubai it seems. According to the announcement the park may open as early as 2017 in Jebel Ali as part of a multi-park development plan by Meraas.
(3/6/14) Screamscape sources tell us that grading and early foundation work for the new Legoland Dubai theme park is already under way.
(3/5/14) According to this article, Merlin has confirmed that they will move forward with their plans to build Legoland Dubai, hoping to open the park in 2016.
(2/24/14) An interesting new attraction could soon be under construction in the waters off Dubai… an underwater themed environment is being designed for the shallow waters at The World islands area under the working title of "The Pearl of Dubai". They want to build an exciting looking themed world of ruins and structures that can be enjoyed by Snorkel and Divers as well as make a happy home for the local fish / marine life to create a perfect balance for all. The official announcement to launch the project will take place in March.
(12/9/13) The Atlantis Resort at The Palm Jumeirah in Dubai has been sold. According to this article Dubai World has sold the popular famous resort destination to state-owned sovereign wealth fund Investment Corporation of Dubai.
(10/22/13) According to ThemeparX the first phase of construction for the Jebel Ali theme park projects may have started. This is expected to include a new Legoland park, though I'm not sure if it will be a traditional outdoor Legoland park or one of the smller Legoland Discovery Centers. Merlin confirmed Dubai as a future site in this article from Bloomberg regarding their plans to launch an IPO.
(8/16/13) Construction pictures taken at the Atlantis resort in Dubai last month posted to ThemeParx show off the progress being made on the new Tower of Poseidon multi-slide tower complex, as well as some new concept artwork for it that I had not seen before.
(7/12/13) According to this report the dream of building Universal Studios Dubailand is still alive as Dubai Holding and Tatweer Parks have confirmed that they are in talks with Universal Studios over the project once again.
(6/6/13) Atlantis, The Palm will open The Tower of Poseidon this August in the Aquaventure waterpark. The new expansion will feature several new unique and world's first slides all launching from the 40 meter tall Tower of Poseidon. According to the press release it will, "feature a number of world firsts, including the world's largest diameter slide, the world's first vertical banking family ride with a double hump at the end, and first double slide within a slide experience, allowing tube riders in one ride to watch the other ride sliders dramatically in action, suspended above them." In addition to high thrill slides, it will feature two family rides allowing for groups up to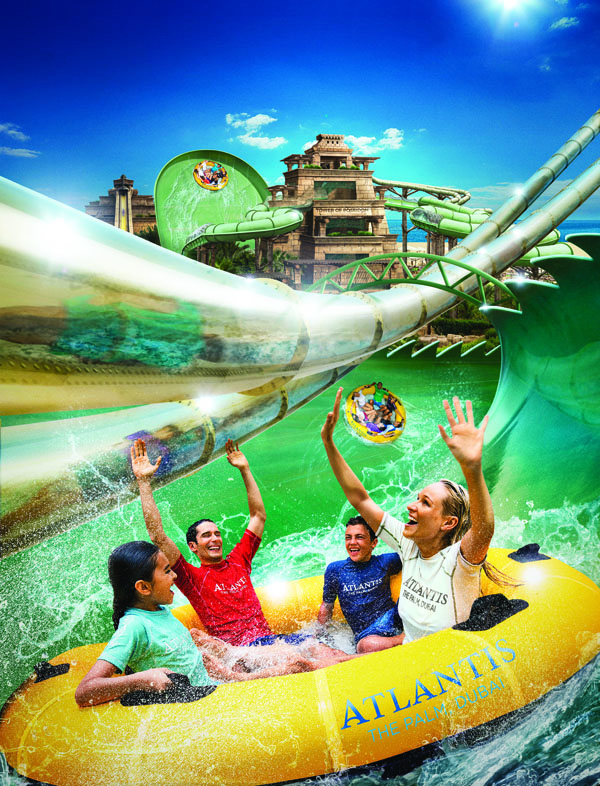 six to ride together.
Aquaventure will also seen be home to the longest zipline circuit in the Middle East, allowing riders to zip down over the waterpark and Aquaventure Beach area. All new dining experiences will also be added to Aquaventure featuring a variety of options.
(5/14/13) ThemeparX reports that the Atlantis Dubai Resort has now begun construction on a new expansion of the resort's Atlantis Aquaventure waterpark area. Also in Dubai another 'Amusement and Water Park" project has begun construction called Al Montazah.
(5/13/13) According to interesting updates about the Universal Studios Dubai project posted to ThemeparX, several Universal execs and Dubai businessmen were seen taking a tour of Universal Studios Florida the other day. This could be in regards to the possible revival of the Universal Studios Dubai project, possibly as part of the new Mohammed bin Rashid City complex. According to another post, they will take their time with that one, with the first phase of the project (which may include the theme park) not set to be complete until around 2020.
Meanwhile new pictures from the Dubailand area show that an actual attraction has actually opened at least… the Dubai Miracle flower garden. Check it out here plus some other pictures of the nearby area.
(4/23/13) Another new attraction has been announced for Dubai… this one called Dubai Safari. The plan of Dubai Safari is to build a huge natural animal habitat. They report that the first phase of construction is complete and that they hope to open the 29 hectares park by late 2014. Once open, the park will replace the existing 1.5 hectare Dubah Zoo in Jumeirah.
(2/18/13) Dubai is at it again, this time with a plan to build the Dubai Eye, the world's biggest Giant Wheel that would stand 688 feet tall. Construction on the Dubai Eye is supposed to start sometime in 2013 if all goes well, so stay tuned. The wheel is part of a larger "Blue Waters" project area and you can see a bunch of pictures of a model they had set up on display here.
(1/10/13) According to the latest update posted to The Theme Park Guy Construction Board, new layout art released for "Mohammed Bin Rashid City" now shows off what looks very much like the old Universal Studios Dubailand layout as part of this new plan. The image is tiny, and details are almost impossible to make out, but the comparison of this new Universal Studios Dubai project to the old Dubailand one are striking. Could Universal Studios Dubai be back on the development track?
(11/28/12) An aerial piece of artwork, overlayed over a photo of Dubai (click here) shows off the conceptual layout of the Mohammed Bin Rashid Gardens project, which is said to be a part of the larger Mohammed Bin Rashid City project. More art and even a video showing off the Gardens project can be seen here. I'm told that this is closer to the city than the old Universal Dubailand site, which can be good… though it has also been pointed out that while they claim Universal is involved, and there will be a theme park, we don't know for sure what form this park may take. This could be more of an indoor Universal Studios Experience style project, like the one proposed for Russia. Actually, if you read the exact text, they really only link Universal to the mall project and not the theme park, which seems odd, but the park could have nothing to do with Universal at all at this point.
That said… it also looks like others in Dubai may be trying to jump on the bandwagon. It was reported that a $2.7 billion complex was announced promising five theme parks projects: one based on Bollywood, the Dubai Adventure Studios (an "adventure park featuring Hollywood brands), a water and marine life park, a children's park and a night safari. This project, developed by Meraas Holding, will be located in the Jebel Ali area. This project was given approval by the ruler of Dubai, but I'm currently under the impression that it is a separate project from the Mohammed Bin Rashid City project. Anyone else know more?
(11/27/12) According to this news article, Dubai's new Mohammed Bin Rashid City project will have a theme park built as a collaboration with Universal Studios included in the first phase. Phase two will focus building the world's new largest mall, to be called "Mall of the World". The new "city" area will also be home to over 100 hotel facilities to accommodate the needs of the guests as well as a few golf-courses. The new city project will be developed by Dubai Holding and Emaar Properties.
"The new city will be located between Emirates Road, Al Khail Road and Sheikh Zayed Road, and will include Mohammed bin Rashid Gardens Project." It will also be connected to Downtown Dubai and Businesss Bay through something called Cultural Crossing, which will include a number of art galleries.
Now that we have a basic rough location, does anyone know if the old Universal Studios Dubailand site that had previously begun early ground work construction falls into the site area of "Mohammed Bin Rashid City", or will they be starting over somewhere else?
(11/26/12) Fox News reports that Dubai has unveiled plans for a new tourism based "City" that will feature a massive mega-mall for retail shopping and dining, luxury hotels and a theme park. Little in the way of actual hard details were released yet, but they say that the mega-mall itself is planned to "outclass" the existing Dubai Mall, which currently is the world's biggest. Unfortunately, I've found no details on just what kind of theme park they are planning just yet. They are calling this new 'city' the Mohammed Bin Rashid City, named after the ruler of Dubai, Sheik Mohammed Bid Rashid Al Maktoum. While we have seen many a plan in Dubai promoted and quickly fail to materialize build over the past several years, the fact that this one is named for Dubai's ruler does seem to put some pressure on the parties involved in making this one project actually get built as promised.
In a stark comparison, just the other day TheThemeParkGuy has posted a very interesting update to his forum, showing off the previous Dubailand theme parks and major project plans and aerial photos of the sites as they appear today, partially built or even totally empty. Several pieces of artwork show off five separate theme parks projects, all attached to a CitiWalk style retail corridor that ran in between them. The parks are unnamed, but we can assume we may be looking at the sites for the once proposed Legoland, Dreamworks, Marvel and Six Flags Dubailand projects. The Universal studios site was located a bit further away, as was the F1-X theme park intended to go in next to the race track at Motor City as you can see in the aerial photos posted back in July.
(7/31/12) TheThemeParkGuy has posted a new update from Dubailand, with a quick look at the status of how the site is today, as seen close up from the view of a bike rider who ventures up close and personal with a video camera. The sites of several other Dubailand projects are now seen in Google Earth as well such as the Motor City race track area with the early foundations in place for the dead F1-X theme park, the desert slowing taking back the land clering once done for Universal Studios Dubaialand, the rotting site of the Tiger Woods Golf Course, City of Arabia, Mall of Arabia and more.
Now it is also interesting that a new revised promotional video for Dubailand was released on YouTube back in May showcasing the more modest vision for Dubailand, focusing more on what has been built so far (See below). If you wait until the very end of the video however, they do have a brief section on future attractions where they show off that they still seem to be planning to build the Universal Studios Dubailand and Legoland Dubailand theme parks.

(5/17/12) Dubai… you have my deepest interest once again. According to this report at Bloomberg, a crazy new project is in development for Dubai called the Water Discus Hotel, described as "a luxury underwater hotel". This project comes from Dubai-based Drydocks World and Swiss consulting and engineering firm BIG InvestConsult. The technology for the resort comes from Deep Ocean Technology of Poland, which will feature 21 two-person rooms with huge windows to view world from 10 meters down, as well as an underwater diving center. Want more? Apparently the plan is for the underwater disc structure to slowly rotate as well.
The surface portion of the hotel above the waves will feature a spa, garden area, and a swimming pool for those not wanting to swim in the real ocean. The hotel itself is actually more of a free floating 'ship' than a building, as it is not attached to the ocean floor in any way. The hotel section can be brought back to the surface in as little as 15 minutes for repairs or in case of evacuation, or when they are ready to tow it to a new destination.
Maybe it's just me, but this whole project really reminds me of the underwater Sea Castle base from Disney's old Horizons ride that used to be at Epcot. In fact, check out the Horizon's inspired Retro Poster. It's like they merged the Mesa Verde building with the Sea Castle into one structure. Hmmm… Deep Ocean Tech may end up owing Disney Imagineering royalties for that one…
That aside… it's also worth noting that another underwater resort project called Poseidon is also currently under construction and hopes to open in about 20 months off the coast of Fiji.

(4/5/12) TheThemeParkGuy has posted a nice little collection of artwork and details about several various theme park projects once announced for Dubai. This includes the Al Sahara Kingdom project which wants to get off the ground again, Six Flags Dubailand, Marvel Dubailand and links news article about F-1 X, Restless Planet, Legoland Dubailand, Dreamworld Animation Park and many others.
(12/22/11) According to ArabianBusiness.com, a new $600 million movie-based theme park project will start construction in early 2012. The park will be called Dubai Adventure Studios and will feature five themed zones, attractions based on major US-branded movies, and hopes to open by sometime in 2014. Dubai Adventure Studios is just Phase-1 of a 3-Phase project from Meraas, a Dubai based real estate company.