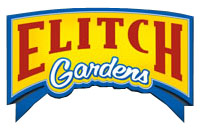 ELITCH GARDENS
Denver, Colorado (Abbreviation: EG)
Known at Six Flags Elitch Gardens (1999 - 2006)
Owned by KSE Elitch Gardens / Reversco / Second City, LLLP.
Managed by Premier Attractions Management
Park News - (6/29/15) According to a local reader update, Elitch Gardens has finally opened SlideZilla after a several week delay, mostly due to weather problems. In other park news, I'm told that Halfpipe is finally up and running quite well after suffering from some downtime issues. Meanwhile the Thunderbolt flat ride is said to be likely down for the rest of the season due to technical problems.
(6/8/15) Elitch Gardens has been sold! Yep... according to this article CNL Lifestyle Properties has sold the theme park to an investor group "involving Kroenke Sports and Entertainment", Reverso Properties and Second City Real Estate who has several million in planed upgrades in store for the park in the future. The new joint entity that owns the park will be called KSE Elitch Gardens / Reversco / Second City, LLLP.
While Elitch Gardens has a new "owner", the group will be keeping Premier Parks, LLC on to operate/manage the park's day to day operations for them.
(3/31/15) We aren't sure why, but our local source sent in some more interesting pictures from

Elitch Gardens this week, this time showing off The Edge waterslide which appearing to be in the process of being taken apart. Anyone know more about what's going on?
(3/26/15) And now the other shoe has dropped... the Shake, Rattle & Roll ride appearing to be in the process of being taken down according to the latest pictures (see below) sent in from a local reader.
(3/25/15) A reader has confirmed that Shake, Rattle & Roll has been removed from the park's official website.
(3/18/15) While it isn't the best picture... a reader strolling on the trail around the outside of Elitch Gardens spotted something very interesting through the fence... a large COW figure that may look very familiar to some of you. Yes... this is the same cow figure that was formerly set up at Hard Rock Park (As seen in the second pic) that would "talk" to guests as they passed by and even squirt water at them from the udders. Why in the world this has ended up at Elitch Gardens is beyond me... anyone know more?!
(2/13/15) According to Screamscape sources, the Huss Top Spin ride at Elitch Gardens (otherwise known as Shake, Rattle & Roll) will not be returning to the park this season. Apparently the ride is in bad shape, but will probably sit SBNO (Standing, But Not Operating) for most of 2015 until the park figures out a new plan for the location.
I've also been informed that the wait times for Tower of Doom will be a little longer this year, as one of the tower's three sides has a problem, and may be closed for most of the 2015 season as well.
The good news is that the park apparently does have a plan to add "something" new for 2015… but considering how long they have waited, it most likely won't be anything very large. Stay tuned!
(2/2/15) A reader informed us that Elitch Gardens has removed the Shake, Rattle and Roll (Huss Top Spin) ride from the list of thrill rides on their website for some reason. Normally this is a sign that either a ride is about to be removed... or sometimes it's just a website glitch. So far, I'm told that the ride is still standing within the park however, so we'll have to wait and see.
(7/30/14) A quick note was sent in by a local area reader to say that Half-Pipe was up and running once again at Elitch Gardens, which is great to hear. Unfortunately, they also reported that the ride seemed abnormally rough for some reason as well, so maybe they haven't quite got it up to 100% quite yet.

2015 - Slidezilla - Under Construction - (3/11/15) Elitch Gardens will add Slidezilla to the park for 2015, a new 6-story mega waterslide that will feature a bowl style element as well as a half-pipe element. Check out the video below!



(2/18/15) Screamscape sources have confirmed that Elitch Gardens is indeed getting a new waterpark attraction, but apparently that isn't all. If things work out the park may be adding another new attraction by the middle of the summer, but that deal isn't 100% confirmed just yet.
(2/16/15) Construction has now begun at Elitch Gardens, with excavators now digging up a site near the waterpark, close to the Tube Tob slide on the back edge of the park. Given the location, I can only guess that the park's 2015 attraction is going to be some kind of new waterslide. Thanks to one of our readers for sending in the construction photos as well as a small piece of the park map with a gold star making off the location of the project.