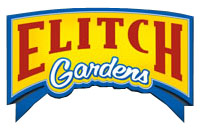 ELITCH GARDENS
Denver, Colorado (Abbreviation: EG)
Known at Six Flags Elitch Gardens (1999 - 2006)
Owned by CNL Lifestyles Properties

Park News - (11/23/13) According to the latest rumors Herschend Family Entertainment (HFE) and CNL Lifestyle Properties may have decided to part ways when it comes to HFE's management contract for Elitch Gardens. CNL announced that HFE would take over the management duties of Elitch Gardens and Darien Lake back on January 25, 2011.
While I have yet to hear an official announcement, it is worth noting that HFE has already removed any mention of the Elitch Gardens theme park from their official list of attractions. The deal to manage Darien Lake, another CNL property, is apparently still in effect however, and still listed on the website.
So far there has been no word on who CNL might hire to manage Elitch Gardens for the 2014 season, though I would think that one of the four other management partners would likely have the inside track to run the park. That would be either:
Amusement Management Partners – Magic Springs and several FECs
NorPoint Entertainment – Wild Waves (doubtful)
Palace Entertainment – Waterworld
Premier Attractions Management – Frontier City/White Water Bay and Splashtown
If I had to bet, I'd say Premier might have the edge here anyway, as Kieran Burke is a former Six Flags CEO and is already familiar with Elitch Gardens and helped broker the deal to sell it from Six Flags to CNL in the first place. Plus Premier and CNL just signed a new deal to run the Wet 'n' Wild waterparks in Hawaii and Phoenix.
(10/9/13) A reader took a bike ride past Elitch Gardens on Tuesday and paused to check out the status of Half Pipe. They report that the train had been removed from the track and posted a photo to our Facebook page showing what appears to be one or two missing LIMs removed from the track.
(10/7/13) A reader sent in word about an interesting occurrence that t

ook place at Elitch Gardens early Saturday evening. According to the report the park's Half Pipe ride suffered a major malfunction and possible partial de-rail while they were riding on it. Rather than speculate, I'll just post the report as it was sent to me for everyone to read as well as a few photos they were able to take of the ride after getting free of it.



"Today I was on Half Pipe with a friend, our first ride of the day and it literally crashed n derailed. Somehow no one contacted the news. During the ride duration while coming down the east spike the car HIT the LIM causing a crash sound. Immediately the ride went into its safety cut out mode. As we flew through the station now slowing down suddenly the coaster began to derail literally and a bunch of sparks bursted as we entered the west spike. While all this happening, piece of the LIMs and coaster parts were flying in the air. The crash sound and jolt of the coaster with sparks flying around followed a distinct electric burning smell. No one was hurt. Overall the park handled the situation well. This happened all around 630pm on saturday 10/5"



Glad to hear that everyone got off safely off this fairly unique flat ride creation from Intamin. Click here to see a video of how the ride experience is supposed to work.

2014 - Nothing is known at this time...

???? - X-Coaster / Skyloop - Status Unknown - (1/21/13) An interesting story update came my way regarding the future plans for Elitch Gardens. According to our source, the park did indeed buy the X-Coaster from Magic Springs in Arkansas. The park was said to be in the process of preparing to move the ride and had already had sent a team to remove and transport the coaster's electrical systems. However when the crews went out to begin planning how to take the ride apart, they discovered that much of the top section of this unique coaster design was welded together and would take a bit more work and time to cut apart for transport. While Elitch Gardens is still planning on getting the coaster, these plans are on hold for now, and hoping to happen in 2014 instead.
For 2013 the park's new kiddie coaster will actually be the former Marvel Mania coaster from Alabama Adventure, a fairly standard Miler kiddie coaster design. The former Marvel Mania coaster will replace Elitch's Cactus Coaster which is being sent to Frontier City.
(1/18/13) According to the latest rumors, Elitch Gardens may not be getting the X-Car SkyLoop coaster from Magic Springs after all. According to our one source, the pieces of the X-Coaster may have been welded together rather than bolted, making re-assembly far too costly. (While I know Magic Springs closed X-Coaster, has anyone noticed if the park actually took the ride out yet?)
Meanwhile, the park is rumored to be adding some kind of kiddie coaster to the park instead, possibly a used one from another park. Anyone know more about this new rumor? To be fair, the park never announced anything for 2013 yet, so this is all a work in progress.
(11/16/12) Screamscape sources have reported in from Elitch Gardens this week, claiming that there appears to be some kind of excavation work going on next to the park's amphitheater, possible near where the Flying Coaster used to be.
(10/9/12) Odd rumor coming from Elitch Gardens this week, as there is a rumor going around the park about how a new coaster may be added to the park in the next year or two. The rumors describe it as a mixture of the park's 'Half Pipe" and 'Boomerang" coasters, but with a closed circuit and with a roll over inversion at the top. Yep… sounds very much like a Maurer X-Car SkyLoop style coaster.
SkyLoops are not common, especially not in the USA where only one has ever been built. Funny though, it was just announced this week that Magic Springs, a fellow CNL Lifestyle Properties park, was removing this exact coaster model at the end of the month. If the rumors are true, we can expect to see X-Coaster shipped over from Arkansas and get installed in the location of the old Flying Coaster.