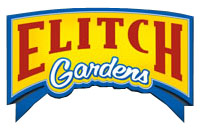 ELITCH GARDENS
Denver, Colorado (Abbreviation: EG)
Known at Six Flags Elitch Gardens (1999 - 2006)
Owned by KSE Elitch Gardens / Reversco / Second City, LLLP.
Managed by Premier Attractions Management
Park News - (3/8/18) According to the park owners, they have some big redevelopment plans for the area around Elitch Gardens, but they have no plans on removing the popular theme park. According to the local news many of the flat parking lots North and East of the park will be redeveloped for a variety of new uses (office, residential and retail), and a single large parking structure will be built instead.
Another interesting attraction is also planned to come to the area as well… another permanent Meow Wolf location is said to be on the way to the area with a planned opening in 2020. Longtime readers may remember our preview reports on the beautifully strange Meow Wolf attraction in Santa Fe, NM, which made headlines not long ago with the announcement that they were also planning to open another location in Las Vegas.
(12/1/17) Apparently there have been some rumors in the local market of Elitch Gardens possibly planning on leaving to allow the land it sits on to be used for other development, but the park says this simply isn't true. In fact they are building a new $3 million three-story office building for the park near I-25 that should be ready by August 2018. I'm not sure where the current offices are, but if they are on park property, this could be a sign of where future park expansion projects may be focused once the land is freed up.
2018 - Ghost Blasters Replacement - Rumor - (2/15/18) Screamscape has been informed that the former Ghost Blaster dark ride at Elitch Gardens has been gutted and is getting remade as an all new attraction that will opens sometime during the 2018 season. Anyone know more? If the report is true, the park has been silent about all of this so far and still has Ghost Blasters listed as an active attraction on their website currently. Anyone know more?