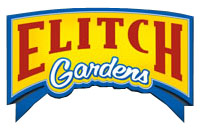 ELITCH GARDENS
Denver, Colorado (Abbreviation: EG)
Known at Six Flags Elitch Gardens (1999 - 2006)
Owned by KSE Elitch Gardens / Reversco / Second City, LLLP.
Managed by Premier Attractions Management
2016 - Internal Improvements - (4/14/16) One of our local area readers has sent in a great detailed report about the off-season maintenance that has taken place to Mister Twister II this year, along with some stunning photos.
Read on!


"Mister Twister II has received new layers of wood throughout it's course every off season since 2011. Some areas were complete stack, to top 3 layer replacement. There is one particular area of high speed high lateral stress that received the top layer replacement two seasons ago. Last season it was clearly visible that the track here was lifting off the headers. This off season the complete track and some headers were replaced from the pullout of the first drop up to the second turnaround. The new track is complete. As of4/7/2016 trains are being put back on track. No testing has begun yet."
(3/8/16) Screamscape sources tell us that Elitch Gardens will not be adding a new attraction for the 2016 season. Instead they will focus on fixing up their infrastructure, along with a remodel of the bath house in the waterpark, revising the main gate with new turnstiles and metal detectors, fixing up Mr. Twist II and more.