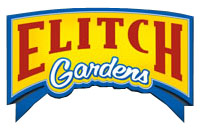 ELITCH GARDENS
Denver, Colorado (Abbreviation: EG)
Known at Six Flags Elitch Gardens (1999 - 2006)
Owned by CNL Lifestyles Properties
Managed by Premier Attractions Management
Park News - (7/30/14) A quick note was sent in by a local area reader to say that Half-Pipe was up and running once again at Elitch Gardens, which is great to hear. Unfortunately, they also reported that the ride seemed abnormally rough for some reason as well, so maybe they haven't quite got it up to 100% quite yet.
(6/12/14) According to our local sources it seems the new Brain Drain ride at Elitch Gardens is still suffering from issues and hasn't been running lately again. The park's Halfpipe ride is also still being reported as closed, with no one spotting it even making test runs as of late, after being spotted testing frequently last week.
(6/4/14) The latest report from Elitch Gardens locals is that the Half-Pipe was seen making test runs over the past few days. If all goes well, it could open to guests again very soon. Also, Brain Drain and Sidewinder were both up and running again.
(5/28/14) A new photo (see below) was sent in to Screamscape today showing off Elitch Garden's crew performing a pull through of the train on the Half Pipe ride, to check for all the proper clearance for the new LIMs.
(5/26/14) Workers appear to be close to finishing up a complete rehab of Elitch Garden's Half Pipe ride, where all new LIMs have been installed onto the track and the train is back in place in the station (see photos below). I would guess that testing has either just begun, or will begin soon, and a reopening can't too too far away if all goes well.
(5/13/14) Workers were

spotted at Elitch Gardens repairing the LIMs on the park's closed Halfpipe ride (see new photo). Looks like it will reopen this season after all. If you missed the story last October (scroll down) the Halfpipe ride suffered some kind of major malfunction and a possible partial de-rail while one of our readers was riding on it, as the LIM fins were hit and torn up as a result.
(1/21/14) Screamscape sources tell us that Chris Thorpe has been tapped as the new GM for Elitch Gardens. I'm told that previously he served as the GM at Darien Lake a few years ago, but we don't know much more.
(12/15/13) A quick look at the ownership information of ElitchGardens.com now tells us that Premier Attractions Management is now the official "Registrant Organization" listed for it, and not Herschend. Looks like CNL signed a new deal with Premier to manage the park for them going forward. The latest update to the domain's WHOIS file was just added on Dec. 12th.
(10/9/13) A reader took a bike ride past Elitch Gardens on Tuesday and paused to check out the status of Half Pipe. They report that the train had been removed from the track and posted a photo to our Facebook page showing what appears to be one or two missing LIMs removed from the track.
2014 - Brain Drain -

(5/29/14) Elitch Garden's new ride, Brain Drain, is having some issues it seems. According to photos sent in on Wednesday (May 28) the ride broke down to the point that a crane was brought into the park to remove half of the train from the ride.
(4/14/14) The new Brain Drain ride has been set up at Elitch Gardens rather quickly it seems, and was seen testing on Friday afternoon. Check out the video below. You can also see pictures of Brain Drain being put together here.

(3/31/14) (3/31/14) Scroll down near the lower half of the page at ElitchHappenings this week to see new pictures for the Brain Drain construction taking place, as well as workers retracking Mr. Twister.
(3/17/14) The latest pictures from ElitchHappenings show that the footers and a concrete pad area have been poured for the new Brain Drain ride.
(3/10/14) Elitch Gardens announced their new 2014 attraction late last week as Brain Drain. As rumored of Screamscape, it is a new style Ring of Fire / giant loop machine style flat ride. They did not get into specifics, but I believe this will be a Larson creation. It will stand 7-stories tall and sent riders through the giant loop forwards and backwards, seated in back-to-back facing seats in an open-air car.
Unfortunately, the public response to this news has been less than stellar, especially as these rides have been seen as a staple of traveling carnival ride packages for the past twenty years. A new ride is always a good thing, but considering that this is the first new 'thrill ride' to be added to Elitch Gardens in the past decade, I think the locals were expecting a bit more.

(3/5/14) The latest pictures from Elitch Gardens have been posted to the bottom half of the ElitchHappenings page this week. The park is also expected to make an announcement sometime this week as well, possibly about this new addition.
(2/24/14) The latest look at Elitch Gardens secret new attraction project can be seen over at ElitchHappenings.
(2/17/14) The latest update to ElitchHappenings shows off the latest ground work pictures as well as a look at Halfpipe where a few of the LIMs appear to have been marked for replacement. This comes as no surprise after the incident where it appeared to have torn up a few LIMS late last season.
(2/15/14) A look at the work that has taken place so far at Elitch Gardens can be found at the new Elitch Happenings website. So far the site has been cleared, new survey flags in place and conduit is being run for new electrica systems. The site seems the perfect size for a new flat ride of some kind… I'm just not sure what it will be yet. Since they haven't been digging a huge hole, you can count any kind of large tower ride out, but beyond that anything goes right now.
(2/3/14) Quick update on Elitch Gardens. The spot where the new activty is taking place is actually the former home of the Rainbow ride itself and not a section of the boneyard. A couple of new pictures of the cleaned up site taken this week came in over the weekend.
(2/2/14) According to a local area reader, an area of the park's boneyard that used to hold the remains of the park's former Chaos and Rainbow rides has been cleared out and an excavator is now on site removing the junk as well as the hardtop under it. I'm told that the site lies about half-way between the Halfpipe and Shake, Rattle & Roll and should be a big enough site to place a new flat ride into. Anyone know more about what's going on?
(1/29/14) Disappointing news from Elitch Gardens today, as the first big announcement made on the park's Facebook page was only the offer of a free souvenir cup with 99 cent refills for Season Passholders. No word on a new attraction yet… maybe they will save the best for last.
(1/28/14) Screamscape sources tell us that the assortment of shipping containers that arrived nearby is not for Elitch Gardens, but instead for the Denver Snow Show. As for the park, they did confirm that they will have "3 awesome announcements" coming over the next few weeks, with the first expected to come out on Tuesday.
What could this first attraction be? A little bird tells me it could be a Ring of Fire style carnival ride.
(1/27/14) I'm told that Elitch Gardens will make some announcements about new items coming to the park this season on their Facebook page starting on Tuesday. On a possible related note, a local source tells me that 30 to 40 large shipping containers have been dropped off in a lot across the train tracks from the park. No way to know if it is for the park or for something else, but it may be worth watching. Stay tuned!