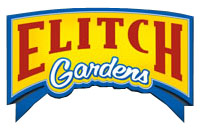 ELITCH GARDENS
Denver, Colorado (Abbreviation: EG)
Known at Six Flags Elitch Gardens (1999 - 2006)
Owned by KSE Elitch Gardens / Reversco / Second City, LLLP.
Managed by Premier Attractions Management
Park News - (9/16/18) According to the local news redevelopment on the Elitch Gardens property could break ground as early as 2020 now, with claims that the new plans and required zoning changes have begun pursuing a more "agressive timeline". Meanwhile some interesting new rumors regarding a new of the park's attractions have come by way as well... with on claiming that inspections on Twister 2 are not turning up very positive results, with large sections of the coaster's wooden structure said to be in need of urgent replacement. If the park is looking to shrink down or close more quickly than previously expected, it doesn't bode well for Twister 2 to get the budget needed for these repairs. I'm also told that the park's "arena" is also expected to be demolished within the next year or two to allow for some of the first phases of condo development.

(8/10/18) According to the latest rumors about Elitch Gardens, the Twister II wooden coaster is closed due to some kind of damage done to the structure under the lift hill. This may take some time to repair and could see the coaster possibly stay closed for the rest of the season. I'm also told that part of the food court is now closed as well... it seems there may have been a minor fire a few weeks back. In other news... remember there was a rumor that Ghost Blasters would get refurbished last winter, but it never happened? The rumor is back again, claiming that the refurbishment project was pushed back until this winter.

(6/13/18) Ugh, here we go again... according to the local news the owners of Elitch Gardens have proposed a new future development plan for the land that would eventually see the theme park wiped off the face of the Earth. Of course they say that they would try to move it to a new location... but if you may recall... this already happened once.
The current Elitch Gardens theme park just opened 23 years ago in 1995. Prior to that it was located in an entirely different location where it existed for a little over a century, from 1890 to 1994. Many would say that Elitch Gardens lost a lot of it's old charm along with the move to the current urban landlocked location downtown within spitting distance of Mile High Stadium and the Pepsi Center.
While the park owner says this is a long-term vision they have for the site, which could see Elitch Gardens remain open for another 20 years, we theme park fans know what Elitch's owners aren't saying. The park will only remain open as long as it's profitable, and any theme park with a looming expiration date isn't likely to invest in costly new attractions in the years to come. As the years pass the only new additions may be lower end attractions with low-price tags, or perhaps discounted items they come across on the used-ride market (much like last year's Star Flyer). But the long term key for theme park survival is to constantly re-invest capital into new attractions to give your guests a reason to return year-after-year. Without that... attendance will soon become stagnant and eventually begin to decline.
Unfortunately for the people of Colorado, theme parks just don't grow on trees out there, and the loss of another Elitch Gardens will be felt unless they really do follow through with some serious plans to build a third version of the park, hopefully in a location with room to grow and a budget to build something that will endure. Otherwise Elitch's loss will be Lakeside Amusement Park's gain.



(5/9/18) The latest news from Elitch Gardens is that Ghost Blasters will be back this season, and the dark ride received a good bit of off-season refurbishment... though we're told there is a long term plan to transform the ride into something new in the future. I'm told that Mind Eraser will be closed for the early part of the season, with no solid timeline as to when it may reopen, or what the problem is.
In perhaps the more interesting bit of news, I'm told that Twister II is now going to be running with shorter trains, with a car being removed from each of the trains from here on. It is still running the PTC 3-Bench cars, but now with only 3-cars per train instead of 4, so maximum capacity for the ride (18) has just been cut by 25%. Sources say that the park is hoping to increase the lifespan of the coaster (and cut back on the maintence) by running lighter trains.

(3/8/18) According to the park owners, they have some big redevelopment plans for the area around Elitch Gardens, but they have no plans on removing the popular theme park. According to the local news many of the flat parking lots North and East of the park will be redeveloped for a variety of new uses (office, residential and retail), and a single large parking structure will be built instead.
Another interesting attraction is also planned to come to the area as well… another permanent Meow Wolf location is said to be on the way to the area with a planned opening in 2020. Longtime readers may remember our preview reports on the beautifully strange Meow Wolf attraction in Santa Fe, NM, which made headlines not long ago with the announcement that they were also planning to open another location in Las Vegas.
(12/1/17) Apparently there have been some rumors in the local market of Elitch Gardens possibly planning on leaving to allow the land it sits on to be used for other development, but the park says this simply isn't true. In fact they are building a new $3 million three-story office building for the park near I-25 that should be ready by August 2018. I'm not sure where the current offices are, but if they are on park property, this could be a sign of where future park expansion projects may be focused once the land is freed up.
2019 - Meow Wolf's Kaleidoscape - (8/25/18) A quick update on the Meow Wolf's Kaleidoscape dark ride coming to Elitch Gardens. At the time of the announcement it was not confirmed that it would replace the park's Ghost Blasters dark ride. That was an assumption on my part based on rumors I had seen previously that indicated that something new would be done with it.
That said, Screamscape did successfully reach out to the park who confirmed that, "Yes, all the ghosts have finally been vanquished." and that Meow Wolf's Kaleidoscape would be replacing it. "Get ready to be transported to an experience filled with other-worldly motion, deep sound, wild color and interactive challenges on Meow Wolf's Kaleidoscape. Take the ride 2019!"
The idea of a Meow Wolf dark ride is also an interesting one, as it serves as a sort of year long preview of what to expect from Meow Wolf's new Denver location coming in 2020.

(8/24/18) Elitch Gardens has announced that the park's Ghost Blasters dark ride will become something entirely new in 2019 under the design of Meow Wolf. Yes, the eclectic themed design attraction in New Mexico is stepping up and will transform the park's old haunted house ride into an all new creation called "Meow Wolf's Kaleidoscape".
Meow Wolf's Kaleidoscape will take guests "on a densely immersive and fully interactive experience. Riders who journey on Meow Wolf's Kaleidoscape will be transported to other-worldly motion, deep sound, wild color and interactive moments that create an immersive world around you. This intriguing attraction will be the first artist-driven dark ride the world has ever seen."
Check out the trippy preview trailer for it below.




(5/9/18) The latest news from Elitch Gardens is that Ghost Blasters will be back this season, and the dark ride received a good bit of off-season refurbishment... though we're told there is a long term plan to transform the ride into something new in the future.
(2/15/18) Screamscape has been informed that the former Ghost Blaster dark ride at Elitch Gardens has been gutted and is getting remade as an all new attraction that will opens sometime during the 2018 season. Anyone know more? If the report is true, the park has been silent about all of this so far and still has Ghost Blasters listed as an active attraction on their website currently. Anyone know more?