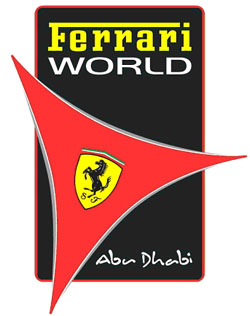 FERRARI WORLD
Abu Dhabi, UAE
Park News - (9/18/13) ThemeparX has posted a new piece of artwork showing off the layout of the proposed second Ferrari World theme park in South Korea. Unlike the original Ferrari World, the majority of the Korean version would be outdoors. The layout includes water rides, what appears to be a clone of Formula Rossa, another dual track racing coaster similar to the Fiorano GT Challenge coaster and much more. One more item I see is an interesting looking tower with spiral track running around it, which makes me wonder if this might be the Polar Coaster or the more mild Sky Spiral attraction concepts on display at the S&S booth at IAAPA last year, a partnership project between S&S Worldwide and US Thrill Rides.
(9/12/13) BlooLoop confirms that Ferrari World is moving to a 7-days a week operational schedule.
(5/13/13) An article about the state of the Ferrari company also mentions the success of the Ferrari World theme park in Abu Dhabi. It goes on to say that within the next two years there will be a second Ferrari World theme park somewhere in the world.
So where in the world will we see the second Ferrari World? According to ThemeparX, the second Ferrari World is destined for a site in Paju, South Korea, to be located on a site very close to the North Korea border.
(5/7/13) Good news this week for fans of Ferarri World as the local news reports that the park has announced plans to increase their operational schedule to seven days a week by the forth quarter of 2013. Currently the park is closed on Mondays, so the move to a daily operational schedule seems to indicate that attendance at the park has been growing.
2014 - Karting Academy - (11/5/13) BlooLoop reports that Ferrari World will open a new ride in 2014 featuring the first electric-powered go-kart track in the region to be called Karting Academy.
2015 / 2016 / 2017 - Seven News Attractions - Confirmed - (6/24/14) Ferrari World is planning a major expansion of the theme park that will see 7 new rides added over the next three years. According to this report the plan to add new rides will increase park capacity by 40%, though three of these new seven attractions will apparently be existing rides that will be modified in some way. New live entertainment options will also be added in the form of "street entertainment" and seasonal shows.