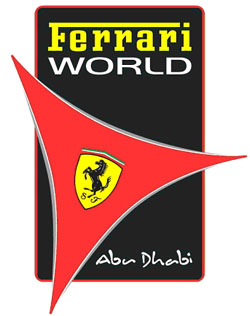 FERRARI WORLD
Abu Dhabi, UAE
Park News - (4/17/16) According to some early industry rumors Ferrari is looking to possibly develop yet another Ferrari theme park that could set up shop somewhere in North America. This would follow the opening of Ferrari World in Dubai and the Ferrari Land park being added onto PortAventura in Spain, and intent to open a third Ferrari park somewhere in China was also just announced within the past few weeks.
The exact location isn't known, thought the project would likely be somewhere in the United States, though that presents itself with some difficulties as the market is fairly saturated already in most locations where a park would perform well, and locating a site to build a project of that magnitude can be like finding a needle in a haystack. Still, there are locations where the amusement sectors is still under-served, or where a smaller new attraction could do well in an existing and mature market under the right circumstance. Las Vegas always comes to mind myself as a place where the Ferrari name could anchor itself and get a good public response, perhaps copying the more indoor concept of the original Abu Dhabi location, but with the added benefit of bringing in some gambling revenue and perhaps even offering driving school style attractions for adults in real Ferrari cars.
More on this as it comes to light…
In other news, a nice interview article all about Ferrari World with the park's General Manager has been posted to BlooLoop and is worth reading as they talk about the four new attractions the park has opened (Karting Academy, Driving Experience, Flying Aces and Benno's Great Race) and what we can expect from the next three under construction that will open in the near future.
(3/20/16) According to a news report from Italy, Ferrari has signed a preliminary deal with Beijing Automotive and Biac Enternaland Property to build another Ferrari World style theme park in China.
(3/16/16) Ferrari World has begin to make some waves with their new Flying Aces coaster it seems, and our friends at BlooLoop have posted an extensive interview with George Walker, the Creative Director for Ferrari World (and now VP of Creative Development at Dynamic Attractions) about his background and the creation of the park's latest coaster, as well as showing off a new video all about the creation of Flying Aces and the ride's background story.
2017 - Mission Ferrari (SFX COASTER) & Vortex (Shuttle Coaster) - Under Construction - (5/5/16) A new construction update from Ferrari World can be found at travellerczech.com, and while it starts off with a look at the park's new cute dark ride, Benno's Great Race, you've got to scroll down to check out the pictures of the park's new SFX coaster under construction that is now expected to open in 2017.
Then there are new photos of a second "shuttle" style coaster opening in 2017 nearby, but the interesting thing is that this coaster will apparently shoot out through the glass in the center of the park where they used to have a G-Force drop tower. If I had to guess, the ride will likely climb up a tall track spike in the center of the park here, but just how high it will go is anyone's guess.


(3/23/16) A reader visiting Ferrari World this week noticed the work doors on Mission Ferrari, the park's new SFX Coaster attraction, were left wide briefly and took the opportunity to grab three quick pictures. As you can see the track inside has not been completed yet, though there is quite a bit of it all twisting around in there, including a vertical loop inversion. Combined with the exposed track inversion we've seen before, we know there are at least two inversions.
(11/27/15) A reader sent in a HUGE collection of coaster construction photos shot this week at Ferrari World showing off the progress being made on the three new coasters they are adding at the same time... the big Flying Aces outdoor one, the SFX coaster (mostly hidden inside a structure) and the odd new shuttle coaster project. Check them out below.
(11/26/15) Some great new pictures of Ferrari World have been posted to Twitter lately, showing off the construction of their new coasters. For example, this photo shows off track for what is said to be their new SFX coaster in the foreground, meanwhile track for a new Intamin shuttle coaster is under construction in the background. You can get a better look at the shuttle coaster track being installed in this second photo as well.
(10/29/15) A strange picture posted to Twitter from VHCoasters showing off new coaster supports and a large red piece of track set up at Ferrari World that is expected to be part of the park's new SFX coaster project.
(5/7/15) The description on RCDB for the park's SFX Coaster lists a number of LSM launch moments, 3D screens, a drop track, tilt track and possibly inversions during the new indoor/outdoor attraction from Dynamic Attractions. The site also has labeled the coaster as being called Mission Ferrari, but that is incorrect, as the name was used for one of the park's new live action shows.
According to a rumor I've heard, the new SFX coaster will being replacing the park's odd-flume ride concept, V12: Enter the Engine, which is no longer listed as one of the park's attractions.
(12/30/14) VHCoasters have posted some very interesting photos this week, showing off the track under construction for the new Dynamic Attractions SFX Coaster ride coming to Ferrari World. The track is really unlike anything I've ever seen before, featuring almost Intamin like flat track sections mounted to a Triangle shaped spine-box. They also have a peek at what appears to be a possible layout for this coaster, which will feature some interesting track switch elements and an inversion or two.
(11/20/14) Word from the IAAPA show floor is that Ferrari World is adding a Dynamic Attractions SFX Coaster for a future attraction, a similar ride concept to the one used by Universal Orlando for the Harry Potter and the Escape from Gringotts ride.

2016 - Benno's Great Race - Now Open - (3/23/16) Benno's Great Race, a new interactive dark ride experience, has now opened at Ferrari World this week. The idea seems cute as riders go on an adventure to help Benno build his new race-car and win a race. The ride is a mixture of three dimensional scenes, animatronic figures, projection effects and interactive mini-games played on screens along the way. Similar to your traditional shooter, riders are armed, but instead of having guns you hold a wrench with an action button. You use this took to do a variety of tasks along the way such as cut away spider webs, put bees in a jar, build Benno's race-car, light fireworks and more.
It's very unique from anything that I've seen before anywhere else, though it is a bit odd that on the interactive screens you are tasked with what to do via subtitles in both English and Arabic, which looks like it would pull you out of the moment and only reinforce the fact that you are looking at a video screen, something most dark rides want you to forget.
You can watch a POV video of the ride in action below and I've been told that the new ride is a replacement for the old Racing Legends dark ride. If you'll follow this link you can see what the old Racing Legends dark ride was like and understand why Ferrari World has been so quick to replace it, as it was more of a history lesson about Ferrari racing than it was entertainment.


2016 - Flying Aces / New Roller Coaster(s) - (3/9/16) Our friends over at BlooLoop have posted an extensive article about the new Flying Aces coaster from Intamin at Ferrari World, which holds the record for featuring the tallest non-inverting loop standing at 52 meters.
(3/7/16) Screamscape was sent an incredible collection of new photos showing off Ferrari World's new Flying Ace attraction. This isn't just pictures of the coaster, but it seems the queue for the new coaster is highly themed as they set up the story and atmosphere for Flying Ace. According to the official press release:
This attraction isn't just about thrills. It also has deep roots in Ferrari lore. "Before guests board the coaster," explains George Walker, Creative Director for the project, "they will feel like they have stepped onto a movie set that tells the story of this bygone era of flying heroes. The history of the Ferrari logo can be traced back to an Italian WWI pilot who painted the famous prancing pony emblem on his plane. Flying Aces allows guests to step back in time and relive this bit of Ferrari history in a special way. We have gathered artists and designers from around the globe to create one of the most immersive, story-telling, queues in the world that rival those found in places like Orlando. Filled with detailed sets, props, projection, and special effects, guests will have literally walked in the footsteps of these brave pilots by the time it is their turn to ride."
Flying Aces will provide thrill-seekers with the opportunity to earn their wings as they enjoy a gravity defying experience onboard the flight of a lifetime that meticulously recreates the sensations and maneuvre of a early century biplane. The unique record breaking ride, with the world's tallest loop at 52 meters and steepest incline starting hill lift at 51 degrees, employed the most innovative technologies during its construction, which required more than 1.5 million man-hours and over 1,400 ton of steel.
(3/2/16) A cool POV video showing off the action on the new Flying Aces coaster at Ferrari World has been posted to YouTube. Check it out below and see what you think about this new giant coaster in the UAE. One odd thing I find about this layout is how they went for the non-inverting loop at the start, and then quietly tuck in a single heartline roll inversion near the very end.

(2/23/16) A video showing the new Flying Aces coaster at Ferrari World in action was posted to Facebook a few hours ago. Check it out below.

Longest 1 min and 30 seconds of my life! New world record. #FlyingAces #FerrariWorldAbuDhabi

Posted by Charm Orario on Tuesday, February 16, 2016

(2/1/16) Ferrari World has been testing their new Flying Aces roller coaster lately, and we've found some photos of the ride in action here. It's hard to tell in some of the photos, but it appears as if Intamin is using the same style 4-across seating train as Hersheypark's Skyrush.
(1/28/16) Ferrari World has announced that they will host a special "launch event" to open their new Flying Aces roller coaster on Feb. 24, 2016.
(1/14/16) A fact sheet sent into Screamscape about the new Flying Aces coaster at Ferrari World gives us a few new details and confirms some others. For starters, the two world records the coaster will break are: Worlds Tallest Loop at 52 meters (170ft) and Steepest Incline Starting Hill Lift at 51 degrees. The coaster will hits 120kmph along the 1.5km course.
The story for the ride in interesting however and new to me, as it is all about the famous Ferrari logo and how it came to be and how it ties into a coaster themed to a World War I flying ace pilot. The famous flying ace in particular is Italy's "ace of aces" Count Francesco Baracca, who painted the Prancing Horse emblem, Cavallino logo, on his bi-plane during World War I.
Well it seems that the Count's mother was a big fan of Enzo Ferrari when he began his racing career and it seems that it was she who later asked Enzo to put his son's flying ace logo onto his racing cars for good luck... and the rest was history.
(1/11/16) A few new pictures of the Flying Aces coaster going up at Ferrari World have been posted to ThemeParx, just scroll down a little to find them.
(10/20/15) Some great new pictures from Ferrari World showing off the new coaster under construction can be found at ThemeParx.
(10/3/15) ThemeParx has posted some fantastic new pictures of Ferrari World's new coaster under construction this week.
(9/29/15) A reader sent in a great picture of what appears to be a giant non-inverting loop under construction at Ferrari World on their new coaster.
(8/31/15) Some great images of the new Flying Aces coaster under construction at Ferrari World were posted to Twitter by VHCoasters.
(5/7/15) Ferrari World has announced that they will build a new roller coaster that promises to be the world's steepest coaster when it opens. It will have a bi-plane theme and be called Flying Aces and feature a number of twists and inversions as well, including the world's tallest loop standing 52 meters (170 ft) tall. Look for Flying Aces to open in 2016 and if the rumors are true, Intamin will be building this one as well.
This may be one of two new coasters opening in 2016, as the park is also expected to open some kind of new shuttle style coaster, also from Intamin.