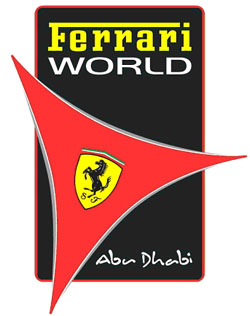 FERRARI WORLD
Abu Dhabi, UAE

Park News - (7/6/15) Abu Dhabi's Yas Island is currently running a tourism promotion from now through to September 30th called "Kids Rule on Yas this Summer", which offers several dining, lodging and entertainment specials for kids under 12 years old. Apparently the program also includes free admission for kids into Ferrari World and the Yas Waterworld waterpark nearby when their families stay at one of the participating hotels in the program. You can find out all the details at the official Kids Rule website here.
(5/7/15) A video showing off Ferrari World's "Mission Ferrari" live action show is quite interesting, taking some inspiration from the vertical wall/stage concept from Cirque du Soleil's Ka, which features video projection effects shot onto a vertical wall surface, with live actors suspended along the wall's surface in aerial harnesses who bring the action scenes to life. Check out the video below.



(1/20/15) According to this article Aldar Properties PJSC will repay the remaining $272 million due on a Ferrari World loan-debt before the end of the month in an effort to cut back on their debt levels.
(11/12/14) Ferrari World has opened two new live shows at the park, a secret agent themed show called Mission Ferrari and and Viva Ferrari. The later is a musical dance show where two actors perform in front of a large projection screen backdrop. The Mission Ferrari show is 8 minutes long, but takes place with the performers hung horizontally on a 16-meter video wall that serves as their background.
(6/24/14) Ferrari World is planning a major expansion of the theme park that will see 7 new rides added over the next three years. According to this report the plan to add new rides will increase park capacity by 40%, though three of these new seven attractions will apparently be existing rides that will be modified in some way. New live entertainment options will also be added in the form of "street entertainment" and seasonal shows.

2015 / 2016 - SFX COASTER - Confirmed - (5/7/15) The description on RCDB for the park's SFX Coaster lists a number of LSM launch moments, 3D screens, a drop track, tilt track and possibly inversions during the new indoor/outdoor attraction from Dynamic Attractions. The site also has labeled the coaster as being called Mission Ferrari, but that is incorrect, as the name was used for one of the park's new live action shows.
According to a rumor I've heard, the new SFX coaster will being replacing the park's odd-flume ride concept, V12: Enter the Engine, which is no longer listed as one of the park's attractions.
(12/30/14) VHCoasters have posted some very interesting photos this week, showing off the track under construction for the new Dynamic Attractions SFX Coaster ride coming to Ferrari World. The track is really unlike anything I've ever seen before, featuring almost Intamin like flat track sections mounted to a Triangle shaped spine-box. They also have a peek at what appears to be a possible layout for this coaster, which will feature some interesting track switch elements and an inversion or two.
(11/20/14) Word from the IAAPA show floor is that Ferrari World is adding a Dynamic Attractions SFX Coaster for a future attraction, a similar ride concept to the one used by Universal Orlando for the Harry Potter and the Escape from Gringotts ride.
2016/2017 - Flying Aces / New Roller Coaster(s) - Confirmed - (10/3/15) ThemeParx has posted some fantastic new pictures of Ferrari World's new coaster under construction this week.
(9/29/15) A reader sent in a great picture of what appears to be a giant non-inverting loop under construction at Ferrari World on their new coaster.


(8/31/15) Some great images of the new Flying Aces coaster under construction at Ferrari World were posted to Twitter by VHCoasters.
(5/7/15) Ferrari World has announced that they will build a new roller coaster that promises to be the world's steepest coaster when it opens. It will have a bi-plane theme and be called Flying Aces and feature a number of twists and inversions as well, including the world's tallest loop standing 52 meters (170 ft) tall. Look for Flying Aces to open in 2016 and if the rumors are true, Intamin will be building this one as well.
This may be one of two new coasters opening in 2016, as the park is also expected to open some kind of new shuttle style coaster, also from Intamin.