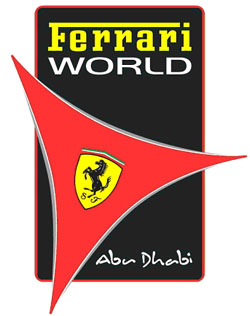 FERRARI WORLD
Abu Dhabi, UAE

2016 - SFX COASTER - Confirmed - (11/27/15) A reader sent in a HUGE collection of coaster construction photos shot this week at Ferrari World showing off the progress being made on the three new coasters they are adding at the same time... the big Flying Aces outdoor one, the SFX coaster (mostly hidden inside a structure)

and the odd new shuttle coaster project. Check them out below.
(11/26/15) Some great new pictures of Ferrari World have been posted to Twitter lately, showing off the construction of their new coasters. For example, this photo shows off track for what is said to be their new SFX coaster in the foreground, meanwhile track for a new Intamin shuttle coaster is under construction in the background. You can get a better look at the shuttle coaster track being installed in this second photo as well.
(10/29/15) A strange picture posted to Twitter from VHCoasters showing off new coaster supports and a large red piece of track set up at Ferrari World that is expected to be part of the park's new SFX coaster project.
(5/7/15) The description on RCDB for the park's SFX Coaster lists a number of LSM launch moments, 3D screens, a drop track, tilt track and possibly inversions during the new indoor/outdoor attraction from Dynamic Attractions. The site also has labeled the coaster as being called Mission Ferrari, but that is incorrect, as the name was used for one of the park's new live action shows.
According to a rumor I've heard, the new SFX coaster will being replacing the park's odd-flume ride concept, V12: Enter the Engine, which is no longer listed as one of the park's attractions.
(12/30/14) VHCoasters have posted some very interesting photos this week, showing off the track under construction for the new Dynamic Attractions SFX Coaster ride coming to Ferrari World. The track is really unlike anything I've ever seen before, featuring almost Intamin like flat track sections mounted to a Triangle shaped spine-box. They also have a peek at what appears to be a possible layout for this coaster, which will feature some interesting track switch elements and an inversion or two.
(11/20/14) Word from the IAAPA show floor is that Ferrari World is adding a Dynamic Attractions SFX Coaster for a future attraction, a similar ride concept to the one used by Universal Orlando for the Harry Potter and the Escape from Gringotts ride.
2016 - Flying Aces / New Roller Coaster(s) - (2/1/16) Ferrari World has been testing their new Flying Aces roller coaster lately, and we've found some photos of the ride in action here. It's hard to tell in some of the photos, but it appears as if Intamin is using the same style 4-across seating train as Hersheypark's Skyrush.
(1/28/16) Ferrari World has announced that they will host a special "launch event" to open their new Flying Aces roller coaster on Feb. 24, 2016.
(1/14/16) A fact sheet sent into Screamscape about the new Flying Aces coaster at Ferrari World gives us a few new details and confirms some others. For starters, the two world records the coaster will break are: Worlds Tallest Loop at 52 meters (170ft) and Steepest Incline Starting Hill Lift at 51 degrees. The coaster will hits 120kmph along the 1.5km course.
The story for the ride in interesting however and new to me, as it is all about the famous Ferrari logo and how it came to be and how it ties into a coaster themed to a World War I flying ace pilot. The famous flying ace in particular is Italy's "ace of aces" Count Francesco Baracca, who painted the Prancing Horse emblem, Cavallino logo, on his bi-plane during World War I.
Well it seems that the Count's mother was a big fan of Enzo Ferrari when he began his racing career and it seems that it was she who later asked Enzo to put his son's flying ace logo onto his racing cars for good luck... and the rest was history.
(1/11/16) A few new pictures of the Flying Aces coaster going up at Ferrari World have been posted to ThemeParx, just scroll down a little to find them.
(10/20/15) Some great new pictures from Ferrari World showing off the new coaster under construction can be found at ThemeParx.
(10/3/15) ThemeParx has posted some fantastic new pictures of Ferrari World's new coaster under construction this week.
(9/29/15) A reader sent in a great picture of what appears to be a giant non-inverting loop under construction at Ferrari World on their new coaster.
(8/31/15) Some great images of the new Flying Aces coaster under construction at Ferrari World were posted to Twitter by VHCoasters.
(5/7/15) Ferrari World has announced that they will build a new roller coaster that promises to be the world's steepest coaster when it opens. It will have a bi-plane theme and be called Flying Aces and feature a number of twists and inversions as well, including the world's tallest loop standing 52 meters (170 ft) tall. Look for Flying Aces to open in 2016 and if the rumors are true, Intamin will be building this one as well.
This may be one of two new coasters opening in 2016, as the park is also expected to open some kind of new shuttle style coaster, also from Intamin.