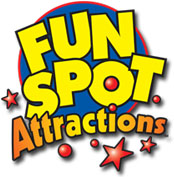 FUN SPOT AMERICA (Orlando, FL)
in Orlando and Kissimmee, FL
http://www.funspotattractions.com

Park News - (7/20/16) I'm really surprised to hear this, but Orlando Weekly reports that Fun Spot's owners are now looking into the possibility of adding a third location to their small chain of parks. In fact, they are apparently looking closely as possible locations on the west end of 192 which is seeing a lot of new growth and renovations.

2016 - Partnership with Kissimmee's Old Town - (5/31/16) Fun Spot America has announced a major partnership with their next-door neighbors, Kissimmee's Old Town, that will see Fun Spot move and operate four of their attractions at Old Town USA"s new south entertainment district, along with a new iconic ferris wheel that will be installed by this September. Fun Spot America will also add a new attraction to their own lineup called Head Rush 360 (see video below) from SBF Visa Group, along with the addition of a one of a kind eatery to be called New York Burger Company.


???? - Future Expansion - (1/12/16)

Fun Spot America is developing a new vision for the park and how they should grow it and have enlisted the help of Falcon's Creative Group to help work on their new long term plans. This includes the addition of new themed areas, an expansion across the street and more. They've posted a couple of pieces of artwork showing off one possible vision for what they are looking to build, but the final plans are still in development at this time and nothing has been set in stone.
(7/23/15) According to NewsPlusNotes, Fun Spot America is preparing to begin an expansion on the attached available property near the Gator Spot to create an "Old Florida District" themed area that would feature a dark ride, log flume, a new family spinning ride as well as a new coaster that will be taller than the others, but also shorter.

???? - Fun Spot Waterpark - (1/21/13) According to a quick news update from the Orlando Sentinel, Fun Spot America has purchased an additional 8 acres of property on Grand National Drive next to its currently property, to be used for a future expansion. I know the Phase 2 expansion plans for Fun Spot America was to add a small waterpark area, so I can only imagine these additional 8 acres might be added on to that project area.
(11/28/11) Orlando Parks News has dug up an article reporting that Fun Spot has decided to use their new land next to the original Orlando location (Fun Spot America) to create the new Fun Spot Waterpark with their partners at SplashTacular. They claim at the park will be loaded with next-generation waterpark attractions that you wont find anywhere else in Orlando when it opens in 2013.
One such new slide concept is Splash Rally, a new take on the "racer" slide concept. 360 Rush is a new take on the bowl slide concept, where they drop two sliders into the bowl from opposite ends at the same time so they can chase each other around. They also have a Double BowlsEye… a double-rider raft take on the 360 Rush concept.