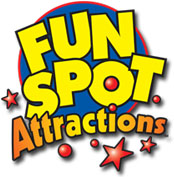 FUN SPOT AMERICA (Orlando, FL)
in Orlando and Kissimmee, FL
http://www.funspotattractions.com
Park News - (10/23/18) MidwayMayhem posted a new video from Fun Spot America where they took a test ride on the new "Sky Sled" option from Ride Entertainment that lets you ride in an entirely new posture on the world's tallest Skycoaster. Based on the crazy new POV videos… if you thought riding the Skycoaster the normal way was freaky… this takes it to a whole new level.

2018 - Nothing is known at this time...
FUN SPOT ATLANTA (Fayetteville, GA)
Park News - (7/3/17) According to a post at CoasterAddict, Fun Spot America has purchased a new park, buying up Fun Junction USA, the largest FEC park in Georgia, located in Fayetteville, on the south side of Atlanta. For now the park will retain the Fun Junction USA name, but it will likely be transformed with a future expansion within the next year or so to become Fun Spot Atlanta.
I've never been to Fun Junction USA myself, but based on what I see on their website, they do remind me a bit of how the original Fun Spot location in Orlando started off with go-karts, some bumper boats and a few rides... plus they have Mini-Golf too. Congrats to both teams as they move forward, and we get to watch the Fun Spot team expand yet again, this time into a whole new state.
2018 - Elevated Go-Karts - (5/5/18) According to this article the new Fun Spot America location in Atlanta will soon be adding new attractions as part of a $2 million transformation. The additions will include the Samson multi-level go-kart track, improvements to the arcade, a new ticketing system and other upgraded infrastructure.
(2/18/18) It looks like the conversion of Georgia's Fun Junction into an official Fun Spot park is now underway with the start of construction on a brand new Fun Spot style multi-level go-kart track that will run above the attraction's Antique Car ride.
2019 - Riptide - (12/12/18) Fun Spot America - Atlanta has confirmed on their Facebook page that they are adding Riptide, which appears to be a Mack Matterhorn style flat ride, though I could be wrong about the manufacturer. This appears to look like a clone of the Riptide ride from Playland Castaway Cove in New Jersey, unless they have sold their ride to Fun Spot. You can see a video of the Playland ride embedded below as well.