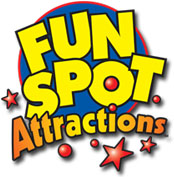 FUN SPOT AMERICA (Orlando, FL)
in Orlando and Kissimmee, FL
http://www.funspotattractions.com
Park News - (12/18/14) Awhile back we had heard a rumor that one of the Fun Spot parks in the Orlando area may have purchased a new Chance Hyper GTX coaster, but after giving our spies some time to track down this rumor, this lead seems to be turning up false. While Fun Spot could very well have been looking into one, our sources report that Chance has not sold another one of these coasters that will open for the 2015 season anywhere.
(11/26/14) While I'm not sure which one of the Fun Spot parks is getting this, it seems one of our readers caught wind of a low-profile announcement that came out at IAAPA saying that Fun Spot was adding the Gatorland Express… a new coaster that appeared very much to be another Chance Hyper GT-X style coaster like Lightning Run at Kentucky Kingdom, except the lead car of the train would be themed to look like a gator head. Did anyone else attend the luncheon/keynote at IAAPA last week from Fun Spot management who can confirm this?
(11/13/14) Fun Spot America - Orlando will open SnoSpot, a temporary 10,000 sqft snow fun zone this winter where guests can go snow-tubing down a 22-ft hill, enjoy fire-pits to stay warm, build snowmen, throw snowballs and more. Look for it to soft open next week ahead of the grand opening on November 21st. It wont be cheap however… you'll have to buy an all-day pass for about $25 for adults and $22 children.
Late 2014 / Early 2015 - New Attractions - (8/17/14) Fun Spot America has announced some new attractions on the way. The big one will be The Hot Seat, an S&S Screamin Swing said to be identical to the one they have running down at the Fun Spot USA location next to Old Town. Also coming will be a new Laser Tag game and something called the "Gatorland Experience" which I'm guessing is some kind of promotional gator display for Gatorland. Perhaps some kind of strategic partnership I guess.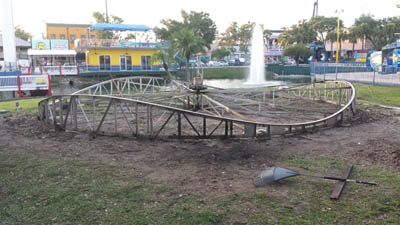 2015 - Air Raid at Fun Spot America - Now Open - (11/3/14) The new Air Race ride is now open…but at Fun Spot America, the original location on the north end of I-Drive and not down in Kissimmee. The ride was spotted in Kissimmee at Fun Spot USA and it seems after attempting to put it into place down there, it was decided that it really didn't fit into the old Tilt-A-Whirl location after all, so it was packed back up and moved to the original Fun Spot location instead. It opened a short time later and is being called Air Raid.



(10/28/14) Screamscape sources tell us that Fun Spot USA (Kissimmee) announced to their staff that they are removing the park's Tilt-A-Whirl (already in progress) and will replace it with a new Zamperla Air Race flat ride. Ironically, pictures of a portable Air Race ride have already been spotted on site at Fun Spot. As for the Tilt-A-Whirl, I'm told it will get rehabbed and returned to the park in a currently empty patch of grass next to the Flying Bobs ride.


???? - Fun Spot Waterpark - (1/21/13) According to a quick news update from the Orlando Sentinel, Fun Spot America has purchased an additional 8 acres of property on Grand National Drive next to its currently property, to be used for a future expansion. I know the Phase 2 expansion plans for Fun Spot America was to add a small waterpark area, so I can only imagine these additional 8 acres might be added on to that project area.
(11/28/11) Orlando Parks News has dug up an article reporting that Fun Spot has decided to use their new land next to the original Orlando location (Fun Spot America) to create the new Fun Spot Waterpark with their partners at SplashTacular. They claim at the park will be loaded with next-generation waterpark attractions that you wont find anywhere else in Orlando when it opens in 2013.
One such new slide concept is Splash Rally, a new take on the "racer" slide concept. 360 Rush is a new take on the bowl slide concept, where they drop two sliders into the bowl from opposite ends at the same time so they can chase each other around. They also have a Double BowlsEye… a double-rider raft take on the 360 Rush concept.