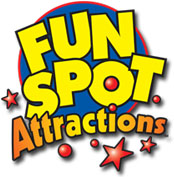 FUN SPOT AMERICA (Orlando, FL)
in Orlando and Kissimmee, FL
http://www.funspotattractions.com
Park News - (3/14/19) I'm told that the Fun Spot ferris wheel has been sold to a new owner, who remains unknown. So look for the wheel at the Orlando Fun Spot location to come down in the near future, which still makes me very curious as to what they might install as a replacement.
2020 - Coaster For Kissimmee Location - (10/24/19) Fun Spot in Kissimmee is asking their fans to help name their new roller coaster. Just visit the official website to submit your entry.

(10/8/19) A tweet from Fun Spot shows off what appears to be pieces of a possible new coaster. The belief is that this may be the former Viking Voyager from Wild Adventures. Originally the coaster was expected to go to Fun Spot in Atlanta, and while the coaster sat there in storage for a time, this may be it arriving in Kissimmee now. Previous rumors expected the Atlanta park to send their Scream'n Eagle kiddie coaster to Florida, but this did not happen.

FUN SPOT ATLANTA (Fayetteville, GA)
2020 - Seems old plans to add the former Viking Voyage coaster from Wild Adventure have changed and any new plans for 2020 are currently unknown.