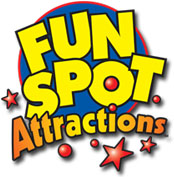 FUN SPOT AMERICA (Orlando, FL)
in Orlando and Kissimmee, FL
http://www.funspotattractions.com
Park News - (7/3/17) According to a post at CoasterAddict, Fun Spot America has purhcased a new park, buying up Fun Junction USA, the largest FEC park in Georgia, located in Fayetteville, on the south side of Atlanta. For now the park will retain the Fun Junction USA name, but it will likely be transformed with a future expansion within the next year or so to become Fun Spot Atlanta.
I've never been to Fun Junction USA myself, but based on what I see on their website, they do remind me a bit of how the original Fun Spot location in Orlando started off with go-karts, some bumper boats and a few rides... plus they have Mini-Golf too. Congrats to both teams as they move forward, and we get to watch the Fun Spot team expand yet again, this time into a whole new state.
(12/15/16) (Update: NOW OPEN) Fun Spot America has confirmed that they will be adding a VR Coaster experience option to their Freedom Flyer family inverted coaster at the Orlando park site. They hope to have it up and running in time for the Christmas holiday week. You'll take flight to battle robot looking enemies in a cityscape. There will be designated seats available for both VR and non-VR riders.
(7/20/16) I'm really surprised to hear this, but Orlando Weekly reports that Fun Spot's owners are now looking into the possibility of adding a third location to their small chain of parks. In fact, they are apparently looking closely as possible locations on the west end of 192 which is seeing a lot of new growth and renovations.
2017 - MINE BLOWER / Gravity Group Wood Coaster - (6/21/17) A full POV video of Mine Blower making a test run at night was posted to Twitter by The Gravity Group. Check it out below.



(6/17/17) According to statments from Fun Spot America, they are planning to open their new Mine Blower wooden coaster on June 23rd! Workers still continue to crawl the structure in a race to finish on time, so this should be an interesting thing to watch.
(5/22/17) A new look at the Mine Blower construction site at Fun Spot America was posted by WildGravityTravels this week, including a look at the placement of the steel supports for the barrel roll inversion. and some rather impressively banked and overbanked turns that riders will encounter along the way.
(5/2/17) A new development for Mine Blower at Fun Spot America is the confirmation from Gravity Group that the coaster will have several tunnels added to the layout that were not shown in the original renderings. They have yet to confirm where, how many, or how long they will be however, but tunnels are always a fun addition in my opinion, so this sounds good to me.
A few of the stats have also changed, with the ride's total height to be 83 feet and the length slightly increased to 2,290ft. It will have two coaster trains, each able to hold 12 riders, and as previously shown, they will feature a cartoon looking ACME dynamite/rocket inspired design on the lead car.
The latest look at the construction site this week comes from WildGravityTravels as the work crews hit the final stretch to finish the new coaster in time for the summer season.
(4/24/17) Lets take a look at the latest construction progress on Mine Blower at Fun Spot America in the latest video sent in from Midway Mayhem.

(4/10/17) Time to take another look at Mine Blower, this time from the ground, as the new coaster's structure is really shaping up to look like quite the great little ride. Check out the latest pictures posted this week to WildGravityTravels.
(4/8/17) Fun Spot America has posted a fantastic aerial shot of the new Mine Blower coaster construction site, as seen from on top of their 300 foot tall Skycoaster. Check it out below.

(4/4/17) A new construction video showing off the progress on Mine Blower from Fun Spot America has been posted by In The Loop. Check it out below.

(3/10/17) A reader sent in a whole bunch of photos from the Mine Blower construction site taken last weekend. Looks like it is going up very quickly now, but still too early to know when it may be ready to open. Check it out.
(3/6/17) A new construction update from Fun Spot in Kissimmee shows off the latest vertical construction on the new Mine Blower wooden coaster. Check it out over at Wild Gravity Travels, because it is going up quickly now.
(2/16/17) A lot has changed at Fun Spot America in Kissimmee since the last video update from Midway Mayhem, as a ton of new materials are on site and construction is starting to ramp up on the new coaster project as the vertical construction is now well underway. They also show off the new future location for Hot Seat which is also under construction.

(2/8/17) A new Tweet from Fun Spot America gives us our first look at the themed train design that Mine Blower with have, featuring three giant red explosive looking rockets strapped to the front car. According to the tweet, they also have confirmed that the layout will also feature 2 mine tunnels along the route as well. Sounds great... though I do fear that the general public will end up calling it Mind Blower instead of Mine Blower for the first few years.

(2/6/17) Fun Spot America aired a new air during the superbowl in their local markets which named their new 2017 wooden coaster as "MINE BLOWER". Interesting name I guess... now if only they would add some mine themeing to go with it. You can see the ad aired posted to Twitter by WildGravityTravels below.

(1/23/17) The latest construction update from Fun Spot America has been posted to WildGravityTravels this week. More dirt pushing and more hardware for the coaster supports are showing up on the giant concrete pad. Check it out!
(1/18/17) Midway Mayhem takes another look at Fun Spot America in Kissimmee this week to see the latest construction update from the park. In addition to some progress being made on the future coaster site the park has taken down the Hot Seat ride (S&S Screamin' Swing) for the time being, as it is expected to be moved to a new location at the park and rebuilt. Meanwhile a ton of materials have arrived for the new coaster and the giant concrete pad has what appears to be the footer bolts for the coaster structure already in place.

(1/11/17) WildGravityTravels took a trip down to Fun Spot America's Kissimmee location this week to check on the latest coaster construction progress (still pushing dirt around and demolishing some existing items in the way). If you watch the video posted there, they also take a look at the new Ferris Wheel being set up in front of Old Town next door as well, which features some crazy glass enclosures on the rider pods.
(12/24/16) A few new pictures from Fun Spot America of the new coaster construction site were sent in this week from a Screamscape reader. Enjoy!
(12/19/16) One of our readers has sent in some good pictures from Fun Spot America showing off the start of site clearing for the new coaster as of this week where they have now removed the slick track go-kart track.
(12/12/16) With the cat out of the bag about Fun Spot Americia's new plans to build a coaster in Kissimmee it wasn't long before the Midway Mayhem camera arrived on the scene to shoot some footage of the site where the new coaster will be going, with some clearing of the site already in progress. Check it out below.

(12/10/16) Fun Spot, I have to say that I'm impressed. The small Orlando operator that runs two small parks in Orlando surprised everyone by announcing that they were building a new and impressive looking Gravity Group wooden coaster at their Kissimmee Fun Spot America location next door to Old Town. I was not just impressed by the ride, but by the fact that they managed to keep this entirely a secret all this time, even from me.
While the new coaster does not have a name yet, it will stand 82 feet tall, drop 80.5 feet, have 2256 feet of track that includes overbanked turns and a 360 degree barrel roll inversion. Fun Spot is working on the name still at this time, as well as possible themeing and naming right / sponsorship opportunities for it. Based on the concept artwork it also seems a lock that the new coaster will also use Gravity Group's special Timberliner trains. Look for the coaster to open in time for Summer 2017, though this will be one to keep an eye on, because they'll have to put it up very quickly to make that window.

???? - Future Expansion - (1/12/16)

Fun Spot America is developing a new vision for the park and how they should grow it and have enlisted the help of Falcon's Creative Group to help work on their new long term plans. This includes the addition of new themed areas, an expansion across the street and more. They've posted a couple of pieces of artwork showing off one possible vision for what they are looking to build, but the final plans are still in development at this time and nothing has been set in stone.
(7/23/15) According to NewsPlusNotes, Fun Spot America is preparing to begin an expansion on the attached available property near the Gator Spot to create an "Old Florida District" themed area that would feature a dark ride, log flume, a new family spinning ride as well as a new coaster that will be taller than the others, but also shorter.