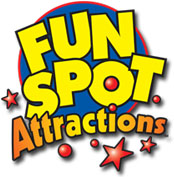 FUN SPOT AMERICA (Orlando, FL)
and
FUN SPOT USA (Kississimme, FL)
http://www.funspotattractions.com
Park News - (4/29/13) A reader sent in a fun panorama picture of Fun Spot's new White Lightning which is looking quite good. While it obviously won't take any records for being the tallest or longest, it does remind me a bit of the Phoenix at Knoebels, which could make this one of the most fun coasters in the world. That double-up and double-down are going to be something you remember and a nice special treat for the Florida tourists.

Late 2014 / Early 2015 - New Attractions - (8/17/14) Fun Spot America has announced some new attractions on the way. The big one will be The Hot Seat, an S&S Screamin Swing said to be identical to the one they have running down at the Fun Spot USA location next to Old Town. Also coming will be a new Laser Tag game and something called the "Gatorland Experience" which I'm guessing is some kind of promotional gator display for Gatorland. Perhaps some kind of strategic partnership I guess.
???? - Fun Spot Waterpark - (1/21/13) According to a quick news update from the Orlando Sentinel, Fun Spot America has purchased an additional 8 acres of property on Grand National Drive next to its currently property, to be used for a future expansion. I know the Phase 2 expansion plans for Fun Spot America was to add a small waterpark area, so I can only imagine these additional 8 acres might be added on to that project area.
(11/28/11) Orlando Parks News has dug up an article reporting that Fun Spot has decided to use their new land next to the original Orlando location (Fun Spot America) to create the new Fun Spot Waterpark with their partners at SplashTacular. They claim at the park will be loaded with next-generation waterpark attractions that you wont find anywhere else in Orlando when it opens in 2013.
One such new slide concept is Splash Rally, a new take on the "racer" slide concept. 360 Rush is a new take on the bowl slide concept, where they drop two sliders into the bowl from opposite ends at the same time so they can chase each other around. They also have a Double BowlsEye… a double-rider raft take on the 360 Rush concept.