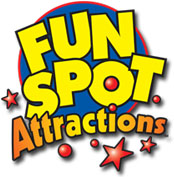 FUN SPOT AMERICA (Orlando, FL)
in Orlando and Kissimmee, FL
http://www.funspotattractions.com

Park News - (3/14/19) I'm told that the Fun Spot ferris wheel has been sold to a new owner, who remains unknown. So look for the wheel at the Orlando Fun Spot location to come down in the near future, which still makes me very curious as to what they might install as a replacement.
(3/8/19) Orlando's Fun Spot location appears to be looking into options to replace their iconic wheel. A new ad posted at Rides4U shows the wheel being listed for sale for $99,000. This makes me curious what they might try to replace it with.

2019 - New Orlando Attraction - (3/24/19) While I missed it completely myself, a reader pointed out something interesting they spotted in the background of the rough concept artwork from Fun Spot. Take a quick look behind the new water play area under construction in the concept art image and you will see what looks very much like a curved flume ride trough and splashdown pool. Could this be a hint at something else Fun Spot may be planning to add in the future?
(3/19/19) As I expected from the construction site pics, Fun Spot Orlando has confirmed that they are building a new interactive water play area that is set to open this summer, offering over 30 interactive elements.

(3/9/19) A reader sent in some quick pictures they took of the new construction site at Orlando's Fun Spot America location. Just a guess, but with all that underground plumbing going on, this looks like it could be some kind of giant splash-pad play area.

(3/3/19) Fun Spot America was seen to be clearing some property near the Gator Spot exhibit at their Orlando property at the north end of International Drive. Local permitting listing the work being done to prepare the site for "a new interactive water feature" to be added to the existing park property. Long ago Fun Spot sis have the intention to add a small waterpark to the property as a phase-2 development, but nothing ever came of those plans at the time, likely as other bigger water park projects like Aquatica, Volcano Bay and now the one near the Margaritaville Resort have moved forward instead, crowding the market. Still, adding a single water attraction of some kind may not be a bad idea for Fun Spot as we all know how hot it gets in Orlando. You can see some pictures of the construction site posted over at Coaster-Nation this week.
2020 - Coaster For Kissimmee Location - (6/21/19) According to RCDB, the Scream'n Eagle steel coaster from the Fun Spot America location in Atlanta will be moved to the Kissimmee location at some point this year.
FUN SPOT ATLANTA (Fayetteville, GA)
2019 - Riptide and Other New Attractions - (7/7/19) I'm told that Fun Spot Atlanta has actually added a couple of attractions this season including a new dragon themed kiddie coaster and a Top Golf Virtual Swing attraction.

(12/12/18) Fun Spot America - Atlanta has confirmed on their Facebook page that they are adding Riptide, which we believe is a Bertazzon Matterhorn style flat ride. This appears to look like a clone of the Riptide ride from Playland Castaway Cove in New Jersey, unless they have sold their ride to Fun Spot. You can see a video of the Playland ride embedded below as well.

2020 - New Coaster - (6/21/19) RCDB mentions that the former Viking Voyage coaster from Wild Adventures will be added to the Fun Spot America Atlanta location, where it will replace the similar Scream'n Eagle coaster.

(6/4/19) Is the new Fun Spot Atlanta park getting ready to expand? A local area reader tells us that the park is now clearing a section of land on the 20-acres parcel they own on the north side of their property.