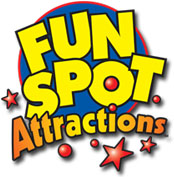 FUN SPOT AMERICA (Orlando, FL)
in Orlando and Kissimmee, FL
http://www.funspotattractions.com
Park News - (10/15/20) Oh Fun Spot America… what are we to do with you? Well… not just Fun Spot, but apparently also the guests the small park attracts in Orlando. According to a local news report guests at the park are still walking around and taking rides without the required face mask protection mandated by Orange County.
A COVID-19 Strike Team has visited the park three times in the past two months and found the park to be in violation of the safety mandates. On the Aug. 13th visit the park was found to be not enforcing the required COVID-19 safety requirements for guests and staff requiring face masks and had no physical distancing reminders at the entrance or attractions.
A return visit on Sept. 3 revealed improvements regarding social distancing and employee face masks being worn, but the guests were found to be removing masks while on rides. Unfortunately a third visit on Sept. 25th revealed the exact same problem as the second visit which is unfortunate.
For those wondering, apparently strike team violations are coming with warnings only, not fines at this time. So essentially Fun Spot has been getting at most a slap on the wrist and maybe a little bad press, but after three violations I have to think that perhaps it is about time that some sort of fines should start to happen.
Remember, Orlando is seen as the theme park capital of the world, and every park open, big or small, really needs to be setting an example of how things SHOULD BE DONE and keeping everyone safe, guests and staff alike. This kind of behavior is exactly why California and New York have been keeping their parks closed. California's Governor just announced he is sending a team to Orlando to see how Disney and other parks are handling COVID-19 procedures before they are willing to think about opening their parks.
If we want to make sure theme parks stay open and that no more jobs are lost across the themed entertainment industry, all parks and attractions need to do what needs to be done for safety, like it or not, and not throw caution to the wind. We want parks and attractions to open everywhere if they haven't, and stay open! So please Fun Spot, get on the ball and make things right for everyone's sake.

(9/21/20) Some great photos of White Lightning at Fun Spot showing off the modified new track added to the coaster have been posted to IG by Midway Mayhem this weekend. This includes some close up shots detailing how the transition from regular wooden coaster track to the new GCI all steel track segments take place.




(9/18/20) According to a post on Facebook it appears that a section of track on GCI's White Lightning at Fun Spot America has been replaced with some of GCI's prototype steel track system that they unveiled during IAAPA 2019 at an after-hours party event held at Fun Spot. Due to the fact that the picture's focus is entirely on the new steel track sections, I'm unsure of exactly where this is on White Lightning, or exactly how much of this prototype track system has been added. If anyone happens to be in the area, please do take some more pictures and send them my way.


(8/27/20) According to a local news report in Orlando, an inspection team in the area hit up five Central Florida attractions to determine which were in compliance with the current COVID-19 safety rules. According to the report, the only park that was deemed to be "not in compliance" by the task force was Fun Spot America because too many people were spotted inside and not wearing masks as required. Unfortunately the excuse given by Fun Spot's CEO, John Arie Jr., was only to say that, "It's really hard for us to enforce it when our local law enforcement doesn't."
The other attractions inspected that were found to be in compliance were: Gatorland, Wonderworks, Magical Midway and Arcade City.

(5/28/20) Fun Spot has announced that they have now reopened their Kissimmee location in addition to the previously reopened Orlando location at the North end of I-Drive. There is one major difference here however, as the local ordinance requires face masks to be worn at all times at the Kissimmee location.


(5/23/20) Screamscape has been told that Fun Spot has reopened their International Drive location on Friday afternoon. While the Kissimmee location remains closed for now, Fun Spot says that they are temperature checking all staff members upon arrival and have teams in place to increase surface cleaning throughout the facility. However, unlike the plans put in place at Universal Orlando for their reopening, Fun Spot is not requiring face masks for guests and is only requiring their Cash-Handling and Food & Beverage staff to wear masks and gloves.

(3/23/20) The last hold out in Orlando for amusement park fun has finally opted to close their gates to prevent the spread of COVID-19. Fun Spot America had previously remained open at all locations until yesterday evening when the company closed the gates and posted the official notice that they were closing for the "safety, health and wellbeing of our Guests, Employees, and Community."


(3/14/19) I'm told that the Fun Spot ferris wheel has been sold to a new owner, who remains unknown. So look for the wheel at the Orlando Fun Spot location to come down in the near future, which still makes me very curious as to what they might install as a replacement.

2020 - Hurricane / New Coaster For Kissimmee Location - (1/14/20) According to the local news Fun Spot's Kissimmee location has opened their new Hurricane roller coaster.




(11/23/19) Fun Spot has reveled the new name of the coaster being added to the Kissimmee location as Hurricane, as chosen by fan submissions.

(11/18/19) Screamscape has been sent two pictures of the new roller coaster under construction at Fun Spot in Kissimmee. Looks like they've got the whole structure in place, so it won't be long before they begin testing and getting ready to open it to the public.



(10/24/19) Fun Spot in Kissimmee is asking their fans to help name their new roller coaster. Just visit the official website to submit your entry.

(10/8/19) A tweet from Fun Spot shows off what appears to be pieces of a possible new coaster. The belief is that this may be the former Viking Voyager from Wild Adventures. Originally the coaster was expected to go to Fun Spot in Atlanta, and while the coaster sat there in storage for a time, this may be it arriving in Kissimmee now. Previous rumors expected the Atlanta park to send their Scream'n Eagle kiddie coaster to Florida, but this did not happen.



FUN SPOT ATLANTA (Fayetteville, GA)

2020 - Seems old plans to add the former Viking Voyage coaster from Wild Adventure have changed and any new plans for 2020 are currently unknown.