GARDALAND
Italy
Merlin Entertainments Group
Park News - (7/30/14) Gardaland Magic Halloween will take place at the park every weekend from October 4th through to November 2nd. Guests who arrive in costume as a monster on opening day can also get into the park for just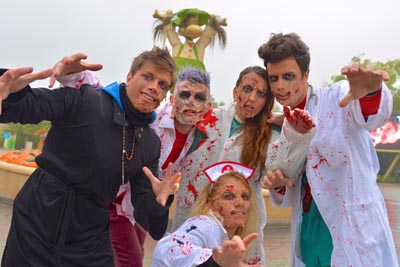 10 Euro. Look for monsters, skeletons, zombies, vampires, ghosts and much more to scare you. You can also enjoy special live Halloween shows and a Halloween parade, Phantasmagorical. There are also special Magic Halloween hotel packages available at the Gradaland Hotel. Contact the park for the latest information.
Also, don't miss our update on the park's new 2015 coaster project below.
(4/24/14) RollerCoasterRevolution reports that Gardaland appears to have put their unique Sequoia Adventure (S&S Screamin' Squirrel) roller coaster up for sale, and has posted a screen capture from the IRM used rides sale page that is listing the 2005 ride for a hair over $1.5 million. Only three of the coasters were ever sold (2005-2007) before the design concept evolved forward into the the current El Loco model starting in 2008 with Steel Hawg.
(11/28/13) Gardaland Magic Winter will run at the park from December 7th to January 6th, 2014 featuring the sights and sounds of the Christmas season, including a 30 meter tall Christmas tree, holiday food and more. The park is also offering a special treat to anyone who comes on opening day (Dec. 7) dressed up as Santa Claus will be allowed to buy a ticket into the park for just 10 Euro.
The park, while only partially open, will have a few new surprises, such as a new go-kart track designed to be the first dedicated track in a theme park that will offer a special slick driving surface that will simulates driving on snow for the electric karts. The park will also feature an ice rink, kids riding down the Baby Gommoni snow hill and more.
Gardalana Sea Life Aquarium will also join into the holiday fun and feature a special underwater Santa Claus who, surrounded by fish, will decorate an underwater Christmas tree on the 8th, 15th, 22nd and Jan. 6th at 5pm.
(8/8/13) Readers out there know my basic disdain for the trend over the last decade at theme parks around the world for creating different tiers of guests by offering premium upcharge perks for better parking spots or access to a virtual queue system so you can cut to the front of the line.
Get ready for the next disgusting development. Gardaland's masters at Merlin are very quietly testing s

omething new at the park's Colorado Boat ride. Right next to the regular queue entrance which has a very long line, Gardaland set up a woman with a credit card machine on a small podium with a big sign behind her announcing a special Gardaland Express upcharge service fee to enter a special single rider line. The sign was in Italian and English and offers guests a way to "Save Time! Speed up your access to the rides". For 3 Euros a person, on an extremely hot day in the park, they were blatantly upcharging guests to gain almost immediate access to the ride.
While Virtual Queue and other cut to the front of the line systems have almost become a necessary evil in today's theme park environment, typically the steep fee to use these systems serves as a deterrent to keep the number of users low enough to minimize the impact on the regular park guests. With a system like this place instead, you lose a lot of that deterrent, because the guests can just opt to pay a little extra to cut to the front of the line on just the key attractions they want, rather than pay for the whole system.
In short this is nothing less than cutting your way to the front of a long line and bribing the bouncer (with a big credit card swiper no less) to let you in past the velvet rope ahead of everyone else. I'm not going to lie, I don't like this one bit, especially not when it is so easy to see what a day in the park would be like if this was fully expanded throughout the entire park in the future.

2014 - Prezzemolo Land and More - Confirmed - (2/10/14) Gardaland will open for the 2014 season on April 1st with the grand opening of the new Prezzemolo Land. According to the press release it will be a new colorful land of fun for the children that will feature a medieval castle at the center that will offer "hilarious wet slides and other exciting water games… And, to defend it from enemy attacks, the little Guests will be shooting water from powerful cannons that will ensure that the fortress is solidly protected." Other new attractions will include "huge flying machines", "happy catapults, acrobatic trampolines, towers, bridges and many more surprises."
Gardaland also has announced that Eurochocolate, an international festival dedicated to chocolate, will return to the park for the first two weeks of April (1 – 13). Gardaland's SEA LIFE Aquarium will also open a new Turtle Paradise (Paradiso delle Tartarughe) display. The nearby Gardaland Hotel will also offer two new themed rooms themed after Gardaland's SEA LIFE Aquarium.
(12/10/13) Gardaland is said to be building a new Pezzemolo Land for 2014 that will feature a new family friendly water ride of some kind, perhaps a Splash Battle.

2014 - New Show - Rumor Only - (2/3/14) Screamscape sources tell us that a new show is also expected to open at Gardaland in 2014 called "Midendhil Musical themed to the Midendhil fantasy adventure book. Apparently the author of the book is also the son of the former Art Director of Gardaland.
Looking over the Midendhil website, it also looks like they have themed attraction plans for Orlando as well…
2015 - B&M Dive Machine - Under Construction - (7/30/14) I'm told that all the coaster track for the 2015 Dive Machine appears to be on site at the park now. And a large orange box structure has appeared in the park that says Operation Orange with www.gardaland2015.it on the side,which opens up an interesting animated teaser site for the new ride, followed by a news report showing an orange portal that has opened in the sky over the park. (Hit the slider in the top corner to get English subtitles.)
(7/17/14) The latest construction pictures from Gardaland showing off their new B&M Dive Machine coaster track on site can be found here.
(7/3/14) A construction update from Gardaland as they prepare to build a new Dive Machine coaster can be found at RollerCoasterRevolution.
(3/14/14) The latest rumors from Gardaland say that the 2015 coaster project,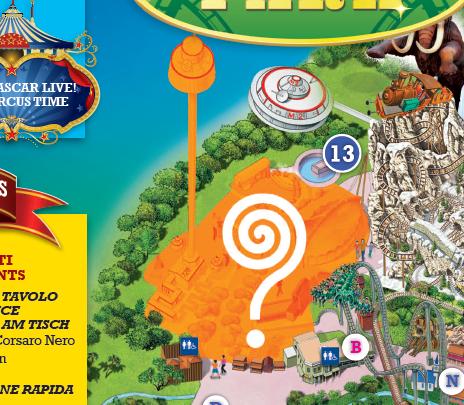 now appearing on the new park maps as a funny looking question mark (?) symbol, may adopt a look and theme similar to that used on The Smiler at Alton Towers.
(1/22/14) It looks like the new Gardaland coaster may be a Dive Coaster after all. According to TheParks.it new documents submitted to the local city hall about the project have been made public record, with the name of the project being clearly labeled as "Attrazione "Dive Coaster".
(12/10/13) It has been pointed out that the layout artwork posted to Facebook is actually something from a B&M patent application for the Dive Machine concept, so this is not a layout for the Gardaland project.
(11/5/13) I haven't heard any of these rumors myself, so I'm just repeating what I'm told here, but according to a new source the Gardaland 2015 coaster may not be a B&M product after all. Just something to think about as 2015 is still far away.
(11/4/13) According to TheParks.it a new Dive Machine style coaster is on the way to Gardaland in 2015. They expect it to be around 42 meters (138 feet) tall. Since Gardaland is owned by Merlin, who just built Krake at Heide Park in 2011, I would expect that the two rides might share some similarities in terms of size and layout. For example Krake stands apoximately 41 meters tall (134.5 feet) tall and was the first "D6" Dive Machine layout, featuring narrower 6-across seat trains which allows B&M to use the cheaper standard sized B&M track scale instead of the more beefy Dive Machine track used for Oblivion, SheiKra and Griffon which offer trains that seat 8 or even 10 riders wide. If I had to guess, I'd expect to see another D6 Dive Machine format here as well.
Future Projects - Confirmed - (3/8/07) Blackstone / Merlin Entertainment confirmed that in addition to future growth plans that include building a second hotel at the park, they also are looking at building a small indoor Legoland themed attraction.