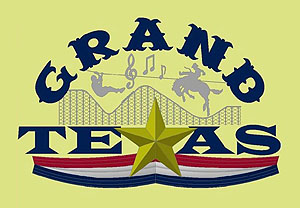 GRAND TEXAS THEME PARK
New Caney, Texas
PROPOSED NEW PARK in 2018 ???? / NEW WATERPARK in 2016 2017 2018 2019
Grand Texas Theme Park - (5/4/19) Texas waterpark fans, get ready, because the long-awaited new Big Rivers Waterpark has set a date for their grand opening as May 25th, and that they are in the process of hiring all their staff for the season.

(11/4/18) The local news flew out to get a peek at the Gator Bayou attraction at Grand Texas. Apparently Gator Bayou opened the doors to families on Saturday for a sneak preview tour to let everyone see the attraction, along with a peek at the Big River waterpark. After that, it's back to construction work to finish off the park in time for a grand opening in 2019.

(7/28/18) Well... they did it again. The Big Rivers Waterpark & Gator Bayou Adventure Parks under construction just outside the Houston area that were expected to open back in June, then delayed until July have now been officially delayed even further as complications have arose due to "weather and other challenges".
According to a video posted to their official Facebook page they are still working hard to finish up the waterpark. The video includes some awesome aerial footage of the property, and looks like the Gator Bayou and floating Wild Isle water play area are about ready to go, the waterpark itself still has a ways to go. They say to watch their Facebook page (see below) for the latest updates on when their attractions will be ready to open.
Based on the video, I wouldn't be surprised if they found way to open Wild Isle before the end of the summer, as they'll want to take advantage of this one while the weather is still warm, though I'm not sure accessible the site is from where guests may need to park. Check out the second video below for some close-up aerial-cam footage of just Wild Isle itself, which sure looks like a lot of fun on a hot summer day.





(5/19/18) According to an update from the local news the new Big Rivers Water Park and Gator Bayou are working to finish up in time for the park's grand opening on June 29th. Follow the link and watch the video update to get a look inside at the attractions already being installed.
(4/12/18) Grand Texas has posted a new video of aerial footage showing off the construction progress on the new Big Rivers waterpark, shot just last week. Check it out below. No slide hardware up yet, but they've poured a lot of concrete and built some stuctures, like the main entrance building, as well as a rather sizable lazy river that appears to surround much of the site, including a large concrete pad in the middle.

(1/30/18) I missed this bit of news from December, but it seems the Grand Texas project actually broke ground on Dec. 14th on their next two projects: the Big Rivers Waterpark and the Gator Bayou Adventure Park. At the time they said both projects, being built next to each other, are expected to be complete in time for Memorial Day Weekend.
While the waterpark will include most of the typical features you expect to find in a small waterpark, Gator Bayou is a different kind of park and will feature attractions such as: Bumper Blaster, Mystic Forest Maze, Big Rock Bayou Mining, Gator Splash, Wild Isle Floating Outdoor Aquapark, an actual "fishing hole", petting zoo, pony rides as well as zip lines and a ropes course.
According to the official website, they will soon be selling a single Annual Pass good for both parks.
(12/8/17) According to the local news Grand Texas may host a groundbreaking ceremony for their planned waterpark on December 14th. This is now four months later than the previously mentioned August starting date for construction.
(8/14/17) The latest Instagram post from the Grand Texas project indicates that the permits to build the Big Rivers Waterpark project are coming in. Looks like they could begin construction on the waterpark this month as they previously said they planned to do, which would see it ready to open sometime in Spring 2018.
(6/22/17) According to this new local news story, a new timeline has been set for the Grand Texas Theme Park project, which construction on the Big Rivers waterpark set to start this August with the goal of opening the park in Spring 2018. Previously the waterpark was said to open sometime this summer, but it quickly became apparent that was just not going to happen, which they now blame on an issue with their lender who backed out at the last moment earlier this year, as well as some delays involving park infrastructure construction.
Once the waterpark opens in 2018, then they will shift focus to the construction of the theme park, sportsplex, and factory outlet mall complex.

(2/24/17) According to a local news article the Grand Texas project has begun construction on the Big Rivers Waterpark with the hopes of finishing it just before the start of summer. That said… they posted no photo updates from the site, and unless they have suddenly started vertical construction and taking delivery of slide pieces, I have to say that I'm a little skeptical that such a project could be finished in the next 90 days. But we'll wait and see…
(2/16/17) So what's going on with the Grand Texas attractions site? While it looks like they did get the RV Park open late last year, and then opened the "Speedsportz Racing Park" go-kart facility and race track for those who own and like to race their very own karts which is also now open and has their very own website.
Unfortunately there hasn't been a true construction update on the rest of the project posted since last July, so the status of the rest of the project, including the Grand Texas theme park, Big Rivers waterpark, Gator Bayou adventure park as well as the Grand Texas Sportsplex is currently unknown. The latest updates indicated that waterpark and adventure park should also open in 2017, but with no sign of a construction update, if they haven't gone vertical on the waterpark yet, it probably wont open in 2017, so they may focus on the Gator Bayou Adventure Park instead.
Anyone been by the site lately to know if they are actually working on the waterpark yet?
(7/23/16) So what's going on at the Grand Texas theme park project: The group has posted a new aerial drone-cam video of the construction site as it looks now in July 2016. So far lots of land clearing done to the site, and the video labels what exactly you are looking at from drainage areas, a wakeboard pond, the Gator Bayou Adventure Park (24 acres), Big Rivers Waterpark (71 acres), the Downtown Texas (45 acre dining/retail area), and the future site of the Grand Texas theme park which appears to still be all woodland (198 acres) and more. So the good news is that the site is active with construction machines for clearing, ground levels, excavating and so on but they really haven't gone "vertical" on anything. However... there is one area that looks like they have focused on more than anything... the Grand Texas RV Resort area where it looks like all the 140 concrete pads for the RVs have been poured, the various roadways for them set up and one building in place on the end probably to Check In and Out, so obviously this will be the first section to open on the property and a good way to get some positive income flowing into the project while they work to finish the rest. In fact, their official website lists the Grand Texas RV Resort as opening on August 6, 2016... so in just a couple of weeks, though the pool wont be ready until the end of the year and a playground is listing to be "coming soon". Meanwhile it looks clear that the Big Rivers Waterpark will not be opening in 2016, so maybe 2017 then?

(10/30/15) The local news says infrastructure construction is ongoing at the site (water mostly but power upgrades are on the way) for the new Grand Texas theme park, along with tree clearing as they proceed towards starting the next phase. Currently the park's schedule is on time to have the new waterpark up and running in time for early Summer 2016, to be followed by the sports fields which will attraction youth sports tournaments to the site shortly afterwards. The Grand Texas theme park itself however is set to open in early 2018. Follow the link and they've got some old and new concept artwork of the project.
(5/28/15) According to this report Grand Texas has outlined a new construction timeline for their amusement resort project. Sections that were to open later this year have been delayed anywhere from a few months to a year due to "design limitations with a previous engineering firm and delays in utility hookups".
The group has since hired a new firm to rework their master plan which has changes some things up, including the moving of the waterpark from along I-69 to a more "interior position" that will actually speed up construction on that phase. A factory outlet mall has also been added to the overall project.
The new plans are still in the works, but Phase 1 is to include the 28-acre Big Rivers Water Park, with the largest wavepool in the Houston area. Look for the waterpark to now open in Spring 2016. Phase 2 of the waterpark will see it expanded over the following three years.
The first phase of the Grand Texas theme park will span 71 acres, feature a new wooden coaster from Rocky Mountain Coasters, a kiddie coaster, a family coaster and two more thrilling steel coasters. There will be 20 other theme park rides, including a stagecoach ride and a boat ride. The completion of the theme park however is dependant on the addition of a new electric substation nearby (expected to break ground in a few months) as the existing power grid would be unable to handle the addition of the theme park. The substation is expected to be completed by 2017, though an exact date on the theme park itself was not given though they were looking at possibly being finished by Late 2018 to Mid 2019.
The first item that will open however will be a new RV Park, which is actually set to open later this Fall. After that will be the Speedsportz and Sportsplex additions, and then the waterpark and new Outlets to open in Spring 2016.

(3/25/15) The following response from sent from Grand Texas when one of our readers asked them when actual construction was going to begin.
"Thank you for your interest in Grand Texas. We will be making an announcement soon that will update everyone on waterpark and theme Park. The incredibly positive response from the investment community to become a part of the Grand Texas vision has necessitated changes in our land use and overall site plan. We have had to readdress our civil engineering and traffic planning for Grand Texas."
(3/19/15) According to a couple of readers I've heard from so far who claim to have driven by the site for the Grand Texas theme park / waterpark / go-kart track project, they have seen no sign of construction as of yet. According to the last news report, they group was planning on opening a go-kart track by December, and while there is plenty of time to still get that up and running by then, the promise of a full waterpark being open by THIS summer is looking to be impossible in my opinion, IF they truly have not started any work yet. Of course, even if they have just started, they would be lucky to have it open by the end of Summer, but hopefully the local news or someone will get wise to this and determine if there is a new timetable for the waterpark or not.
(3/13/15) According to this report the Grand Texas project in development will open a new attraction in December called Speedsportz Racing Park. This will be a two track go-kart racing facility that will break ground later this month and feature European style karts. There will be a more standard kart track with karts that can go up to 50mph and then a high-performance track with karts able to reach speeds up to 90mph.
The article also mentions that the waterpark is also supposed to be open by this summer, but I haven't heard any reports showing off any construction photos yet. (If you're in the area, please do check it out and report back.) The first phase of the Grand Texas park itself was also slated for May 2016, but again... I've seen no solid reports or pictures from the site yet.
(9/12/14) According to a Screamscape reader that lives right in the area where the new Grand Texas theme park is to be built, so far they have seen no sign of construction starting at the site. The local rumor is that they are still working on the financing end of things at the moment.
(7/24/14) The latest update to the Grand Texas theme park and entertainment complex plans is the inclusion of a new race track into the mix. This will be a 2-mile long track to run mainly Go-Karts and Super Karts, though the layout will allow for other kinds of racing as well.
The project has already broke ground and cleared the site for their first phase and are hard at work installing the needed underground infrastructure. The RV Park will break ground in mid-August, then the Sports Complex in September followed by the waterpark in November, with tentative plans to begin work on the theme park itself in early 2015 in order to make the Summer 2016 grand opening.
(6/30/14) Coaster-Net reports that new details about the timeline for the Grand Texas park project have been released. According to the report the first phases will see the opening of an indoor sports complex as early as March 2015, to be followed by the Big Rivers Waterpark which hopes to open by June 2015. Construction on the waterpark is expected to begin this fall if all goes well. Following this, the first phase of the theme park hopes to open by May 2016. Follow the link to read their entire report on how things will line up.
(2/26/14) According to the local news the Grand Texas Theme Park will also Feature an area called Flint Ranch, home to horses, bison and longhorn cattle who can graze alongside one of the park's roller coasters. There will also be a farm house in the center which will offer pony rides, a hayloft themed playground and even give guests the opportunity to milk a live cow, and don't forget an official official Tractor Ride.
(1/20/14) Officials for the proposed new Grand Texas Theme Park have now confirmed that they will not be able to bring back the former Greezed Lightning coaster that once ran at Astroworld. Early designs for the new park had left a space open to acquire and rebuild the Texas classic coaster, but after doing the proper research they have determined that the final costs to rebuild it is too high. Instead they will buy an unknown new coaster for the site that will offer a "taller, faster but a similar ride," experience. The new ride will also somehow honor the classic coaster and memory of Astroworld in some way.
(12/9/13) The latest update from the Grand Texas project promises five roller coasters when the park opens, and no Disney style "price gouging". According to the latest updates the Big River Water Park at Grand Texas will open first in April 2015 and the Grand Texas park itself will either open by December 2015 ahead of the 2016 first full season.
(11/14/13) Three new renderings of the Grand Texas theme park project can be found here, showing off a number of the park's proposed thrill rides including a wooden coaster through a fake mountain, a splash battle ride, ferris wheel, wave swinger, disk'o and many more. So far three lands are shown: Pecos Territory, Main Street and the Grand Boardwalk.
The park's new official website is also live, containing a few more fun images in the Gallery section, including overhead layouts of the entire park, showing off one interesting future "expansion area" that is listed to include the return of Greezed Lightnin' to Texas. It is interesting to note that the former Greezed Lightnin' coaster from Astroworld was sold to Joyland but never set up, then traded to Cliff's Amuseement Park in New Mexico in exchange for a water play area, but Cliff's has also not set any plans in motion to set up the coaster. I wonder if Grand Texas is working on buying it and bringing it back to the Houston area for Grand Texas. That would be kind of cool I think. This would allow today's parents who may have taken their first looping coaster ride on Greezed Lightnin' at Astroworld back in the day to take their own children on the very same coaster.
(10/28/13) A new interview about the Grand Texas theme park reveals a few new details about the park and rides. The park itself will be divided into themed areas, each focused on a different period in Texas' history. There will also be three roller coasters one of which will be a 150 foot tall wooden coaster that will speed along at over 60mph and another will be a steel coaster that will feature "one of the highest inversions in the world." The park will also have a full-size steam train, a stagecoach, water rides, a mile long equestrian trail, petting zoos, pony rides, a working farm, zip lines, a ropes course, and over two dozen amusement rides. They hope to break ground later this fall.
(7/10/13) Good news for the proposed Grand Texas Theme Park, because the local news is reporting that the project's developers just closed on their land deal, purchasing about 600 acres of property near the Flying J Travel Plaza in New Caney. With the land now theirs, they hope to begin the first phases of construction by the end of this year and open the park by 2015 which hopes to begin the process of filling in the void left behind when Astroworld closed.
Speaking of Astroworld, Chuck Hendrix, a former manager at Astroworld is the current CEO of Innovation Leisure Partners, the group tapped to manage and run the new Grand Texas Theme Park. According to Hendrix, "Never before have you had a major theme park depart a market and then be gone for six years with nothing to replace it".
(4/23/13) A great list of rides (with fun names) intended for the Grand Texas theme park has now been posted to the official website. Check it out.
(2/22/13) The people of Houston are desperate for a new giant theme park to replace the closed Astroworld, but this summer you will have to set your sights on the new Galveston Historic Pleasure Pier or make the drive over to SeaWorld San Antonio, Six Flags Fiesta Texas or Six Flags over Texas. So far the plans to build the old EarthQuest theme park proposal seem to be stalled.
That said, there is a new plan afoot for something called the Grand Texas Theme Park hoping to come to East Montgomery County which would include a 'theme park' and an 'entertainment district'. The newly proposed park would be themed to the history and culture of Texas and have a couple of roller coasters, carousel and other typical park rides. They also want to put a focus on live entertainment, which sounds a lot like the original vision for Fiesta Texas way back in the day, as well as add a museum element.
The group hopes to close a land purchase deal y the end of April 2013, finish up their plans and begin work on the site by October 2013, and open by March 12, 2015. While this all sounds like a good plan... the total capital cost involved to build the Big Rivers Water Park, the theme park, Pine Grove Amphitheater and a Gunslingers Paintball attraction is only $118 million, which is in my opinion... microscopic for a true theme park. For comparisons sake, back in 2001 dollars, the cost to build Jazzland (later renamed Six Flags New Orleans) was said to be about $120 million. By today's standards the portion of the $118 million budget allocated to build the Grand Texas Theme Park itself doesn't sound like it will go very far.
There is also around $90-95 million on deck for outside developments like a hotel, restaurants and plans for a baseball stadium. The group also has a plan to invest $33-42 million back into the park over the first seven years... but again... in today's world where a typical new B&M steel coaster will cost you $15-$20 million, they obviously are not intending to take on SeaWorld and Six Flags with their attractions, though they are planning on having their own hotel with between 200-400 rooms. In an almost un-Texas like fashion, they are clearly not trying to be the biggest, and are taking a slow and more cautious approach to this project, which is likely to be better for them in the long run. According to one spokesperson, Monty Galland said, "We want to make sure all of the elements are successful and there is enough traffic to support the business so we are planning very conservatively". The first year attendance figure estimates are modest enough, hoping for between 665,000 to 904,000 and they have tapped Chuck Hendrix (former GM of Six Flags Astroworld) to oversee the park's planning and operations.