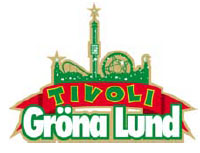 GRONA LUND
Sweden
Parks and Resorts Scandinavia
Park News - (7/9/14) Grona Lund has confirmed that they have closed Insane, the park's Intamin ZacSpin coaster, until further notice, while the death of a rider on the similar ride at Terra Mitica is investigated.
(10/17/13) Grona Lund reports that during this last season where the park celebrated its 130th Anniversary, they also hit an all time attendance record of 1.5 million, a 50% increase over the park's attendance just 5 short years ago.
2015 - House of Nightmares - Confirmed - (11/11/14) As part of the teaser promotion for Grona Lund's new haunt attraction coming in 2015,they scared the heck of the locals. Check out this video below for some laughs.



(11/6/14)
Sally Corp. has released some extra details about their new House of Nightmares haunted house going into Grona Lund in 2015. For starters...this is not a dark ride, but instead is actually a real one-of-a-kind walk-through haunted house experience. This is so much more creepy than a dark ride, as it removes the perceived safety barrier of the ride vechile and track, instead putting you in direct contact with the entire experience, as your hands brush across the walls of the dark corridors. House of Nightmares will feature a collection of custom made animatronic characters and props, GCI video effects, live wife illumination, video projection, Pepper's Ghost illusions, ultraviolet illumination and don't forget… LIVE PERFORMERS!
According to John Wood, CEO of Sally Corporation, ""The House of Nightmares has been an exciting and challenging project for both Sally and Gröna Lund. As with many of our projects, we first entered into an exploratory Design Development agreement to develop concepts that we thought would work well in the facility and in Stockholm. Our team came up with numerous themes of which three were selected to explore in greater detail. Eventually, the House of Nightmares was picked as the best one to scare the fool out of the park's guests. We are thrilled with the opportunity to work with such a fine group of professionals and with such an historic and remarkable park as Gröna Lund. The attraction is a complete redevelopment of a classic walk-thru haunted house...guaranteed to bring out your worst nightmares!"

As guests enter, they are immediately immersed in the story of Dr. Morphio, an American scientist who specialized in the nature of human subconscious and the nature of dreams. It was in the late 1940's, the formative years of television, when Dr. Morphio hosted a program entitled "DreamLand" during which he would interpret the dreams of guests on his show. However, at the height of his fame, his TV career came to a sudden halt when it was revealed that his personal research had become highly unethical and thoroughly illegal. The public was shocked to discover that he was conducting experiments on human subjects in which he attempted to forcibly extract their dreams from their minds and bring their nightmares to life.
Drew Hunter, lead designer of the House of Nightmares attraction says, "As a life-long designer of all sorts of haunted attractions, working with both the Sally Corporation and Gröna Lund teams on the House of Nightmares has been one of the most creative and fulfilling experiences I've ever had. It's been a delight from the first trip to the park almost two years ago with Rich Hill and John Wood to develop several concepts for consideration all the way to the designing and building of the actual attraction. And the best part is knowing that this new walk-through show will be the most unique and frightening haunted house imaginable! Trust me when I say that when you visit Gröna Lund and experience the diabolical Dr. Morphio and his House of Nightmares, you won't believe all the living terrors awaiting you on the inside. And who knows? Dr. Morphio's nightmares may follow you home. They may invade your sleep. And you may wake up ----- screaming!"
(11/4/14) Grona Lund will open a new scary attraction for 2015 called, "House of Nightmares". According to the description House of Nightmares "will comprise the worst form of frightening sensations one can experience at an amusement park. Visitors will find themselves stepping into Dr. Morphio's abandoned house, which is haunted by dark nightmares." Literally… as it seems the good Doctor had found a way to extract the worst nightmares from his patients dreams and had found a way to bring them to life in the real world. After a time Dr. Morphio suddenly vanished without a trace, leaving only his creepy house… where it is said that his experiments now roam freely throughout the hallways and dark corners of the house.
The $3.4 million attraction itself is being built by Sally Corp, known for their dark rides and animatronic figures, and will also feature the latest in digital technology, and some trained actors as well in the mix. According to Grona Lund's Ride Manager, "This horror experience is not for everyone" and will apparently have an age limitation when it opens.

???? - Major Expansion - Planned - (5/1/12) The latest rumors about Grona Lund's next possible expansion claim that the park may try to create an indoor park section that could be open year-round. Hints given out seem to indicate that it will not only include indoor rides, but possibly a new haunted dark ride attraction. I've also heard something about having an underground level under the primary amusement floor for infrastructure, but it would also be a great place to hide a haunted dark ride. The expansion has been referred to under the project name, "Unheard Of".
(6/9/11) I've got a quick update regarding the proposed expansion of Grona Lund. While the majority of people seems to be for it (including the local political types from what I'm told) there are a couple of old apartment buildings that would sit right next to the site who are fighting the project. This has all put the expansion on hold while everyone gets their say about how best to proceed in everyone's best interest, which means that the expansion wouldn't be ready to move forward for several more years, which would push back the first phase until at least 2014 or later.
(10/12/09) I've been told that the park received a final approval vote from the city to move forward with their plans for expansion into what is currently a parking lot area. No exact timeline has been set for the expansion to be finished, but they did say that the soonest it would be ready would be the 2012 season at best.
(12/16/08) Grona Lund is seeking permission to expand again and if approved, this will be their biggest expansion in the park's 125 year history. The plan is to expand the park into a parking lot across from the entrance where they would add a 35 meter tall B&M Inverted coaster, a 100 meter tall heavily themed Star Flyer and much for at a cost of about $65 million. If approved, they hope to have it all ready for either the 2012 or 2013 season.