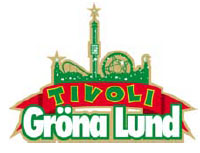 GRONA LUND
Sweden
Parks and Resorts Scandinavia
Park News - (7/9/14) Grona Lund has confirmed that they have closed Insane, the park's Intamin ZacSpin coaster, until further notice, while the death of a rider on the similar ride at Terra Mitica is investigated.
(10/17/13) Grona Lund reports that during this last season where the park celebrated its 130th Anniversary, they also hit an all time attendance record of 1.5 million, a 50% increase over the park's attendance just 5 short years ago.
???? - Major Expansion - Planned - (5/1/12) The latest rumors about Grona Lund's next possible expansion claim that the park may try to create an indoor park section that could be open year-round. Hints given out seem to indicate that it will not only include indoor rides, but possibly a new haunted dark ride attraction. I've also heard something about having an underground level under the primary amusement floor for infrastructure, but it would also be a great place to hide a haunted dark ride. The expansion has been referred to under the project name, "Unheard Of".
(6/9/11) I've got a quick update regarding the proposed expansion of Grona Lund. While the majority of people seems to be for it (including the local political types from what I'm told) there are a couple of old apartment buildings that would sit right next to the site who are fighting the project. This has all put the expansion on hold while everyone gets their say about how best to proceed in everyone's best interest, which means that the expansion wouldn't be ready to move forward for several more years, which would push back the first phase until at least 2014 or later.
(10/12/09) I've been told that the park received a final approval vote from the city to move forward with their plans for expansion into what is currently a parking lot area. No exact timeline has been set for the expansion to be finished, but they did say that the soonest it would be ready would be the 2012 season at best.
(12/16/08) Grona Lund is seeking permission to expand again and if approved, this will be their biggest expansion in the park's 125 year history. The plan is to expand the park into a parking lot across from the entrance where they would add a 35 meter tall B&M Inverted coaster, a 100 meter tall heavily themed Star Flyer and much for at a cost of about $65 million. If approved, they hope to have it all ready for either the 2012 or 2013 season.