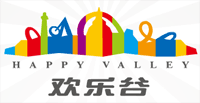 HAPPY VALLEY PARKS
China

HAPPY VALLEY BEIJING (Beijing, China) - website
2017 - Nothing is known at this point in time, nothing new added for 2013, 2014, 2015 or 2016
2018-2020 - New Expansion and New Coasters - (5/4/17) According to a tweet from VHCoasters, Happy Valley Beijing has revealed new expansion plans on a banner posted that include new two new B&M coasters that appear to be a Hypercoaster and a Family Inverted coaster. Can anyone else who reads Chinese tell us what the text next to all of the 'NEW' banners says?

HAPPY VALLEY CHENGDU (Sichuan, China) - website
2017 - B&M Dive Machine & Wooden Coaster - (12/1/15) According to a Tweet from VHCoasters, Happy Valley Chengdu have announced plans to build a new area in the park that will have a B&M Dive Machine (164 feet tall w/ a splash effect) as well as a new wooden coaster (112.2 feet tall, 3280.8 feet long) that will be ready to open in 2017. I haven't heard yet who is making the wooden coaster for sure, but the chain has purchased three Martin & Vleminckx wooden coasters for their other parks lately, so I wouldn't be surprised if this is another M&V coaster.
HAPPY VALLEY CHONGQING (Congqing, China)
New Park - Opening 2017 - (7/12/17) A Tweet from VHCoasters shows off several new pictures of the new Soaring Wings (B&M Wing Coaster) now open at Happy Valley Chongqing.



(3/6/17) Some great photos of a new GCI wooden coaster going up at the new Happy Valley Chongqing theme park going up in China were posted to Twitter last week. The park is expected to open sometime later in 2017 and will feature four coasters, including the green B&M Wing coaster you can see in the background behind GCI's latest project.


HAPPY VALLEY SHANGHAI (Shanghai, China) - website

Park News - (4/18/17) With all the new parks that have opened in China over the last couple of years, it is great to get some actual boots on the ground reviews of these parks from time to time. Case in point today, the OneThemeParkAtATime Blog has posted a detailed review of Happy Valley Shanghai. Even better, they were quick to note how the park now feels in the aftermath of the opening of Shanghai Disneyland in the same city, which may have had the effect of seeing Happy Valley's attendance drop.
(8/26/16) While China's Wanda parks have been in the news mostly lately, before we heard much from Wanda it was the OCT / Happy Valley theme parks that were opening as quickly as they could make them, and it seems they are still growing. According to an article posted by BlooLoop the Happy Valley chain now has six parks now open and is working on the construction of two more to open within the next two years. With a new focus on "Families", Happy Valley says they are "Not Afraid of Disney!" either, especially the huge Shanghai Happy Valley park which has actually been opening a number of new attractions in the past few years. That list includes a waterpark in 2013, the Happy Ocean kids area in 2014, new rides in Typhoon Bay in 2015 along with in-park infrastructure improvements. In 2016 the Playa Maya Waterpark opened a phase-2 expansion.
So what is next for the park? See below...

Late 2017 to Early 2018 - European Town Hotels - Under Construction - (8/26/16) A new on-site resort hotel project begun construction in early July 2016. There will be three hotel buildings, each with a unique country theme: Spain, German and Scandinavian.

2018 - New Land and New Show - (8/26/16) The park will open a new indoor show in the OCT Theater and build a new themed area to be called Shangri-La.

HAPPY VALLEY SHENZHEN (Guangdong, China) - website

2017 - Nothing is known at this point in time, nothing new added for 2013, 2014, 2015 or 2016

HAPPY VALLEY TIANJIN (Dongli, China)

2017 - Nothing is known at this point in time, nothing new added for 2014, 2015 or 2016

HAPPY VALLEY WUHAN (Hubei, China)

2017 - Nothing is known at this point in time, nothing new added for 2013, 2014, 2015 or 2016