HOLIDAY PARK
Hassloch, Germany
Studio 100
Park News - (10/17/13) CoasterFriends has confirmed that Super Wirbel at Holiday Park is being removed to may room for the park's new Premier Rides launched coaster. The last day of operation will be October 31st.
(9/5/13) Looks like Holiday Park (Germany) is making plans to remove their Super Wirbel, a Vekoma Corkscrew coaster that was the first inverting coaster in Germany when introduced back in 1979. The coaster has been marked as being up for sale on the IRG used rides website.
(4/5/12) A trip report from Holiday Park can be found over at the AirTimers forum this week.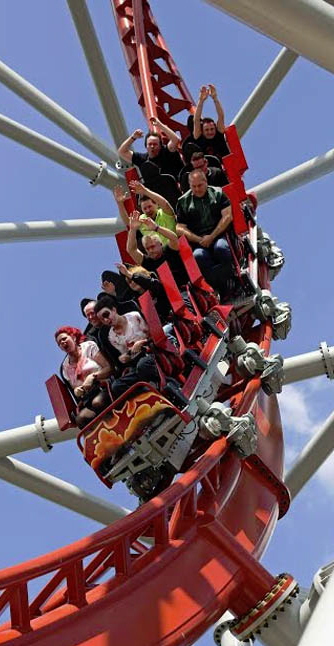 2014 - Sky Scream / Vickie The Viking Land - (4/24/14) Premier Rides reports that Sky Scream, Europe's first triple launch coaster, is now officially open at Holiday Park (Germany).
(3/31/14) POV video of the new Sky Scream coaster at Holiday Park from Premier Rides was posted to YouTube over the weekend. Check it out below!



(1/3/14) I'm told that the new Premier Rides launched coaster coming to Holiday Park will be called Sky Scream. A construction report found here shows off many of the ride's supports are now on site.
(12/4/13) Holiday Park reports that they will re-theme the area from the fishing village to the devil barrels into a "Wickie" land, as well as giving a Wickie the Viking theme to the park's log flume for 2014.
The park will also reuse track segments from the closed Superwirbel coaster along with a real limosine as themed elements for the new 2014 coaster project.
(8/27/13) Big Surprise... Holiday Park in Germany has confirmed that they will build a new Premier Rides launched coaster experience that may look familiar. The ride will be a copy of the Superman Ultimate Flight coaster that opened at Six Flags Discovery Kingdom in 2012.
(12/31/12) Rumor has it that Holiday-Park was looking at installing a Gerstlauer Euro-Fighter style coaster for the 2014 season, but as Tripsdrill is installing the same kind of ride, Holiday-Park may have gone back to the drawing board to come up with a new coaster plan for 2014.
(4/5/12) Screamscape sources indicate that the park has settled on a 2014 opening date for their next roller coaster. While we don't have a clue about the style of coaster to be added, I've heard that they may be in talks with Intamin and Gerstlauer over various ideas. Given the general areas where those two companies cross over, I've got to wonder if they are looking at adding a terrain launched coaster like Maverick at Cedar Point or perhaps something with a vertical lift hill and beyond vertical first drop like a EuroFighter or even Hersheypark's fantastic Fahrenheit. Just something to think about...

2016 - Waterpark - Rumor - (4/5/12) Rumor has it that Holiday Park may be considering adding their own waterpark in time for the 2016 season.