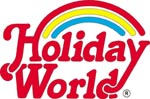 HOLIDAY WORLD & Splashin' Safari
Santa Claus, Indiana (Abbreviation: HW)
Park News - (7/6/15) Images from Holiday World's HoliWood Nights special event have been posted to Negative-G this week for anyone interested.
2016 - New Attraction - Rumor - (9/9/15) To clarify things... ignore the painted lines in the field near Thunderbird. I'm told those were leftover from the park's Rock the World concert that took place in late August and has nothing to do with the park's 2016 plans.
(9/7/15) According to a guest who visited Holiday World this weekend, they reported that The Legend coaster was closed all day. They asked guest services about it before leaving and were told that The Legend would be closed for the rest of the season but added that it would return "more amazing" next season. Hmmmm.... we haven't much at all about what Holiday World has in store for 2016 yet.
On a similar note about 2016 plans, they also noticed a section of land besides Hyena Falls and Thunderbird that had yellow spray painted lines on the ground around the plot, possibly indicating the site for something else planned for 2016. After adding the incredible Thunderbird coaster to the park for 2015, it would only make sense for Holiday World to focus on a waterpark addition in 2016.