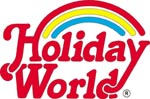 HOLIDAY WORLD & Splashin' Safari
Santa Claus, Indiana (Abbreviation: HW)

Park News - (5/15/14) The HoliBlog seems to be teasing that a possible announcement could be made on May 19th, 2014. (Click Here For More Details)
(5/5/14) I'm told that Holiday World is hosting a free coaster enthusaist day in the park on May 15th, open only to card-carrying members of the major coasters clubs. The hours are limited, but it will include a very special and rare walk-back into the woods tour of Voyage at 2pm that they say you really don't want to miss. Remember what we've been hearing is going on out in those deep thick woods? Yeah… you may be going in up close and personal to see what is going on. If anyone goes, please do send me a report about what takes place.
It is also worth mentioning that the park's always fantastic HoliWood Nights 2014 will take place on May 30 & 31 this year. Click here for all the details on both events!
(4/18/14) Holiday World has now confirmed the removal of Gifaffica (formerly Pilgrim's Plunge) from the park. The simple and official reasoning is that the ride has not been the most reliable of attractions since it first opened. "If you're one of our super-fans, you're probably not surprised. You've noticed the ride has not been open as often as we all would have liked. We sincerely apologize for the disappointment."
I recall several comments of shock from readers sent in to me as well when the Intamin made attraction was first announced for Holiday World, including at least one reader who predicted that not only would the park would live to regret that particular choice, but they would end up removing it within a few years. Looks like they nailed it on the head... I'll have to ask them for advice the next time I play the lottery. While not sited as a reason, I also imagine that last summer's accident at Cedar Point's on their Intamin flume ride (Shoot The Rapids) that shares the same boat design may have just been the icing on the cake needed for Holiday World to pull the plug on this Thanksgiving Turkey.
On to bigger and better things I suppose... such as the first shipment of parts for the park's new Mayflower ride that just arrived yesterday morning.
(4/17/14) Rumor has it that Giraffica, formerly Pilgrim's Plunge, may be removed from Holiday World. The park's new 2014 season map seems to back this up, as the Intamin flume ride has been removed from the map as well. If the rumors are true, look for the ride to be removed, but the station will be saved and repurposed for a new future attraction, likely in 2015.
(3/12/14) Holiday World will add some new themed additions to the park this season, thanks to a new partnership with the PGAV Destinations design team. The new additions will take the form of the Wildebeestro restaurant in Splashin' Safari, the Safari Outpost shop (also in Splashin' Safari), and a new interior and exterior for Mrs. Klaus Kitchen in the Christmas section of the park.


(3/6/14) Holiday World has announced that the Dancer's Thunder Bumpers Junior attraction (kiddie Bumper Boats) is being moved into the Splashin' Safari waterpark and will need a new name. To help with the task they have started a contest to rename the ride on the HoliBlog where the winner will get two 1-Day tickets to the park.

2014 - The Mayflower - (9/12/13) Sorry I'm a bit late this this news… I announced it last week over the Screamscape social media pages (Twitter, Facebook, Google+) and then completely forgot to post it here. My bad…
Anyway, Holiday World made their big announcement back on Sept. 6th… Mayflower Day… because the park's new ride for 2014 will be a Chance 60-seat Swing Ship themed as the Mayflower and installed into the Thanksgiving section of the park. All together, Holiday World will actually spend $8 million on the new ride and other projects for the 2014 season.
Other projects include a Friday Night Fireworks show (June 13 to August 1), Extended hours for Splashin' Safari, a Summer Fun Card program, a new restaurant and shop in Splashin' Safari, a covered bridge entrance into Thanksgiving, more cabanas, benches and shade structures as well as a major refurbishment to the parking lot. Even better… the cost of admission in 2014 will not increase.



(9/5/13) A couple of readers have pointed out that instead of Friday the 13th… Holiday World may make their 2014 announcement on September 16th… also known as Mayflower Day, the day the pilgrims departed for the "new world" aboard the Mayflower. This seems more than possible, as the Thanksgiving area of the park in now in need of a new attraction, ever since they renamed the Pigrims Plunge as Giraffica and virtually moved it to the waterpark, leaving Thanksgiving with only the Gobbler Getaway, Turkey Whirl and The Voyage. Adding a new ride or two into Thanksgiving would help fill it out a bit more. (I still think Halloween is in desperate need of a Haunted Mansion style ride, but that's just me…)
2015 - Thunderbird - Under Construction - (7/31/14) Thanks to everyone who sent in their assumed explanation about Thunderbird's inclusion of LSM and Flywheel technology for the launch system. I now have the official explanation from the park's Paula Werne and VP of Development & Maintenance, James Olliver.
The B&M launch system itself will be the typical LSM magnetic launch system you would expect to find on a ride like this, launching the trains purely through elecrto-magnetic force, without the use of any kind of "cable driven pull device like Dragster". As for the flywheel inside the "Will Power" building, "The flywheel is used to generate the large electrical current required to power the LSMs. This is possible because the flywheel is connected to an electric generator."
From what Paula also explained to the CoasterRadio.com podcast, Holiday World first added their very own power substation next to the park last year. They were surprised that no one really picked up on this fact, as it was needed to increase the power service to the park to accommodate the huge additional draw an LSM launch coaster would put on the local power grid. So from what I understand, the substation sends power to the flywheel for storage, which then releases it all at once into the LSM launch system, allowing the coaster to operate without dimming the lights across all of Santa Claus, Indiana every few minutes all day long.
(7/30/14) The first shipment of bright orange Thunderbird track has been delivered to Holiday World this week and they have posted four pictures on their Facebook page.
(7/24/14 - Updated) Holiday World just made their big announcement live on the net about their 2015 attraction, a $22 million investment, something that guests have been asking for this forever. Thunderbird… the world's first launched B&M Wing Coaster. (According to the press release the launch is done with LSM technology, though it was mentioned during the live broadcast that at the end of the launch track will be a special building next to the ride labeled "Will Power Steam Engine Company" in memory to Will Koch will contain a flywheel to be used for the launch somehow, so I'm not quite sure on how the technology for this will work. Or perhaps something was communicated wrong.. anyway...
It will have 4 inversions along the way with some cool fly-by / fly-through themed elements along the way. The coaster will move into a launch position room where there will be fog, sound and lighting effects to simulate a thunderstorm and kaboom! You launch at 60mph in 3.5 seconds into a 140 foot tall Immelman inversion, then into 125 foot vertical loop, the tallest on any Wing coaster, some fun over-banked turns, a Zero-G-Roll and then a high speed turn to dodge a barn that will turn into a final barrel roll as you travel through the barn itself. All the details can be found here, or watch the videos below.



(7/24/14) CoasterRadio has announced that they will be having a Live Webcast on Thursday night at 10:15pm (EST), immediately after the live Holiday World announcement of their 2015 attraction. Holiday World's Paula Werne will be on the show to answer listener questions and go over the many clues from the 66 Days at Sea mini-site. You can listen in live at live.coasterradio.com or come back later and listen to the archived version when you have time.
Speaking of the 2015 project, the Day 65 clue is an interesting one, talking about a giant creature in the clouds with enormous wings that make a thunderous sound. Almost sounds like a B&M Wing Coaster doesn't it? Or perhaps the long awaited B&M 4th Dimension coaster… they did say it would be a first of it's kind ride. Hmmm…
(7/22/14) We'll soon know what Holiday World has planned for 2015 when the park makes the big announcement on Thursday evening at 8:30pm (CDT). In the meantime however, a few other factoids have leaked out, such as the cost. According to the local news, Holiday World's new ride is said to have a budget of $22 million, which certainly does fit right in with all the rumors of the park adding their first mega steel coaster to the park. $22 million is more than twice the amount the park has invested in any previous single attraction to date. The announcement will also be streamed live on HolidayWorld.com for everyone who wants to watch.
So what will it be? Other hints and comments have come from the HoliBlog over the past few weeks as well such as: 'Upside Down', 'One.Big.Thing', 'When you find out, you're gonna flip', 'truly unique' and 'The first of its kind'. I'm still leaning towards a steel coaster… and I've even heard the strange rumor from some who think that this could possibly be B&M's first magnetic launch coaster. As one reader points out with a screen capture from the construction cam, the long line of footers could possibly represent a launch track area. Of course the mythical B&M launch coaster has been rumored for years, and there is no hard connection to B&M at the park yet either, so for now we wait.
(7/14/14) Holiday World has set up a new live construction-cam ahead of the big 2015 attraction announcement. Click here to see it during the daylight hours, meanwhile there are only about 10 days left for the 66DaysAtSea website.
(7/8/14) So what's the latest happenings over at the 66DaysAtSea website? As of this moment, they are up to Day 50 and I have to admit due to all the Diagon Alley excitement in Orlando, I kind of lost track of where this voyage was going for a time. So far the passengers have endured a number of violent storms during their voyage, with lots of talk about how they have to stay below decks in the darkness, while the ship rocks violently all around them.
Again, I have to wonder if this is a new water ride of some kind, like a Mack Water Coaster, but that's based entirely on the story they are trying to tell. 50 days down… 16 more to go until landfall… so we'll know soon enough as they approach the New World.
(6/6/14) Have you been following along with the 66DaysAtSea mini-site? As of this moment we are up to Day 17 in the journal… but solid clues seem difficult to come by though so far we have seen two separate videos showing nothing but water, and more pictures of clouds than I can count.
I can only hope that the visuals of clouds and water do indicate that perhaps the park will install a water coaster, simiar to those Mack made for the SeaWorld parks.
(5/28/14) JohnnyUpsidedown has posted a few interesting pictures, one showing off survey markers for whatever Holiday World has planned for 2015, and a second image showing off the approximate locations of things on an overhead image.
(5/23/14) Our friends at CoasterRadio discovered an interesting thing about the press teaser Holiday World sent out regarding the 66 Days At Sea promotion. The items were all packaged in paper shreds… and in a scene that I can only imagine looked something like the scene from the film, ARGO, E.B. painstakingly reassembled the paper shreddings back into a single document, where we can now see what appears to be plans to build footers for something...
Now I have to wonder… did everyone get the same piece of paper shredded with care, or did each media package go out with their own unique page and piece of the overall puzzle? Has anyone else tried to put their paper shreds back together again?
(5/22/14) Have you been following along with 66 Days At Sea? So far it is playing along, as it should, like a set of diary entries as told by a mother making the journey across the Atlantic to the new world. It has got be thinking however… with the closure of Pilgrim's Plunge (Giraffica), what would really be a great new attraction for the park, and unique to the area, would be some kind of water coaster attraction, similar to the Mack made Journey To Atlantis ride systems we've seen built at the SeaWorld parks. The combination flume / coaster ride concept could very well stand in to replicate the long journey at sea experience by the Pilgrims making the ocean crossing, with a well timed coaster portion of track to serve as a thrilling encounter with a storm at sea, before they make a final arrival (and splashdown) in the new world where guests exit into the Thanksgiving area of the park. (I like it!!)
Of course the other rumors about just what may be on the way are running the gambit of options… from a thrilling new steel coaster ride through the woods (also a good idea), to a new Gravity Group wooden coaster concept with inversions (and Timberliner trains), to a wild idea that would see The Voyage closed early for the season in late July, only to reopen next season aften being given a New Texas Giant / Iron Rattler style makeover as a hybrid coaster experience with overbanked turns and inversions.
To be honest, I can't rule anything out at this point, as Holiday World has proven over the years to be mysterious and able to keep their secrets kept very close to the vest until they are ready to make the big announcement. So I can only say… stay tuned to 66DaysAtSea for the next couple months while we try to figure it out and decipher any clues they choose to drop.
(5/20/14) The big news from Holiday World this week was the launch of a new teaser website about the 2015 addition at www.66daysatsea.com. Each day you can follow along with the journey as they approach the big announcement to be made on July 24th. Some other interesting comments can also be found on the HoliBlog.
(4/30/14) Screamscape spies have sent in a couple of pictures showing off the approximate location of where Holiday World may have started clearing in the forest to make room for an unknown 2015 new coaster. It's not much to look at yet, but gives us an idea of where to keep looking as the season goes on. As previously reported, this area is said to be in the vicinity of the second drop on The Voyage.
(4/26/14) It is still early to know for sure what Holiday World has planned for 2015, but according to one source, the park may finally be looking to add their first large steel coaster. They also claim that some early ground work (or site testing) may be going on in the woods out back by Voyager.
(10/10/12) Holiday World talks to the local news about their new Happy Halloween Weekends event and also confirms that they will likely not have a new project for 2013. But they also mention that they have big projects in the works for 2014, 2015 and 2016 already.