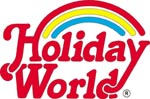 HOLIDAY WORLD & Splashin' Safari
Santa Claus, Indiana (Abbreviation: HW)
Park News - (12/2/20) Holiday World has confirmed that they are performing some much needed retracking to The Raven wooden coaster. According to the blog post the job is so big that they are calling it "The Raven Evermore" project. So far all of the track has been removed from the lake turn and will be replaced, and they note that some of the wood just removed was actually still original wood from when The Raven was built back in 1995.
By the time The Raven reopens in 2021, nearly 25% of the coaster's track will have been replaced. There is more information to come as well, as they dropped a teaser that another aspect of the The Raven Evermore project will be revealed in the future.

(10/14/20) Holiday World is now offering a famous "Thanksgiving To Go" meal you can pick up from the park for $149.99. The basic meal comes with a Turkey, Mashed Potatoes, Stuffing, Mac & Cheese, Green Beans, Cranberry Sauce, Yeast Rolls and a Pumpkin Pie, and there are a few options items you can also add-onto the order such as Sweet Potato Casserole, Pecan, extra sides or extra pies.
This is a PICK-UP item only however… so they aren't going to ship it to you, so this offer only applies to those who are within driving distance of the park. Click here for all the details!

(10/11/20) Holiday World is trying to make it up to park fans about closing for the season early with the launch of a new digital online experience called "Kitty's Digital HoliWeen". The online experience will feature Halloween themed recipes, activities and an online scavenger hunt where the grand prize will be two overnight stays in a cabin at Lake Rudolph along with two Season Passes to the park's 2021 season. Follow along with the park's social media accounts on Oct. 10, 17 and 24th for fresh new content to launch at 10am Central Time.

(9/28/20) Say goodnight to Holiday World, as the park opted to close early for the 2020 season at the end of Sunday. Normally Holiday World was known to stay open on weekends through October, but as they felt they wouldn't be able to operate a lot of their family-friendly fall activities due to COVID-19 guidelines, they made the hard choice to just close early.
On a high note… Holiday World is now looking forward to making plans to celebrate the park's 75th anniversary in 2021. Lets hope things are going much smoother for them by then.

(7/30/20) According to this report Holiday World guests are now required to wear face masks when visiting the theme park. This new policy went into effect on Monday. Face Masks will be available for purchase at the park for those who do not have one for just $1.

(5/23/20) Holiday World has released a little more information about their virtual queue system you will need to use while visiting the park in 2020. The system is called the "inLine Reservation System" and guests will use it to virtually wait in line for the park's attractions without having to stand in an actual queue for the entire time. This allows you to not waste time standing in a line, while you can explore the park with your friends and family, get something to eat, shop or watch a show while you wait.
Using your mobile device you will create a reservation for the attraction you want to ride. For those without a mobile device, you can also get a wristband from the park to use instead. When you make your reservation you will be told an estimated virtual wait time based on the number of people in the virtual line system ahead of you. You will be notified when it is your time to ride and upon arriving at the attraction a ride attendant will scan a QR code on your phone or wristband and allow you to move on into the normal queue for a very short wait before riding. Once you done, you can return to the system to select your next attraction and enter the next virtual queue.
I know what some of you are thinking… where are they going to make me store my phone while I ride since I have to use it all day to interact with the system. Holiday World has that covered and will provide bins at all major attractions to store your phone while you ride. Phone users have a slight advantage over the wristband users, as they will be updated throughout the day if the virtual queue they are in gets longer, shorter, or if the ride closed due to weather or maintenance issues, which will update your return time accordingly. Wristband users will just be given a single return time when making the reservation, but it won't get updates.

(5/17/20) A quick update on the reopening of Holiday World. While Season Passholders will be allowed to return to the park on June 14th, the general public will not be allowed until June 17th. The Splashin' Safari waterpark will not open until July 4th.
While Season Passholders will apparently not need a reservation to visit the park, those buying regular tickets will need to purchase a ticket online for the specific day they want to visit. "AnyDay" tickets are no longer being sold, but if you have previously purchased one, it will be honored. Regarding face masks… the park will follow the state guidelines, but expects Face Masks will be optional by the time they reopen as the state is expected to lift that restriction on June 14th. In addition, those with face masks should expect to be told to remove them when taking a spin on a wild ride, as they will be considered a "loose article".
Holiday World will also start a new "inLine Reservation System" that will introduce virtual waits to attractions at the park for the first time. You can't use the system until you are in the park, so no advanced ride reservations.

(5/5/20) Good news for Holiday World fans this week. The theme park has announced that they now intend to reopen the park on June 14th. This falls in line with the plan by the state governor to reopen businesses. Changes guests can expect will include hand sanitizer stations throughout the park, breaks to sanitize ride vehicles throughout the day and attendance to the park will be limited.

(4/28/20) Holiday World will host an online "Digital Opening Day" event on May 2, 2020. While they can't open for real, this doesn't mean they can celebrate the 2020 season online, so look to the site for welcome videos, attraction videos, lunch recipes, games, a magic show and more. The day will end with an online fireworks show to play at 8pm before the park closes for the day at 9pm.

(4/8/20) Holiday World has posted an update to their website regarding the start of the 2020 season. According to the park they are now planning to open the park sometime in early June. There will be some other changes made to the park as well, such as the arrival of hand sanitizer stations all over the park, and they are looking into temporary ride closures throughout the day to allow crews to sanitize the ride vehicles.

(3/22/20) According to the official Holiday World website the park might not be ready to open to guests on May 2nd as hoped. While the maintenance team is still on track to have everything ready to go on that date at this time, Holiday World is watching, waiting and consulting with experts and their peers about when the right and safe time to reopen will be. Stay tuned as the date gets closer to see what the final decision will be.

(1/6/20) Holiday World has released the first three episodes of their new 2020 podcast on their website. Click here to have a look and listen.

(12/24/19) Holiday World has sent out a teaser for their new upcoming revival of The Official Holiday world Podcast. Check it out below.




(12/15/19) Good news for Holiday World fans, after a one year hiatus the Official Holiday World Podcast will be returning in early 2020, with three new episodes planned out so far.

(12/13/19) I'm told that Holiday World has now quietly removed the Hyena Falls slide complex along with the Hyena Springs splash area.

(9/21/19) Holiday World posted an update to their social media channels to let everyone know that Voyage is down for the rest of the season so they can begin working on a large track refurbishment project. I'm told that they had hoped to wait until the season was over to begin, but it became necessary to bump up the start date.


2020 - Cheetah Chase - (7/4/20) Holiday World fired up their new Cheetah Chase racing/dueling water slides and they look like a blast! Check out the POV video showing off the right lane in the tweet below.




(1/17/20) Holiday World shared an aerial construction photos of their Cheetah Chase waterslides this week. From the look of things, most of the high-up slide sections are now in place, with the station, launch and finish-line areas still very much under construction.


(11/20/19) While you can see much at night, Holiday World has a live webcam focused on the construction of the new Cheetah Chase attraction which you can find here. Things are moving fast as the new slides are quickly taking shape.

(11/11/19) Construction on the new Cheetah Chase dueling water coasters has gone vertical and you can see the progress on the site in the latest video posted by Holiday World down below as the first slide sections are being lifted into place.


(8/7/10) Holiday World and Splashin' Safari have announce Cheetah Chase for the 2020 season, which will be the park's third water coaster attraction, but this will be feature two ProSlide RocketBLAST powered racing slides designed to race and dual against each other over 1,700 feet of slide while racing to get back to the finish line. At an estimated cost of $7 million, this will be the world's first full-circuit racing water coaster.