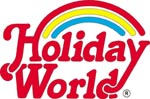 HOLIDAY WORLD & Splashin' Safari
Santa Claus, Indiana (Abbreviation: HW)
Park News - (3/22/20) According to the official Holiday World website the park might not be ready to open to guests on May 2nd as hoped. While the maintenance team is still on track to have everything ready to go on that date at this time, Holiday World is watching, waiting and consulting with experts and their peers about when the right and safe time to reopen will be. Stay tuned as the date gets closer to see what the final decision will be.

(1/6/20) Holiday World has released the first three episodes of their new 2020 podcast on their website. Click here to have a look and listen.

(12/24/19) Holiday World has sent out a teaser for their new upcoming revival of The Official Holiday world Podcast. Check it out below.




(12/15/19) Good news for Holiday World fans, after a one year hiatus the Official Holiday World Podcast will be returning in early 2020, with three new episodes planned out so far.

(12/13/19) I'm told that Holiday World has now quietly removed the Hyena Falls slide complex along with the Hyena Springs splash area.

(9/21/19) Holiday World posted an update to their social media channels to let everyone know that Voyage is down for the rest of the season so they can begin working on a large track refurbishment project. I'm told that they had hoped to wait until the season was over to begin, but it became necessary to bump up the start date.


2020 - Cheetah Chase - (1/17/20) Holiday World shared an aerial construction photos of their Cheetah Chase waterslides this week. From the look of things, most of the high-up slide sections are now in place, with the station, launch and finish-line areas still very much under construction.




(11/20/19) While you can see much at night, Holiday World has a live webcam focused on the construction of the new Cheetah Chase attraction which you can find here. Things are moving fast as the new slides are quickly taking shape.

(11/11/19) Construction on the new Cheetah Chase dueling water coasters has gone vertical and you can see the progress on the site in the latest video posted by Holiday World down below as the first slide sections are being lifted into place.


(8/7/10) Holiday World and Splashin' Safari have announce Cheetah Chase for the 2020 season, which will be the park's third water coaster attraction, but this will be feature two ProSlide RocketBLAST powered racing slides designed to race and dual against each other over 1,700 feet of slide while racing to get back to the finish line. At an estimated cost of $7 million, this will be the world's first full-circuit racing water coaster.