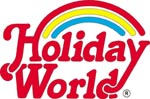 HOLIDAY WORLD & Splashin' Safari
Santa Claus, Indiana (Abbreviation: HW)

Park News - (6/15/19) Holiday World has announced that Monsoon Lagoon, their original big-bucket dump attraction that opened at Splashin' Safari back in early 90's has now been closed for good, as it has reached the end of it's life expectancy.

(9/9/18) Congratulations to Holiday World & Splashing Safari who had their Wildebeest water coaster slide named as the world's #1 water park ride for the ninth year in a row in the Amusement Today's 2018 Golden Ticket Awards, with the nearby Mammoth water coaster at the park taking the #2 spot, Splashin' Safari named as the #2 Water Park and Holiday World itself being names as the #1 "Cleanest Park" for the 19th consecutive year.

2019 - Santa's Merry Marketplace - (4/3/19) Holiday World reports that they will lift a 5,000 pound top half of the tower into place above the new Santa's Merry Marketplace building this Thursday. A picture of the top piece assembled on the ground in front of Santa's Merry Marketplace was also sent, giving us our first glimpse of the park's new grand food location.

(10/12/18) Holiday World has announced Santa's Merry Marketplace will be coming to Holiday World in 2019. The former Kringle's Kafe (closing Oct 28) location will be replaced with a larger new Santa themed dining experience with the Sugarplum Scoop Shoppe, the Candy Cane Confectionary, Polar Expresso, along with a food court of options that will include Pizza & Pasta, Asian Cuisine, Deli Sandwiches, Burgers, Dogs, desserts and a ton of kids food options.
Other park improvements on the way for 2019 include on-ride photos on Gobbler Getaway, a new "Kids World" event on the weekends starting in mid-August, the Candy Cornucopia and Dippin' Dots Sundae Shoppe in Thanksgiving, new cabanas added to the waterpark and new track improvements are on the way to The Voyage.



2020 - Cheetah Chase - (8/7/10) Holiday World and Splashin' Safari have announce Cheetah Chase for the 2020 season, which will be the park's third water coaster attraction, but this will be feature two ProSlide RocketBLAST powered racing slides designed to race and dual against each other over 1,700 feet of slide while racing to get back to the finish line. At an estimated cost of $7 million, this will be the world's first full-circuit racing water coaster.