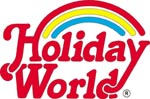 HOLIDAY WORLD & Splashin' Safari
Santa Claus, Indiana (Abbreviation: HW)
Park News - (11/15/17) I'm told that Holiday World is expected to announce something new for the park in 2018 sometime on Tuesday, Nov. 21st. Stay tuned!
(9/14/17) Holiday World was awarded two awards from this year's Golden Ticket Awards presentation. For the 8th year in the row Holiday World's Wildebeest water coaster was named as the #1 Water Park Ride. For the 18th year Holiday World was also named #1 Cleanest Park. Congrats to everyone at Holiday World.
2018 - Waterpark Expansion and More - (11/23/17) Holiday World has announced a new addition is on the way to the park for the 2018 season. The major park will be a new kid friendly addition to the waterpark that will feature eight junior slides and a small wave pool called Tembo Falls and Tembo Tides respectively. Tembo is actually the Swahili word for Elephant, so you can guess what theme they will be going for here.
Other new additions will include a themed maze to be used for Halloween Weekends, new entertainment options (a stunt show, magic show and more) track improvements planned for The Voyage, new cabanas for Splashin' Safari and even an electric charging station in the parking lot for those with electric cars.