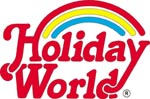 HOLIDAY WORLD & Splashin' Safari
Santa Claus, Indiana (Abbreviation: HW)
Park News - (3/6/14) Holiday World has announced that the Dancer's Thunder Bumpers Junior attraction (kiddie Bumper Boats) is being moved into the Splashin' Safari waterpark and will need a new name. To help with the task they have started a contest to rename the ride on the HoliBlog where the winner will get two 1-Day tickets to the park.
(2/19/14) The Indiana Supreme Court has declined to hear anything to do with the legal dispute between Holiday World's Lori Koch and her brother-in-law Dan Koch. In other words, the October 3-0 ruling from the Indiana Court of Appeals that Lori Koch could retain her majority shares of the company will stand as the final word. With the legal issues now over, the Koch family can focus on what is important the present and future of Holiday World.
(10/4/13) The Indiana court of appeals has now ruled in favor of Lori Koch, widow of Will Koch, to retain her 60% controlling interest in Holiday World. At this point if Dan Koch wants to continue his efforts, he'll have to take it up with the Indiana Supreme Court. I can only hope they can put all this to an end and focus on the running of Holiday World.
(8/21/13) Unfortunate news from Holiday World came out Friday afternoon. According to the park's official Holibog, they have decided to not use the Timberliner trains on Voyage. I'll copy the official statement below.
"For four years, we have worked in partnership with Gravitykraft Corp. to test a new style of roller coaster train for The Voyage, our award-winning wooden roller coaster.
We very much appreciate Gravitykraft's efforts in this process, however ultimately we have decided to continue running the existing trains on our three wooden coasters."
As for my own personal speculation, my gut feeling is that this really may have very little to do with the Timberliners, but perhaps after four years the park has realized that the issues with The Voyage are not going to be solved by a new train, but instead they should focus their efforts on fixing the track. While I'm not suggesting an I-Box style conversion, I think the last four years has provided enough evidence to back up the benefits of Topper Track. Outlaw Run's amazing popularity this summer, built from the ground up with the Topper Track system may be something they can't ignore. A Topper Track retrofit of The Voyage may do a world of good for it, and allow them to keep the PTC trains.
(8/9/13) The Koch family members are back in court this week as part of the appeal filed by Dan Koch to try and settle who has control of Holiday World.

2014 - The Mayflower - (9/12/13) Sorry I'm a bit late this this news… I announced it last week over the Screamscape social media pages (Twitter, Facebook, Google+) and then completely forgot to post it here. My bad…
Anyway, Holiday World made their big announcement back on Sept. 6th… Mayflower Day… because the park's new ride for 2014 will be a Chance 60-seat Swing Ship themed as the Mayflower and installed into the Thanksgiving section of the park. All together, Holiday World will actually spend $8 million on the new ride and other projects for the 2014 season.
Other projects include a Friday Night Fireworks show (June 13 to August 1), Extended hours for Splashin' Safari, a Summer Fun Card program, a new restaurant and shop in Splashin' Safari, a covered bridge entrance into Thanksgiving, more cabanas, benches and shade structures as well as a major refurbishment to the parking lot. Even better… the cost of admission in 2014 will not increase.



(9/5/13) A couple of readers have pointed out that instead of Friday the 13th… Holiday World may make their 2014 announcement on September 16th… also known as Mayflower Day, the day the pilgrims departed for the "new world" aboard the Mayflower. This seems more than possible, as the Thanksgiving area of the park in now in need of a new attraction, ever since they renamed the Pigrims Plunge as Giraffica and virtually moved it to the waterpark, leaving Thanksgiving with only the Gobbler Getaway, Turkey Whirl and The Voyage. Adding a new ride or two into Thanksgiving would help fill it out a bit more. (I still think Halloween is in desperate need of a Haunted Mansion style ride, but that's just me…)

2014-2016 - Future Attraction Plans - (10/10/12) Holiday World talks to the local news about their new Happy Halloween Weekends event and also confirms that they will likely not have a new project for 2013. But they also mention that they have big projects in the works for 2014, 2015 and 2016 already.