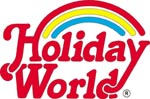 HOLIDAY WORLD & Splashin' Safari
Santa Claus, Indiana (Abbreviation: HW)
Park News - (9/9/18) Congratulations to Holiday World & Splashing Safari who had their Wildebeest water coaster slide named as the world's #1 water park ride for the ninth year in a row in the Amusement Today's 2018 Golden Ticket Awards, with the nearby Mammoth water coaster at the park taking the #2 spot, Splashin' Safari named as the #2 Water Park and Holiday World itself being names as the #1 "Cleanest Park" for the 19th consecutive year.
2018 - Waterpark Expansion and More - (11/23/17) Holiday World has announced a new addition is on the way to the park for the 2018 season. The major park will be a new kid friendly addition to the waterpark that will feature eight junior slides and a small wave pool called Tembo Falls and Tembo Tides respectively. Tembo is actually the Swahili word for Elephant, so you can guess what theme they will be going for here.
Other new additions will include a themed maze to be used for Halloween Weekends, new entertainment options (a stunt show, magic show and more) track improvements planned for The Voyage, new cabanas for Splashin' Safari and even an electric charging station in the parking lot for those with electric cars.

2019 - Santa's Merry Marketplace - (10/12/18) Holiday World has announced Santa's Merry Marketplace will be coming to Holiday World in 2019. The former Kringle's Kafe (closing Oct 28) location will be replaced with a larger new Santa themed dining experience with the Sugarplum Scoop Shoppe, the Candy Cane Confectionary, Polar Expresso, along with a food court of options that will include Pizza & Pasta, Asian Cuisine, Deli Sandwiches, Burgers, Dogs, desserts and a ton of kids food options.
Other park improvements on the way for 2019 include on-ride photos on Gobbler Getaway, a new "Kids World" event on the weekends starting in mid-August, the Candy Cornucopia and Dippin' Dots Sundae Shoppe in Thanksgiving, new cabanas added to the waterpark and new track improvements are on the way to The Voyage.


(10/10/18) Well that didn't take long… Holiday World confirmed just what that new building going up really is. It's a brand new office building for the park staff… so sorry… no secret new attraction.
Of course, this still leaves the question about what the park may be planning for the 2019 season unanswered. The only rumor so far is that this could be a year for some internal improvements and upgrades to the park's existing attractions, instead of adding something new. I guess we'll have to wait and see, but word is they will announce whatever it is later this month.
Elsewhere there has been a rumor that the creation of a new bigger office space in Thanksgiving will eventually free up the old office space behind Kringle's, which would open up that space for a possible big future new project down the line.