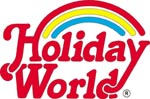 HOLIDAY WORLD & Splashin' Safari
Santa Claus, Indiana (Abbreviation: HW)
Park News - (2/18/16) Holiday World reports that they will bring back the park's old Freedom Train to the park this season, but only as part of an in-park display, and not as a functional attraction. The locomotive has been restored to feature the original blue and red colors and "Santa Claus Land Railroad" name on it. Look for it to be shown off in the park's 4th of July land.
2017 - Firecracker - (12/1/16) Holiday World has chosen to release a "manniquin video" full of hints about what they are up to for 2017 which you can watch below as well as some fun "easter eggs" you might catch as well. Go on and watch it first before we tell you what is really going on down below.



Done? The video is pretty clear that the new attraction for 2017 will be called Firecracker, and according to the press release Firecracker will be a fully restored Calypso ride (one of only a small number still working in the world) that will be given a new patriotic theme and installed across from the Liberty Launch tower in the park's 4th of July land. The ride itself has a long history of operating in the region, starting out new at LeSourdsville Park near Cincinnati until it closed in 2002, then moving to Fun Spot in Indiana which then closed in 2008. Now the ride is coming to Holiday World after getting a lot of love, a new name and an all new paint job.
The park has other projects underway for 2017 as well including the addition of a new wheelchair-accessible Holidog's Treehouse, as well as wheelchair-accessible access to the Holidog Express train and Star Spangled Carousel. Other projects include new shade structures over several attractions (Kitty's Tea Party, Comet's Rockets, Jungle Racer and Otorongo), re-tracking sections of The Voyage and Raven, a new six-story tower at Watubee family water slide, improvements to the Alamo restaurant and more.
Keep an eye on the new Holiday World Podcast coming out this Friday for more details on some of these projects.