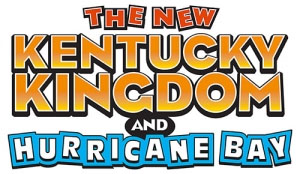 KENTUCKY KINGDOM
(Formerly known as Six Flags Kentucky Kingdom)
Louisville, Kentucky
Park News - (3/12/15) Despite Kentucky Kingdom claiming that they sold off or removed the Dragster cars or the Greezed Lightning train, a reader drove by the park a few hours ago and discovered both are still on site sitting on the ground near Lightning Run apparently.


(3/11/15) According to Kentucky Kingdom, the old Dragster cars once at the park were sold off to another park, and the Greezed Lightning trains are no longer on site either, so it seems the photo sent in was a bit old. Shame...
(3/2/15) In our last update we posted a picture (see below) with the mysterious re-appearance of the old Dragster cars sitting in the snow at Kentucky Kingdom, looking to have been preserved quite well over the years. Another reader also noticed something interesting in the background of the same photo... that the park still has the second train from Greezed Lightnin' on site as well. Classic Schwarzkopf coaster trains don't grow on trees after all, so it does make one wonder just what the future may have in store for this train, as the coaster itself was torn apart for scrap.
(2/18/15) We haven't forgotten... Kentucky Kingdom is back to teasing their #KingdomSeven thing again... because now they are actually doing some ground construction work for it, as posted to their Facebook page.
(1/23/15) Sounds like Screamscape was on to the solution to the #KingdomSeven riddle... because a few days after our previous report about how the Kentucky Kingdom Education in Motion webpage clearly mentioned seven rides were coming in 2015, that same page has now since been edited to remove any reference to the seven rides. But Google kept a cache version of the original just so you can compare.

(1/20/15) If you read though the Education in Motion page on the Kentucky Kingdom website you'll see that it mentions in the first paragraph that the park will be "introducting SEVEN new rides in 2015" which seems to confirm our suspicions about what the #KingdomSeven hastag push may be about. So the question is, when will the park revel their final new additions, and have they started construction on them yet?
(1/16/15) What is "Kingdom Seven"? That is what Kentucky Kingdom wants everyone to be thinking about as they started to tweet out the #KingdomSeven hashtag with no explanation. The park already announced 5 rides (new and returning) for 2015, but could there possibly be two more on the way?
2015 - Five Seven Eight New Attractions - Confirmed - (3/25/15) Screamscape has been informed that the ride pieces on trailers shown in the last set of pictures posted is the pieces of the park's new Vertigo "SkyCatcher" ride.
(3/23/15) A reader has sent in new pictures of Kentucky Kingdom where they have discovered the hardware for a new ride for the park, which appears to be a Zamperla Samba Tower style family ride.
(11/6/14)

News Plus Notes has posted a few new pictures from Kentucky Kingdom this week showing off T2 being repainted a new bright red color as part of the ride's planned reopening in 2015 as T3. It is worth noting that T2 was also bright red when the ride first opened under Ed Hart's leadership years ago and was painted black by Six Flags.
(9/26/14) Kentucky Kingdom confirmed the park's new 2015 additions a few hours ago. The list includes the revived T3, Raging Rapids River Ride and Enterprise as well as two new rides: the 130 foot tall SkyCatcher ride (an ARM Rides Vertigo) and the swinging / spinning Cyclos pendulum flat ride. (Zamperla 16-riders).
The park claims to have had a great 2014 season, serving around 600,000 guests during the abbreviated season, and it looking to increase those numbers by quite a bit in 2015 I'd expect.
(9/8/14) A little more information about Kentucky Kingdom's 2015 plans came in over the weekend. In addition to T3 and Raging Rapids River Ride, another new attraction for the season will be the reopening of the Enterprise. In addition, they have also promised to add 'two new family thrill rides' to the mix, as well as offer extended weekday hours and more operating days for the 2015 season.
(8/30/14) Kentucky Kingdom has let their passholders as part of the 2015 renewal program that the park will offer 6 new attractions in 2015. We already know about T2 becoming T3 (whatever that may entail) and I've heard about Raging River Rapids (minus the old Penguin theme) and something in the Amphitheater arena, so what will the other 3 be?
(6/24/14) It has been confirmed on the Kentucky Kingdom website that the former T2 roller coaster will indeed reopen in 2015 as "T3" along with the Raging Rapids River Ride and a 5,000 seat amphitheater.