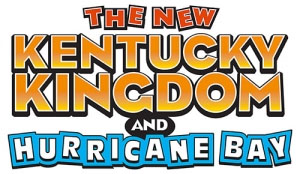 KENTUCKY KINGDOM
(Formerly known as Six Flags Kentucky Kingdom)
Louisville, Kentucky
Park News - (3/28/18) While not at Kentucky Kingdom itself, the local news reports that Kentucky Kingdom is finalizing a contract with Louisville Metro Parks to operate the new "Zipline Kingdom" opening this summer at Jefferson Memorial Forest, located about a 15-20 minute drive to the south of the theme park. It seems a former operator at the local opted not to renew their contract to run it, and Kentucky Kingdom offered to purchase the attraction. You can find out more about this new 3-hour attraction at the official website.
(10/4/17) Kentucky Kingdom confirmed to guests at the Last Rides event that the park's Enterprise was leaving for good. No word on what might replace it, though he did suggest that the park's next coaster will be a Hyper style coaster and possibly open in 2019, just in time for the park's 30th Anniversary.
(8/11/17) Kentucky Kingdom fans the park will have a special "Last Rides" event at the park on Sunday, October 1st, the last day of the 2017 season. The special ticket event will include food and ERT sessions after the park closes to the public that day. Follow the link for more info.
2018 - Scream Xtreme and More - (11/4/17) Kentucky Kingdom has announced their plans for 2018 at last. New for 2018 will be a new high intensity flat ride called Scream Xtreme, which despite looking like a next-generation Huss Enterprise, this is actually a Zamperla Endeavour. (Check out the video below to see what it looks like in motion).
That's not all either... the park will make improvements and retrack Thunder Run, two new movies are coming to the 5-D Cimema (Happy Family: The Ride and Journey 2: The Mysterious Island), and a new family sized flat ride called Rock 'n' Roller is also on the way. Plus look for more cabanas at the Big Surf wave pool.

???? - New Coaster - Rumor - (7/23/16) Ed Hart spoke to the attendees at an ACE event at the park late last month and without being too specific, he indicated that the park would likely add another new coaster in either 2018 or 2019. Fun note: other topics address included the possibility of building a tunnel under the road the runs through the park, and the fact that Ed Hart dislikes Dark Rides and has no intention of building one at the park.