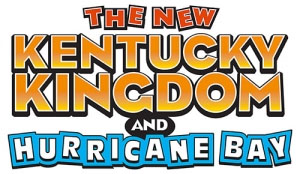 KENTUCKY KINGDOM
(Formerly known as Six Flags Kentucky Kingdom)
Louisville, Kentucky
NOW OPEN (REOPENED on MAY 24th, 2014)
Park News - (8/6/14) Kentucky Kingdom has announced their operational plan for the week of the Kentucky State Fair as well as special pricing which can be found here. While the park's over 30 attractions will become part of the State Fair experience, the park will close the Hurricane Bay waterpark for the duration of the fair.
Since the park will be contained in the middle of the state fair, there is always a bit of confusion about how things work. Kentucky Kingdom passholders will have admission into the the park for free, but AFTER they have paid for admission into the state fair.
For fair guests without Kentucky Kingdom season passes, they can buy a One-Day Park Admission & Ride Pass for $9.95 (+tax) exclusively from area Kroger stores from today through to August 24 (final day of the fair). The general public can also purchase admission at the park gates for $19.95 (+tax). Keep in mind that the state fair's carnival midway rides are run independently from Kentucky Kingdom, and come with their own separate costs. During the fair KK will also have a different operating schedule, open from 1pm to 9pm on weekends, and 4pm to 9pm on weekdays.
2015 - Five New Rides - Confirmed -

(9/26/14) Kentucky Kingdom confirmed the park's new 2015 additions a few hours ago. The list includes the revived T3, Raging Rapids River Ride and Enterprise as well as two new rides: the 130 foot tall SkyCatcher ride (an ARM Rides Vertigo) and the swinging / spinning Cyclos pendulum flat ride. (Zamperla 16-riders).
The park claims to have had a great 2014 season, serving around 600,000 guests during the abbreviated season, and it looking to increase those numbers by quite a bit in 2015 I'd expect.
(9/8/14) A little more information about Kentucky Kingdom's 2015 plans came in over the weekend. In addition to T3 and Raging Rapids River Ride, another new attraction for the season will be the reopening of the Enterprise. In addition, they have also promised to add 'two new family thrill rides' to the mix, as well as offer extended weekday hours and more operating days for the 2015 season.
(8/30/14) Kentucky Kingdom has let their passholders as part of the 2015 renewal program that the park will offer 6 new attractions in 2015. We already know about T2 becoming T3 (whatever that may entail) and I've heard about Raging River Rapids (minus the old Penguin theme) and something in the Amphitheater arena, so what will the other 3 be?
(6/24/14) It has been confirmed on the Kentucky Kingdom website that the former T2 roller coaster will indeed reopen in 2015 as "T3" along with the Raging Rapids River Ride and a 5,000 seat amphitheater.