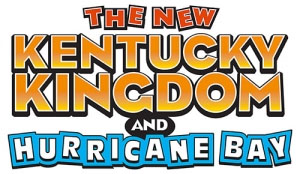 KENTUCKY KINGDOM
(Formerly known as Six Flags Kentucky Kingdom)
Louisville, Kentucky
Park News - (10/13/18) A new video documentary all about Kentucky Kingdom has been posted to YouTube this week. It's called "Save My Park: A Kentucky Kingdom Documentary" and chronicles the open, closed, open again, closed again, and now reopen history of Kentucky Kingdom. It's a great production… give it a watch-through! You wont regret it.

2019 - Kentucky Flyer - (4/18/19) Kentucky Kingdom released an official POV video of their new Kentucky Flyer coaster making a test run. Check it out below!




(2/17/19) Kentucky Kingdom held a tour of their new Kentucky Flyer coaster construction site the other day and you can see some pictures of the new ride posted to Twitter below.


(2/12/19) A great little construction report showing off the progress of the Kentucky Flyer can be seen over at Coaster101 this week.

(1/31/19) A Screamscape reader dropped by Kentucky Kingdom the other day and sent in some new pictures of the Kentucky Flyer under construction. Enjoy!


(12/10/18) A new construction video from Kentucky Kingdom showing off the status of the new Kentucky Flyer coaster was posted this weekend. Would you believe that not only is concrete being poured for the foundation but some of the supports are already vertical? According to the report they are on schedule to begin installing the track in January. Check it out below.


(12/5/18) Kentucky Kingdom put out a new official POV video for their Kentucky Flyer coaster this week (see below).


(11/14/18) A couple of fun pictures were posted to Twitter from IAAPA a bit ago from Coaster Crew showing off the lead coaster car for Kentucky Kingdom's new Kentucky Flyer coaster. It has a very cute design, themed as a blue and red prop era fighter plane.


(10/19/18) Good news for Kentucky Kingdom, the local news and park have confirmed that shortly after Kentucky Kingdom made their case in a press conference the Kentucky State Fair Board gave them the needed approval to go ahead with the project after all. If you follow the link you'll also see a great aerial photo showing off where the coaster will be located along with where the 1-acre needed comes into play, along with the size and shape of the whole 20-acre expansion property that was supposed to be given to the park for future expansion projects like this.

(10/17/18) You have got to be kidding me… because Kentucky Kingdom just can't catch a break when it comes to dealing with the Fair Board. (and seriously… why is the Fair Board calling the shots when Kentucky Kingdom is the premier attraction on the site?) Over the summer they were causing problems by going back on their agreement with the park over parking issues, and long ago I know they caused a ton of headaches for the park under both Six Flags ownership as well as Ed Hart's previous run with the park.
So what's the latest headache? Would you believe they are trying to stop the construction of the newly announced Kentucky Flyer wooden coaster? Kentucky Kingdom is building the coaster which will include using a 1-acre section of a 20-acre
tract that Kentucky Kingdom is entitled to use as part of their agreement with the Kentucky State Fair Board from when they reopened the park.
Construction is already underway for the coaster and the Fair Board was made aware it was coming two months ago, but just hours after Kentucky Kingdom took them to court over the previously mentioned parking issue, the Fair Board sent a cease and desist order for all construction on the coaster. You can see the press release issued by Kentucky Kingdom in the video below. It's really worth watching because the actions of the Fair Board make no sense to anyone.


(10/8/18) Kentucky Kingdom announced that for the 2019 season the park would add the Kentucky Flyuer, a new family sized hybrid wooden coaster (steel structure) from The Gravity Group featuring their Timberliner branded trains. It will have a classic out & back style layout, but be perfect for the whole family with a 45 foot first drop and a top speed of 35mph along the 1,280 foot course.


(9/29/18) Kentucky Kingdom says they will make their new 2019 announcement live this Sunday night on their YouTube channel, when they reveal #whatsinthewind.

(9/25/18) The latest teaser from Kentucky Kingdom now gives us a name for the new attraction... the Kentucky Flyer, along with a graphic of what looks and sounds like a WWII era style fighter plane. Now I'm thinking a Zamperla Air Race would fit the bill here very well.


(9/15/18) Kentucky Kingdom has released an interesting teaser trailer for their new 2019 attraction that says, "Something is in the wind". The official announcement date is Sept. 21, but if this was Cedar Fair as of a few years back I might guess that they were putting in a Windseeker ride... but no reason Kentucky Kingdom can't put in one or a Star Flyer, right? (Update: Well, one good reason... because they've already got one. Ooops! My bad! Sorry, I forgot all about that.)
Well... actually there is a big reason. With the park located right on the edge of the local airport, they have been prevented from installing any very tall attractions over the years due to FAA regulations. Looking back, I think the tallest ride they ever had was Hellevator that only stood 177 feet and was located near the park entrance, while Chang was closer to the airport and was only 154 feet tall. So if Kentucky Kingdom is going for some kind of aerial / tower ride... I would expect it to remain within that height range. (Meanwhile the other park's coasters currently top out around 100 feet...)
So what else could it be? Given that it could have a flight theme... and if they were wanting something fairly unique and different than anyone else... I wouldn't put it past them to maybe grab a Gerstlauer Sky Fly, or something similar, but this is simply just my own personal guess and not a rumor or even a trace of a hint from someone, but with a max height of 72 feet, it would fit in well under the FAA limits.