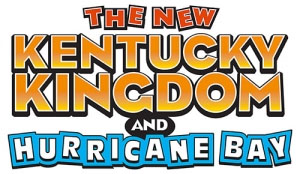 KENTUCKY KINGDOM
(Formerly known as Six Flags Kentucky Kingdom)
Louisville, Kentucky
NOW OPEN (REOPENED on MAY 24th, 2014)
Park News - (8/6/14) Kentucky Kingdom has announced their operational plan for the week of the Kentucky State Fair as well as special pricing which can be found here. While the park's over 30 attractions will become part of the State Fair experience, the park will close the Hurricane Bay waterpark for the duration of the fair.
Since the park will be contained in the middle of the state fair, there is always a bit of confusion about how things work. Kentucky Kingdom passholders will have admission into the the park for free, but AFTER they have paid for admission into the state fair.
For fair guests without Kentucky Kingdom season passes, they can buy a One-Day Park Admission & Ride Pass for $9.95 (+tax) exclusively from area Kroger stores from today through to August 24 (final day of the fair). The general public can also purchase admission at the park gates for $19.95 (+tax). Keep in mind that the state fair's carnival midway rides are run independently from Kentucky Kingdom, and come with their own separate costs. During the fair KK will also have a different operating schedule, open from 1pm to 9pm on weekends, and 4pm to 9pm on weekdays.
(7/14/14) Kentucky Kingdom incurred the social-media wrath of mothers everywhere late last week when a park staff person asked a mother visiting the park who was breast-feeding to go to a private facility within the park to do it. Shortly following the initial outcry online, Ed Hart (President & CEO) made an official statement on Facebook to both clear the issue, and publicly establish the park's official policy on the issue once and for all.
"As President & CEO of Kentucky Kingdom, it is my responsibility to set policy which is in the best interest of all our guests. To that end, I want to make it absolutely clear that Kentucky Kingdom totally supports the benefits that accrue to mother and child from breastfeeding. We have absolutely no restrictions on breastfeeding at the park, and will leave it up to mom to determine and know, when and where she desires to breastfeed – whether publicly or privately (in the several buildings available for that purpose). Regarding displaying "discretion," we will leave it up to mom to make that determination and in no way will our staff interfere with mom's decision. We have instructed our staff accordingly. I am sorry for any confusion this issue has caused, and I personally apologize if we have offended anyone.
Ed Hart"
Screamscape approves, and I think it's great to see the CEO step up to the plate so quickly to make the right call and set things straight. According to some of the local news articles I've read on the subject, Ed Hart even called the woman in question directly to apologize for the matter.
(7/9/14) Kentucky Kingdom says their attendance so far this season has been through the roof. According to their press release:
"After its first month of operations, Kentucky Kingdom and Hurricane Bay's total attendance is exceeding that of the former Six Flags Kentucky Kingdom by 24%, and revenues by 65%. These strong results are despite the new park operating 13 fewer days than the previous operator. The park reopened on Memorial Day Weekend, after a $44-million transformation that completely remodeled the combination theme park and water park, located at the Kentucky Exposition Center. The park has been closed since it was abandoned by Six Flags in 2009.
According to park spokesperson John Mulcahy, "There was clearly a pent-up demand for the reopening of a NEW, Bigger, Better and Wetter Kentucky Kingdom. It validates our promise to deliver world-class rides and attractions, while providing a higher standard of guest excellence, at affordable prices." Mulcahy continues "The park is also receiving exceedingly high marks from it's in-park guest surveys."
"Attendance has also been bolstered by the park's success in selling season passes and exceeding its goal of 100,000 passes. The park continues to sell season passes ($99.95) at a healthy rate."
(6/24/14) Click Here too to see what Kentucky Kingdom has in store for 2015.
(6/6/14) A detailed review with pictures of the new Kentucky Kingdom experience has been posted to the TPR Forum this week that is worth reading. The park was packed and it seems clear that the locals are flocking into Kentucky Kingdom once again, which is great news. The new waterpark area looks simply stunning.
(5/22/14) An article that talks with Ed Hart about the reopening of Kentucky Kingdom mentions that Hart's team will focus on new roller coasters as they build up and grow the park over the next several years. They mention the short-term plan is to add T-3: Terror to the 3rd Power in 2015 and then to revive the closed Twisted Twins racing/dueling wooden coaster for 2016. No details are given, but T-3 will be some kind of relaunch of the closed T-2 coaster already in the park, the first Vekoma SLC to open in North America back in 1995, which gave rise to the unfortunate nickname, Hang & Bang, for this line of Vekoma coasters due to their rough ride experience. It will be interesting to see what they can do to really bring T-2 to the next level in 2015. The park also plans on opening their concert amphitheater for the 2015 season with a schedule of special events and concerts.
In the meantime, more incredible pictures of Kentucky Kingdom, as seen during the ACE Spring Conference preview event, have been posted by our friend, JohnnyUpsideDown. Check them out!
(5/21/14) Negative-G has some photos and a trip report from a preview visit to the new Kentucky Kingdom that you need to see. While the word on the new Lightning Run is that it is a fantastic ride, it seems the trains restraints are a bit on the overly engineered side and words like "tight" and "staple" were used… which has the unfortunate side effect of slow loading and causing more than a few bigger riders to take the walk of shame after not fitting.
(5/16/14) The Lightning Run POV video is back again, thanks to Chance Rides, along with a reverse POV of Mike & Dick Chance taking the first ride! We've also been sent a picture of the second Lightning Run train (Purple) which is now on site. Just scroll down a bit past the videos to the photo thumbnails to find it.




(5/15/14) The full POV video of the new Lightning Run coaster at Kentucky Kingdom has been posted by Chance Rides. It actually looks like it gets faster as it goes on, rushing at full speed into the brake run at the end. UPDATE 10:22am EST - Unfortunately, the video has now been made private. Sorry to those who didn't get to catch it last night, but it is looking to be a good one.
(5/13/14) A video clip showing off Dick & Mike Chance taking the first ride on the new Lightning Run coaster at Kentucky Kingdom has been posted to YouTube. While it doesn't have POV footage, the camera follows the train through the layout and it doesn't seem to have a slow moment in the entire layout, even as it blasts up the final airtime hill before hitting the brake run. Looks like one heck of a ride!

(5/12/14) Who's ready to take a spin on Lightning Run? A new pic ture showing off the view from front seat was sent in this weekend.
(5/1/14) I've got more Lightning Run goodness for you this week as we get a look at the first train for the new Chance coaster being loaded up and put on the transfer track.
(4/24/14) If you can't wait to try out a ride on Lightning Run at Kentucky Kingdom when it opens, this will really get you excited. Check out the view from the top of the lift hill in four new pictures sent in to Screamscape this week.
(4/15/14) Kentucky Kingdom Season Pass sales are said to have been going through the roof, so much so that the park extended the Sunday deadline to buy them at the old price until Monday evening. If you missed it… sorry… too late.
The old discount rate is now gone and season passes are now selling for $99.95. However, there is one more discount you can take advantage of. Through a partnership with Kroger, Kroger stores are now selling the $99.95 season passes at a special discount rate of just $69.95 starting today through to June 2nd. Take advantage while they last!
(4/11/14) More fantastic pictures of Lightning Run under construction at Kentucky Kingdom were sent in to Screamscape this week. Looking good guys! Nice to see such a fun and unique creation come to the park instead of just another cookie cutter clone.
(4/4/14) An assortment of six new Lightning Run pictures were sent in to Screamscape this evening. Enjoy the close ups!
(3/27/14) Screamscape has been sent some very special, up close and personal, photos of the new Lightning Run coaster at Kentucky Kingdom. I'm told that currently the coaster has installed about 75% of the track, with the lift hill and first drop sections being next on deck for installation, followed by the brake run and station track segments.
(3/26/14) Looks like Kentucky Kingdom's new Lightning Run coaster is nearly complete according to this picture posted to Twitter.
(3/12/14) In case it hasn't been said before… Kentucky Kingdom will open on May 24th, 2014!
(3/8/14) Kentucky Kingdom has posted a great picture of Lightning Run's curved incline track section on Facebook, which will be just after the 100 foot first drop. The colors are very striking, so I can't wait to see how this one looks when they are finished.
(3/6/14) Kentucky Kingdom shows off a picture of the supports for their new Lightning Run coaster being put into place on their Facebook page.
(2/28/14) Kentucky Kingdom is preparing to install a new drop tower ride called FearFall, a 129 foot tall new Super Shot tower from ARM Rides. Look for the pieces to arrive sometime in the next few weeks.
(2/19/14) Kentucky Kingdom reports that the first track pieces of their new Lightning Run roller coaster have arrived. You can find a picture on Facebook.
(1/9/14) Due to the overwhelming response, Kentucky Kingdom has suspended their online job application process. The park has already received over 7,000 applications for just 1,000 positions and will be working through these first before opening up the application process for more in the future.
(1/3/14) The local news reports that Kentucky Kingdom will be hosting a job fair this Saturday to fill about a 1,000 seasonal positions at the new theme park. It will be held from 10am to 4pm at the Crowne Plaza Hotel (830 Phillips Lane, near Gate 1 to the Kentucky Expo Center).
This Job Fair is structured as a meet and greet opportunity - allowing interested individuals a chance to meet face-to-face with park management and learn more about the various departments and jobs available this summer. The Job Fair is open to all individuals 16 years of age and older, who are interested in becoming a part of the 2014 seasonal team.
If your last name begins with a letter between A-M: 10 AM – 1:00 PM.
If your last name begins with a letter between N-Z: 1 PM – 4:00 PM
Important: Before the Job Fair or immediately after attending, applicants must fill out an application online at www.kentuckykingdom.com (Applications can be found under the EMPLOYMENT tab).
(11/26/13) According to this article the cost of a season pass to Kentucky Kingdom in 2014 will be $59.95, with general admission tickets going for $44.95 for adults, and $34.95 for children under 48 inches tall. Parking will be $8.00.
(11/21/13) Pieces for several of the new waterslides have arrived onsite at Kentucky Kingdom this week. They've posted a picture on their Facebook page.
(11/20/13) Our friends at Coaster Crew are on site at the IAAPA trade show this week and just finished an interview with Chance Rides where they talk all about the new Lightning Run coaster.

(11/19/13) Kentucky Kingdom has updated their website with all new details about what new attractions they have planned for 2014. The biggest addition will be the new Hurricane Bay waterpark that will be twice the size it was before. New features in the waterpark include:
Family Wave Lagoon – A new 12,000 sqft wave pool surrounded by ample deck space to relax on.
Adventure River - A new rapid current river attraction where the water will rush by at six times the speed of the park's existing lazy river. These are one of my favorite new waterpark creations of the past decade. So much fun…
Plummet Summit – A 52 ft tall family raft slide
Kids Cove – 10,000 sqft of interactive fun playspace for the kids and mini-water slides.
Speed Slide Complex – Two high speed waterslides, one is a 'bump slide' called Wave Runner where you'll drop 66 ft and hit massive airtime as you go over the drops. The other is called Deep Water Dive, and will be America's Tallest Speed Slide standing 121 ft tall, dropping you at a 70º angle.
Wikiwiki Wai Slide Complex – featuring three entirely different slide experiences. Wailele Run is a covered family raft slide with unexpected drops and twists, Waikiki Wipe Out is a Cannon Bowl style slide and Kilauea is tube slide featuring mini funnels along the way down.
The park will also add the new Sea Lion "Splash" educational animal show to the park in 2014 featuring resued sea lions.
There will also be a new 5D Cinema theater coming in 2014. The announcement abou the movie coming to the park will be made in the near future.
Imagination Playhouse – Let your imagination run wild! At Imagination Playhouse the possibilities are endless! There are story-tellings, sing-a-longs and arts and crafts, presented on a rotating basis. Don't be surprised if King Louie makes an appearance!
King Louie's Playground for the kiddies will be near the park's entrance and feature three new kiddie rides: Whirl-A-Round, Rock-A-Bye Swings and Jump Around.
You can also download a copy of the new 2014 park map by clicking here which shows off the old T2 coaster as "Coming 2015" and Twisted Twins as "Coming 2016".
For coaster lovers, the big announcement is a brand new coaster named Lightning Run opening on the former site of Greezed Lightnin'. Lightning Run is the first Chance Hyper GT-X Coaster, sort of their take on the concept of an Intamin Mega-Lite. It will stand 100 feet tall and feature an 80º near-vertical first drop, followed by lots of hills, twists and turns, but no inversions. (See teaser video below)
The park will also feature three other new rides including Fearfall (129 ft drop tower ride), Professor's John's Flying Machines (Flying Scooters) and new Bumper Cars.

(10/21/13) Screamscape was contacted by John Mulcahy, the new Director of Marketing and Communication for Kentucky Kingdom over the weekend. John was nice enough to let us know that the budget information and artwork discovered in the 10/17/13 update is "both dated and inaccurate" and was part of a much older presentation to the state. John promises that within the "next few weeks" they will be holding the official press release to release the details and show off the new concept artwork for the NEW Kentucky Kingdom and Hurricane Bay. So as such, I'll remove the images and screen captures, but if you want to see the old proposal, I'll leave the link up below.
(10/18/13) Three images showing off examples of the new slides rumored to be coming to Kentucky Kingdom in 2014 were sent in by a reader. It looks like a great collection of slides… featuring some of the latest slide designed and a few unique creations that mix thrill elements found in separate slides together in one creation.
(10/17/13) An interesting document filed with the local planning commission by Kentucky Kingdom breaks down some interesting facts. The most fascinating item is a breakdown of cost estimates for what and how Kentucky Kingdom is spending their first $43.5 million.
Nearly $3.7 million is to be spent on ride repair and refurbishment projects. During the media event last week they mentioned the refurbishment of Thunder Run was estimated to be close to $1 million, and look for nearly as much to be spent on refurbishing T2.
There is also a price breakdown on 'NEW RIDES' coming in 2014, with over $10.5 million to be spend on the large waterpark expansion (which will include a ProSlide Kraken Racer 6-lane mat slide). The park will also buy a new steel coaster for about $6 million and a "135-foot giant swing ride" for about $891,000. The rest of the money is going into new general equipment, landscaping, construction and closing costs and keeping $5 million in the bank for 'working capital' and for a 'contingency' budget.
Between late 2014 and late 2016 Kentucky Kingdom is also planning ahead to spend about $1.5 million on an unknown "Water Attraction" in 2015 and $4.666 million on the rebirth of Twisted Twins for 2016.
(10/14/13) A reader over at Negative-G was lucky enough to get an invitation to come and test ride Thunder Run the other day for the cameras and give his pure review of the new Thunder Ride ride experience.
In another development, it is rumored that Kentucky Kingdom has bought RMC in to take a look at Twisted Twins to see what they can do for it. Not sure if this will end up being a general refurb, or something more transforming… so we'll wait and see. I'm sure they'll get the park reopen before they make a final call on what to do with the Twins.
(10/12/13) Kentucky Kingdom did mention on Twitter the other day that they are planning on making an announcement about new rides coming to the park for the 2014 re-opening sometime in November. With that in mind however, their hard labor is starting to bare fruit as Thunder Run make some test runs on Thursday, with Ed Hart and a few lucky staff members and invited guests getting to take the coaster for the first ride anyone has had in years. Click here to watch Thunder Run in action! In other news, I'm told that the park's infamous T2 coaster (Vekoma SLC) will likely be renamed T3 when the park reopens.
(9/27/13) Wave3 News took an on-site tour of Kentucky Kingdom this week to see how things are progressing with the renovation of the theme park. You can read the report here, as well as watch the video footage they shot embedded below.
According to Ed Hart the park is already doing prep work to make way for a new $7 million steel coaster, as well as adding three new big park rides, three new kiddie rides and eight new attractions to the waterpark.

(9/19/13) Everyone is wondering just what kind of coaster Kentucky Kingdom may bring in to replace the void left behind by the departure of Chang. While I've been wondering if Ed Hart may be looking into buying Time Machine from the closed Freestyle Music Park, other rumors suggest that he may also be in talks with Intamin over buying the first Intamin Mega-Lite for North America.
If you aren't familiar with it, the Intamin Mega-Lite is an off the shelf but very intense junior sized hypercoaster style layout, but one that has proven to be very popular with enthusiasts due to a fast and very intense ride experience.
Meanwhile Kentucky Kingdom has now set up their own YouTube channel so they can quickly update everyone on the latest progress and ride testing taking place in order to reopen the park in time for 2014. This week's episode focuses on the renovation of the waterpark.

(9/13/13) Kentucky Kingdom has posted a picture showing off the Enterprise being repainted a nice blue color. Then check around the rest of their Facebook page to see the latest pictures shot around the park as they work on refurbishing just about everything.
(8/23/13) I'm just going to throw this out there… and know that I have no proof… and not even a rumor on this. This is all just pure wild speculation on my part… but I've got to wonder if Ed Hart is currently kicking the tires of the Time Machine (formerly: Led Zeppelin: The Ride) down at Freestyle Music Park as the new coaster under consideration for Kentucky Kingdom next year. If it happens… you heard it here first.
(8/19/13) If you look around the Kentucky Kingdom Facebook page you'll find new pictures of workers preparing Mile High Falls to reopen for 2014, as well as some great images showing off The Giant Wheel lit up at night to look Blue, Red, Yellow and Green. They will be lighting up the wheel nightly during the Kentucky State Fair. (Aug 15-25)
(8/15/13) News Plus Notes has posted pictures from an on-site tour of Kentucky Kingdom. Great stuff… be sure to check it out.
(8/13/13) The latest pictures on the Kentucky Kingdom Facebook page show off the progress on the Flying Dutchman as well as work crews performing an extensive refurbishment on the Hurricane Bay wave pool.
(8/9/13) According to a post on Facebook, Kentucky Kingdom has confirmed that it is an RMC crew doing the rehab on Thunder Run.
(8/8/13) Kentucky Kingdom has mentioned that they are indeed working throughout the park to restore it for next season. They've included a picture of the park's Flying Dutchman ride getting a new coat of paint.
(8/7/13) One of our readers captures some great footage from Kentucky Kingdom this week showing off that work has begun to repair Thunder Run. Looking like they have begun the processing of re-tracking it as you can really see the fresh new wood from a distance.

(7/17/13) A slide show of pictures taken inside Kentucky Kingdom has been posted by the local news. Check it out here, but note that there are quite a few more demolition photos of Greezed Lightnin'. Makes me wonder if they're donate any track pieces or the train of this important Schwarzkopf creation to the National Roller Coaster Museum.
(7/14/13) I've got sad news from Kentucky Kingdom this weekend. We knew it would going to happen, but it's just sad to see in photographs, as the park's Greezed Lightnin' coaster, the last of the Anton Schwarzkopf weight-drop shuttle loop coasters, was being torn apart by blow-torches.
The interesting thing about this particular ride, which was moved to so many park's over it's life, actually ended up in Kentucky Kingdom as a Frankenstein style creation of the two former Tidal Wave coasters installed at the two Great America parks in California and Illinois.
Currently Cliff's Amusement Park in New Mexico has the pieces of the former Greezed Lightnin' coaster that once ran at Six Flags Astroworld, (update: this is a Flywheel launch not a weight-drop as I mistakenly reported first) but so far has yet to finalize plans to rebuild it. Knott's Berry Farm has the only currently running Schwarzkopf shuttle loop in the US at the moment, a 2nd-gen flywheel launch version as Montezooma's Revenge. Check out demolition pictures here.
(6/28/13) Kentucky Kingdom, along with the Hurricane Bay waterpark, is officially going to reopen in 2014. The official website now has a countdown clock in place and new details about what we can expect.
Kentucky Kingdom, LLLP and partners confirmed that the funding is in place and all the contracts have been signed for them to take over and reopen the park. Up first will be the addition of a new roller coaster to the park as well as a large expansion that will double the size of the Hurricane Bay waterpark. The later will see three new slide complexes added, a new 12,000 sqft wave pool, and a high-speed adventure river added. In addition to the unknown new roller coaster, they will reopen the Thunder Road wooden coaster as well in 2014 as well as Mile High Falls, the 150 ft tall Giant Wheel, the river rapids ride, Thrill Park Theater as well as most of the park's other remaining attractions.
In 2015 they are planning a complete renovation to the park's existing T2 inverted coaster, and in 2016 they will convert the former Twisted Twins wooden coasters "into a much superior ride". I'm going to go out on a limb here… but I think we could see Rocky Mountain Coasters come in to perform a little miracle on Twisted Twins. According to Ed Hart, they have plans to add major new attractions each and every year and are actually obligated by their 70-year lease agreement to invest at least $2.5 million each year. Now… who can tell me what kind of coaster we might see added for 2014?
(6/27/13) The local news reports that the Kentucky State Fair Board is expected to make the announcement on Thursday that they will be handing over the Kentucky Kingdom theme park to Ed Hart's Kentucky Kingdom, LLLP. They also report that Hart's group has secured the necessary financing needed to repair and reopen the park. Look for a press conference to take place today around noon, possibly near the entrance to the park.
(6/24/13) I'm not sure what the deal is, but according to the Save Kentucky Kingdom Facebook page, we can expect some kind of news update or announcement about the park in the very near future.
(4/12/13) The local news reports that the funding is now in place to get Kentucky Kingdom reopen after $10 million in tax incentives for Ed Hart and Kentucky Kingdom LLP was finally approved. Contractors are already being hired to start working on the park.
(3/27/13) Ed Hart reports that it is going to cost more than expected to get Kentucky Kingdom back into operational shape, but he is still confident they can reopen it in 2014. "We wouldn't be involved, if we couldn't return Kentucky Kingdom to 'like new' condition, making it better than ever." Hart will head into a public hearing on Friday about their requested state incentives, and plans to lock down his financing package within the next 60 days.
(3/4/13) Good news for Kentucky Kingdom as the park has now been approved for close to $1.7 million in state sales tax rebates to help with the funding to reopen the park. Click here to read more.
(2/13/13) While talking with the local news Ed Hart mentions that after the first week of park inspections, he fully expects to be able to reopen the park by May 24, 2014. While there are a ton of things to fix, it was interesting to note that he mentioned that Thunder Run would cost almost $1 million dollars to bring back to life, while nothing was said about the status or fate of Twisted Twins.
(1/30/13) Local news sources report that Ed Hart will assemble the first wave of management staff to arrive at Kentucky Kingdom on Monday to begun the on-site examination of the park's rides, buildings and other equipment. One of which will be John Shanrock, who will serve as the park's General Manager, who comes with 30 years of experience within the industry from a previous career at Cedar Fair's parks.
The group has 90 days to evaluate the condition of the park and complete their financing before the lease is officially activated. On the financial side of things, they have applied for $10 million in tourism tax credits over the next decade from the state and will invest $20 million of their own into the park along with an additional $25 million bank loan.
There has been some questions about just what kind of new attractions will be added to the park, and while I don't know exactly what kind of budget they are working with, I will say this... the skyline over the park needs to change. Over the last decade most of the park's major attractions that formed the skyline of the park have been removed. There is no more Skycoaster, Chang has moved away to New Jersey and the old Hellivator drop tower has been shredded down and melted for scrap... and to be honest T2 is ready to follow behind it, and I'm not sure if Ed Hart can even save Twisted Twins. So whatever two new rides are in the works to come to the park... they are going to need to not only change the skyline, but become the park's two new signature attractions as well as stick out as being unique to Kentucky Kingdom in that crowded theme park regional market.
(1/29/13) Ed Hart's new plan for Kentucky Kingdom will see the waterpark area doubled in size, along with the addition to two major new thrill rides into the theme park, all in time to reopen in 2014. Hart's plans include the refurbishment of all of the park's existing rides, with one exception… Greezed Lightnin', the park's Schwarzkopf Shuttle Loop.
(1/25/13) It's official... the lease of Kentucky Kingdom to Ed Hart's group was approved at last. They expect to possibly be able to reopen the park by Spring 2014. Click here to see more.
(1/23/13) While the final fate of Kentucky Kingdom has not yet been determined, it is a good sign that the local Louisville Convention & Visitors Bureau has already agreed to provide sales and marketing support for the park to help promote the park across social media, newspapers, convention groups and visitor guides.
(1/14/13) According to the latest news report the state fair board appears to be set to finish up negotiations with Ed Hart's group to reopen Kentucky Kingdom and is expected to vote to determine the final fate of the deal at their January 24th meeting.
(12/20/12) The local news reports that a new lease to operate the Kentucky Kingdom theme park could be signed in the next few weeks if all goes well.
(12/4/12) After several weeks, it seems there is no word on the status of a possible deal between Ed Hart and the state of Kentucky to reopen the former Kentucky Kingdom theme park. The deadline set by Ed Hart to give enough time to reopen the park by 2014 has long since past however, so at best we may be looking at a 2015 reopening date. Catch up on the latest report here.
(11/9/12) Ed Hart is expected to finally meet with state officials on Wednesday to go over his latest plan to reopen the Kentucky Kingdom amusement park. Lets wish him the best, as they have turned him away twice previously.
(11/2/12) The local news reports that state officials are set to meet with Ed Hart about his plans to reopen Kentucky Kingdom on Wednesday.
(10/24/12) The local news reports some new developments regarding Ed Hart's proposal to reopen Kentucky Kingdom. The grand plan would see all of the parks buildings and rides restored, except for one… as they plan on removing the Greezed Lightning coaster, and replacing it with a new $15 million coaster.
Unfortunately, it also seems that state officials are ready to poo-poo on the platter, and say they are doubtful that the proposal can be accepted due to various concerns, including the proposal to put up the park's rides as collateral for the private loans needed to reopen the park. Hart's proposal also encourages discussions to begin by November 1st as to allow time for the invements side of things to get worked out as well as allow time to repair and restore the park in time for a May 2014 opening date.
(10/23/12) Friday was the deadline for those looking to pitch plans to reopen Kentucky Kingdom to submit their bids. While the state isn't talking just yet, the only group to openly confirm that they submitted a bid was Ed Hart's group. According to this article, it would be very difficult for any group who hasn't toured the park site to submit a bid, and the only other group to tour the park site in addition to Ed Hart's group was from Premier Attractions Management (led by Kieran Burke & Gary Story) who confirmed that they opted to not submit a bid to reopen Kentucky Kingdom.
You can watch a video detailing Ed Hart's currently new plan for Kentucky Kingdom, which involves a $120 million plan to reopen the park. The plan involves $50 million in startup funds, and an additional $70 that would be spent on updating the park over the term life of the lease agreement. Plan include a new $15 million roller coaster and doubling the size of the waterpark. You can download the PDF proposal yourself here.

(10/19/12) An article about the current status of Kentucky Kingdom, Ed Hart and why the state and fairboard may be ready to get out of the theme park business can be found at LeoWeekly. I've always felt it rather odd that while the Kentucky Governor seems to prefer Kentucky Kingdom closed, he was also championing the baffling proposal to open the The Ark, a religious themed park experience elsewhere in the state.
It reminds me a little bit of how Burroughs & Chapin forced the early closure of The Pavilion Amusement Park in Myrtle Beach, a year ahead of the opening of the new Hard Rock Park. We know how that worked out for Myrtle Beach, as Hard Rock Park failed a few months after it opened, leaving it with one dead park and a giant empty lot where The Pavilion once stood.
(9/13/12) The request for new developers to revive Kentucky Kingdom has now gone out, and interested groups have until Oct. 19th to get their proposals in. Meanwhile a support website called Save My Park has launched to help support those who want to reopen the park.
(8/23/12) Good news for Kentucky Kingdom as Ed Hart has responded that his group will officially respond to the fair board's new open search for operators willing to reopen the Kentucky Kingdom amusement park. They are encouraged by the Governors intention to speed things up and name a new operator within 60 days. Extending the search beyond that window would jeopardize his $40 million proposal to reopen the park by 2014.
(8/20/12) Everything goes back to square one for the former Kentucky Kingdom theme park site as the State Fair Board voted to begin another formal process to find yet another sucker, err… company, to revive and run the park for them. Crazy as it sounds, this move is essentially yet another slap in the face to Ed Hart who apparently dropped a new proposal for Kentucky Kingdom to the board the very day before to reopen the park by 2014.
So the Fair Board is apparently willing to let the park's condition further deteriorate in a lengthy attempt to try and lure in other players rather than talk to Hart about his latest proposal to take action right now. It's almost comic in a way… like a scene in a film where a volunteer is asked for, a hand shoots up immediately from an over-eager volunteer who is only ignored as they ask for, "Do we have any OTHER volunteers?"
(6/18/12) I'll stand by my original statement... Holiday World's Koch family's plan to revive Kentucky Kingdom really made no sense at all to me. I wished them the best of luck, but I had also heard just how far gone Kentucky Kingdom really was and knew that the Koch family really had their work set out for them... not only to fix the park, but they were bound to have issues come up with the state of Kentucky and deal with the same Kentucky State Fair Board that drove away Six Flags and turned away Ed Hart after an 18 month effort to revive the park with no solid explanation.
That said... the Koch family announced late on Friday evening that they too were withdrawing from the project and would no longer pursue any kind of attempt to reopen the former Kentucky Kingdom theme park. In the end, leasing the park instead of "owning it" just proved to be too much of a sticking point and "the many layers of governmental regulations and stipulations ultimately caused them to withdraw." Can't say I blame them... it really made no sense to me. While I know the Koch family has bee hoping to somehow expand their buisness and own another park, Kentucky Kingdom really was not the right fit. (I'd like to suggest that they take a good long hard look at the former Hard Rock Park. It's still in good shape and I think really could have benefitted from their family friendly management style.
(6/14/12) Finally some good news for Bluegrass Boardwalk as the local news reports that the state has agreed to the proposed tax break incentives worth up to $3.9 million over the next decade. This will certainly help them finalize their financing now and move a step closing to finalizing the lease to take over the park before the August 16th deadline.
(6/12/12) Things are heating up it seems for all parties involved with the former Kentucky Kingdom theme park properties. It sounds like the fair board has taken offense at getting some blame for letting so much of the old theme park rot since Six Flags left. Countless buildings are said to have leaky roofs, no one bothered to winterize the plumbing and water pumps at the waterpark, and at least 75% of the rides are currently inoperable. Currently they have agreed to give the Bluegrass Boardwalk team until Mid-August to finalize their deal to take over the park.
Meanwhile Ed Hart is getting vocal over the problems as well, mentioning that while Six Flags left the park a mess, the fair board should have taken some steps to try and keep up the park a little bit. Hart has now filed a lawsuit against the state to get back the $1.4 million he spent on this initial wave of maintenance, security and more during the 18 months he attempted to reopen the park before being turned away.
(6/8/12) An interesting take on the whole Bluegrass Boardwalk situation in this interview with Ed Hart. Check it out.
(5/31/12) An official progress report frolm Bluegrass Boardwalk was issued earlier today where they have confirmed that any plan to reopen the park in 2013 is now officially off the table and no longer an option. Having time to look into some of the park's problems a bit more, they have determined that about 75% of the park's attraction will require significant overhauls before they can be operational once again. Meetings with ride vendors on site, going over the various problems, have also agreed that 11 months is just not long enough time to restore the park back into a safe and viable park environment.
(5/29/12) I'm a bit shocked by part of this, but according to the local news the preliminary state application to reopen Kentucky Kingdom as Bluegrass Boardwalk mentions that there will be no major coasters running in the park when it reopens due to "age, reliability and costly repairs". The list includes T2 and Twisted Twins, but to be fair Twisted Twins was closed down at the end of the 2007 season by Six Flags and was already expected to possibly never reopen again due to previous neglect.
The Bluegrass Boardwalk team has also acknowledged that delays along the way in getting the lease signed and nailing down the needed finances may now cause the reopening of the park to be pushed back to 2014.
More details were listed in the application however, where the 2013 plan was to only reopen the park's existing water attractions and a few amusement rides (carousel, blizzard river, flying Dutchman, himalaya, breakdance, bumper cars, antique cars and six kiddie rides.
If things went well in the first season, they would then rehab and reopen more rides for the second season including the Ferris Wheel, Roller Skater, Thrill Park Theater and the Thunder Run wooden coaster.
To be fair, the list of rides and operational plan were submitted after only a most basic cursory examination of the rides and park before Feb. 29th. They intended to update the lists once the final lease is signed and they have access to give each attraction a thorough assessment and feasibility study for reopening each attraction. However, the final lease has not been signed and has been hung up by delays with the state who has not completed their own study of the project's requested for needed tax credits to reopen the park. The state isn't expected to complete their own study until next month and the excessive delay has delayed Bluegrass's plans to begin the needed work to reopen the park. They can't begin until the final lease agreement has been signed, after all the "state tourism issues" have been settled.
Once this is complete, Bluegrass Boardwalk will make a final determination if they will even have time at all to attempt a 2013 opening or if they delays will push their plans back to 2014. Covering their own end of things, the Kochs have asked the Fair Board to adjust their own opt-out date on the lease agreement back from June 1st to Aug. 16, giving them time to walk-away from the project if need be.
I just find it shocking that once again various agencies are still finding various ways to throw their own monkey wrenches into any effort to try and reopen the former Kentucky Kingdom park.
(5/18/12) A local news reporter goes inside the former Kentucky Kingdom park with Natalie and Dan Koch to talk about their plans to clean up and reopen the park as Bluegrass Boardwalk. The park will be "G-rated" and feature the same guest rules as Holiday World. No cussing, no offensive clothing, no alcohol, etc.
(5/14/12) A local news station reports that Bluegrass Boardwalk may be ready to reopen its gates on May 11th, 2013.
(4/18/12) According to this news report, Bluegrass Boardwalk reports that they have all the needed financing in order to proceed with the plan to reopen the former Kentucky Kingdom park. They are still working to lock down the needed incentive package from the state before they can make their final plans and get the ball rolling.
(2/24/12) The Kentucky State Fair Board approved the lease terms submitted by Bluegrass Boardwalk on Thursday afternoon, clearing the way for the revival of Kentucky Kingdom. Well… Kentucky Kingdom is no more… the park will be renamed Bluegrass Boardwalk and be ready to open in May 2013 after a $15-20 million investment.
The Holiday World clan behind Bluegrass Boardwalk are going to bring along some of their most favorite perks to the park as well. "We're bringing our business model of exceptional safety, cleanliness, friendliness and value for families," says Natalie Koch. "That means free soft drinks, free sunscreen and free use of inner tubes." The park is also expected to have new attractions as well for the 2013 season.
(2/22/12) The Kentucky State Fair Board will vote on Thursday about a proposal from Bluegrass Boardwalk to operate the closed Kentucky Kingdom theme park.
(2/17/12) According to Screamscape sources Bluegrass Boardwalk's talks with the Kentucky State Fair Board have been going well. If things move ahead as planned, we could see Kentucky Kingdom re-imagined and re-opened by May 2013.
(2/8/12) A statement was issued earlier today about the formation of a new company called Bluegrass Boardwalk Inc. by four members of the Koch family: Dan Koch (President of Holiday World), his sister Natalie Koch, their cousin Kathy Kamp, and her husband Michael Kamp (General Manager of Holiday World).
Through the Bluegrass Boardwalk company the group will continue to explore the idea of reopening the former Kentucky Kingdom amusement and waterpark in Louisville as early as 2013, though a lease agreement with the Kentucky State Fair Board. While they will apply for economic development incentives from the state, they will secure their own financing and will not seek any public funds from the Kentucky Legislature.
A new official website for the company has also launched at www.bluegrassboardwalk.com as well as an official Facebook page.
(2/2/12) It looks like we may have a reason the Koch family was asked to go out to Kentucky Kingdom and kick the tires. According to this report Mary Moseley, CEO of Al J. Schneider, has been in talks with them about providing the same kind of financial backing she offered Ed Hart in order to get the park open again.
As a large hotel operator in the Louisville area, bring the park back to life would also help increase tourism to the city and increase the number of hotel beds that get filled every night. But as I said in the last update… I believe it would be entirely foolish for the Koch family to get involved with the revival of Kentucky Kingdom as they have little to gain and everything to lose, and will only end up cannibalizing their own success in the process.
(1/18/12) In an interesting turn of events the local news reports that the owners of Holiday World may be interested in taking over Kentucky Kingdom. According to the Koch family, nothing is near being finalized yet, they are just starting their initial investigation and fact finding process to even see if this is a business opportunity worth their effort to take on.
To be brutally honest, I'd be very surprised to see Holiday World take over and reopen Kentucky Kingdom. After all, Holiday World was their closest competitor park and they have the most to gain from Kentucky Kingdom remaining closed. Plus the off-sided dealings and terms from the Kentucky State Fair Board was enough to drive away Six Flags and turn away Ed Hart, the man with the most experience to revive Kentucky Kingdom. So why would Holiday World and the Koch family want this kind of headache when they can simply keep on doing the excellent work they've been doing with Holiday World for years and profit from it?
While it's not quite the same situation, I'm reminded of when Cedar Point purchased Geauga Lake… and we know how well that ended. I can see Holiday World and the Koch family wanting to possibly expand their empire, but I think they would be better off doing it in another market and seeing if they can reenergize a failing park elsewhere with a little Holiday World magic.
(11/7/11) I've been waiting for this… Ed Hart's company has now filed a lawsuit to recover the $1.4 million they invested in the effort to revive the Kentucky Kingdom park.
(10/5/11) According to the local news, Ed Hart is puzzled by how things turned out between his group and the Kentucky State Fair Board, especially in light of how close they were to finally putting all the pieces together to make it happen, with little no to help from the same state government who was willing pour $43 million in tourism tax incentives and $11 million in promised highway improvements for the privately owned Ark Encounter pipe-dream project. Instead they are willing to let Kentucky Kingdom rot and deny the city of the guaranteed tax dollars that it would bring in, not to mention the 1000+ jobs reopening the park would create immediately.
For the record, I'm puzzled as well... as I think Ed Hart was going to pull this off with ease. Sorry Ed, but I think there may be another struggling park project down in Myrtle Beach that could really se your help right now instead...
(10/3/11) Extremely bad news for any hope of reopening Kentucky Kingdom came out over the weekend. According to the local news, the Kentucky State Fair Board has decided to end all talks with Ed Hart and his efforts to reopen the park. According to the fair board president himself, Ed Hart is "out of the picture as a potential Kentucky Kingdom operator."
As Ed Hart was really the only person who has had experience with not only successfully running Kentucky Kingdom in the past, but also reviving the park and building it up into a well known attraction once before, I'm shocked they would blow him off now after everyone has worked so hard over the past year to revive the park.
Meanwhile the state has thrown money at the crazy Noah's Ark park project concept, but they're willing to let a fully built park like Kentucky Kingdom just wither and die. They seem to think they'er going to find another qualified operator to take the problem off their hands, but I don't think it's going to be quite that easy, as most companies out there really are not going to want to even touch any kind of deal like this where they have to deal with the greedy Fair Board… who in the end was really to blame for Six Flags bailing out on the park as well.
With all this in mind I've got to say that unless they can get someone else on board before the end of the year, you might as well stick a fork in Kentucky Kingdom, because it's done.
(9/29/11) Click here to read through Ed Hart's presentation to the Fair Board regarding reviving the Kentucky Kingdom park.
(9/23/11) Bad news for Kentucky Kingdom this week. According to the local news, it has been confirmed that Kentucky Kingdom will not be able to reopen in 2012 due to what seems to be a lack of commitment from the various government funded groups involved who have yet to pledge any funding at all for their $20 million share of the project, despite the private funding of $29 million being available right now. On top of it all, Ed Hart's current deal with the fair board to revive the park will expire at the end of the month unless they sign a new deal or an extension, but so far they've done nothing.
At this point, they now have to wait for the General Assembly to reconvene in January 2012 before they can begin the budget talks for the needed $20 million to reopen the park.
(9/15/11) According to this article, Ed Hart says he is close to an agreement for securing the $23 million needed to reopen Kentucky Kingdom. However Hart only has the rights to do this until September 30th and currently he is waiting for the Fair Board to offer him new lease terms he can accept. In the conditions are right, he would consider waiting until 2013 to reopen the park, which is likely to be necessary anyway give how little time they have left for a 2012 reopening. Given that Hart has nearly doubled his original $3 million put into the park, he does expect to be able to swing a better lease deal with the fair board. You can view Ed Hart's latest press conference over at YouTube. And finally, one of the local news stations takes a detailed look at the park from the ground and the air and has posted a video of it here.
(8/25/11) Good news for Kentucky Kingdom as negotiations have begin with an investor who has pledged as much as $20 million to help get the Kentucky Kingdom park reopen again. Click here to read more.
(8/1/11) Some new information about the current plans and thoughts for Kentucky Kingdom over the next few years, if they can get the funding needed to reopen, can be found at ThemeParkTourist.
(7/25/11) The latest status report on Kentucky Kingdom claims that they may pursue tax credits as the primary incentive package to reopen the park. Read more here.
(6/23/11) According to this article, a deal that would see Kentucky Kingdom reopen again in 2012 is very close to being signed.
(6/2/11) A giant set of pictures taken around the edge of Kentucky Kingdom have been posted to AmusementParkAuthority.
(5/13/11) Curious about how the inside of Kentucky Kingdom looks today, after sitting empty since Six Flags closed up shot last February? From the look of the pictures posted here, it doesn't look like it will take much to get it reopen. Other than obviously being in a winterized state for the off-season, the park looks like it is being well taken care of right now by a staff of groundskeepers and protected by a 24/7 security force in anticipation of reopening under Ed Hart's leadership.
Meanwhile a few more details about the new pending deal to finance the re-birth of the theme park have been published by the local news.
(5/5/11) Louisville's Mayor is on board with the plan to issue $17.5 million in bonds to get Kentucky Kingdom up and running in a limited condition for the 2012 season and back in full operation by 2013 pending the approval of a second bond for the remainder that was asked for. Now we just have to wait and see if the council approves it or not. Read all the details here.
(5/2/11) A deadline between the Kentucky State Fair Board and Ed Hart's group to come to an agreement to revive the Kentucky Kingdom theme park has been extended through to September 2011. The original terms of the agreement would have ended on April 30th otherwise.
(4/18/11) Facing problem after problem with getting funding from the state to reopen Kentucky Kingdom, one might think Ed Hart may just throw up his hands and walk away frustrated. However, as the man who had previously revived this park into a major league player in the industry in years past, only to watch it fail again under Six Flags' ownership he has a personal mission to see this through it seems. As such, Ed Hart has now promised to increase his own investment in the park, as well as seeking a $17.5 million bond from the city rather than the state. The new plan would give the local government a greater share of the revenue generated from the park, as well as start bringing it to them sooner than with the previous plan. If approval can be granted quickly enough, there is still a chance for a 2012 re-opening for Kentucky Kingdom.
(4/7/11) Bad news for Kentucky Kingdom, after failing to pass a request for a $50 million bond needed to overhaul the park in 2012, they have now officially rejected a second request for a smaller $20 million bond needed to just get the park open at all in 2012. The head of the fair board says they will now renew their quest for the $50 million bond in 2012, and shoot for a 2013 reopening.
(3/3/11) Amusement Park Authority is planning out an interview with Ed Hart and needs your help to submit questions about Ed's plans to revive Kentucky Kingdom. Click here to read up on the details on how you can submit your burning questions.
(2/28/11) Bad news for Kentucky Kingdom's plans to reopen in 2012 as the state now seems unlikely to approve the $50 million bond needed to pay for improvements.
(1/31/11) According to the local news, the city is hoping to make a final call on the bond issue for Kentucky Kingdom sometime between late February and early March. The park is also planning on adding 30 areas to the existing property for future expansion, provided by the KFEC, so it wont be landlocked anymore. This will increase the total possible park size from about 60 acres to 90, making it more competitive with other local parks. More land
could also possibly be made available to the park for a future parking lot also.
(1/17/11) Fans awaiting the reopening of Kentucky Kingdom may want to check out In The Loop Monday night (tonight) as they will talk live with Ed Hart and even take live calls and questions. If you want to ask a question in advance, you can submit your questions to Clint by e-mail.
(12/29/10) Lets be honest for a moment, anyone who has visited Kentucky Kingdom in the last decade (under Six Flags management) probably was not very impressed with the park. However those who visited it in the years leading up to the Six Flags purchase would have seen an entirely different park, one that was proud to have added major new attractions each year for a good number of years, which also saw the park's attendance soar. A great video mapping out the attendance history of the park under Ed Hart's run and what followed under the Premier Parks Six Flags run and then under Mark Shapiro's Six Flags run has been posted to YouTube, which is quite an eye opener if you watch the entire video.

(12/21/10) An interview with Ed Hart about Kentucky Kingdom has been posted to ParkThoughts. The big surprise is that Ed claims that the new coaster he wants for the park will be a B&M, though the exact type was not mentioned. With so many other B&M's in the Ohio area (Diamondback, Mantis, Raptor) I would almost thing that Ed might want to look into a coaster design not already used in the area.
That knocks out Hypers, Stand-Ups and Inverted designs, and due to height restrictions a Dive Machine is right now as well (unless they go deep underground), so to me that leaves Floorless, Flying and the new Wing Rider style design under construction in Europe right now.
Any of these would be a good idea, but I think a really classy Flyer may be a great idea for the park, and as SeaWorld has shown with Manta, a nice intense Flyer with lots of low to the ground elements can be a fantastic addition. Plus it would blow away Firehawk at nearby Kings Island, which is always a plus.
Other news from Ed Hart included: a dedicated parking lot for the park, with free parking for guests, plus the prices of food will be competitive with outside food vendors in order to keep guests IN the park rather than leaving to eat elsewhere.
(11/29/10) Over 100 pictures taken around the perimeter of Kentucky Kingdom have been posted to the park's Facebook page this week.
(11/23/10) Kentucky Kingdom has updated their website once again…including a new picture of a Maurer X-Car coaster once again on the front page.
(11/17/10) A few new videos (five I think) have been added to the Kentucky Kingdom YouTube page, where they answer a few more questions about rides and the project's status. One question addresses the intended new use of the 10 acres used for the old entrance (for bigger/taller rides!), as well as questions about Chang, Quake and Twisted Twins. Oh… and Chang's replacement is promised to be an "equal if not better than Chang". The old Chang site will however be used to expand the waterpark.
Twisted Twins, which may have it's name changed back to Double Trouble perhaps (the intended name Ed Hart had for it) will undergo a $3 million refurbishment and reprofile, as well as have brand new trains purchased for it.
(11/15/10) According to the official Kentucky Kingdom facebook page, the new park operators do plan on restoring and reopening the Twisted Twins wooden coaster. In a public response to a question about that coaster, the official answer was, "At this point, our plan calls to completely renovate it and re-open the dual wooden coasters!"
(11/13/10) Kentucky Kingdom has launched an all new website at KentuckyKingdom.com. While there isn't much to see, perhaps the most interesting thing is that they have put a picture of a Maurer X-Car coaster right on the front page. A hint about the park's intended new coaster project perhaps?
(11/4/10) Kentucky Kingdom now has a YouTube channel, complete with several videos of Ed Hart (no relation… I think…) talking about the park plan and answering various questions. A key question of interest is where he explains just how he revived Kentucky Kingdom the first time in just 9 years as well as pointing out how Six Flags pretty much destroyed everything they built in the following decade of their ownership of the park, sending it into a downward spiral. The key to a park's success? "The Rides"… yep… The Rides. Ed knows what he's talking about.

(11/3/10) The local news has confirmed that Kentucky Kingdom will not be ready to reopen in time for the 2011 season, so they're now shooting for 2012.
(10/2/10) The Road Runner coaster at Kentucky Kingdom is coming down. They'll pack it up and send it all to Six Flags New England soon enough.
(10/1/10) The Kentucky Kingdom Dedevelopment company has come up with an official Facebook page to support the return of Kentucky Kingdom.
(9/13/10) According to this report, Ed Hart is proposing a $50 million investment into Kentucky Kingdom to get it up and running again. $20 million to rehab the park and $30 million in new attractions that will include a plan to double the size of the waterpark. Free Parking and value priced food options are also being considered. Also as part of this additional report, he is working on a deal to add an $8-10 million new roller coaster to the park as well.
(8/31/10) According to this report, the last major legal hurdle to clear the way for Kentucky Kingdom to reopen will take place in a heading on September by a bankruptcy judge, and then Ed Hart's final business plan will be presented to the Fair Board in October. According to what we've seen of the plans, they wanted to make a new entrance and only open the larger side of the park. However Greezed Lightning is located on the smaller side of the park that would be closed, and there are no plans to reopen Twisted Twins for 2011.
(7/24/10) The Kentucky State Fair Board settled the dispute with Six Flags over the Kentucky Kingdom property that will see Six Flags turn over the 20 acres of property that they actually do own to the to the Fair Board, and all but ONE ride. Which ride? The Road Runner Express coaster, a Maurer Sohne Wild Moue that was installed back in 2000 which Six Flags will move to another Six Flags park instead. (Hmmm… a link to another story perhaps?) In exchange they will pay Six Flags $2.35 million, and forgive a $2.5 million tax debt and $2.8 million in rent to the Fair Board.
On the flip side, Ed Hart's team is working on plans to revitalize the park in the hopes of reopening it on Memorial Day weekend, 2011, if feasible. They just have to get the right financing to back their plans.
(5/28/10) It looks like Ed Hart has come back to the fold and is the one who has been picked by the fairboard to come up with a new business plan to revive and reopen Kentucky Kingdom through a new company, KK Redevelopment. Part of his plan is to expand the waterpark and move the main entrance to a better location.
2015 - New Attraction Plans - Posted - (6/24/14) It has been confirmed on the Kentucky Kingdom website that the former T2 roller coaster will indeed reopen in 2015 as "T3" along with the Raging Rapids River Ride and a 5,000 seat amphitheater.