Kings Dominion
Doswell, VA
Cedar Fair Entertainment
Park News - (2/8/19) Kings Dominion just posted a new blog update to their website where they dropped a bomb of an announcment.
"Part of getting ready for a new operating season includes an expert evaluation of our rides and operations. As a part of that evaluation, every aspect of our rides and attractions are analyzed, from guest satisfaction, throughput and rider capacity to reliability, uptime and maintenance. After thorough evaluation, the decision has been made to remove Volcano: The Blast Coaster. This wasn't an easy decision for us, because we know that people love this one-of-a-kind coaster; however, over time it became nearly impossible to keep the ride up to our high standards of reliability and guest satisfaction, and for these reasons we had to make the tough call. We apologize to anyone who is inconvenienced by the removal, but hope they will understand that it was done to enhance the overall guest experience here at Kings Dominion."
While they don't go into more detail, if I had to guess, I'd also say it is safe to assume that the entire "volcano" mountain structure will come down and be removed along with the coaster.



(11/2/18) Could new announcements for Kings Dominion and California's Great America be coming soon? According to a post on Twitter an early teaser poster for Yukon Striker that was up at Cedar Point has been removed and now there are a few new letter envelops to be found that contain some interesting longitude and latitude coordinates on them.
The first, 37.8399 N 77.4442 W, takes us to a landscape planter location inside Kings Dominion's Planet Snoopy area.
The second set, 37.3984 N 121.9752 W, takes you to a location just outside the main entrance of California's Great America.


(10/9/18) According to a Tweet online Kings Dominion has added some nice zipper pouches to seats behind your legs on Twisted Timbers that are perfect sized to fit your phone in. Just ignore the park about the land clearing behind the park, I'm don't believe the park owns that property.


(9/4/18) For anyone wondering, one of our readers dropped into Kings Dominion over the weekend and questioned guest services about the status of Volcano: The Blast Coaster. Unfortunately, they confirmed to them that Volcano would indeed be closed for the "rest of the season". Better luck in 2019.

(7/26/18) Kings Dominion has posted the dates and hours for this year's new WinterFest event, along with what kind of fun special activities you can enjoy. I see they are going to have a Mrs. Claus' Christmas Cookie Kitchen area where you can decorate some gigantic Christmas cookies to take home. While visiting the first WinterFest at Carowinds last year, my wife and daughter had a great time doing this exact same thing, so if you have kids (or even if you don't), I recommend trying it.

(7/25/18) I must stress that this is only a rumor at the moment and nothing more, but according to what I'm starting to hear, Volcano: The Blast Coaster will be closed until next season because at leave one piece of track is in need of being completely replaced inside the Volcano. This is said to be the reason for the extended downtime due to not only the time it will take to have a new custom piece (or pieces) of track made, but also the location inside the volcano is only going to make things even more difficult.

(7/23/18) Other than reports of it being closed and off signs of holes being taken out of the mountain for better access to parts of the coaster itself, the rumor mill has been fairly silent about Volcano: The Blast Coaster. All we had heard so far was that it may not reopen until closer to the end of the summer... or possibly the end of the season. Today things changed a bit more, with a new rumor coming our way suggesting that whatever is going on Volcano, it wont be able to reopen until 2019 after a major renovation. If anyone knows more, please let us know.

(6/16/18) An interesting update about Kings Dominion was posted to KDFans the other day, that not only shows off the demolition of the park's Tornado waterslide but also tracks some other interesting developments taking place in the park. For starters, if you see new construction behind the employee parking lot, this is for a new warehouse structure built to house the park's Winterfest items throughout the year and other items as needed.
As for Volcano... things may be taking a turn for the worse. While we reported that Volcano would be down for the ACE Coaster Con event later this month, KDFans reports that the ride ops crew assigned to Volcano were all "permanently reassigned" to new duties for the season over the past week, which seems to be a sure sign that Volcano's woes (and length of downtime) may be far more serious than originally expected, with longer lasting consequences. Also of concern are photos of the Volcano mountain structure itself, which has now had a series of very precise holes cut into it along the front and backside which makes me wonder if there are issues with the structure of the mountain itself, or the coaster structure contained within... those I would think most of the structure within would be for the vertical launch out of the top of the Volcano. Either way, I'm guessing it may be some time before we see Volcano: The Blast Coaster working. Anyone else know more about what's going on?

(6/4/18) A quick update on some Kings Dominion issues reported, with new information from other readers. According to one source, Dominator did open for the season with all three trains, so some kind of issue must have arose with one of the trains to result in the teardown so early in the season.
As for Volcano: The Blast Coaster... I'm told it is going to be down for a bit longer than expected. I'm told that the park has already confirmed to ACE that Volcano will still be closed for the CoasterCon 41 extent held at the park on June 19 - 20, so it may not be ready to roll until we get closed to July.
In other news, Kings Dominion has unfortunately confirmed that they have made the decision to remove the Tornado slide from Soak City. They will begin taking it down in the next few weeks and replace it with a "green area" instead to help with the landscaping in that area. If you are wondering why they would choose to remove one of the newest and most popular attractions in the waterpark, then you might also remember that the slide was involved in a guest accident last July. One of the rafts somehow flipped over and a woman riding hit her head and was knocked unconscious, as well as breaking a few bones in the process as well along with a few other issues. I'm sure a lawsuit over this incident is the major cause behind the slide's removal from the park.
(6/2/18) Some interesting notes from a reader visiting Kings Dominion came in late last night. They noted that one of Dominator's three trains was mostly in pieces in the maintenance shed and were worried about it being cannibalized for parts, but I wouldn't worry about that. I believe it is standard off-season procedure to strip the trains down over the winter months for a complete refurbishment, and if I had to guess, they probably just haven't gotten around to finishing putting the third train back together for the summer yet.
They also noted that for most of May, Volcano: The Blast Coaster has been closed. From what they were told, there may be some work going on in the station that they are trying to finish up quickly to get it open for the summer. Hopefully they will finish soon, if not by sometime this weekend.
And finally... rumor going around is that this is the last season for Dinosaur's Alive at the park. This makes sense as it opened with Windseeker in 2012, one year after the first one opened at Kings Island in 2011, and we all know Kings Island closed their version at the end of last season, which likely means there was a 6-year lease agreement on the dinos.
If this holds true, then Cedar Fair also opened Dinosaurs Alive at Cedar Point, Dorney Park and Canada's Wonderland in 2012 also, which should put all three of those also on the chopping block by the end of this year. Then the remaining attractions at Carowinds, Valleyfair and Worlds of Fun opened in 2013 and will likely close by the end of the 2019 season.
(2/22/18) According to this report Cedar Fair has appointed Tony Johnson to serve as the new GM of Kings Dominion effective immediately, moving in from his previous position as the Corporate VP of Operations. Tony has also spent time at California's Great America and Carowinds, but has now come full circle, as he started his career many years ago as a seasonal employee at Kings Dominion. Congratulations and welcome home Tony.
(2/6/18) Kings Dominion kind of took everyone by surprise with an interesting set of announcements hidden away in their latest Blog posting. While it contained the expected updates on Twisted Timbers you would expect, it also listed a bunch of other changes coming to the park's Candy Apple Grove area.
As we posted last week, the Ricochet coaster is getting a new paint job... but in addition, it will get a new name as well and become Apple Zapple. (Yeah... a little odd...) but what surprised me more was the announcement that the 43-year-old Rebel Yell wooden coaster would be renamed as "Racer 75". Why 75? That's the year the coaster opened, but then they go on to claim it is also in honor of ACE (American Coaster Enthusaists) who were founded in 1978... but the tale gets a little twisted and turned around from here.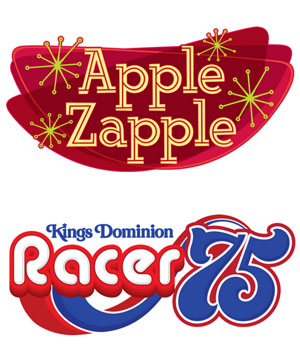 As I've said before... I'm not a native resident of the East coast... I grew up in San Diego, so I have no attachment to anything considered "Southern", but at the same time I've always been a bit opposed to the idea of censorship. Plus the idea of changing the same of a 43 year old coaster that has meant a lot to the local market to become nostalgic does kind of rub me the wrong way. After all, people who rode it when it first opened in 1975 have been able to come back to the park with their own kids to ride it with them, and then over the years come back again to ride it with their kids AND grandkids.
While somewhere I think the idea of the name change may have started out as a good natured idea, but in the end I'm not really sure it was the right thing to do. Then again, I'm from California... so my own nostalgia take on Rebel Yell was first seeing it in the movie Rollercoaster as a kid in the 70's, which woke me to the idea that there were other parks and rides out there that I have never seen before. But it sure inspired me to find a way to get out to Kings Dominion someday to ride the Rebel Yell for myself.
Our friends at Behind the Thrills have also posted their own take on the story, which I found to be a good read as well, digging deeper into the motives a little more.
2018 - Twisted Timbers / Winterfest - (5/16/18) A quick update regarding the status of Twisted Timbers. According to a Screamscape source at the park this weekend, Twisted Timbers ran two trains on Saturday, but only ran one on Sunday as they were expecting a smaller crowd for the Mother's Day holiday. (Of course, to this I say... BOO!! That ride should be running both trains all day long, every day... no excuse to run just one train on your newest coaster.)
And while Twisted Timbers did suffer some new-ride performance jitters at first, I'm told that it seems to have broken in and has been running without issue as of late, which is good to know as Summer is just around the corner.
(5/15/18) I'm not sure if this is a precautionary measure due to the "bump" that took place on Steel Vengeance on opening day, but a reader tells us that Twisted Timbers at Kings Dominion was also only running one train all this past weekend. Anyone know more? On and off, since it had opened, we have heard bits and pieces of stories claiming Twisted Timbers has been suffering from occasional bouts of downtime, but as a new ride, that is sometimes to be expected. Hopefully things will smooth out as we approach the start of the Summer season.
The park is also causing a bit of irritation with their guests as well, over some new policies on loose articles that started this year, with the removal of the article bins that have been used for years on Intimidator 305, Flight of Fear and the old bins from Hurler are now gone since it reopened as Twisted Timbers. Much like news from Six Flags parks from years back, the park seems to be pushing a strict new 'locker policy' for any loose items, including those refillable drink bottles they work so hard to try and convince everyone to purchase... now making them a costly liability. Loose items are not even allowed in the queue... so guests who like to wear hats to keep their heads from burning in the sun or those who need to wear glasses are out of luck and will have to wait in the queue without them.
These kind of forced locker tactics did not go over well as Six Flags, and I'm kind of surprised to see this happening at a Cedar Fair park now after years of being more rider friendly.
(3/26/18) Congratulations to Kings Dominion who successfully opened their new Twisted Timbers coaster over the weekend. You can catch a great POV video showing off the new RMC enhanced action below.



(3/16/18) A new video showing off footage of Twisted Timbers making test runs was posted to YouTube, and you can see it below. Jump ahead to the 2:12 mark to see the first train dispatch. Also below is a couple of pictures on Facebook showing off some of the new Twisted Timbers themeing added to the area around the coaster.


(1/31/18) New aerial drone-cam footage shot of Kings Dominion shows off the latest look at Twisted Timbers as well as other nearby projects going on in the park. Also looks like Ricochet is in the process of getting a new paint job, as much of the yellow track has been painted green. Plus looks like the park has decided to resurface the old blacktop pathways between Rebel Yell and Twisted Timbers with concrete.

(8/17/17) Kings Dominion has confirmed not only their plans to bring Winterfest to the park in late 2018, but also the transformation of Hurler into Twisted Timbers, a new hybrid coaster creation from RMC. They're building a story around this coaster as well, claiming that the structure was part of the once thriving Hanover Hill Orchard farm. An unknown tragedy struck the orchard in 1950, destroying half of that year's harvest, shook the ground, flipped over tractors, broke windows and more. Ever since the old warehouse building has been off-limits... until now.
Twisted Timbers features 109 ft tall barrel-roll first drop, 3,351 feet of track, a total of 3 inversions, 20 airtime hills and a top speed of 54 mph. Perhaps one of the most amazing things is the layout of Twisted Timbers is essentially exactly the same as the former Hurler coaster... just seriously amplified beyond all belief. Check out the animated video below to see what Twisted Timbers is all about!