Kings Dominion
Doswell, VA
Cedar Fair Entertainment
Park News - (2/22/18) According to this report Cedar Fair has appointed Tony Johnson to serve as the new GM of Kings Dominion effective immediately, moving in from his previous position as the Corporate VP of Operations. Tony has also spent time at California's Great America and Carowinds, but has now come full circle, as he started his career many years ago as a seasonal employee at Kings Dominion. Congratulations and welcome home Tony.
(2/6/18) Kings Dominion kind of took everyone by surprise with an interesting set of announcements hidden away in their latest Blog posting. While it contained the expected updates on Twisted Timbers you would expect, it also listed a bunch of other changes coming to the park's Candy Apple Grove area.
As we posted last week, the Ricochet coaster is getting a new paint job... but in addition, it will get a new name as well and become Apple Zapple. (Yeah... a little odd...) but what surprised me more was the announcement that the 43-year-old Rebel Yell wooden coaster would be renamed as "Racer 75". Why 75? That's the year the coaster opened, but then they go on to claim it is also in honor of ACE (American Coaster Enthusaists) who were founded in 1978... but the tale gets a little twisted and turned around from here.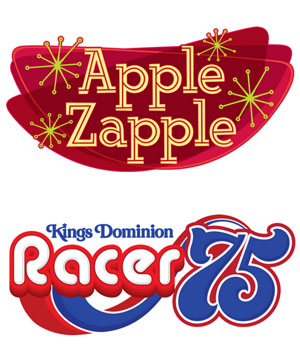 As I've said before... I'm not a native resident of the East coast... I grew up in San Diego, so I have no attachment to anything considered "Southern", but at the same time I've always been a bit opposed to the idea of censorship. Plus the idea of changing the same of a 43 year old coaster that has meant a lot to the local market to become nostalgic does kind of rub me the wrong way. After all, people who rode it when it first opened in 1975 have been able to come back to the park with their own kids to ride it with them, and then over the years come back again to ride it with their kids AND grandkids.
While somewhere I think the idea of the name change may have started out as a good natured idea, but in the end I'm not really sure it was the right thing to do. Then again, I'm from California... so my own nostalgia take on Rebel Yell was first seeing it in the movie Rollercoaster as a kid in the 70's, which woke me to the idea that there were other parks and rides out there that I have never seen before. But it sure inspired me to find a way to get out to Kings Dominion someday to ride the Rebel Yell for myself.
Our friends at Behind the Thrills have also posted their own take on the story, which I found to be a good read as well, digging deeper into the motives a little more.
2018 - Twisted Timbers / Winterfest - (3/26/18) Congratulations to Kings Dominion who successfully opened their new Twisted Timbers coaster over the weekend. You can catch a great POV video showing off the new RMC enhanced action below.



(3/16/18) A new video showing off footage of Twisted Timbers making test runs was posted to YouTube, and you can see it below. Jump ahead to the 2:12 mark to see the first train dispatch. Also below is a couple of pictures on Facebook showing off some of the new Twisted Timbers themeing added to the area around the coaster.


(1/31/18) New aerial drone-cam footage shot of Kings Dominion shows off the latest look at Twisted Timbers as well as other nearby projects going on in the park. Also looks like Ricochet is in the process of getting a new paint job, as much of the yellow track has been painted green. Plus looks like the park has decided to resurface the old blacktop pathways between Rebel Yell and Twisted Timbers with concrete.

(8/17/17) Kings Dominion has confirmed not only their plans to bring Winterfest to the park in late 2018, but also the transformation of Hurler into Twisted Timbers, a new hybrid coaster creation from RMC. They're building a story around this coaster as well, claiming that the structure was part of the once thriving Hanover Hill Orchard farm. An unknown tragedy struck the orchard in 1950, destroying half of that year's harvest, shook the ground, flipped over tractors, broke windows and more. Ever since the old warehouse building has been off-limits... until now.
Twisted Timbers features 109 ft tall barrel-roll first drop, 3,351 feet of track, a total of 3 inversions, 20 airtime hills and a top speed of 54 mph. Perhaps one of the most amazing things is the layout of Twisted Timbers is essentially exactly the same as the former Hurler coaster... just seriously amplified beyond all belief. Check out the animated video below to see what Twisted Timbers is all about!