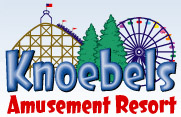 KNOEBELS Amusement Resort
Elysburg, Pennsylvania
Park News - (5/31/18) Our latest news story from Knoebels is kind of… ewww. According to the local news park crews opening the park early Thursday morning came across a dead deer floating in the water pool of the Log Flume ride. Apparently it must have jumped over fences and obstacles at night to get in to the ride's splashdown pool, which is up to 41 inches deep, and then was unable to get out.
(7/27/17) Looks like there was a brief flash flood at Knoebels on Monday that caused some slight damage, but mostly just made a mess. Fortunately the park has been able to clean things up and was ready to reopen the next day.
2018 - Over The Top - Now open - (5/31/18) Knoebels website has confirmed that the new Over The Top ride is now open.
(11/6/17) According to the local news the Over The Top ride (SBF Visa Group) that failed to open at Knoebels in 2017 due to a couple of issues, is now in storage and the park will try to get it up and running for the 2018 season.