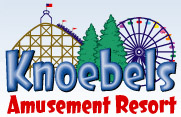 KNOEBELS Amusement Resort
Elysburg, Pennsylvania
Park News - (7/23/16) According to the latest update regarding the death of a young boy at Knoebels, while the coroner believes that the boy may have had a medical condition that led to his death before he was found unresponsive in the water, the results of the initial investigation have been inconclusive. They will continue to investigate and conduct testing to determine the cause of his death.
(7/20/16) Sad news for Knoebels, as an 8-year old boy has died after being found unresponsive in a swimming pool at the park on Saturday. It has not yet been announced if he drown, or if he suffered from another medical condition before going under.
2017 - Nothing is known at this point in time... nothing new was added in 2016