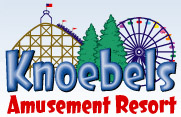 KNOEBELS Amusement Resort
Elysburg, Pennsylvania
Park News - (4/29/14) A fun trip report from Knoebels opening day can be found here.
(2/17/14) AllAmericanThrills takes a visit to Knoebels to check out the latest park changes and construction updates as some kind of new structure is going up near the front of the park.

2013/2014 - Flying Turns - NOW OPEN - (10/23/13) I've heard an interesting story over the past week regarding The Flying Turns and it's accessibility limitations in regards to handicapped or disabled guests. I'm not going to take sides, or get on a soapbox… consider this just a fair warning to anyone who may be planning a visit to the park specially to ride The Flying Turns with someone who is disabled.
Disabled access to the Flying Turns is only available up the exit ramp, however for those in wheelchairs the park has posted a warning sign (see pic) stating that guests in wheelchairs will only be accommodated on the ride during single or double train operation. It is my understanding that they currently have 3 trains on Flying Turns, and may opt to add a 4th in the future, but it seems there are seldom, if any, times when it only runs 1 or 2 trains due to the rather meak throughput of the ride. Each train only has 3 cars, each can only accommodate 1 or 2 riders, with a maximum weight of 400 pounds

per car. According to the sign, if Flying Turns is running 3 or more trains, "You must be able to walk without assistance" to the loading platform in order to ride.
For those who's disability will allow to get past this first checkpoint, there may be another issue to address in the station. It's worth mentioning at this point that due to the limitations of The Flying Turns, the normal disabled party / group policy of Knoebels is different on here than elsewhere in the park. Only the disabled person and one guest are allowed to board through the exit ramp. As mentioned in a previous update, all riders are weighed before boarding, and then subject to being moved around from car to car to get a proper weight distribution. However, the current policy is that if the combined weight of the two persons exceeds the weight limit, you will be forced to ride in different trains. While this is acceptable for many disabled guests, this policy doesn't work well with those who suffer from Autism / Spectrum disorders who are unable to ride unsupervised.
I can see the reasons the rules are in place, so I'm not casting any judgment either way, I'm just providing this information as an advanced warning to those who need to know in advance when planning a visit.
(10/8/13) A reader sent in a quick review of The Flying Turns to share this week:
Flying Turns is destined to be a new/old classic. Will it ever be as impressive as Phoenix for example? No. However, just as the best parks have iconic rides that one MUST ride each time they visit - Flying Turns is and will be one of those rides.
Having walked the "track" with ACE years ago and after having watched a couple of videos posted by Knoebels over the years, the layout and design and a sense of what the ride will be like was fairly discernible.
The good news is that the bulk of the ride is way better than the video might suggest, and there is a good amount of thrill factor. The motions of the ride and the amount of out-of-control feeling one gets on a good bobsled-type coaster are there in spades.
Of course the first pull and small run are very mediocre, but after the main lift, the ride takes on an ever increasing speed sense of danger. Unlike the metal bobsled at Kings Dominion in Virginia, the ride is not only glass-smooth (amazing!) but the trough is sculpted and shaped to created a kind of whipsaw motion where you are sliding faster from side to side so strongly that you begin to think - "if this ride continues much further and keeps gaining speed - we could be in some danger here...."
The KIngs Dominion Bobsled is more of continuous spiral where Flying Turns is definitely a more compact and more interesting ride. Also FT has few points where the rider can look out and get their bearings, the ride is enhanced by this as the high walls keep you encased in a kind of ride cocoon. The ride is a bit too short (but what ride isn't).
Most experienced coaster riders are not going to view it as providing the kind of thrills that an all-out woodie might provide. But in reality, I would compare this ride in some ways to iconic Disney old-school rides. In a way like Big thunder Mountain in that BTM doesn't provide any big scary thrills but again, one feels compelled to ride it almost every visit to MK or Disneyland.
The trains are kind of beautiful in an old school sort of way, and the wheels and hardware holding it all together are VERY beefy. Knoebel's should be (finally !) justifyably proud to produce another unique-to-Knoebel's ride or attraction that will definitely keep bringing in visitors well into the future. Central Pa is the only place in the world where you can still ride what amounts to a 1930's style "thrill" attraction.
Congrats to Knoebel's. Flying Turns is great fun and a great new addition.

You can also see a new video shot by another reader taking a twilight ride on The Flying Turns, as seen from the back car, which gives you a better sense of what is going on in the turns by watching the lead cars. I'll leave you with one final tip from a reader… try to ride with a 'heavy train'. Each car is allowed to be loaded with up to 400 lbs of weight, so ride it with the big coaster fans and not a bunch of little kids for a better and wilder ride experience.

(10/7/13) As reported on Saturday, The Flying Turns at Knoebels opened and ran for the public all weekend. So far the reports sent back so far were all very positive, though the ride will suffer from low capacity, and is apparently weight sensitive enough that (as seen in a photo) riders stand on a scale for each car before boarding. Depending on the weight levels, riders may be moved from one car to another as I don't believe they want the heaviest load in the back car. Congratulations to the Knoebels staff for sticking it out for almost 8 years to finally make this ride a reality.
Pictures from the private night event for coaster enthusiasts on Friday can be found at All American Thrills.
2015 - IMPULSE - New Roller Coaster - (2/21/14) Knoeb

els briefly stunned many of their fans on Thursday when they posted concept artwork for a new steel looping coaster to their Facebook page. They are calling it IMPULSE for now and it will be a Zierer Tower Coaster, similar in nature to Wicked at Lagoon, but with a regular chain lift to pull you up the vertical lift hill rather than a launch, as Knoebels says they like how the slow climb builds anticipation. Look for Impulse to open for the 2015 season.
(2/1/14) According to Screamscape sources the 2015 project at Knoebels is said to involve the building of a new main entrance plaza, establishing a new and iconic "sense of arrival" for park guests going forward into the next generation. I'm also hearing there will be a little more involved as well, but I'm still trying to dig up the details so stay tuned!
(1/30/14) While the 2014 season hasn't even started yet, Knoebels has begun teasing their fans about what they have in the works for 2015. According to the teaser on their Facebook page, it was an image showing a file folder with the park's logo and the message, "The 4th Generation is doing what!?!? TOP SECRET – PROJECT 2015"
By 4th Generation they are talking about the 4th generation of the Knoebel family. So the question is… is Knoebels ready to go ahead with another large ride project in 2015, or will they try something entirely different and new? A waterpark? A resort hotel? Purchasing a second park maybe? Or perhaps something really unique and new. Anyone know more?