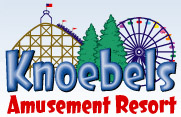 KNOEBELS Amusement Resort
Elysburg, Pennsylvania
Park News - (7/27/17) Looks like there was a brief flash flood at Knoebels on Monday that caused some slight damage, but mostly just made a mess. Fortunately the park has been able to clean things up and was ready to reopen the next day.
2018 - Over The Top - Delayed From 2017 - (11/6/17) According to the local news the Over The Top ride (SBF Visa Group) that failed to open at Knoebels in 2017 due to a couple of issues, is now in storage and the park will try to get it up and running for the 2018 season.