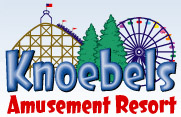 KNOEBELS Amusement Resort
Elysburg, Pennsylvania
Park News - (10/11/18) I guess Knoebels isn't planning on keeping the Over the Top attraction they just added this summer. I'm told that a grave marker was spotted from the train ride that names Over the Top as a dead park attraction with the dates "2018 – 2018".

(9/9/18) Congrats to Knoebels this morning for Phoenix taking the #1 spot in the Amusement Today's 2018 Golden Ticket Awards for Best Wooden Coaster.




(7/26/18) Bad weather continues to hammer the area and forced Knoebels to keep the park closed once again on Wednesday. No word on how things are shaping up for Thursday just yet, but it is worth mentioning that Hersheypark has already confirmed they will be closed on Thursday.


(7/25/18) Knoebels did indeed reopen on Tuesday for limited hours and closed again at 7pm due to the arrival of more rain. Fortunately no more flooding took place, though some stands, games, shops and a few rides were reported as being closed for the entire day. As for Wednesday's plans... the park is playing things by ear and will post details on their social media channels when they make and decision, so check in first before heading off for the park.
(7/24/18) Tons of rain have hit the Pennsylvania area and some flooding has been taking place. The creek that runs through Knoebels rose high enough by Monday morning to cause some minor flooding on Monday, causing the park to officially close for the day. The good news is that their website reports that they were hoping to reopen this morning as the water levels were going back down by late Monday afternoon. Some video footage shot in the park on Monday shows off the water levels and crews preparing the park for possible flooding just in case. Keep an eye on their social media channels for the latest status update before trying to visit today.


(5/31/18) Our latest news story from Knoebels is kind of… ewww. According to the local news park crews opening the park early Thursday morning came across a dead deer floating in the water pool of the Log Flume ride. Apparently it must have jumped over fences and obstacles at night to get in to the ride's splashdown pool, which is up to 41 inches deep, and then was unable to get out.
(7/27/17) Looks like there was a brief flash flood at Knoebels on Monday that caused some slight damage, but mostly just made a mess. Fortunately the park has been able to clean things up and was ready to reopen the next day.

2018 - Over The Top - Now open - (5/31/18) Knoebels website has confirmed that the new Over The Top ride is now open.
(11/6/17) According to the local news the Over The Top ride (SBF Visa Group) that failed to open at Knoebels in 2017 due to a couple of issues, is now in storage and the park will try to get it up and running for the 2018 season.