KNOTT'S BERRY FARM
Buena Park, California
Cedar Fair Entertainment
Ride Rehabs - The following information is not guaranteed to be 100% accurate.
Bigfoot Rapids - NOW CLOSED through Summer 2019
GhostRider - NOW CLOSED through Mar. 8
Jaguar - NOW CLOSED through Mar. 8
Flying Ace - March 11 through March 15
Pony Express - March 11 through March 22
Waveswinger - March 18 through March 22
Linus Launcher - March 25 through March 29
Xcelerator - March 25 through April 5
Screamscape has posted our official review of Knott's Scary Farm 2017 this week. Click here to see all the details.
Screamscape has posted our official review of Knott's Scary Farm 2016 this week. Click here to see all the details.
You can read Screamscape's full review of the Knott's Scary Farm 2015 Halloween Haunt. Check it out here.
Park News - (3/9/19) Guess what? It's almost time for the annual Knott's Boysenberry Festival event, where the park cranks out all kinds of wild and crazy new and rare boysenberry food creations as part of a celebration of "the little berry that started it all".
"This year's newly-expanded festival will feature over 75 unique boysenberry-inspired creations crafted by the Knott's culinary team. Guests will have the opportunity to indulge in a tantalizing line up of dishes ranging from savory foods with a boysenberry twist to one-of-a-kind specialty desserts and drinks that can only be found at Knott's Berry Farm during this time of the year. In addition to the numerous food and drink offerings, the Knott's Boysenberry Festival offers a wide selection of local crafters, live music, musical stage shows and fun activities for guests of all ages to enjoy. This year's Boysenberry Festival runs 31 days starting March 29, operating daily through April 28, 2019."
Some new food items to be introduced this year include:
Boysenberry dry rubbed flank steak topped with boysenberry cream cheese, Boysenberry Jerk Chicken Wings, Boysenberry Chilly served in a Boysenberry Sourdough Bread Bowl, Boysenberry BBQ Chicken, Boysenberry Pot Roast, Spicy Boysenberry Habanero Baked Mac & Cheese, and even Boysenberry Waffles served with a sweet Mapel Boysenberry Cream Cheese Syrup. And the list goes on and on… and perhaps the best way to taste the most items is the purchase of a $35 'tasting card', that will let you taste 8 different items from a list of 14 boysenberry-inspired dishes.

(1/31/19) Knott's Berry Farm has announced that they are adding two more days to extend the Knott's Peanuts Celebration on Monday, February 11 and Friday, February 15.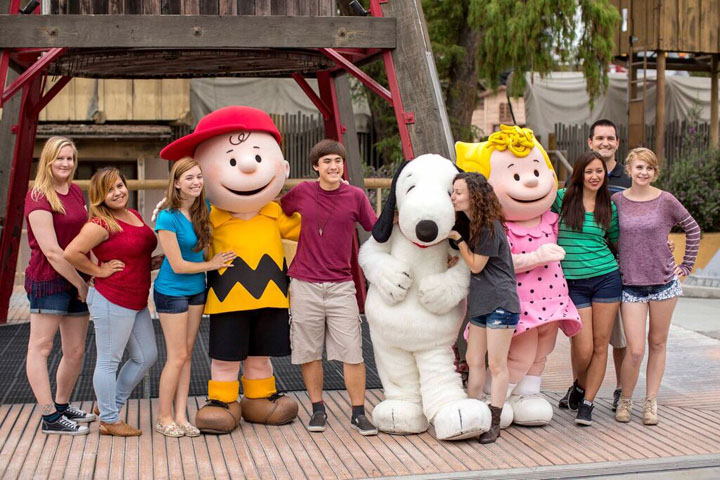 (1/4/19) Knott's Berry Farm is starting 2019 off with an extended run of their Knott's PEANUTS Celebration event. "Knott's invites guests to step into the iconic world of Charles M. Schulz comic strips as the characters take over the entire theme park with special activities for everyone to enjoy. The newly-extended celebration will take place on weekends beginning January 26th through March 10th plus President's day, February 18th. The limited time event will welcome fans of all ages to join in on the fun by introducing new ways for guests to play and interact with the PEANUTS Gang throughout the park. The celebration includes interactive character experiences, new festive PEANUTS inspired décor, more vibrant comic strip photo opportunities, live shows, festive merchandise, and deliciously themed-treats."

(11/2/18) With the Halloween season now ending, Knott's is preparing to focus on the Christmas season and will kick off Knott's Merry Farm from Nov. 16 through to Jan. 6th. "A classic winter wonderland awaits park goers with a landscape of thousands of twinkling lights, miles of themed garland, oversized snowflakes and a variety of picturesque holiday settings, all created as a backdrop to capture timeless holiday memories."
Featured seasonal attractions include the "Merry Christmas, Snoopy!" ice show, a Peanuts themed musical called "It's the Merriest Christmas Show Ever, Charlie Brown" plus the "A Peanuts Guide To Christmas" show in Camp Snoopy. Meanwhile the streets of Calico are transformed for Christmas with live Carolers, merry displays, holiday food and treats plus the Christmas Crafts Village featuring dozens of local artisans.

(10/3/18) Been having some PC issues and still trying to recover, but we did manage to post our Knott's Scary Farm 2018 report on Saturday afternoon... I just didn't have any way to tell everyone about it until now. Click here to check it out.

(9/13/18) Knott's Spooky Farm, a family-friendly day of Halloween fun for kids 3-11, will take place at Knott's Berry Farm on weekends from Sept. 29 through Oct 28, and on Halloween day. The PEANUTS Gang will be found wearing their own special Halloween costumes in character meet & greet areas. Follow the link to see the official details.

(8/6/18) According to a post on Twitter, Montezuma's Revenge at Knott's Berry Farm valleyed over the weekend. No word on if it was due to a problem with the launch system or if there was an issue with the train to cause it.




(7/7/18) Who wants to see some more Ghost Town Alive? Theme Park Connect has posted a beautifully edited video showing off Knott's Ghost Town and several of the Ghost Town Alive characters in action. Beautiful stuff that will make you wonder just how long until Delos actually opens WestWorld. (I kid! I kid!!)

(7/2/18) WestCoaster takes a detailed look at the 2018 version of Ghost Town Alive at Knott's Berry Farm, both at the storylines and characters involved thus far. Plus more beautiful pictures of Knott's famous Ghost Town than you can shake a stick at. Ghost Town Alive is happening at Knott's Berry Farm now through September 3rd.

2018 - Hangtime - (7/26/18) The other day I pointed out how a teaser that seems to be for the 2019 coaster coming to Canada's Wonderland was found posted at Cedar Point, themed as a recruitment ad for the Cedar Creek Mining Company. Today I was sent another image... showing off yet another Cedar Creek Mining Company posted at Cedar Point that was actually a teaser for Hangtime at Knott's Berry Farm. This one looking to hire people "for passage across Mississippi" where you can "Enjoy Catawampus views like no other".
Like the CW teaser, this one also had interesting numbers in the bottom corners... such as 2,125 which is pretty close to being the reported length of Hangtime, a "SIX" and "46" in the lower right, which I'm unsure of, as Hangtime has 5 inversions. But the odd thing that sticks out is this is the third teaser posted to include the number "137" for some unknown reason. (137 is also mentioned as a number in a teaser at Cedar Point for Canada's Wonderland, an at Carowinds in a teaser for that park's 2019 new coaster).

(5/19/18) Congratulations to Knott's Berry Farm for opening their new HangTime coaster to guests this week. It looks wonderful in the daytime, but you really have to see it at night to see it really shine. Want to see what I mean? Then check out video below sent us Screamscape by Knott's which features our local guy on the spot, Rob, taking on Hangtime himself for the first time, along with a few entertaining friends.
Just check out those lights on Hangtime! This really sets the bar to a new level for theme park lighting design on a coaster, because this thing is simply stunning in the video, and I know it has to look even more impressive in real life. Now on with Rob's review.
--
First, the Corkscrew, then Boomerang, and now, with HangTime, Knott's Berry Farm's twisted Gerstlauer design brings the excitement of California surfing to the thrillseeking public. Upon first sight, the light blue and yellow colors of the structure blend well with the surroundings and give the Boardwalk a bit of much needed visual height. Late afternoon sunsets bring even warmer hues to the structure. Theming is light, but effective, reinforcing the surf-side theme well. Surf boards, shrubs and sand add detail to the queue area and path to the loading station. Loading was a bit slower than some other coasters, due to the long walk over to the bins to stash loose belongings. There is both a seat belt and a snug, yet comfortable, lap restraint, similar to that on many B&M trains.
The lift hill is perhaps the most disconcerting element, and one that effectively ramps up tension before the big drop. Cresting the top of the lift, the train is halted at a downward-facing 45° angle for a good amount of time, affording riders an expansive view of the park to the north. Fortunately, the restraints are secure and quite comfortable. Upon the gradual brake release, the coaster races down the slightly more than vertical drop and into a multitude of maneuvers in quick succession. There are very few coasters in the US that manage to pack so much into such a compact footprint. The ride itself is very smooth with transitions that rarely jar the rider. Many of the twisting elements manage to elicit a pleasant floating sensation rather than tug the rider through the course, a delicate balance that makes this ride stand out. Immediately after the overbanked turn is a deceptive little dip that provides a pleasing amount of sudden airtime, immediately before entering the final element, a nifty cobra roll.
HangTime is a surprisingly great roller coaster. It exceeds expectations and rewards repeat rides. It still felt quite unpredictable even during a second run through. Additional notice should be directed at the immense lighting design of this ride. The entire character of the lighting changes as soon as a train begins its journey, with chaser lights running along the train as it navigates the route. The result is a much different and more rewarding experience after nightfall. Subsequently, it is perhaps the most enjoyable coaster to watch in the park now, as riders scream and flail along the tangled route. HangTimebrilliantly succeeds in combining multiple elements into a well paced design that builds upon the waterside theme Knott's has cultivated in its Boardwalk area of the park. Though lines will be long due to its inherent lower capacity, it will be well worth it for those willing to catch this wave.





(4/6/18) Knott's Berry Farm has confirmed that HangTime will have its grand opening celebration on Friday, May 18.
(3/28/18) While Knott's app has been updated to now list Hangtime as opening on April 1st (Easter and April Fools Day...) the park is responding to Twitter posted saying that the dates on the app are wrong, they still have no official opening date, but will make an announcement soon. From what I've heard, despite successful testing of the coaster taking place, there is still a bit of work on the ground left to do before they can open it anyway, so I'd look for it to open sometime after the Spring Break crowds have gone away.
(3/26/18) While Knott's hasn't said anything otherwise, the official Knott's Berry Farm app now lists HangTime as running on Saturday, March 31st.
(3/23/18) While nothing is official until Knott's make an announcement, I'm hearing that there is a chance that HangTime could be ready to open on Easter Weekend if all goes well. Cross your fingers!
(3/9/18) Knott's sent out a new picture giving us our first up-close view of what their new coaster train for Hangtime looks like, appearing very much as if carved out of a piece of a shiny new surfboard. Very slick... great colors and graphics and I like the different colored striped headrests too.
(3/8/18) A great new update on HangTime has been posted to Westcoaster this week, showing off the coaster making test runs.
(2/14/18) A couple of good news items for Knott's Berry Farm tonight. For starters, after being closed since late 2016 the park has finally opened the Sky Cabin observation tower. Meanwhile if you make the jump over to Westcoaster, you can see a fantastic photo update showing off the Hangtime construction site, where the new coaster just looks fabulous.
(1/20/18) I'm told that Knott's Hangtime crew finished installing the last piece of track on the coaster early Friday morning, leaving the transfer track and station area left to finish installing. Rumor has it that Hangtime is ahead of schedule and could be ready to begin testing by early to mid February. If all goes well there, Hangtime could be ready to open 4-6 weeks after that.
(1/17/18) Another new construction update from Knott's Berry Farm showing off the status of HangTime has been posted to ParkJourney this week. Check it out.
(12/31/17) Hangtime at Knott's is looking to be one disorienting ride... take a look at a new Night POV Animation that was found on YouTube just to see what I mean.

(12/30/17) Check out the latest Hangtime construction update posted to Westcoaster this week. The update also features some beautiful photos of Ghost Town all lit and decorated for Christmas as well as a note that Xcelerator is still closed and apparently still waiting on new mechanical parts to fix it... likely for the launch system.
(12/12/17 - Edited) Some posts on Twitter (some now removed) featured some new pictures from the Hangtime construction site, noting how a few of the supports had little dings in them already. I'm kind of curious if these occurred during transport from the manufacturer, or if something happened on the construction site itself, but based on the photos the paint in those locations was still good and unchipped, so I'm guessing they may have actually came that way.
Either way, nothing to worry about, as I'm guessing some new replacement sections may already be on order so they can be swapped out before the grand opening in 2018. I'm pretty sure they can just build the coaster with the existing parts and swap any troublesome parts out later without too much fuss. So nothing to worry about... nice to see the ride going up so quickly.
(11/21/17) HangTime is still growing, with the latest construction photos posted to CaliforniaCoasterKings this week as the large lift hill structure rises into the sky.
(11/10/17) At long last Knott's Berry Farm has posted an animated preview video of their new HangTime coaster and it is beautiful to see. Plus check out the trains that will ride the rails... 4 rows of 4-across seating, so double the capacity of your typical 2-row Euro-Fighter style design to help combat the long lines. Looks like a blast!

(11/9/17) A new construction update from Knott's Berry Farm was posted to CaliforniaCoasterKings this week as HangTime's lift structure begins to rise very quickly into the sky.
(11/6/17) Good news for Knott's fans... the first pieces of track and various supports for Hangtime have already been installed on site. Watch the Hangtime site on the official Knott's webcam to see for yourself as it looks like they are installing the bottom of the vertical lift hill at this moment.
(10/30/17) A reader sent in some pictures of the stacked up track and supports for Hangtime that are now on site at Knott's in the lot across the street from the park. Enjoy!

(10/24/17) A quick construction video showing off the Hangtime site at Knott's has been posted this week. Lots of work on prepping and pouring footers for the new coaster from the look of it. Check it out below.


(8/21/17) While we heard the announcement from Knott's Berry Farm about their new Hangtime coaster coming in 2018, for whatever reason the park has no preview animation footage of the coaster to show off yet. As I'm on the East coast, the announcement came in at the last second before I retired for the night, so I was light on the details and stats at the time.
That said, here is everything you need to know about Hangtime. As rumored, this will be an Gerstlauer Infinity coaster standing 150 feet tall. The 16 passenger trains will go over the top, slide down slightly and pause for 2 seconds before going over the edge and diving to the ground at a beyond-vertical 96ş angle. For this, the park is referring to Hangtime as the only Dive style coaster on the West coast... an interesting thought to be sure. So does the extra height and pause at the top help qualify Hangtime in the same category as a B&M Dive Machine style coaster? It just might, but that's a discussion for another time.
As for the rest of the stats, Hangtime will feature 2,198 feet of track and a total of five inversions, including being only the second coaster in the world to feature the unique "negative-g stall loop" inversion that is supposed to give riders the sensation of floating. What's really cool is that Hangtime will feature a new innovative lighting package from KCL Engineering that allows the track lights to change color and seem to track the train as it runs around the track at night. While this sounds similar to the impressive system installed for The Monster last summer, Ride Entertainment mentioned that the one coming to Knott's Hangtime could would be a "Next level" edition.
Screamscape sent Robert down to be there first hand for the announcement of Hangtime and he's sent in his own comments from the announcement as well as a bunch of great pictures and graphics, so lets switch over to his impression:
---
In a move possibly meant to completely erase the debacle that was the Windjammer Surf Racers from the public's memory, Knott's revealed plans for another surfing-themed roller coaster, to be built on the former site of both Boomerang and Corkscrew.
The new ride, named Hangtime, will be a 2,198 foot long variation of the Guerstlauer Infinity class coaster, with a 150 foot height and a top speed of 57 mph. With capacity of 800 riders per hour, Hangtime will send 16 riders at a time through a tangled mess of track, including a 96° beyond vertical drop with a two-second hold at the top, and five inversions. A single train will run the course at a time, while a second and third train will load in the station.
Knott's worked with Gerstlauer from the beginning, and went back and forth a few times before settling on the final design. An early design had only three inversions, which wasn't enough for Knott's. After creating a larger footprint, Gerstlauer was able to revise the initial designs and throw in two more inversions. A few structures had to be razed to create the space to accommodate the new ride.
This will be the first dive coaster on the West Coast, a feature that will certainly thrust Knott's back into the spotlight for thrill seekers in the region. It's been quite a while since Knott's has built a major thrill ride, and park representatives acknowledge it's the right time to do something about that.
Hangtime will look equally as impressive during the evening hours due to an extensive lighting package. An LED system will be affixed to the structure that allows for relatively simple adjustments for seasonal or event-specific lighting. The lights will also "chase" the coaster cars through the route, a fun feature that further enhances the Boardwalk area of the park.
Hangtime opens Summer 2018.
Boardwalk BBQ
Additionally, Knott's used the opportunity to give attendees a taste of the newly refreshed Boardwalk BBQ, located near the base of the Sky Cabin. The new building, sporting a combination of Googie and modernist visual themes, is a nice complement to the area near the Xcelerator. With an extensive menu of items such as pulled pork, roasted chicken, ribs, and salad, this eatery offers something for everyone. Of special note is the boysenberry BBQ sauce and the Ace berry cider on tap, a nice option from the typical apple or pear flavor. All items sampled were of a quality far better than that of most theme park fare. It's great to see parks paying more attention to their cuisine lately.
(8/17/17) Knott's Berry Farm has confirmed that Hangtime will be coming in 2018, a large Gerstlauer roller coaster with several inversions and a beyond vertical first drop. More details to follow!

(8/5/17) Knott's has posted a brief teaser video clip ahead of the August 16th announcement on Instagram which you can see here. It's a pan of the rides on the Boardwalk area leading to someone picking up a drink cup an drink cup and under it is revealed to be a drink-coaster that says "2018" and features a silhouette of a surfer on his board in the position one would take when having just dropped into a nice wave from the top of a huge wave.
This pretty much confirms the rumors that the new ride would feature a Surfing theme to it and will likely either be called Hangtime or The Ledge, as both names have been trademarked by Cedar Fair this summer.
The latest rumor also suggests that this could be some kind of new compact coaster that will pack a lot of track and thrills into a very small space... with this source leaning towards it being a Gerstlauer Infinity Coaster style design that would feature a vertical lift hill, beyond vertical first drop and a large number of inversions, twists and turns. I've added a great video showing off the fantastic looking "The Monster" that opened last summer at Adventureland that really shows off what Gerstlauer can create in a compact park space. Just take a look at the car dropping over the top of that lift hill... kind of the same looking idea as a surfer dropping down into a huge wave, don't you think?
That isn't the only train option for this coaster type however, as the infamous "The Smiler" at Alton Towers is also part of the "Infinity Coaster" line and features a bigger train featuring 4-across seating and 4 rows of seats for 16 riders per train operation which would fit the needs of a big park like Knott's a little better.


(6/21/17) I've no word yet on if this latest rumor is any more true than some others presented thus far, but we did hear an interesting claim this week that the rumored new Knott's coaster could actually be a Gerstlauer Infinity Coaster project.
(6/12/17) A guest reported in from Knott's Berry Farm that the construction walls around the former Boomerang coaster location has been extended to run down to where Riptide was, and then around the corner until it stops right where Calico Mine Train begins. Looks like they intend to use the entire site for whatever new attraction is being planned.
(4/5/17) With Boomerang ready to go away forever very soon, the coaster fans out there have been wondering about what is next for Knott's. After all, you don't usually remove one of your park's major coasters without having something new to replace it at least in the design phase. From what we are hearing, Knott's does have something in the works, though they still need to dot the I's and cross the T's on it, but whatever it is, I'm hearing is it BIG and likely looking to open sometime in 2018 if possible because Knott's want this thing up, open and to have a serious reputation already in the public knowledgebase in time for Star Wars Land to open at Disneyland in 2019, so they can borrow all those incoming Disney guests for a day at The Farm.
(10/19/16) With a Soak City expansion planned for 2017, it seems fairly clear that 2018 should be a big year for Knott's Berry Farm itself. Adding a bit more fuel to the fire, a reader sent me an official statement about the 2017 Coaster Run event that has been taking place at Knott's for the past several years, which involves the racers running through a course that weaves throughout the entire Knott's Berry Farm theme park.
According to the statement, the 2017 Coaster Run event will be moved to Six Flags Magic Mountain because "Knott's Berry Farm told us that they had construction planned inside the park that would prevent the event from traveling through the property." With the event slated for April 2017, the timing is interesting as this could mean that Knott's has a very large project in store for 2018 if they will have construction under full swing by April 2017. Perhaps guests should keep an eagle eye out for survey markings and such to appear in the park over the next several months.
2019 - Calico River Rapids - (2/3/19) Westcoaster heads over to Knott's to check out the Peanuts Celebration event this week. Keep on scrolling down and you'll also get a look at the construction progress taking place on the former Bigfoot Rapids ride as they prepare it to reopen in 2019 as Calico River Rapids. Below that… something a little weird… a Spike's Silent Disco? You'll just have to see this one for yourself.



(11/14/18) Knott's Berry Farm has just released the details about their 2019 attraction, where the former Bigfoot Rapids will now become Calico River Rapids when it reopens in Summer 2019. The attraction is undergoing a major renovation that will see new animatronics and special effects added (from Garner Holt Productions) to create new show scenes to create, "a new story overlay and plenty of dynamic water effects."
Guests will journey in search of a new land on the outskirts of Calico where they will encounter roaring rapids, indigenous wildlife and some "peculiar homesteaders" along the journey inside six passenger rafts.
Knott's also confirmed the return of the Knott's PEANUTS Celebration on weekends from Jan. 26 to Mar. 10, 2019 as well as the popular Knott's Boysenberry Festival from Mar. 29 through to April 28, 2019. "Ghost Town Alive!" will also return to the park daily with a brand new storyline from May 25 through to Aug. 18th, and then on weekends from Aug. 24 through to Labor Day weekend.

(10/24/18) During the summer a few Cedar Fair parks released some odd posters that seemed hint about future attractions to come, and now Knott's just tweeted out one of their own, claiming that a great discovery awaits in 2019. A call to adventure if you will to visit the "Unspoiled Wilderness" of the "Calico River Territory" known for "Mining! Timber! Homesteads!"
So… exactly what does this mean? Calico is home to Ghost Town of course, along with the Timber Mountain Log Ride and Calico Mine Train. But… and here comes some guesswork, but technically Bigfoot Rapids is within the Calico area and features the only real "river".
So could Bigfoot Rapids be going under the knife to be transformed into something new for 2019? It's also worth mentioning that on the Knott's official list of attraction rehabs, Bigfoot Rapids is now closed and has no official reopening date, just a generic "TBD".

2020/2021 - New Attraction - (3/3/19) Screamscape sources tell us that some future plans to develop Knott's Berry Farm into the future are being settled that may see the park expand a little bit more, taking over some of the backstage land. The site of the later may involve an expansion of Ghost Town into the nearby backstage area that could be ready sometime between late 2020 and 2021. The early rumors suggest the new section would incorporate a new coaster of some kind as well as a new flat ride or two. The coaster side of things is said to still be very much in development with no one design (or designer) in the lead yet for the project, though we did hear an interesting concept for one of the flat rides could be to bring one of those Gerstlauer Sky Roller kind of attractions to the park, possibly even with some kind of loose "homage" to the park's former XK-1 as part of the themeing.
Again, this is all just talk at this point, so nothing is confirmed. That said… it may be worth keeping an eye open when traveling through Ghost Town over the year for any sign of construction surveying markers, stakes or paint.

(6/6/18) While it is too early to tell what is going on at this point, I've been told that Knott's Berry Farm's next BIG project will come to life in 2020. From the sound of things, this could possibly be the park's next big coaster and if so, I'm hearing that it could go somewhere south of GhostTown, near GhostRider.