LAS VEGAS Area Attractions
Las Vegas, Nevada
---- THE LATEST BUZZ ----
(3/22/19) Donnie and Marie Osmond Show Ending Soon (MORE...)
(3/8/19) Las Vegas Talking About Digging Elon Musk Tunnel Tracks (MORE...)
(3/3/19) Paris Casino Launches New Nighttime Light Show (MORE...)
(2/28/19) Las Vegas To Get Flying Theater in 2021
(2/17/19) Not So Fast Manhattan Express
Vegas is known worldwide for its huge hotels and casinos, mixed with top attractions, rollercoasters and more. The hotels and casinos are a huge draw with many getting their buzz from gambling, but did you know you can also play online in the US. Top games include slots, craps and perhaps for the thrill seeker - poker. Poker is a popular live game, but is huge online as you can see at PokerSites.us. Whether for gambling or leisure, enjoy!
Las Vegas News - (3/22/19) According to the local news the long running (11 years) Donnie and Marie Osmond show performing at the Flamingo will come to an end on Nov. 16th. I can't help but wonder if this has anything to do with his success after performing and coming in second place on Fox's The Masked Singer show over the past few months. (I have to admit, while I'm not fond at all of any reality based-musical show, The Masked Singer became a guilty pleasure of mine.)

(3/8/19) In a kind of "out there" announcement, the "Las Vegas Convention and Visitors Authority" has announced their support to construct an underground tunnel to connect various busy tourist corridors by Elon Musk's "The Boring Company". They envision a system that would use over 100 autonomous electric vehicles transporting passengers through a network of underground tunnels that would connect McCarran International Airport to the Las Vegas Convention Center, downtown Las Vegas and other locations. According to The Boring Company, the cost would be somewhere between $35-55 million and it could be open within a year once approval is given.

(3/3/19) The Paris casino and resort in Las Vegas unveiled an all new light show they've added to the Eiffel Tower structure in front of the casino. The new light show plays nightly and is said to be about three and a half minutes long and will repeat several times through the night. Our friends at Attractions Magazine shot a good video of the launch of the first show which you can see below.




(2/17/19) Perhaps I spoke too soon, as I was informed by a local that the new sections of bright red paint on Manhattan Express were done a year ago, and then everything stopped and they haven't bothered to repaint the rest of it. So take that for what you will.
(2/12/19) According to a picture sent in from a reader in Las Vegas, it appears that the former Manhattan Express coaster at the New York - New York Casino is getting a much needed new paint job, as sections of the faded track are now seen sporting a coat of bright red paint once again.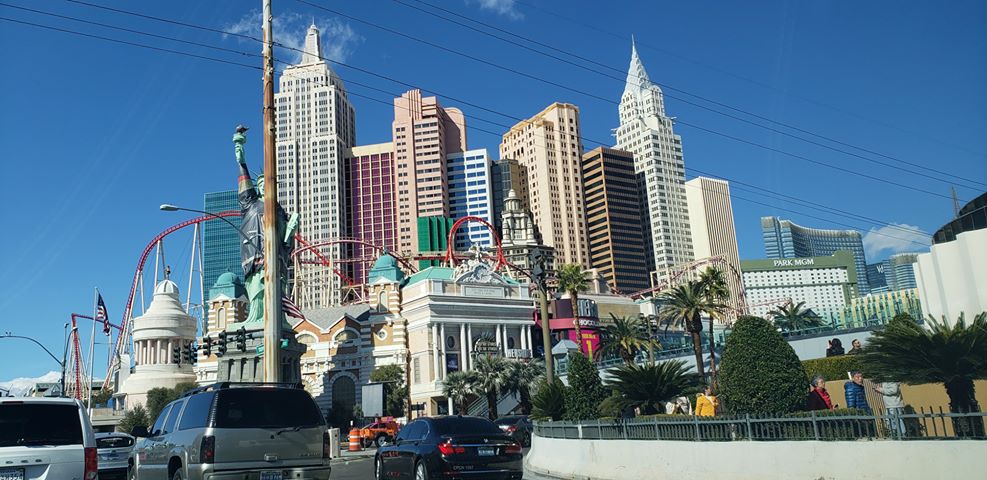 (1/11/19) Would you believe that Google built an entire dark ride in secret for this year's CES show in Las Vegas? Old school Disney style sets and animated set pieces and characters, a muscial score with a fun song that reminded me very much of old school Epcot… follow the link to see a video of the entire ride experience called "Google Assistant The Ride".


(1/10/19) While we had heard that Desperado at the Buffalo Bills casino on Stateline had closed up for the winter break back in December, I'm told that much like last year, the casino has updated their website to once again state that all of their rides are now closed until further notice. If this follows like last year, you can expect to see them slowly reopen them, starting with Desperado, sometime as we get closer to Spring.

(1/4/19) The new Criss Angel Mindfreak show coming to Las Vegas has announced that they are using HYPERVSN's 3D holographic effect technology as a major part of the new technology-driven show concept that opened at the Planet Hollywood casino on December 19th.
"Pulling out all the stops in the creation of the production for his multi-year headline residency, Angel chose to incorporate HYPERVSN's proprietary 3D holographic technology to offer his audience a true immersive experience. From the moment audiences enter the theater lobby, they will engage with customized 3D content projected from a larger-than-life 28-unit HYPERVSN Wall. The bespoke content was produced by HYPERVSN's in-house design studio with Criss' personal direction and collaboration.
Angel's new 90-minute spectacular is the most sophisticated, technologically-advanced theater show the world of entertainment has ever seen, featuring more than 75 of his iconic signature illusions - with 20 never-before-seen effects that will give fans the ultimate immersive experience, showcasing the iconic Angel on a massive scale."

(12/5/18) A new dining experience is coming to Las Vegas just after Christmas that will be unlike anything else we've seen in Vegas before. Look for the new "Eataly" to open on December 27th at 5pm at the new Park MGM resort (formerly Monte Carlo) as what is essentially a 40,000 square-foot "amusement park for foodies". If all you want is a high-quality dining experience, they've got that… but if you want to learn a bit more and watch how the food is prepared and made from scratch, you can take your time to do that as well. Eataly boasts offering everything from walk-up quick bites, to yummy pizza and desserts, or you can shop marketplace to buy about anything to take with you.

(10/31/18) According to Screamscape sources Luxor will replace the Criss Angel show with a new production from Cirque du Soleil in development under the project codename, "The Jump". From the sound of things the new show may not be ready to go until late 2019 and sounds like a huge departure for Cirque in terms of Vegas show design.
How so? The early word is that "The Jump" show would actually feature BMX bikes, motorcycles and other wheeled vehicles performing amazing stunts and feats in front of a live audience… which actually sounds a whole lot like Cirque is trying to create their version of the Nitro Circus.
This wouldn't be the first Cirque show with BMX bikes however, as they currently have a traveling show called Volta that features a BMX act finale.This should prove to be even more interesting if true, as Nitro Circus signed a residency deal with Caesars Entertainment to kick off a brand new show production at Bally's starting in Spring 2019.
Speaking of new productions from Cirque, Screamscape sources also say they are looking into doing an their first "ice show" that could come to Excalibur as an eventual replacement for the Tournament of Kings knights & jousting show. (A quick correction… it was pointed out to me that Cirque does currently have a touring show that features some ice skating called Crystal.) There are also rumors about early talk about creating another more traditional Cirque style show to eventually replace "The Beatles LOVE" show at The Mirage.

(10/26/18) I'm told that the long running Criss Angel show that has been running through a few versions at the Luxor over much of the past decade will come to an end on October 28th. It seems Criss Angel will then move his show over to the Planet Hollywood casino, with preview shows starting as early as December 19th, but the expected grand opening likely to take place in January 2019. As the new "Mindfreak" show will no longer be in association with Cirque du Soleil and MGM Resorts, it will drop the comedy aspects and feature a number of all new illusions and special effects under a new deal with Caesars Entertainment.
While Luxor will continue to have the city's current Blue Man Group show, no word yet on what may replace the Criss Angel production. If anyone knows more, please let us know.

(10/20/18) In the latest big Vegas show announcement it was revealed this week that Britney Spears is returning to Las Vegas for another residency show, this time at the Park Theater at the Park MGM (formerly known as the Monte Carlo) which performances starting in February 2019. Tickets for the new show, called Domination, go on sale starting October 26th at 10am.

(10/12/18) The Rio All-Suite Hotel and Casino has always been a favorite of mine from back in the days when I lived on the west coast and used to visit often. The huge buffet, the ceiling track mounted mardi-gras parade, and some of the most incredible rooms in Vegas were to be found there. But would you believe it could all soon come to a rather dramatic end?
According to a report at Casino.org, there are new rumors claiming that Caesar's has been shopping the Rio around to potential buyers, one of which claims that the Rio could be purchased simply for the land and demolished to make way for a future Major League Baseball stadium. Yeah… I know… there is no MLB team in Vegas, and it wasn't that long ago that the NFL also avoided placing a team in Sin City, but now the Raiders are on the way with a new stadium under construction just down the road. And the MLB has been talking over the past year or two about possible homes they might consider for two new expansion teams to the league. It was just in July when the MLB Commissioner named his top six sites back in July as: Portland, Charlotte, Nashville, Montreal, Vancouver and… LAS VEGAS.
While there is nothing certain about adding a new Major League Baseball team to Las Vegas at this point, it seems the neighboring properties may also have been given some insight into this possibility. For example, the owners of the nearby Palms casino which was planning a $350 million renovation to the Palms has now increased that massive budget to an impressive $620 million for expanded renovations plans… which sure makes it sound as if they may have an inside track on something coming. I feel it is also worth mentioning that company behind the Palms is Red Rock Resorts who own the other Station Casinos and is headed up by the famous Fertitta family who are no strangers to the Las Vegas sports market after having built up the UFC under their Zuffa, LLC company from 2001 to 2016, when they sold it for an estimated $4 billion. So if anyone has an inside track about a possible future sports deal coming to Vegas, it would be them and as such, interest and pricing of other land parcels around The Rio are said to have been spiking as of late.

(8/21/18) Aerosmith will celebrate their 50th anniversary with a limited residency show run in Las Vegas next year, with about 18 show dates announced to take place between April, June and July 2019. The shows will take place at The Park Theater at the MGM Grand, which will also be home to the prevously mentioned Lady Gaga residency shows as well.

(8/18/18) New details about the planned renovation to the Fremont Street Experience were posted to BlooLoop this week. The improvements will see a $32 million renovation brought to the giant Viva Vision screen that also serves as the roof over the entire street, with work set to begin in February 2019 and finish later in the year. The screen will be completely rebuilt with the latest technology to have four times the resolution as before and be seven times brighter. This will actually be the third version of the giant screen to be installed, as the original opened in 1994 and was last renovated back in 2004.

(8/10/18) Much like I've been saying for some time now, I think the world is proving that they are sick of Las Vegas casino resorts "nickel and dimeing" their guests with excessive fees, and laughing with glee all the while. Daily resort fees, parking fees and now even some new fees being placed on already high Salon and Spa service fees by MGM Resorts. Yes, it has gotten to the point where you would almost think MGM stands for "Money Grabbing Management" these days.
The times are changing and guests are now finally voting with their wallets, opting to skip trips to Las Vegas for other options. One after the next, the big Vegas casino companies have been reporting declining numbers for their properties this year, including MGM Resorts and Caesars Entertainment, where the RevPAR numbers (aka: Revenue Per Room) has already dropped by an average of 4% for the first half of the year, room occupancy rates are down 1% and Convention attendance is down 3%. The declining numbers, while not huge, have resulted in casino stock prices dropping double-digits as investors flee.
Oh... and gambling is also down, particularly because the payout rates for winning have been altered in many cases to now pay out less than they have traditionally paid for decades. It seems many of the big fish have opted to gamble closer to home, both domestic players as well as international, especially those prized Chinese gamblers who can now play Baccarat to their hearts content at the casinos in Macau. The news that the first casinos have finally been approved to come to Japan is certainly not good news for Las Vegas either.
I've said it here on Screamscape for a few years now... the perceived "value" of taking a vacation to Las Vegas has been lost due to corporate greed. We've already seen the Wynn resorts try to fight back against parking fees by offering to validate parking for guests who spend at least $50 on site. It also looks like Caesars and MGM may be ready to take a step in the right direction by lowering their room rates for the later half of the year. Most importantly, I think they need to take a long look at the parking fee issue as well, which was put into effect due to the opening of the T-Mobile arena.

(8/8/18) The entertainment options in Las Vegas is always swirling with change, but when the occasional major performer signs a new residency deal, all of the Strip takes notice. This week details about the new Lady Gaga Enigma residency show coming to the MGM Park Theater this December came out, and mentioned a second "Jazz & Piano" performance will also be offered on select dates. Tickets go on sale Aug. 13th.


(8/1/18) The "Pinball Hall of Fame" attraction in Las Vegas is planning to move to a new bigger location located on the South end of the Las Vegas Strip, just south of Russell Road. The owner says that of the 1050 pinball machines he owns, the old 8,600sqft location could only accommodate about 250 of them at a time, so the goal is to put out as many of the machines as possible into a new 27,000 sqft facility, with the goal of making the outside of the building look like a pinball machine as well.

(7/27/18) Would you believe there is finally some good news from Las Vegas regarding their new paid parking policy? According to Forbes the Wynn resorts have announced that they will now validate your parking ticket if visitors spend $50 or more on property. While this isn't as good as "free parking" it is sure a step in the right direction and also ensures that guests parking in their lots are likely to stay and spend their money on-site rather than go casino hopping down the Strip.
(6/21/18) A bizarre incident took place at the Mandelay Bay late Tuesday afternoon when a section of the resort near the south convention center began to experience... flooding. Apparently a broken water main was to blame, but as I seen to recall the casino's Shark Reef aquarium isn't too far from here, so I've got to think some of the guests may have been concerned that the shark tank had busted open while being evacuated. Queue the music...
(5/15/18) What happens in Vegas... stays in Vegas... unless you get drunk and fall from a four-story inner balcony inside the Luxor casino... then you make national headlines. Yep... according to the local news, alcohol was involved when a 20-year old (who still isn't old enough to drink in Vegas by the way...) fell from four-stories up and survived by crashing into some of the casino decorations below on the way down, and somehow managed to only have very minor injuries. I'd love to see the security camera footage of that taking place.
For those who have never been to the Luxor casino, it's the one shaped like a giant glass pyramid and really has no outside window or balcony access, however each of the resort floors that make up the pyramid use balcony style walkways around the interior of the pyramid to get to your room, giving you a weird view of the casino below you. Click here to get an idea of what I mean, where you can see the hallways the line the inner walls of the pyramid, with various structures along the edge at different heights.
(5/4/18) An interesting article was posted to the LA Times regarding the possible beginning of visitor decline to Las Vegas over the past 10 months, and goes into more detail with a local Vegas publication who claims guest irritation with outlandish daily "resort fees" combined now with the crazy parking fees that may be to blame.
Me? I have to agree… considering that resort fees alone, something that used to never exist, are now as high as $45 per night (with Venetian and Palazzo being the highest in the city right now, followed by $39 per night fees at the Caesars and Wynn properties). Add in daily parking fees and you are looking at a combined cost that is about even with what the average room rate alone used to be in Vegas… but then you get to add in the new higher room rates… and tax… don't forget that… and it's no wonder people are starting to realize Vegas isn't the bargin vacation destination it used to be.
No wonder gambling profits to the casinos has also been reported to be in decline for years now… because they've been taking the money out of your pocket long before you even had a chance to get to the casino floor. Sometimes I think all it would take is one bright casino chain to see the light here, reverse the trends that have transformed the industry for the worse over the past 10-15 years, to see if a return to the old ways would brighten not only the guest experience, but also their own coffers as well. Win over your guest's hearts and you'll win their loyalty. Just a thought...
(4/14/18) The end of another era... the Monte Carol casino/resort is no more... having been remodeled a bit and now featuring a new name atop the tower, completing the transformation into "Park MGM".
Meh... I don't like it. Too generic sounding, almost like as if it was an expansion tower for the MGM Grand across the street. Oh well... maybe I'm just a fuddy-duddy. Not that I was ever a huge fan of the Monte Carlo in the first place, it always kind of reminded me of some kind of weird off-spring of The Mirage and Mandalay Bay, but rather I am I fan of unique and fun names and themes, which Vegas seems to slowly be eliminating.
(2/22/18) Is the bottom getting ready to fall out in Las Vegas? Are tourism and convention business both ready to turn elsewhere due to rising costs and the overall impression that Vegas is no longer a value destination? A great bit of commentary was posted to the Las Vegas Review-Journal this week that nails the potential problem on the head with the first hard-data that could show that 2017 was the tipping point.
(12/19/17) The "SpeedVegas" attraction where visitors can pay to drive high-end exotic sports cars (Ferrari, Lamborghini, etc...) around a half-mile track is now currently involved with a Chapter 11 bankruptcy which will allow the attraction to remain open and attempt to restructure their debts.

2018 - The Void (Star Wars: Secrets of the Empire & Nicodemus Demon of Evanishment) - (6/12/18) The VOID location in Las Vegas has announced they will soon open an all new second adventure, in addition to the currently running Star Wars Secrets of the Empire adventure. The second story is called "Nicodemus Demon of Evanishment" This is an original adventure creations from The Void, the first such one since they launched into the big leagues with their Ghostbusters adventure at Madame Tussauds. Look for Nicodemus to open to the public this Thursday.
Check out the teaser trailer below... and if you are a video game fan, perhaps you might agree with me that something about this new adventure just reminds me of Bioshock, which is a great thing.



(4/14/18) The Void will soon be ready to open their new Las Vegas location inside at The Grand Canal Shoppes inside The Venetian casino resort. Tickets can be purchased online for dates as early as April 27th as of this moment.

(12/26/17) The new Star Wars: Secrets of the Empire VR experience from The Void that just opened at Walt Disney World's Disney Springs and will be opening at Disneyland's Downtown Disney on January 5th will now be opening another US location in Las Vegas!
According to the Las Vegas Review Journal a new Void location will open in early 2018 inside the Grand Canal Shoppes inside The Venetian casino/resort on the strip. They also mention a second location will open in California inside the Glendale Galleria as well sometime in 2018, and both will feature the new Star Wars themed VR experience. Currently the only place outside of a Disney property you can experience Star Wars: Secrets of the Emprie is at a temporary location in London where it just opened for a limited 12-week engagement. I'd expect to see the Las Vegas location open shortly after the one in the UK closes down.


2018 - Esports Arena / Luxor - Now Open - (1/18/18) The first dedicated Esports Arena in Las Vegas is nearly complete, taking over a former nightclub spot at the Luxor Hotel & Casino. Esports Arena Las Vegas will open on March 22 with a multi-day, live-streamed invitation only tournament event. The space features a competition stage area, LED video wall, seating as well as daily gaming stations and production studios.

2018 - The Official SAW Escape - (1/18/18) Another new themed experience awaits the brave... "The Official SAW Escape" room experience will open on Jan. 26, 2018 with a "full immersive multi-room experience" themed after the epic horror franchise. According to the website the horror themed escape room experience (and really, you can't get a more perfect theme than SAW for that) comes to us from the creator of the annual Las Vegas Fright Dome. The location of the escape room is somewhat appropriate as well... as this isn't a scary attraction tucked away inside a nice big safe casino... instead they have set up shop along one of the more industrial backroad areas of Las Vegas, somewhere between the Stratosphere and the I-15 freeway. More details can be found at the official website, as well as the option to reserve your tickets now, and don't forget to click on the "Play Me" cassette tape near the top for an introduction by Jigsaw himself.

2018 - Big Apple Coaster adds VR - (1/20/18) Curious to see what the VR experience is like on the Big Apple coaster at NY-NY? A video showing off the VR side of the experience was posted to YouTube by Theme Park POVs. Check it out below.




(1/18/18) The New York-New York Hotel & Casino has announced they are adding a Virtual Reality enhancement to their Big Apple roller coaster. The new experience, opening Feb. 7th, is from VR Coasters and will tie in a new storyline about a secret research lab hidden in the Nevada desert that has been studying aliens. (cough... Area 51... cough...) Riders are soon sent out on an adventure to capture an escapee group before they can destroy the Las Vegas Strip. The already high $15 ticket price to ride the coaster without VR will bump up to $20 if you want to try out the experience with VR headgear.
(Editor Note: While it has been several years since I last rode this coaster... I've heard nothing to say that previous near-concussion causing experience had ever improved, so I'm a bit hesitant to say that adding VR to this coaster is a good idea. In fact, not being able to see the twists and turns ahead of you in order to brace for the impact, could make this bumpy experience even more severe. If a reader has a chance to try it out however, I'd love to hear all about the experience.)

Late 2018 to 2019 - Fly Linq - (9/7/18) Tickets are now for sale to ride the new Fly Linq ziplines oer the Linq Promenade starting in November. There will be 10 side-by-side ziplines (so you can fly with your friends) starting 114 feet in the air that make the 1,121 foot run across the promenade to the landing tower located near the base of the High Roller observation wheel. Currently online prices range between $20 to $35 depending on if you ride it in the day or night, and in standard sitting posture, or in the "superhero" style flying posture.




(11/9/17) According to this news report a new multi-line 35-mph Zipline attraction above the LINQ shopping complex is being designed for Las Vegas. It will be called Fly Linq and your flight will ride up an elevator 12-stories to the launch platform near the strip before taking flight down one of 10 side-by-side ziplines, ending near the base of the High Roller giant wheel.
This actually sounds similar to the multi-lane zipline already offered down at the Fremont Street Experience. Look for it to open sometime in late 2018 if all goes well.

2019 - Kind Heaven - (6/7/18) A couple of photos posted on twitter show off a new updated map of Linq Lane that now includes building locations for the soon to open Fly Linq attraction as well as the recently announced Kind Heaven.




(3/21/18) A new $100 million attraction called "Kind Heaven" is set to open at The Linq in August 2019. You'll have to follow the link to watch the video from the local news to see the official report about this, but the idea is a little hard to follow. Let me explain as best as I can...
Kind Heaven itself is described as "a journey" or experience that you will go on, starting as you enter the building and purchase a train ticket for a journey to south-east Asia.
You'll board the train (simulation of course) and enter an entirely new world for an adventure that is supposed to be unlike anything you've seen before. The details of what's inside are still vague, on purpose, but you'll have places to eat and drink inside, as part of your experience, as well as entertainment to watch (holographic monkey wrestling?), music performers to listen to, and most importantly, a new amazing adventure you'll want to tell all your friends about when you return.
It also sounds like the experience you will get may differ, depending on the time of day you visit, with the attraction set to cater the experience to families and tour groups by day and Vegas style entertainment seekers at night. The attraction will also put state-of-the-art RF and wearable technology to use in order to create a personalized experience for each visitor, as well as offering a "cash free environment" to make it easy to pay for any food, beverages or retail items you want during your journey.
The more I think about it, the more I like the idea! In a strange way it almost reminds me of attempting to create the amazing immersive experience that Las Vegas lost when Star Trek: The Experience closed down, by transporting the Vegas guests to another living, breathing world, for an amazing adventure. So that said, I can't wait to see Kind Heaven open in 2019.

2019 - Hard Rock Hotel & Casino To Get New Name & Theme - (3/30/18 - UPDATED) The latest buzz from Vegas news sources says an announcement confirming the sale of the Hard Rock Casino could happen as early as tomorrow morning, and indicate a possible name/brand change.
Update: The sale was confirmed by Virgin Hotels, but will keep the Hard Rock name for the rest of the year before they re-brand it. It will likely maintain a music theme however, as the sale included all the rock memorabilia currently inside the Har Rock Hotel & Casino.
(1/21/18) According to a post on Twitter from Vital Vegas the local Hard Rock Hotel & Casino has been sold to Virgin Hotels. While the deal isn't finalized, or even officially announced, the rumor is that the hotel would eventually be re-branded as a Virgin Hotel property and drop the Hard Rock name.

Late 2019 to 2020 - Area 15 / Meow Wolf: Las Vegas - (1/19/18) A rather interesting concept was announced for Las Vegas this week... a new retail and entertainment complex set to go near the intersection of Desert Inn Road and I-15 called Area 15. High end and somewhat eccentric themeing will be the norm here of the project, which they have dubbed as an "immersive bazaar", that will offer exhibits, retail and food tenants.
Follow this link to see some of the crazy pictures of what was shown at the announcement and my first response was that this looked exactly like the kind of thing we've seen from the unique Meow Wolf attraction that opened up in Santa Fe, New Mexico in 2016. Turns out there is a good reason for that... as Meow Wolf was also announced as being the first official anchor tenant of Area 15 when it opens in late 2019. This all new Meow Wolf walk-through attraction/exhibit/experience will fill a 50,000 sqft space, with this one "themed around consumerism", similar to an exhibit seen at the life is Beautiful music festival.
The idea for Area 15 isn't just to be a new entertainment mall complex where tourists come to take their Instagram pics, but rather to create an attraction for locals, the art community and the tourists that will be a must-visit stop on any trip to Las Vegas. More teasers for the project can be seen at the Area15.com website.




2019/2020 - Stratosphere Tower Renovations / The Strat - (2/8/19) VitalVegas reports that The Strat has filed initial permits to add a new attraction to the top of the tower. According to the article the attraction is described as a new 'observation deck" that will feature "glass platforms and connection to supports", "glass exterior walls and barrier walls" and "cable ties and actual connections to plates/supports".
It will be called the "Skypod Walk" and based on these hints, I'm guessing that it will either be one of those glass-floor bridge style pathways that may extend over the edge of the tower and back, similar to the Grand Canyon Skywalk, or perhaps it could be similar to the tethered EdgeWalk attraction on the CN Tower, but with added glass floors and barrier walls.

(2/3/19) We first heard about this plan almost a year ago and now the local news has confirmed that the owners of Stratosphere are going to move ahead with $140 million renovation plans to the casino resort that would see it get renamed as "The STRAT Hotel, Casino and SkyPod". I still hold to my original assessment that renaming it as 'The STRAT' is just kind of weird, even though I've seen many a tourist in Vegas call it that anyway for years, it just seems odd to official adopt the nickname as the new official name. If that wasn't odd enough, renaming the top of the tower where the rides are located to the 'SkyPod' is just even weirder to me.
Maybe it's just me… I dunno… but it is what it is I guess. Just reminds me of how the once fun Treasure Island suddenly became "T.I." and then removed all the fun, theming and pirate shows to become a former shadow of itself.
That said, the entire property will undergo renovations in stages over the next year, including the guest rooms. The later of which should be greatly appreciated as I stayed there once in the late '90s while attending a convention and the rooms were about a generic as can be even then.

(3/23/18) According to a couple of tweets from Vital Vegas, it looks like the Stratosphere Tower is going to undergo a little plastic surgery to upgrade the presentation of the casino/resort, along with a slight name change. All the new art now features the name, "The Strat" on the building.
I have to admit, I find this slightly cringe worthy, despite the fact that people often call it that anyway. It just brings back the bad memories of when Treasure Island became known as T.I.




(6/28/17) According to a story I missed a couple of weeks ago, the Stratosphere Tower casino is getting a new owner. Golden Entertainment, who also owns PT's Pub (slot casinos in Pahrump and Maryland) has agreed to buy American Casino & Entertainment Properties for $781 million plus stock shares, who owns the Strat as well as Arizona Charlie's Decatur, Arizona Charlie's Boulder and another property in Laughlin, NV. Look for the deal to be finalized sometime before the end of the year.
Late 2020 - Resorts World Las Vegas - (2/4/19) Resorts World Las Vegas and Wynn Resorts have settled their differences from when Wynn accused the Resorts World buildings of looking too much like the Wynn and Encore buildings. Resorts World has agreed to make a few changes to more clearly make the buildings look different from the Wynn properties, and Wynn has agreed to this.
Resorts World Las Vegas is currently looking to open in late 2020.

(12/27/18) In a strange bit of news, the Wynn Resorts company is filing a lawsuit against Resorts World because they think the new tower going up across the street looks a bit too much like their own Wynn and Encore towers now that the glass is starting to be put on the Resorts World tower. At this point however, I think Wynn's fuss is all about trying to delay the construction on their new competition across the street, because while the look of the structure at the moment does look slightly similar, once you see the concept artwork showing off the finished product, I don't think there will be any confusion at all between the two casino resorts.

(7/28/18) According to this article the new Resorts World Las Vegas casino that has slowly been poking along since the site was purchased in 2013, is now shooting to complete their new resort by late 2020. If you follow the link you'll find a new rendering released showing off the shiny red and gold look of the new Resorts World casino complex. I'm kind of digging the Iron Man color scheme, but I think that's just the geek in me speaking.
(5/22/17) The dates keep getting pushed back for Resorts World Las Vegas, with the latest reports announcing the arrival of a new boss to oversee the project, a new 2020 opening date, and the promise that full scale construction work would begin again soon.
(5/7/15) The local news reports that Resorts World Las Vegas officially broke ground this week for the huge new Vegas strip casino resort. They didn't go into too many details about what we can expect once it opens, only that project is estimated to cost $4 billion and carry a Chinese theme to it along with four resort towers, a 4,000 seat theater, aquarium, a giant panda exhibit, indoor waterpark and some kind of replica of the Great Wall of China. For now they are looking to open in 2018.
(3/25/15) According to VegasINC construction on the new Resorts World Las Vegas will finally kick into high gear on May 5th, on the site of the scrapped Echelon resort project. They hope to open the first phase in late 2017 if all goes well.
(8/1/14) Update - While the site in the photo is of the future Resorts World Las Vegas casino project, the construction seen on the site so far is not from Resorts World, but rather the leftover unfinished work started by Boyd for the failed Echelon Place casino. Resorts World will use some of this infrastructure to finish their project, while scrapping the rest where it doesn't fit their plans for the site.
(7/31/14) One of our readers is in Vegas this week and had a great view of the new Resorts World Las Vegas construction site from their room. Check it out the picture they sent in.

(5/13/14) The latest news on Genting's planned Resorts World Las Vegas casino resort is that they have been given the initial go-ahead to proceed through the process of obtaining a Nevada Gaming License and that the initial phase of construction on the 87-acre site will cost around $4 Billion, take about 3 years to open, and feature 3,000 hotel rooms, a huge casino, 30 food and beverage options, a 4,000 seat theater, a huge garden that will serve as the front entrance from the Strip, a "rooftop sky park" and observation deck from the top of the 674 foot tower (already FAA approved), a 50,000 sqft 58 ft tall aquarium, and possibly some kind of "studio tour" style attraction.
The project will take over the partially built Echelon project site, which was built on the site of the former Stardust Casino, and repurpose 80-85% of the existing Echelon structures already built. Overall the resort will have an Asian theme, with primarily bright red buildings and a Chinese Village themed shopping area. As for that rumored 'studio tour' attraction concept, it is being considered for a future phase of the resort and may be based on attractions and themes under construction at the 20th Centry Fox World theme park going into into Resorts World Malaysia.
As for those previous Panda Exhibit rumors... it is something that they may pursue bringing to Las Vegas, but there is a long and complicated process involved for anyone who wants to petition to the Chinese government to have a Panda exhibit.
(3/7/13) The latest word on what Genting has planned for their Resorts World Las Vegas project includes plans for a live Panda exhibit, a replica of the Great Wall of China, a 7.5 acre indoor water park, theaters and 'other family-friendly attractions". They hope to restart construction on the stalled Echelon site sometime in 2014 in order to get the first phase open to guests in 2016.
(3/5/13) Boyd Gaming's grand Echelon site (formerly home to the Stardust) has been sitting idle since they halted construction back in 2008, but now a deal has been struck to sell the site to the Genting Group (known for the huge Resorts World Sentosa project in Singapore, home to Universal Studios Singapore) for $350 million. Genting will build Resorts World Las Vegas, their own $2 billion casino complex on the site that will start off with 3,500 rooms and a 175,000 sqft. casino. The plan is to open Resorts World Las Vegas in 2016 along with a 250,000 sqft retail mall and a 500,000 sqft convention center, a show theater and more. Genting will try to incorporate as much of the existing infrastructure leftover from the start of the Echelon project into Resorts World.

2020 - Wynn Paradise Park - (2/22/18) According to Vital Vegas, Wynn's new CEO says that the Paradise Park giant lagoon plans have been sent back for redesign. Meanwhile their plans for the new property across the street may become the company's new focus, giving them time to rework Paradise Park and get back to it later.
(10/30/17) Some great new details have come out about the planned expansion of the Wynn Las Vegas casino involving the big Paradise Park plans and how they are ready to proceed with construction. The existing golf course will close down on Dec. 22 and construction work on Paradise Park will begin on Jan. 3rd on the new 47-story, 1,500 room hotel tower that will actually stand along as it's own resort, complete with its own casino, restaurants, facilities and a unique name that is not ready to be revealed.
As for Paradise Park, according to Steve Wynn, they are planning on taking the basic theme of a Carnivale, but will 'turn it on its edge' with a variety of attractions along the lagoon edge including a carousel running out into the water, bumper cars that featuring explosion and crash sound effects along with flashing LED lights panels. The carousel is said to also include a bar in the center.
Plans for entertainment in the lagoon itself include a Carnivale style parade every night with about 10-12 themed floats going around with music, lights and more. Expect to see things like giant spiders, King Kong, the Devil and such on the water based floats rising 25-30 feet in the air. Wynn said they are looking to offer up space to ride along on the floats to guests, for a fee of course. During the daytime they plan to have zip-lines set up to soar over the lagoon as well, plus the huge boardwalk pathway that will surround the lagoon and connect the new casino resort to the Wynn and Encore tower resorts.
(4/28/17) Wynn Resorts have approved their $1.5 billion plan to build the Paradise Park 20-acre lagoon themed expansion project. Look for construction to begin by the end of the year, with the first phase going in will be the huge lagoon, boardwalk, new convention space and food options, with space left over to build the second hotel tower in the near future.
More details are expected to be released sometime later this summer, but as previously mentioned the initial plan is to have a nightly fireworks show over the lagoon, which will also offer many fun water activities like stand-up paddle-boarding, wind-surfing, sailing and more. The massive lagoon itself will come from the legendary massive-scale artificial waterscape developer, Crystal Lagoons, where their crystal-clear waters and white sand beaches, will make this the single largest Crystal Lagoon project in the US.
(2/4/17) According to the latest news from Vegas, Wynn's Paradise Park project is still in the works and is slated to begin construction sometime before the end of 2017. Wynn sees that the future of their resorts should lie in non-gaming attractions, which will in turn bring more people to the resorts, and in the end, more people to the gaming tables as well.
I'm told that the golf course property is already being ripped up and prepped so they can begin work on the project once they work out the final details later this year and are ready to proceed, with a new projected opening sometime in 2020.
A few new kinks and details about possible Paradise Park attractions leaked out over the summer apparently while Wynn was speaking to another group. At that meeting he mentioned a pair of islands with white sand beaches to go in the center of the lagoon at Paradise Park. There would also be some kind of special restaurant out there as well, with zip-lines that would run from the mainland out to the island, or perhaps take a "gondola car" out instead. Oh... and hanging from the peak of one of those islands would be a giant 8-story tall King Kong looking figure, able to turn 360º around, and with an outstretched arm holding a girl in the air.
Whaaaaa? Ok... shaking off my first vision of this, I have to remember this is the guy who also envisioned putting an erupting volcano, and a pirate sea battle, complete with a sinking ship, right on the edge of the Vegas strip to perform each night. He's clearly got a vision for something in mind... so I'm intrigued now to see how this plays out moving forward.
(4/9/16) Big plans are in the works for the Wynn Resorts area going forward. Steve Wynn announced his latest plans that would see the 130-acre golf course behind his resorts transformed into a huge 38-acre man-made lagoon, with a new 1000-room hotel tower with a small casino, new restaurants, a white sand beach and more. The project name for the moment is the Wynn Paradise Park and the plan is for the lagoon to act as a new lure to bring people to the Wynn Resorts, as they will surround the lagoon with a boardwalk to stroll on, offer water skiing, paddle boards and parasailing during the day and feature a firework style show at night.
A lot of details are still up in the air for this $1.6 billion expansion project, but they say that the plan right now is to charge admission to get in, but I'm not sure if that is just at night for the evening fireworks spectacular or if they think they will charge admission all day long. Being able to offer new hotel rooms with a waterfront view of the lagoon will certainly be something new for Las Vegas guests however. Once the project is approved by the board and they move forward with it, they hope to have it finished as early as Fall of 2017.

2020 - MSG Sphere - (3/6/18) Just when you figured that Las Vegas must have enough big arenas for all the various special events, shows, sports and concert events, along comes one more. A deal between Sands Corp and Madison Square Garden will create a new and unique looking venue called "MSG Sphere Las Vegas", which will look like a giant sphere themed to look like the planet Earth had landed on the ground.
The venue is focused more on concert events rather than sporting events, but construction is set to begin sometime this year with the goal of opening the MSG Sphere by 2020. Look for it to rise on a site located somewhere near the Venetian and Wynn casinos.
2021 - FlyOver Las Vegas - Announced - (2/28/19) A new flying theater attraction was announced for Las Vegas to be called "FlyOver Las Vegas". According to the newly launched website, the attraction is expected to open sometime in 2021 and will suspended riders in front of a 52.5 foot spherical screen, enhanced with wind, mist and scent special effects. The attraction is coming from the people behind FlyOver Canada and the soon to open FlyOver Iceland and is expected to begin construction later this year. While the exact location of the attraction is not given, they do confirm that it will be somewhere on Las Vegas Boulevard.

2021/2022 - 4th Wynn Resort - Planned - (2/8/18) I'm not sure if this will have any effect on the Wynn Resorts already announced future growth plans, but CNN reports that Steve Wynn has stepped down as CEO from the company following recent allegations of "sexual misconduct" Their Board of Directors has confirmed the acceptance of Wynn's resignation and has announced that their current company President, Matt Maddox, will take over as CEO effective immediately.
(1/30/18) Remember that land the Wynn Resorts just purchased across the strip a few weeks ago? According to the latest reports Wynn Resorts isn't going to wait long to use it, as they are planning to add a 4th Resort property on the site that should be ready to open in about 3 years. The new casino property is expected have between 2000 - 3000 rooms and will include an air-conditioned pedestrian bridge over the Las Vegas Strip to connect it to the rest of the Wynn Resort properties.
(12/15/17) A couple of interesting news items from Las Vegas came in today, starting with the news that Wynn Resorts is buying the former New Frontier site across the strip from them. The former Frontier site was originally brought to become The Alon hotel/casino, a project that just never materialized, leaving a large empty plot of land across the Strip from the Wynn Resorts, and sitting next to the valuable Fashion Show Mall site. Wynn is said to be buying the property for $336 million, but has no firm plans in place for it yet. With Wynn busy developing their own Paradise Park expansion project currently, I'm sure they will turn their focus to the former Frontier property when work on Paradise Park begins to wrap up.
2022 - Las Vegas Convention Center Expansion -
(5/5/15) The infamous Riviera Casino in Las Vegas closed down on Monday forever, to make way for an eventually expansion of the Las Vegas Convention Center as it extends towards the Strip. The Las Vegas Sun takes a final look at the Riviera and it's 60 year history along with a few photo galleries to remember it by. Meanwhile, look for the casino to be imploded sometime later this summer.
(2/21/15) it's official, the Las Vegas Tourism Authority has given their OK for the $182.5 million deal to purchase the Riviera hotel in order to demolish it to make way for a huge expansion to the Las Vegas Convention Center that will push the famous site all the way over to have an entrance off the Las Vegas Strip itself. The Riviera will close down forever on May 4th, 2015.
(2/18/15) It is official... the Las Vegas Tourism authority did confirm their intent to buy the Riviera casino and tear it down to help make way for long term expansion plans for the Convention Center. They will meet again this Friday to make their final discussion of the plan and probably vote on going ahead with the $182.5 million purchase. The Clark County Commission has already voted to approve issuing $185 million in bonds for the authority to fund the purchase.
???? - New Fremont Street Casino - (7/21/18) A new casino is coming to Fremont Street as the plans for a yet-to-be-named 777-room, 1,224,485 square-foot casino resort with a 459 foot tower was just given approval from the Las Vegas City Council. The new property will take up the space vacated by the removed Las Vegas Club, Mermaids and Glitter Gulch locations, but will actually "resurrect" the classic "Sassy Sally" neon sign figure that used to sit above Glitter Gulch for decades. The project also includes a parking structure across Main Street that will offer direct access via a pedestrian bridge.
???? - Las Vegas Monorail Expansion - (7/15/18) According to the local news the new plan to extend the Las Vegas Monorail down to Mandalay Bay just hit a snag that will delay the start of the project. Construction was set to begin in June, with hopes to finish it in time for the start of the 2020 Football season and opening of the new nearby Las Vegas Raiders stadium. For now the permits needed to allow construction to begin was still under review by the county, plus the company has yet to obtain the needed $110 million in bonds to pay for the project.

(4/2/18) A quick update on the Las Vegas Monorail Extension plans. As I suspected, they still aren't planning to run to the airport unfortunately, but instead a map of the proposed extension is now posted to official website shows the line being extended away from the strip at the current MGM end of line point, going back to turn down Koval Lane where it will make another couple twists and turns to get around the Tropicana site, and head back to the strip to park into a new end-of-line station between Mandalay Bay and Luxor, adding just the one to stop to the line.
No wonder they say MGM likely going to be the one to help with the financing as they are the only one served by the extension. Makes me wonder if they've asked the Trop if they were interested at all in this opportunity or not, as they could shave off about a third of the new track needed on this expansion by simply passing through the Tropicana property and adding another station there, but that's just me talking.
In addition to servicing the southern end of the MGM casino empire, it does link up Vegas guests for easy access to the large convention facilities at Mandalay Bay as well, allowing easy access and potentially removing this extra traffic from the crowded ground-roads. And bonus for Mandalay Bay... the monorail station location means all those convention guests have to walk all the way through the casino to get to the convention center located on the opposite side.
I also think this could be a potential two-part long-term plan. How so? Well, they would just have to add another small expansion beyond the new Mandalay Bay station and run a beam-way across the I-15 freeway to create another station right next door to the site of the new Las Vegas Raiders football stadium which is supposed to be ready for the team's 2020 season. Should be interesting to see just how fast they can build this first expansion.

(3/30/18) A tweet from Vital Vegas indicates that those long-in-limbo plans to expand the Las Vegas Monorail may actually happen after all, thanks to increased pressure from MGM Resorts who may also take an active role in the financing needed for it.
Now, exactly how far they expand it isn't clear... I just hope this is the much needed plan to attach the line to the airport, which would be a big enough win that I would think the line would pay for itself in no time. Unfortunately the local cab drivers scream and yell any time this is mentioned and have thus far had enough clout to prevent it.

???? - Light Rail Transportation - (4/24/17) Have they finally given up on the dream of extending the monorail to the airport in Las Vegas? While that's something that should have been done in the initial build, and that's a story for another day... now it seems like that costly dream is over, and replaced by a new plan that could see a Light Rail system instead link the McCarran Airport to Downtown Las Vegas. A new bill that has been passed by the state senate lays the groundwork for a new light-rail plan system that would bypass the Strip in favor of a route near UNLV, the Boulevard Mall and Sunrise Hospital, and could be up and running by 2025.
New 2017 Attractions Now Open in the Las Vegas Area -
Fear The Walking Dead Survival – A "dead"icated new and mostly walk-through adventure attraction themed around AMC's popular Fear The Walking Dead show opened in the Fremont Street Experience over the Summer as part of a deal between AMC and TRIOTECH.
The Twilight Zone – Monster Mini Golf – A new themed indoor blacklight mini-golf attraction has opened inside the Bally's casino themed around the famous Twilight Zone TV series. The site also features mini bowling, an arcade, gift shop and even a SciFi themed Wedding Chapel.

New 2016 Attractions Now Open in the Las Vegas Area -
Kiss – Monster Mini Golf – A new blacklight mini golf attraction themed around the famous rock band, KISS, is now open at The Rio casino. A previous version opened in a local mini-mall back in 2012, but they closed up shop and moved into The Rio instead as an all new attraction in 2016. The site also includes space for Birthday Parties as well as a Rock 'n Roll wedding chapel.
Screamscape Rants - The Recession Is Not Vegas' Biggest Problem
(1/12/16) CNN wrote an interesting article about how the overall business at the Las Vegas casinos was down and has been down for the past six years. They report that Vegas casino lost $662 million in 2015 alone, and lost a dumbfounding $6.8 billion back in 2009 when the economy got really bad. They go on to point out that there are plenty of tourists in Las Vegas, and they are all spending lots of money on hotels, restaurants, merchandise and entertainment… it's the gambling side of things that is way down by comparison and as they point out, "if people aren't gambling as much, that means they're not losing as much."
CNN blames the recession on this, but this is where I have to disagree and point out what they are blind to as someone who used to visit Vegas on a regular basis in the 90's when it was a growing boomtown of opportunity. The Vegas of today and the Vegas of the past are two entirely different animals, and it seems that today's Vegas has forgotten the lessons of the past and how the business model worked.
Today's Vegas has forgotten that the best lure to increase gambling revenue was to make everything else as cheap as possible. Frequent free drinks, insanely low cost food and buffets everywhere, and to give the hotel rooms away as cheap as possible. For a good period of time, back when Circus Circus has just opened the Luxor they would run ads in in the San Diego paper every week advertising rooms as cheap as $13 a night at Circus Circus, $23 a night at Excalibur and $33 a night at the Luxor. Want something better? You could get a suite at the Mirage for $50-60 a night on the right night. Mix that in with $2-5 buffet meals, drink specials and tons of free or low-cost entertainment and you could go on one hell of a fun vacation without breaking the bank… which still left over a good bit of income in your wallet to spend some time to gamble and try to make your dreams come true. At the very least you could gamble with a rewards program and maybe earn yourself a couple of tickets to one of the big shows for fifty bucks.
Compare this to the price of a Vegas vacation today and you're dropping top dollar just for the room itself quite often, paying anywhere from $10 to $25 a person (sometimes more!) for a buffet meal, and not to mention paying $100 to $150 on average for a ticket to see one of the big shows in Vegas these days that has almost become a mandatory part of the Vegas experience. Now do you wonder why the good old gambling revenue numbers are down?
Of course they are down… because people are spending everything they have on the rest of the Vegas vacation, much like you would on regular vacation, and have less cash to spend than before on gambling. I could spend four nights in Vegas in the 90's for what I'd spend for just one night at today's prices. I know that after I've dropped about $250 for the wife and I to see the latest Cirque show, in addition to another $50 to $100 on a nice dinner out before the show, the last thing on my mind is putting another $100 at risk at the Blackjack table.
Somehow the Vegas of today has forgotten that tourists wowed by the spectacle of the casinos, stuffed by cheap food and drink prices, who find themselves walking through the casinos feeling good (and maybe a little buzzed) with a fat wallet in their pocket are the one who are most willing to try their luck at the gambling tables before heading home. And don't get me started on how many machines no longer drop coins as your payout… the sound of coins endlessly dropping throughout the casinos of old was like siren's song to many a potential gambler, luring them in to try their luck.
So is the recession really the problem? I like to think that the problem goes much deeper than that.