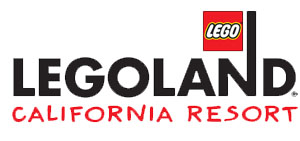 LEGOLAND California Resort
San Diego, California
Merlin Entertainment / Blackstone
Park News - (7/6/15) I'm told that Legoland California has removed the park's Treasure Falls (2006) mini-flume ride from both the park and the park-map. Meanwhilethe New England Harbor area of Miniland is now walled off with a banner promoting a new Coast Guard Build-A-Boat area coming soon. (See Thumbnails below)
2016 - Ninjago Land & Dark Ride - Confirmed - (1/19/16) LEGOLAND California posted a small picture on Twitter showing off the front of the Ninjago dark ride cars.
(11/19/15) In The Loop has posted a new video of Triotech's presentation about their new Maestro hand-gesture technology that will be first put to use on LEGOLAND's new Ninjago dark rides in 2016.



(11/18/15) IAAPA 2015 is under way and our friends at In The Loop have posted a few videos showing off some of the new developments, such as the video below showing off Triotech's new Maestro Hand Gesture Technology system that will be put to use in the new Ninjago dark rides coming to several Legoland theme parks in 2016. This will allow the riders to shoot various energy balls (fire, ice, electricity, etc) at the bad guys with simple hand gestures, which will manifest on the ride's interactive video screens.

(9/18/15) LEGOLAND California has announced plans to build a new NINJAGO themed land in 2016, that will feature a unique dark ride called Ninjago - The Ride. The dark ride will allow guests to interact with it through hand gestures, read by 3D imagery and high tech sensors that will allow you to throw fireballs, lightning, ice and shockwaves to defeat your enemy.
The 4D ride will feature the usual assortment of special effects, such as wind, heat, smoke and more to help bring the experience to life.
(7/31/15) According to a guest the Ninjago themed construction walls went up in the park between the first aid station and the entrance to the Imagination Zone area.
(7/29/15) LEGOLAND California has announced that a LEGO Ninjago themed area and attraction will be added to the park in Spring 2016. The new land will feature "interactive elements" and the ride will feature the key characters from the LEGO Ninjago universe toys and animated show on the Cartoon Network.

Early 2016 - LEGO Movie 4D A New Adventure - (12/21/15) Great news... the new LEGO Movie 4D: A New Adventure attraction will open at LEGOLAND California on February 6th. They've also released a new teaser trailer for the attraction that you can watch below.



(10/13/15) Merlin Entertainment, Warner Bros. Consumer Products and The LEGO Group will bring "The LEGO Movie 4D A New Adventure" attraction to life starting in January 2016 to LEGOLAND theme parks and LEGOLAND Discovery Centers around the world.

The new 4D film will actually premier at the LEGOLAND Florida Resort on Jan. 29th, 2016, followed by LEGOLAND California on Feb. 6th, 2016. From there it will open at LEGOLAND Windsor, Billund, Germany and Malaysia and later it will expand to all 11 LEGOLAND Discovery Centers worldwide.
The new production will bring back several popular characters (and their voices) from The LEGO Movie such as Elizabeth Banks as Wyldstyle, Alison Brie as Unikitty, Nick Offerman as MetalBeard, and Charlie Day as Benny who will face off against a new villain named "Risky Business" voiced by Patton Oswalt.
"The LEGO Movie 4D A New Adventure" follows a new journey for Emmet, Wyldstyle, Unikitty, Benny and MetalBeard after they receive a mysterious invitation leading them to a new theme park where all of the rides are based on the characters' adventures in "The LEGO Movie." But not all is as it seems as the heroes are once again thrust into the middle of an evil secret plot, only this time, it will be up to the audience to use their Master Builder skills to help save them! Using elements such as wind, water, smoke and special lighting effects, the larger-than-life experience brings the film's main characters, Emmet and Wyldstyle, back together with their friends for another awesome adventure.
2018 - Second Legoland Hotel - Planning - (1/11/16) According to the local news LEGOLAND California is ready to build a second on-site hotel due to high occupancy rates at the first hotel that just opened two years ago. The new hotel is only 3 stories tall, like the first, and will add an additional 250-rooms to the resort. The article goes on to say that according to the application sent in to the city last month the new hotel will be themed to look like a castle and be located to the west of the current hotel on a parking lot site directly in front of the entrance to the SeaLife Aquarium. If all goes well they hope to open it by 2018.