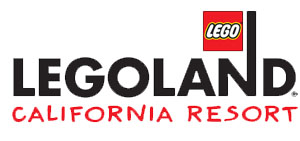 LEGOLAND California Resort
San Diego, California
Merlin Entertainment / Blackstone
Park News - (8/28/14) Legoland California has announced the addition of Freaky Fridays… two new Friday Nights added to their annual Brick-Or-Treat Halloween Celebration. The extra dates added will be on Oct. 17 and Oct. 24. Click here for all the official details from Legoland.
(7/3/14) Legoland California will celebrate Independence Day with the return of the Red, White & Boom fireworks show and other fun themed family events added in throughout the day on July 4th. The Fireworks show will take place at 8:30pm.
(1/10/14) Legoland California reminds everyone that you only have a few days left to see the life sized version of a Star Wars X-Wing fighter built out of LEGOs. The X-Wing will depart for a new destination on January 13th.
(12/31/13) Legoland California has announced that actress Tiffani Thiessen and her family will join Legoland California in leading the countdown into 2014 at the park's New Year's Eve party. The park will also feature musical guests: The Pop Ups, Secret Age 23 Skidoo, Justin Raoberts and the Not Ready for Nap Time Players.
(11/28/13) Elizabeth Banks has been announced as the Guest of Honor at Legoland California's 11th Annual Tree Lighting event taking place Thursday, December 5th. You may recognize her in theaters now as Effie Trinket in the latest Hunger Games movie, Catching Fire.
(11/7/13) A proposal by Legoland California to build a second hotel at the new theme park resort has been rejected by the Carlsbad City Council. It seems Legoland and the nearby Grand Pacific Resort were both submitting proposals for a 3.2 acre vacant property lot owned by the city.
Legoland's proposal for the property included 50 hotel rooms and 40 themed "cabins" to be designed as treehouses or "Hobbit lodges". While Legoland lost the nod for the open city property, they may still find a way to go ahead with their concept on their own property.
(10/17/13) Legoland California is preparing for the snow to fall in San Diego this holiday season during Holiday Snow Days and Winter Nights, starting November 29th.
During Holiday Snow Days and Winter Nights, the Park's Fun Town transforms into a winter wonderland where families throw snowballs at LEGO themed targets and build snowmen using LEGO® accessories. New this year, children can enjoy their first snow-tubing experience gliding down 7-foot tall snow-covered tube runs! Park guests can also sing along with holiday entertainment including live music featuring LEGO Friends Live, Jingle Jammers, the Big Test Holiday show and the Holiday Character Dance Party! Holiday Snow Days continue with the lighting of the world's largest LEGO Christmas tree and concludes with San Diego's biggest Kids' New Year's Eve Party.
The 30-foot tall Christmas tree is created out of more than 245,000 forest green DUPLO® bricks and is adorned with more than 400 LEGO ornaments. A surprise celebrity guest will pull the switch that lights the tree during the annual tree lighting ceremony on Dec. 2. and one lucky child selected through LEGOLAND California Resort's Facebook Page will light the LEGO Christmas tree nightly Dec. 1 through Dec. 24.
Fireworks spark each night Dec. 26 through Dec. 30 at 7 p.m. The best view to see the festive fireworks display is in the Park's Fun Town. And don't miss a stroll through Miniland U.S.A which is decorated for the season with LEGO holiday scenes including Santa arriving on top of the White House in Washington, D.C.
LEGOLAND California Resort is featuring holiday treats including Bavarian Bratwursts, buttery mash potatoes, sweet potato fries, churros, warm spiced apple cider, and holiday cookies. All delicious treats are available for purchase throughout the celebration.
Kids' New Year's Eve is the biggest annual family-friendly party allowing kids to ring in 2014 without missing their bedtime! Like the famous ball dropping in Times Square, Kids' New Year's Eve rocks the night with special musical performances from Grammy nominated musical artists, a huge LEGO brick dropping 22-feet into the air and a spectacular fireworks display at 6 p.m.
(10/3/13) Legoland California is calling all Vampires to visit the park on October 4th to try and break the record for the largest gathering of people dressed as vampire. Just arrive at 4pm, dressed as a vampire to gain free admission into the park. Registration for the world record attempt will begin at 4:15 by Ghost Cruise and they will attempt to break the record at 6:30pm in Miniland USA, during the opening night of this year's Brick-or-Treat celebration.
(9/23/13) Legoland California is expanding their Brick or Treat event to offer Brick or Treat Party Nights held every Saturday night in October (from 5-9pm) and will include a new Ghost Cruise Ride experience, and an expanded Brick or Treat Trail that will include a special station at SEA LIFE Aquarium, and new special entertainment at the Legoland Hotel. You can also visit during the daytime hours every weekend in October as well. Visit the official website for details.
(6/13/13) Legoland California has built the largest LEGO model ever built just in time for LEGO Star Wars Days… a lifesize scale replica of an X-Wing starfighter. The massive creation took 32 Master Model builders more than 17,000 hours to build from five million LEGO bricks. It stands 11 feet tall, 43 feet long and has a 44 foot wingspan, weighing in at a crushing 23 TONS!
The X-Wing will be unveiled at Legoland California at 9am on June 13th with a ceremony featuring the Rebel Legion and 501st Legion inside a special hanger at the Imagination Zone. Lego Star Wars Days in the park will take place on June 15-16th.
2014 - LEGO Legends of Chima Water Park - (5/26/14) Legoland California opened their new Legends of Chima Water Park expansion over the weekend. Check out some great pictures posted to Behind The Thrills.
(4/24/14) Legoland California installed the huge Lion Temple structure into the new Legends of Chima Water Park area this week. Check out the video below to see it get installed into place.



(4/4/14) Legoland California is "moving mountains" while they assmble the new Legends Of Chima Water Park. Check out the video below!

(1/14/14) ScreamInsider has a report from Legoland California this week, where they report that the Dragon coaster now has individual lap
bars as well as showing off the construction progress on the new Chima themed waterpark expansion. So far, it looks to still be mostly in the dirt pushing and wall building phase.
(12/4/13) Legoland California has released a new piece of concept artwork showing off a Chima themed family wave pool being added to the waterpark this summer. It features Chima's iconic lionhead archway and the 40 foot tall floating Mount Cavora structure.
(9/13/13) Legoland California has announced that 2014 will bring the LEGO Legends of Chima Water Park will open in Summer 2014. I'm a little confused as to how this will play out with the existing Legoland waterpark… but I believe this is a themed expansion of the existing upcharge waterpark attraction.
So far they have announced four of the eight main areas we will see in the 3 acre waterpark including the Lion Temple Wave Pool, a centerpiece area you will enter through a LEGO archway and into an interactive wave pool. Water will flow down a 30-foot tall floating Mount Cavora, showing the eight animals representing each of the eight tribes. Cragger's Swamp will be a hands-on water play area with slides, blast cannons and more. Eglor's Build-A-Boat will follow the concept of the old waterpark's Build-A-Raft attraction. Lastly you can visit Wolves' Cantina, the place to grab a BITE.