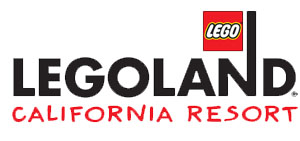 LEGOLAND California Resort
San Diego, California
Merlin Entertainment / Blackstone

Park News - (7/6/15) I'm told that Legoland California has removed the park's Treasure Falls (2006) mini-flume ride from both the park and the park-map. Meanwhilethe New England Harbor area of Miniland is now walled off with a banner promoting a new Coast Guard Build-A-Boat area coming soon. (See Thumbnails below)
(6/18/15)

A reader visiting LEGOLAND California this week noticed a new temporary booth set up in the park advertising a new service called Reserve-N-Ride with the picture of a LEGO person holding a Q-Bot wireless ride-reservation handheld device. The signage promotes three levels of service you can purchase, Express (25% faster) for $25, Dexlue (50% faster) for $55 and Ultimate (90% faster) for $100 per person. There is also a web link to LEGOLAND.com/ReserveNRide
(1/7/15) Sounds like the tax man is trying to get one over on LEGOLAND California. According to this article the park went to pay their electronic biannual payment to the county tax collector of nearly $1 million, and received the automated confirmation confirming the payment. Nearly three weeks later the park was hit with an unpaid tax fine of $92,000 and a letter claiming that an extra zero was missing on the account form, and that despite the automated confirmation, the prior payment was rejected.
To their credit, LEGOLAND fixed the error immedately, paid the due taxes as well as the fine, but upon review and given the pathetic nature of the entire issue, they have since asked several times to have the tax office to cancel the $92,000 penalty, but they have refused. After asking twice, the park's only recourse is to file an official lawsuit.
2015 - The LEGO Movie 4D - (2/25/15) The hit LEGO song, Everything Is Awesome will live on at the Legoland Theme Parks and Discovery Centers worldwide in 2015 as a new 4D Film based on The LEGO Movie will arrive at all LEGOLAND locations later this year. The newly animated film will reunite Emmet and Wyldstyle once again with many of their LEGO friends.
2015 - Two New Attractions - (3/6/15) ParkJourney takes a look at the unveiling of the new Star Wars Death Star put on display at LEGOLAND California this week.
(11/7/14) Legoland California announced their plans for 2015 on Thursday afternoon, which will be made up of two new additions. The first is "LEGO Star Wars Miniland Death Star" which will arrive in time for Spring Break. The other will be a new area in the park called Heartlake City, based on the LEGO Friends series, which will open just before Summer.
LEGO Star Wars Miniland Death Star will span 6-feet across and "offers guests the chance to view iconic film scenes made of LEGO bricks that were filmed inside the Galactic Empire's space station. This includes the famous trench run scene where Luke Skywalker maneuvered his X-wing fighter through the combat zone and trench to blow-up the station and its planet destroying super laser. LEGO models of Stormtroopers, a Rebel X-wing fighter pilot and an Imperial Star Ship pilot will be on display. Guests can also use their imaginations to construct their own LEGO spaceships at building stations." Look for it to open just before the park's annual LEGO Star Wars Days taking place on March 7 and 8, 2015.
I'm a bit more fuzzy about just what there will be to do in "LEGO Friends Heartlake City" The description only says, "The new area is based on one of the LEGO Group's hottest toy lines "LEGO Friends", which focuses on the lives and personalities of five girls: Mia, Olivia, Andrea, Stephanie and Emma. The new area invites guests to sing along with Andrea at her tour bus, stroll through LEGO horse stables, enjoy a building activity at one of the LEGO brick tables and go for a horseback ride on the carousel in Mia's family ranch. The adventures are endless for guests as they enjoy living like LEGO Friends for a day in Heartlake City."
2016 - Ninjago Land & Attraction - Confirmed - (7/31/15) According to a guest the Ninjago themed construction walls went up in the park between the first aid station and the entrance to the Imagination Zone area.
(7/29/15) LEGOLAND California has announced that a LEGO Ninjago themed area and attraction will be added to the park in Spring 2016. The new land will feature "interactive elements" and the ride will feature the key characters from the LEGO Ninjago universe toys and animated show on the Cartoon Network.