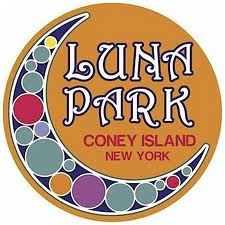 LUNA PARK
Coney Island, New York
(Also includes Scream Zone and Coney Island Cyclone)
Central Amusement International
Park News - (12/24/13) Good news for Zamperla's Central Amusement International division as Mayor Bloomberg has signed off on an agreement to extend their lease of the Coney Island Luna Park property, Scream Zone, the local boardwalk businesses and the Cyclone through to 2027. An extension similar extension is also in the works with the operators of Deno's Wonder Wheel Park.
2015/2016 - New Waterpark - Planning - (3/12/14) Zamperla isn't done expanding their Coney Island presence it seems, as the are now in talks to build a new waterpark on the 5-acre former site of the original Thunderbolt coaster that would stretch from Surf Ave. to the Boardwalk.
Ongoing - Cylone Refurbishment - In Progress - (2/2/12) Amusement Today reports that CAI (Centtral Amusement International), the Zamperla subsidiary who will oversee Coney Island Cyclone, has selected Great Coasters International to repair and refurbish the Cyclone. While normally this would be a completely happy story, the article does mention one thing that has a few Cyclone fans somewhat nervous.
According to the Present of CAI, Great Coasters surveyed the Cyclone and determined that by making a few very small adjustments to its profile, they could make the ride more enjoyable for everyone. The project will be broken down into several phases and result in a complete track replacement within 4 to 5 years. Part of the final phase will involve either refurbishing or replacing the Cyclone's trains.
On a personal note, I can say that the work GCI has been doing over the last several years on another multi-phase refurbishment project at Carowinds on Thunder Road has been a huge success. Every season I look forwarding to riding it again as it just keeps getting better, so I'd be inclined to have a little faith in GCI's judgement.