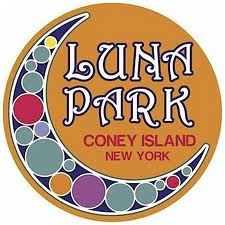 LUNA PARK
Coney Island, New York
(Also includes Scream Zone and Coney Island Cyclone)
Central Amusement International
Park News - (12/24/13) Good news for Zamperla's Central Amusement International division as Mayor Bloomberg has signed off on an agreement to extend their lease of the Coney Island Luna Park property, Scream Zone, the local boardwalk businesses and the Cyclone through to 2027. An extension similar extension is also in the works with the operators of Deno's Wonder Wheel Park.
2014 - Luna 360 - New Ride - (4/7/14) A second new ride has already been added to Luna Park as a replacement for Eclipse. According to NewsPlusNotes, the prototype ride is called Luna 360 and while it may look almost the same as the ride it replaced, it is different in a big way. Unlike Eclipse which only swung from side to side, a bit beyond the 90º point, Luna 360 will fully invert upside-down and complete a few inversions with each ride cycle.
2014 - Thunderbolt - (7/7/14) One of our readers has posted a detailed review of the new Coney Island THUNDERBOLT roller coaster on their blog. Please do check it out at LifeIsARollerCoaster.ORG.
(6/17/14) Special thanks to one of our readers for sending great pictures shot during the grand opening of the new Thunderbolt coaster.
(6/16/14) The new Thunderbolt coaster opened over the weekend. You can see it in action in the video below which is kind of funny. A local reported was offered the chance to ride it on camera… but he chickened out and sent his daughter instead.

(6/12/14) A great close-up look at Luna Park's new Thunderbolt coaster can be found over at Gizmodo this week. Previously I had heard it was to have opened last Friday, but from the sound of things, it hasn't opened yet, so stay tuned.
(6/2/14) Video showing off Thunderbolt making it's first test run can be found below.
(5/23/14) Great new pictures of the Thunderbolt going up at Coney Island were sent in this afternoon by a local area reader.

(5/6/14) Some great progress has been made on Luna Park's new Thunderbolt coaster. Check out the latest pictures posted here.
(4/24/14) Construction on the vertical lift hill for the new Thunderbolt coaster at Luna Park has begun. Thanks to a local reader for sending in a picture.
(3/18/14) A new animated video of the Thunderbolt coaster coming to Coney Island was posted this week, complete with a rocking soundtrack as they highlight the various inversion styles.

(2/10/14) Luna Park has finally shared the final layout of the new Thunderbolt coaster coming later this year. You can see the latest layout artwork posted to NewsPlusNotes. And yes, it will keep the vertical lift hill instead of trying the more unusual looking elevator platform lift.
(1/17/14) A teaser video about the creation of the new Thunderbolt coaster coming to Coney Island was posted by Zamperla earlier this week. Check it out below.

(11/22/13) Zamperla was on hand to talk to our friends at Coaster Crew about the new Thunderbolt coaster coming to Luna Park, along with a great look at a huge scale model of the new coaster.

(6/13/13) An interesting new video showing off the new Thunderbolt Reborn coaster has surfaced on YouTube. The video shows off a slightly different steel coaster experience that will start things off with a very unique elevator lift system. The single car is also unique… as I don't think I've seen a 3-row car with 3-across seating before. The coaster looks quite fun actually, and looks to leave a lot of open room on that site that could see more rides possibly added in the future.

(6/12/13) It has been confirmed that the new Thunderbolt coaster will be a steel coaster from Zamperla that will feature a vertical lift hill and vertical first drop. It will have an Out & Back layout that will feature inversions on the way out, but the return trip will be full of back to back airtime hills. Concept art showing off the layout and some of the elements can be found at Gizmodo.
(6/11/13) Don't say I didn't warn you, but the local news is now reporting that a new version of the old Thunderbolt coaster is being planned for a return to Coney Island. The new coaster will stand 125 feet and hit speeds of 65mph with the contract to run it going to the operator of Luna Park and Scream Zone. The ride is expected to be built in a vacant lot near the new Steeplechase Plaza on West 15th Street. My only question is... they don't really show off what the coaster will look like and the one piece of artwork shown on the news website features a lot of white steel. So will the new Thunderbolt be steel or a recreation of the old classic wooden coaster? Anyone know more? Either way, Thunderbolt is expected to open in 2014.
(3/11/13) A very interesting rumor is starting to float around Luna Park these days. Word has it they have been getting a bit nostalgic for the old Thunderbolt wooden coaster that was closed in 1982 but left standing until being demolished as a safety hazard in late 2000. Could they be working on a plan to rebuild the Thunderbolt? From what I can tell from Google photos, the empty lot where Thunderbolt once sat is still sitting there empty and waiting. It would be great to see it returned to Coney Island once again if true.
(7/24/12) Now that we've seen Luna Park reborn and The Scream Zone added… people are wondering what's next for Coney Island. (Other than a several year long phase by phase rehab of the Cyclone that is…) According to one very early rumor, the park mangement may be looking into possibly adding another coaster in a few years. No more details other than that however, so we'll have to wait and see.

2015/2016 - New Waterpark - Planning - (3/12/14) Zamperla isn't done expanding their Coney Island presence it seems, as the are now in talks to build a new waterpark on the 5-acre former site of the original Thunderbolt coaster that would stretch from Surf Ave. to the Boardwalk.

Ongoing - Cylone Refurbishment - In Progress - (2/2/12) Amusement Today reports that CAI (Centtral Amusement International), the Zamperla subsidiary who will oversee Coney Island Cyclone, has selected Great Coasters International to repair and refurbish the Cyclone. While normally this would be a completely happy story, the article does mention one thing that has a few Cyclone fans somewhat nervous.
According to the Present of CAI, Great Coasters surveyed the Cyclone and determined that by making a few very small adjustments to its profile, they could make the ride more enjoyable for everyone. The project will be broken down into several phases and result in a complete track replacement within 4 to 5 years. Part of the final phase will involve either refurbishing or replacing the Cyclone's trains.
On a personal note, I can say that the work GCI has been doing over the last several years on another multi-phase refurbishment project at Carowinds on Thunder Road has been a huge success. Every season I look forwarding to riding it again as it just keeps getting better, so I'd be inclined to have a little faith in GCI's judgement.