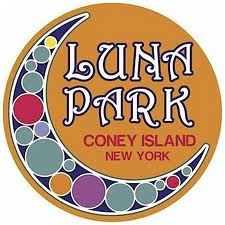 LUNA PARK
Coney Island, New York
(Also includes Scream Zone and Coney Island Cyclone)
Central Amusement International
Area News - (6/24/17) Luna Park is kicking off the celebration for the 90th Birthday of the Coney Island Cyclone coaster a bit early. While the coaster will turn 90 on June 26th, the celebration will begin with a block party event on Sunday, June 25th featuring the performances by Fabolous, Harlem Globetrotters and more. But if you come by on the actual birthday on Monday, Luna Park will offer rides for just 90 cents (instead of $10) for the first 90 minutes the ride is open (noon to 1:30pm). The first 90 riders in line will also get a free hot dog from Feltman's of Coney Island.
2018 - Coney Clipper - (7/9/18) ThemeParkOverload pops in to Luna Park to check out the new Coney Clipper ride that just opened, adding a nice "swing ship" to the park's list of flat rides. They also take a look around the rest of the park, including the nearby Thunderbolt coaster.
2019/2020 - Large Expansion - (8/24/18) Luna Park will expand over the next two years with the addition of a new log flume ride, a zip lines coaster, a ropes course, along with new food options and an arcade as part of a 150,000 sqft expansion. The new attraction area will be built on a current vacant site between Surf Ave. and the boardwalk, between West 15th and West 16th streets. Look for the "adventure park" attractions to open in 2019 followed by the Log Flume in 2020.