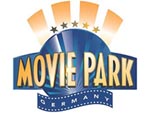 MOVIE PARK - Germany
Germany
Parque Reunidos

Park News - (5/10/20) As Germany's government is relaxing Coronavirus restrictions the various theme parks across the country are making preparations to reopen. On social media, Movie Park Germany has said they are happy that they can reopen, but have not set an exact date to do so as they have to make the final preparations to get the park and staff ready.
With that in mind, if you do look at the park's official website, the month of May still shows that the park is closed, but the month of June shows operational hours. There is a disclaimer at the top saying that "an opening date has not yet been determined", so don't plan any trips just yet.




(4/18/20) While there was no on-board soundtrack audio made for the Star Trek: Operation Enterprise roller coaster that opened at Movie Park Germany in 2017. The park has released a great new video though of the soundtrack recorded for the overall attraction experience being recorded. It's about 24 minutes long and full of a nice collection of great Star Trek themes I'm sure any SciFi fan will enjoy, so check it out below.



2020 - Three New Attractions - (10/28/20) Movie Park Germany has announced a new unique attraction called "Secrets of St. Elmo". Movie Park Germany hired Lagotronics to develop, produce and install this new unique attraction that is actually an interactive walk-through adventure. They say the attraction is now open along with the park's Halloween event, the Secret of St. Elmo turns guests into ghost hunters on a journey to free the town and saloon of St. Elmo from the evil forces.
"140 years ago, a mine disaster left the place in ruins. In this walkthrough, the guests not only discover the mysterious history of St. Elmo, but also discover a well-kept secret that threatens the mission and raises the all-important question: who has good blood and who has bad blood? Be aware: ghosts appear everywhere!"
This new attraction takes the place of "The Walking Dead Breakout" and will feature the use of live actors, pepper's ghosts, projection effects and much more. The live actors serve different roles, some to push the guests in the right direction to tell the story, while others are there laying in wait to scare them. Guests are armed with a custom built "shooter" that allows them to target ghosts and other hidden targets in each room along the way.



(3/3/20) Movie Park Germany will open three new attractions this season. The list includes a Paw Patrol themed ride, Skye's High Flyer, which will actually be a rethemed version of the former Team Umizoomi - Number Tumbler ride, but moved into the Paw Patrol themed Adventure Bay area of the park.
A second re-themed ride is also coming for 2020, as the park's MP Xpress coaster (Vekoma SLC) will be given a Western theme, an all new paint job and renamed as "Lucky Luke - The Ride: The Daltons Break Out". (Yup… that's a mouthful say in English, and I bet it isn't any better in German) The third attraction will take the place of the park's former "The Walking Dead Breakout" attraction and will let guests armed with laser weapons play the part of ghost hunters as they travel through six different scenes.
2021 - Movie Park Studios - (12/28/20) A set of new construction images showing off the inside of the new Movie Park Studios indoor Intamin coaster creation on the way to Movie Park Germany can be seen below, posted by the ECC. This includes a look at a section of the themed setpieces being installed along some of the track's layout.




(12/4/20) According to a press release from Movie Park Germany their new 2021 multi-launch "Multi Dimension Coaster" experience will be called "Movie Park Studios". Intamin is behind the ride-hardware for this project which will be themed to a visit to a movie studio and integrate scenery and scenes from various IP themes, including some throwback elements from past park attractions such as "Gremlins Invasion" and "Cop Car Chase" will be integrated into the new "coaster studio tour" attraction. In total, the park says guests will experience a total of 12 different scenes along the way and in addition to the forward and backwards launch sections hitting speeds up to 60 km/h, Intamin will also install some kind of 'turntable' element.



(8/29/20) The latest update on the new Intamin ride for Movie Park Germany has been released. According to this new post they are calling the new 2021 ride a "Multi Dimension Coaster". The new experience will feature "Europe's first double launch indoor coaster", "Germany's first multi-directional roller coaster" and "Europe's first indoor roller coaster to accelerate backwards". Mix in an experience that will feature "multimedia, sound and special effects, two acceleration lines forwards and backwards as well as a 360-degree turning platform".
The park has also confirmed that it will be built inside the structure that formerly was home to the Ice Age Adventure and 'Wrong Turn" rides. So now I guess the big question is… what will the new ride be themed to this time? Anyone know more?


(8/24/20) Whatever Movie Park Germany has in store for 2021, they have now confirmed that it will be from Intamin in a fun teaser video posted by the park below. The early speculation is that the park may be finally planning on adding something new to replace the former Ice Age Adventure boat ride that closed way back in 2016.