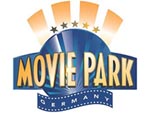 MOVIE PARK - Germany
Germany
Parque Reunidos

Park News - (11/4/18) I'm told that over the Halloween season, Movie Park Germany took the former attraction building that was once used for the Ice Age Adventure dark ride and turned it into a haunted maze style attraction themed to the film, "Wrong Turn". Guests were sent into the attraction on foot in small groups, with only one small lantern to light the way per group. Of course the lantern was rigged to flicker and even completely turn off at certain points along the way. A fun videos showing off the walk-through experience is below.
One of these years the park is expected to eventually put some kind of new attraction in this building, but for now it seems to have found a new purpose for the Halloween season at least.


2018 - Excalibur - Secrets of the Dark Forest - (5/9/18) A review and new photos of Excalibur - Secrets of the Dark Forest, a remodeled river rapids ride at Movie Park Germany, can be found at ThemeParks-EU this week.

(4/25/18) Movie Park Germany will open their new "Excalibur - Secrets of the Dark Forest" river rapids ride (formerly known as Mystery River) on May 7th, 2018. This revised version will tell the story of King Arthur and his Knights of the Round Table, as well as feature encounters with dark and fairy tale creatures from the forest. Some new teaser graphics can be found over at Themeparks-EU.

(1/31/18) Interesting new attraction news for Germany's Movie Park comes to us this week from BlooLoop. They report that the park's Mystery River attraction (rapids ride), a rarely seen indoor / outdoor themed river rapids dark ride attraction, will be given a new King Arthur theme and transformed into an all new adventure called Excalibur - Secrets of the Dark Forest. I'm guessing this may be for 2018, though no official timeline is mentioned in the article.
Fun Fact... this will actually be the third theme applied to this ride, as it opened with a "NeverEnding Story" theme.
2019 - PAW Patrol Attractions - (1/11/19) Movie Park Germany will add new attractions themed to Nickelodeon's PAW Patrol series. The list includes the PAW Patrol Adventure Tour (A themed Zamperla Convoy ride) and a children's playground themed with 'interactive beach-style elements". The park's former Swiper's Sweeper will also be rethemed to become Zuma's Zoomer.