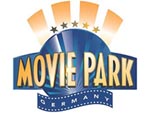 MOVIE PARK - Germany
Germany
Parque Reunidos

Park News - (4/6/12) Movie Park Germany has renewed their licensing deal with Nickelodeon with the signing of a new six-year deal, effective April 2012.

2014 - Nothing is known at this point in time...

???? - New Coaster - On Hold - (9/28/12) The local news reports that Movie Park Germany has called a halt to their 10 million Euro plan to build a new 45-meter tall coaster at the park in 2014. It seems the owners (Parque Reunidos) want to invest more on parks in Italy and Spain that are in need of new capital instead in 2014 and new plans for 2014 will be drawn up for Movie Park Germany instead.
(5/29/12) According to this website, Movie Park Germany is planning a 45 meter tall roller coaster near the park's entrance to open in 2014 and has submitted plans to the city to obtain the zoning permission. The news article also talks about possibly using a catapult / launch system coaster design, but this has not been finalized. The cost of the proposed coaster will be over 10 million Euros.
(4/25/12) ParkTrip.FR reports that a new roller coaster will be added to the park for 2014. Future expansions beyond this will see a renovation to the Mystery River ride as well as construction of an official hotel resort.