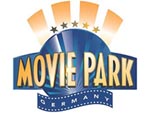 MOVIE PARK - Germany
Germany
Parque Reunidos

Park News - (4/6/12) Movie Park Germany has renewed their licensing deal with Nickelodeon with the signing of a new six-year deal, effective April 2012.
2014 - The Lost Temple / 4D Dinosaur Attraction - Under Construction - (4/15/14) New concept artwork, building layout images and the logo for "The Lost Temple", the new 3D "immersive tunnel" dark ride under construction at Movie Park Germany, can be found at ThemePark.nl this week. The dinosaur attack themed attraction is replacing the park's old Movie Magic Hall attraction. From the conept artwork, it seems like it will have a well themed queue to set up the story, and even appears to possibly have some kind of fake elevator ride that will send you down into The Lost Temple structure, where you will board the trams for the ride portion of the experience.
(2/19/14) BlooLoop reports that the new attraction coming to Movie Park Germany will be a new 4D Dinosaur themed attraction where guests are taken "on a thrilling adventure deep beneath the park in a mysterious prehistoric world". To do this, they will travel through a 23 meter long "immersive tunnel" on expedition buses loaded with 4D effects through a 360º screen. Sounds like the park is making their own version of a King Kong 360º 3D style attraction. I'm told that this will be one of the Simworx Immersive Tunnels.


(2/3/14) While I'm still not sure what the new attraction going into Movie Park Germany is, a teaser picture released of the construction site gives away very little so far.
(1/14/14) A new attraction is on the way to Movie Park Germany this year, replacing the old Movie Magic Hall. So far the park has denied early rumors claiming that it would be a new dark ride, similar to Thor's Hammer at Tusenfryd. Construction has started and you can find a few pictures here. The only hint given from by the park so far was that it would be an expensive and unique new attraction not seen anywhere else before with "primitive times creatures". Kind of sounds like Dinosaurs, but the park already has an Ice Age attraction… so anyone else have any ideas?

???? - New Coaster - On Hold - (9/28/12) The local news reports that Movie Park Germany has called a halt to their 10 million Euro plan to build a new 45-meter tall coaster at the park in 2014. It seems the owners (Parque Reunidos) want to invest more on parks in Italy and Spain that are in need of new capital instead in 2014 and new plans for 2014 will be drawn up for Movie Park Germany instead.
(5/29/12) According to this website, Movie Park Germany is planning a 45 meter tall roller coaster near the park's entrance to open in 2014 and has submitted plans to the city to obtain the zoning permission. The news article also talks about possibly using a catapult / launch system coaster design, but this has not been finalized. The cost of the proposed coaster will be over 10 million Euros.
(4/25/12) ParkTrip.FR reports that a new roller coaster will be added to the park for 2014. Future expansions beyond this will see a renovation to the Mystery River ride as well as construction of an official hotel resort.