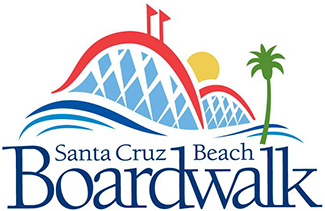 SANTA CRUZ BEACH BOARDWALK
Santa Cruz, California (Abbreviation: SCBB)
Park News - (5/26/14) I forgot to mention this last week, but the beautiful Santa Cruz Beach Boardwalk's Giant Dipper wooden coaster turned 90 years old on May 17th. Always one of my favorite rides (I just LOVE the tunnel at the start) the Giant Dipper stands as the oldest coaster in California, the 5th oldest in the entire country and 9th oldest in the world.
2016 - Nothing is known at this time...
2017 - New Ride - (4/19/16) I'm told that Santa Cruz Beach Boardwalk informed those attending an ACE event at the park over the weekend that they plan to add a new ride UNDER the Undertow spinning coaster for 2017, though they will have to expand the boardwalk in that area a bit to make room for it. Any ideas on what it will be? Apparently they did at least confirm that it will not be a Larson Super Loop style ride.