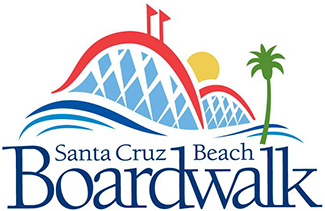 SANTA CRUZ BEACH BOARDWALK
Santa Cruz, California (Abbreviation: SCBB)
Park News - (7/30/20) The owner of Santa Cruz Beach Boardwalk has now laid off a third of their full time staff, with most of those lost positions coming from the beach-side amusement park staffers.

(4/20/20) The footage is kind of erie for some reason, but watch as a drone flies over the Santa Cruz Beach Boardwalk, totally devoid of all life. While empty theme parks are the norm right now, perhaps what makes it look more odd is the imagery of the sandy beach in the background, with huge stretches untouched by footprints footprints in the sand.

2020 - Lighthouse Lift-Off - (9/15/20) Santa Cruz Beach Boardwalk has posted a photo on IG showing off their new Lighthouse Lift-Off attraction, located at Entrance 3. While we have no idea when the park will be allowed to reopen, it does look like it will be ready to go when the time comes.

???? - Expand Undertow Deck - Rumor - Fitting in with the 2017 plans to replace the 2-story Frightwalk / Arcade / Laser Maze building with new single story buildings are rumors about expanding the second story attraction deck that currently is home to the Undertow coaster to eventually cover these new single story buildings and allow for the construction of more new attractions space on the second level. The timeline for this project is unknown at this time.