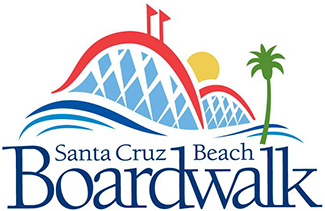 SANTA CRUZ BEACH BOARDWALK
Santa Cruz, California (Abbreviation: SCBB)
Park News - (5/10/18) Early word is that Fireball at Santa Cruz Beach Boardwalk may have finally been given permission to reopen over the last weekend.
(4/13/18) According to the local news, the latest word on the park's Fireball ride is that the KMG creation, which has been closed since the accident on a similar ride in Ohio last July, has undergone a thorough inspection and rehab, and that the park is currently working with the state to get Fireball a final reinspection and approval to reopen it. The request to the state is "still pending" at this point in time.
(3/21/18) Santa Cruz Beach Boardwalk has confirmed that after 60 years, their iconic Ferris Wheel will not reopen this season, and the wheel itself will be removed sometime next week. They say they are looking into all options to replace it, possible with another wheel, or possibly with an entirely different attraction.
(1/22/18) Good news from Santa Cruz Beach Boardwalk, as a reader contacted the park and was told that the Fireball ride will be reopening before the start of Summer and will not be removed after all.
(12/6/17) From what I've been told, the Fireball ride at Santa Cruz Beach Boardwalk closed down over the summer following the accident on a similar ride at the Ohio State Fair. While many other similar rides were also closed as a precaution during this time period, they soon reopened… including the one at SCBB. Currently however, Fireball is closed again, and according to the latest rumors, Fireball may soon be removed from the park entirely and replaced with something new… quite possibly for the 2018 season perhaps. Anyone know more?
2018 - Nothing is known at this time...
???? - Expand Undertow Deck - Rumor - Fitting in with the 2017 plans to replace the 2-story Frightwalk / Arcade / Laser Maze building with new single story buildings are rumors about expanding the second story attraction deck that currently is home to the Undertow coaster to eventually cover these new single story buildings and allow for the construction of more new attractions space on the second level. The timeline for this project is unknown at this time.