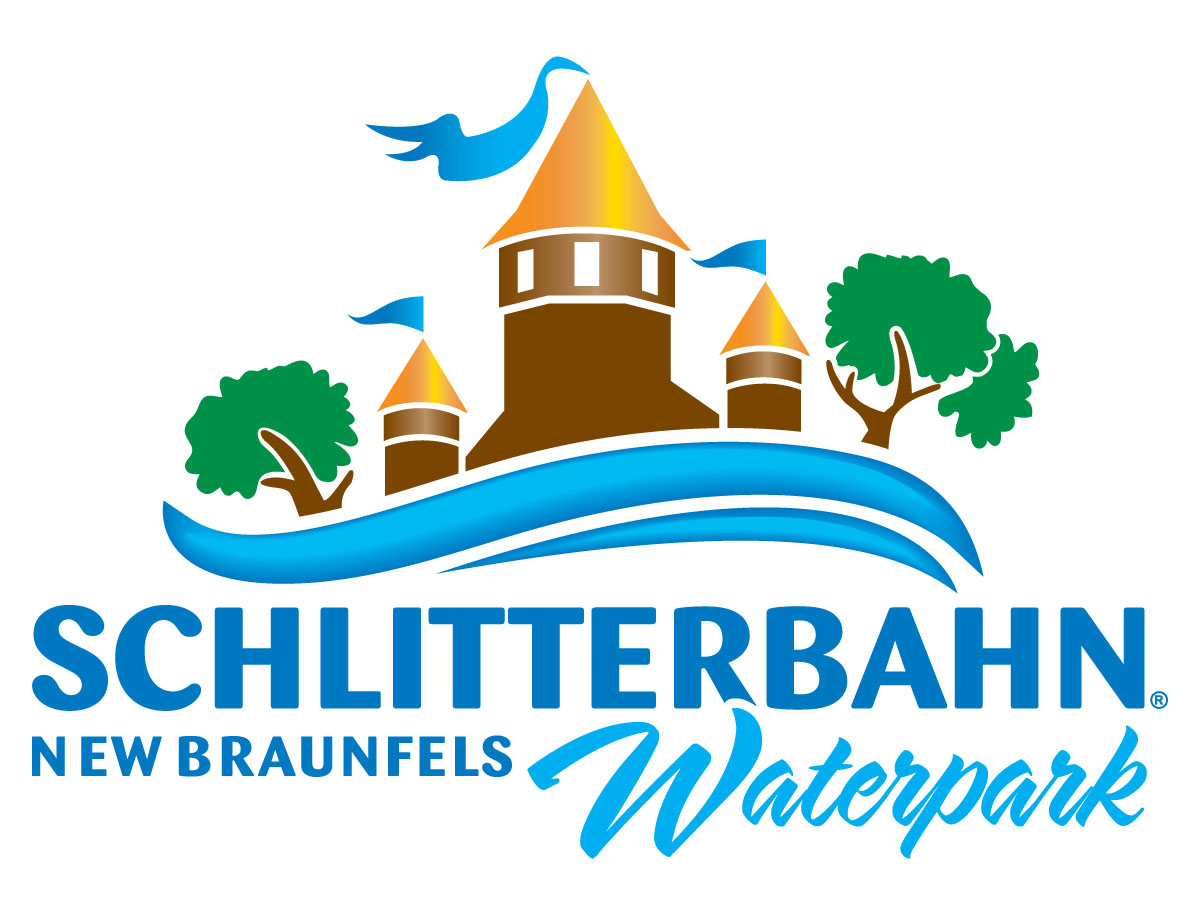 SCHLITTERBAHN WATRPARKS
New Braunfels, TX / South Padre Island, TX / Galveston, TX / Kansas City, KS
www.Schlitterbahn.com
Schlitterbahn (New Braunfels,Texas)
Park News - (11/9/12) Congratulations to Schlitterbahn's Co-Owner, Jeff Henry, for being named as the Inventor of the Year at the annual Austin Intellectural Property Law Association's Judge's Dinner. (That's a mouthful… but AIPLAJD isn't any better I suppose…) Jeff Henry currently holds 60 patents and trademarks, including those for major waterpark industry inventions like interconnected Transportainment attractions, tidal rivers, convertible waterparks, the Aqua Veyer and of course, the infamous Master Blaster uphill water coaster system.
(7/25/11) Check out Screamscape's own in-depth review, photos and video of the massive Schlitterbahn waterpark in New Braunfels and find out why it's the world's greatest waterpark! CLICK HERE!
2013 - Nothing is known at this point in time...
Schlitterbahn Cedar Park North of Austin, TX

New Park Proposal - (1/23/13) Looks like the proposed Schlitterbahn Cedar Park project has changed quite a bit since I last heard anything about it. The primary partner in the project from before, Cedar Park Land, has dropped out completely. Since they were the owners of the property involved, the project has since moved to another nearby location as city officials continue to have talks with Schlitterbahn management in the hopes of still luring them in to build a local area waterpark. Schlitterbahn's corporate communications manager, Angela Flournoy, did confirm that the company is still interested in the possibility of building in Cedar Park. (Information about the old version of the project since included a resort and convention center has been removed...)
(4/24/12) The local news reports that Schlitterbahn Cedar Park is back on the table, with a new deal close to being stuck between the project partners.
Schlitterbahn Galveston (Texas)
2013 - Nothing is known at this point in time...
Schlitterbahn Kansas City (Kansas City)
Park News - (8/15/12) MidWestInfoGuide has posted a great photo report from the KC Bahn Con at Schlitterbahn. Check it out!
(2/29/12) Pictures taken during an off-season tour of Schlitterbahn Kansas City have been posted to MidwestInfoGuide.
2013 - Meg-A-Blaster - Under Construction - (12/10/12) MidWestInfoGuide has posted a report from the Coaster Christmas event that took place at Silver Dollar City. During the presentation to the audience from the parks the President of Schlitterbahn Kansas City talked about what was on the way for 2013: More share structures, more Cabanas, dining and retail areas, a train ride that will take move guests from the front of the park to the park, a Soarin Eagle zipline attraction and the Meg-A-Blaster, a 4-person Maserblaster slide that will be the tallest and fastest water ride in the world when it opens in June. Starting in the fall the park will also start to open Treehaus guest rooms as well, which I assume will be similar to the ones in Texas,
(11/15/12) The local news reports that Schlitterbahn Kansas City will open a new four-person Meg-A-Blaster slide in 2013. Jeff Henry says it will be the world's tallest, fastest and most extreme waterslide ever built when it opens. But to ensure that the record will hold, they are keeping the exact stats a closely guarded secret until they are ready to open it to the first guests. The only thing he will confirm is that it will break the current records for height and speed held by Insano at Beach Park in Brazil which stands 134.5 feet tall and moves sliders up to 65.2 mph.
Schlitterbahn Beach at South Padre Island (Texas)
Fall 2012 - Schlitterbahn Beach Resort - Now Open - (9/4/12) Schlitterbahn reports that their new beachfront resort next to the South Padre Island park is now fully operational, offering a new year-round indoor waterpark experience.
(2/3/12) Schlitterbahn has announced a new year-round indoor waterpark resort hotel is being added to the Schlitterbahn Beach waterpark in South Padre Island. According to the announcement the new Schlitterbahn Beach Resort will feature 221 guest rooms and will be open year-round. The new resort will rise from the former Holiday Inn Sunspree Resort, it will feature an indoor / outdoor convertible waterpark area with new slides and attractions, and special access to Schlitterbahn Beach. Phase 1 of this expansion is set to open in time for Summer 2012, and as you can see in this picture on Facebook, the work is already well under way. Additional resort and attractions information will be coming as things progress, including the introduction of "new Waterpark technology".
While I haven't had a chance to visit Schlitterbahn Beach in South Padre Island, I have to say that my experience staying on-site at the original Schlitterbahn waterpark last July was truly one of the all-time family vacation highlights that my kids will remember forever. If you haven't read the official Screamscape review and breakdown of what staying in a Schlitterbahn resort is all about, be sure to check it out next. Staying on site is really the best way to truly experience what Schlitterbahn is all about.
2013 - Underground Transportainment - Confirmed - (11/22/12) Schlitterbahn Beach has announced a unique new addition is on the way. They will connect the indoor and outdoor waterparks with a new underground Transportainment system that is supposed to be unlike anything we've ever seen before. Guests will board onto four person rafts at either of the two loading stations on each side, and then drop nearly 25 feet down into a 380 foot long underground cavern filled with fog, sound and lighting effects to travel between the two parks. An Aquaveyor system will then return the rafts back up to the surface where the guests can exit.
While this new addition will allow the waterpark guests to enjoy the indoor park attractions (and swim-up refreshments) in the summer season, I wonder if they will have a way to keep this unique new themed attraction open for the resort guests in the winter months.
Schlitterbahn Padre Island (Corpus Christi, TX)
2014 - NEW PARK - (2/18/13) As reported, Schlitterbahn Padre Island broke ground on Friday as expected and according to the official press release, they plan on opening the park by Summer 2014.
(2/13/13) Schlitterbahn reports that they will break ground this Friday on the new Padre Island waterpark slated to open as early as March 2014. The 65 acre site is expected to include the waterpark, resort lodging, restaurants and possibly even a train ride that would bring guests to the park from somewhere off site. The layout of the park seems to feature a Transportainment style river system that runs back and forth across the site, expected to be similar to The Falls attraction at the original Schlitterbahn park with a large conveyor belt lift near the park's main entrance, but could offer other slides and attractions as branch-offs from this main river. You can see an older site plan of the project here.
(1/30/13) According to Jeff Henry, the new Schlitterbahn waterpark in Corpus Christi is set to begin construction by Feb 22nd and plans to be open by March 2014.
(8/9/12) Schlitterbahn's Jeff Henry confirmed to the local news that the new Schlitterbahn park on Padre Island would not be ready to open in time for 2013, and the opening would be pushed back to March 2014.
(4/5/12) The new Schlitterbahn resort and waterpark project for Corpus Christi is ready to move ahead, but they say that everything now hinges on the right incentive package before they will build the new Padre Island park.
(1/11/12) According to the local news Schlitterbahn would like to locate their proposed new waterpark for the Corpus Christi area on what is now the Padre Isles Country Club golf course. Click here for details.
(9/29/11) According to this article, the plans for a new Schlitterbahn waterpark on Padre Island are ready to go… with everything pending on approval for a new bridge that needs to be built to improve access to the site.