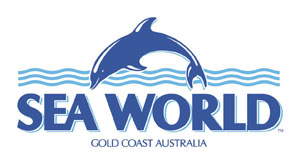 SEA WORLD of Australia
Gold Coast, Australia
Village Roadshow Parks
Park News - (8/11/14) The rollercoaster known as Sea Viper (formerly: Corkscrew) at Sea World Australia is being removed from the park. According to the rumors, the ride is being scrapped entirely and will not be saved or resold to another park. The coaster has been sitting mostly inactive for the last 6 months from what I'm told and I'm guessing the last round of inspections may have been the final straw that forced the park to make the hard choice to pull the plug on it.
Back when it first opened in 1981, it was the first triple-inversion coaster in Australia. No word on if the park has plans to add a new coaster to replace it in the next year or two. Currently the park only has one true coaster (Jet Rescue) and the new Storm Coaster Mack Flume/Coaster that opened for this past summer season.
2015 - Affinity / New Dolphin Show - (12/28/14) Sea World Australia has opened a new Dolphin show for their Christmas / Summer season. According to the report at AusParks the new show is called Affinity.
2015 - African Animal Exhibit - (7/11/13) The local news reports that Sea World Australia will open a new African animal exhibit in 2015 which will include gorillas, hippos, crocodiles and more.
Late 2015 - Beach Break Bay Renovation - (4/22/15) AusParks.com.au reports that Sea World has closed Beach Break Bay for a multi-million dollar revamp project that will see an assortment of new rides and attractions added when it reopens later this year.