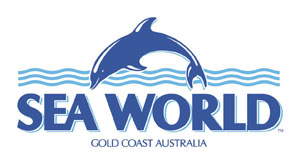 SEA WORLD of Australia
Gold Coast, Australia
Village Roadshow Parks
Park News - (4/23/12) This has got to be one of the oddest theme park stories I've ever reported on. According to this news report three drunken British tourists broke into Sea World Australia the other night, stripped down to their underwear, jumped in to swim with the dolphins and then went on to steal one of the park's "fairy penguins" on the way out. The awoke from their escapade in their hotel room and were shocked to discover poor Dirk the penguin in their room, so they released him (aka: dumped him) into a nearby canal. Dirk was found and returned to Sea World Australia, and the three men? Apparently they were caught by police who tracked them down because they were stupid to post details of their night to Facebook.
Maybe it's just me, but doesn't this sound more like the script for The Hangover 3? Can't you just envision Zach Galifianakis on the cover of the movie poster with a penguin strapped to his chest in a baby carrier, with oversized sunglasses on?
Late 2013 / 2014 - Storm Coaster - (12/10/13) A complete on-ride POV video of the new Storm Coaster ride at Sea World of Australia can be found here. The local news also gave the new ride a look and has some of the best off-ride camera footage of the attraction you can find, embedded below. If you carefully watch the news video footage you'll see something interesting… this may be the first flume ride I've seen with car style seatbelts running across the guest's chests.



(12/3/13) The new 'Storm Coaster' at Sea World of Australia opened this week. According to a reader who just rode it, the ride is themed to a port that has been "destroyed by a cyclone". The inside portion of the ride is themed like a flooded warehouse, while the outdoor section is a fairly standard Mack Watercoaster track of spiraling drops and spins, ending with a splashdown finale crashing through an upturned boat sticking out of the warehouse. Parkz has posted about 40 pictures of the new attraction here, s well as shooting a great off-ride video from the exit path that has great views of the action, both indoor and outdoor.

(5/20/13) New construction pictures from the Storm at Sea World of Australia can be seen here.
(3/27/13) Interesting news in from Sea World Australia this week, thanks to an update at Parkz. They start things off with a look at the construction site for Storm, the park's new Mack water coaster, which formerly held the park's old Bermuda Triangle flume ride.
They also peek around at the Sea Viper coaster, formly known as Corkscrew. The once old reliable coaster which has been closed for the past six weeks for a rehab, has apparently been suffering higher than normal bouts of downtime since installing the new Kumbak trains in late 2009.
(1/4/13) The local news has confirmed plans submitted by SeaWorld of Australia showing off a Mack Water Coaster attraction on the way to replace the closed Bermuda Triangle ride.
(8/16/12) In 2013 Sea World Australia seems to be teasing some kind of storm themed attraction may be on the way to the park, based on a graphic post to their Facebook page. According to our sources, applications submitted claim that the new attraction will replace the Bermuda Triangle ride, reusing the show building but demolishing the old interior as well as the old ride system. This lines up very nicely with a report at Parkz where an interview with Mack Rides revealed that they have sold a water coaster to an Australian park for 2013. Given the popularity of the Mack built Journey To Atlantis water coaster rides at the SeaWorld parks in America, it would make perfect sense for Sea World Australia to try and copy their success.

2014 - Polar Bear Shores Expansion - (8/22/13) Sea World Australia is said to be investing $1.5 million to expand their Polar Bear Shores exhibit to make more room for a new polar bear cub and his mother.

2015 - African Animal Exhibit - (7/11/13) The local news reports that Sea World Australia will open a new African animal exhibit in 2015 which will include gorillas, hippos, crocodiles and more.