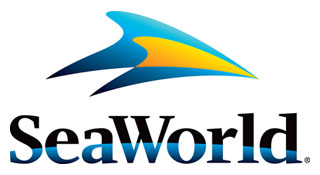 SeaWorld Orlando
Discovery Cove and Aquatica
SeaWorld Parks & Entertainment
---- THE LATEST BUZZ ----
(5/4/15) Dolphin Closing Again, Pretzels In Your Future (MORE...)
(4/29/15) SeaWorld Orlando Announces Next Viva La Musica Concert (MORE...)
(4.24/15) UPDATED - New Roller Coaster Coming To SeaWorld in 2016 CONFIRMED (MORE...)
(4/17/15) SeaWorld Opens New Sea Lion High Show (MORE...)
Attraction Rehabs - The following information is not guaranteed to be 100% accurate.
Sea Lion & Otter Show - NOW CLOSED through April 16, 2015
Park News - (5/4/15) According to a Screamscape source the recently reopened Dolphin Cove habitat at SeaWorld Orlando is being closed again tonight (should be walled off by Monday morning) for an unknown period of time to resurface the bottom of the pool.
In other news, Pixels At The Parks reports that the midway games that were just removed from outside Shamu Stadium will be replaced with a new fancy Pretzel eatery, possibly one with a menu similar to the Twisted Tails Pretzels that opened at Busch Gardens Tampa not long ago.
(4/29/15) SeaWorld Orlando has announced Elvis Crespo will perform on May 9th for the park's Viva La Musica event.
(4/16/15) SeaWorld Orlando has announced Elga Tanon as the opening act for this year's Viva la Musica concert series on Saturday, April 25th. Future acts TBA for May 2, 9 and 16th.
(3/20/15) SeaWorld has listed the last two performers for the Bands, Brew and BBQ concert series: popular comedian Bill Engvall will perform on March 28th and Alan Jackson will sing on March 29.
SeaWorld will be getting a good taste of the Blue Collar Comedy Tour as Larry the Cable Guy will perform this Sunday, while Travis Tritt will perform on Saturday.
(3/4/15) SeaWorld Orlando has announced the concert schedule for the start of Bands, Brew & BBQ weekends. Concerts are free with park admission and will start at 4pm, however upcharge VIP seating options are available.
Sat. March 7 - Toby Keith
Sun. March 8 - Lynyrd Skynyrd
Sat. March 14 - Rodney Atkins
Sun. March 15 - Kool & the Gang
(3/3/15) I've got a quick rundown of the new Dolphin Encounter experience at SeaWorld Orlando to share from one of our readers. So far the demand has been fairly high and I'm told you can book your experience at the Information counter near the front of the park, or at the attraction itself. Currently each session lasts about 10 minutes, and group sizes are being kept around 6-8 guests. The cost to do this is $15 a person, and small children must be accompanied by a paying adult.
"Each trainer has two dolphins to work with. The trainers will tell you a bit about the specific dolphins that you will be interacting with. They will teach you several different signals to use to get them to respond. At the end of the session, they bring both of them onto the ledge, and you are able to rub them. The trainers feed the dolphins during the interaction, guests are not allowed to do so, as the trainer is the one to actually reward them for proper behavior. Overall it was a VERY positive experience."
(2/28/15) While the other big Orlando area theme parks have all increased their ticket prices over the past week, SeaWorld will be holding steady for the time being. The chain of parks has been suffering from declining attendance and still has yet to fully recover from the public relations nightmare caused by the film Blackfish, so they are going to be playing things much more carefully.
According to this report from the Orlando Sentinel, the chain will launch a new marketing campaign starting April 1st to help try and repair their public image by targeting the general public in the middle of the issue, who have no solid opinion either way on keeping whales in captivity. They know this isn't going to be a quick fix, as experts say that it can take a company 2 or 3 years to get their public image turned around in cases like this.
(2/24/15) Just as we reported several weeks back the Orlando Sentinel has confirmed all that we reported about the changes coming to Dolphin Cove when it reopens. No more feeling the dolphins, but you can pay $15 to take part is a new 10-minute long animal trainer program there instead. While Dolphin Cove will officially reopen on March 2nd, I'm told we can expect a series of soft open previews ahead of this to acclimate the dolphins to park guests once again.
In other news, I'm hearing rumors that there may be a passholder preview of the new Sea Lion & Otter show this weekend, which means they could also open a few final rehearsals to the general public as well if you keep your eyes open.
(2/3/15) SeaWorld Orlando has announced the first two performers coming to this year's PraiseWave concert series: Lecrae and Colton Dixon on Feb 14. You can find out more details about the event here.
(1/28/15) OrlandoParksNews has some great photo coverage of the Wild Days event at SeaWorld Orlando from over the weekend, featuring a good friend of mine from my time in San Diego, Julie Scardina. Check it out!
Meanwhile SeaWorld Orlando has also teamed up with News 6 Orlando to produce a nearly hour long special video for the park's 50th Anniversary called 50 Years of Caring.
(1/17/15) Screamscape sources have explained why there was some question regarding the length of the dolphin exhibit at SeaWorld Orlando. I'm told that prior to the layoffs and financial shakedown the park experienced last month, there WAS a longer plan in the works that would have seen some of the "beach" themed areas removed in favor of expanding and updating the habitat. In the wake of the chain's current problems, the rehab was shorted to it's current form that will see it reopen in late February instead.
However, the heart of the change is apparently still in place, which will be of interest to everyone. The Key West Dolphin Cove will be under new management… kinda… instead of being under the control of the park's Animal Care department, I'm told that the Animal Training department will be taking it over, with some major new operational changes. The old feeder booth will be closed, so guests will no longer be able to buy trays of fish and feel the dolphins. Instead the rumored plan will see the Animal Training department run a section of the attraction as a Premium style Interaction experience package, where guests can pay for a lengthy experience to learn in depth about what it takes to take care of, and train these animals, which will where all the feeding of the dolphins will take place from now on. Expect to see sections of the habitat blocked off from public access for these experiences to take place in, though there will still be a place for regular guests to walk up to the side of the tank and attempt to touch the dolphins… it will just be a lot harder to get their attention away from the trainers and new guest interaction program guests who will have all the food.
(1/6/15) A very special deal is being offered by Busch Gardens Tampa and SeaWorld Orlando this week, the Preschool Pass. From Jan. 5 to Dec. 31st, kids age five and under can enjoy visits to both parks for free if they get a Preschool Pass. Click here for all the details!
(1/2/15) I'm not quite sure what to make of this rumor, but I've heard that a survey crew was spotted taking measurements around the various sides of the Nautilus Theater building at SeaWorld Orlando, the theater building that will soon be empty once the last performance of A'Lure is finished. It is interesting to see that there may be plans for this site already in the works.
2015 - Clyde & Seamore's Sea Lion High - (4/17/15) Our friends at Behind the Thrills has posted a review of the all new Sea Lion High show that just opened. Check it out.
(3/20/15) Clyde and Seamore's Sea Lion High will open to park guests on April 16th according to the employee news letter sent out today.
(3/2/15) Behind the Thrills reports this week on what took place at the Passholder Preview of the new Sea Lion High show, which apparently was not a complete run of the show, but merely the presentation showcasing many of the new trained behaviors they are adding for the new show. In the meantime, don't look for the show to actually open to guests until sometime in April, probably after the busy Spring Break crowds have gone home.
(2/26/15) The passholder preview of the new Sea Lion Show has been confirmed as taking place this Saturday at 7:15pm after the park closes. I'm told that a few nearby attractions like Antarctica and Kraken will also be open for passholders until 8:45pm, but to stay you must pick up a wristband from Pacific Point Preserve starting at 1pm in order to see the show.
(11/20/14) SeaWorld Orlando released the logo and new details for the park's new Sea Lion show opening in Spring 2015. The final name is "Clyde & Seamore's Sea Lion High" as the duo find themselves in pursuit of their high school diplomas on the last day of school.
(8/19/14) ParkScope dug up a new trademark filing from SeaWorld Parks this week, which seems to give away the name of the new Sea Lion show coming to SeaWorld Orlando as "Clyde & Seamore's Sea Lion High" along with a link to some great concept artwork of how the new stage might look.
(7/30/14) As rumored, SeaWorld has confirmed that the current Sea Lion & Otter show (Clyde & Seamore Take Pirate Island) will close for good after the last performance on August 10th after a record setting 15 year run. Screamscape sources tell us that the show venue will be closed for at least a month, maybe longer, for renovations and to install a new show that has yet to be named. If Screamscape's June 17th rumor holds true the new show was tentatively titled, "Clyde & Seamore: Back To School".
(6/17/14) Screamscape sources tell us that the Sea Lion & Otter show will indeed reopen from this fall's rehab with an all new show, tentatively titled, Clyde & Seamore: Back To School.
(6/16/14) I'm hearing that the Sea Lion show will close for a lengthy rehab sometime this fall. No word on if this is just a refurbishment of the existing facility, or if they will finally add a new show.
2016 - New Roller Coaster - Confirmed - (4/24/15 - UPDATED) I've been hearing rumors for weeks now that a large new roller coaster was being planned for SeaWorld Orlando. While the exact location isn't entirely known, it seems that it will run along the backside of the park's South-East side, possibly running out and along I-Drive for the outer leg of the journey. This matches up with the rumors I posted months ago about survey crews doing work alongside and behind the Nautilus show theater, and rumors that the behind the scenes work trailers between the theater and Shark exhibit would be removed in the near future and relocated to the other side of the theater. It is also work mentioning that the old games area next to Shamu Stadium has also been demolished, which could also be related to this project.
As for the coaster itself, I'm told it will be from Mack Rides who made all the Journey To Atlantis rides, the Manta coaster in San Diego and is rumored to be making the coaster for Busch Gardens Tampa in 2016. While I'm not 100% sure on this bit, rumor has it that the coaster will be lauched, like Manta in San Diego, but with a much larger layout. In fact, while I don't know exactly how aggressive the layout will be, or how many inversions, it may be a good idea to look up videos of Blue Fire at Europa Park or Helix at Lisberg to get an idea of what you may be able to expect.
UPDATED: SeaWorld Orlando has confirmed the new coaster for 2016, and it will be a big one, standing 200 feet tall. Check out the official teaser announcement from SeaWorld below:
Something is stirring beneath the surface at SeaWorld Orlando, preparing to rise from the ocean depths and soar to thrilling new heights. Get ready for the frenzy of SeaWorld's new 200-foot-tall coaster. In 2016, this thriller will take its place atop the food chain as Orlando's tallest, fastest and longest coaster. More details on the new addition will surface in late-May. SeaWorld is a one-of-a-kind theme park with a variety of attractions including awe-inspiring animal encounters, thrilling rides and spectacular shows. Follow #nothingfaster as the frenzy starts.
???? – Blue World Project / Killer Whale Habitat Expansion – (8/19/14) While the San Diego park will work on their version of this first (from 2015 to 2018) similar habitat expansions were promised to come to both the Orlando and San Antonio parks soon afterward. It's too early to say what they will get here, but take a look at what they are building in San Diego, it will give you a good idea of what you can expect.