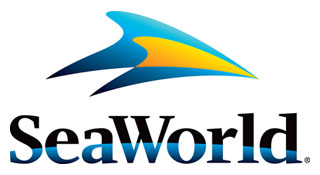 SeaWorld Orlando
Discovery Cove and Aquatica
SeaWorld Parks & Entertainment
---- THE LATEST BUZZ ----
(11/20/19) See The First Ice Breaker Coaster Train (MORE...)
(11/16/19) Aquatica Orlando To Open Riptide Race in 2020 (MORE...)
(11/13/19) New Ice Breaker Update (MORE...)
(11/12/19) Ice Breaker Construction Update
Park News - (11/6/19) To celebrate the 50th birthday of Sesame Street a special weekend-long birthday party event will take place at SeaWorld Orlando on November 9th and 10th. This will include a new parade float, free birthday cupcakes, free party hats and more.


(10/31/19) SeaWorld Orlando will put on the SeaWorld's Christmas Celebration at the park from Nov. 23 through to Dec. 31, 2019 with over 3 million sparkling lights. New this year will be the Sesame Street Christmas Parade performing along with returning shows: Rudolph the Red-Nosed Reindeer, O Wondrous Night, Miracles and more.

(10/27/19) Busch Gardens Tampa and SeaWorld Orlando have now begin to offer an "All-Season Dining Pass" that also have options to make them good at the Aquatica and Adventure Island waterparks. Even better, if you purchase this new 2020 All-Season Dining Pass now, you will also get to eat for free for the remainder of 2019. For all the official details and pricing scroll to the bottom of this page.
2020 - Ice Breaker - (11/20/19) The first look at the Ice Breaker trains from Premier Rides coming to SeaWorld Orlando were shown off at IAAPA this week.




(11/13/19) A reader sent in a great photo showing off the rear supports for the spike on Ice Breaker as well as the bottom where it will drop into the launch section.


(11/12/19) A new look at the construction of Ice Breaker can be found at OrlandoParkNews this week. Check it out.

(10/29/19) Check out the video below if you want to see the latest construction status of Ice Breaker at SeaWorld Orlando. With supports and track now on site sitting nearby, it shouldn't be long before the first track sections go vertical.


(10/22/19) A reader went by Discovery Cove the other day and spotted the orange Ice Breaker coaster tracks being delivered and sent in a couple of pictures for everyone to enjoy.



(9/13/19) Ice Breaker is coming to SeaWorld Orlando in 2020, a new and unique launched coaster experience from Premier Rides. Ice Breaker will be a quadruple launch coaster, featuring backwards and forwards launches as soon as the train leaves the station and slides-over onto the launch track. Ice Breaker will launch backwards up a 93 foot beyond-vertical 100ļ spike track before shooting forward for the last time at 52mph up and over a hill and into a series of high-speed twists and camelback hills before coming back to the station.




(9/4/19) Some great new photos of the new coaster construction site at SeaWorld Orlando can be found over at Midway Mayhem's instagram this week. Be sure to scroll sideways through the images, as there are ten different photos in this post, including our first look at the new orange coaster track that has arrived in a storage area.
Speaking of the track… the style is a little unusual and I'm having difficulty in matching it up with any other built by the various designers. Anyone recognize who's track style this is?

(7/29/19) Coaster Kings has posted a new construction update from SeaWorld Orlando this week, looking into the construction site that was the former hillside and pathway between Shamu Stadium and Mango Joes, which is now a giant mud-hole. Looks like they are digging a bit hole in particular near Shamu Stadium for a large support footer location which I assume will be for the reverse spike track. Things are moving quickly at this point, so this is definitely something to keep an eye on when visiting the park.

(6/7/19) A group of three photos posted to Instagram show that work walls have gone up alongside the lake and Mango Joe's at SeaWorld Orlando to make way for the park's 2020 coaster project.
While the teaser hints that this will have some kind of article theme, CoasterKings posted a leaked layout awhile back that places the ride and station between the Mango Joes building and the lake. Even more interesting is the layout appears to show a loading station where the train will then slide sideways onto what may be a shuttle launch track, where it will move forward towards a large hill or top-hat style element, roll back through the launch-zone to increase speed and rise up a giant spike, and then fall forward again to hit top speed and blast through into the rest of the ride's compact layout that appears to be bunched up entirely between here and the nearby entrance to Bayside Stadium.
A close up look at the station building seems to show positions for a three car train, each car with 3 rows, which matches up with the same train design Premier Rides used on Tigris, Electric Eel and Tempesto for other parks in the chain.
While I don't recall Premier Rides creating anything with quite this same transfer / launch track combo before, the design does seem to almost borrow the concept from the Operation Enterprise coaster from Mack that opened at Movie Park Germany in 2017. (Click here to see a POV on how that one looks)


(6/1/19) SeaWorld Orlando just dropped a bit of a bomb on us all with a surprise teaser about the park's 2020 project, which has long been rumored to be a new coaster. We've been thinking for a while that it would likely be another Jet Ski themed launched rescue coaster like the one they added to the Texas park last year.
But after watching this teaser, I'm having second thoughts about all that… this one seems to have a very cold arctic theme to it, gives the impression that it could have a launch, and mentions "plunging thrills" and "predatory heights" while giving a good impersonation of an Assassin's Creed style dive from the top of an arctic cliff to the icy waters below.
As I previously mentioned, our sources had mentioned that this summer was expected to be the last for the park's Wild Arctic attraction, along with the rumor while the animal exhibit may stay, the simulator attraction space could be repurposed to be used for some of the 2020 coaster. Maybe just a themed queue… maybe a station… maybe even some icy caverns and a launch tunnel perhaps? We shall soon see…
I suppose the next question is to wonder who might be building this coaster for SeaWorld. The one company who is most likely not behind it is B&M, the company who built Kraken, Manta and Mako for SeaWorld Orlando, as B&M already has a confirmed coaster going to SeaWorld San Diego in 2020. With Intamin said to be behind the next two coasters opening at Universal Orlando (Hagrid and the Jurassic one now starting construction) I'm not so sure they might be behind this one at SeaWorld. While there are still many other possibilities the best two could be either Premier Rides or Mack Rides. Premier has just finished building their third launched coaster for the company with the opening of Tigris at Busch Gardens Tampa, while Mack Rides was selected to build the launched family coaster version of Mantis at SeaWorld San Diego. Mack Rides is no stranger to the SeaWorld parks however, as they also built all three of the Journey To Atlantis attractions and just finished a track rebuild of the San Diego version that just reopened this week. Long Shot… maybe Zierer, who was behind the Verbolten coaster at Busch Gardens Tampa which features launches as well as a themed freefall track. Zierer was also behind the two Shamu Express family coasters but hasn't built a coaster for the company since Verbolten opened in 2012.


(4/14/19) Thus far the big rumor about the planned SeaWorld Orlando 2020 attraction is that it would be some kind of new coaster. According to Screamscape sources the planned multi-launch coaster may actually be a bigger / faster version of Wave Breaker: The Rescue Coaster, a jet-ski themed coaster experience added to SeaWorld San Antonio in 2017.
As far as location… we're also hearing rumors that this summer may be the last one for the park's Wild Arctic simulator attraction. While the animal exhibit may stay, the aging simulator cabins are said to be on the way out. Once this happens, rumor has it the new coaster may take up some of this space, or repurpose some of the structure for the queue and coaster station, maintenance and launch tunnel experience. The ride would then travel from this area, over the pathways towards the Mango Joe's restaurant, and include portions of the ride track out over the water, just as it does in Texas.
Speaking of which… Screamscape was invited to the opening of Wave Breaker in Texas and you can see the video footage obtained of that ride below to get an idea of what may be in store for SeaWorld Orlando.


(3/22/19) According to this report some of the early permits for whatever attraction SeaWorld Orlando is planning for 2020 have been filed with the city. The permits mention a main building for the attraction, as well as plans to build a locker facility and a share structure over a queue. While nothing has been mentioned about a possible ride system, the existence of a locker facility for the riders suggests that this is either a new thrill coaster, or a water ride, as those are typically the only attractions to warrant such a feature.

(9/27/18) A couple of items about those new 2020 images floating around for SeaWorld Entertainment parks. For starters, a SeaWorld spokesperson did confirm that they are real and were part of an internal company presentation, though in many cases the exact details still have yet to be finalized.
Also, I have to give credit where due... while I was sent copies of these images from several anonymous sources, it seems all the images were originally leaked out on Twitter by @AmusementLeaks first before taking on a life of their own in the 'net like a rabid zombie outbreak. Follow the link to see for yourself.

(9/25/18) See the graphic sent our way from a meeting about SeaWorld Orlando's planned 2020 coaster. As you can see, most of the stats are still to be determined, other than that they want it to be a "Launch coaster" with a 48" height limit and top speed of about 55mph and include airtime and banked turns. Location in the park and if it will have inversions or not are still TBD, but for the most park this does sound like something a little more smaller in scale that Kraken, Manta and Mako.

(9/16/18) Some interesting new rumors are starting to float around regarding the next big project for SeaWorld Orlando. Is true, the early word is that SeaWorld may be planning on adding yet another coaster by 2020, and it may be the park's first launched coaster. Launched coasters within the chain are sort of a mixed bag when it comes to companies used so far, with Manta in San Diego being a Mack Rides coaster, Intamin and Premier Rides behind launched coasters in Tampa, and Premier Rides and Zierer behind the ones in Williamsburg.
So this begs the question aboutt what kind of launched coaster experience would they add to SeaWorld Orlando? We know it wont be another Sky Rocket II clone like Tigris coming to Tampa, but would they go for a more terrain oriented style launched ride from Mack like the San Diego park did? Or might they dive back into the trusted B&M catalog of products once again and perhaps build a launched wing coaster, much like Thunderbird at Holiday World?
Anyone know more?
2020 - Riptide Race - Under Construction - (11/16/19) Aquatica Orlando has announced Riptide Race as the name of their new 2020 attraction. They are marketing this as Florida's first ever dueling water slide that will start two side-by-side runs at the top of a 68 foot tower. Riders will climb aboard two-passenger rafts and speed down a nearly 650 foot long slide, featuring enclosed sections and outdoor sections, with low-walls between them to allow the racers to see each other along the way.





(10/30/19) While we still don't know exactly what Aquatica Orlando has in store for Summer 2020, other than green waterslide pieces, I've been told that the park's 2020 project will go into a small area on the North-East corner of the park. It will feature an 80 foot tall slide tower that will fit in between the splashdown pool of Ray Rush / Walhalla Wave to the north of it, and the Banana Beach Cook Out eatery to the south of the tower.

(10/29/19) Construction has started at Aquatica Orlando where green water slide pieces and some steel are now on-site for something new, apparently coming in 2020. You can see it in a quick video clip posted to Twitter embedded below. Anyone know more about what's going in?


???? - Sesame Street Dark Ride - Rumor - (4/15/19) I heard an interesting rumor the other day regarding future Sesame Street plans for SeaWorld Orlando now that the new kiddie land is open. According to the rumor the park has drawn up concepts for a couple of different Sesame Street themed dark rides that could be added onto the area, possibly taking over part of the Wild Arctic ride building space (which again, is rumored to be leaving later this year). Given the initial popularity of the Sesame Street themed dark ride that just opened at PortAventura in Spain earlier this month, this concept may gain some traction as a possible future park addition.

???? - Flying Theater - Rumor - (4/26/19) OrlandoWeekly is hearing that the long-term plan to replace Wild Arctic at SeaWorld Orlando may be replace the attraction's aging simulator fleet with a new modern Flying Theater style attraction at some point down the line. With the San Diego park also looking to replace their attraction sooner than later, I do have to wonder if the California park might get the Flying Theater first.

???? - Orca Encounter - Planned - (11/2/18) According to a translation of this Brazilian article about SeaWorld Orlando, a SeaWorld Orlando rep confirmed that the park's One Ocean killer whale show will continue throughout 2019, rather than be replaced by a purely educational based show, like what was done at the San Diego park. What happens in 2020 has yet to be determined however.

(7/23/18) While the Shamu Show at the San Diego park was turned into an education only show and the stage set transformed dramatically for 2017, thus far there has been no indication that SeaWorld is still planning on going forward with similar plans to do the same to the killer whale stadiums in San Antonio or Orlando just yet.
(1/18/18) I'm told that an Orca Protection Act bill is being worked through the Florida Senate currently that is said to be similar in nature to the one already passed in California and is obviously something being put on the books specifically with SeaWorld in mind.
According to the text of the bill, which hopes to take effect by July 1, 2018, any orca located in the state of Florida as of July 1, 2018 may continue to he held in captivity for entertainment purposes until Dec. 31, 2019... but thereafter it may only be used "for educational presentations only."
While SeaWorld Orlando has yet to put any kind of real timeline down on paper as to when the current Shamu show will end and the new educational only Orca Encounter presentation format will take over, it looks like the state is effectively giving them a deadline to make it happen.
(3/17/16) SeaWorld has announced that starting today they will end their Orca / Killer Whale breeding program, and that the animals currently in the park's care will be the last generation of orcas at the SeaWorld parks. They did note that at least one of the whales, Takara, is currently pregnant, so there will be at least one more baby to be born, keeping in mind that they have a gestation cycle of 17-18 months.
SeaWorld also announced that their new "Orca Encounter" program that will see the park's current theatrical style show in San Diego transformed in 2017 into an educational experience focused on enrichment, exercise, education and conservation, will be followed by similar updates of the facilities at the San Antonio park (assuming in 2018) and then the Orlando park by 2019.
SeaWorld also announced today a broad new partnership with the Humane Society of the United States (HSUS) to protect our oceans and the animals that call them home. The company is committing to educating its more than 20 million annual visitors on animal welfare and conservation issues through interpretative programs at the parks and expanded advocacy for wild whales, seals, and other marine creatures.
"We are pleased to join with HSUS on the significant issues facing marine mammals and their ocean homes," said Joel Manby. "The work done by zoological facilities like SeaWorld is critical for the protection of animals in the wild, especially marine mammals. To that end, SeaWorld has committed $50 million over the next five years to be the world's leading marine animal rescue organization, to advocate for an end to the commercial killing of whales and seals and an end to shark finning."