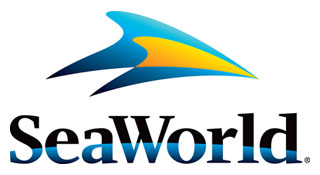 SeaWorld Orlando
Discovery Cove and Aquatica
SeaWorld Parks & Entertainment
---- THE LATEST BUZZ ----
(6/17/14) New Sea Lion & Otter Show This Fall/Winter (MORE...)
(6/16/14) Possible Changes To The Sea Lion Show (MORE...)
(5/20/14) Price Increases and Ihu's Breakaway Falls Review
(5/2/14) Raises Parking and Makes Whale Trainers Look Like Navy Seals (MORE...)
Attraction Rehabs - The following information is not guaranteed to be 100% accurate.
Sea Lion & Otter Show - Fall 2014
Park News - (6/17/14) Screamscape sources tell us that the Sea Lion & Otter show will indeed reopen from this fall's rehab with an all new show, tentatively titled, Clyde & Seamore: Back To School.
(6/16/14) I'm hearing that the Sea Lion show will close for a lengthy rehab sometime this fall. No word on if this is just a refurbishment of the existing facility, or if they will finally add a new show.
(5/22/14) The SeaWorld Parks have launched all new version's of their official park smartphone Apps (Discovery Guides) earlier this year, and the improvements just keep on coming. I'm told that the ability to purchase QuickQueue to cut to the front of the line will soon be coming to the app itself, which means you can upgrade your experience from within the actual line you are trying to skip.
Other new additions include GPS enabled park maps, real-time updates of park show schedules and special events, current ride-wait times, the ability to receive broadcasted park notifications and special offers, and soon will also give you the ability to order your food online from select locations so you don't have to wait in line to order.
You can download the official Discovery Guide apps for the SeaWorld, Busch Gardens and Sesame Place parks for free in both: Apple (App Store) and Android (Google Play) flavors.
(5/20/14) Both Busch Gardens Tampa and SeaWorld Orlando have raised their ticket prices this week. Admission to Busch Gardens Tampa is now $95 for both adults and children, though there are many discount offers available online if you buy in advance. Admission into SeaWorld Orlando is $95 for adults and $90 for children (3-9). Parking is $17, and $22 for preferred parking.
(5/2/14) The Orlando Sentinel reports that SeaWorld Orlando has raised their parking fee to $17 this week and $22 for Preferred Parking. Parking also rose at Aquatica to $13.
In other news... if the killer whale trainers look a little strange to you this year, you would be right. According to the Orlando Sentinel they are all now required to wear a new inflatable safety vest that also contains a mini scuba oxygen tank. So now, not only are they still forced to stay out of the water with the whales, but now they have to wear this odd new black safety vest… just in case they do end up in the water.
I do have to laugh a bit when the park's head trainer, Kelly Flaherty Clark says, "I don't think the guests even notice that it's there." I don't know how they think the guests can miss it, as the vests almost have a military gear kind of look to them, giving the trainers a bit of a Navy Seal look now. Watch the video and see for yourself.
(4/15/14) The Viva La Musica Saturday concert series will arrive soon at SeaWorld Orlando, a celebration of the sights, sounds and foods of the Latin culture. Concerts scheduled for this year include:
April 26 – Chino y Nacho
May 3 – La India
May 10 – Victor Manuelle
May 17 – Olga Tanon
(4/3/14) OrlandoParksNews reports back from SeaWorld Orlando's Just For Kids special event weekend offerings.
(3/18/14) SeaWorld Orlando's Just for Kids Festival will return on Saturdays starting March 22nd through April 12th. New this year will be the Rockin' Rockhapper Party, the new SEA Garden, along with returning favorites like the Shamu Dance Party, Ocean Adventures Kids Program and more. Click here for the official details.
(3/17/14) Good news for Orlando theme park fans… because despite the ticket price increases that took place at Walt Disney World and Universal Orlando over the past month, SeaWorld Entertainment says that they have no plans to raise their own ticket prices to match… for now at least. They feel that they already made some aggressive ticket price increases in 2013 and did not want to do it again. If they do choose to raise to eventually raise their ticket prices, it wont happen until June or July according to the Orlando Biz Journal.

(3/13/14) A new photo construction update shot all around the park, as well as taking a look at the progress on the new slide at Aquatica was posted to OrlandoParkNews.
(3/4/14) SeaWorld Orlando has announced the final concerts for the last weekend of Bands, Brew & BBQ: Hank Williams, Jr. on Saturday and Alabama on Sunday.
(2/26/14) Along with Scotty McCreery playing at SeaWorld's Bands, Brew & BBQ event this Saturday, the Steve Miller Band will perform on Sunday. Both concerts start at 4pm.
In other news, Busch Gardens Tampa and SeaWorld Orlando are offering a special "$50 Weekday Ticket" offer. This special ticket will only be sold for 50 days and is good for a single weekday admission to either park, to be used anytime between now and May 5th, 2014… including Spring Break. You can purchase this from either park website or call 888-800-5447.
(2/24/14) OrlandoParksNews takes a look around SeaWorld Orlando this week to check out the various little construction projects in the works like the green walls up around the Sea Gardens area (rumored to be for a new Sea Rescue themed display) as well as what's going down in Shamu Stadium.
(2/19/14) SeaWorld Orlando reports that the weekend's entertainment for Bands, Brew and BBQ will be The Commodores on Saturday (Feb. 22) at 4pm and Justin Moore on Sunday (Feb. 23) at 4pm. NOTE: Justin Moore is one of only two of the park's original slate of acts who stood their ground and kept their concert dates when the others backed out. The other one is Scotty McCreery who will perform Saturday, March 1st.
(2/13/14) Another pair of huge shows slated for SeaWorld Orlando this weekend… breaking the mold again with better acts than the ones that bailed out on them:
Sister Hazel will perform on Saturday, February 15th
Larry the Cable Guy will perform on Sunday, February 16th.
(2/12/14) I'm told that big green construction walls are now up blocking off what used to be the Clydesdale stable area of the park. If the latest rumors are true, this area of the park may be converted for use into an educational display area that talks about SeaWorld's animal rescue program and their latest success stories.
(2/6/14) More huge news from SeaWorld Orlando this week as this weekend's entertainment lineup has been announced as:
Country star Gretchen Wilson will plan on Saturday at 4pm (Feb. 8th) and
Comedian Bill Engvall will perform on Sunday at 4pm (Feb 9th).
Again… SeaWorld is bringing out the big guns after packing in huge crowds last weekend, be sure to get their early for these acts this weekend. And bravo for thinking outside the box and nabbing a big name and popular comedian to perform. Surviving years of hecklers, comedians have evolved to have far stiffer backbones and don't bow to pressure as fast as the previously booked fading musical acts did.
(1/30/14) SeaWorld Orlando has announced their first two big-name concerts coming this weekend to open the Bands, Brew and BBQ event at the park: While I'm not familiar with Alan Jackson as Country Music is not my thing, nabbing a major name like Kid Rock is quite impressive. Look for the announcements for the upcoming weekends to also be delivered as a surprise a few days ahead of the each event.
Saturday, February 1st - Alan Jackson
Sunday, February 2nd - Kid Rock
(1/27/14) According to a Facebook posting discovered by Behind the Thrills, Patrick Gibson has posted a photo saying that he will be performing at SeaWorld Orlando on March 9th and shows his support of SeaWorld and what they do.
(1/22/14) According to the Orlando Sentinel OSHA is now conducting their own investigation into the history of their very own investigator, Lara Padgett and her likely connections to the makers of Blackfish and other possible animal rights members.
According to the article, SeaWorld is aware of Padgett's "affiliations" and issued the following quote: "As we've said all along, the film is misleading, inaccurate and agenda-driven. To build its anti-captivity narrative, it relies on the accounts of people who are animal activists, and are anything but objective in their point of view," SeaWorld said. "Ms. Padgett appears to be one of them. While we have been aware of this association, because our OSHA case is still pending before the U.S. Court of Appeals, it would not be appropriate for us to comment further."
In other news the family of Dawn Brancheau have also issued an official statement about Blackfish on the official Dawn Brancheau Foundation website.
(1/21/14) In a development I find completely shocking, the latest MiceChat posting has uncovered a whopper. Scroll down past all the animal pictures towards the bottom of the update and they have uncovered two different pictures of the cast of Blackfish that include a very special VIP in the group who they have identified as Lara Padgett. As in… Lara Padgett, the lead OSHA Investigator charged with running the whole SeaWorld Orlando investigation. Lara Padgett was also involved with the appeals hearings and has testified on behalf of OSHA in the hearings against SeaWorld. And she did all this… while somehow moonlighting to attend the Sundance, New York and Sarasota premiers of Blackfish along with the film's Director and other cast members.
Seriously…
Not only does SeaWorld's legal team need to jump on this, but OSHA really needs to check themselves as well, as their impartial investigator seems to have developed a close alliance, perhaps even sharing a professional agenda, with those who would love to see SeaWorld shut down. In short, I would think this would put every bit of evidence, every report and every testimony from OSHA entered thus far on the matter under careful re-examination with a microscope. If nothing else, Lara Padgett needs to be removed from this investigation due to a possible conflict of interest.
On a semi-related note, SeaWorld has launched their own new webpage featuring SeaWorld trainers from the present and past, who have come forward and on camera to tell the "Truth About Blackfish", and why it is a piece of propaganda and not a documentary. Read it, watch the videos and learn the truth.
(1/17/14) SeaWorld reports that they will launch a new night show at Shamu Stadium this summer at all three SeaWorld theme parks (San Diego, Orlando and San Antonio), retiring the old Shamu Rocks show.
(1/14/14) Apparently the whole Blackfish maelstrom the SeaWorld parks have found themselves in has done nothing to curb the public's desire to visit the parks. According to the pre-announced Q4 results, SeaWorld was not only pleased with their performance, but reported that the Orlando and San Diego parks helped them achieve record setting revenue for the year. The full results announcement will be released in March 2014.
Speaking of Blackfish, another former SeaWorld trainer who was actually used in the film itself, Mark Simmons, has now come forward to say that he regrets his association with the film, but that his first reaction upon seeing the final cut absolutely sickened him. According to Mark, "It was masterfully woven with lies and disinformation and just enough truth to convince almost anyone that didn't know better. Worse, not an ounce of the counterpoints I provided for the film were used. In fact, what Gabriela used made my position appear congruent to that of the film's claim. I was embarrassed and, to some degree, initially I was angry."
The complete interview can be read over at MiceChat and is quite the eye opener, as Mark openly talks about the other people involved in the film, what tales were told to get him to participate and how he wasn't even allowed access to see the finished film until it was aired on CNN for the world to see. Then he was shocked to find that his 3 hour interview on camera has been trimmed down to almost nothing, altered and his 27 years of experience taken out of context, while Samantha Berg who only has 1 year of time with the whales and absolutely no experience with Tilikum at all, became one of the dominating voices of the finished film. Why? "Because the things I said flew in the face of the movie's clear agenda. What I contributed did not support Gabriela or Tim Zimmerman's intent with the film. I worked with Tilikum, cumulatively, much more than all of the other trainers put together."
According to Simmons, other lies and complete fabrications in the film include:
Dawn's arm was not swallowed by Tilikum, the story told by Jeff Venture about how he was asked to destroy a video tape of the show, the issue of how baby whales are separated from their mothers and the events leading up to the accident with Dawn. Please do give the interview a read.
(1/10/14) Just when you wondered if the boiling water of Blackfish was done, an amazing and shocking report has come out this week from Mice Chat and they interview Bridgette Pirtle a former Killer Whale trainer from SeaWorld Texas who was also involved with the production of the film Blackfish.
In short, Bridgette Pirtle has held her silence for long enough and has decided to come forward and expose the lies and manipulations told by Blackfish and the film's director Gabriela Cowperthwaite. Please educate yourselves and give this important article a full reading.
(12/23/13) In a long awaited move, SeaWorld finally decided to publish their own response to try and address many of the accusations made against them in the film Blackfish. The letter is titled, "SeaWorld: The Truth Is in Our Parks and People" and I recommend you read it yourself here, as until now SeaWorld has sat silent, allowing the supporters of Blackfish speak their mind without rebuttal.
I have also linked to an incredible article written by a former SeaWorld employee which I feel is also very educational, addressing many of the issues at hand, item by item, in a very clear and straight-shooting matter, while still agreeing with the idea that "whales do not belong in captivity".
(12/3/13) SeaWorld's Shamu / Killer Whale show will be closed for about 3 months starting in early January 2014 and reopen sometime in early April 2014 in order to perform an extensive rehab on the main show pool that will include repainting the entire surface as well as replacing the extremely thick sections of plexiglass that surround the outside area near the lower show seats.
The suspension will also see the park's Dine With Shamu restaurant closed as well for the same time period in order to reuse the space as "Shamu Up Close", where guests will see a presentation about whale interaction and training methods.
2014 - Sea of Surprises / 50th Anniversary Celebration - (3/17/14) A few new details about what SeaWorld Orlando will be doing for the chain's 50th Anniversary celebration were sent my way this weekend. Look for all Crew Members to spot a new special 50th Anniversary name tag this summer. The 50th logo is also being added to the lighthouse out front right now, the entrance sign to the parking lot, as well as a secret new "statue" of some kind going in front of the Cypress Bakery.
The 50th logo will also be placed on a giant themed wrap being added to the Skytower cabin right now, and you might want to keep your eyes open while inside the park for secret 'prize patrols' roaming the park bearing gifts. I'm told there is also going to be some kind of quiz game you can play on a mobile phone, where if you score high enough, you can win a free Shamu Ice Cream Bar. Other attractions being added this summer include a new night show at Shamu Stadium, some kind of "Wagon" in front of Nautilus Theater that will spray guests with water, a new character roaming the park in a 'mobile bubble lab' who is seeking to create the 'perfect bubble' and much more.
(6/12/13) A new 18-month long celebration event called A Sea of Surprises will kick off on March 21st, 2014... marking the 50th Anniversary of the grand opening of the original SeaWorld park in San Diego. All three SeaWorld parks in San Diego, Orlando and San Antonio will join in the epic celebration that will see a variety of special experiences added, new shows, pathway performances (aka: Splash Mobs), animal encounters and you may get a visit by the Surprise Squad who will be wandering the park treating guests with special prizes each day.
New giant sea life sculptures will also be put on display and the parks will offer new enhancements and digital services and special park apps to provide a new way to experience the park. Look for the official details to be released, piece by piece at the official 50th Celebration website starting this fall. As for now... check out this video preview of what's on the way.

2014 - Aquatica: Ihu's Breakaway Falls -

(5/20/14) Ihu's Breakaway Falls is now open and Screamscape's local man on the spot, Keith, was on site to take the plunge. I'm sorry this review is a little late, we were having some communication issues involving this story that were just resolved. In any case, lets see what Keith thought about Ihu's Breakaway Falls!
"Last Thursday, I got to be among the first to ride Aquatica's new Ihu Breakaway Falls waterslide attraction. These slides literally take your breath away. The thrilling drop, the high speed turns and twists make this an attraction only for the true-thrill seekers. It is definitely a 10 on the thrill-meter for sure.
You have the choice of four different slides, each offering a slightly different experience. There are three drop pod slides: Orange, Blue, and Green, and one traditional slide: Purple. They all feature a straight drop off start followed by a fierce set of high speed spiraling turns taken at extremely high speeds.
Tip! Hold your nose and take a big breath before you drop if you can.
If you are up for the 126 step journey to the top of the tower, you are in for the thrill of your life!"
Chatting with Keith about his experience shortly after he took the plunge, it sounds like Ihu's Breakaway Falls may have set a new threshhold for the amount of thrills the human body can handle on a traditional body slide. He described the out of control experience to me as pure chaos from start to finish, and only when it was over did he feel like he could finally catch his breath. Having taken on many impressive waterslides alongside Keith over the years, his comments speak volumes to me about the intensity of Ihu's Breakaway Falls. Sounds like Orlando has a new king of the "slide" mountain.
(4/26/14) Aquatica opened Ihu's Breakaway Falls to park guests briefly yesterday and shot some video of the action and guest reactions that was posted to Facebook.
(4/22/14) A new video showing off the progress on Ihu's Breakaway Falls was posted by Aquatica this week. This one includes a view from the top and shows off the massive custom roof being put onto the top of the tower.

(4/10/14) Screamscape sources tell us that Aquatica is set to begin employee 'testing' of Ihu's Breakaway Falls as early as April 22nd. You can't beat getting paid to test ride the new waterslide. Good times…
Meanwhile the park has also installed the last slide section earlier today and sent out a new photo of it being hoisted into place.
(4/7/14) The latest picture of Ihu's Breakaway Falls sent in shows off a fairly complete looking slide tower at this point. Looks like the three main slides are in place now, droping through the floor of the tower, with the 4th non-DropPod purple slide still awaiting to be attached to the top of the tower.
(3/28/14) A great new picture showing off the progress made on Aquatica's new waterslide was sent in this week. You can see a couple different colored tubes rising up from the ground to the tower, but for some reason they have removed the Drop Pod they put in place last week.
(3/21/14) Aquatica reports that they have installed the first of the three 'Breakaway Box' units (aka: Drop Pods) onto the top of Ihu's Breakaway Falls tower. (See photo)
(3/14/14) A few new details have come out about Ihu's Breakaway Falls. The slide tower will offer FOUR entirely different slide paths… the three at the top that start off inside the drop pods plus a forth open slide experience. Watch Part 1 of the new Behind the Falls video series about the making of the attraction below.

(3/6/14) Vertical construction on Aquatica's new slide has begun, and is already towering into the sky as seen in this new picture sent in by a reader.
(2/24/14) Aquatica Orlando has confirmed the details for the new Ihu's Breakaway Falls, features three different high speed enclosed drop slides that wil begin with sliders facing each other from the confines of different drop pods, at the top of a 105 foot tower. Each of the three slides is supposed to offer a different twisty layout on the way down, and what I really like is that apparently the drop sequence will be random. You wont know which pod will drop first, or in what order. Look for Ihu's Breakaway Falls to open on May 9th. Watch the promo video below!

(11/13/13) Aquatica Orlando will open Ihu's Breakaway Falls in 2014. According to the text sent out with a new video teaser, "Get ready to brave a watery free-fall at Aquatica Orlando's all-new water thrill slide coming in 2014 -- Ihu's Breakaway Falls. The drop slide will be the tallest, steepest and only multi-slide ride of its kind in Orlando.The slide is named after Ihu, Aquatica Orlando's colorful gecko, who searches for the biggest thrills, steepest hills and the coolest spills in the waterpark."
Unfortunately that's all the details we have available at the moment… so stay tuned!

2015/2016 - New Attraction and Future Expansion Plans - Rumor - (10/23/13) Aquatica continues to tease their #NothingTaller campaign for the new 2014 attraction, this time with a new teaser video. This new video, without showing much, teases the idea of a Drop Pod style device, which doesn't make a lot of sense as there are plenty of drop slides in the area taller than 105 feet. Plus there is the matter of those previously leaked plans to consider that appear to show something more like a raft style Boomerango style slide experience and not a body slide with a drop pod. Curious...
Of course I do have a theory… perhaps a somewhat tall drop slide experience is on the way in 2014 and those Boomerango style plans are perhaps destined for a larger 2015 expansion. After all, it is nearly the end of October and they have yet to begin construction on them, so it would be difficult, if not impossible to build something as impressive as those plans seemed to indicate for Spring 2014.
(9/27/13) It looks like Taruka Rush wont be the name of the new attraction in the works for Aquatica Orlando. SeaWorld Parks has let their trademark registration for that name die and so far has not filed for a new replacement. Keep your eyes open.
(8/4/13) The Screamscape Spy Network came through again with a look at the Aquatica Expansion Plans. These plans go beyond just adding a new attraction, but instead seem to set up the park for a whole wave of future expansions over the next decade. Going back, it looks like our first report may have been right about the location of the new slide going between the wave pool and Omaka Rocka.
While this isnt' a big space… tha

t wont be a problem it seems as the plans show that the exit road from the parking lot that runs by here will be removed and relocated to exit further to the south. Take a look at the first image and you'll see a very large new attraction has been designed to connect next to the exit of Omaka Rocka and across the road and into new untouched property. The parking lot here will also be changed a bit, and looks like they will add a new bus parking lot, more regular parking as well as a new exit road that may send all the exiting traffic down towards the hotels to the south of the property, allowing for the park to eventually expand to fill out the rest of the available property. You'll notice an employee access road has also been drawn in around the entire expansion perimeter, just as it services the perimeter of the existing half of the park.
Now lets look closer at the new attraction itself. It's kind of complicated, and I'm going to make a few educated guesses based on what we've seen SeaWorld build at Aquatica in Orlando as well as in Texas. Essentially I think we may be seeing a merger of sorts of the Texas park's two major attractions concepts: Stingray Falls and Wahalla Wave. Wahalla Wave is a ProSlide Tornado Wave (Proslide's take on the Boomerango concept). Stingray Falls is a family raft slide, than ends with a trip below the surface where you float through an underwater viewing tunnel to look at Stingrays and tropical fish before the ride comes to an end.
The new attraction tower appears to be the starting point for two separate Tornado Wave style slides, where the riders were drop into the half-pipe style structure, reverse direction and both enter into a splashdown pool, where both will connect to the start of what looks like a lazy river portion of the ride. From here, I can only guess that riders will continue the journey in their rafts down through a twisting course, past possible new animal exhibits and possibly underwater viewing opportunities before disembarking their rafts.
This should provide a high-throughput opportunity for all guests to experience a true Aquatica style waterslide and animal habitat experience. Currently the only such attraction in the park is the Dolphin Plunge slides, which always has some of the longest lines in the park. Guests in the lazy river can also briefly pass through an underwater viewing area looking into the same exhibit area to see the occasional slider whiz past through the clear tubes, as well as passing by another underwater viewing panel into a tropical fish exhibit.
SeaWorld Parks has filed the name "Taruka Rush" with the US Trademark office back in September 2012 and to date and is still listed as being active, even though they haven't used it for anything yet. Sounds perfect for this new attraction and themed area I think.

The Future - Wild Arctic Replacement - Rumor - (7/20/11) We've talked a bit about rumored future projects said to be on the way for SeaWorld Orlando over the next couple of years, but what else may be on deck long term? Apparently the new management has come to terms with the fact that Wild Arctic just isn't a big draw anymore and said to be pondering possible solutions to the problem.
Unlike any other simulator ride, it just isn't as easy as reprogramming the ride itself to use a new movie because the ride exits into the massive Wild Arctic themed animal habitat area, so a new Arctic themed ride may be the only item to fit the bill. While I'm sure they could rework the flow of traffic through the building if necessary with some structural modifications to turn the structure into two separate attractions (New Ride and Animal Habitat) I'm not sure if they area ready to take the easy way out just yet. They also have to consider that whatever they do in Orlando, they will likely end up doing in California as well to the Wild Arctic attraction there, and find a way to make it work for both.
The one item still keeping Arctic the same for the next few years is the special deal the park signed to convert the ride into a Polar Express ride for the holiday season, which has been quiet a popular attraction with the guests, and likely a big reason behind the reason they are looking into new ideas for the future. I'm told that this winter is actually the last year for the Polar Express contract, though the holiday attraction is so popular, an extension is likely to be signed for keep it going for a few more years.