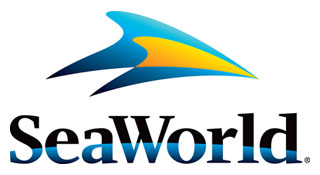 SeaWorld Orlando, Discovery Cove and Aquatica
SeaWorld Parks & Entertainment

---- THE LATEST BUZZ ----
(5/11/13) New updates from SeaWorld's Antarctica this week. (MORE...)
(4/25/13) New updates for Antarctica as well as rumors about a new shrinking summer fireworks finale
(4/12/13) SeaWorld Orlando invited a few special guests to tour the new Antarctica: Empire of the Penguin attraction area this week. (MORE...)
(4/2/13) A picture showing off what appears to be one of the icy archway entrances into the new Antarctica themed land was sent in by a reader today. (MORE...)

Attraction Rehabs - The following information is not guaranteed to be 100% accurate.
Nothing is known at this point in time...

Park News - (4/25/13) An interesting rumor has been posted to OrlandoParksNews, claiming that SeaWorld Orlando may be planning some kind of new nighttime event to replace the typical summer Reflections fireworks/projection show on the lake.
According to Screamscape sources, this is true… and instead of a big show on the lake, what we are looking at instead is more of a fireworks finale attached to the end of the Shamu night show. With the heavily curved seating area in the stadium (not to mention the roof and giant supports to hold it up) the viewing angles are likely going to be terrible for this.
(3/22/13) Insiders tell me that SeaWorld has changed the way guests can redeem the Second Day Free tickets. While guests can take advantage of this offer for free for every "Full Price" ticket purchased, you have to do it at the "Vacation Experience Center" by 3pm. (Where you will be apparently bombarded with annoying propaganda to attempt to get you to sign up with a timeshare program.) If you want to get your tickets after 3pm, you can go to the Information and Reservations counter, but you will be charged a $10 fee for each ticket. So... not quite as free as advertised, unless you enjoy battling the TimeShare Hordes.
Keep in mind this is entirely separate from the park's own, and better offer of a Fun Card. You can simply just buy a Fun Card which costs the same as a full day's admission, and get into the park as much as you want through December 31st, 2013. It's hard to beat that deal.
(3/15/13) SeaWorld Orlando has released the concert schedule for this year's Viva La Musica event starting on:
April 13 - Daddy Yankee
April 20 - Willie Colon
April 27 – Grupomania
May 4 – El Gran Combo
(3/8/13) SeaWorld Orlando has brought back their old "Second Day Free" promotion for anyone who buys a full priced ticket. To get the second day ticket guests are sent to a "Vacation Experience Center" which I'm told is essentially a push for a time share program. I'm told that the best way to avoid this is to wait until after 2pm and go to the Information and Reservations desk instead.
In other news it appears that some changes may be in order for the front entrance to SeaWorld Orlando. Guests have reported seeing staff members going over the area with blueprints in hand and taking pictures of the existing entrance. I don't believe this will be a new entrance… but more of a remodeling to streamline and improve the current one.
(2/5/13) I've got the complete Bands, Brew and BBQ concert schedule now, with all the old TBA slots filled in with acts at last. New additions include Darius Rucker, Michael McDonald, Rodney Atkins w/ Uncle Kracker and Sheryl Crow. See sidebar for complete schedule.
(1/10/13) SeaWorld Orlando will host the 2013 Just For Kids Festival on Saturdays from Jan. 12 through to Feb. 2. Special performers will include the Imagination Movers (Jan. 12), Laurie Berkner (Jan. 19), Choo-Choo Soul w/ Genevieve (Jan. 26) and Kratt Brothers / Wild Kratts (Feb. 4). Concerts are included with park admission and will take place at 11am, 2pm and 4pm in the Nautilus Theater. Tickets to attend need to be picked up across from the theater in advance of the show, offered on a first-come, first-serve basis starting at 9am.
Other attractions will include Franklin the turtle near Pelican Preserve, the Elmo Rocks show at Seafire Inn, and the Enhanced Ocean Adventures Kids Program throughout the park. Two different character breakfast options are also offered featuring either Elmo (9am @ Sharks Underwater Grill) or Shamu & Friends (9am & 11am @ Terrace Garden).
(11/2/12) SeaWorld Orlando has bought back the popular Fun Card program in Florida. For the price of a full one-day park admission, guests can get a Fun Card that will allow them back into the park for the rest of 2012 and all of 2013 with no blackout dates. So you'll have your free pass in to see now only Antarctica when it opens in 2013, but also all of the park's numerous special events such as:
Bands, Brew & BBQ – Weekends Feb. 9 to Mar. 3
Viva La Musica – Saturdays Apr. 13 to May 4
Holloween Spooktacular – Weekends in October 2013
SeaWorld's Christmas Celebration – Nov. / Dec. 2013
New Year's Eve at SeaWorld – Dec. 31
Now for the bad news…SeaWorld Orlando has also raised their ticket prices for the second time in four months, increasing their ticket prices to actually match what Universal and Disney charge, instead of staying a bit just below as they have for years. The price of an adult ticket is now $89, up $4, and children are now $81. The price of a ticket into Aquatica went up $5 to $55, and a two-park combo ticket to see SeaWorld and Busch Gardens jumped $4 to $139. The big price hike comes for passholders however, as the cost of an annual pass rises $30 from $119 to $149, a 25% increase. It's also interesting to see that there is no longer a separate price for a child annual pass, both child and adult annual passes will cost the same amount.
2013 - Antarctica - Empire of the Penguin - (5/11/13) New updates from SeaWorld's Antarctica this week. The Orlando Sentinel has confirmed the rumors that the "Expedition Café" restaurant will indeed feature a eclectic mix of international food offerings, reflecting the international flavor and culture of a mixed bag Antarctic research team. A sneak preview of the menu offerings featured a mix of items like: herb rosted chicken, corn on the cob, Italian sweet sausage and peppers, orange chicken, fried rice, southern biscuits and bread sticks. (Screamscape Insiders report that the restaurant will be open as a private preview for park staff from May 15-18th… which makes me wonder if we could possibly see a quiet soft opening of the Antarctica to guests from the 19-23rd ahead of the grand opening on May 24th.
Meanwhile SeaWorld has also announced a partnership with singer Lauren Alaina to promote Antarctica: Empire of the Penguin. She will perform the official theme song for the new attraction at the grand opening event on May 24th. According to the report she has already recorded two songs for SeaWorld, the theme song for the ride itself as well as a remix version called "Antarctica: One World, One Family" which can be downloaded for free here. The link also contains the latest Behind the Freeze video which shows off a preview of the song being recorded as well as some clips which look like they're from a future commercial for the new attraction as well, so check it out.
(4/25/13) SeaWorld Orlando is back with another episode of Behind the Freeze where they talk about Puck, the hero of the new Antarctica attraction, what it takes to bring Antarctica to life as well as the music we'll hear along the way. Start the count-down… it all opens in just 30 days.
(4/12/13) SeaWorld Orlando invited a few special guests to tour the new Antarctica: Empire of the Penguin attraction area this week. Check out pictures of how it all looks from the outside over at BestOfOrlando.
(4/2/13) A picture showing off what appe

ars to be one of the icy archway entrances into the new Antarctica themed land was sent in by a reader today. Enjoy!
(3/15/13) SeaWorld Orlando has finally posted a new Behind The Freeze video showcasing the making of the new Antarctica attraction. This episode is mostly all about the creation of the fake ice we will see in the attraction.
(3/7/13) Channel 13 News got access into a very cool design room for Antarctica full of concept art and a giant scale model of the entire land and attraction. They also confirm some interesting new details about the attraction. While inside the attraction, you will indeed share the same fronzen environment as the penguins… which means it will be cold inside. They wont say just how cold it will be, but as man-made snow will be falling inside the building, the temperature will need to be at least 32º or below. They have also confirmed that there will not be any kind of "parka rental", as a reference to the temporary parkas you wear when visiting the seasonal "ICE" attraction at the Gaylord Palms… so get ready to freeze.
(2/25/13) I've got a few more little details about what we can expect to find inside the new Antarctica are when it opens in May. I've been told that the dinning area will be themed as a "Mess Hall" location for the arctic research base crew. As for those famous penguin "smells" that the old Penguin Encounter was infamous for leaking out into the nearby area, SeaWorld says that special engineering has gone into this new exhibit area to make sure that any smells inside are contained within the building.
That said, once your smack dab in the middle of the ride experience, which will likely be the coldest indoor "ride" ever built, you will be put right into the penguin habitat in areas where there is no glass or air-filtration system to get between you and the smell of Antarctica. This is going to be one heck of an experience for all of your senses to be sure. I can't wait to find out more.
(2/21/13) SeaWorld has confirmed that they plan on opening the new Antartica attraction on May 24th, just in time for the busy Memorial Day Weekend. While the SeaWorld / Busch Gardens parks were never really known for Soft Opening, I'm hearing rumors that due to the high-tech nature of this attraction and how much they have running on this major expansion, we could see some previous rides quietly given as early as two weeks out.
(2/20/13) SeaWorld Orlando sent us a few sneak-peek pictures showing off the construction site for Antarctica: Empire of the Penguin. This must-see new attraction, "will transport families into a rarely seen, icy world. They'll feel the majestic grandeur of the South Pole and see it through the penguins' eyes on an exhilarating, first-of-its-kind family ride. They'll explore a massive penguin colony in an expanse that envelops them in cool extremes, both above and below the penguins' icy world. It's a must-see, one-of-a-kind theme park experience only at SeaWorld in Orlando." They have also made an official Antarctica app available for iPhones and Android devices, so click here for more information on how to download.
Meanwhile the park did offer a tour of the construction site to a few local groups, and you can see pictures and coverage from the tour posted to Behind the Thrills this week.
(2/7/13) A few new pictures of Antarctica construction posted to the Orlando Sentinel show that themed walls of ice and rocks are show starting to be seen poking out from behind the construction barriers.
(1/28/13) OrlandoParksNews has posted a new construction update from SeaWorld Orlando this week, with a good look at that goings on in Antarctica as well as the Journey To Atlantis ride.
(1/14/13) FloridaThrills takes a up close look around the Antarctica project this week, as well as looking over the work taking place on Journey To Atlantis, currently closed for winter rehab until January 27th.
(12/18/12) A new construction update from SeaWorld showing off the new Antarctica area has been posted to OrlandoParksNews this week. Meanwhile SeaWorld has also released the latest Behind the Freeze video showing off the making the new attraction. The video shows off a couple of cars making test move patterns along side each other and showing off the motion base functioning with test riders on-board. A computer animated segment also shows off one of the cars parked in front of a multi-media wall projection for a video segment of the attraction experience as well. (On a side note… is it just me or is Brian Morrow starting to remind anyone else of Dr. Nick from the Simpsons as he starts off every video appearance with a "Hi Everybody!".)

(12/3/12) OrlandoUnited has posted some great aerial photos of the new Antarctica attraction area at SeaWorld under construction.
(11/19/12) The latest edition of SeaWorld's Behind the Freeze video out the new Antarctica attraction has been posted to YouTube, showing off a detailed look at the new ride car, including a brief clip showing off the car actually in motion, as well as the hidden motion base tipping it as it moves.

(11/16/12) A press release from SeaWorld about the new trackless ride car that you will ride on Antarctica: Empire of the Penguin describes it not just as a trackless dark ride car, but as a mobile simulator who's movements will will allow you to become one with the storyline as you follow a young penguin's adventures. They also say that "Guests will also be able to choose one of two levels of adventure to experience Antarctica – Empire of the Penguin. This will allow the whole family to enjoy the attraction at their own pace."
This last part is a bit interesting, though they don't get into more detail, I have to wonder if the two levels are a way of cranking up the thrills for those seeking adventure, compared to a more mild tour experience for those visiting with Grandma. (She's got a back back don'sha know?) In case anyone was wondering, the ride hardware for the new system comes from Oceaneering, who are apparently also looking to sell the system to other interested parties as well.
(11/14/12) SeaWorld Orlando revealed a close up look at one of the new ride cars for the Antarctica: Empire of the Penguin attraction. The Coaster Crew were on site to see the announcement as well as chat with Brian Morrow, Creative Director of SeaWorld Entertainment all about what we can expect to experience with this new unique attraction. They even get to climb aboard to test out the seats.
Speaking of the new ride, be sure to check out AmusementPics who posted some new construction pictures from the park as well this week.

(10/23/12) A new Antarctica construction update can be found over at OrlandoParksNews this week.
(10/16/12) Three new construction pictures of the Antarctica project area have been posted to ThemeParks-US this week.
(9/19/12) SeaWorld Orlando has launched a dedicated website for the new Antarctica: Empire of the Penguin attraction this week. Look for more content to be added as the weeks pass, as they take us deeper inside the new attraction while under construction.
(9/18/12) SeaWorld Orlando has posted a new preview video showing off a bit more about what we can expect to experience from their new Antarctica attraction in 2013.

(9/5/12) A reader sent in a couple of interesting exclusive photos from the Antarctica construction site where it looks like crews are setting a huge piece of plexiglass into place for a part of the exhibit.
(8/28/12) Head on over to OrlandoParksNews for a new look at SeaWorld's Antarctica attraction which is getting bigger every day.
(8/15/12) Behinds the Thrills takes a peek over the walls into Antarctica where the steel has been rising on the new attraction building at a rapid pace. Check it out.
(7/31/12) OrlandoParksNews reports in from the SeaWorld to check on the progress of Antarctica this week as vertical construction is starting to pick up speed.
(7/21/12) A new preview video showing off new details about SeaWorld Antarctica – Empire of the Penguin ride. According to the video, it appears that guests will disembark from their trackless ride cars end their experience by getting off inside the cold penguin habitat and walking through the exhibit… from the inside. Don't worry, it looks like there are waist high barriers in place to keep the penguins from following you home.

(7/3/12) Vertical construction has begun on the Antarctica expansion at SeaWorld Orlando at last. Check out the latest progress over at OrlandoParksNews.
(5/9/12) A new Antarctica construction update has been posted to Orlando Park News.
(4/25/12) SeaWorld Orlando has released new concept artwork and details for the 2013 attraction: Antarctica – Empire of the Penguin, which now clearly shows off that rumored trackless dark ride style car.
They report that the attraction will be a first-of-its-kind family adventure ride that will include technology allowing for the experience to change from visit to visit. Guests will also be able to choose the "level of thrill" that they wish to experience inside the 8-passenger car. The attraction will introduce guests to a new SeaWorld character… a young gentoo penguin who will become your guide and lead you through a journey into the dangerous and wondrous beauty of the Antarctic.
They'll experience the mystery and wonder of life on the ice through the eyes of a penguin, sensing the beauty and drama of their often-dangerous habitat. Antarctica – Empire of the Penguin combines closer-then-ever animal connections with state-of-the-art interactive ride technologies for adventures that are different each time.
So what will you see? Well… they're still pretty mum on that subject, though they claim you will get closer than ever – and out among – their colony of penguins. This also means that this will be the coldest theme park attraction in the world, where the penguin's habitat must stay in the low 30's for their comfort. That said… I hope they find a way to keep guests warm if need be, because riding this after getting a soaking on Journey To Atlantis is not going to be a fun experience.
(4/10/12) Today we get a look at the work taking place behind the old Penguin Encounter building, as seen from Kraken's brake run.
(3/30/12) AmusementPics has sent in new pictures from SeaWorld Orlando as a large area around the former Penguin Encounter building is being excavated for the new attraction building.
(3/14/12) ParkRumors has scored a new look at plans for the new Antarctica – Empire of the Penguin area this week. From the look of things, the gift shop and restaurant buildings will be essentially kept… but modified and expanded upon. The biggest change will take place on the old exhibit building itself, as it looks like they will keep the old backstage area of the building, but greatly expand upon it for the new attraction building.
Speaking of which, ParkRumors has spied what looks like five pre-show rooms with room for 8 riders… all waiting for little strange disc shaped cars. There is no clearly defined track or even a series of hallways to set up a track path through the building, so either it was omitted, or they speculate that we could be looking at a trackless ride system.
Meanwhile head over to AmusementPics to see the current status of the entire site, where it looks like they've demolished most of the old Penguin Encounter building, including the old exhibit area. (You can see the blue paint from where the water was just in front of the glass window along the moving walkway path.)
(12/27/11) According to the official SeaWorld Orlando website (scroll down) the Penguin Encounter, Friends of the Wild gift shop and Antarctic Market Restaurant will all close down for good starting January 3rd.
(11/11/11) In 2013 SeaWorld will open one of their biggest projects to date, Antarctica – Empire of the Penguin. This huge new highly themed area will take the place of the current Penguin Encounter plaza and allow guests to "Explore the frozen wildernesses of the Antarctica through the eyes of the world's most loved bird - the penguin.
Antarctica - Empire of the Penguin will take guests on a journey like no other to the coldest and most barren place on earth with a state-of-the-art interactive ride combined with an animal attraction. More details to follow.... for now it's on ice."
(10/10/11) The Orlando Sentinel has posted their own report on the various new projects SeaWorld has in the works right now. The park has now filed the necessary paperwork with the county confirming plans to replace the current Penguin Encounter attraction area with something new for 2013. The current exhibit will close in December to begin the 18 month long construction project, starting with the demolition of the existing structure. The park has also trademarked the names 'Antarctica" and "Empire of the Penguins", possibly for use here.
(9/2/11) Screamscape sources have reconfirmed that plans are still in the works to bring a dark ride to the new Penguin Encounter revamp project area, in addition to a new Penguin attraction and a restaurant. No word on what kind of ride it will be, but we can expect to see demolition begin on the current area buildings in early 2012.
(8/29/11) While the rumors of a total redevelopment of the Penguin Plaza area are still alive, I have not heard a peep about that rumored dark ride concept in some time, which is unfortunate for Dark Ride and attraction fans in general. In addition, the rumor of somehow connecting the new Penguin replacement exhibit to a large new restaurant has also come to light. However… anyone who has visited any Penguin exhibit at any park or zoo anywhere can attest the cute buggers rank a bit towards the top on the Stink-O-Meter… maybe a level or two below Skunks and Roadkill. So I've got to question to wisdom of attaching a Penguin exhibit of any kind with any kind of establishment meant to serve food… unless they're going to go the extra mile to make the exhibit run as it's own air-tight eco-system to keep the noxious fumes in place.
In related news, SeaWorld Parks has filed for a couple of interesting trademarks this month: "Snowworld" and "Antarctica", both of which could possibly be connected to the rumored Penguin replacement project.
(7/20/11) A old rumor has returned once again with a full head of steam, as I'm told that the entire Penguin Plaza area is slated to be removed sometime in the early 2012 to make way for a major dark ride attraction for 2013. Don't cry for the penguins however, as I'm told that a brand new and improved home for them will be built as part of the massive 2013 project. Going along with that, I can only assume that the dark ride may have some kind of Antarctica theme as well.
As for the dark ride itself… it's been said that SeaWorld Orlando was eyeballed for a ton of different dark ride concept ideas following the introduction of Curse of DarKastle at Busch Gardens Williamsburg. If you've never been on DarKastle, it's basicly a copy of the Spiderman style ride experience, themed within a haunted European castle full of ghosts, werewolves and other creatures of the night. In short… it's an awesome alternative to Spiderman, and outside of the Orlando area, it really stands out in Williamsburg as a top notch E-Ticket attraction.
Curse of DarKastle opened way back in 2005 however, based on Spiderman's basic concept from 1999. So by the time any new ride opens in 2013, one would expect to see some leaps forward in the technology department or even some changes in the overall concept as well. So while I can't say that this will or wont be a copy of the same basic idea for sure, I have also heard a hint about 'trackless cars' being looked into for it as well. My only request is this… please do not make this themed to Happy Feet… ok?

2014 - Sea Lions On Mars / Madagascar Live - Rumor - (2/13/13) Screamscape sources tell us that two new shows are on the way to SeaWorld Orlando in 2014. A new version of the Madagascar Live show will be coming to SeaWorld Orlando in 2014 as a replacement for the park's Allure show in the park's Nautilus Theater. I'm also hearing that the very long-in-the-tooth Pirate themed Sea Lion and Otter show will finally get replaced in 2014 as well by the long rumored "Clyde & Seamore Go To Mars" show.

The Future - Wild Arctic Replacement - Rumor - (7/20/11) We've talked a bit about rumored future projects said to be on the way for SeaWorld Orlando over the next couple of years, but what else may be on deck long term? Apparently the new management has come to terms with the fact that Wild Arctic just isn't a big draw anymore and said to be pondering possible solutions to the problem.
Unlike any other simulator ride, it just isn't as easy as reprogramming the ride itself to use a new movie because the ride exits into the massive Wild Arctic themed animal habitat area, so a new Arctic themed ride may be the only item to fit the bill. While I'm sure they could rework the flow of traffic through the building if necessary with some structural modifications to turn the structure into two separate attractions (New Ride and Animal Habitat) I'm not sure if they area ready to take the easy way out just yet. They also have to consider that whatever they do in Orlando, they will likely end up doing in California as well to the Wild Arctic attraction there, and find a way to make it work for both.
The one item still keeping Arctic the same for the next few years is the special deal the park signed to convert the ride into a Polar Express ride for the holiday season, which has been quiet a popular attraction with the guests, and likely a big reason behind the reason they are looking into new ideas for the future. I'm told that this winter is actually the last year for the Polar Express contract, though the holiday attraction is so popular, an extension is likely to be signed for keep it going for a few more years.