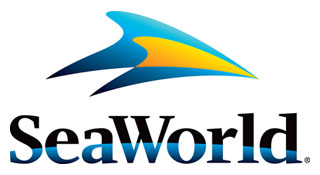 SeaWorld Orlando
Discovery Cove and Aquatica
SeaWorld Parks & Entertainment
---- THE LATEST BUZZ ----
(12/11/13) Another rocker has come out against SeaWorld Orlando this week, as Joan Jett has sent a cease and desist letter to the park (MORE...)
(12/9/13) It has been a bad weekend for SeaWorld Orlando as the fallout I predicted would come from the Bare Naked Ladies canceling their concert has come true. (MORE...)
(12/3/13) SeaWorld's Shamu / Killer Whale show will be closed for about 3 months starting in early January 2014 (MORE...)
(11/29/13) Bad news for SeaWorld Orlando this week… after just announcing most of their concert list for Bands, Brew and BBQ it seems the Barenaked Ladies have now backed out of their commitment to perform at the park. (MORE...)
Attraction Rehabs - The following information is not guaranteed to be 100% accurate.
Wild Arctic transformed to Polar Express from Nov. 16 through to Jannuary 2014
Park News - (12/11/13) Another rocker has come out against SeaWorld Orlando this week, as Joan Jett has sent a cease and desist letter to the park, asking them to stop playing her "I Love Rock 'n' Roll" song as part of the Shamu Rocks night show after seeing Blackfish.
Of course the ironic thing is that Joan Jett's song is not part of the Shamu Rocks show at all, but simply one of many tracks played as background music in the stadium while guests find their seats. As such, the same general music license that all theme parks have to play music does legally entitle them to play it. SeaWorld has stated that a new night show is in development for the park and that they will not use any Joan Jett music in it.
(12/9/13) It has been a bad weekend for SeaWorld Orlando as the fallout I predicted would come from the Bare Naked Ladies canceling their concert has come true. Late Friday afternoon it was confirmed that Willie Nelson had decided to not only cancel his commitment to perform at SeaWorld Orlando, but Willie spoke with CNN about it and said, "I don't agree with the way they treat their animals", "It wasn't that hard a deal for me." This is a bit hypocritical of Willie, as apparently he didn't have any issues playing at SeaWorld in February 2011 for the same Bands, Brew and BBQ special event.
Willie was joined by Heart on Saturday, who had not even been announced yet as one of the bands to perform, in canceling their own scheduled concert date.
With three acts canceling on them, I find it necessary to point out that that I seriously doubt anything like this would be taking place if the park's were still owned by Anheuser-Busch. AB simply had too much money and global muscle behind them as a company as well as a major sponsor for a number of life events for any performer to risk getting on their bad side.
SeaWorld Entertainment, solo from any major corporate parent company, running as a solo spin-off effort, simply lacks the power to keep events like this from happening. Forgive the term, but if these former major stars, now in their waning career years, deem that they can not only back out of their deals, but maybe even insult the company on the way out the door, then there is little chance of SeaWorld being able to book any other noteworthy group ever again.
This whole Blackfish issue has become a "poison pill" for the company, that is quickly working to destroy the once positive corporate image of the SeaWorld brand name. So far all of this has taken place over the weekend, so once the stock market opens on Monday I wouldn't be surprised to see SeaWorld's stock also take a drastic dive as part of the fallout.
There are currently already other online petitions in place urging the other scheduled concert performers to back out of their own concerts at the park, as well as ones asking that SeaWorld not be allowed to have their floats in the Macy's Thanksgiving Parade (too late) or the upcoming Rose Parade. It doesn't end there… as other efforts are also in place to petition against SeaWorld's park sponsors, or companies who produce or endorse SeaWorld, such as one asking Mattel to stop making the "barbaric" SeaWorld branded Whale Trainer Barbie doll. (Though I find it ironic they have no problem with the Hunger Games themed Barbie doll… the only Barbie doll known to kill I believe.)
I've got a feeling we haven't heard the end of this story by a long shot.
(12/3/13) SeaWorld's Shamu / Killer Whale show will be closed for about 3 months starting in early January 2014 and reopen sometime in early April 2014 in order to perform an extensive rehab on the main show pool that will include repainting the entire surface as well as replacing the extremely thick sections of plexiglass that surround the outside area near the lower show seats.
The suspension will also see the park's Dine With Shamu restaurant closed as well for the same time period in order to reuse the space as "Shamu Up Close", where guests will see a presentation about whale interaction and training methods.
(11/29/13) Bad news for SeaWorld Orlando this week… after just announcing most of their concert list for Bands, Brew and BBQ it seems the Barenaked Ladies have now backed out of their commitment to perform at the park. Why? Because of the Blackfish film it seems.
While they don't come right out and say it, a post on the bands website makes it all pretty clear why they have "decided not to play at Seaworld at this time. We watch movies too, ya know!" "This is a complicated issue, and we don't claim to understand all of it, but we don't feel comfortable proceeding with the gig at this time."
It is sad to see this kind of thing happen to SeaWorld… but if you read the rest of the post, it also almost sounds like some of their fans may have prompted this action as well, perhaps asking them to watch the film and to reconsider the gig. Much like the Bill & Ted fiasco in Hollywood, when one group makes a move like this, I'm sure fans of the other scheduled performers who may be anti-SeaWorld may start to push for some of the other performers to also cancel their gigs. Time will tell… so stay tuned.
(11/22/13) SeaWorld Orlando has announced the concert lineup for the 2014 Bands, Brew & BBQ event at the park, taking place on weekends from February 1st through to March 9th, 2014. There are still four dates still to be announced in weeks to come, but so far the line up has some big and impressive names. Concerts are free with park admission and will begin at 4pm.
Feb 1 – Willie Nelson
Feb 2 – TBA
Feb 8 – Cheap Trick
Feb 9 – TBA
Feb 15 – Barenaked Ladies TBA
Feb 16 – REO Speedwagon
Feb 22 – TBA
Feb 23 – Justin Moore
Mar 1 – Scotty McCreery
Mar 2 – TBA
Mar 8 – Martina McBride
Mar 9 – 38 Special
If you need more incentive to visit SeaWorld, then the park has also announced the return of the popular SeaWorld Fun Card program for Florida residents. For the price of a one day admission to the park, you'll get the Fun Card that will allow you back into SeaWorld for the rest of 2013 and all of 2014 with no blackout dates.
Other special events on the 2014 calendar include the new Wild Days weekend events in January: Jack Hanna Weekend (Jan 11-12), Sea Rescue Weekend (Jan 18-19) and Penguin Lovers' Weekend w/ Julie Scardina (Jan 25-26). Between March 22 and April 12 the park will put on several "Just of Kids!" events, and Viva la Musica latin culture weekends take place from Apr 26 – May 17.
(11/8/13) Winter is coming and I've been told Aquatica will now be closed entirely on every Mondays and Thursdays through to early 2014, with the exceptions of Nov. 28th, Dec. 23rd and Dec. 26th when the park will remain open due to the holidays.
(10/17/13) The Polar Express Experience will return to SeaWorld Orlando this winter season (as a seasonal overlay at Wild Arctic) along with the return of Sea Of Trees, skaters dancing on ice, Shamu Christmas Miracles, O Wondrous Night and the new Elmo's Christmas Wish. SeaWorld's Christmas Celebration will take place from Nov. 23 through to Dec. 31st.
(9/23/13) According to a Screamscape source, SeaWorld Orlando still has one Polar Bear in the Wild Arctic exhibit by the name of Johnny.
(9/20/13) In an interesting development, it seems that SeaWorld is working on developing a "Killer Whale Treadmill" concept for the Orlando park. They have been working with KSB Pumps and have already tested a prototype with Tilikum, churning out water at speeds up to 30mph in order to create the sensation of an endless swimming channel.
(9/16/13) Sad news for SeaWorld Orlando as Klondike the polar bear at Wild Arctic passed away at the age of 18. Klondike was born with a sister (Snow) in the Denver Zoo back in 1994, but were neglected by their mother and soon sent to live at SeaWorld. Snow passed away last year, and with Klondike's passing, I don't believe the park has another Polar Bear in the exhibit. Very sad, as I recall there was a lot of hype in the 90s for guests to visit Klondike and Snow.
(9/6/13) SeaWorld Orlando's Halloween Spooktacular is set to start in a month, taking place on October 5-6, 12-13, 19-20, and 26-27 from 12pm to 8pm. Event highlights include the new Spooktacular Dance Party, the Penelope Party Zone, lots of trick-or-treat stops and more.
(9/5/13) Discovery Cove has announced new special rates for Florida residents this week, including a Dolphin Swim Day Resort package for $219 (save $70) or a Day Resort package (same without the Dolphin Swim) for $149. Florida residents can also add-on a SeaVenture underwater walking tour experience for $49 to either package.
Even better, with the purchase of any Discovery Cove package, Florida Residents will get a pass for unlimited admission to SeaWorld Orlando AND Aquatica good from your DC visit through to Jan. 31st, 2014. Proof of FL residency is required during check-in. You can book your visit now online at DiscoveryCove.com or call 1-877-434-7268.
(8/2/13) Consider me kind of shocked… but SeaWorld Orlando and Busch Gardens Tampa guests can now buy a special weekday (Monday through Friday) admission into the parks for just $50. The new deal starts this week and will continue through to December 20th. If you visit on a weekend, you have to pay the normal $92 ticket price and you'll still pay the full price if you just visit the park directly, even on a weekend. To get the special $50 ticket offer you have to buy in advance through the park's official websites or you can call 888-800-5447.
2014 - Sea of Surprises - (6/12/13) A new 18-month long celebration event called A Sea of Surprises will kick off on March 21st, 2014... marking the 50th Anniversary of the grand opening of the original SeaWorld park in San Diego. All three SeaWorld parks in San Diego, Orlando and San Antonio will join in the epic celebration that will see a variety of special experiences added, new shows, pathway performances (aka: Splash Mobs), animal encounters and you may get a visit by the Surprise Squad who will be wandering the park treating guests with special prizes each day.
New giant sea life sculptures will also be put on display and the parks will offer new enhancements and digital services and special park apps to provide a new way to experience the park. Look for the official details to be released, piece by piece at the official 50th Celebration website starting this fall. As for now... check out this video preview of what's on the way.

2014 - Sea Lions On Mars / Madagascar Live - Rumor - (2/13/13) Screamscape sources tell us that two new shows are on the way to SeaWorld Orlando in 2014. A new version of the Madagascar Live show will be coming to SeaWorld Orlando in 2014 as a replacement for the park's Allure show in the park's Nautilus Theater. I'm also hearing that the very long-in-the-tooth Pirate themed Sea Lion and Otter show will finally get replaced in 2014 as well by the long rumored "Clyde & Seamore Go To Mars" show.
2014/2015 - Aquatica: New Attraction and Future Expansion Plans - Rumor - (11/13/13) Aquatica Orlando will open Ihu's Breakaway Falls in 2014. According to the text sent out with a new video teaser, "Get ready to brave a watery free-fall at Aquatica Orlando's all-new water thrill slide coming in 2014 -- Ihu's Breakaway Falls. The drop slide will be the tallest, steepest and only multi-slide ride of its kind in Orlando.The slide is named after Ihu, Aquatica Orlando's colorful gecko, who searches for the biggest thrills, steepest hills and the coolest spills in the waterpark."
Unfortunately that's all the details we have available at the moment… so stay tuned!



(10/23/13) Aquatica continues to tease their #NothingTaller campaign for the new 2014 attraction, this time with a new teaser video. This new video, without showing much, teases the idea of a Drop Pod style device, which doesn't make a lot of sense as there are plenty of drop slides in the area taller than 105 feet. Plus there is the matter of those previously leaked plans to consider that appear to show something more like a raft style Boomerango style slide experience and not a body slide with a drop pod. Curious...
Of course I do have a theory… perhaps a somewhat tall drop slide experience is on the way in 2014 and those Boomerango style plans are perhaps destined for a larger 2015 expansion. After all, it is nearly the end of October and they have yet to begin construction on them, so it would be difficult, if not impossible to build something as impressive as those plans seemed to indicate for Spring 2014. Still 105 feet… in Orlando? Forget #NothingTaller… as everything seems taller at this point.

(9/27/13) It looks like Taruka Rush wont be the name of the new attraction in the works for Aquatica Orlando. SeaWorld Parks has let their trademark registration for that name die and so far has not filed for a new replacement. Keep your eyes open.
(9/10/13) The disappointing news from Aquatica last week was only to brag that whatever their new thrill slide coming in 2014 is, it will be 105 feet tall and the tallest slide of it's kind of Orlando. Currently there is only one other Boomerango style slide in Orlando, located at the CoCo Key waterpark hotel on I-Drive.
(8/4/13) The Screamscape Spy Network came through again with a look at the Aquatica Expansion Plans. These plans go beyond just adding a new attraction, but instead seem to set up the park for a whole wave of future expansions over the next decade. Going back, it looks like our first report may have been right about the location of the new slide going between the wave pool and Omaka Rocka.
While this isnt' a big space… tha t wont be a problem it seems as the plans show that the exit road from the parking lot that runs by here will be removed and relocated to exit further to the south. Take a look at the first image and you'll see a very large new attraction has been designed to connect next to the exit of Omaka Rocka and across the road and into new untouched property. The parking lot here will also be changed a bit, and looks like they will add a new bus parking lot, more regular parking as well as a new exit road that may send all the exiting traffic down towards the hotels to the south of the property, allowing for the park to eventually expand to fill out the rest of the available property. You'll notice an employee access road has also been drawn in around the entire expansion perimeter, just as it services the perimeter of the existing half of the park.
Now lets look closer at the new attraction itself. It's kind of complicated, and I'm going to make a few educated guesses based on what we've seen SeaWorld build at Aquatica in Orlando as well as in Texas. Essentially I think we may be seeing a merger of sorts of the Texas park's two major attractions concepts: Stingray Falls and Wahalla Wave. Wahalla Wave is a ProSlide Tornado Wave (Proslide's take on the Boomerango concept). Stingray Falls is a family raft slide, than ends with a trip below the surface where you float through an underwater viewing tunnel to look at Stingrays and tropical fish before the ride comes to an end.
The new attraction tower appears to be the starting point for two separate Tornado Wave style slides, where the riders were drop into the half-pipe style structure, reverse direction and both enter into a splashdown pool, where both will connect to the start of what looks like a lazy river portion of the ride. From here, I can only guess that riders will continue the journey in their rafts down through a twisting course, past possible new animal exhibits and possibly underwater viewing opportunities before disembarking their rafts.
This should provide a high-throughput opportunity for all guests to experience a true Aquatica style waterslide and animal habitat experience. Currently the only such attraction in the park is the Dolphin Plunge slides, which always has some of the longest lines in the park. Guests in the lazy river can also briefly pass through an underwater viewing area looking into the same exhibit area to see the occasional slider whiz past through the clear tubes, as well as passing by another underwater viewing panel into a tropical fish exhibit.
SeaWorld Parks has filed the name "Taruka Rush" with the US Trademark office back in September 2012 and to date and is still listed as being active, even though they haven't used it for anything yet. Sounds perfect for this new attraction and themed area I think.
(7/25/13) More spotters have reported seeing the red height check balloon that was up at Aquatica the other day, but according to these sources, the ballon was actually on the opposite side of the wave pool from Omaka Rocka, where there actually is a sizable semi-empty location that is mainly used for Cabana space. One reader estimates that the balloon may have been about 50 feet in the air.
(7/24/13) According to a local area reader, they claim to have spotted what looked like a large red "height balloon" coming from inside Aquatica while passing down I-Drive next to the park. The balloon was not excessively high, so don't look for a new slide that will stand taller than the rest, but based on their best guess, the balloon appeared to possibly be located between Omaka Rocka and Cutback Cove. Anyone know more?

The Future - Wild Arctic Replacement - Rumor - (7/20/11) We've talked a bit about rumored future projects said to be on the way for SeaWorld Orlando over the next couple of years, but what else may be on deck long term? Apparently the new management has come to terms with the fact that Wild Arctic just isn't a big draw anymore and said to be pondering possible solutions to the problem.
Unlike any other simulator ride, it just isn't as easy as reprogramming the ride itself to use a new movie because the ride exits into the massive Wild Arctic themed animal habitat area, so a new Arctic themed ride may be the only item to fit the bill. While I'm sure they could rework the flow of traffic through the building if necessary with some structural modifications to turn the structure into two separate attractions (New Ride and Animal Habitat) I'm not sure if they area ready to take the easy way out just yet. They also have to consider that whatever they do in Orlando, they will likely end up doing in California as well to the Wild Arctic attraction there, and find a way to make it work for both.
The one item still keeping Arctic the same for the next few years is the special deal the park signed to convert the ride into a Polar Express ride for the holiday season, which has been quiet a popular attraction with the guests, and likely a big reason behind the reason they are looking into new ideas for the future. I'm told that this winter is actually the last year for the Polar Express contract, though the holiday attraction is so popular, an extension is likely to be signed for keep it going for a few more years.