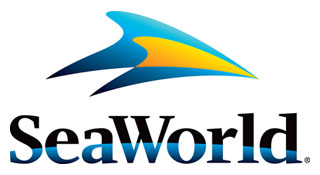 SEAWORLD TEXAS
San Antonio, Texas
SeaWorld Parks & Entertainment
Park News - (4/17/16) SeaWorld San Antonio is giving away free admission to the park for Preschoolers and Teachers this year. If you've got a child aged 3-5 in the area follow this link to find out how you can get them a free Preschool Fun Card. If you are a local area teacher, follow this link to find out how to get your free Teacher Fun Card.
(3/17/16)

SeaWorld has announced that starting today they will end their Orca / Killer Whale breeding program, and that the animals currently in the park's care will be the last generation of orcas at the SeaWorld parks. They did note that at least one of the whales, Takara, is currently pregnant, so there will be at least one more baby to be born, keeping in mind that they have a gestation cycle of 17-18 months.
SeaWorld also announced that their new "Orca Encounter" program that will see the park's current theatrical style show in San Diego transformed in 2017 into an educational experience focused on enrichment, exercise, education and conservation, will be followed by similar updates of the facilities at the San Antonio park (assuming in 2018) and then the Orlando park by 2019.
SeaWorld also announced today a broad new partnership with the Humane Society of the United States (HSUS) to protect our oceans and the animals that call them home. The company is committing to educating its more than 20 million annual visitors on animal welfare and conservation issues through interpretative programs at the parks and expanded advocacy for wild whales, seals, and other marine creatures.
"We are pleased to join with HSUS on the significant issues facing marine mammals and their ocean homes," said Joel Manby. "The work done by zoological facilities like SeaWorld is critical for the protection of animals in the wild, especially marine mammals. To that end, SeaWorld has committed $50 million over the next five years to be the world's leading marine animal rescue organization, to advocate for an end to the commercial killing of whales and seals and an end to shark finning."
Spring 2016 – Discovery Point / Dolphin Habitat Expansion – (6/7/16) Behind the Thrills has posted a great two part review of the new Discovery Point attraction at SeaWorld San Antonio this week. Part one goes over the surface of the attraction, while Part 2 shows off the underwater viewing areas of the attraction.
(4/2/16) SeaWorld San Antonio posted a great picture of their new Discovery Point attraction on Twitter, described as being "almost complete". Elsewhere a May 21st date has also been seen mentioned as the likely opening date.

(3/10/16) SeaWorld San Antonio reports that their new Discovery Point area will be ready to open sometime in May.
(1/25/16) I'm told that SeaWorld San Antonio's new Discovery Point dolphin interaction attraction is now offering online reservation dates starting from June 1st, 2016 with a price ranging between $125-150 per person, depending on the day, though the cost will include your day's admission to SeaWorld as well.
(11/27/15) SeaWorld San Antontio's new Discovery Point now has it's own website, which explains how this new minipark area will be the hub for all of the parks animal interaction and swim programs. While the heart of Discovery Point will be the new Dolphin Lagoon area, you will still report here if you are also going to swim in Beluga Bay or Sea Lion Shallows for your orientations and to get in your wetsuits.
(3/9/15) SeaWorld Texas confirmed that some of the northern section of the park will close starting March 23rd, including access to Dolphin Cove and the park's Shark and Coral Reef exhibit, to allow for the construction of a new dolphin exhibit that will open in May 2016.
(8/19/14) SeaWorld Texas confirmed late last week that they would open an expanded Dolphin Point habitat area in the park by Spring 2016. Construction will begin in Spring 2015 on this significant expansion to the northern side of the park. "These changes will provide an enhanced natural environment that reflects a coastal themed home for the dolphins, as well as allow guests to experience these amazing mammals in new, more powerful ways."
(6/27/11) Screamscape sources tell us that the long range plans for SeaWorld Texas may involve building some kind of new Bottlenose Dolphin facility as early as 2014. While this could include a new show stadium facility, other moves by the company seem to suggest that they could be looking at building a mini Discovery Cove style premium swim / interact with the Dolphins style experience as a core element of whatever they have planned for 2014.
2017 - Wave Breaker: The Rescue Coaster - (9/29/16) SeaWorld San Antonio released all the details about Wave Breaker: The Rescue Coaster opening in 2017. The coaster system is actually from Intamin and will feature two launch segments along the 2,600 foot track layout, hitting a top speed of 44mph, with most of the layout to be built out over the park's ski show lake. While they didn't release a complete animated preview run of the new coaster, they did include some edited down animated footage that starts around the 40 second mark in the video below.
Look for construction to begin in the park sometime in October. You can likely expect some long lines for this coaster however, as the overall capacity isn't the best, with each train only able to hold 16 riders, capping out with a theoretic capacity of 886 riders per hour. On the good news side though, the height requirement for Wave Breaker is just 48 inches.



(9/27/16) SeaWorld Texas is set to make the official announcement about their new coaster sometime later today. However USAToday spilled the beans a bit ago and have revealed that the name of the new Jet Ski themed coaster will be Wave Breaker: The Rescue Coaster. Yeah... that's a bit of a mouthful, so we'll just call it Wave Breaker from here on in.
It will have a maximum height of 61 feet and top speed of 44mph, gained through the use of two magnetic launch zones. Lets hope for some airtime and animation of the layout later today.
(7/16/16) A local news article claims that SeaWorld San Antonio will begin construction on a new $18 million attraction in August. They claim SeaWorld isn't saying much about what is on the way, but it's been fairly clear and obvious for months now. In April the park released what appears to be a Jetski themed coaster teaser video (see below) and before that, way back in November 2015 a chainwide presentation took place that showed off artwork of exactly what just such a JetSki themed coaster would look like in the park, mentioning it likely for the 2017 season. Of course, if that wasn't enough of a clue the filing for a new attraction trademark name last month for something called, "Wave Breaker: The Rescue Coaster" really should lock it in.
At this point all that is left to know is what the final layout will look like, and just how thrilling it will be. If you are curious what this coaster should end up looking similar too, take a look at the pictures of the Jet Rescue coaster built at Sea World of Australia (not related to the SeaWorld Parks chain) back in 2008 at RCDB. I'd expect this to be launched, and relatively low to the ground, hopefully with some nearby water features, or track soaring over the water and whatever nearby landscaping elements they choose to throw in your path.

(6/28/16) According to a post on twitter, SeaWorld San Antonio's 2017 jet ski themed coaster addition may be named, "Wave Breaker: The Rescue Coaster", based on a new finding in the US Trademark database.
(11/10/15) The latest updates from the SeaWorld presentation go into more detail about what they have planned to happen at SeaWorld San Antonio. For starters they have teamed with the Evans hotel company to both look into ideas to build hotels as well as buy existing properties and have Evans manage it for them at their various parks. In Texas, it seems more likely they would look into building a new hotel on-site.
Panasonic has also signed on to be a major corporate sponsor with the parks going forward. Another deal was also signed to bring the Rudolph the Red Nosed Reindeer characters to the parks starting by Christmas 2016.
A Jet Ski themed launched coaster ride called Sea Rescue appears to be on the way to the park for the 2017 season. The long term plan for Texas is to also see major new attractions added each year going forward to help keep the park fresh and new. Texas is also going to be looking to get into the hosting special events throughout the year, much like their sister park in Orlando.

???? – Blue World Project / Killer Whale Habitat Expansion – (8/19/14) While the San Diego park will work on their version of this first (from 2015 to 2018) similar habitat expansions were promised to come to both the Orlando and San Antonio parks soon afterward. It's too early to say what they will get here, but take a look at what they are building in San Diego, it will give you a good idea of what you can expect.