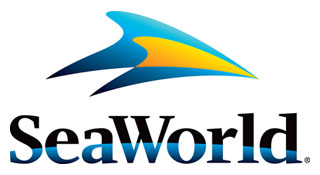 SEAWORLD TEXAS
San Antonio, Texas
SeaWorld Parks & Entertainment
Park News - (3/2/21) SeaWorld San Antonio has confirmed that their Aquatica waterpark will now open for the 2021 season on Saturday, March 6, 2021.

(2/7/21) SeaWorld San Antonio kicked off their new SeaWorld Mardi Gras event this weekend. "The entire park will be jazzed up for a New Orleans style carnival, complete with live music, extravagant costumes, Mardi Gras-inspired culinary specials including seven new Cajun food items and three new alcoholic drink specials, in addition to thrilling rides, animal encounters, and coasters. Guests can don their beads every Saturday and Sunday from February 6-28 and celebrate Fat Tuesday safely with friends and family throughout the park's spacious outdoor grounds. Mardi Gras fans won't miss a beat, let the good times roll!"

(2/3/21) SeaWorld San Antonio is now offering FREE admission for the year to Texas preschool children (age 5 and under) as well as Texas teachers. These passes are only being offered through March 7th however, so if you qualify you will want to register for any Preschool Cards or Teacher Cards right away.

(1/3/21) SeaWorld San Antonio has sent a reminder that starting in 2021 the park will actually be open YEAR ROUND! No more closing down over January and February, you can still visit SeaWorld San Antonio right now. The new 12-month schedule will also bring in new and returning special events to the park's calendar including the return of Wild Days in January and new for 2021 will be a Mardi Gras celebration in February.
Wild Days (January 9th - 31st) will feature special conservation themed events, up-close animal experiences, and the wild rides the park is known for.
Mardi Gras (February 6-28th) will bring the Fat Tuesday celebration to the park for the first time ever, letting you celebrate all month long with a New Orleans style carnival, live music, wild costumes and incredible Mardi Gras inspired food dishes and adult beverages.

(11/4/20) As we mentioned on social media last night, firefighters were called in to help rescue riders from the Wave Breaker rollercoaster at SeaWorld San Antonio. Somehow the Wave Breaker train had gotten stuck at the top of a hill after a launch. A video showing off some of the rescue efforts can be found by following the link as they used a very long ladder to remove 13 riders from the train after about four hours.
No word has come out about why the train got stuck, but given the location and the fact that they called in a rescue team, it seems a safe bet that the train didn't just gently balance itself up there on its own accord. Something must have caused it to get stuck up there, possibly a bad wheel.
If you watch the video shot from a cell phone on the coaster, not all guests could get rescued by the ladder crews, so they began to try and pull the train backwards down the hill slowly, only to make it suddenly break into a full speed drop backwards into the launch track where the brakes there brought it to a stop.
???? - Mack PowerSplash & S&S Screamin' Swing - Rumor - (2/28/21) While it was noticed that land clearing had begun in SeaWorld San Antonio for the park's next big attraction in early 2020 before the COVID-19 shutdown, not much happened on the cleared site next to the lake for the remainder of the year as the company shut down the majority of their construction projects at the time.
New pictures taken at the park and posted by Behind the Thrills (see below) show that activity has begun once again on the site which now has concrete framing in place and rebar sticking out of the ground. As Texas has now thawed from the bitter cold that struck it earlier this month, I would imagine that the park will begin pouring the concrete foundation for the new attraction any day now, if they haven't already.
Plans could have changed but last year documents were posted (scroll down) claiming that the park had hired plans to be drawn up to add a Mack Powersplash ride as well as a "2021 swing ride" as future additions to the park. Before these were released the waterside location they are working on was actually rumored to us to be for a planned S&S Screamin' Swing attraction, similar to the Finnegan's Flyer attraction that was just added to Busch Gardens Williamsburg in 2019. Obviously the timeline has been pushed back, but it would be interesting to see if the park is still planning on building both of these attractions, possibly in close proximity to each other.




(12/24/20) Behind the Thrills has posted a couple of pictures on Twitter showing off the unannounced new attraction project at SeaWorld San Antonio, along with some new building structure going up near Texas Stingray as well.
Given the lack of any serious progress on the construction site for the rumored new ride(s) by the lake, I'm guessing these projects have been pushed back until at least 2022.


(6/16/20) Remember when we posted awhile back a rumor that SeaWorld San Antonio could be getting a Mack PowerSplash? The construction for 2021 that was seen earlier this year was also rumored to be for a new S&S Screamin' Swing attraction, but based on the attachment in the tweets below the park is apparently planning on building BOTH rides: A Mack PowerSplash and S&S Screamin' Swing.



(2/29/20) Yet another crazy rumor has come up regarding what SeaWorld San Antonio may be getting in 2021. According to another trusted source the park was looking at adding their own Premier Rides' "Sky Rocket 2" coaster, which would make sense as it is also the last major park in the chain that doesn't have one.
Tempesto opened in Williamsburg in 2015, Electric Eel in San Diego in 2018, Tigris in Tampa in 2019 and Ice Breaker, a custom Premier Rides coaster will open in Orlando in 2020. Having the Texas park complete the set would be typical behavior for SeaWorld Entertainment as of late.


(2/28/20) While the site being worked on is much larger than what might be needed, the early rumor I'm hearing about what may be coming to SeaWorld San Antonio in 2021 is actually an S&S Screamin Swing attraction, similar in design to the Finnegan's Flyer attraction that opened at Busch Gardens Williamsburg in 2019. (See below)
Given the location however, I have to wonder if they are building some kind of pier structure to put it on over the water, or if they are actually in the process of perhaps reclaiming that area to use a dry land for the attraction and other possible uses.


(2/24/20) While at SeaWorld San Antonio they are kicking off the season not only with the opening of the Texas Stingray, but they've also already started ground clearing for something BIG for 2021. According to the teaser wall graphic, it says #RideTheTide and "Something Big is Coming". If you check out the photos of the site in our FB post below you'll see they have walled off the water on the opposite side of the park's lake from Wave Breaker for this new attraction, which seems to indicate that it will ride through or over the water at this part of the lake.
This has already led to some fun speculation… like could it be another Mack Power Splash? Maybe the Mack Power Loop we were also wondering about for Magic Mountain next year. Or maybe the park is planning on building the first Dive Machine in Texas?! After all, they've dammed up the water here for something… and perhaps they're thinking of an underground / underwater tunnel at the base of the Dive, much like what was just done for Yukon Striker at Canada's Wonderland. Just something to think about, so stay tuned!


(1/5/20) SeaWorld San Antonio teased a new 2021 attraction in development at the ACE Winterfest event. Not much to go on, other than a cartoon like image of a Pufferfish with a shocked face along with the text promising "Something BIG is coming to SeaWorld San Antonio 2021". Anyone know more?


???? - New Killer Whale Educational Program - (7/23/18) While the Shamu Show at the San Diego park was turned into an education only show and the stage set transformed dramatically for 2017, thus far there has been no indication that SeaWorld is still planning on going forward with similar plans to do the same to the killer whale stadiums in San Antonio or Orlando just yet.
(3/17/16) SeaWorld has announced that starting today they will end their Orca / Killer Whale breeding program, and that the animals currently in the park's care will be the last generation of orcas at the SeaWorld parks. They did note that at least one of the whales, Takara, is currently pregnant, so there will be at least one more baby to be born, keeping in mind that they have a gestation cycle of 17-18 months.
SeaWorld also announced that their new "Orca Encounter" program that will see the park's current theatrical style show in San Diego transformed in 2017 into an educational experience focused on enrichment, exercise, education and conservation, will be followed by similar updates of the facilities at the San Antonio park (assuming in 2018) and then the Orlando park by 2019.