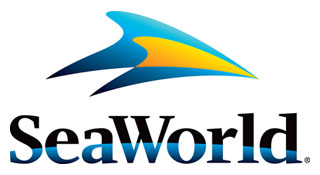 SEAWORLD TEXAS
San Antonio, Texas
SeaWorld Parks & Entertainment
Park News - (8/20/14) Howl-O-Scream at SeaWorld Texas will be following the lead from Busch Gardens Tampa and going ahead with the same "Cursed" theme as they are this year.
The park will feature five haunts: ICU: Intensive Cursed Unit (NEW), Prey: The Hunter Becomes The Hunted, Frightmare Forest, Den of the Departed: Zombie Takeover and Sea Oddities Sideshow: Clowns in Control.
Terror-tories: Psycho Path (NEW), Ports of Skull (NEW), Vampire Point, Sideshow Row and Demon Street.
You can also enjoy the park's three big rides (Great White, Steel Ell and Journey to Atlantis) as well as two shows: Shamu's Rockin' Creepshow and Jack is Back.
See the official details here.
(5/22/14) The SeaWorld Parks have launched all new version's of their official park smartphone Apps (Discovery Guides) earlier this year, and the improvements just keep on coming. I'm told that the ability to purchase QuickQueue to cut to the front of the line will soon be coming to the app itself, which means you can upgrade your experience from within the actual line you are trying to skip.
Other new additions include GPS enabled park maps, real-time updates of park show schedules and special events, current ride-wait times, the ability to receive broadcasted park notifications and special offers, and soon will also give you the ability to order your food online from select locations so you don't have to wait in line to order.
You can download the official Discovery Guide apps for the SeaWorld, Busch Gardens and Sesame Place parks for free in both: Apple (App Store) and Android (Google Play) flavors.
(4/14/14) Creepy news for SeaWorld San Antonio… as the local news reports that what appears to be human remains have been discovered on park property this week. They were discovered by park maintenance workers in a wooded area south of the park on property owned by SeaWorld, and according to the police report, the remains appear to have been sitting there for several months, possibly up to a year, before being discovered.
Devote Screamscape readers may recall this is not the first time that mystery human remains have been found sitting outside a San Antonio theme park. It was just in 2008 that remains from another mystery body were found on the grounds of Six Flags Fiesta Texas outside the park that had also been left undisturbed for up to a year before being discovered by park employees.
2014 - A Sea of Surprises - (5/26/14) MiceChat reports that SeaWorld Texas will celebrate the brand's 50th Anniversary by adding a new Waterski Show this season that will feature 50 stunts.
(6/12/13) A new 18-month long celebration event called A Sea of Surprises will kick off on March 21st, 2014... marking the 50th Anniversary of the grand opening of the original SeaWorld park in San Diego. All three SeaWorld parks in San Diego, Orlando and San Antonio will join in the epic celebration that will see a variety of special experiences added, new shows, pathway performances (aka: Splash Mobs), animal encounters and you may get a visit by the Surprise Squad who will be wandering the park treating guests with special prizes each day.
New giant sea life sculptures will also be put on display and the parks will offer new enhancements and digital services and special park apps to provide a new way to experience the park. Look for the official details to be released, piece by piece at the official 50th Celebration website starting this fall. As for now... check out this video preview of what's on the way.

2014 - Aquatica - Roa's Aviary - (5/26/14) A fantastic look at the new Roa's Aviary inside Aquatica has been posted to Behind the Thrills this week.
(1/6/14) According to Behind the Thrills, the new aviary coming to Aquatica San Antonio in 2014 will be named Roa's Aviary.
(12/2/13) Behind the Thrills has posted an update about the new aviary attraction being added onto Aquatica San Antonio. Check it out.
(11/8/13) Aquatica San Antonio is taking a page out of the Discovery Cove design book and is bringing a bird aviary experience to the park's lazy river for 2014. Like in Orlando, the swim-through entrance to the aviary is blocked by waterfalls to keep the approximately 300 birds inside the new 13,500 environment. The new exhibit isn't just for Aquatica guests either… when Aquatica is closed for the season there will be an entrance into the aviary for SeaWorld guests to use and visit.
Spring 2015 – Pacific Point Preserve / New Sea Lion Show – Confirmed -
(8/19/14) SeaWorld Texas confirmed late last week that they would open a new Sea Lion habitat called Pacific Point Preserve. As part of the area overhaul, the park also announced that they will also feature a brand new Sea Lion show in 2015 as well.
The current Cannery Row Caper show will have its last showing on Labor Day, September 1st.
Spring 2016 – Dolphin Habitat Expansion – Confrmed - (8/19/14)

SeaWorld Texas confirmed late last week that they would open an expanded Dolphin Point habitat area in the park by Spring 2016. Construction will begin in Spring 2015 on this significant expansion to the northern side of the park. "These changes will provide an enhanced natural environment that reflects a coastal themed home for the dolphins, as well as allow guests to experience these amazing mammals in new, more powerful ways."
(6/27/11) Screamscape sources tell us that the long range plans for SeaWorld Texas may involve building some kind of new Bottlenose Dolphin facility as early as 2014. While this could include a new show stadium facility, other moves by the company seem to suggest that they could be looking at building a mini Discovery Cove style premium swim / interact with the Dolphins style experience as a core element of whatever they have planned for 2014.
???? – Blue World Project / Killer Whale Habitat Expansion – (8/19/14) While the San Diego park will work on their version of this first (from 2015 to 2018) similar habitat expansions were promised to come to both the Orlando and San Antonio parks soon afterward. It's too early to say what they will get here, but take a look at what they are building in San Diego, it will give you a good idea of what you can expect.
???? - Resort Hotel - Rumor - (8/29/11) While the addition of Aquatica at SeaWorld Texas should be an interesting game changer for the park, I've also been told that the corporate office has quietly been looking as possible designs to add an on-site resort hotel for the park as well that may be connected to Aquatica in some fashion. Of course it's hard to justify a resort hotel without having a year-round schedule in place for the park as well, which I know has also been a long term goal of the San Antonio park as well. Maybe the two will go hand-in-hand.
(4/8/11) Screamscape sources claim that SeaWorld Parks and Entertainment may be doing studies and making early plans to enter the resort biz in select markets. This is something that was looked at in the past under Anheuser-Busch leadership, where they even went so far as to announce their intentions to build a heavily themed African animal safari themed hotel on backside of the Savannah at Busch Gardens Tampa. (Only to fail to be willing to fund the effort on their own without an experience hotel operator... which allowed Disney to swoop in the copy their idea a couple of years later with the Animal Kingdom Lodge hotel.)
From what I'm told, Tampa is not being considered this time around... since the new owners will admit that the area around the park itself is not exactly the kind of place where you would put down a high-dollar resort experience. While Orlando would seem to be a good fit, Busch sold off the perfect site for such a resort next to Aquatica to an outside developer under their leadership. In addition... the Orlando market already has an over abundance of empty hotel rooms on any given night. Across the nation, San Diego is also likely be crossed off the list as the park is land locked and the park also passed up several opportunities in the past to buy up nearby property where a resort would possible succeed, in addition to a general hesitation by AB to build and operate their own resort hotel without an experienced hotel partner.
So what's left? Williamsburg, VA and San Antonio, TX. In a strange bit of Irony, Williamsburg was the once place where AB had their own resort for a number of years in the form of the Kingsmill property. However this resort project was not sold off to Blackstone with the parks, and I believe it remains under ownership of AB, but the Williamsburg area does seem to be a good possibility for a future resort project, especially with the expansion of the park's operating season into the Christmas season. Texas is also a possibiliy, as there are no other theme park resort in the area, the park has lot of excess land that could be put to use in a number of ways... such as the rumored Aquatica project in Texas, which would certainly give guests a reason to spend the night at SeaWorld.