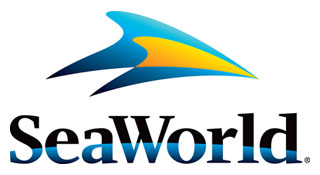 SEAWORLD TEXAS
San Antonio, Texas
SeaWorld Parks & Entertainment
Park News - (4/17/16) SeaWorld San Antonio is giving away free admission to the park for Preschoolers and Teachers this year. If you've got a child aged 3-5 in the area follow this link to find out how you can get them a free Preschool Fun Card. If you are a local area teacher, follow this link to find out how to get your free Teacher Fun Card.
2017 - Wave Breaker: The Rescue Coaster - (9/29/16) SeaWorld San Antonio released all the details about Wave Breaker: The Rescue Coaster opening in 2017. The coaster system is actually from Intamin and will feature two launch segments along the 2,600 foot track layout, hitting a top speed of 44mph, with most of the layout to be built out over the park's ski show lake. While they didn't release a complete animated preview run of the new coaster, they did include some edited down animated footage that starts around the 40 second mark in the video below.
Look for construction to begin in the park sometime in October. You can likely expect some long lines for this coaster however, as the overall capacity isn't the best, with each train only able to hold 16 riders, capping out with a theoretic capacity of 886 riders per hour. On the good news side though, the height requirement for Wave Breaker is just 48 inches.



(9/27/16) SeaWorld Texas is set to make the official announcement about their new coaster sometime later today. However USAToday spilled the beans a bit ago and have revealed that the name of the new Jet Ski themed coaster will be Wave Breaker: The Rescue Coaster. Yeah... that's a bit of a mouthful, so we'll just call it Wave Breaker from here on in.
It will have a maximum height of 61 feet and top speed of 44mph, gained through the use of two magnetic launch zones. Lets hope for some airtime and animation of the layout later today.
(7/16/16) A local news article claims that SeaWorld San Antonio will begin construction on a new $18 million attraction in August. They claim SeaWorld isn't saying much about what is on the way, but it's been fairly clear and obvious for months now. In April the park released what appears to be a Jetski themed coaster teaser video (see below) and before that, way back in November 2015 a chainwide presentation took place that showed off artwork of exactly what just such a JetSki themed coaster would look like in the park, mentioning it likely for the 2017 season. Of course, if that wasn't enough of a clue the filing for a new attraction trademark name last month for something called, "Wave Breaker: The Rescue Coaster" really should lock it in.
(6/28/16) According to a post on twitter, SeaWorld San Antonio's 2017 jet ski themed coaster addition may be named, "Wave Breaker: The Rescue Coaster", based on a new finding in the US Trademark database.
(11/10/15) The latest updates from the SeaWorld presentation go into more detail about what they have planned to happen at SeaWorld San Antonio. For starters they have teamed with the Evans hotel company to both look into ideas to build hotels as well as buy existing properties and have Evans manage it for them at their various parks. In Texas, it seems more likely they would look into building a new hotel on-site.
Panasonic has also signed on to be a major corporate sponsor with the parks going forward. Another deal was also signed to bring the Rudolph the Red Nosed Reindeer characters to the parks starting by Christmas 2016.
A Jet Ski themed launched coaster ride called Sea Rescue appears to be on the way to the park for the 2017 season. The long term plan for Texas is to also see major new attractions added each year going forward to help keep the park fresh and new. Texas is also going to be looking to get into the hosting special events throughout the year, much like their sister park in Orlando.

2018 - New Killer Whale Educational Program - (3/17/16) SeaWorld has announced that starting today they will end their Orca / Killer Whale breeding program, and that the animals currently in the park's care will be the last generation of orcas at the SeaWorld parks. They did note that at least one of the whales, Takara, is currently pregnant, so there will be at least one more baby to be born, keeping in mind that they have a gestation cycle of 17-18 months.
SeaWorld also announced that their new "Orca Encounter" program that will see the park's current theatrical style show in San Diego transformed in 2017 into an educational experience focused on enrichment, exercise, education and conservation, will be followed by similar updates of the facilities at the San Antonio park (assuming in 2018) and then the Orlando park by 2019.