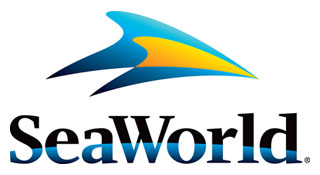 SEAWORLD TEXAS
San Antonio, Texas
SeaWorld Parks & Entertainment
Park News - (7/25/17) Sad news from SeaWorld San Antonio, as the park reports that Kyara, the last killer whale calf to be born in captivity 3-months ago, passed away yesterday (July 24). The park's medical staff had been treating the calf for an infection, possibly pneumonia, during the days leading up to her death. Kyara was born to Takara at the San Antonio park on April 19th.
2018 - New Attractions - (3/6/18) SeaWorld San Antonio tells us that they will open their brand new Taumata Racer slide at Aquatica on March 10th.
(9/22/17) SeaWorld San Antonio has announced that the park is making a number of new additions to both SeaWorld and Aquatica for 2018 season. The plans include the introduction of a new Sesame Street themed parade in Spring 2018, a new Bier Fest (aka: beer festival) will also arrive for three weekends in September. Other popular events will also return in 2018 like Wild Days in early 2018 and The Seven Seas Food & Wine Festival in April, and Howl-O-Scream will return in the fall after dark, with the family friendly Spooktacular in the daytime.
In the summer however the park will see the arrival of Electric Ocean, a new style of nighttime entertainment offerings throughout the summer mixing nightly fireworks, party zones, music and more. The popular night shows, Shamu Celebration: Light Up the Night, Sea Lions Tonight and HydroPower Xtreme FX will return as well from June 15 through Aug. 12.
Aquatica will get Taumata Racer in the Spring, a new 6-lane head-first mat racer slide that will start things off by jumping into an enclosed tube slide section for a high speed turn before opening up into the high-speed hill finale 55 feet down to the finish line.

???? - New Killer Whale Educational Program - (3/17/16) SeaWorld has announced that starting today they will end their Orca / Killer Whale breeding program, and that the animals currently in the park's care will be the last generation of orcas at the SeaWorld parks. They did note that at least one of the whales, Takara, is currently pregnant, so there will be at least one more baby to be born, keeping in mind that they have a gestation cycle of 17-18 months.
SeaWorld also announced that their new "Orca Encounter" program that will see the park's current theatrical style show in San Diego transformed in 2017 into an educational experience focused on enrichment, exercise, education and conservation, will be followed by similar updates of the facilities at the San Antonio park (assuming in 2018) and then the Orlando park by 2019.