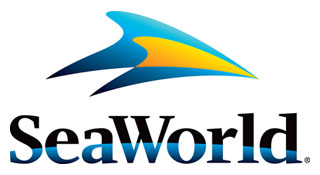 SEAWORLD TEXAS
San Antonio, Texas
SeaWorld Parks & Entertainment
Park News - (8/20/14) Howl-O-Scream at SeaWorld Texas will be following the lead from Busch Gardens Tampa and going ahead with the same "Cursed" theme as they are this year.
The park will feature five haunts: ICU: Intensive Cursed Unit (NEW), Prey: The Hunter Becomes The Hunted, Frightmare Forest, Den of the Departed: Zombie Takeover and Sea Oddities Sideshow: Clowns in Control.
Terror-tories: Psycho Path (NEW), Ports of Skull (NEW), Vampire Point, Sideshow Row and Demon Street.
You can also enjoy the park's three big rides (Great White, Steel Ell and Journey to Atlantis) as well as two shows: Shamu's Rockin' Creepshow and Jack is Back.
See the official details here.
Spring 2015 – Pacific Point Preserve / Clyde & Seamore's Sea Lion High - (12/22/14) SeaWorld Texas has confirmed that their new Sea Lion show opening in 2015 will also be called Clyde & Seamore's Sea Lion High, just like the new show opening at the Orlando park in 2015.
(8/19/14) SeaWorld Texas confirmed late last week that they would open a new Sea Lion habitat called Pacific Point Preserve. As part of the area overhaul, the park also announced that they will also feature a brand new Sea Lion show in 2015 as well.
The current Cannery Row Caper show will have its last showing on Labor Day, September 1st.
Spring 2016 – Dolphin Habitat Expansion – Confrmed - (3/9/15) SeaWorld Texas confirmed that some of the northern section of the park will close starting March 23rd, including access to Dolphin Cove and the park's Shark and Coral Reef exhibit, to allow for the construction of a new dolphin exhibit that will open in May 2016.
(8/19/14) SeaWorld Texas confirmed late last week that they would open an expanded Dolphin Point habitat area in the park by Spring 2016. Construction will begin in Spring 2015 on this significant expansion to the northern side of the park. "These changes will provide an enhanced natural environment that reflects a coastal themed home for the dolphins, as well as allow guests to experience these amazing mammals in new, more powerful ways."
(6/27/11) Screamscape sources tell us that the long range plans for SeaWorld Texas may involve building some kind of new Bottlenose Dolphin facility as early as 2014. While this could include a new show stadium facility, other moves by the company seem to suggest that they could be looking at building a mini Discovery Cove style premium swim / interact with the Dolphins style experience as a core element of whatever they have planned for 2014.
???? – Blue World Project / Killer Whale Habitat Expansion – (8/19/14) While the San Diego park will work on their version of this first (from 2015 to 2018) similar habitat expansions were promised to come to both the Orlando and San Antonio parks soon afterward. It's too early to say what they will get here, but take a look at what they are building in San Diego, it will give you a good idea of what you can expect.