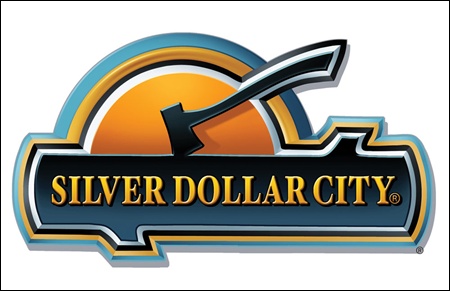 SILVER DOLLAR CITY
Branson, MO
Herschend Family Entertainment Corp.
Park News - (12/4/13) Has anyone noticed any activity in or around the former Celebration City park in Branson? Rumor has it that a group was entertaining the idea of buying the site to reopen it as a new separate mini amusement park. No promises… just something to keep an eye on.
(11/12/13) Negative-G reports that the Wildfire trains at Silver Dollar City have installed new red brackets into a few select locations on the trains. According to the crew, B&M is working on making some kind of special 5-point harness that amputee guests can wear and be secured to the seat, allowing them to ride. In park testing has not begun, but the crew at Wildfire seemed to think that Dollywood may be testing it on Wild Eagle right now.
(9/10/13) Silver Dollar City will introduce new entertainment at the park's National Harvest Festival event this week. See the new Texas Trick Riders show starting September 12th through October 6th featuring trick riding, stunts and expert horsemanship.
The Western stunt show, "The Pinkerton Man" will return with a bigger cast and expanded fight scenes. "The show features high-flying action and special effects, including dramatic 3-story falls, high-slide rappels, hero fights, pyrotechnic effects and explosions, with professional stunt men and women leading a cast of 16, plus live animals. The production, presented within the 4,000-seat Echo Hollow Amphitheatre -- the only venue big enough for all the action, also features comedy and original live music performed by the Sons of the Silver Dollar."
The park will also feature 125 craftsmen from across the country, Western musicians performing at the Opera House, fabulous food and much more during the Festival running from Sept. 12 to October 26.
(8/4/13) Good news from Silver Dollar City in this weekend… good enough to share right away. I have confirmed with Lisa Rau (SDC's Director of PR) that another wave of modifications were made to the restraints on Outlaw Run a few days ago, changes for the better.
"Confirming that yes, we made two modifications and at this point, those modifications are complete. The configuration (degree change) was initially just over an inch and now it is less than an inch. Our restraint is a lap restraint in a curved configuration to tighten around the lap (lower than the soft tissue of the waist) with the substantial shin restraint to create the ASTM class 5 restraint system."
The second wave of modifications that relaxed the one came just in time for the TPR Tour Group to hit the park on Friday night to test the new system out. According to a few measurements sent my way, the restraints fit a 42" waist (250lb) rider with room to spare and even fit another rider with a 46" waist. As before however, riders who are very tall or who have long legs may still have some comfort issues with the shin restraint bar, but that has been a minor issue since day 1. So get out there and enjoy Outlaw Run once again, but remember there is a test seat to try if you are still concerned.
(8/2/13) It's been confirmed, the restraints on Outlaw Run have been modified to be more restrictive about who can ride. A reader contacted Silver Dollar City to ask about this and forwarded on to me the message they received.
"Safety is our #1 Priority at Silver Dollar City. Outlaw Run's restraint system is designed and engineered to ASTM International Standards Class 5 status, the highest ranking in the industry. The ride manufacturer can request changes at any time. Most recently, the Outlaw Run ride manufacturer changed the configuration of the safety restraint system by making it more restrictive by just over one inch. In full cooperation with our manufacturer, we implemented the configuration change. We are sorry for any inconvenience this may cause."
So allow me to translate. Please don't complain to Silver Dollar City, this knee-jerk reaction was not their idea, nor is it their fault. They're stuck between a rock and a hard place on this one, as the manufacturer for Outlaw Run, Rocky Mountain Coasters, has requested this change be made to the restraints on the train RMC designed and built to run on Outlaw Run. SDC is obligated to follow any and all changes requests made by the manufacturer, and to ignore them puts SDC at great legal and financial risk… not to mention countless other issues involving insurance, operational permits and so on.
That said, I hope RMC is keeping a serious eye on what is going on with Outlaw Run and will hopefully be able to make some kind of future modification to the train to allow more people to ride. Otherwise… Outlaw Run may be the first and last ride to use an RMC train. Safety is always the top priority of course, but you do have to design a seating and restraint system that will service the majority of park guests. No system on a high end thrill ride will accommodate everyone, but unfortunately the Outlaw Run restraints that some people felt were a bit too restrictive to begin with, are now even more restrictive. So keep that in mind before you visit the park if a ride on Outlaw Run is your primary reason to visit.
If you do visit, look for the test seat before you ride. Several people reported last week that it may have been missing, but it is there now again. I'm told that they have an attendant over at the test seat recording some kind of measurement from the seat itself as well as asking for guests heights and taking some leg measurements on those who fail. It seems some of the issue with the new settings has seen some people not allowed to ride because their legs are not fitting under the shin-bar rather than having any problem with the lap bar itself. Again… looks like RMC really needs to address these problems, sooner than later.
2014 - New Ride Survey - (9/23/13) While they don't say much at this point, SDC's Lisa Rau does seem to confirm that something new is in the works for both Silver Dollar City and the WhiteWater waterpark and that announcements can be expected later this fall. They do imply that the attractions seen in guest survey's earlier this year were pitched for 2015 and not 2014.
(8/22/13) The latest rumors from Silver Dollar City for 2014 claim that Geyser Gulch may be getting a dramatic remodel. Also the Double Shot tower from Celebration City is rumored to be placed next to Geyser Gulch in the former Waterboggan exit area along with another flat ride or two. Sure sounds a lot like that Fireworks Factory concept seen in the July 2013 guest survey (see below).
(7/30/13) Images from a future attractions survey issued to SDC guests have been posted to SDCFans (link fixed) detailing three possible new ride themes... one based on Firefighters, one on Balloon flight (not sure if this is a Samba Tower flat ride or something else) and another involving a trip through a Fireworks Factory. The Fireworks Factory concept involved a few concepts, including an indoor climb/play structure themed as the inside of the Fireworks Factory as well as the family sized 85 foot shot 'n drop tower ride called the Pyro Power Test Tower, as well as other family or kiddie rides called Spinning Sparkler and Rocket Racers. All together the area is said to feature a total of 5 rides.
Further details and possible screen captures from the survey are expected to show up soon for the two other concepts so stand by.