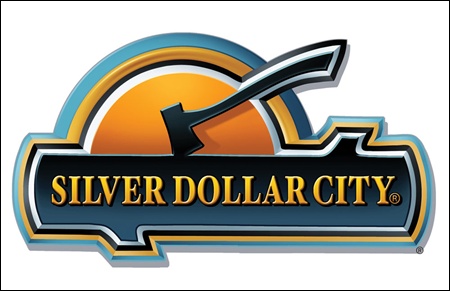 SILVER DOLLAR CITY
& WHITEWATER BRANSON
Branson, MO
Herschend Family Entertainment Corp.
Park News - (8/11/15) Silver Dollar City will host the Southern Gospel Picnic special event from Aug. 27 to Sept. 7 featuring a number of special concert events at the park, while the nearby Showboat Branson Belle will be offering Gospel Cruises from Aug 30 to Sept. 6. For details visit the official attraction website.
(5/4/15) According to the latest press release from Silver Dollar City, "One of the nation's top bluegrass events, Silver Dollar City's Bluegrass & BBQ brings the heat, from the hottest bands in bluegrass to the slow-smoked barbecue, May 7 – 25at the Branson, Missouri theme park. The festival "presents more bluegrass bands on multiple stages to more new audiences than any other event in the nation," said Nancy Cardwell, International Bluegrass Music Association (IBMA) Executive Director 2012-14."

2015 - Fireman's Landing - Confirmed - (3/12/15)

Some great photos from the new Fireman's Landing were sent in by Silver Dollar City, showing off the first riders on the new FireFall ride and Lucky the Rescue Dog taking the Firefighter's Pledge along with a group of kids. This was all part of a "First Fire Drill" preview put on for the kids from the School of the Ozarks. The new land and attractions will open to the public on March 14th.
(1/12/15) MidWestInfoGuide dropped by Silver Dollar City just before New Year's eve for a final look at the park's new Fireman's Landing area that will open in a few months.
(11/20/14) MidWestInfoGuide went on a tour of the new Fireman's Landing construction site last week. Check it out!
(10/6/14) The big construction rush is on to get as much done as possible before Winter gets here, and Silver Dollar City has made great progress so far over at the new Fireman's Landing area. Quite a bit of the framework for the Station No. 3 Firehouse Play Place is up, as well as the FireFall (S&S Double-Shot) tower structure is also already in place.
(8/14/14) Silver Dollar City has confirmed the addition of Fireman's Landing in Spring 2015, a new themed land that will feature "10 new family adventures". This breaks down as 6 new family rides and 4 interactive play zones, centered around the Fire Station No. 3 building with the 2-acre land around it themed as an old-time volunteer firefighter recruitment fair, set to test your skills.
NEW RIDES:
Fire Spotter - Ride in a rapidly spinning balloon ride (Zamperla Balloon Race)
Fire Wagon Frenzy - Ride in the bucket brigade wagon (Zamperla Crazy Bus)
FireFall - S&S Double-Shot Tower
Fireman's Flyer - Kiddie Swing Ride
Up the Ladder - Kiddie Drop Tower (Zamperla Jumpin' Star)
The Roundabout - Ride a bouncing Dalmation around a fire hydrant (Zamperla Jump Around)
PLAY AREAS:
Firefighter's Fire Drill - Foam Ball Play Room full of buckets to fill and dump, foam ball canons more. (Inside Station No. 3 Firehouse)
Firefighter's Fire Escape - Climbing Structure with tubes, slides and obstacle course. (Inside Station No. 3 Firehouse)
Firefighter's Junior Escape - Soft Play Area for Toddlers. (Inside Station No. 3 Firehouse)
Firehouse Splash Yard - Outdoor water sprayground with water jets and pump hoses.

Silver Dollar City will also add a new project from the Harlem Globetrotters called "The Globetrotter Experience" in Summer 2015 as well.
(8/8/14) MidWestInfoGuide has posted a new update from Silver Dollar City. They report that Geyser Gulch is now closed and there are some large new footers freshly built in the area for the 2015 addition.
(7/25/14) Silver Dollar City sent a message to their passholders this week to confirm hat Geyser Gulch closes on Aug. 3rd, along with a contest to post one last selfie in front of the treehouse to win prizes. It also said the special announcement for the 2015 project would take place August 13.
(7/24/14) MidWestInfoGuide reports that teaser banners for the park's 2015 project have gone up around Geyser Gulch. They are clearly going for a firefighter theme for this area, so we may see some similarities to the theme here and that used for Dollywood's FireChaser Express. The "5-Alarm Announcement" will take place August 13th.
(7/2/14) A new filing from Herschend for a trademark on the name Fireman's Landing has been found this week. I'm guessing we have the most likely name for Silver Dollar City's new attraction area for 2015.
(5/28/14) The latest photos from Silver Dollar City showing off new additions and progress being made to next year's attraction site can be found at SDCFans. Whatever the final plans are for 2015, it seems highly likely that they will include the S&S Doubleshot tower from the former Celebration City park. The pieces of the old ride have been posted in SDC's backlot areas and apparently can be seen from Outlaw Run and The Giant Swing.
(4/7/14) Whatever SDC has planned for the 2015 season appears to be ready to move into high gear very soon, according to the latest construction report from MidWedInfoGuide. Check it out.
(3/21/14) According to a report (with pictures) on Negative-G, Silver Dollar City appears to have started clearing a site behind the park's Geyser Gulch play area for some reason. Could this be early prep work for a 2015 attraction? The site sounds right for the previously pitched concept for the Fireworks Factory idea.
(9/23/13) While they don't say much at this point, SDC's Lisa Rau does seem to confirm that something new is in the works for both Silver Dollar City and the WhiteWater waterpark and that announcements can be expected later this fall. They do imply that the attractions seen in guest survey's earlier this year were pitched for 2015 and not 2014.
(8/22/13) The latest rumors from Silver Dollar City for 2014 claim that Geyser Gulch may be getting a dramatic remodel. Also the Double Shot tower from Celebration City is rumored to be placed next to Geyser Gulch in the former Waterboggan exit area along with another flat ride or two. Sure sounds a lot like that Fireworks Factory concept seen in the July 2013 guest survey (see below).
(7/30/13) Images from a future attractions survey issued to SDC guests have been posted to SDCFans (link fixed) detailing three possible new ride themes... one based on Firefighters, one on Balloon flight (not sure if this is a Samba Tower flat ride or something else) and another involving a trip through a Fireworks Factory. The Fireworks Factory concept involved a few concepts, including an indoor climb/play structure themed as the inside of the Fireworks Factory as well as the family sized 85 foot shot 'n drop tower ride called the Pyro Power Test Tower, as well as other family or kiddie rides called Spinning Sparkler and Rocket Racers. All together the area is said to feature a total of 5 rides.
Further details and possible screen captures from the survey are expected to show up soon for the two other concepts so stand by.