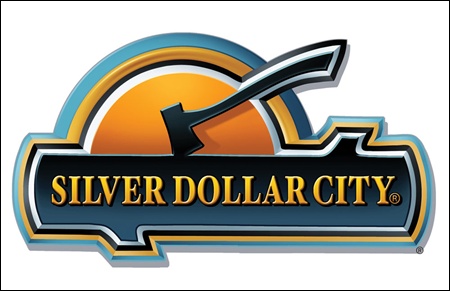 SILVER DOLLAR CITY
& WHITEWATER BRANSON
Branson, MO
Herschend Family Entertainment Corp.
Park News - (10/20/16)

Silver Dollar City presents "An Old Time Christmas" at the park featuring the specular Light Parade, a 5-story Christmas tree with a light and sound show, two Broadway style musicals, holiday foods and five million lights. The event takes place from Nov. 5 through Dec. 30 and features Rudolph's Holly Jolly Chrristmas Light Parade. "As Grand Marshal, Rudolph leads the evening parade of nine musical, lighted floats, illuminated with 200,000 ultra-bright LED lights. The floats are accompanied by 33 colorful costumed characters, including Bumble the Abominable Snow Monster, 14-foot moose characters, 12-foot tall elves and 10-foot candy canes, plus penguins, elves and a troupe of marching wooden soldiers."
2017/2018 - New Coaster /New Attraction - Rumor - (10/17/16) While Silver Dollar City has not yet announced what they are working on, MidWestInfoGuide now reports that what appear to be the forms for the first large concrete footers have now appeared on the hillside site that was being cleared earlier this year.
(8/11/16) We've mentioned the new land clearing being made on a previously undeveloped hillside at Silver Dollar City now we think we may know more about what is going on here. A guest survey was sent out proposing three different themes for a similar coaster design that seems to be some kind of terrain style spinning coaster. Each of the design art pieces show off a large tower structure where the track still pass under the roof of the tower and drop down a very steep drop. They also each have different themed environments you are supposed to pass through on your way, but the themed being told here are quite different. Survey takers are being asked to choose between a "Time Traveler" theme, a Silver Mine theme and a "Rodeo" theme.
1) Time Traveler - The theme here isn't true time travel, but more of a crafty roadside attraction style of time travel where guests are invited in to test the time machine and "take a spin" and be "launched back in time" to the Roman Empire, which is "suspiciously handcrafted". Looks like you were "taken for a ride".
2) Travel through the mysterious lost "silver caves" of the Ozarks. Your mine cart will take you on a wild ride through caverns, past old abandoned digging equipment and more.
3) Time to test your mettle on the rodeo circuit, as you climb aboard a themed ride that will spin, twist, buck and drop to try and shake you from their back.
My take? Just flat out "NO!" to the #3 from me as being one of the worst things I've ever heard of. I can deal with the tacky time travel roadside attraction theme, but it pales in comparison to the classic fun of a wild trip down a lost silver mine... IF they do the themeing right. Now the question is... is all this for 2017, or is this planned as a 2018 attraction instead? If I had to guess at a manufacturer, I'd lean towards Gerstlauer right now, simply because sister park, Dollywood, has bought two coasters from them (Mystery Mine and Firechaser Express). I'm thinking something similar to a Firechaser Express style track system with a launch and the addition of spinning cars could fit the bill for this quite nicely. Of course the park did previously hint in another survey about a launched coaster with spinning cars, which at the time I was thinking could be from Mack. We'll have to wait and see.
(5/23/16) According to a photo report from MidWestInfoGuide, some new land clearing is taking place at Silver Dollar City for an unknown new project, part of which may include a new access road.
(3/1/16) Remember that plan to add a coaster to Silver Dollar City in 2017 that I told you about? According to rumors sent my way the park pitched a few coaster concepts in a guest survey not long ago, asking guests to choose between what sounds like a Mack Launched Coaster with new style Spinning Cars (which Mack posted a video about back on Nov. 19th, 2015) or a very large B&M Dive Machine with 4 inversions.
(2/3/16) Is Silver Dollar City planning a major new coaster for 2017? According to a few rumors this may be the case, though exactly what style coaster they might get isn't entirely know. The park currently has one B&M coaster (Wildfire) which is a standard Sit Down steel looping coaster, so there are many fun options to choose from that could put the park's terrain to good use as a Hyper, Wing or even large Inverted coaster would fit in quite nicely.
It has often been said that B&M does often sell their coasters with a 250 mile exclusive range bubble for 10-years for each design to help parks feel more secure that whatever they purchase, their competition wont build a slightly bigger version of the same coaster the following year. (Regarding the 10-year term... Batman: The Ride went into SFSL in 1995, and Patriot didn't open at Worlds of Fun until 2006) From what I can roughly approximate, it looks like Six Flags St. Louis is about 228 miles away and Worlds of Fun is only about 220 miles away from Silver Dollar City.
With these factors in mind, it looks like SDC would be clear to buy just about any B&M design they want, even an Inverted coaster if they choose to do so since Patriot would be over 10 years old.