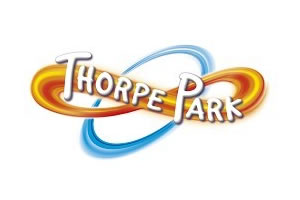 THORPE PARK
United Kingdom
Merlin Entertainments Group

Park News - (2/15/14) While the previous news report indicated that flood waters were rising up around Thorpe Park, a reader sent us this second report that details how flood victims are actually being offered shelter at a refugee center that has been set up at Thorpe Park instead as it is fairly safe from the flood waters.
(2/13/14) Bad news for Thorpe Park as flood waters are rising up all around the theme park, threatening to invade as more rain is expected to be on the way. Watch a video report showing off the flooding in the area here.
(10/21/13) A review of the 2013 Fright Nights event at Thorpe Park has been posted to TotalThorpePark this week.
(10/10/13) ScareTour has posted a review of Thorpe Park's Fright Nights event and gives high praise to the unique design layout behind Cabin In The Woods.
(8/23/13) According to ScareTourUK Thorpe Park will feature 6 haunted attractions at Fright Nights this year, 5 of them themed around Lionsgate film properties including: Cabin in the Woods, Blair Witch Project, You're Next, My Bloody Valentine and Saw. The 6th maze is said to be the return of The Asylum.
(8/21/13) I'm told that Thorpe Park is testing a new Reserve 'n' Ride virtual queue system at the park this week (only August 19,20,22,23,24 and 25) which is good only on The Swarm. The system apparently allows guests to book a ride time directly from their smart phones. According to the report posted to ThemeParks-UK this is a free service.
(8/19/13) ThemeParks-UK has new details about the changes coming to Fright Nights at Thorpe Park this fall. Check it out.
(8/27/12) AirGates reports that Thorpe Park has applied for permission to add a "temporary" hotel at the park. It seems it will be provided by an external company called SnoozeBox who actually can provide temporary accommodations made up from shipping containers. The temporary permit will allow for the 40 containers to remain on site for up to three years, offering 117 "rooms". Some suspect this may be a seen as a "test" to see if a real hotel would work on the site in the future. You can find some pictures of a similar setup from SnoozeBox here.
2014 - Angry Birds Land - (1/9/14) Thorpe Park will open the world's first Angry Birds 4D experience in May 2014 and will be the focal point of a new themed area. The attraction will include a 10 minute 4D animated film and special in-theater effects from Simworx. Other attraction in the land will include The Detonator 100 foot tall drop tower and a new Dodgems ride with cars themed to the Red Bird and Bad Piggies. For now a teaser page has been posted to the park's website.
2016 - New Coaster - In Planning - (7/19/13) ThemeParks-UK reports that Thorpe Park's coaster concept intended for 2015 is likely going to be pushed back until 2016. They also report that Thorpe Park has filed for an extension to keep The Crash Pad temporary hotel until 2024, while the official Thorpe Park Hotel project is now delayed until at least 2020.
(7/11/10) Some interesting maps show off just where Thorpe Park is planning on putting their next two coasters, posted over at Total Thorpe Park. Don't read too much into the layouts however, I'm sure those are mainly placeholder artwork, as it's too soon to have final layouts for both rides just yet.
(7/2/10) According to this article Thorpe Park is planning on building two new roller coasters at the park between now and 2016, which was submitted to the local council outlining the next 5-years of growth for the park. In addition the park wants to add 5 new "round rides" (aka: Flat Rides) up to 25m tall. Of the two coasters, one is said to be up to 40m tall and the other up to 50m tall, so both would come in under Stealth's impressive 62.5m top hat.
2020 - Hotel - In Development - (9/19/06) You can see concept artwork for the new proposed Hotel at Thorpe Park here. Just click on each of the links. From the look of things however, they seem to have dropped the idea of an indoor waterpark.
(7/7/06) Coaster Force reports that Thorpe Park will show off possible plans for a new waterpark hotel to the public on July 14th and 15th.