Walt Disney World Resort
Orlando, FL
---- THE LATEST BUZZ ----
(12/11/13) A look at the latest updates to Downtown Disney and the construction of the new parking structure (MORE...)
(12/10/13) I'm not sure exactly when this happened, it Explore the Magic reports that the Disney PhotoPass+ program was quietly retired (MORE...)
(12/4/13) Construction on the Disney Springs project isn't just in the retail area, construction is now moving ahead quickly in the parking lot (MORE...)
(11/20/13) Disney World reports that a new pathway has just opened at Downtown Disney, aiding guest flow (MORE...)
Resort Rehabs - The following information is not guaranteed to be 100% accurate.
Typhoon Lagoon - NOW CLOSED through 12/21/13
Blizzard Beach - 12/22/13 through 3/15/14
All-Star Sports Food Court - NOW CLOSED through 12/20/13
Disney's Polynesian Resort - Access to East side of Polynesian Beach and Sunset Point unavailable during refurbishment.
General Resort News - (10/31/13) Concept art showing off a new Starbucks location designed for Downtown Disney's West Side have been posted to DaMouse. Looks to have quite the odd look to it… cost of a cross-breed of of a "green" structure with grass growing on the roof mixed with a concrete prison look. Based on the construction walls in place already in the area, this will likely replace the Haagen-Dazs and Wetzel's Pretzels store.
(10/23/13) Downtown Disney has opened a new valet parking lot over near the Cirque do Soleil building, replacing the older valet lot that was once near the T-Rex restaurant before the construction to build Disney Springs began. Valet Parking will cost you $15 and is open from 4pm to 2am daily.
(10/18/13) Walt Disney World reports that a new fitness store designed just for runners, called Fit2Run will soon open at Downtown Disney. Look for it to open sometime in November next to Curl across from the House of Blues.
(10/17/13) DisneyQuest will be home to a special Halloween Party event this year, great for family groups. Admission includes unlimited games, DJ dance parties, character meets, a costume contest and indoor trick-or-treating. Click here for more information.
(10/4/13) While other parks in Florida have made headlines for cutting back the hours worked by their part-time staff, 427 part-time CMs at Walt Disney World are being offered full-time positions. Click here to read all the details.
(9/25/13) While they aren't ready to commit to a firm date, Disney CEO Bob Iger says the new MyMagic+ system will have a full roll-out to all Walt Disney World guests in the very near future. While talking to the press, he also expressed some excitement out of the blue for the mysterious Avatar Land project coming to the Animal Kingdom. While we still don't have a firm date on when we can expect to see the world of Avatar come to life, I do wonder if the behind the scenes developments has been making some strides lately. Hopefully we'll find out more soon, or at least get an established timeline for it.
(9/20/13) MiceAge has posted a new update this week about the end of the abused Guest Assistance Card program and the first early details about the new replacement program (DAS – Disabled Assistance System) which is said to go into effect on October 9th. Without going into too much detail, several kiosks for this program will be set up in each park, and guests who want to use it will tell the CM which ride they want to board and be given a FastPass style ticket with a specific time they can arrive and gain access to ride based on the length of line currently at the attraction. Sounds fair to me so far, though in the end you can't please everyone.
(9/18

/13) Special thanks to a reader for sending in some great pictures showing off the inside of the newly refurbished California Grill restaurant on top of Disney's Contemporary Resort.
(9/12/13) Disney has confirmed that four special Food Trucks will begin to make appearances at Downtown Disney this fall. The four trucks will be themed after an "essence of a different Disney Park".
Enchanted Fare: serving favorite dishes from Disney parks across the globe.
The World Showcase of Flavors: featuring popular items from the Food & Wine Fest.
Superstar Catering: with a spotlight on different meatball based foods.
Namaste Café: dishes with a mixture of nice and spice like Butter Chicken, Slow-Cooked Beef Short Ribs and Tandori Spriced Shrimp.
Next time you visit Downtown Disney, keep your eyes open!
(9/11/13) Walt Disney World has reopened the freshly remodeled California Grill restaurant atop Disney's Contemporary Resort. Behind the Thrills takes a look to see what's new.
(9/5/13) Bad news for Walt Disney World this week at a 6 year old girl fell from a third-story balcony at Disney's Animal Kingdom Lodge over the weekend. It appears to have just been an accident, and fortunately she did not fall into an area where the animals have access. The girl is in recovery after being air lifted to a local hospital.
(8/5/13) Interesting news for those who remember the art of Hacking Fastpass going way back when the system was still new at Walt Disney World. Back in the day… one of the best ways to hack Fastpass was the little know secret that the Fastpass machines would accept any form of Disney ticket media. New park tickets, old park tickets, WDW Park Annual Passes, WDW Waterpark Passes, Pleasure Island AP's, DisneyQuest passes, Resort Hotel Cards, Cast Member IDs… you name it. If it came from Disney and you stuck it in a FastPass machine in the early days, they would spit out a FastPass ticket for you.
Unfortunately, this exploit was patched in a couple of ways to ensure that the ticket was not only valid somewhere, but the final nail in the coffin as I recall was when they linked the FastPass network to the main gate turnstyle scanners. The end result of this particular patch had the FastPass machines check to see if the ticket being scanned had been used to gain entry to the park on that day or not, putting an end to scanning your valid DisneyQuest AP to get a second active FP ticket at the same time.
Guess what? The exploit seems to be back… at least in limited form. With the bumping up of the system to the NextGen / RFID enabled version, it looks like that link between the FP network and Main Gate scanners has been severed and old ticket, pass, and hotel key cards are now working once again. If you've got old cards/passes laying around, head on down and give it a try. You might be surprised to see what works for now, before they find a way to patch it once again. Until then, Hack FastPass to your heart's content.
(4/12/13) The Walt Disney World Swan and Dolphin Resorts have announced that they will hold their 4th Annual Food & Wine Classic event on October 18-19, 2013. The outdoor festival will include food and beverage seminars, food and wine tastings and live music. Seminars will be led by the hotel's chefs and certified beverage experts, while the hotel's award-winning restaurants will showcase signature culinary selections to pair with tastings from more than 30 wineries. Celebrity Chef Todd English, whose restaurant Todd English's bluezoo is located in the hotel, will be in attendance to meet and greet with guests. " For all the great official information on what you can expect, check out the official event site.
2013 - FastPass+ / MyMagic+ / MagicBand - (12/10/13) I'm not sure exactly when this happened, it Explore the Magic reports that the Disney PhotoPass+ program was quietly retired and replaced with a new Disney PhotoPass Memory Maker program. Memory Maker is entirely digital and allows for unlimited downloads compared to the one-time download from PhotoPass+. Make the jump over to read all the details about the new Memory Maker program and learn how you can use it on your next Walt Disney World visit.
(11/19/13) Sounds like all hasn't gone quite according to plan with the rollout of Disney's new MyMagic+ armbands. According to the Orlando Sentinel the final public rollout has been delayed by several more months. For now it will remain in testing and be limited mostly to select guests staying on site in Disney's resort hotels.
Disney wont say what is delaying it, only that they are making test modifications based on guest feedback. While they wont comment on it, I know Disney has been adjusting how the advanced MyMagic+ reservations are handled, limiting the number and kind of attractions than can be reserved so far in advance at the different parks. I don't know all the details, but I believe many of these test changes having been taking place with the Epcot MyMagic+ offerings.
(8/7/13) Disney At Work has posted an interesting article all about what Walt Disney World Cast Members are learning about the launch of MyMagic+. Meanwhile MouseSteps takes a look at the MyMagic+ experience from a user's point of view.
(7/14/13) The early results are in from the test-run on MagicBands last month. According to comments from Disney's Tom Staggs, guest spending seemed to be up for the guests testing the MagicBand system over guests without it. While the bands serve as your park ticket, FastPass+ access and resort room key, they can also be connected to your credit card for cashless sales transactions.
(6/26/13) DaMouse has a preview of the MagicBand roll out this week, where accessory merchandise (CoverBands, MagicBandits and MagicSliders) have also been put gone up for sale to decorate your new MagicBand. In case you missed the update last week on the Screamscape Twitter and Facebook pages, the first public rollout of the MagicBands took place over this past week, mostly for select guests staying on-site at Disney's Animal Kingdom Lodge or the Contemporary Resort, though various Cast Members (or more likely friends and family of Cast Members) staying on site at other hotels were also added in to test group. In most cases the MagicBands were mailed out to the guests ahead of their visit. While the initial report claimed that the test was only going on for a few days, there are still reports trickling about MagicBands arriving, and with the arrival of the MagicBand merchandise, it looks like the testing will continue. Word has it that they open to have it fully operational to all resort guests by the end of the year.
(1/9/13) An update on the whole MyMagic+ system posted to USA Today answered some questions I know many of us had regarding just who gets to use the system and if there are any costs involved. According to this article Annual Passholders, Walt Disney World Resort guests and guests who buy a photography package will get the MagicBands for free. All other guests will be issued a RFID enabled ticket card which they can tap to enter the park or redeem their FastPass+ tickets, however these "guests can participate in My Disney Experience and purchase a MagicBand if they wish."
(1/8/13) At long last, Disney Chairman Tom Staggs has released some official details about how the NextGen project work at the Walt Disney World theme parks is finally all coming together. The official Disney Parks Blog on the subject also finally puts some long whispered pieces of the puzzle into play (ie: RFID enabled wristbands) along with some new official program names.
Of course the goal of the whole initiative was to take the Disney theme park experience to the next level for guests. The most noticeable agenda so far has been the creation of new interactive queue elements at many existing attractions, and built into new ones as they open. The early versions first opened at Soarin' and Space Mountain several years ago, which had a more video game style format to them, as well as a musical concept tried for a very limited time at Rock 'n Roller Coaster which never returned. Since then Disney has added some playful elements to the queue for Pooh, a highly detailed and interactive outdoor graveyard scene for the Haunted Mansion (along with a more personal finale scene to the ride itself), the busy crabs in The Little Mermaid caverns, and the huge Circus themed playground under the big top at the new double-sided Dumbo attraction.
There has been a lot more work going on behind the scenes however, which will soon be rolled out, offering a new "collection of tools" to be used at the parks under the new banner name: "MyMagic+". The big piece of this particular initative will be a new "My Disney Experience" website and mobile app, which will give future guests the option to plan out certain elements of their experience in advance. This will include Disney Dining reservations as well as access to the new FastPass+ system, allowing them to schedule times for certain attractions and shows before setting a foot in the parks.
They do address one of the big criticisms of FastPass+, which is schedule problems. Everyone knows that despite the best planning, no day at a theme park ever goes off exactly as planned, which is where the mobile app comes into play. Through the use of the new mobile app, you can login and make changes to your various MyMagic+ reservations at any time to fit your true schedule.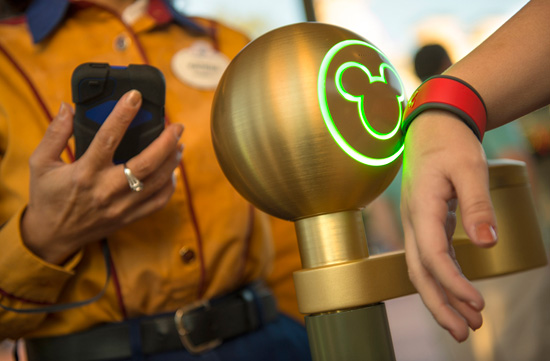 Now lets talk about the new MagicBand which will be your new gateway to experience this magic as a WDW Resort guest. This new RFID enabled wristband will serve as your room key, theme park ticket, FastPass+ access system, PhotoPass card along with the optional ability to tie it into a credit card for cash-free payments for everything during your stay. Disney has been testing out various elements of the MyMagic+ system lately and will continue to do so and make improvements based on guest feedback and adding new features to the system as time goes on.
Now what Disney isn't saying is the fact that Disney will be able to gather a huge amount of data from the use of these MagicBands. As guests travel around the park, Disney will be able to tell what attractions they visit, and in what order, what people purchase, where and when, all in effort to maximize the experience. It is also entirely within the realm to eventually have bits of your own personal information downloaded into an attraction when you ride, such as your name and maybe even a few of your likes and dislikes, either taken from an online profile you may have filled out, or assumptions based on purchases you may have made. But imagine the magic your child (or even you) will feel when you visit Tinker Bell who can greet you by name, and may even remember that she hasn't seen you since you last visited the park in October.
So far the initial launch of MyMagic+ seems likely to be aimed at guests staying on-site at Disney Resorts, but it may not be long until Passholders are also allowed to get in on the act. Just how the MagicBands will be of use to off-site guests, or the occasional day-tripper was not mention, nor was there any mention of a possible purchase price to obtain the MagicBands. Disney has yet to announce an official hard-date for the complete launch of the system, it seems a safe bet that we will likely see MyMagic+ put into action by Mid-2013.
(12/13/12) According to the latest reports, Disney is now issuring their NextGen RFID embedded resort cards to all on-site Disney Resort guests. The cards serve as room key cards but is slowly rolling out in the parks as well to select park entrance areas, FastPass attractions and now to select retail sites too.
Speaking of FastPass… the new FastPass+ system that goes along with these cards is now also testing again for a "limited time" according to various reports on the social media channels.
Late 2013 - DVC Villas at the Grand Floridian Resort & Spa - Under Construction - (9/18/13) The new DVC Villas expansion is expected to open to guests on October 23rd.
(9/3/13) ThemeParkTourist has posted a new update showing off the nearly complete looking expansion to Disney's Grand Floridian Resort.
(12/12/11) The official Disney Vacation Club newsletter sent out to members this week confirmed the plans to build new Villas for the Grand Floridian Resort. "Disney Vacation Club has announced plans to build an estimated 147 villas as part of the previously announced expansion of Disney's Grand Floridian Resort & Spa. Estimated to open in late 2013 near Disney's Wedding Pavilion, the resort's slated to become the 12th Disney Vacation Club property."
(3/24/11) According to the Orlando Sentinel, plans have been submitted to the county detailing an expansion to the Grand Floridian Resort. The plans describe a 6 to 7 story T-shaped building that will be connected to the main structure by an elevated walkway. The early speculation is that this could be an official DVC-Wing being added onto the resort, much like we've seen them add onto the Contemporary, Wilderness Lodge and Beach Club Resorts.
2015 - Polynesian Resort Renovation / DVC Addition - (10/29/13) Construction on the shoreline and former Sunset Point area at Disney's Polynesian Resort has begun. You can find the latest pictures posted to MouseSteps.
(9/18/13) Disney confirmed to the Orlando Sentinel what Screamscape told you a month ago… Disney's Polynesian Resort will be the next one to add a DVC Wing, with construction set to begin in about a month. Disney wouldn't go into details about the size or nature of the expansion and improvements on the way, but we can expect to see it ready to open in 2015.
(8/21/13) Want to see more about Disney's plans for the Polynesian Resort? The ever resourceful Chris Con was able to dig up per

mit plans Disney has filed for the project, showing off in more detail just what Disney seems to have planned for their waterfront property. In the first two images you can see the shoreline north of the Tahiti building as well as all around Sunset Point. Out in the water, they have placed a large number of little black squares that represent new pilings they will drive into the floor of the Seven Seas Lagoon here, as well as floating barrier that will separate this new development from the open lagoon waters. Closing closer there are twenty sets of pilings in a rectangle shape, all in a row along the shore, which we believe will represent 20 individual and very special "water bungalow" rooms (see the third image with the green circles). There are other various spots with pilings between here and the shoreline that should be for the walkways that will connect these 20 rooms to the mainland.
Want to see just what these exclusive rooms might look like? Ironically, I found a great image showing off another real set of water bungalow rooms built off the shore of the real Tahiti island that will give you a perfect idea of what Disney seems to have in store. It looks like paradise doesn't it? Hats off to Disney for this one… though the only real heartbreaker in this whole plan is that this is going into a lake in Florida and not into the real ocean, and swimming in the Seven Seas Lagoon is not permitted for both health and safety reasons. Otherwise… you couldn't ask for a more beautiful looking unique room for special Walt Disney World vacation memory… perfect for a honeymoon trip. In other news, I've been told that the Tahiti building is just Building 10, Building 11 is the next building to the south which will also be part of this new transformation plan.
(8/19/13) New rumors about what may be involved with the DVC expansion into the Polynesian Resort plans have come my way. I'm not exactly sure how this will all work, but I've been told that new DVC rooms will take over 2 of the existing buildings closest to the TTC, known internally as Building 10 and 11, which I think are better known as the Tahiti buildings. The outside color of these buildings will be changed to appear different from the other Poly resort buildings that have undergone rehab. In addition to remodeled rooms in Building 10 & 11, as well as twenty water bungalows built onto the edge of the Seven Seas Lagoon itself. A new boardwalk would be built to connect these with the rest of the resort, possibly running from near Building 5 near Sunset Point and along the beach moving down towards the TTC Ferry dock area. The resort may get a slightly new name as well, being called Disney's Polynesian Village.
It's just a guess on my part based on this information, but I've highlighted in yellow on an aerial image of the resort where I believe the location of all this work will take place.
(9/17/12) Screamscape sources tell me that the start date for the big resort-wide rehab on the Poly was pushed back from September 2012 until at least January 2013. The plan is to completely remodel each resort building top to bottom, one at a time. In addition to new room improvements they are looking to brighten up the rooms and walk-ways which are said to be a little on the dark side. While there are always rumors about a possible DVC wing addition, this seems unlikely to happen until after the Grand Floridian project is over. Speaking of which, be sure to check out this week's new photo update of the Grand Flo as well.
(9/14/12) ParkScope reports that Disney has filed building permits to perform room renovations at the Polynesian Resort. If your planning a stay here, plan accordingly.

2015 - Four Seasons Resort - (4/10/13) MouseSteps shares some pictures of the new Four Seasons Resort Orlando now under construction at the Walt Disney World Resort. No date has been mentioned, but it is believed that it will be ready to open for guests sometime in 2014. From the look of it, I'd say LATE 2014, or more than likely 2015...
(9/14/11) According to the Orlando Sentinel, the $360 million deal to build a Four Seasons hotel on WDW property has been finalized at last, and is now set to begin construction on the overdue project this December. The 444-room hotel will not be ready to open until mid to late 2014 however.
(9/2/08) We finally get a peek at just what the new Four Seasons resort on Walt Disney World property will look like, posted over at the Orlando Sentinel. According to the article, site prep has already started and the hotel is looking to open in 2012 instead of 2010.
(3/1/07) Walt Disney World made two surprise announcements today about a major expansions planned for the resort. Disney has struck a deal to construct a 900 acre luxury resort and commercial district on the site of the current Eagle Pines and Osprey Ridge golf courses. The new site will be anchored by an official Four Seasons hotel and include an 18 hole golf course, like keeping one of the two existing courses or perhaps some kind of combination of the two. The site will also include an area for "single and multi-family vacation homes and fractional ownership vacation homes." Screamscape has heard that the land itself for that has been rezoned from Reedy Creek to Orange County to prevent anyone else's agenda from getting in the way of Disney and Reedy Creek which is pretty much their unofficial district they maintain control over. Work on the new hotel is supposed to begin later this year, though it wont be ready to open until 2010.
2016 - Disney Springs - (12/11/13) A look at the latest updates to Downtown Disney and the construction of the new parking structure can be seen over at Orlando Park News this week. Want an even better look from a new angle? Then check out the new aerial photos of the Downtown Disney / Disney Springs transformation project that have been posted to WDWNT.com.
(12/4/13) Construction on the Disney Springs project isn't just in the retail area, construction is now moving ahead quickly in the parking lot as crews work on the new multi-level parking structure. The old lot in this area has been cleared and several vertical columns that will support the new structure are now in place, as well as a couple of tower cranes. Take a look at the latest pictures posted to OrlandoParksNews.
(11/20/13) Disney World reports that a new pathway has just opened at Downtown Disney, aiding guest flow connecting the West Side with the Pleasure Island area, while going along a scenic path along Village Lake past the Pleasure Island Boat Dock.
(11/12/13) The Orlando Sentinel reports that the Team Mickey store, a semi-popular sport-themed Disney merchandise shop at Downtown Disney, will soon close to make way for a new store within a store concept called the Marketplace Co Op. The new Co Op store will feature slots of six different shops within, featuring items like beauty & fashion accessories, home products, D-Tech on Demand electronic accessories and more. Look for the new store to open in Spring 2014.
(10/24/13) Walt Disney World, through their private government (Reedy Creek) is apparently now seeking funds to build as many as three pedestrian bridges over the busy Buena Vista Drive as part of the Downtown Disney transformation into Disney Springs over the next few years.
(10/3/13) A new construction report from Disney Springs can be found at DaMouse.
(7/23/13) MouseSteps takes a look at Downtown Disney this week which has closed off several of the parking lots to begin construction on the new Disney Springs project.
(3/22/13) Curious to know a bit more about the planned parking arrangement at Disney Springs? According to the Orlando Sentinel, there will be two separate parking structures built at the two ends of the property, one 4-story structure with 4000 parking spaces and a smaller 3-story structure that will offer 2000 spaces. One of them will apparently even be attached directly to the I-4 so you can exit the freeway directly into the parking structure. The interesting thing is that the Walt Disney Company will not own them and nor will they have to pay for them.
Instead Disney's own government, Reedy Creek Improvement District, which was set up 40 years ago to oversee all aspects of the Walt Disney World property, will pay the $85 million bill for the parking structures. By using their own government muscles, Reedy Creek can avoid paying sales tax on the materials used for the construction and finance the project with 20-year tax-free bonds. This is all in line with the powers granted to Reedy Creek by the state of Florida 40 years ago. As the article in the Sentinel puts it best, they "gave the district the ability to build parking garages — along with everything from an airport to a nuclear-power plant."
Given that the Walt Disney World property really is the size of an actual city, it does only make sense that they also can wield the power of one when they have to.
(3/15/13) After saying they had nothing to

announce the day before, Disney opened up and confirmed all their plans for Disney Springs the very next day. Disney Springs is a way to transform Downtown Disney into a new themed environment with its own story and theme behind it.
"Our fundamental goal is to create a welcoming, comfortable space where families can enjoy time together and instantaneously feel right at home. We want to give them opportunities to relax, to be entertained, to wander in and out of unique and distinctive shops or enjoy a world-class dining experience. And because we are Disney, we've anchored the entire experience around a story that gives us the ability to deliver on the legendary place-making and creativity for which we are known. The result is Disney Springs, a timeless and vibrant place that celebrates the turn-of-the century lakeside towns that dotted the Florida landscape."
Once complete, the newly dubbed Disney Springs will expand from 75 to over 150 shopping, dining and entertainment venues, featuring "some of the world's most iconic brands and restaurants." Construction will begin in April as they begin the process of transforming Downtown Disney into Disney Springs phase by phase, with expectations to complete it all by 2016.
(3/14/13) Ok, the rumored announcement for yesterday was a bust, and Disney had nothing to say. Of course that rumor also came second hand and seemed a bit off as my own sources had told me weeks ago to expect the next big press event from Walt Disney World to take place around April 26th. So lets just pencil in that general time period and hope for the best, but in all seriousness, anything can and still may happen, since at the time I was given the April 26th date, the plans and layouts for Disney Springs had not yet leaked. So far, in true Disney form, they have kept their lips zipped on this leak so far, and aren't likely to rush to make an announcement until they are ready. After all, usually when Disney plans a big announcement, they have more than one trick up their sleeve to show off, so stay tuned.
(3/8/13) A great update regarding the future Disney Springs plans can be found over at The WDWNT Network which features some all new concept artwork.
(3/4/13) Good news for fans of Downtown Disney's Planet Hollywood. According to Screamscape sources who spoke with some anonymous Planet Hollywood peeps the big globe restaurant will be getting an extensive makeover sometime during the next year or so, along with a slightly new name… but it will still essentially be the same Planet Hollywood you've come to know, with the same popular menu items.
From this we assume that the structure will be visually transformed to appear less globe-like, and look more like a large themed observatory building instead. I'm also going to guess that the new name for the restaurant may be something along the lines of 'The Observatory at Planet Hollywood". Which I actually kind of like to idea of an Observatory theme for a Planet Hollywood restaurant… after all you are there to gaze upon "the stars" are you not? As for the food… it's nice to know you can still get your fix of Captain Crunch Chicken in Orlando.
(2/18/13) ParkRumors posted a great scoop over the weekend, uncovering a little something filed under the project name "The BVD Corridor Stormwater Project", which really seems to be Disney's new masterplan to redevelop the former Pleasure Island area. The old "Hyperion Wharf" idea has floundered and sunk, but this new plan will change the face of Downtown Disney forever.
According to the report, Downtown Disney will be re-branded as "Disney Springs", which will then feature six themed areas: The Gateway, The Town Center, The Springs, The Landing and the two areas we know well: The West Side and The Village Marketplace.
Gateway will be the entrance area into this new shopping complex, which will feature access and parking in an ample 5 story parking garage that will take over the parking lot just in front of the World of Disney Store and extend down towards the intersection where the Hess gas station sits. The inner lot parking lot area, often used for Valet parking will be developed to become part of this new development. The cast member building and facilities that will be displaced by this will be moved into the tiny lot that is essentially behind the Team Mickey and Once Upon a Toy store area.
Park your car in the new structure and you'll wandering into The Town Center, an all new themed retail area built on top of former parking lot space. Beyond here is The Springs, which will have shops along the now themed waterway that already exists, running from the old West Side entrance to Pleasure Island, past Planet Hollywood and exit again into the lake behind the steamship that houses Fulton's. Oh… speaking of Planet Hollywood, the plan has filled in that portion of the waterway and relabeled the Planet Hollywood building as "The Observatory" which doesn't bode well for the future of one of the last PH's in existence. The many bridges that exist to cross over the waterway will remain, along with a few new bridges added to taking guests into the former Pleasure Island area that will now be rethemed as "The Landing", which will be the center for an array of dining and drinking establishments.
The West Side will remain mostly unchanged, while is appears that the old bus drop off area at the Marketplace will be developed into a new retail pathway that will feature a couple of large new retail store buildings, leading to a new bridge that will cross over into the Saratoga Springs Resort.
While this looks to be a much grander and better plan than the old Hyperion Wharf proposal, I do have one important question. For years… decades even, Downtown Disney has been begging for a parking structure to help them handle the crowds during the most busy times of year. Previous Disney management was only willing to fund such a project IF they were willing to start charging for parking at Downtown Disney. Obviously no one wants to see paid parking come to Downtown Disney, which is why we have never seen a parking structure added… until now.
So will Walt Disney World start to ask people to pay to park at Downtown Disney / Disney Springs from now on? Maybe they will only charge you for Premium Parking if you want in the structure and keep the surface lots free? Or hopefully, they will see the added benefit of having the structure as a replacement for the lost surface lots, which will result is increased income from retail sales and leases from outside operators. Lets hope for the later, because no one wants to pay for parking at Downtown Disney.

OTHER WALT DISNEY WORLD PROJECTS:

Golden Oak - Under Construction - (6/24/10) Disney unveiled details about their new Golden Oak residential area set up on Walt Disney World property. Read more here.
(1/27/10) According to this report following the different internet domain names Disney has registered for of late, Disney has nabbed up 20 different domain names referring to the Golden Oak brand names, rumored to be used for the new residential community next to the Four Seasons hotel. The names include DisneyGoldenOak.com, GoldenOakAtDisney.com, GoldenOakAtWaltDisneyWorld.com and many more.
(12/30/09) A Screamscape source has come to tell us a bit more about an small residential area being built as part of the Four Seasons Resort on WDW Property. They tell us that it will be named Golden Oak, a reference to Disney's Golden Oak Ranch in California, and that it will be fairly small, consisting of only between 30 to 50 homes. Of course these 'homes' will apparently all cost in the 7-figure range and will be within a completely gated community that may come with special benefits such as annual passes for the residents. Of course many of these "homes" are likely to become vacation property rentals or things picked up by higher end corporations as a perk for their executives. A sales center and model home building is already under construction. Look for them to start trying to pre-sell the homes sometime in 2010.

Monorail System News - (3/7/13) A very interesting report on the possible future of the WDW Monorail system was posted over at Monorails.org a few weeks back. Their sources claim that a group named Thales Transportation has been hired to design and update the entire WDW Monorail system over the next two years to become a fully automated system, while still using the existing Mark VI fleet.
The monorail Pilots will remain onboard, but only to serve as a babysitter to monitor the train systems. The trains themselves will simply be dispatched, much like any other Disney ride, by an operator at the station. The rumored budget for the project is said to be around $75 million. The article also claims that they may look into reversing the path the monorails take around the beams in order to prevent driving backwards through a beam-switch, but that doesn't quite make sense to me, as they will still have to drive backwards through the switch, just on the way out to the beam instead of going off the beam.
(4/5/12) I've heard this rumor countless times before… but a good source claims that Walt Disney World may be taking another long hard look at expanding the resorts iconic Monorail system once again in order to cut back on their reliance on bus transportation and move towards a functional mass transit network that would service all of the theme parks and bigger attractions eventually. Stay tuned.
(9/14/11) There have been several new reports coming in about what may be near daily breakdowns in the system. I've reported in the past on how the WDW Monorail fleet has aged to the point where it is beyond its expected life span and in need of replacement, though to date, it does not seem as if any orders have gone out to construct a new fleet. Even if those orders were issued today, it would likely be another two years or so before the first new monorail could begin test runs on the beams. Case in point… it's already been over two years since the deadly monorail accident of 2009, and Disney is just now getting the rebuilt monorail back on the beam for testing.
Lets hope Disney is ready to starting ordering some new trains soon, otherwise we could be looking at a repeat of how Disneyland's Monorail system was just driven to the breaking point, and trains were cannibalized for parts to keep others running until even that wasn't enough any more. At least the Disneyland Monorail is primarily used for entertainment purposes… unlike the WDW system which is quite vital to ensure the transportation of guests from the Magic Kingdom to the parking lot, as well as shuttling guests between Epcot and the Magic Kingdom.
(7/15/11) According to the Orlando Sentinel, Walt Disney World has begun to trim back the operational schedule of the Monorail fleet. They claim it is due to the age of the current monorail fleet (Mark VI Monorails launched in 1989) and the extended summer hours mixed with the necessary time (90 minutes) to start-up and shut-down the line, can reduce the amount of downtime to as little as one hour per day. The new schedule will see the Monrails shut down 1 hour after the scheduled public park closing time. The new hours are already in effect for the Epcot line and will begin on the Magic Kingdom line starting August 1st. While this will not affect most park guests, those affected most will be the resort guests staying late for the Extra Magic Hours who will be forced to use the Boat or Bus transportation options when leaving.
I do have to wonder just how much longer WDW will be able to continue to run the Mark VI fleet. For comparison's sake, the Disneyland Mark V Monorails ran between 1987 before being retired in 2008, 21 years later with the introduction of the new Mark VII Monorails. While the WDW Fleet is now older than the last retired Disneyland fleet, I believe they did undergo some kind of system controls upgrade in the mid 2000's. Eventually though, the Mark VI line is going to be in need of replacement.

Western Beltway Development - (3/22/12) While we haven't heard so much as a peep about the Western Beltway development area that Disney said they would name Flamingo Crossings, I did come across something this week. While searching through the trademark database, I did find a new filing by Disney for "Flamingo Crossings" filed on March 7, 2012. Perhaps they are getting ready to do something here after all.
(12/4/07) According to the Orlando Sentinel private developers and merchants will be able to run their own small restaurants, a grocery store, retail shops and even a few "value" level hotels as part of Walt Disney World's new Western development project. Disney has begun to offer parcels for sale for the 450 acre development project that they are calling Flamingo Crossings off Western Way that will be built up over the next decade.
(3/12/07) Disney released some artwork of the Western Beltway Development project area with maps this week. For some reason it all looks very similar to the retail development off 192 just outside Celebration,
(3/1/07) Walt Disney World made two surprise announcements today about a major expansions planned for the resort: The new Four Seasons resort and their Western Beltway Development plans. Disney is planning to develop a 450 acre retail and commercial development just outside the gateway near where Western Way meets the Western Beltway. This new area will include even more 3rd party branded hotels (4,000 to 5,000 rooms), restaurants and gift shops that will be built in phases over the next 10 years with site work also to begin before the end of the year.