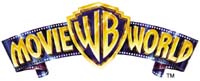 WARNER BROS. MOVIEWORLD Australia
& Wet 'n' Wild
Australia
Village Roadshow
Park News - (7/26/16) AusParks has posted the latest details about WB MovieWorld's Fright Nights plans for 2016. This includes details about the dates it will take place, which mazes are returning from last year, scare zones and more.
(12/17/15) According to an article posted AusParks the Green Lantern coaster at Warner Bros. MovieWorld park in Australia reopened on Wednesday afternoon after being shut down in March after one of the cars partially de-railed. The trains and undercarriage have been redesigned, strengthened and given extra reinforcement with the addition of more bolts to prevent it from happening again.
2016 - Arkham Asylum VR Coaster and Doomsday Destroyer - Under Construction -
(9/20/16) WB MovieWorld gave guests a sneak preview of their new DC Super-Villain themed area, along with a chance to ride the new Doomsday Destroyer ride. You can read the details and see some photos posted to AusParks this week.
(8/18/16) The latest update on the DC Super Villains Unleashed area (including the Doomsday Destroyer) has been posted to Planet Six.
(7/23/16) WB MovieWorld will soon open their first VR Coaster experience themed to the horrifying world inside of Arkham Asylum aboard the similarly named coaster. The new VR Coaster experience is set to open this September, and will be followed by the opening of the "DC Super-Villains Unleashed" area and the Doomsday Destroyer ride opening in October. Photos of the Doomsday Destroyer ride under construction from back in late June were posted to Parkz. NOTE: Arkham Asylum VR will be an experience that you have to pay an extra fee to experience.
(3/1/16) According to an email sent my way, the new Doomsday Destroyer ride coming to WB MovieWorld is expected to be an Intamin Suspended Twin Hammer ride.
(2/24/16) AusParks reports that WB MovieWorld will replace the western themed area with a new "DC Comics Super-Villain Unleashed" themed area of the park, along with a major new attraction: Doomsday Destroyer. It isn't known is the attraction will be the same tall tower attraction themed to Doomsday that was previously proposed, or if this will be an entirely new ride experience. One description of the attraction listed it as a "monstrous looping ride", which seems to indicate we may be looking an entirely different experience this time around.
(1/30/16) AusParks reports that construction on a new attraction at WB MovieWorld appears to be imminent as construction fencing has been put in place around a large portion of the park's unused western-themed area. While nothing has been announced yet, a park rep did mention back in November that a "new world class attraction" was in the works for the park. So, anyone know more about what's going on?
2017 - Mack Coaster - Parts On Site - (9/3/16) Warner Bros. MovieWorld Australia may be adding a new Mack coaster in 2017 it seems. I'm told that photos of a fenced off area containing large wooden crates with the Mack Rides logo have been spotted on site. A ton of photos can be found at the Parkz website.