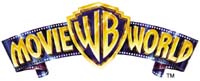 WARNER BROS. MOVIEWORLD Australia
& Wet 'n' Wild
Australia
Village Roadshow
Park News - (12/17/15) According to an article posted AusParks the Green Lantern coaster at Warner Bros. MovieWorld park in Australia reopened on Wednesday afternoon after being shut down in March after one of the cars partially de-railed. The trains and undercarriage have been redesigned, strengthened and given extra reinforcement with the addition of more bolts to prevent it from happening again.
(6/1/15) AusParks reports that Warner Bros. MovieWorld has quietly updated the park's "Hollywood Stunt Driver 2" stunt show this week. The changes include new sponsors, more comedic moments and the removal of the motorbike stunts.
2016 - New Coaster, Hotel and More - Planning - (1/30/16) AusParks reports that construction on a new attraction at WB MovieWorld appears to be imminent as construction fencing has been put in place around a large portion of the park's unused western-themed area. While nothing has been announced yet, a park rep did mention back in November that a "new world class attraction" was in the works for the park. So, anyone know more about what's going on?
(12/21/15) Acording to a local news report WB MovieWorld Australia has plans in the works to add a new rollercoaster along with a new "lakeside precint" to the park, as well as plans to build a nine-story hotel on a nearby site that is currently used as a parking lot.
(11/23/15) AusParks reports that WB MovieWorld appears to be making plans to add a major new coaster to the park in 2016. According to comments made at a shareholder meeting the co-chairman mentioned that the 2016 attraction would be "one of the world's best theme park drawcards". Keep in mind that they never called it a roller coaster, though they report that an application was recently filed by the company and soon approved to build a new coaster at either WB MovieWorld or Wet 'n' Wild, and the later is the least likely location of the two.