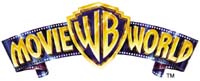 WARNER BROS. MOVIEWORLD Australia
& Wet 'n' Wild
Australia
Village Roadshow
Park News - (6/1/15) AusParks reports that Warner Bros. MovieWorld has quietly updated the park's "Hollywood Stunt Driver 2" stunt show this week. The changes include new sponsors, more comedic moments and the removal of the motorbike stunts.
(3/18/15) Bad news for Warner Bros. Movieworld Australia last week, as a car on the fairly new Green Lantern coaster (S&S) suffered an unknown problem with one of the wheels that appears to have caused the back of the train to derail from the track. It took emergency crews up to 3 hours to evacuate the riders. Currently the ride is closed pending an investigation to determine what happened, though the park reports that the ride was inspected twice during the day before the incident took place. Check out the news link, as it contains some good footage of the rescue workers looking over the trapped car, which appears to be hanging crooked in an alarming fashion.
2015 - Nothing known at this point in time